SPOTLIGHTS
411 MMA Fact or Fiction 10.09.13: Renan Barao, Cat Zingano, More
Posted by Wyatt Beougher on 10.09.2013

Is Renan Barao's interim title status hurting his sponsorship opportunities? Will Cat Zingano start a new trend in MMA medicine with her experimental stem cell treatment? 411's Paul Lapointe and Alex Watt debate these topics and more!

Hey, everyone, welcome to this week's edition of 411 MMA Fact or Fiction. As usual, I'm your host, Wyatt Beougher, and I'd just like to take a minute to highlight how great the MMA Zone is right now. Sure, over the past year and change, we've lost long-term mainstays like Todd Bergman, Pat Mullin, Kuch, and Dustin James, but we've also seen the returns of Samer Kadi and Jeremy Lambert, continued quality from guys who have been here longer than me (Solomon, Harris, Plunkett, and others I'm sure I'm forgetting), but most of all, Larry has done a fantastic job of reloading the ranks with new guys (well, newer than me), guys like Robert Winfree, Alex Rella, Evan Zivin, Paul Lapointe, and Robert Practor. Not only do these guys produce good stuff on a weekly basis (and that's the only reason I didn't include the 411 UK contingent, who do good work when they can be arsed to do it), but they also take time out of their busy schedules to make Fact or Fiction an MMA must-read every week. I don't thank them nearly often enough (well, I mean, I thank the two guys who compete every week in email, but I don't do it publically enough). This column lives or dies based on their participation, and I can't stress to you enough how smooth they've made this process for me since I took over from TBerg.

No, I'm not going anywhere, but I just wanted to make sure the guys all know how much I appreciate them, whether they've competed in Fact or Fiction one time or twenty since I took over. Speaking of guys who've been in Fact or Fiction twenty times, Todd Vote made his 19th appearance in MMA Fact or Fiction last week, and, unfortunately for Todd, he found himself in the losing column again, as Robert Practor picked up the win in his MMA ForF debut by a final vote of 17-6. Great effort from both guys, and a warm welcome to Mr. Practor! If you haven't checked out his "What's Next" column yet, make sure you do that. This week, we've got one of the aforementioned 411 UK contingent in action, as Alex Watt is taking on another of our newbies, Paul Lapointe. Interestingly enough, Paul is originally from North American, but he now resides in the land of Ikea, Sweden, so this is an all-international version of Fact of Fiction, so let's get down to the action.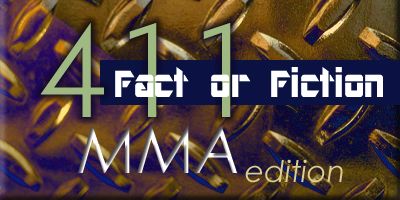 TALE OF THE TAPE

Red Corner
Paul Lapointe
'n00b'
Columnist, Forgotten Fights (Coming Soon, I swear)
2-0-0

VS

Blue Corner
Alex Watt
'Axel Twat'
Columnist, Thoughts From Across the Pond
4-3-2

---

Is Kongo the next heavyweight challenger?



1.) Cheick Kongo will win the Bellator heavyweight tournament.

Paul Lapointe: FICTION My gut just says no on this one. Well more than just that, but Bellator since the shift in management with Viacom has been vying for more stars and have been overloading events with UFC castoffs and washouts. Now, in theory, that is a good idea, but so far in execution they are for all intents and purposes...busts. Nunes got blasted, Vladdy had a boring as all get out fight with Houston Alexander, Marcus Davis, John Alessio and Rich Clementi have all gone belly up; I mean the stats are not good when it comes to actually winning. And we even have Kendall Grove stepping into the cage fairly soon on a main card. Sure these guys bring in exposure, and, even better, to a degree if them losing makes stars out of Bellator talent, good, but it seems like too much investment for such a little gain in ratings. Plus with the card they have lined up on Nov. 2nd, Tito and Rampage are unnecessary and absolutely will be overshadowed by homegrown guys. But I digress, the heavyweight division not just in Bellator but MMA itself is pretty thin on top tier talent so picking up Kongo is not too bad, but even with all that time in the UFC, he was ranked well too high in the rankings and even now is considered a top 15 guy somehow, which I personally do not understand. Spartan has proven very proficient on the ground in the few fights I have seen of him, and Kongo seems to think he is good on the ground, which he is not. Kongo is somehow a feared striker in the game and though he looks like a Black Superman has not really shown that he can kill people dead with his striking minus the bolo punch of Pat Barry in recent years. The Godbeer stoppage was mainly due to knees and because Godbeer has no clinch game (something Spartan does have, as well as one shot KO power - just ask Lavar Johnson of that). So if Kongo tries to smother out a close quartered and stifling top game strategy with thai clinch precision to win this fight as he has over the past few years I just cannot help but think Spartan has grown up as a fighter since his steroid bust and Kongo has regressed to focus more on his high end clothing boutique in LA...seriously. Spartan for the win. Man, I have alot of untapped rantings in my head about Bellator.

Alex Watt: So I'm taking on one of 411's new boys this week, I see. I remember when I was the new guy around here; all the Americans laughed at me, gave me silly "Axle Twat" nicknames [Hey, it's an anagram! -W] and referred to me as French. Oh wait, that hasn't stopped, has it? Oh well, welcome to the team Paul! Everyone's really nice here, honest. Especially the readers. The lovely readers with the power to vote for me to win. Which they all should. Because they're lovely. Anyway, enough of this banter and on to the task at hand…

FACT Cheick Kongo will enter the heavyweight tournament finals as the favourite but, given how he has a habit of fighting in an overly cautious and clinch-heavy manner when faced with a fellow hard hitter, this one isn't as easy to predict as it seems on paper. Vinicius Queiroz has had a mixed career in and outside of the UFC, but his 23 second knockout of Lavar Johnson made everyone sit up and take notice (everyone who actually watches Bellator anyway, so by "everyone" I mean "some people"). Johnson isn't a fighter who is known for a weak chin, yet that Queiroz right hook made him face-plant to the canvas. Considering that Kongo hasn't necessarily demonstrated the most durable of jaw lines in the past that has to be a worry for the Frenchman. Despite that, you have to lean towards the experience of Kongo for this fight; he's fought a much higher level of competition than his future foe and has a wealth more experience, especially taking into consideration his eighteen fight campaign in the UFC. That is to Kongo's significant advantage and, even if he does resort to stalling and clinch tactics, one would expect him to emerge with his hand raised and the tournament win.

---

Is three weight classes too many for TUF?



2.) The UFC attempting to showcase three weight classes (middleweight, light heavyweight, and heavyweight) on the next season of The Ultimate Fighter: Brasil will be a one-season experiment.

Alex Watt: FACT Three weight classes just seems like overkill to me. You only need to look at other seasons of The Ultimate Fighter to see that even when two weight classes are presented, it is sometimes difficult for the viewer to keep up with who is fighting in which weight class. In addition, as the current season of the reality TV juggernaut is demonstrating (I'm reviewing TUF 18 in my weekly column, by the way. CHEAP PLUG ALERT!), there is always the risk that one of the weight classes on display will outshine the other.

One can understand the UFC making this move; they are clearly committed to the Brazilian market and with a planned thirteen (!) events to be held in the country in 2014, the company needs to bring in all the Brazilian combatants it can. I have little doubt that there will be some tremendous talent on this season of TUF: Brazil, there always is in the South American version of the reality show, but so many of them will get lost in the shuffle of the show and, subsequently the UFC, that it hardly seems worth the experiment.

Paul Lapointe: FICTION I say this because with the expansion of ladies into the house and international TUF's, the amount of talent to be siphoned into the big show now has to be limited, so only the best guys and gals get in. Now that is not to say that bad fighters will not get on the show, oh that is absolutely going to happen with the overloaded TUF schedule now being mapped out, but that means less guys can use TUF as a way to parlay a career in the UFC unless they actually have the chops to do so. So with this season of TUF Brazil rolling over into three weight classes I can see injuries being less of a problem as more tryouts equals more guys to look at and scout. So injuries will be less of a problem in the competition as there will be much more people acting as potential replacements. So many seasons of TUF have come and gone as well focusing on the middle divisions and with heavyweight, LHW and FW being so thin or top heavy more prospects need to fill those holes and fast. Plus winning TUF nowadays is just not that big a deal anymore, so less guys and fights is better for the fighters health wise and weeds out the plugs. A TUF title is nice on your wall but a title belt is actually something to be proud of if you want to compete in the UFC. So TUF needs to upgrade in some fashion to stay fresh and relevant the eventual collapse to more mini tourneys I believe is for the better. Lastly though, considering this is TUF Brazil, this concept is pretty much a crap shoot science experiment to see if this format can and will work. Brazil has pretty much more MMA fighters than people it seems so with that in mind aiming to get more people in the cage is not so difficult. I guess time will tell but colour me intrigued nonetheless.

---

Is stem cell treatment the future of MMA medicine?



3.) If the stem cell procedure Cat Zingano undergoes to repair her knee is successful, other MMA fighters will attempt that type of therapy in the future.

Paul Lapointe: FACT Mainly because if something is broken and this can fix it, why wouldn't any other fighter see the benefit? I myself have had problems in my youth with knee injuries and procedures as well as rehab and all that jazz. When I first screwed up my knee I thought my athletic ambitions were kiboshed considering the damage that had been done. So I was offered a choice - try an experimental procedure that had a less then positive comparatively long term success rate but much faster recovery time or the tried and true surgery that had a layoff of almost 4 times the length. Well considering I lived in a country that offered socialized medicine I had my pick of the litter. I was young and naive and a little impatient and ahead of myself as I was unhurtable, so even against people's opinions and my own better judgement, I went for the experimental procedure. The surgery was not without its pluses and all that, it just was not as frequently executed, so for all I knew it could work and I would be back at it in no time. So they cracked me open, stuck in all kinds of stuff including fat, and cadaver pieces and within 3 months bam I was improved for the most part. It worked. Of course like Cat I managed to re-injure the same knee over the summer playing baseball of all things running to first base and it was back into the OR for Plan B. So to end this little tale, I can understand the grief, posturing and resilience it can take when dealing with a bevy of knee complications and issues and their inherent risks. Life is full of these risks and when it comes to your body, it is even more of delicate balance as you only get one in a lifetime (unless we get Robocops in the near future). But like anything, life is also about chance and if one's livelihood is sport, sometimes risks are what is needed as that is what sport is - the what ifs and cans that come with finding out what you are capable of. Hopefully all ends well with Ms. Zingano; I am pulling for her.

Alex Watt: FACT First of all, it's absolutely gutting for Zingano to encounter yet more injury troubles, especially at this stage in her career when she remains the official No. 1 contender to Ronda Rousey's UFC Women's Bantamweight crown.

However, the good news is that this stem cell procedure shouldn't extend her rehab and recovery period too far beyond what it was as a result of the operation on her right knee. If that prognosis turns out to be true, then the speed at which her left meniscus should heal means that she'll be back in the Octagon by April 2014.

With that in mind, if all that plays out as Zingano hopes, then you would have to expect that more fighters may opt for procedures of this nature in the future so as to quicken their recovery period. While this type of procedure would apparently only work on minor tears (ie. it wouldn't have fixed Zingano's right knee issues nor would it have been any use for someone with Dominick Cruz's troubles), it could still prove to be another option for fighters who suffer injuries of this type. If it means that they can be back training and competing sooner then fighters would be foolish not to opt for it.

---

Is the "interim" tag hurting Barao's sponsorship opportunities?



4.) Dana White is correct - Renan Barao's difficulty with finding sponsors has to do with Barao's management and personality, not with the "interim" tag being applied to his championship.

Alex Watt: FACT While I can kind of see their logic, I certainly don't agree with Barão and his team's assertion that having an "interim" championship is what's costing him sponsorship opportunities. Let's face it, there are plenty of other fighters who aren't in possession of (or, indeed, anywhere near) a world championship, who have a myriad of sponsors behind them.

Barão's management team have to shoulder a good portion of the responsibility for this issue; interim champion or not, it's their job to seek out the sponsors and sell their client to them. I reckon if they waved the shiny gold belt under sponsors' noses, few would be too concerned about what the official status of the title is.

The UFC themselves may also be culpable however, as they haven't necessarily promoted Renan Barão to the best of their abilities (besides Joe Rogan frequently referring to the Brazilian as "a beast" and "a killer"). Even as a Mixed Martial Arts reporter, I know relatively little about Barão and his background. That's not a good sign.

Another problem for Barão is that there is such a high number of Brazilian fighters in the UFC (with yet more to come – as evidenced by the upcoming TUF Brazil we discussed in the second statement), that some fighters from the country are bound to be overlooked by sponsors. Barão has the predicament of competing for sponsorship backing with some real legends of the sport; the likes of Wanderlei Silva, Vitor Belfort, Anderson Silva, Shogun Rua and others will inevitably be the names that the country's companies will clamour to be associated with and lesser known fighters, albeit champions, like Barão will miss out.

By the way, although the UFC President is probably correct in his assertion, I'm still baffled as to why he felt the need to voice his opinion in this manner. I realise a reporter asked him the question, but why White felt the need to be so blunt in his answer I'm not entirely sure (other than the fact that he's Dana White and he pulls these stunts all the time). His answer essentially translates to "Renan Barao is boring and his team is rubbish" – gee, way to build up your reigning 135lbs champ, Dana!

Paul Lapointe: FACT With incredulousity (I just made that word up) I agree. I mean Renan, though so nice and soft spoken, has in recent weeks really stepped up the diva card in interviews lately. He is believing in his own hype, which to be fair, is warranted, but not desired by any athlete in my opinion, especially in MMA. He, as of last week, speculated that one day he would be making Mayweather money for fights and that statement and train of thought is just absolutely ridiculous. I really do not mean to laugh at the guy, but MMA is not as corrupt or accepted in the mainstream with any kind of pedigree like boxing. For any current major MMA star in the world or in the UFC to make that kind of cash per appearance - in 20 years, one can dream, but now? No way Jose...oops, I mean Renan. Secondly, the MMA world already does consider Barao the actually champion as it is and if in Brazil you are having trouble finding sponsors get your face out and there and get some. Of course I believe in his own head he is looking at what he COULD be making in sponsor money and assumes he SHOULD already be getting it. He is just getting ahead of himself as once any one person makes a boatload the next chapter is to get more and complaining about not getting enough usually comes first. On a side note, even Cole Miller recently has been chiding about his lack of sponsor money in recent months. I mean this is a guy who is pretty talented in his own right but stuck in a middling slump who is opining that he USED to get 6,000 dollars a fight at least but now is making as low as 3,000. Damn son you are poor for a fighter that is on facebook and the prelims and losing and you are only making 3,000 dollars in sponsors, and your base salary and a potential bonus check and discretionary funds and most likely side ventures...man you should be readying up your sleeping bag buddy, you are one step away from the street. I kid, but seriously that's mucho dollars in today's economic times, at least to me, to do what you love and you can always earn more with some wins and whatnot. In time, more money is always possible, you just do not need to be little bitch about all the time, because who wants to sponsor that?

---

Did Ben Rothwell do the right thing?



5.) Ben Rothwell's response for testing positive for elevated levels of testosterone following his win over Brandon Vera (actually taking responsibility in spite of being surprised) is a tact that more fighters should adopt.

Paul Lapointe: FACT Duh! In this day and age, fighters have been and will be popped more often for TRT than steroids, I believe, as the years progress and as the sport does. I mean Ben is a big bear of a guy anyhow in a division where his weight and strength can be assets, but TRT really should not be something he needs unless he cuts a lot of weight. Plus, like any fighter, it is probably a little bit of truth, a little bit of BS, and a little bit of hyperbole when he came clean anyhow. The UFC itself also tends to say they have a firm stance on things when it comes to their fighters, but they have proven time and again to be lenient and forgiving. But as for TRT, I for once do not see that being the case, as evidenced by his recent suspension by the company itself and not the athletic commission. Granted Dana has never been much of an advocate of Big Ben but I believe that is neither here nor there. The old adage also goes "you do the crime, you do the time", or maybe "once a cheater, always a cheater" is a better mantra here. Maybe, it's "one in the hole is two in the bush"...ah who cares, Thiago Silva who peed animal urine is fighting Wednesday night, sorry Ben. Its a slippery slope but I just say BAN TRT and be done with it.

Alex Watt: FACT Irritating though it was to find out that yet another UFC fighter had tested over the 4:1 T/E ratio, it was at least refreshing to see the way in which both the company and the fighter handled the news. Ben Rothwell's full statement was lucid and explanatory, without being overly excuse heavy and it would certainly be good if more fighters followed his lead. I'd rather that TRT exemptions were just stopped altogether but if UFC mandated suspensions for testing outside the accepted levels and a fighter who made a mistake being apologetic is the best we're going to get for now, then I'll take it.

---


Who do you think won this week? Did Paul continue his winning ways, or did Alex show him how the veterans roll? Voting will be open until midnight EST on Saturday, so make sure you vote and make your voice heard!




---

Could EA Sports UFC be better promoted?



Bonus) EA is dropping the ball with regards to promoting EA Sports UFC.

Alex Watt: FACT I can only speak from what I've seen here in the United Kingdom – perhaps the game is being promoted better over in the U.S. – but I can't recall seeing an official advertisement for the game on these shores. Then again, there could have been numerous promos broadcast on BT Sport as part of their live UFC coverage and I've forgotten; consuming all that caffeine and alcohol in the early hours of a Sunday morning will do that to a man's memory. Either way, the fact that I know relatively little about the new game (it's due to come out on May 5th, 2014, apparently, which is news to me) suggests that the UFC and EA Sports have been at least somewhat guilty of under-promotion.

Paul Lapointe: FACT EA is known for boneheaded marketing and creative decisions over the past few years and the UFC has proven a hot commodity in the last few years in other markets. I mean I will not buy the game anyway as I get my ass beat on a day to day basis and simulating it just feels like I am truly better than I really am, haha. But honestly though, they could be doing a better job, but hey who am I to judge, this is just 411 F or F bonus question.

---


And that's it for this week! As always, if there's anything you'd like to see featured in a future edition, leave your statement in the comments and I'll add it in. Let us know what you thought in the comments, on Twitter, or on Google+.


comments powered by