SPOTLIGHTS
Five Quick Rounds 10.15.13: Fight Night 29, Bellator 103, The Rousimar Strikes Again, More
Posted by Evan Zivin on 10.15.2013

From Rousimar Palhares's firing and Jake Shields' split decision win over Demian Maia at Fight Night 29 to the results of Bellator 103 and Bjorn Rebney's offer to let Ben Askren sign with the UFC, 411's Evan Zivin looks at these stories and more in Five Quick Rounds!

Hey hey, fight fans, and welcome to Five Quick Rounds! I am your host, Evan Zivin, and I am as happy as Ashlee Evans-Smith to be here once again!

What did Ashley Evans-Smith do? Well she only TKO'd THE Fallon Fox in the Women's Featherweight Tournament Final at CFA 12 on Saturday night. Who is Fallon Fox, you ask? Where the hell were you seven months ago? Okay, so Fallon Fox is a transgender fighter. She was born a man, went through gender reassignment surgery in her early 30s, and is on hormone therapy and everything else that is necessary to make her as close to a woman as possible. Still, she was born a man and that caused a big stink when she decided to take up MMA and compete against other women. Her win in the semifinals of the Featherweight Tournament at CFA 10, and her victory at CFA 11, caused a big stink in the MMA world because she used to be a man so she shouldn't be allowed to fight women and etc. I didn't have much of an opinion on the subject at the time. That was mainly due to the fact I wasn't writing for the site yet, which is good because I'm not looking to piss anyone off before you get to the rest of the column so I'm staying out of this argument. You do know there's more to the column beyond the intro paragraph, right? So anyway, Evans-Smith kicked Fox's ass. She got hurt by Fox in the first round but was able to come back in the second and win the fight in the third with some vicious ground and pound. So there. Fox has been beat. All she needed to do was face a woman who doesn't suck at fighting. So can we stop bitching about her taking advantage of weak women and other sexist nonsense that probably made no difference because Fox isn't that good of a fighter to begin with? Great.

All right, so with fighter introductions out of the way, I have five more rounds of MMA news and opinions to throw at you. This week, we look at the results of UFC Fight Night 29 and Bellator 103, Rousimar Palhares's firing, and Bjorn Rebney allowing Ben Askren to sign with the UFC. Let's to it do it.

FIGHTER YOU READY!!!!
FIGHTER YOU READY!!!!

FIGHT!!!!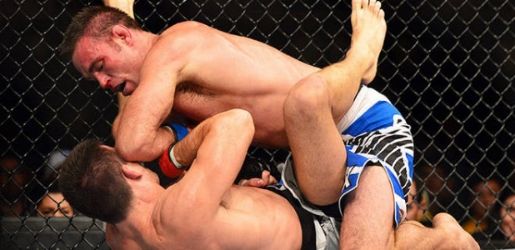 Round One: Fight Night 29 Main Event Quick Thoughts, Jake Shields Gets Past Demian Maia, Brazilian Crowd Is Left Empty Inside

***TOUCH OF GLOVES***

So on Wednesday there was another one of those Fight Night things that the UFC has been putting on Fox Sports 1. Y'know, that channel that has The Ultimate Fighter on it? With Miesha Tate? And Miesha Tate but in a bikini? And that Fox Sports Live woman who cuts in once every half hour to give sports news who looks like what would happen if the gap between Madonna's front teeth had sex with the gap between Michael Strahan's front teeth? does anyone know what I'm talking about? Wait, do I know what I'm talking about? That's a good question. I'll get back to me on that. So the main event of the show was a welterweight fight between former welterweight title challenger Jake Shields and former middleweight title challenger Demian Maia. Maia has had an excellent run in the UFC since dropping to welterweight, winning three straight fights, and he was definitely on his way to title contention in his new weight class. Depending on how the title fight between Georges St-Pierre and Johny Hendricks goes at UFC 167 (WAR BIG RIG!) there was a chance that Maia could have gotten the next title shot with a good performance on Wednesday. Shields, though, would not make it easy. He possesses one of the best grappling games in MMA and he knows how to win close fights. Plus, he's been over to the Diaz's for dinner before so you should know to keep an eye on him.

I thought the fight itself was pretty good. I'm a little surprised that so much of the 25 minutes was spent on the ground. I mean, I know the two men are world class grapplers and submission artists but a lot of times when you get two ground specialists the result tends to be a sloppy boxing match. You know your opponent presents a threat to you on the ground so why put yourself into that kind of unnecessary danger? Of course, it is great when two ground fighters choose to test their mettle against each other and that's what we got, with the result being fairly even. Both men were shooting for takedowns, both men were landing takedowns, both men were reversing positions, both men were landing strikes...it was a pretty even fight throughout. it made for some tough rounds to score, especially the first, where Maia took Shields down twice before Shields threw him on his back and opened up Maia's guard with punches and elbows. The fifth round was close too, as both men started opening up with their standup. In the end, two of the judges gave the fight to Shields, 3 rounds to 2. I had Shields winning the fight in the end so I can't complain but it was a really close fight. Besides, I didn't want Shields to win. I wanted Maia to win so there would be a new challenger ready in case the next welterweight title fight isn't GSP-Hendricks II: Electric Boogaloo. I guess it will go to the winner of Condit-Brown then. Or maybe they'll just give it to Nick Diaz again. At least that would be a more interesting choice than the black hole of charisma that is Jake Shields. Oh well. Sorry we angered you, MMA Gods.

***HORN SOUNDS***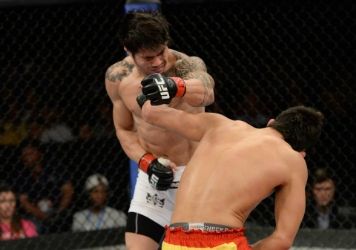 Round Two: Rest of Fight Night 29 Quick Thoughts, Dong-Hyun Kim Goes Hong Kong Phooey on Erick Silva

***TOUCH OF GLOVES***

It was a cartoon. I'm not racist. The people who made it were. You can't ignore history! So the co-main event featured rising welterweight prospect Erick Silva getting another crack at a top ranked fighter in Dong-Hyun Kim. This was an interesting fight. Kim's strategy for the fight was pretty much to lose his sh*t all over Silva. He spent the fight trying to bullrush Silva against the fence and blast him with wild power punches. it wasn't just a risky strategy. It was a stupid strategy, as it gave Kim plenty of opportunities to counter with knees and punches, hurting Kim at the start of the second round. I must say, though, that, for as dumb as the strategy was, it was entertaining as hell to watch. Plus, it ended up working out in the end, as Kim drilled Silva with an overhand right that dropped him and gave Kim the win halfway through the second round. The other most significant move on the main card was Rousimar Palhares's heel hook against Mike Pierce. Pierce thought he was doing the right thing by being aggressive and swarming Palhares with punches against the cage but it made no difference. Once that mythical Brazilian beast goes for your leg, it's only a matter of time. Pierce did escape the first attempt but Palhares went for another and cranked that sumbitch to get the win in 31 seconds. When you're in that position with the Paul Harris, your only hope is that he remembers to release the hold. Actually, it's funny I said that because there is more to this story to talk about. Stay tuned.

The rest of the card was decent. Matt Hamill reassured everyone that coming out of retirement may not have been his best idea in his decision loss to Thiago Silva. Hamill did manage to get Silva on his back in the first two rounds but Silva shot back up both times. Silva then went on to batter Hamill with punches and hard leg kicks throughout the fight. Silva came close to finishing Hamill in all three rounds, with Hamill's heart and, more significantly, Silva's fatigue as the reason why the fight went the full fifteen minutes. Silva got his second win since coming back from his last drug suspension. Let's just hope he makes weight next time. Fabio Maldonado and Joey Beltran also showed heart in their three round battle. Maldonado threw a lot of jabs that kept Beltran from getting inside, but when he did, The Mexicutioner found success with short punches and elbows and some good work from the clinch. I had Beltran winning the fight but the judges were apparently aware of that and gave the split decision win to Maldonado. I always forget that the rule in Brazil is the Brazilian wins. That rang true as well for the Raphael Assuncao-TJ Dillashaw fight. The fight saw Dillashaw work to secure chokes and throw lots of high kicks while Assuncao countered with hard shots to the head and body. It was a good effort from the Alpha Male fighter but two of the judges didn't think so and gave the split decision to Assuncao. Duane Ludwig won't be happy with that. Also, high. The card also saw Igor Araujo get a big unanimous decision in his debut against Ildemar Alcantara, Yan Cabral use his grappling to dominate and secure a unanimous decision against David Mitchell, Chris Cariaso coming back from a grappling clinic to badly hurt Iliarde Santos with right hands and get a TKO in the second round, and Alan Patrick dropping Garett Whiteley with a left hand to win by TKO in the first round. So, some people definitely got robbed on the card. Even worse is that Cabral got robbed for real after the fight. At gunpoint. Real smooth, Brazil. Real smooth.

And that was Fight Night 29. Next up is UFC 166 on Saturday. Heavyweights are going to go boom. Should be a fun one.

***HORN SOUNDS***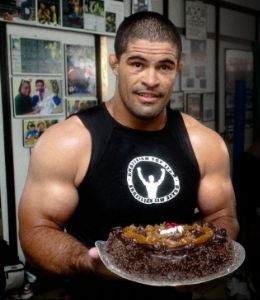 Round Three: Rousimar Palhares Gets Fired For Unsportsmanlike Conduct, Brazilian Top Team is Charged With a Timeout

***TOUCH OF GLOVES***

Oh Rousimar. Rousimar, Rousimar, Rousimar. You poor idiot man-child, you. You just can't find a way to not do something stupid. Rousimar has a history of doing bone-headed things in the UFC. First, he injured Tomasz Drwal at UFC 111 by not letting go of a heel hook after the ref told him to stop, claiming he didn't feel the tap. Then he fought Nate Marquardt at Fight Night 22 and lost the fight when, after Nate slipped out of a leglock attempt, Rousimar got blasted in the face because he was too busy trying to complain to the ref that Nate was greasing IN THE MIDDLE OF THE FIGHT. My favorite incident was at UFC 134, when Rousimar dropped Dan Miller and thought the fight was over when it actually wasn't. It wouldn't have been as funny if Rousimar hadn't decided to immediately jump onto the cage and flex in celebration of a fight that wasn't over yet. Oh, and I shouldn't forget the incident that took place at the 2011 ADCC competition. Rousimar's second fight in the under 88kg division was against David Avellan. Rousimar held onto a heel hook for too long in that fight too but the submission happened out of bounds so he held on too long for a submission that didn't even count. Then he tried to hug Avellan afterwards in celebration of a fight he hadn't won and Avellan interpreted it as Rousimar trying to slap him. After that happened, the fight got reset and Rousimar did further damage to Avellan's leg by holding onto a kneebar for too long. So there's all that, plus he's been suspended for elevated levels of testosterone, which might explain why his head is so big. Yes, Rousimar has had quite the interesting career.

Despite all that, this incident last Wednesday was the last straw for Dana White and the UFC, as they cut Rousimar for holding onto a heel hook too long in his fight against Mike Pierce. Now, to be fair, he only held onto the submission for a little over a second after the initial tap, but it took Pierce tapping at least 10 times and the referee wrapping his entire body around Rousimar to get him to let go. Rousimar is an expert in leglocks, a veritable "Leg Collector," if you will. He should know when to let go of the damn hold. It's hard to tell if this odd behavior is all an act but, considering how surprised Rousimar always is with all the oddball things he does, it really seems like he's just that dumb and oblivious to everything he does. Maybe he just gets really zoned in when he fights and, once he enters that trance, it's near impossible to break him from it. Still, he should be able to tell when a dude is smacking him on the ass because the man would like to leave without his leg looking like it got trapped in a thresher. Seriously, leglocks are some of the most dangerous submissions due to how much damage they can cause to important limbs and joints. Rousimar should know how to do them safely or else he shouldn't be doing them. Unfortunately for him, the only way he may finally learn to be more careful is by not fighting, which may be what ends up happening because I don't know how many MMA organizations are going to want to sign him with the reputation he has. UFC has pretty much banned him for life, Bjorn already said that Bellator is not interested, and I would think that Ray Sefo will be smart enough to not give Rousimar a World Series of Fighting contract (well, I hope he is), so Rousmar may be stuck shortening men's careers on a smaller stage indefinitely. It's unfortunate it had to end this way but fighter safety is paramount and UFC gave him more than enough chances to get his act together and he still does this nonsense. I can't feel sorry for him in this situation. I can still laugh at him, though. Ha.

***HORN SOUNDS***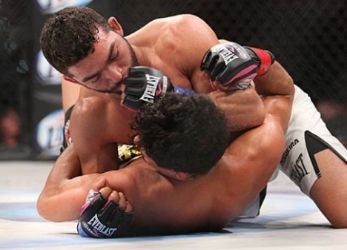 Round Four: Bellator 103 Quick Thoughts, Does John 3:16 Say Anything About Having to Fight Patricio Pitbull?

***TOUCH OF GLOVES***

Amidst all the craziness this week with a UFC card and an awesome women's fight on The Ultimate Fighter, now with more random Hooter's girl asses, plus my birthday (thanks for remembering despite the fact I never mentioned it in the column or anything personal about me for that matter), there was another Bellator event. This week was the semifinals of the Season Nine Featherweight tournament. The top fight saw Patricio "Pitbull" Freire look to once again advance to a tournament final, this time against Fabricio Guerreiro. Pitbull was the smaller fighter but he had no problem using his strength to muscle Guerreiro against the fence and down to the ground for a good majority of the fight. Pitbull was just the better equipped fighter. Even when it looked like Guerreiro would land a takedown and be able to control some of the fight Pitbull still found a way to reverse position and continue to dominate like he does against the majority of fighters he has faced. Guerreiro did have some success with his strikes but nothing too significant other than a few spinning back fists that Pitbull easily ducked because the man is only, like, four feet tall or something. Pitbull used range and movement to avoid getting hit and landed a couple good combinations on Guerreiro. In the end, Pitbull was given the win by unanimous decision and will advance to his third tournament final. Man, they should just give him a bye in each tournament the way he keeps wrecking guys. Either that or get him some decent competition. Nah, that won't happen.

Pitbull's opponent in the finals will be Justin Wilcox, the man who makes Ben Henderson say, "Woah, man, cool it on the preaching." Wilcox fought Joe Taiminglo, who is from Guam and is adorable. This fight was a battle of Wilcox's wrestling vs. Taiminglo's boxing. Both men performed well, as Joe landed punches throughout the three round fight, while Wilcox took Joe down in every round. Wilcox did a great job of sticking to Joe and keeping him on the canvas, which wasn't always the most exciting to watch but it was effective and it led to a unanimous decision win for the Jesus freak. Now, I'm accepting of all religions, by which I mean I think it is acceptable to make fun of all of them, but the man quoted John 3:16 in the middle of the cage. I don't honestly have an issue with that, but did anyone else hope "Stone Cold" Steve Austin was going to show up and debate him on the tenets of Christianity and then stunner him? I was. Also at Bellator 103, David "Caveman" Rickels drove out to the cage in a Flintstones-style car (well, he was pushed), and beat up on J. J. Ambrose, who is not directing the next Star Wars film, for two-and-a-half rounds before referee "Big" John McCarthy finally felt enough remorse to end the fight. Also, another UFC veteran bit Bellator's dust as Aaron Rosa got tapped with a kimura from Mikhail Zayats in 47 seconds. Yeah. This is why UFC needs to be careful about letting too many guys on the roster, since most of them actually suck.

And that was Bellator 103. Bellator 104 will feature the semi-finals of the welterweight tournament. That means more War Machine. Joy.

***HORN SOUNDS***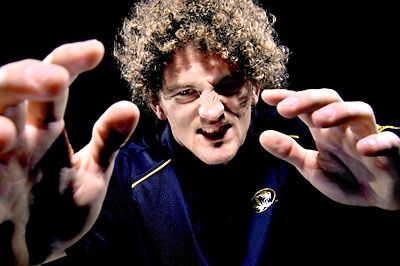 Round Five: Bellator Will Let Ben Askren Walk if He Gets a UFC Title Shot, Eddie Alvarez Face Palms

***TOUCH OF GLOVES***

If you follow Bellator, and if you don't you should because why the hell else am I writing about it, you know that welterweight champion Ben Askren is a pretty good fighter. He's one of the most accomplished wrestlers in MMA, competing in the NCAA wrestling championship final all four years he was in college and winning it twice. He's also won gold in the Wrestling World Championships and, most notably for us, he is the current Bellator Welterweight Champion. He is 12-0 and has dominated every opponent he has faced. Bellator has done its best to find top quality fighters to compete with Mr. Funky but he has turned away every challenge in impressive, albeit sometimes really boring, fashion. In short, the guy needs a challenge and Bellator ain't giving it to him. If Askren's goal is to be the best fighter in the world, which I would imagine is his motivation because he's in Bellator so he's not doing it for the money right now, then he needs to be where all the best welterweight fighters in the world are. He needs to be in the UFC. He also needs one of those Dagastani hats that Khabib Nurmagomedov wears to the cage. Wouldn't it be funny to see Askren with his afro grown out wearing one of those blonde, furry hats. It would be funny. So funny. Anyway, he needs competition and the only place to get real competition at 170 is in the house that Dana built.

So the good news is that Bellator President Bjorn Rebney sounds willing to let Askren go challenge himself in the UFC. Bjorn even said he'd be willing to waive Bellator's matching rights as long as Askren gets offered an immediate UFC title shot. The matching rights were a big sticking point during the whole legal debacle that took place when former Bellator Lightweight Champion Eddie Alvarez tried to leave because he wanted real competition/money and got stuck in limbo when the contract Eddie signed allowed Bellator to match the provisions of the UFC contract without really being able to match all of them. This could present an issue in Askren leaving as well. He may not be the most popular fighter on the roster but he is one of the most successful and Bellator needs all the top fighters they can get to help bolster their TV ratings and keep the Payperview from being a total disaster. With all that being said, Rebney, while showing he is willing to let Askren go and make a real name for himself, is also being a total dick by saying the only way he would let Askren go unrestricted is by saying he has to get a title shot. Is Askren worthy of an immediate title shot? I guess you could make a case for it if there's no one else anyone wants to see in the UFC get it (might actually be possible soon since Maia is out of the title picture for right now), but only a jerk would say something like, "Sure you can leave. You just need to be offered a title shot against one of the greatest fighters in the world in your first fight. Then you can leave. Oh and if you don't get the fight then sucks to be you." Thanks, Bjorn. As obnoxious as Dana gets with his comments, at least you know where a fighter stands in his mind. He won't lead a fighter on saying he'll let them leave if they get a title shot elsewhere.He'll either say the fighter can or can't go and that's it. Hopefully Askren gets the chance to go to the UFC and doesn't get stuck taking another fight like Eddie is, but we shall see in time. All I can say right now is that Bjorn may be bald but he ain't no Baldfather.

***HORN SOUNDS***

That's it for Five Quick Rounds. If you have any questions, comments, or suggestions, and it is always appreciated when you do, leave them in the comments section. I will be back in 7 for another Five Quick Rounds. Go watch Cain and JDS beat each other up and, until next time, remember to fight clean, fight hard, fight fair, and never leave it in the hands of the judges...




LATER!!!!!!!!!!!!!!!!!!!!!!!!!!
comments powered by