SPOTLIGHTS
The Greatest MMA News Column 10.15.13: Goodbye, Paul Harris
Posted by Dan Plunkett on 10.15.2013

News and thoughts on Ben Askren, Rousimar Palhares' release, Bellator's PPV card, Saturday's UFC 166, Frank Shamrock's documentary, and more!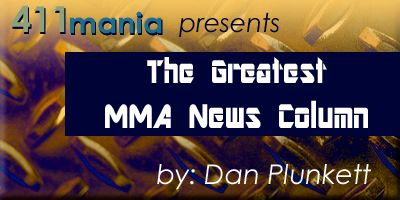 NEWS!





UFC



Rousimar Palhares released. UFC decided to release welterweight Rousimar Palhares after his second instance of holding on a submission too long in the company. Palhares, 33, submitted Mike Pierce with a heel hook thirty seconds into their fight on Wednesday. The five-year UFC veteran held on the hold for an extra second after the referee stepped in – a short amount of time, but for Pierce and other fighters in that situation it may have been the difference between simply walking away and a career ending injury.

Palhares' first offense came three years ago at UFC 111. He submitted Tomasz Drwal with a heel hook in under a minute and failed to let go after the stoppage. He was suspended 90 days for the infraction, which isn't really a punishment as so few UFC fighters fight every 90 days. Palhares has done similar things in Brazilian jiu jitsu competition, and former coach Murilo Bustamante revealed after the incident Palhares was no stranger to hurting people in practice.





The Brazilian joined the UFC's middleweight ranks in 2008 as a highly touted BJJ black belt. He immediately made an impact with a beautiful transition to armbar from the back against veteran Ivan Salaverry. Just four months later he fought Dan Henderson, but dropped a decision. After that he scored a dominant decision win over Jeremy Horn, and followed that up with two victories via heel hook – his most famous and feared move. A loss to Nate Marquardt stalled his momentum, but three consecutive victories put him close to title contention. Alan Belcher put a stop to that streak in May of last year, and he was knocked out by Hector Lombard in December. After the bout, Palhares, a short but thickly muscled middleweight, failed a drug test for an elevated testosterone-to-epitestosterone ratio.

The Pierce match was Palhares' first since that failure and also his first in the welterweight class. Had he let go of the hold when he should have, Palhares would be talked about as a potential contender at middleweight.

UFC Fight Night 29 results. The show did 638,000 viewers, which is probably going to fall in the average range of these types of events until Fox Sports 1 gets stronger. It was beaten by the episode of The Ultimate Fighter that followed it, which drew 725,000 viewers. That's the second time this season the Ultimate Fighter show outdrew a live show that preceded it, which never used to happen. Jake Shields won a split decision in the main event over Demian Maia. The fight was far from as bad as it could have been, but it wasn't great. There were a few rounds that could have gone either way so there was no real issue with the scoring. Dong Hyun Kim knocked out Erick Silva in the second round in the co-main event. After years of false promises, I guess we finally saw the Stun Gun. Thiago Silva beat Matt Hamill in a fight that wasn't fun to watch. Silva was out of shape and Hamill, 37, should probably call it quits. Fabio Maldonado won a decision over Joey Beltran. As noted above, Rousimar Palhares beat Mike Pierce. In the best fight of the night, Raphael Assuncao won a very close decision over TJ Dillashaw. Assuncao is fairly close to a bantamweight title shot.

UFC 166 is Saturday. The UFC's stretch of strong year-end pay-per-views kicks off Saturday night. Cain Velasquez and Junior dos Santos will meet for the third time in three years in the main event. Some years down the line, this will be one of the defining rivalries of the era and the heavyweight division. Dos Santos won the first fight via quick knockout. Velasquez dominated the second fight en route to a decision.

Generally, a 25-minute fight will be more indicative of a fighter's skill level than a 64-second fight, so it's best to look at the second fight for an indication of how this one will go. Velasquez constantly pressured dos Santos in the rematch, and his incessant strikes and takedown attempts tired dos Santos by about three minutes into the fight. That helped Velasquez score a knockdown with a punch later in the first round and he battered the defending champion from that point on.





Dos Santos claims he over-trained for the rematch and has since corrected the issue. Over-trained or not, I don't think he can handle Velasquez's pace for an extended period of time. Thankfully for Junior, if he lands the right punch (or spinning kick), he won't have to deal with that pace for an extended period of time. The longer the fight goes, the more it tilts in Velasquez's favor (unless dos Santos hurts him and Velasquez never recovers, which would make that last sentence completely wrong).

Daniel Cormier should beat Roy Nelson in the co-main event. Nelson has dropped weight and is said to be in very good shape, but I think Cormier is too good. Gilbert Melendez vs. Diego Sanchez has great potential, but I don't see a lot of ways for Diego to win. Hopefully Gabriel Gonzaga vs. Shawn Jordan is better than the last time Gonzaga fought a guy with that last name. John Dodson vs. Darrell Montague could determine the next contender at flyweight. On the prelims, Nate Marquardt vs. Hector Lombard and Sarah Kaufman vs. Jessica Eye are very interesting.

Even less than a week out, it's tough to say how the show will do. The Primetime special hasn't found an audience on Fox Sports 1 and the Countdown special probably won't fare much better. The commercial was strong, so that's a plus. UFC 155, which featured the rematch, was estimated at 590,000 buys. I imagine UFC would hope to beat that for the rubber match. The show really should break 500,000 buys.



Bellator



Bellator PPV main card complete. Bellator added Cheick Kongo vs. Vinicius Queiroz in a heavyweight tournament finals bout to round out the main card portion of their November 2 pay-per-view debut. Headlining, of course, is a light heavyweight match between former UFC champions Rampage Jackson and Tito Ortiz. It's constantly being brought up as a selling point that both are finally healthy, but we've heard that story with a dozen different fighters over the years, including Ortiz and Jackson, and that's almost never the case once the fighter gets deep into his thirties. Ortiz hasn't performed at an elite level in about seven years and he's just months removed from major knee surgery. Jackson isn't on nearly the slide Ortiz is, but he hasn't looked good in his past three bouts. Rampage should be heavily favored.

To most non-casual fans, the most looked forward to match on the card is the lightweight title match in the co-main event. Michael Chandler rematches Eddie Alvarez with the belt he won from Alvarez in one of the great fights of all time in November 2011 on the line. Since that match Chandler has looked excellent in all three of his fights while Alvarez scored two first round knockouts. Alvarez hasn't competed since October 12 of last year due to a contract dispute with Bellator, so ring rust could be a factor.





An interesting storyline is that Alvarez's agreement to return reportedly calls for two fights at the most. If Alvarez beats Chandler on November 2, they would do an immediate rubber match, and if he wins that fight he'd be free to go to UFC. Should Alvarez lose either bout, he'd be free to go to UFC. A loss for Alvarez would take away much of his bargaining power with the UFC and he likely wouldn't receive as strong of an offer as the one they made him last year. However, if he leaves Bellator as the champion he should receive a better offer than before.

Pat Curran vs. Daniel Straus for the featherweight title is a nice fight to have, but it won't draw in any buyers. Curran, 26, dropped to featherweight in 2011 after a championship loss to Alvarez and has looked very good since. Straus, who has been in line for a title shot since winning the season six featherweight tournament in May 2012, will rightfully come in as the underdog. By fight time, his last fight will have been just over one year ago.

The third championship match on the card is in some ways the most controversial. Light heavyweight champion Attila Vegh was announced as injured and unable to compete on the card by Bellator, and so a rematch between tournament winners Muhammed Lawal and Emmanuel Newton was booked for the interim title. Polish MMA website mmarock.pl caught up with Vegh for an interview, where he stated he was not in fact injured and Bellator pulled him from the fight for business reasons. The reporter also witnessed Vegh sparring. Bellator responded by claiming Vegh had been mistranslated and released a medical report detailing an injury. Others who listened to the interview noted Vegh was not mistranslated. The medical report was dated in April and gave a recovery time of 6-8 weeks. Bellator has not commented on the issue since a September 8 interview where CEO Bjorn Rebney claimed Vegh was taken out of context.

Lawal vs. Newton II is, business-wise, preferable to Vegh vs. Newton, or even Vegh vs. Lawal. It allows Lawal, one of the biggest stars in the company, an opportunity to redeem himself against the guy that stalled his momentum. Had Newton fought Vegh and lost, which is entirely possible considering it happened last year, it would be harder to match Lawal and Newton again. Really, when it comes to the PPV and live business, Lawal vs. Newton isn't a major difference maker and not a significant improvement over Lawal vs. Fighter X. Essentially, Mo's value alone isn't very far off from the value of Mo vs. Newton, though the latter is obviously preferable. Despite the loss in the first match, Mo should be favored in the rematch.





The Spike TV portion is scheduled to feature two fights, which is the number of preliminary fights UFC would put on during their time on Spike (they've gone with four-fight TV prelims since moving to Fox). Joe Riggs vs. Mike Bronzoulis, the finals of the Fight Master reality show, headline the prelims, which also features UFC vet Terry Etim vs. Patrick Cenoble.

Televised prelim fights were introduced by the UFC for UFC 103 in September 2009 when they were going head-to-head with a Floyd Mayweather fight. The thought was they would be a beneficial last-minute push for the PPV, but the only instance I can point to with any degree of certainty where a prelims show sold more fans on the PPV is WEC 48, which had the incredible Chan Sung Jung vs. Leonard Garcia bout. Really, if a prelims show is a way to get people to want to buy the fight, promotions should use more video packages for the main fights instead of going from one preliminary fight to the next, especially considering the preliminary card shows nowadays are viewed by 2-3 times more people than Countdown shows.

I have little idea what kind of business the show is going to do. It's tough to say what PPV number would be a success without knowing the costs (Ortiz, Jackson, Alvarez, and Chandler aren't coming cheap, plus costs from promotion), their deals with cable and satellite providers, and there being no set price on the show (it's between $35 and $45 depending on the market and provider). If the show beats the lowest level UFC shows, which I don't think there is a particularly strong chance of, it's a win in some sense, but what if they make little or no money with that number? If their strongest lineup possible with a ton of promotional effort makes little or no money, is another PPV worth even considering or should they focus on making their television product is as strong as possible before looking at another PPV? Perhaps they'll find the latter is what they should have done in the first place and waited for a PPV caliber match, instead of forcing the issue with the Ortiz and Jackson signings.

Bellator agrees to let Askren go to UFC…if he gets immediate title shot. Bellator welterweight champion Ben Askren pretty clearly wants to leave the promotion. Since his contract came up at the end of July, all the 29-year-old seems to talk about is fighting UFC welterweight champion Georges St-Pierre. Bellator allowed Askren to field offers by waiving its 90-day exclusive negotiation period (they still retain matching rights through the end of July 2014), but UFC has yet to offer Askren a deal or begin serious negotiations.

The last time UFC offered a major Bellator star a contract during the matching rights period, a lawsuit between the fighter, Eddie Alvarez, and Bellator ensued. Bellator claimed they matched UFC's offer to Alvarez, while Alvarez claimed they hadn't. The key issues were the discrepancy between Fox and Spike and Bellator PPV vs. UFC PPV. The suit was settled when Alvarez agreed to return under a unique deal, so it's not clear if UFC could offer a fighter like Askren a fight on Fox and PPV points and claim Bellator couldn't match the offer. In hindsight, Alvarez may have been better off waiting out the yearlong matching period and signed with UFC at that point.

For Askren, the negative side of waiting out the matching period is not only loss of income, but the loss of a year of his prime in a sport where the window of success can be quite small. The UFC could theoretically make Askren an offer that wouldn't make financial sense for Bellator to match so they would let him go, but that is at a point where Askren may not make financial sense for UFC. Askren is and isn't the type of fighter UFC likes. He plays a very good antagonistic character that makes fans care either way about him. That character could help draw very well in a fight against St-Pierre and potentially past that. He's also terribly boring to people that aren't into the finer points of wrestling, which is the overwhelming majority of UFC's fan base. Askren is not the type of fighter you would want to feature on Fox.





Whatever offer UFC would make Askren could be made up by one fight with Georges St-Pierre, but that fight isn't a guarantee. While Askren has dominated nearly all of his fights, he hasn't fought elite caliber welterweights. Two years ago Askren had a close fight with Jay Hieron that could have gone either way on the judges' scorecards. Askren took the split decision, and Hieron left for the UFC, where he went 0-2 and was released. There's also a chance St-Pierre could lose to Johny Hendricks in their title match next month. Worse, St-Pierre may retire regardless of the outcome of that match.

Bellator CEO Bjorn Rebney proposed a situation where UFC could worry less about the St-Pierre vs. Askren bout not coming to fruition. Rebney's offer is simple: guarantee Askren an immediate title match in his contract, and he'll let him go to UFC.

For Bellator, the outcome of the proposal has a number of positives. Sure, they lose their champion, but it's a champion that has been boringly dominant. If Askren were to lose to St-Pierre, it's not as though Bellator would suddenly be looked at as a second-rate promotion; it's no secret UFC is far ahead of every organization in terms of talent depth. Askren winning isn't a big positive for Bellator since they can't promote him anymore, but it makes them look better in a sense as their guy went over and beat the UFC champion. What they are giving up is one of their most marketable fighters, though that status is useless unless someone comes along that can challenge him or has a strong personality.

For UFC, they would only have one fight to worry about that could derail St-Pierre vs. Askren. He could simply come in and cut promos about being a better wrestler than St-Pierre (or Hendricks, should it go that way). The other side of that is it's a limited time frame for the audience to get to know Askren's personality. The last champion from another organization that was supposed to come over and fight St-Pierre immediately was Nick Diaz. Due to injuries and a loss, the fight got pushed back more than a year. It eventually did an estimated 950,000 buys, which is considerably more than it would have done had it taken place in October 2011 as initially planned. The difference was fans got to know Diaz and his feud with St-Pierre developed over time. While many think of Askren as boring, it may not be something that hurts the St-Pierre fight because it's in line with his antagonistic character.

Of course, the general rule is if you have a money match, you do it as soon as possible because any number of things could happen to derail it. At that point, the question becomes how much bigger is St-Pierre vs. Askren than St-Pierre vs. Matt Brown – an exciting fighter on a long win streak that has become increasingly more vocal and more interesting to listen to. If Brown beats Carlos Condit on Fox in December, he's certainly more deserving than Askren and may draw just as well if not better. Should Brown lose and St-Pierre retains his title in November (and opts not to retire), Askren becomes the clear best option to challenge for the title (assuming Rory MacDonald doesn't beat Robbie Lawler and turn on GSP).

If UFC takes Bellator's offer and Askren is next in line for the welterweight title after Johny Hendricks, it's probably not something that will play out before December 14, when Brown faces Condit.

Bellator 103 results. Patricio Pitbull and Justin Wilcox advanced to the finals of the featherweight tournament. It's been quite the past month for Wilcox. He hadn't fought in a long time after losing his final two Strikeforce fights, got a call as a replacement for the featherweight tournament on short notice, and now he's in the finals. David Rickels, in his first fight since his quick title loss to Michael Chandler, made his entrance in a Flintstones car and won a third round TKO over JJ Ambrose. He was very over with the crowd. Rounding out the main card was Mikhail Zayats submitting Aaron Rosa in the first round.



Other



Quick news: Results from the weekend include Olympic gold medalist Henry Cejudo winning a decision over Ryan Hollis to move to 5-0. It was his fifth fight of the year and the first he didn't finish in the first round. Holly Holm, 31, also moved to 5-0 with a sick body kick followed by some knees and punches. Holm has looked great in all of her fights and should be on her way to the UFC. Former Ultimate Fighter Efrain Escudero won his third fight in a row, a streak which was preceded by a four fight skid. Ashlee Evans-Smith beat Fallon Fox, who nobody seems to care about now that she lost.

A very good documentary aired on Spike TV about Frank Shamrock and featured his reunion with adopted brother Ken Shamrock. The documentary detailed Frank's troubled early life, his entry into fighting, his career, retirement, and getting closure with Ken. There were some that watched the meeting between Ken and Frank and felt they were teasing putting together a fight, but I didn't see that, at least from Frank's side. They were supposed to fight at a couple of different points, but virtually all talks ceased after Ken fell out of the Kimbo fight and CBS refused to do any further business with him. You can watch the full special here.

World Series of Fighting signed Yushin Okami in a deal that was announced Sunday. He is expected to debut early next year.

Glory, the world's premiere kickboxing organization, had a great debut on Spike TV Saturday. The show featured a four-man tournament for the heavyweight title and a rematch between Tyrone Spong and Nathan Corbett. Gokhan Saki vs. Rico Verhoeven kicked off the main card and the tournament. Verhoeven scored a controversial knockdown early on and won a close decision. After the knockdown Saki shoved the referee out of frustration, which really could have been the end of the fight right there. In the other semi-final, Daniel Ghita knocked out Anderson "Braddock" Silva in the first round. Errol Zimmerman flatted Hesdy Gerges in the third round of their reserve bout. Joseph Valtelli and Karim Ghajji, neither of whom I had heard of, had a great fight with Valtelli winning with a third round stoppage. Spong beat Corbett in the second round of a brutal fight. In the heavyweight tournament finals, Verhoeven beat Ghita via close decision in a great fight. Action-wise, it was a great, great show and an excellent reintroduction to kickboxing for the United States. No ratings have been released. There was word Glory didn't care about the ratings after such a great show, but I doubt they'll be quite as happy if the number comes in really low.

---
Thanks for reading; I hope you enjoyed it. Feel free to leave any feedback in the comment box or at the e-mail address below.
comments powered by