SPOTLIGHTS
411 MMA Fact or Fiction 10.16.13: Rousimar Palhares, Jake Shields, More
Posted by Wyatt Beougher on 10.16.2013

Did Jake Shields' win at UFC Fight Night 29 deal a blow to the UFC welterweight division? Was the UFC right to release Rousimar Palhares? 411's Evan Zivin and Wyatt Beougher debate these topics and more in this week's Fact or Fiction: MMA!

Welcome back to another edition of 411's MMA Fact or Fiction, and I'm your host, Wyatt Beougher. Last week, newcomer Paul Lapointe took on veteran Alex Watt, and it ended up being quite the contest. Watt took the early lead in votes, but Lapointe came roaring back and won 24-16. Lapointe remains undefeated, but will he be able to maintain that streak until the 2014 MMA Fact or Fiction tournament? This week, Watt's countryman Jonathan Butterfield will be stepping into action against Evan Zivin, who continues to do such great work over on Five Quick Rounds that it's pretty much made me forget that guy who wrote the column before him. Wonder whatever happened to that putz… (Update: Butters was having some communication issues, so I had to step in, so I guess we'll find out what happened to that putz.)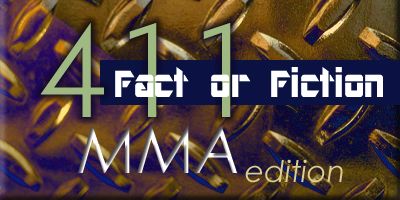 TALE OF THE TAPE

Red Corner
Evan Zivin
'The Man With No Plan'
Columnist, Five Quick Rounds
2-1-1

VS

Blue Corner
Wyatt Beougher
'MMA's Merv Griffin'
Host, this very column right here/Reviewer, Marvel's Agents of S.H.I.E.L.D.
2-0-2

---

Was Shields derailing Maia's title hopes bad for the welterweight division?



1.) Jake Shields beating Demian Maia, especially by questionable split decision, was the worst possible outcome of their main event fight at UFC Fight Night 29.

Evan Zivin: FICTION I don't think Shields beating Maia by a close split decision was the worst possible outcome for the fight. The worst possible outcome would have been Shields soundly beating Maia by smothering him on top, effectively neutralizing Maia's submission game and any chance of the fight being remotely interesting. I thought the fight was pretty good. Shields's ability to counter Maia's grappling was impressive and, while I had Shields winning the fight, it was very close and could have gone either way. That's a good thing for Maia, whom I'm sure UFC was hoping to win so that they'd have a new challenger to present to the winner of the Georges St-Pierre/Johny Hendricks fight (assuming they don't do an immediate rematch if Big Rig wins), because a fighter almost never loses much luster in the eyes of the fans when the only reason he lost the fight was because two of the judges thought everyone was enjoying themselves too much. Maybe they were having terror flashbacks to the Fabio Maldonado/Joey Beltran fight. It's hard to say, but at least UFC can give Maia another top welterweight in his next fight and get him back to title contention like he would have been in if he won last week.

Wyatt Beougher: FICTION The optimist in me thinks that if Shields had simply smothered Maia en route to a dominant decision or finished him, it would've been worse, so I can't go FACT on this one; however, it was still pretty bad for the welterweight division. I don't think anyone wants to see Shields face off against GSP again, while Maia would've been a fresh contender coming off of his fourth straight win at welterweight (had he actually, y'know, won). Now the UFC has to hope Hendricks wins and then wins the inevitable rematch, all while Shields puts together a few more wins so that this fight doesn't end being a complete loss. Way to go Brazilian judges for going out of your way to make sure you don't get the reputation of unfairly favoring your fellow countrymen, unlike your Japanese counterparts, and instead unfairly favoring guys not from Brazil.

---

Dana White actually made a funny joke (that this was Thiago Silva's pre-fight diet)



2.) Between attempting to pass animal urine off as human urine to avoid a drug test failure and now missing weight and refusing to try to make the weight limit for the fight, the UFC should release Thiago Silva.

Wyatt Beougher: FACT I'm honestly surprised he's not gone already. Let's look at the facts here - any hope the UFC had of Thiago Silva becoming a legitimate draw went out the window when he was the first guy to be knocked out in the UFC by previously-boring Lyoto Machida. From that point on, he's pretty much been expendable, alternating wins (over Keith Jardine, Brandon Vera, and Stanislov Nedkov) and losses (to Rashad Evans and Alexander Gustafsson), and while Silva beat Brandon Vera's useless carcass out of the UFC, Vera got his job back because Silva tried to cheat on his whiz quiz. After serving that suspension (and losing to Gustafsson), Silva's win over Nedkov was overturned because Silva tested positive for pot. After serving THAT suspension, he impressively beats Rafael Cavalcante and Matt Hamill, but the Hamill win is tainted because he comes in overweight. Okay, let's break this down, shall we? He's not a draw anymore and he loses to the top guys in his division - that makes him a gatekeeper and guys like that will always have a spot in the UFC. But when you throw in two drug-related suspensions and missing weight (which is one of Dana's biggest pet peeves), I'd suggest Mr. Silva tread very, very carefully in the near future.

Evan Zivin: FICTION The fake urine incident was absolutely ridiculous and inexcusable, but I'm not going to keep hanging that over Thiago's head. Not at least when it comes to missing weight, which is completely unrelated to that incident. He got suspended for a year for that boneheaded decision. He lost a year of his fighting prime because he thought he needed drugs to beat Brandon freakin' Vera. Did he need steroids to play bongos on the man's head? Playing a couple hours of Donkey Konga would have given him the same results. Well, maybe. Seriously, it doesn't get more embarrassing than that but he did apologize and he served his time and I can move on from it. He also got busted for pot, which I don't think most fans are going to hold over him either. As for missing weight, it's the first time he's done it in his UFC career so I'm willing to give him another chance. There may have been a legitimate health risk if he attempted to cut the extra weight. We don't know for sure what was going on with him physically in the lead up to the Hamill fight. Now, if this becomes a regular occurrence for him? Then yeah, cut his ass.

---

Was a release and blacklisting the proper punishment?



3.) Because this is the third such occasions he's held onto a fight-ending submission for too long, the UFC did the right thing in releasing and blacklisting Rousimar Palhares.

Evan Zivin: FACT The case of Palhares is different from Thiago Silva. There is something wrong with that man. He injured Mike Piece by holding onto a heel hook after the tap. He injured Tomasz Drwal by holding onto a heel hook after the tap. He injured David Avellan at the 2011 ADCC tournament by holding onto a heel hook after the tap even though it wasn't the end of the match because the submission happened out of bounds and Avellan thought Palhares was trying to slap him when Palhares was just trying to hug him because he thought he won the fight except he hadn't. Yeah. Plus, he lost to Nate Marquardt when he tried to complain to the ref about greasing in the middle of the fight. He also jumped on top of the cage to celebrate his first round stoppage of Dan Miller despite the fact that the ref hadn't stopped the fight. I don't know if what Palhares is doing is all an act to get people talking. I don't know if Palhares genuinely doesn't realize what he's doing. All I know is, within the walls of an MMA cage, the man has proven to be a danger to himself and to his opponents and it is something that the UFC would do best to stay away from. I sure hope Palhares still has that sports psychologist on speed dial.

Wyatt Beougher: FACT Here's the difference between Thiago Silva and Rousimar Palhares - Silva's an idiot, while Palhares might be insane. Consequently, Silva ends up only hurting himself (and the division he fights in), while Palhares hurts the guys he steps into the cage with. Between the UFC and ADCC, Palhares has now held onto submissions longer than necessary on three separate occasions (injuring all three opponents), and he's flaked in two other UFC fights, complaining prematurely in one and celebrating prematurely in the other. While the cage jumping celebration in the Miller fight was entertaining in a train wreck kind of way, the rest of the stuff he's done has left Palhares or his opponents in pretty serious danger. Throw in the fact that he also has served a suspension (for elevated testosterone levels) and it's really no surprise that he's no longer a Zuffa employee. It's my sincere hope that Palhares can get his act together, as when his brain functions properly, he's an amazing fighter to watch. Still, though,at this point in time, he's a liability to himself and to whichever company chooses to employ him, so I hope Bellator or WSOF or whatever company decides to sign Palhares actually puts the effort and expense into getting his head right.

---

Will Chael continue to be a popular call-out target?



4.) Because of his ability to sell fights (and, let's be honest, his perceived beatability), Chael Sonnen can expect to additional call-outs in the future from mid-level middleweight or light heavyweight fighters looking to make a name for themselves.

Wyatt Beougher: FACT Let's say you're a fighter in the UFC middleweight or light heavyweight division, and you've just won a fight against another mid-level guy in the division. Hypothetically, you've got a strong grappling game and can work from the bottom - who is the first guy you're going to call out? If you answered anyone other than Chael Patrick Sonnen, you probably shouldn't be a hypothetical fighter in a made-up exercise I'm trying to use to illustrate my point. Seriously, is there any fighter better at selling fights than Chael Sonnen with such an obviously exploitable weakness? A fighter with a strong submission game is basically Metallo to Chael's fight-selling Superman. (If you don't understand the comic book reference, Metallo is a Superman villain with a kryptonite heart, and kryptonite is Supes' main weakness - now go check out some of the excellent comic-related articles in the Movies/TV section, heathens.) So, really, where's the drawback in this scenario? Fighter A calls out Sonnen, Sonnen ridicules Fighter A, thereby making him much more well-known than he was before calling out Sonnen, and then either: a) Fighter A wins and becomes a championship contender (or at least moves one fight away from contention) or b) Fighter A loses to a former two-division title challenger and ends up right back at the same level he was before, with the added benefit of more notoriety. It's not rocket science, and I'm honestly surprised every Brazilian fighter in the UFC hasn't called out Chael yet. Instead we're stuck with a bunch of weird, obviously staged videos from vaguely human-looking Wanderlei Silva, and a lesser-known Brazilian guy calling Chael out after a win on a show that approximately eight people watched. C'mon, UFC roster, the American Gangster deserves better than that.

Evan Zivin: FACT I'm surprised more people aren't calling Chael out. Obviously, fighting and defeating Chael won't have the same significance on one's career as fighting a UFC champion would (well, an actual UFC champion who didn't buy his title belt on eBay), but it would definitely raise the stock of any lower card fighter looking to take the next step towards becoming a star in the UFC. If your goal is to become the best fighter in the world and to have everyone recognize that, you need to get big fights. It can be hard to get those big fights when no one knows who you are and, while being humble and saying you'll fight whoever the UFC puts in front of you is great and all, it definitely helps you get to the top faster if you pick fights and call guys out. And who better to call out than the most electrifying man in mixed martial arts entertainment in Uncle Chael? The man knows how to create interest in any fight and if you call the man out and piss him off, you're only making his job easier. Then, before you know it, people are talking about you because you had the audacity to call out Chael P. Sonnen, and if you can beat him, you will put yourself on the map (relatively speaking) and be in for some big fights to follow. Chael will make you known and once people know who you are, it becomes infinitely easier to get big fights and move yourself closer to a title shot. Well, unless you lose a lot. The man can create spectacle out of thin air but he's not a miracle worker. If you want to get yourself over at Chael's expense, then you better be ready to put your money where your mouth is. Your big, Brazilian mouth.

---

Will GSP be the Super Bowl weekend savior?



5.) With Jon Jones/Glover Teixeira not looking likely for the UFC's Super Bowl weekend show, Zuffa's best option to replace that fight would be a Georges St. Pierre title fight.

Evan Zivin: FACT Actually, the UFC's best option in place of the Jones/Teixeira fight would be trying to convince Floyd Mayweather to give MMA a try. Failing that, they can then try to convince Brock Lesnar to give up only working 30 days a year in the WWE and make another run for the UFC Heavyweight Championship. Maybe they can see if Fedor would come out of retirement or find out if Nick Diaz needs more pot money. Or, if Dana White is feeling frisky, he can try calling out Bellator's Bjorn Rebney to a "Winner Takes All" grudge match. Then, if none of that works out and you're left with only MMA fighters who actually want to be there, then your best bet is probably GSP. He is the biggest draw in the company, after all. A GSP fight would especially make sense for the Super Bowl card if the fight was "Rush" receiving his rematch for the UFC Welterweight Championship against champion Johny Hendricks. Hey, one can dream. Plus, that would be a huge fight, just like the Chris Weidman/Anderson Silva rematch will be huge. The only other big fight that might work for that show, other than a heavyweight title fight or something, would be the Jon Jones/Alexander Gustafsson rematch, but that's obviously not happening yet. Well, not unless Glover gets injured under "mysterious circumstances," like how TJ Grant got injured and allowed Anthony Pettis to get his title shot. You have your marching orders, conspiracy theorists. Now get to work.

Wyatt Beougher: FACT Let's look at the guys currently on the UFC roster who draw equal to, or better than, Jon Jones right now: Georges St. Pierre, who is fighting Johnny Hendricks in a month's time, and Anderson Silva, who is facing Chris Weidman at the UFC's year-end show. Of those two, there's no possible way Silva turns it around and fights again just over a month later, and even if Weidman wins impressively again, I still don't think he'll have the drawing power to replace Jones. So that leaves the Canadian, who looked beatable in his return fight after a lengthy injury layoff and human in the fight after that. If he dispatches Hendricks in short order on November 16th, then it's possible he'd be ready for the Super Bowl weekend show, but if he wins a war or loses via a big Hendricks punch, then I doubt he'd be ready to fight again just under three months later. And, if the unthinkable happens and Hendrick is able to beat St. Pierre on the judges' scorecards for multiple rounds before knocking him out? Then this year's Super Bowl weekend show is basically shot, as it'll be relegated to Cain/JDS part XVIII (actually, the winner of this weekend's fight would probably end up facing Fabricio Werdum at that show) and either a lightweight, featherweight, or bantamweight title fight. No matter which combination the UFC would opt to go with, the show isn't going to draw as well as if Jones or Silva or GSP were on it. However, this statement is a hypothetical, and so my response is that yes, GSP would be the best bet for the Super Bowl weekend show.

---


Who do you think won this week? Did Evan beat the house, or did I take my replacement to the woodshed? Voting will be open until midnight EST on Saturday, so make sure you vote and make your voice heard!




---

Is Batman a boring character?



Bonus) Quentin Tarantino is right - Batman isn't a very interesting character for any actor to play.

Wyatt Beougher: FACT I'll admit right from the go, potentially at the risk of losing this contest, even though this is a bonus statement and shouldn't count against me in the judging portion, that I strongly dislike Batman, at least the post Grant Morrison-helmed JLA Batman who can do anything and beat anyone and is completely infallible and invincible. (Caveat: Scott Snyder has done some excellent work with the character since the New 52 reboot, but the Triple H notion of Batman still persists.) That said, I don't think it's the fault of the character that movie Batman is such an awful character. There have been seven live-action Batman movies in my lifetime, and exactly ONE of them has done more than pay lip service to Bruce Wayne's struggle with overcoming the death of his parents. It's no coincidence that the movie that did that, Batman Begins, is my favorite of the bunch. Chris Nolan's work on the Dark Knight trilogy was truly amazing, but I feel like in the latter two movies, that was in spite of the Batman character and not because of him. Bale's ludicrous "Batman voice" didn't endear me to the character, but more than that, it was the fact that he was content to simply give up on protecting Gotham - that's not the personality-disordered playboy-by-day that we love from the comics, and it loses sight of the very core of the character. Here's a guy who literally has it all - wealth, notoriety, popularity, good looks, a loyal manservant - but he's so driven in his quest for justice that he'd gladly sacrifice all of that in order to make sure that no one else has to suffer like he did. I think Nolan lost sight of that, and, because of how popular his movies were, I don't think it's something that's going to be reintroduced to the cinematic version of the character any time soon. Who knows, though - if they go full Dark Knight Returns with Batfleck in Man of Steel 2, that would completely change my opinion, not just of Batman as a movie character, but of Warner Brothers/DC as a company willing to take risks with their flagship characters.

Evan Zivin: FICTION Christian Bale proved that Batman can be a very interesting character to play. If an actor approaches the character as just a generic superhero who fights justice and works for the common good to eradicate evil, then yeah, it's going to be pretty boring. It is possible to give depth to the character, though. Batman's origins and motivations for donning the cowl stem from a lot of emotional pain and torment over the death of his parents and the regret he has for not having been able to prevent it from happening. He grows up in a mansion with money and everything he could ever want but none of it can fill the void of a lost childhood. The man is rich, handsome, and successful but he knows that no matter how much money he makes and no matter how many high tech gadgets he creates and no matter how many clown makeup-wearing bad guys he punches in the face, it will never bring back the one thing he wants the most. Seriously, there is some deep shit here. I don't see how Tarantino can say there isn't anything to work with. Has he never watched a Christopher Nolan movie? C'mon, Quentin. There's more to life than ripping off 70's exploitation films. That being said, please keep ripping off 70's exploitation films. You are good at it. Also, insane.

---


And that's it for this week! As always, if there's anything you'd like to see featured in a future edition, leave your statement in the comments and I'll add it in. Let us know what you thought in the comments, on Twitter, or on Google+.


comments powered by