SPOTLIGHTS
The Juggernaut MMA News Report 10.17.13: Velasquez or Dos Santos?
Posted by Jonathan Solomon on 10.17.2013

Junior dos Santos will face Cain Velasquez in their third fight over the UFC heavyweight title, but who has more to lose? 411's Jonathan Solomon previews UFC 166! Plus news on Bellator's PPV being complete, Fallon Fox's loss and more!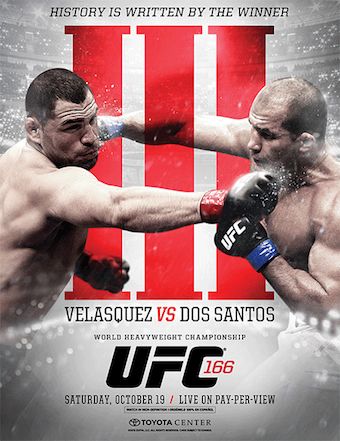 UFC 166 Preview



Here we find ourselves on the eve of the next UFC heavyweight championship bout and thankfully, it's the third meeting between two men not named Andrei Arlovski or Tim Sylvia.

Cain Velasquez and Junior dos Santos have spent about 26-minutes inside the octagon together and there's no telling how many more they'll add to that figure on Saturday night. When they first met almost two years ago, things ended at the 64-second mark when Velasquez got nailed towards the back of his head. JDS finished him with punches and was crowned the new champion. In their rematch in December, it was the former dominating the entire five-round war en route to regaining his championship.

Some criticize the champ for not being able to finish dos Santos despite the Brazilian being rocked time and again in the fight. While true that Cain was giving him practically everything he could and Georges St. Pierre has been demonized for years for the same (all the way back to the Jon Fitch fight in 2008), is it really a deserving knock against the American Kickboxing Academy fighter?

Regardless, we know how each man wins this fight. Cain must use his athleticism to push the pace, keep Junior on his heels and transitioning from his striking to takedowns. When he's at his best, there may not be another fighter in the division who can stop him. On the other hand, dos Santos has to prevent all that from coming to fruition. How? Stay away from Cain's power, keep the distance as best he can and at all costs, stay off the ground. While it may be impossible to do that 100% throughout the fight, he should be able to stave off takedowns by utilizing the cage to his advantage.

Naturally, if Junior fails in this attempt, he's out of the title picture until 2015, most likely. Barring a ridiculous string of injuries, and especially should Cain remain champion next year, there are too many legit contenders for him to get another opportunity. The man won't even turn 30-years-old until January, so it may be a daunting image, so you can imagine the extra sense of pressure the JDS camp is feeling over these final days before fight night.

A loss for Cain is a huge wall for his momentum to hit. The man has run over practically everyone (with the exception being the first JDS meeting) and most of those fights were of the dominant variety in how he won. While a loss could get some talking about a fourth match-up in 2014, count me as one of those who feel such a fight would be overkill. This, of course, is assuming there's no legitimate controversy to the outcome on Saturday night. So, much like Junior, Cain is fighting to stay in the title picture in his own right. Plus, who knows what may transpire if JDS were to win. Perhaps, with a void at the top of the food chain, Velasquez's buddy Daniel Cormier gets an opportunity to challenge for the championship (leaving Cain in the backseat).

Should Velasquez win, he's immediately the best heavyweight of this generation of fighters (think, post-Fedor) and I'm positive there will be plenty saying he's better than Fedor (perhaps he is) Emelianenko ever was. He will be looking at match-ups against the likes of Fabricio Werdum and Josh Barnett and Travis Browne next year, who each offer different threats to him.

So, whether you're looking at how Cain/Junior III goes down this weekend, whether the first or second fights were flukes (neither) and who Junior bounces back from his lackluster showing in 2012 - realize there's a lot more than just a strap with gold plating at stake in Houston.





Daniel Cormier vs. Roy Nelson

Not a fight that makes a ton of sense on paper for Daniel Cormier, this gives "Not-So-Big-Country" Roy Nelson a puncher's chance to score an immense upset in in Houston.

Heading into Saturday, Cormier is the third top heavyweight in the sport and afterwards, may be the second (depending on how the main event shakes out). Undefeated, he has never been in danger of losing a fight as a professional. He debuted in the octagon in April with a disappointing performance against Frank Mir in the sense that it went the full 15-minutes and he could not finish the former UFC champion.

Typically, Cormier batters his opponents until they quit or the ref stops the fight. He only has two clean knockouts under his belt, the most recent being when he blasted "Bigfoot" Antonio Silva two years ago. As we saw in the Mir fight and when he took on Josh Barnett for five rounds, he never gasses and offers a relentless attack without any let-up.

For Roy Nelson, this is a rough match-up. Sure, he has his incredible right hand that can knock out nearly any man, but that puncher's chance is all you can hang your hat on. He's coming off an upset loss to Stipe Miocic in June which ended his three-fight win streak. He's back with a new contract and gets a former Olympic wrestler as his first fight. He will not take Cormier down and while the big man is also a well-conditioned fighter, the pace the former Strikeforce fighter keeps is something you rarely see (not so ironically, Cain Velasquez is similar).

Why this doesn't make much sense for the #3 fighter in the division is the fact that he's apparently toying/contemplating with the idea of fighting at 205-pounds. As long as his friend/training partner Velasquez remains champion, he has no interest in vying for the heavyweight strap. He has nothing to gain from this win other than a paycheck and perhaps a new addition to his highlight reel - he's supposed to beat Roy Nelson.





Gilbert Melendez vs. Diego Sanchez

This fight is awesome. Guaranteed to be fight of the night, action packed, electric, a war.

All those good things are the case because you have one of the best lightweights in the world in Gil Melendez and usually, one of the most entertaining fighters in Diego Sanchez squaring off.

Melendez is coming off his first loss in five years when he was on the other end of a split decision against then-champion Benson Henderson in the spring. After an amazing stretch of 10 consecutive title fights (began in March 2008 in Strikeforce), this will be his first three-round fight since September 2007 at the Playboy Mansion (his New Year's Eve fight against Mitsuhiro Ishida that year was only two rounds). It will be awkward to see him in anything that doesn't go five rounds, just as it was when he finished Tatsuya Kawajiri in round one two years ago.

Sanchez hopes to actually make weight this time because he missed the 155 by three-pounds in March when he fought Takanori Gomi. He earned the split decision win against "The Fireball Kid" and is immediately looking to make a statement by knocking off a top-three fighter in the division. Since the Gomi fight was technically at a catchweight, he has not fought at lightweight since the famous bout with B.J. Penn in 2009. In between was a 2-2 stint at welterweight, a return to Greg Jackson's camp and a name change from "Nightmare" to "Dream."

Both men are aggressive fighters who don't often back-up in the cage. They're strong wrestlers, so expectations are for that aspect to cancel out, leaving them to brawl for the majority of the 15-minutes they're in the octagon.





Gabriel Gonzaga vs. Shawn Jordan

Quietly, Gabriel Gonzaga and Shawn Jordan are in the middle of some nice runs in the UFC and one will improve that stretch this weekend.

Between the two heavyweights, they are 6-2 in their last four fights combined. Jordan has knocked out Oli Thompson, Mike Russow and Pat Barry (he lost a terrible fight to Cheick Kongo last summer) while Gonzaga has choked out Ednaldo Oliveira and Ben Rothwell, knocked out Dave Herman and been knocked out by Travis Browne (in the spring). There's a reason this is on the PPV card, with expectations for a highlight reel knockout (or at least a first/second round finish).

Jordan, a LSU Tiger who played for the 2007 team that won the National Championship, was a not-so-heralded fighter when he was brought to the UFC in 2012. At that point, he just came off a submission win against Lavar Johnson in Strikeforce and was 12-3. He's not a top 15, probably not a top 20 heavyweight, but he has the ability to beat plenty of fighters in the UFC's division. Is Gonzaga one of them? I'm not sold.

The one-time title challenger has been finished due to strikes on six different occasions in his 22-fight career. Fabricio Werdum (twice), Randy Couture, Shawn Carwin, Junior dos Santos and Travis Browne were the culprits, so Gonzaga has fallen to some of the best over the years. Naturally, should this fight turn into a grappling match, you have to give the edge to the Brazilian Jiu-Jitsu black belt.

Fighting out of Greg Jackson's camp in New Mexico, Jordan was last in the cage for under a minute in June when he sent Pat Barry packing with a TKO. Of his 19 career fights, seven were won in under sixty seconds. Don't be surprised if this fight lasts about that long regardless of who lands the big shot, but based on what we've seen, that's likely to be Gonzaga continuing his impressive second run in the UFC.

John Dodson vs. Darrell Montague

Remember more than a year ago when the UFC amped up their efforts to fill their new flyweight division and brought in guys including "Uncle Creepy" Ian McCall, Jussier da Silva and John Moraga? Darrell Montague is another such fighter, considered a top 10 talent and it's time for him to make his octagon debut this weekend. He will do just that less than three weeks before he turns 26-years-old and the California native will fight professionally for only the second time outside of his home state.

His opponent is arguably the second best 125-pounder in the world, John Dodson, who has been out of action ever since January when he lost a five-round decision to champion Demetrious Johnson. At 14-6, each of those defeats have come by decision and he has never seen a losing streak.

Montague is 13-2 overall, having not lost since he succumbed to a rear naked choke from McCall in a Tachi Palace Fights title fight two years ago. Since then, he's won four consecutive bouts with only his win last year in Japan over Mamoru Yamaguchi going the distance.

Unfortunately for the UFC newcomer, Dodson has the more effective wrestling arsenal and should be in position to control the fight. It's only a three-rounder so don't expect either man to lose their wind, making for an exciting bout standing or on the ground. On the feet, Dodson has one-punch knockout power while Montague is best known for his own grappling background. As such, Darrell will likely look to get the fight to the ground by any means, instead of engaging the New Mexico fighter in a kickboxing match.

Make no mistake, Dodson is a somewhat big betting favorite to win this fight and on paper, he should.

---




- Transgender fighter Fallon Fox received her first loss as a professional last weekend in the form of a third round TKO by Ashlee Evans-Smith. Their fight was in the finals of a women's featherweight tournament in Championship Fighting Alliance in Florida. Smith improves to 2-0 while Fox is now 3-1.

- Bellator's PPV line-up on November 2nd is now complete with five fights: Tito Ortiz vs. Rampage Jackson in the main event; Lightweight champ Michael Chandler vs. Eddie Alvarez; Featherweight champ Pat Curran vs. Daniel Straus; King Mo Lawal vs. Emanuel Newton for the interim-light heavyweight title; and Cheick Kongo vs. Vinicius Queiroz in the season nine heavyweight tournament finals.

- Former UFC middleweight Yushin Okami has signed a deal to compete under the World Series of Fighting banner. He's expected to debut early on in 2014 and on paper, he should be the top 185-pounder in the promotion right out of the gate.

- Tonight on Fox Sports 1, beginning at 8 PM eastern, the network will replay the pay-per-view portion of UFC 165. The event is only from a few weeks back when Jon Jones and Alexander Gustafsson fought for five rounds over the light heavyweight championship.

Remember, Jones is not competing in February because he believes it would have been too soon coming off the Gustafsson fight. Rewatch (or check it out for the first time) and decide for yourself who should have been named champ last month.




TWITTER

http://www.twitter.com/411mania
http://www.twitter.com/411wrestling
http://www.twitter.com/411moviestv
http://www.twitter.com/411music
http://www.twitter.com/411games
http://www.twitter.com/411mma




comments powered by