SPOTLIGHTS
411's MMA Roundtable Preview - UFC 166: Velasquez vs. dos Santos
Posted by Dan Plunkett on 10.18.2013

Cain Velasquez defends the UFC heavyweight title against Junior dos Santos in the main event of UFC 166! Plus Daniel Cormier takes on Roy Nelson, Gilbert Melendez battles Diego Sanchez and more! Check out the full roundtable for all the details and join 411 for LIVE coverage of the event Saturday night!




WELCOME:
Cain Velasquez and Junior dos Santos fight for the UFC heavyweight title for the third time in the main event of UFC 166! Daniel Cormier takes on Roy Nelson in the co-main event. At lightweight, Gilbert Melendez faces Diego Sanchez. Plus, Gabriel Gonzaga squares off against Shawn Jordan, John Dodson vs. Darrell Montague, and more!

THE STAFF:


From MMA's 3R's, Jeffrey Harris!


From What's Next, Robert Practor!


From Five Quick Rounds, Evan Zivin!


From The 411 MMA Top 10, Alex Rella!


From the Locked in the Guillotine MMA News Report, Robert Winfree!


From Forgotten Fights, Paul Lapointe!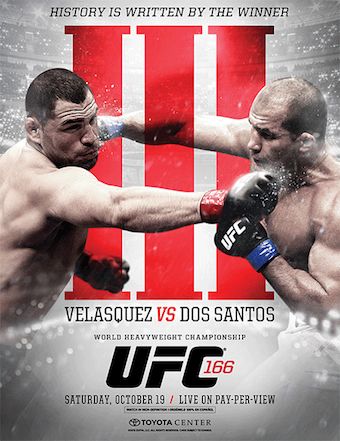 THE PRELIMINARY CARD:




First four prelims to air on YouTube, rest on Fox Sports 1.




Bantamweight Bout: Dustin Pague vs. Kyoji Horiguchi



Jeffrey Harris: Dustin Pague, Decision
Robert Practor: Kyoji Horiguchi, Decision
Evan Zivin: Kyoji Horiguchi, TKO, Round 3
Alex Rella: Pague, Decision
Robert Winfree: Dustin Pague, Decision
Paul Lapointe: Kyoji, Decision, RD3
The staff calls it a draw, 3-3.



Featherweight Bout: Jeremy Larsen vs. Andre Fili



Jeffrey Harris: Jeremy Larsen, Decision
Robert Practor: Andre Fili, TKO, Round 2
Evan Zivin: Andre Fili, TKO, Round 2
Alex Rella: Larsen, Decision
Robert Winfree: Andre Fili, Decision
Paul Lapointe: Fili, Submission, RD2
The staff picks Andre Fili, 4-2.



Lightweight Bout: Tony Ferguson vs. Mike Rio



Jeffrey Harris: Tony Ferguson, Decision
Robert Practor: Tony Ferguson, TKO, Round 3
Evan Zivin: Tony Ferguson, TKO, Round 1
Alex Rella: Ferguson, Decision
Robert Winfree: Tony Ferguson, TKO Round 2
Paul Lapointe: Fergie, TKO, RD3
The staff picks Tony Ferguson, 6-0.



Welterweight Bout: TJ Waldburger vs. Adlan Amagov



Jeffrey Harris: TJ Waldburger, Decision
Robert Practor: Adlan Amagov, TKO, Round 1
Evan Zivin: Adlan Amagov, Decision
Alex Rella: Waldburger, Submission, Round 1
Robert Winfree: TJ Waldburger, Submission Round 1
Paul Lapointe: TJ, Submission, RD1
The staff picks TJ Waldburger, 4-2.



Lightweight Bout: George Sotiropoulos vs. KJ Noons



Jeffrey Harris: George Sotropoulos, Submission, Round 2
Robert Practor: KJ Noons, Decision
Evan Zivin: KJ Noons, Decision
Alex Rella: Noons, Decision
Robert Winfree: George Sotiropoulos, Submission (kimura) Round 1
Paul Lapointe: GSOT, Decision, RD3
The staff calls it a draw, 3-3.



Women's Bantamweight Bout: Sarah Kaufman vs. Jessica Eye



Jeffrey Harris: Sarah Kaufman, Decision
Robert Practor: Sarah Kaufman, Decision
Evan Zivin: Sarah Kaufman, TKO, Round 2
Alex Rella: Eye, Submission, Round 3
Robert Winfree: Sarah Kaufman, Decision
Paul Lapointe: Kaufman, Decision, RD3
The staff picks Sarah Kaufman, 5-1.



Welterweight Bout: Nate Marquardt vs. Hector Lombard



Jeffrey Harris: Nate Marquardt, TKO, Round 2
Robert Practor: Hector Lombard, TKO, Round 2
Evan Zivin: Hector Lombard, Decision
Alex Rella: Marquardt, KO, Round 1
Robert Winfree: Hector Lombard, Decision
Paul Lapointe: Lombard, KO, RD2
The staff picks Hector Lombard, 4-2.



Middleweight Bout: Tim Boetsch vs. CB Dollaway



Jeffrey Harris: Tim Boetsch, Decision
Robert Practor: Tim Boetsch, TKO, Round 3
Evan Zivin: Tim Boetsch, TKO, Round 1
Alex Rella: Dollaway, Decision
Robert Winfree: Tim Boetsch, Decision
Paul Lapointe: Barbarian, TKO, RD2
The staff picks Tim Boetsch, 5-1.

---




THE MAIN CARD:




Flyweight Bout: John Dodson vs. Darrell Montague



Jeffrey Harris: John Dodson faces Darrell Montague in his UFC debut here. Dodson looks to rebound coming off his loss to Demetrious Johnson in a title fight. Despite how this might look at first glance, this is far from a gimme fight. Montague comes in with 15 fights under his belt and he's also a former champion at flyweight for Tachi Palace Fights. Many of those flyweight fighters went on to fight for the flyweight division in the UFC. For Montague, he's finished 10 of 13 wins, and he has only lost to Ian McCall and Robert Peralta. Both whom are UFC veterans. While I think Montague brings some good experience to the table here, Dodson still looks like he will eventually become a champion. His fight with Johnson was extremely close. For a small guy, he hits incredibly hard. His quickness is also very hard to match. Dodson takes this one.

Winner: John Dodson, TKO, Round 2

Robert Practor: Darrell Montague has an impressive resume with lots of exciting finishes and he will be a welcome addition to the UFC's Flyweight division. That being said, this is a very tough debut for him, taking on John Dodson. Dodson has never been finished and is 4-1 in his last 5 fights with that loss coming to the Champ, Demetrious Johnson in January. "The Magician" put on a hell of an effort in his bid for the title and gave Johnson a run for his money. Dodson is right up there at the top of the rankings and I view him as the #3 Flyweight, behind Johnson and Joseph Benavidez. I see Dodson winning an exciting, close decision and continuing to stay just below the top 2 elite fighters in his division.

Winner: John Dodson, Decision

Evan Zivin: One of the last top flyweights in the world to yet compete in the UFC will finally make his UFC debut in former Tachi Palace Fights champion Darrell Montague. He won the championship back in February 2011 by defeating Ulysses Gomez and had it for a few months before losing it to Ian McCall (that feels like ages ago considering how those two men have performed in their UFC careers). Montague enters the fight on a five fight win streak against Dodson, who is finally returning after losing a decision to UFC champion Demetrious Johnson back in January. I think Montague can do well in the UFC but the level of fighter he is facing is better now than it used to be and Dodson is, at this point, a much better fighter. Dodson has great wrestling, powerful strikes, and endless cardio that will ensure that he stays aggressive and pressures Montague the entire fight. That, along with the classic Octagon jitters, makes me think that Dodson should have little trouble taking this fight.

Winner: John Dodson, Decision

Alex Rella: This should be a fun fight to start the ppv show. Montague is making his UFC debut and he comes into the UFC with a solid resume. Montague is one of the top flyweight prospects, but Dodson is on another level. I don't think this is a gimme rebound fight necessarily,
but Dodson is a TUF winner and former number one contender with legit knockout power. Hopefully Montague has a good showing as the UFC's flyweight division could use some more top guys, but I expect Dodson to finish it.

Winner: Dodson, TKO, Round 2

Robert Winfree: Jon Dodson is looking to recover from his failed challenge for the flyweight title, and Darrell Montague is making his UFC debut. Montague has a good record, only two losses, but Dodson is easily in the top five of the flyweight division. I think Montague has a decent showing, but Dodson is one of the very best and he'll likely be looking to make a statement here.

Winner: Jon Dodson, TKO Round 1

Paul Lapointe: I do like Dodson, I do not. I like Darrell Montague. So with that I want The Magician to have his conciousness disappear. Do I think that happens...gah...no. Dodson is coming back replished and has cardio for days and is the FASTEST fighter in the UFC next to Might Mouse. 3 Rounds of fast, fun action.

Winner: Dodson, Decision, RD3

The staff picks John Dodson, 6-0.

---




Heavyweight Bout: Gabriel Gonzaga vs. Shawn Jordan



Jeffrey Harris: I think the fight has a good chance of being a decent heavyweight bout. Gonzaga tends to either win in exciting fashion or crash and burn in glorious fashion. Jordan, despite having one of the worst fights in the division ever against Cheick Kongo, has shown a lot of improvement in his recent performances. He's coming off knockout wins over Mike Russow and Pat Barry. Gonzaga has edge here with his grappling game, but when Gonzaga tends to get pressured standing up he wilts quickly. As long as Jordan doesn't freeze up like he did against Kongo and lets his hands go, I think he flattens Gonzaga.

Winner: Shawn Jordan, TKO, Round 1

Robert Practor: This is yet another case of a Heavyweight fight making it onto the main card over other more deserving fights, in this case Lombard-Marquardt and especially Kaufman-Eye. I understand why Lombard wasn't put on PPV, likely due to PPV points being in his contract but I see no reason why the women's fight isn't on the main card. Anyway, onto the fight. I see Gonzaga a bit on his way down while Jordan has some momentum on his side. No matter who wins, I see this fight ending by KO in the first round.

Winner: Shawn Jordan, KO, Round 1

Evan Zivin: This is a fight that is harder for me to pick than I think it should be. First off, Gonzaga can get a decent win every now and then. He doesn't always put his high level jiu-jitsu to use but he did choke out Ben Rothwell. Plus, his striking is powerful, as shown in his knockouts of Dave Herman and Mirko Cro Cop. Second, Shawn Jordan is decent but not amazing or anything. He's won by TKO in his last two fights, against Mike Russow and Pat Barry, neither of whom have been overly impressive in their UFC careers. That being said, Jordan will probably take this. He has the wrestling to negate Gonzaga's grappling and he's smart enough to not get caught in any dangerous exchanges with the Brazilian. Gonzaga isn't as smart in that respect so there's a good chance there is some form of knockout coming, or at least I hope so because this might be a loooooooong fight.

Winner: Shawn Jordan, TKO, Round 2

Alex Rella: I have high hopes for this fight. Gabriel Gonzaga is 3-1 since returning to the UFC and they've all been good fights. Shawn Jordan was in one of the most disgusting performances ever when he took on Cheick Kongo last year, but he's also 3-1 and he's shown a lot of improvement since then. All of Jordan's other fights in the UFC, Strikeforce, and Bellator have all been pretty good so I blame Kongo for that one. Jordan is a slow starter, so Gonzaga would be smart to go after him in the first round using his size advantage. That being said, Jordan has knocked out some tough guys and I think he'll do the same by the second or third round.

Winner: Jordan, TKO, Round 2

Robert Winfree: I'm really unhappy that this fight is on the main card, two low level heavyweights could have a really really ugly fight. This is a close fight, and will likely be determined early in the first. If Shawn Jordan isn't ready to defend potential takedowns from Gonzaga he'll get submitted in pretty short order. Jordan has some power in his punches and is a crazy athlete for a heavyweight, it's just a question of his ability to land punches on Gonzaga and avoid being taken down and submitted. I think he can do that, though if this goes past three minutes we'll get a long, drawn out, boring decision with tons of clinching.

Winner: Shawn Jordan, TKO Round 1

Paul Lapointe: Gonzaga should try to exploit his obviously superior submission skills in this one. I say this because Jordan has alot more faith in his fists and it has shown. I mean that CroCop kick is sick but once in a lifetime. DO NOT TRADE, grapple and he should have this one in the bag.

Winner: Gonzaga, Submission, RD2

The staff picks Shawn Jordan, 5-1.

---




Lightweight Bout: Gilbert Melendez vs. Diego Sanchez



Jeffrey Harris: An interesting lightwe light fight. Melendez looks to rebound after his first loss in several years, losing by a split decision to Ben Henderson for the UFC lightweight title. It was the biggest fight of Melendez's career and thus the biggest disappointment of his career. So hopefully that's not weighing on Melendez that he came so close and couldn't get the job done. After his last loss, Melendez went on a big tear. Sanchez might not be an elite level lightweight, but he's one of the tougher fighters on the UFC roster. He's only been finished once and that was to BJ Penn in a UFC title fight where the fight was stopped due to a nasty cut (Penn dominated him up until that point though). Sanchez is an aggressive wrestler, though he's been a slow starter in some of his bigger fights. He also failed to make weight against Takanori Gomi, a fight many fans believe was a gift decision for Sanchez. Melendez I think brings better striking and boxing to the table here. He's got solid takedown defense to deal with Sanchez, and I think he can control him if this gets to the ground. I'm picking Melendez to win this one.

Winner: Gilbert Melendez, Decision

Robert Practor: Let me start by saying this booking does not make a lot of sense. Gilbert Melendez is currently ranked #2 in the Lightweight division, behind only Benson Henderson and the champ, Anthony "Showtime" Pettis. Melendez was the final Strikeforce champion and his sole loss in the past four and a half years came against then-UFC champion Benson Henderson this past April. A fight against top 10 fighters such as Josh Thomson, Gray Maynard, Rafael dos Anjos, Khabib Nurmagomedov, etc. would all make a lot more sense than this fight. Diego Sanchez is 3-3 in his last 6 fights, has been inconsistent, and is not ranked in the top 10. Now, despite the fight not making the most sense match-making wise, this should be an all-out war and a hell of a fight. While it would have been more of a dream match-up if this was the Diego Sanchez of 2006-2009, it still intrigues me. Sanchez has recently stated that he feels that his style could beat the champion, Anthony "Showtime" Pettis. I do not agree with that and I don't think he will get past Melendez this Saturday to get anywhere close to that chance anyway.

Winner: Gilbert Melendez, Decision

Evan Zivin: This will be a good fight, even though everyone and their mother will be picking the same exact outcome. Oh, and hi Mom! Diego is a perfect 1-0 since returning to lightweight (although technically his last fight was a catchweight because he came in too fat), where he took a split decision in a fight againt Takanori Gomi that most people agree Gomi should have won. He will be facing Melendez in his return fight after losing to former UFC Lightweight champion Ben Henderson by a split decision that most people think Henderson won, I guess? It was a really close fight. The breakdown of styles in this matchup comes down to the fact that any good quality Diego has, Gil has too but better. Gil has great wrestling, he has technical striking with knockout power, he has great speed and cardio, and he is aggressive and easily takes control of his fights. Pretty much any advantage Diego might have on other fighters will be negated here because Gil is just a better fighter and should have no trouble joining his training partner Jake Shields in getting a win this month.

Winner: Gilbert Melendez, Decision

Alex Rella: This should be another good fight. Melendez is one of the best lightweights in the world and is looking to rebound after his first loss in years. Diego Sanchez recently returned to lightweight where he has only lost to BJ Penn. While it is a bit of a mismatch in terms of rankings, I expect a close fight. Sanchez is a strong wrestler with solid striking, but I do think Melendez will win with his strong takedown defense and superior boxing. Though, this is a winnable fight for Sanchez if he keeps the first two rounds close. Melendez has a habit of getting lazy when he thinks he already won the fight. So it's very possible that Sanchez wins a shady split decision if Melendez isn't careful.

Winner: Melendez, Decision

Robert Winfree: This could be a dandy fight, Gilbert Melendez can be a legitimate force when he's ready for a fight and goes out to fight. He beat Josh Thomson in their second fight, demolished Tatsyua Kawajiri, but he also had lackluster fights against Jorge Santiago, the third fight against Josh Thomson, and in some ways his fight with Benson Henderson. Diego Sanchez is really hit or miss, because if he hits a block he can't seem to recover. When BJ Penn rocked him in the opening minute of their fight he never got his head back into the fight and was finished in the fifth round. Really the issue here is if Melendez will be ready for what Sanchez does, if he's prepared to defend takedowns and land counter punches he'll ruin Diego's night. If Melendez is out classed here, I'd say he should look at possibly cutting to featherweight, but I don't think he'll lose this one.

Winner: Gilbert Melendez, Decision

Paul Lapointe: Boy since Diego Sanchez has evolved as a nickname he has just been what seems like a shell of potential. I mean he has been in some great fights but not a killer instinct like he used to have, maybe age and wear and tear has something to do with it but somehow he still get's the nod whether he deserves it or not. I mean he lost to Kampmann, Gomi and in my opinion Thiago but slinked out with a W. So could Melendez wake that fire or is it another frustrating wing and ding? Gilbert is hella talented but he hunkers down and tries to win on points and against both the former champ and gift decision diego is that a good idea? IDK, I think Gilbert should win but somehow The Dream makes his night a Nightmare

Winner: Sanchez, Split Decision, RD3

The staff picks Gilbert Melendez, 5-1.

---




Heavyweight Bout: Daniel Cormier vs. Roy Nelson



Jeffrey Harris: If Daniel Cormier is to be believed, this will be his last fight at heavyweight, win, lose or draw. He's planning to move down to light heavyweight. Roy Nelson has one of the toughest chins of the heavyweight division and he packs a lot of power in his punches. Nelson if he's smart should be looking to shed some of that excess weight and focus on his stamina and cardio considering he's going in against an Olympic level wrestler. Cormier didn't have the best performance against Frank Mir, but he still dominated him pretty much everywhere. Nelson is a decent level grappler, but in the UFC he hasn't shown much of a threat of his back. Smart boxers are able to pick Nelson apart because they maintain distance for his powerful overhand right and pick him apart. Cormier has some heavy hands himself, though he should avoid getting into a stand up war with Nelson. I think Cormier will want to get Nelson to the mat, and it is there that he will tower him out. Cormier wins and hopefully does OK with his light heavyweight cut.

Winner: Daniel Cormier, Decision

Robert Practor: This is a fun match-up here. I am a big fan of Roy Nelson and I have enjoyed the smack-talk leading up to this fight. Nelson is hoping to rebound from his upset loss to Stipe Miocic in June while Cormier is hoping to continue his undefeated streak and move down to Light Heavyweight streak-intact. Cormier is near the top of the heap at Heavyweight while Nelson has struggled against top competition like Fabricio Werdum, Junior dos Santos, and Frank Mir. This fight could be real interesting if Cormier tries to take Nelson down but I see it playing out similar to Nelson's aforementioned losses, with Cormier pushing the pace and staying one step ahead of Nelson on the feet.

Winner: Daniel Cormier, Decision

Evan Zivin: It's a battle of the fatties! Well, I guess not so much since Cormier is losing weight in preparation for cutting to 205 after this fight and even Roy is looking fitter these days. Still, two big men with heavy hands are going at it and I am excited. I just hope both men deliver better performances than their last fights, as Cormier's win against Frank Mir was slow and sluggish (those Octagon jitters were apparently to blame) and Roy was just never able to get things going in his loss to Stipe Miocic. I hope that, with the first UFC fight out of the way, Cormier comes into this one a little more confident. He should have no problem letting his hands go since Roy will mainly just stand in front of him. All Cormier has to do is watch for Roy's big overhand and he should be fine. Plus, if the fight goes to the ground, which it likely won't, Cormier's Oylmpic wrestling should handle Roy's grappling with ease. Cormier probably won't finish Roy (that beard offers a lot of cushion) but Cormier should still get the win and continue his momentum as he gets ready to go pay Jon Jones a visit. Well, maybe.

Winner: Daniel Cormier, Decision

Alex Rella: This could be a good fight, but I get this weird feeling it might be really bad although the pairing does make a lot of sense. Dan Cormier is one of the best heavyweights in the world, but the UFC can't afford to have him fight someone in title contention since he doesn't want a title shot and keeps claiming how he's going down to light heavyweight. Roy Nelson is a top ten heavyweight, but his title hopes were recently ruined by Stipe Miocic. While unlikely, a win here would put Nelson back on track. Nelson has that big right hand and has learned striking combinations. Cormier can definitely take this to the ground if he wants to, but he's a good enough boxer that he can outwork Nelson standing up and avoid his big shots. I expect this to be similar to Nelson's fights with JDS and Miocic.

Winner: Cormier, Decision

Robert Winfree: This is supposed to be Cormier's last fight at heavyweight en route to making his debut down at light heavyweight. I'll believe it when I see it, Cormier has had some health concerns related to weight cutting in the past. For this fight, I think it's really Cormier's to lose. I like Roy Nelson, but he's an upper level gatekeeper/attraction fighter right now unless he's drastically altered his training methods and mentality. Nelson has the kind of power that could end Cormier's night at any given moment, but Cormier is vastly superior in every other area except perhaps pure jiujitsu. Nelson is incredibly durable, but I don't think he'll be able to catch Cormier with one of his haymakers.

Winner: Daniel Cormier, Decision

Paul Lapointe: One thing we know for sure is that lumberjack muffin man Roy Nelson can take a shot. Heck he is in the record books for it as we all know. And the two rollie pollies have now decreed that each shall compete at 205 in the future, place your bets. But seriously, if Cormier can pitter patter and dive in and use his wrestling base to tire out Roy he should take this. Of course it being a Roy Nelson fight I would not mind seeing a homerun hit outta Big Country but I see be burly man hump fest.

Winner: Cormier, Decision, RD3

The staff picks Daniel Cormier, 6-0.

---




UFC Heavyweight Championship Bout: Cain Velasquez vs. Junior dos Santos



Jeffrey Harris: I'd rather not pick a winner there. That reason being is because the second fight ended up going exactly how I thought the first fight would. The first fight went how I thought the second fight would go. So we have the rubber match in a heavyweight title fight trilogy here between two of the absolute best heavyweight fighters on the planet. JDS in the second fight didn't give Cain's striking as much respect as he should have. Velasquez used a relentless pace to dominate Cigano to get his title back. Put a gun to my head, and I'm just going to call it for Velasquez here. But if JDS lands that one punch just right, he just as easily could win this.

Winner: Cain Velasquez, Decision

Robert Practor: I have seen a lot of flip-flopping from Velasquez to dos Santos back to Velasquez in the past couple years and it annoys me. After JDS knocked Velasquez out in their first fight, most were proclaiming him the better fighter and then picked him to win the rematch. Then the rematch came, and Cain destroyed dos Santos for all five rounds. After that leading up to now, most people are back on the Velasquez train, assuming he will win again. It's not so much just using the previous bout to aid in making a prediction for the upcoming fight, it's been flat-out back and forth "see, JDS is way better" to "see, Cain is the best" and so on.

I have consistently held the belief that Cain Velasquez is the best heavyweight fighter on the planet and that still holds true today. While this fight (like a lot of fights, especially in the heavyweight division) could end with just one big blow at any time, I simply feel Cain is the better fighter. JDS is great, don't get me wrong, but we heard so much about his ground game with being a black belt in Brazilian Jiu Jitsu, and that we hadn't seen any of it put to use because he simply hadn't needed to use it, well where was that when Velasquez had him on the ground throughout their second fight? I see this being an exciting fight, more evenly-contested than their most recent bout, but with Velasquez actually earning a finish late in the fight.

Winner: Cain Velasquez, TKO, Round 4

Evan Zivin: It's hard to say if I am as excited for the third meeting between the best heavyweight fighters in the world as I was for the first two fights. The question going into it is what have Cain and JDS learned from the other two fights. Obviously Cain learned from the first fight that if he stands in front of JDS he will get his lights turned off, and JDS learned from the second fight that if he allows Cain to hurt him and control the fight it will be near impossible to get back into it. Also, if you take enough of Cain's punches to the face you end up looking like a troll doll. He learned that too. In the first and second fights I supported Cain and that isn't changing here. As much as I like JDS, the only reason he won the first fight is because Cain had an injury that took away his speed and foot movement and made him a sitting duck for JDS to hit. The second fight was more indicative of what Cain is capable of and I think this fight will be similar to that one. It may not be as dominant of a performance (that depends on if JDS can keep from getting rocked) but Cain has the speed and power to avoid JDS's power shots while mixing up his accurate punches with constant pressure via clinches and takedown attempts to take a decision in another hard-fought battle. If both men are healthy going into this fight, it has the potential to be the best heavyweight fight of all time. Don't let my hyperbole down, boys. Make us proud.

Winner: Cain Velasquez, Decision

Alex Rella: So this is the third fight between the two best heavyweights in the world. I just hope this one isn't as one sided the other two. I think Cain will take this one again as he fought odd in their first encounter and has since returned to his true form. While Velasquez has been wrecking people, I thought JDS looked terrible in his last outing and I have no idea how it won Fight of the Night. He showed no sign of improvement or gave me any reason to think that he could defeat the champ.

Winner: Velasquez, Decision

Robert Winfree: If you want a full breakdown of this check out this weeks Locked in the Guillotine. These two men have proven to be the best heavyweights in the world, and there really isn't much competition trying to overtake them. Both men have proven that they can beat the other decisively, it's really the perfect kind of fight. It also wont be the last time these two fight, don't let the UFC promotional team fool you, neither guy will ever be more than two fights away from a title shot. I'm torn here in a lot of ways, mostly because I want JDS to win, but I'm not confident he'll do it. Cain has proven himself to be a monster, and he should be in talks when discussing the greatest heavyweight of all time. He's not the greatest yet, that's still Fedor Emelianenko, but make no mistake that he could become the greatest. I'm pulling for JDS, but Cain is the smart pick.

Winner: Cain Velasquez, Decision

Paul Lapointe: Cain is a disciplined fighter and he knows now better then ever to not fly in on JDS. He may have had a lingering injury when he got blasted the first time, try pulling out of THAT FIGHT with an injury, haha. The 2nd fight showed that Cain had a gameplan and a smart one at that, one to which he does not need much change in for it to work again. JDS is still primarily a striker so Cain should just tire him out and then unload. To be honest, I am not that excited about this trilogy fight as the HW division is so thin they are just going to fight again sooner rather then later and derp that is not a promising idea in my head. Hopefully Cain get's a finish here and moves onto greener pastures and faces somebody new for the first time in what a millenia?

Winner: Cain, TKO, RD5

The staff picks Cain Velasquez, 6-0.

---
Remember to join 411's coverage of UFC 166 on Saturday night!
comments powered by