SPOTLIGHTS
Five Quick Rounds 10.22.13: UFC 166, Bellator 104, Michael Bisping's Eyepatch, More
Posted by Evan Zivin on 10.22.2013

From Cain Velasquez's decimation of Junior dos Santos and the rest of UFC 166 to the results of Bellator 104 and Michael Bisping possibly getting Nick Diaz to come out of retirement, 411's Evan Zivin examines these stories and more in Five Quick Rounds!

Hey hey, fight fans, and welcome back to Five Quick Rounds! I am your host, Evan Zivin, and I am as happy as Mike Pierce to be here once again!

Okay, in this case when I say "happy" I mean "glad that his leg wasn't completely ripped off." Pierce was the recipient of a vicious heel hook from the Chupacabra of MMA, Rousimar Palhares, at UFC Fight Night 29. Palhares is known the world over for his devastating leglocks. He is also known the world over for holding on to leglocks for too long, causing further damage to his opponents, and that's what happened here. As funny as it was seeing the referee violently hugging Palhares's body in an attempt to get him to let go, it was quite a serious situation that resulted in Palhares getting dismissed from the UFC because he clearly didn't learn from the first time he did the same boneheaded thing. Well, at least Pierce won't need surgery or anything. He did, however, suffer an MCL sprain that will likely keep him out of action for a while. It's unfortunate but it could have ended a lot worse. Breaking Bad could have ended a lot worse too but it worked out to a satisfying conclusion. It could have used a crazed Brazilian man-child ripping people's legs off, though. I'm not saying the show needed it but it couldn't have hurt. Man, that was a random transition.

All right, so with fighter introductions out of the way, I have five more rounds of MMA news and opinions to throw at you. This week, we look at the results of UFC 166, the results of Bellator 104, and the possibility of Nick Diaz coming our of retirement to fight Michael Bisping. Let's to it do it.

FIGHTER YOU READY!!!!
FIGHTER YOU READY!!!!

FIGHT!!!!




Round One: UFC 166 Main Event Quick Thoughts, Cain Velasquez Retains Championship By Pushing JDS Through Cage for 25 Minutes

***TOUCH OF GLOVES***

Live, from the Toyota Center in Houston, Texas, it was UFC 166 ON SATURDAY NIGHT!!!!!!

Wow. That was a good show. It's rare these days when you get a fight card that really seems stacked from top to bottom, and it's even more rare when a really stacked card actually delivers with the exciting action and devastating finishes we crave from this sport. Y'know, the kind of fight card that reminds us of why we love this sport in the first place. Well, we got that on Saturday night, as UFC 166 was unquestionably one of the best cards of the year. Hey! I said don't question it! The main event of this blockbuster show was the trilogy fight between UFC Heavyweight Champion Cain Velasquez and the only man to defeat him, former champion Junior dos Santos. The first two fights were polar opposites of each other but with comparatively devastating results: JDS knocked out Cain in a minute at UFC on FOX 1, and Cain brutalized JDS for 25 minutes at UFC 155. The question heading into this fight was which fight would this third meeting resemble? Would it be another knockout for the Brazilian? Would it be another sustained beating from the American of Mexican descent? Would it be a completely different fight altogether? The question heading into this fight boiled down to one thing: who is the best heavyweight fighter in the world? This fight would answer that question because we all know that nobody wants the best heavyweight in the world to be either of those Klitschko guys. Snore.

Well, question no more, as the man who's chest tattoo looks like it says "Brown Rice" if you've been drinking too much before the fight began (or not enough) proved victorious once again. A lot of people, myself included, figured that, as good as their first fight was, it was a bit of a fluke due to Cain's knee injury immobilizing him and that the second fight was more indicative of what would happen whenever these two men meet. I think Saturday night proved that to be the case. Junior did perform much better in this fight, managing not to take too much damage through the first two rounds, but there wasn't a whole lot he was able to do when Cain had him pressed against the fence for much of the fight. It looked like Cain's strategy was to use his wrestling to tire Junior out and prevent him from getting a chance to land any of his powerful punches, and it worked for the most part. That isn't to say that Cain only used clinches and takedowns to win the fight. Cain opened up with punches every time they separated and, even though Junior managed to get out of the first two rounds without getting rocked, he wouldn't be so lucky in the third. Referee Herb Dean was so close to stopping the fight that he was practically touching Cain's shoulder. Get a room, you two. The last two rounds saw Cain hit Junior flush with a couple more hard punches, which were impressive more for the fact that Junior took them and still kept coming forward and throwing. Junior's heart and will were on full display once again, as he tagged Cain a number of times and continually looked for the finish, even in the fifth round when half his face was bleeding and the other half was swelling up. The end of the fight saw Junior attempt a choke on the ground that Cain slipped out of. Junior then covered up as Cain continued his 5 round battering. At that point Dean had seen enough and stopped the fight. Cain Velasquez had once again stopped his greatest challenger to retain his championship and his title as Baddest Man on the Planet. Seriously, for as good as Junior was in that fight, and he did hit Cain a lot with hard strikes, Cain was just better. Cain is an amazing fighter and it's hard to imagine who among the current crop of heavyweight fighters can beat him. Can any of them do it? It looks like Fabricio Werdum will get the chance to try next year. Let's just hope that Cain enjoys sheepishly running into triangle chokes or else Werdum is gonna be in a lot of trouble.

***HORN SOUNDS***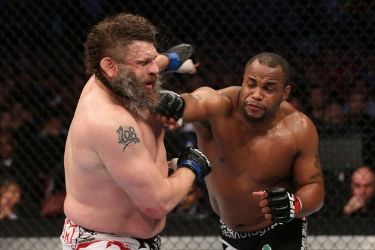 Round Two: UFC 166 Co-Main Event Quick Thoughts, Daniel Cormier Apparently Had No Problems Punching Roy Nelson's Gnarly Beard

***TOUCH OF GLOVES***

I gotta admit, Daniel Cormier looked pretty good when he entered the cage on Saturday night. The former Olympic wrestling captain has always been quite short for the heavyweight division (he's only 5'11", the midget) but he's had a bit of a belly throughout his MMA career, generally weighing in for fights at around 240 pounds. It's not big for the weight class but big for his frame. Previous health issues that resulted from cutting too much weight has kept him at heavyweight but he knows that he could do well at light heavyweight if he took the time to naturally lose enough weight so that he could safely make 205 without his kidneys hating him for the rest of his life. It's a decision that Cormier has committed himself to, partly because it will benefit his health to fight guys closer to his size and partly because his teammate is the heavyweight champion, which stifles his upward momentum in the weight class. DC looked really good at the weigh-ins tipping the scales at 224 pounds. It looks like whatever DC is doing, as long as he continues to do it, he'll make 205 in no time. Maybe he can share his secrets with "Big Country" Roy Nelson, who could likely do well to drop down a weight class if he ever wanted to lose his Buddha belly. Then again, it is part of his image. If he lost the gut, would we still like him? Did we ever like him to begin with? I know Dana White doesn't, which might be another reason why Roy refuses to lose weight, but that's besides the point. All I know is that Cormier is on his way down but he decided to make one last stop at heavyweight before moving to less greasy and jiggly pastures. So how did he do? Does he remain undefeated?

Yes, he does. I really don't think too many people were doubting the outcome of this fight. It was more a question of how would DC go about beating Nelson. Would he try to stand and bang with him or would he use his wrestling to make Nelson useless the same way he did to Frank Mir? The fight itself showed Cormier doing a little bit of both. The majority of Cormier's grappling happened in the first round, where he landed 3 takedowns on the Ultimate Fighter winner. Cormier also did a good job of clinching with Nelson to tire the big man out and prevent him from throwing any of his deadly overhands. Once Cormier felt confident that he could avoid Nelson's strikes, he started opening up his stand-up with right hands and lots of kicks. Cormier made sure to mix up his strikes and stay light on his feet, allowing him to tag Nelson many times without getting hit too much in return. Nelson got desperate enough near the end of the fight that he even channeled his inner Diaz and tried to taunt Cormier a bit but it failed to do anything other than confuse Joe Rogan. In the end, DC got the win by unanimous decision and improved his record to a lucky 13-0. Hey, just in time for Halloween, too, although I imagine this won't be a good holiday for him this year with the whole "losing weight so he doesn't die the next time he tries to cut weight" thing. It was another win that wasn't the most exciting but it again showed that Cormier is a tough opponent to beat and, whatever weight class he chooses to fight at, he will be a threat. Now he will begin his quest to get a fight with Jon Jones and find out if the UFC belts have chocolate inside them. I hope they do. I really want some candy now.

***HORN SOUNDS***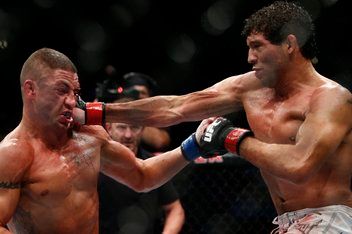 Round Three: Rest of UFC 166 Quick Thoughts, Is Calling Melendez vs. Sanchez a Mexican War Kinda Racist?

***TOUCH OF GLOVES***

That's what Dana called it so if you're offended by it go blame him. Regardless of what you call it, the fight between former Strikeforce champion Gilbert Melendez and former UFC title challenger Diego Sanchez definitely was a war. After an aggressive start from "The Dream" that saw Sanchez briefly take Melendez's back, the fight started to settle as Gil and Diego threw wild exchanges at each other, with Gil getting the better of most of them. Gil definitely had the striking advantage through the first two rounds, as well as the advantage in visible damage, causing a massive cut above Diego's left eye that could have easily ended the fight. Fortunately, or maybe unfortunately depending on who you ask, Diego was allowed to continue fighting. Knowing he was down two rounds heading into the third, Diego reached into himself to pull out some of that inner "Nightmare" and went nuts with Gil for the last five minutes. The craziest moment of the round was when Diego caught Gil with an uppercut and dropped him. Diego rushed in with punches and a few submission attempts but Gil was able to recover and get up, landing a few more strikes before the final horn sounded. Diego fought valiantly to come back from a big deficit but it wasn't enough, as Gil took the fight by unanimous decision in an amazing battle. Was it the greatest fight of all time, as Joe Rogan was saying it was? Of course not. That was some Mauro Ranallo levels of hyperbole there, but it was still a great fight and one that will definitely be in the discussion when determining the best fight of the year.

You know that the event was a good one because 8 of the 13 fights on the card ended with finishes. Gabriel Gonzaga proved he still deserves to be in the UFC by taking out the surging heavyweight, which isn't saying much, in Shawn Jordan. Gonzaga used agressivness to draw Jordan in so he could nail him with a counter right and finish him on the ground with punches. I knew I should have trusted my heart and picked him in the roundtable. Oh well. John Dodson made a successful return to the Octagon after losing to Demetrious Johnson in January with a knockout of former #1 flyweight in the world Darrell Montague. Dodson rocked Montague early in the fight but Montague showed amazing resiliency and continued moving forward. That was fine by Dodson, as it allowed him to tag Montague even more until Montague went down again and the fight was stopped about four minutes in. CB Dollaway showed an improved striking game against Tim Boetsch, but a point deduction due to eye pokes combined with two judges who were watching a completely different fight gave "The Barbarian" the win by split decision. Seriously, 30-26? Hector Lombard proved his usefulness to the UFC by catching Nate Marquardt with some fast punches to knock him out in under two minutes. Some good striking exchanges and closer rounds saw Jessica Eye get a split decision victory over former Strikeforce champion Sarah Kaufman. KJ Noons staved off the takedown attempts from the man they call G-Sots, George Sotiropolous, to do enough to get a unanimous decision victory. Plus, all the untelevised prelims ended in finishes for Adlan Amagov, Tony Ferguson, Andre Fili, and Kyoji Horiguchi. I think TJ Waldburger is still lying on the mat after all those unnecessary punches from Amagov. Nice going, ref. Dana thinks you suck.

And that was UFC 166. Next up is Fight Night 30 on Saturday from Manchester, England. Let's hope Lyoto Machida makes weight. If not then Mark Munoz will be stuck fighting Alessio Sakara. I hope you can live with that.

***HORN SOUNDS***




Round Four: Bellator 104 Quick Thoughts, Hawn Tokes Weedman Again, War Machine Goes to Sleep, Obligatory Christy Mack Mention

***TOUCH OF GLOVES***

So, among all the excitement that was one of the best MMA cards of the year, there was another Bellator card on Friday night. Remember Bellator? I hope somebody does or else the payperview in two weeks is going to do really bad. I don't know how the show could fail, though. I mean, they added Cheick Kongo to the main card and everybody loves him. Come for the illegal groin shots, stay for the fact that you already dropped $40 to see two fighters past their prime attempt to further cripple themselves for your entertainment so you might as well watch. You sick person, you. At least Chandler-Alvarez and Curran-Straus will be good. Anyway, Bellator 104 held the semi-final round of the Season Nine Welterweight tournament. The featured fight of the two semi-finals was a rematch between Rick Hawn and Brent Weedman. The two orignally fought in the Season Six Lightweight Tournament Final, with Hawn winning by unanimous decision. Hawn dominated that fight without too much trouble and the same was true for this fight. The former Olympian didn't need to rely on his judo for this fight as he had a relatively easy time getting into range of the taller Weedman and hitting him with quick combinations. Weedman threw a lot of single punches and kicks to keep Hawn at bay but it didn't do much to stop Hawn's attack. Weedman performed admirably but not with much urgency and allowed Hawn to run away with each round and take the fight by unanimous decision again. That puts Hawn one step closer to getting wrecked by another Bellator champion so good on him.

Hawn's opponent in the tournament finals will be notorious fighter/porn star/ex-convict/Bellator meal ticket War Ma-oh crap. He lost to Ron Keslar? And it was a really noncompetitive fight that saw Keslar take War Machine's back within the first 30 seconds of the fight? And then he controlled War Machine quite easily before locking up a rear naked choke and then choking him unconscious? Well, that sucks. I mean, this is great for Keslar and he performed extremely well, but I can't imagine that Bellator is too pleased considering all the attempts they made to make War Machine a star. It was bad enough when those promo videos that Bellator made to hype his involvement in the Season Eight tournament amounted to nothing when he got injured, but now this? Oh well. I'm probably more disappointed because there won't be any more random shots of Christy Mack, War Machine's girlfriend/crotch decal, in the audience. Those airbags on her chest can brighten up anyone's day. Well, there's always next season. The show also saw the Bellator debut of former Ultimate Fighter winner Kendall Grove in a successful decimation of former UFC fighter Joe Vedepo. Well, I guess matching up former UFC veterans is one way to ensure one of them doesn't disappoint, unlike all the others. Remember, keep your chin up, John Alessio. Actually, on second thought, don't. You'll probably get knocked out. Oh and lastly, Peter Graham huffed and puffed and blew former tournament "champion" Eric Prindle down. Well, it was more of a whole lot of nothing followed by a kick to the throat at the end of the third round and the fight still went to a decision, but close enough. At least it was mostly watchable. Mostly.

And that was Bellator 104. Bellator 105 is this Friday. The show will host the Lightweight Tournament Semifinals. Plus, Ron Sparks is fighting. He amuses me.

***HORN SOUNDS***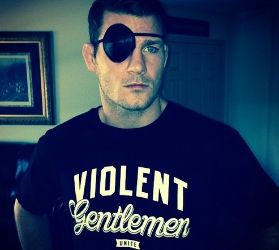 Round Five: Can Michael Bisping's Eyepatch Get Nick Diaz to Take a Damn Fight Already, Geez?

***TOUCH OF GLOVES***

As someone who became a fan of MMA through professional wrestling, I can appreciate a fighter with a personality. As much as I love someone who can outclass an opponent with their technical proficiency inside the cage, I'll always enjoy seeing fighters who can outclass an opponent with their verbal proficiency outside the cage. It doesn't just have to be trash talk either. Anyone with a natural charisma that lets it show and allows the fans and media to absorb it and take interest in it will always be someone I'll find fascinating to watch. Two of the most interesting personalities in that respect are Michael Bisping and Nick Diaz. Now, do they both come across as assholes a lot of the time with the things they say? Of course they do, but that doesn't mean I'm not interested to hear what they have to say, and I think that goes for a lot of people. It's what has made Bisping one of the most hated yet most revered fighters in the UFC (well, at least in the UK) and it's what has made Nick Diaz one of the most notorious fighters with one of the most loyal fanbases in the entire sport. People love these guys and are interested in what they have to say and, sometimes, that leads to increased payperview buyrates and TV ratings. Nick's last fight, against George St-Pierre at UFC 158, did 950,000 buys. That ain't too shabby. Too bad that Nick is all retired and stuff and won't take another fight unless it's against either GSP or Dana White wearing a GSP mask. Sigh......

.....Or is it? IS IT? I don't know but it's possible that Bisping could be the guy to get Nick to fight again. Early last week, Nick's training partner and one-half of Joe Rogan's greatest fight of all time, Gilbert Melendez, said that Nick might be willing to come out of retirement if the right opportunity came along. There weren't any specific opponents named as that right opportunity *COUGHSTPIERRECOUGH* but, according to a reporter from UK-based Fighter's Only Magazine, Bisping might be a fight that interests Nick. Now, of course, that's assuming it's true and if it is, Bisping said that he would happily welcome Nick to the middleweight division. Bisping is currently sitting out after an eye injury forced him from the main event of the UK card on Saturday so I'm sure he's itching to figure out what his next move is. He might also be itching because that eyepatch looks uncomfortable. Maybe Bisping should be spending all the time he has left to heal before he's cleared to fight again trashing Nick in every way he can in the hopes of getting that fight. Nick himself has said that he's only interested in marquee match-ups that the fans want to see and, while Bisping isn't GSP or another champion or anyone that has really accomplished anything significant in his MMA career (no offense), he is a popular fighter who can build up a fight with his mouth. If Bisping were to go on a Chael Sonnen-like rampage over a few months and absolutely trash Nick's reputation and disrespect him in every way possible, and I think he can do it even better because he doesn't have to recite pro wrestling promos to tear someone down, he could easily get Nick out of hiding and build to one of the biggest non-title main events in UFC history. Hell, put them as coaches on The Ultimate Fighter. Give them TV time to tear into each other and we could have a big money grudge match on the level of Rampage-Rashad. This has to happen. C'mon, Captain Morgan! Get to squawking!

***HORN SOUNDS***

That's it for Five Quick Rounds. If you have any questions, comments, or suggestions, and it is always appreciated when you do, leave them in the comments section. I will be back in 7 for another Five Quick Rounds. Go watch Machida fight Munoz while Captain Bisping looks on and, until next time, remember to fight clean, fight hard, fight fair, and never leave it in the hands of the judges...




LATER!!!!!!!!!!!!!!!!!!!!!!!!!!!!
comments powered by