SPOTLIGHTS
411 MMA Fact or Fiction 10.23:13: Cain's Dominance, Daniel Cormier, More
Posted by Wyatt Beougher on 10.23.2013

Is Cain Velasquez one fight away from cleaning out the UFC heavyweight division? Will Daniel Cormier make an impact at light heavyweight? 411's Robert Winfree and Mark Radulich debate these topics and more in this week's Fact or Fiction: MMA!

Welcome back to another edition of 411's MMA Fact or Fiction, and I'm your host, Wyatt Beougher. Last week, I took on my Five Quick Rounds replacement, Evan Zivin, because Jonathan Butterfield had something come up and I had to step in. The voting lead changed hands multiple times between when the polls opened on Wednesday and when they closed in the wee hours of Saturday morning, but when the dust settled, I ended up picking up a one-vote win over Mr. Zivin. I'll be honest - I'm not sure how that happened, as I personally believe that Evan won, but thanks to everyone who voted, whether it was for me or Evan. That's one of the things that really sets MMA Fact or Fiction apart from its counterparts in the other zones, and I really appreciate everyone who takes the time to vote. This week, Robert Winfree returns to action and he's coming off of a win, but Mark Radulich wasted no time in throwing down the gauntlet and calling Winfree out. What's going to happen when the 411 Ground and Pound Radio Show guys go head-to-head? Let's get to the action and find out!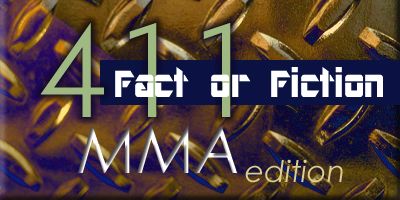 TALE OF THE TAPE

Red Corner
Robert Winfree
'The Last Rider'
Columnist, Locked in the Guillotine MMA News Report/Co-Host, The Ground and Pound Radio Show
4-8-0

VS

Blue Corner
Mark Radulich
'Headshrinker'
Host, The Ground and Pound Radio Show/Live Coverage Guru
11-4-1

---

Is Cain two fights away from clearing out his division?



1.) If Cain Velasquez defeats Fabricio Werdum in his next fight, the only other viable heavyweight contender left in the division will be Josh Barnett.

Robert Winfree: FICTION First of all, it should be "When" Velasquez beats Werdum. Secondly, there's still a couple of heavyweights who either are or could easily become contenders. Travis Browne is on a decent run and with another win he'd likely be the next contender after Josh Barnett. Stipe Miocic had plenty of talk and returned with a great performance against Roy Nelson and could become a viable contender. The other reason this is FICTION is that I don't think there is a truly viable contender if viable implies that they have a legitimate chance of beating the champion, because no one outside of JDS has a shot at beating Cain.

Mark Radulich: FICTION Let us remember that in recent years all it took for someone to get a shot at the heavyweight title is to win 1, maybe 2 fights in a row. Velasquez beat Bigfoot and then was immediately slated for a second shot at the title. JDS defeated Mark Hunt and immediately got slated against Velasquez. Bigfoot defeated Travis Browne and Alistair Overeem and was gifted a title shot. Forgetting for a moment that Josh Barnett still has to defeat Travis Browne to get a title shot, you still have Overeem out there as well as Stipe Miocic. If Overeem defeats Mir and then gets maybe another win he's as viable as he was in 2012 before he popped for Kryptonian levels of testosterone. Also, Stipe Miocic is 10-1 in the UFC with the only loss coming against Stefan Struve. He recently defeated Roy Nelson, who was close to a title shot in his own right. Getting back to Josh Barnett for a moment, if Travis Browne defeats him he'll be just as viable a contender. And then there's Big Foot vs Hunt at the end of the year. With a win here and maybe another I can see people clamoring for Hunt to get a title shot again (#RallyForHunt2). Oddly enough, because JDS and Velasquez have had this ham-fisted trilogy, they've allowed the division to put together a number of interesting contenders and a few oddballs (Hunt, Gonzaga, etc).

---

Can Cormier make an impact (or weight) at light heavyweight?



2.) Daniel Cormier will struggle to make an impact in the light heavyweight division.

Mark Radulich: FICTION Now here's a division without interesting contenders. Jones right now has Teixeira and a second meeting with Gustafsson on the horizon and that's it. Nobody else is making waves or is even remotely an interesting threat to Jones at light heavyweight. A distant third option was Machida but he has left for greener pastures at Middleweight. That leaves Phil Davis and Dan Henderson as possible options but both present some problems. Davis has won 3 in a row but 2 of them were against sub par opponents and one the controversial "win" over Machida. Dan Henderson has lost his last 2 fights. With all of that said, I think the landscape is ripe for Dan Cormier to come in, get a win over Davis or Gustafsson and face Jones a year from now or possibly later assuming he continues to win. He would be a welcomed addition to the light heavyweight division.

Robert Winfree: FICTION Someone with Cormier's pedigree and athletic gifts can always make an impact. Light heavyweight will be a tougher division to make an immediate impact due to the depth of the division, but Cormier will be a big guy for the division, has outstanding all around skills, and is the only guy I think could realistically beat Jon Jones right now. Plus if Jones decides to move up to heavyweight Cormier is the smart pick to rule the division.

---

Just bros bein' bros, amirite?



3.) It's not surprising that Conor McGregor's Twitter comment about Miesha Tate and Ronda Rousey earned him basically a slap on the wrist from Dana White and not a release or suspension.

Robert Winfree: FACT The UFC's policy about possibly offensive tweets is pretty loose. The only one who's really been disciplined concerning offensive comments on Twitter or other mediums was Miguel Torres. What Matt Mitrione was more offensive but he was pointlessly "suspended" and missed no fights. I'm surprised McGregor wasn't suspended because under the current UFC policy that amounts to a slap on the wrist, so Conor got off even lighter than you might expect. I found Dana's comments about thinking before you tweet hypocritical, but I suppose the company face had to make some kind of statement on it. But really the UFC being inconsistent in terms of discipline is nothing new.

Mark Radulich: FACT This isn't the Miguel Torres rape tweet. He was asked a sexist question and he gave a sexist answer. It's the first time he's done something like this and the UFC gave him a warning. More to the point of the above statement, Miguel Torres was a washed up has-been when he made the rape van tweet, while McGregor is a promising young prospect. It's no secret there are double standards in the UFC and it should be no secret that there's no way the UFC would cut McGregor for this silly uttering.

---

Is the guy Dana once accused of being less exciting than "flies f***ing" worthy of a title shot if it gets him out of Bellator?



4.) Dana White should bite the bullet and give Ben Askren a title shot if it means getting him away from Bellator.

Mark Radulich: FACT He was willing to sign over Jake Shields and look how that has turned out. Assuming GSP defeats Hendricks he'll need new contenders and Ben Askren would be an interesting choice. They could even do the old Champion vs Champion thing with them. There's nobody that absolutely has to get a shot after Hendricks. Demian Maia would have been that but Shields has already derailed that train. Rory MacDonald won't fight GSP and while I love seeing Robbie Lawler belt people into unconsciousness, his two UFC wins are over Josh Koscheck and Bobby Voelker. It would be a major feather in his cap if he were to defeat MacDonald next month but not enough to warrant a title shot. Carlos Condit is 1-1 since losing to GSP. Maybe Matt Brown could be the next anointed one but he has to defeat Condit first. I think bringing in Ben Askren would give the UFC plenty of time to groom a new contender after this seasons welterweight fights shake out.

Robert Winfree: FICTION The UFC has absolutely nothing to gain by giving Ben Askren an immediate shot at GSP. I mean, Askren isn't well known, doesn't have the same aura about him that Jake Shields had coming into his fight with GSP, and even then he had to beat Martin Kampmann first. The UFC doesn't even have any footage of an actual Askren fight, it would just be the typical picture of him mindlessly shadowboxing in front of the camera. The fight itself isn't a really interesting one either, GSP has the best takedown defense in the division and has a serious case to have some of the best in the sport. We don't need a slightly less interesting version of GSP's fights with either Josh Koscheck or the upcoming fight with Johny Hendricks. Askren isn't exactly a hot commodity, Bellator doesn't really want him because he's boring and the UFC isn't all that interested for the same reason but they could always use another body I guess. Dana White was dead on when he said Bellator was playing games with that bit of news and the UFC doesn't need to play games with Bellator.

---

Are these guys doing their jobs?



5.) If Bellator has really only sold 1700 tickets for their PPV debut, that doesn't bode well for their PPV sales.

Robert Winfree: FACT A big part of any PPV event is transferring the live atmosphere to the people buying the event at home. This is something that the UFC needs to do a better job of in general, but an arena that's barely full is never a good thing for the viewing audience. This also calls into question the ability of Bellator to generate interest. The vast majority of the public still views MMA as just the UFC, similar to how most people view professional wrestling as just WWE. Bellator has two guys at the top of the event that should, theoretically, have at least a little name value plus several fights that appeal to the hardcore fans. The reality is that Bellator doesn't have the necessary market share to run PPV events and expect too much of a return from purchases, but if they can't sell tickets either that is a huge problem for them going forward.

Mark Radulich: FACT I did a quick search for buys for the last few non-UFC PPV's (Invicta, MMA Fight Pit, Shark Fights, M-1, etc) and I couldn't find much data. I'm guessing the numbers weren't good enough to bother reporting on or nobody cared to investigate. I'm guessing it's a little from column A and a little from column B. Regardless, both Rampage and Ortiz are damaged goods and it's doubtful they will generate enough interest from casual MMA fans to buy the PPV. Chandler-Alvarez II is fine match-up and all but neither party have much reach outside of the most staunch MMA fans. The unfortunate fact is that Bellator does not have enough of a fan base to support a non-UFC PPV. For goodness sakes, even the UFC had to stop doing 2 shows in the same month due to declining sales. I suspect that whatever the quality of the show ends up being, it will be a colossal financial loss.

---


Who do you think won this week? Will Robert be able to make it two in a row, or did Mark continue his dominant run? Voting will be open until midnight EST on Saturday, so make sure you vote and make your voice heard!




---

Are the Klitschkos less exciting than Ben Askren?



Bonus) No one in the world should be surprised that Dana White called the Klitschko brothers boring and an embarassment to boxing.

Mark Radulich: FACT I get asked all the time who the world heavyweight champion is in boxing and when I answer Wladimir Klitschko the common response is rolling eyes and disinterest. If Wladimir or his brother Vitali were like say, Ivan Drago from Rocky IV, I would take the time to convince them that he is worth watching despite being from the Ukraine. However, seeing as the only reason I watch his fights is because I have a fetish for heavyweights and I'm a glutton for punishment, I don't bother defending him or his brother. That being said, no I'm not surprised nor do I disagree with Dana White's assessment of the Klitschko brothers.

Robert Winfree: FACT The only thing Dana White could say that would shock me is something that's insightful, not self serving, and thoughtful. Stuff like this is just what he does on a regular basis and anyone who's been exposed to White is numb to the general inanities that he spews.

---


And that's it for this week! As always, if there's anything you'd like to see featured in a future edition, leave your statement in the comments and I'll add it in. Let us know what you thought in the comments, on Twitter, or on Google+.


comments powered by