SPOTLIGHTS
Thoughts From Across The Pond 10.24.13: TUF 18 Episodes 6 and 7
Posted by Alex Watt on 10.24.2013

Raquel Pennington and Jessamyn Duke steal the show with the best fight of the season thus far in episode 6 and all hell almost breaks loose again between Rousey and Tate in episode 7 with badly judged pranks and accusations of racism.

First of all, apologies for the lack of a column last week but, lucky you, it means that you get two TUF reviews for the price of one this week!

My previous reviews of The Ultimate Fighter 18:

Episode 5 - Redemption

Episode 4 – Use The Force

Episode 3 – Stick and Move

Episode 2 – Ladies First

Episode 1 – History In The Making

411mania's heavyweight aficionado Mark Radulich is live recapping each episode of TUF 18. You can read his recap of episode 7 here.

Also, myself and Jon Butterfield will be live on press row in Manchester this Saturday for UFC Fight Night: Machida vs. Munoz and you will be able to follow all the happenings in our live coverage for 411 MMA.


The Ultimate Fighter – "Little Princesses" (S18 / E6)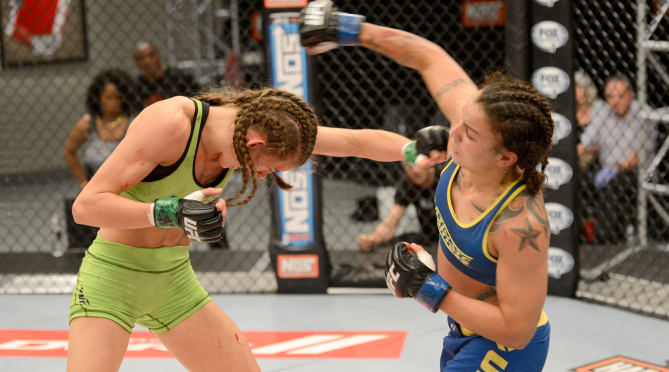 "Raquel, I know you've wanted this fight for a long time. So have I. I hope you're as happy as I am that we get to do it on the big stage. So let's go hard, let's get fight of the season, let's show them what female fighters are made of."


It's been no great secret that The Ultimate Fighter 18 has frequently seen the female fighters steal the show. In the sixth episode, that got taken to the next level as Raquel Pennington and Jessamyn Duke delivered a fight which may well define this historic season of the reality television show.

Viewers tuning into this week's episode may have expected the drama to occur between coaches Ronda Rousey and Miesha Tate at the pool party which was hyped in the promo videos for this week's episode. But, since that segment of the episode was fairly uneventful, it was left to Duke and Pennington to grab viewers' attention with their brutal bout which took up half of this week's running time.

And capture viewers' attention, they did. Duke and Pennington's back and forth war of attrition had enough drama to fill an entire season of The Ultimate Fighter.

The story behind the fight was an interesting one. Duke and Pennington had been slated to fight in Jessamyn's pro-debut but the fight fell through. In many ways, this was an example of all the pieces falling into place at the right time; instead of being a throwaway fight on a regional card, the two ladies would get the platform to show a worldwide viewing audience what they were made of.

And boy, did they. And then some.

The Ultimate Fighter was initially designed to create new stars, to find exciting and talented prospects and allow them to develop their skills on the show and make their case in the Octagon that they belong on the big show of the UFC. That concept has sometimes gotten lost as the show's format became more and more tired, and focus began to turn to the star coaches and their squabbles in each season, but this fight between two legitimately skilled and hungry fighters is surely what TUF is supposed to be all about.

After Miesha Tate and her staff had frequently reiterated to Pennington that she needed to win the first round ("You don't want to have to come back in the second round and go to a third round. The first round has to be yours. Has to be."), it was no surprise that Pennington was slow to get into the fight. Duke took full advantage and largely controlled the opening stanza with her Muay Thai skills, landing some particularly tasty knees to the chin of Pennington.

After that, the fight just got wilder and wilder. Round two turned into a slugfest – Pennington landed the better strikes along the way, but had to take some more knees and punches to do so, as the contest erupted into a back and forth brawl. The inevitable sudden victory round went much the way of the second, neither girl backing down an inch in an exclusively stand-up war. It was just great.




Anthony Gutierrez, who hadn't exactly covered himself in glory throughout the rest of the episode, did succeed in quite splendidly summing up Duke and Pennington's fantastic fight with some impressive praise;

"Duke versus Pennington was probably the best female fight I've ever seen. It was competitive, action packed, they were both so tough. I think that fight right there is going to represent women's MMA and put it on the map. I really think this is going to make a lot of girls out there go, 'Wow, that's what I want to do.' Kind of like how Forrest Griffin and Stephan Bonnar did to all the guys."

The decision was seen as controversial in some quarters but, even though the fight was very closely contested, it seemed clear to me that Pennington landed the better, more accurate strikes in the second round and the third sudden victory round.

Raquel admitted in her TUF blog that she broke her hand in the first round but, naturally, kept it a secret so she could stay in the competition. Of course, she was lucky that she hadn't injured her ankle prior to the fight (see "Elsewhere in TUF…") but we'll see how that hand injury plays into the rest of the season. After the fight had concluded, I felt as though Pennington had taken her place as the new favourite to win the tournament but after reading that admittance, I'm not quite as confident in that assertion.

The only disappointing moment of the episode was Rousey's behaviour towards Tate after the fight. I've defended Ronda's behaviour throughout this season, feeling that some viewers' responses towards the fascinating UFC women's Bantamweight Champion to be unfair and reactive. Nonetheless, Ronda refusing to shake Miesha's hand following Duke's loss to Pennington was pointless and uncalled for. It gives her detractors yet more stick to beat her with but ultimately the moment wasn't about her and Miesha; it was much bigger than that. Rousey should have been smart enough to recognise how important the fight and occasion was for women's MMA's continued evolution and push into the mainstream and behaved accordingly.

Even so, the champ redeemed herself well following that incident. Once more it was to Rousey's credit that she again proved her devotion and commitment to her fighters with yet another emotional post-loss speech to her charge. It wasn't quite as devastatingly emotional as her pep talk to Shayna Baszler in week two, but her speech and comforting words to fellow loser Jessamyn Duke on the same couch was still a great example of Rousey's qualities as a coach and a person.

Leave it to Jessamyn Duke, who has been one of the most quotable cast members this season, to perfectly sum up her dramatic fight with Pennington with a simplistic, "That fight was absolutely the toughest fight I've ever had." As Duke sat before the camera sporting two black eyes, you knew that she wasn't exaggerating.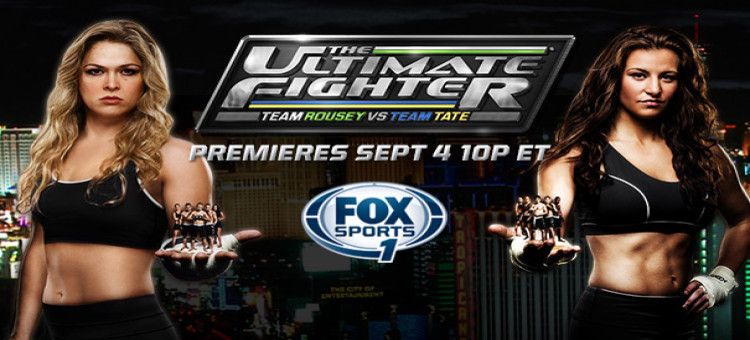 Elsewhere in TUF…
If you aren't keeping up with this season of The Ultimate Fighter, you should still watch Duke vs. Pennington. It was that good. The UFC have uploaded the full fight on Youtube:




More praise for the Duke vs. Pennington fight came from veterans Baszler and Modaferri. Roxanne noted that, "People who still aren't a fan of female fighters should just watch that fight and see that, man, women can throw down!" while Shayna went for a simple, "Rocky and Jessamyn; man, what a fight!"


On the Duke vs. Pennington match-up, Shayna Baszler observes, "She's been asking for that one for months." "I know. I feel like f***ing Santa today!" responds a jubilant Ronda Rousey.


"Julianna is kind of the little princess that likes to make us all her little princesses" – Sarah Moras discusses the bizarrely entertaining Peña led makeover of her and Raquel.


"I'm going to be making you look like a hot mama" – Peña. "All I'm picturing is blue all over my eyes" – Pennington. "That's pretty much what it looks like."


"We will call you Mimi."


"Probably not the brightest idea because I'm gonna fight. So I probably could have just totally broke my ankle" – Raquel Pennington on wearing stilettos. Imagine if Raquel had had to explain that one to Dana White. I'm fairly confident in saying that would have been a TUF first.


Did you spot the deliberate extended camera shot of Pennington's ankles and ankle supports as she jumped up and down in training, following that mock catwalk scene?


"[As a model] I wasn't allowed to be me. And fighting, that's part of what I love so much about it, you're encouraged to be yourself" – Jessamyn Duke


Hooters is a very strange cross promotion, isn't it? Especially since this is a show largely revolving around female fighters.


"Him and Big John [McCarthy] are my two faves. If I could have Herb Dean and Big John referee every one of my fights, I would do a little dance" – Ronda Rousey


I highly approve of Ronda Rousey's referee dance, by the way.


Anthony "11, I'm silent, 13" Gutierrez, drunkenly shouting, throwing things and climbing into girls' bunks. Ladies and gentlemen, your Douche of the Season!


"Anthony is like that annoying little kid brother that you just can't get rid of" – Julianna Peña


"I tried to shake her hand afterwards and Ronda just flipped me off. It seems like the tables have turned 'cause she used to be the one who was always giggling at me and I'd be all upset about it like, 'I kind of hate this girl', you know? But I don't really hate her anymore. I don't know. To me it's just kind of funny." – Miesha Tate


---
The Ultimate Fighter – "Zone In" (S18 / E7)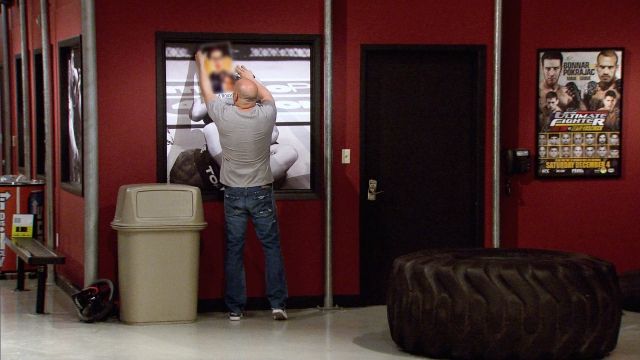 "They're trying to pick another fight and then blame it on Ronda's team."


Last week, Ronda Rousey and Miesha Tate were able to coexist for almost an entire episode. It only took one ill-judged photo prank depicting Team Tate's impression of a combined Ronda Rousey and Edmond Tarverdyan and we were right back to square one.

UFC President Dana White, having already spoken to both teams about their behaviour, swiftly moved into the TUF Training Center to remove all evidence of the pictures so as to, in his words, "so another war doesn't erupt down here."

Unfortunately (or in the eyes of the producers, probably fortunately), in good old reality television fashion, Dana had missed one of the pictures. Anthony Gutierrez came upon the rogue poster in the sauna and, not being the brightest button in the box, decided to show the rest of the team. Apparently he felt that could only end well.

To the surprise of no-one, Ronda was not happy. Edmond stormed out in silence, sparking fears in this viewer's mind that we would later discover he had been arrested on charges of attempting to murder Bryan Caraway. Thankfully, Edmond reappeared later in the episode (as did Caraway) safe and well.

This was the big iconoclastic moment in this week's episode, again revolving around the coaches' dislike of one another. Some viewers have been quick to point out that the UFC President's behaviour in this instance looks a little bit suspect; he hasn't been this quick to shut down the pranks between coaches, contestants and teams in the past, so why is he so eager to do so in this season. Some have speculated that it is to protect his "poster girl" Rousey and there may be a certain truth to that. Certainly, nobody is buying White's assertion that he wants the coaches to focus on the season's great talent and on coaching the contestants.

One has the feeling that White may have slightly underestimated just how much friction there is between Ronda and Miesha and, in hindsight, while it may make for good television, perhaps it wasn't the wisest idea to place the two women in such close proximity for this length of time.

Either way, both Team Rousey and Team Tate had agreed and promised Dana White not to carry on with this sort of behaviour and Miesha, Caraway and Hallman went back on that word. Whether you think the argument is silly or overblown, it is understandable to an extent that White and Rousey would feel a little bit annoyed that Tate and co- continued to attempt to rile Edmond up with pranks.

Of course, there is the prevailing feeling that if Rousey, Edmond and the rest of the assembled crew around them took the pranks with good humour and laughed them off, then Tate and her cronies would be unlikely to keep trying it on.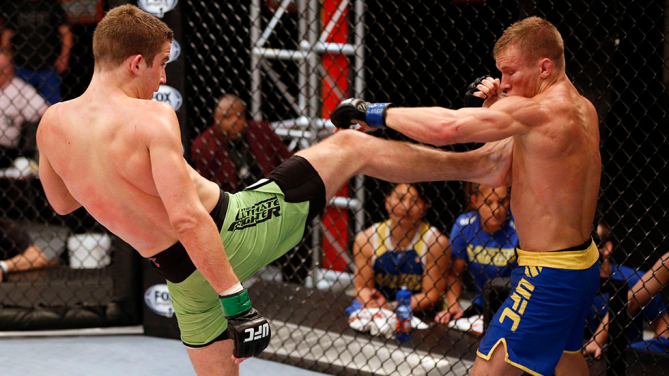 The issue really came to a head when Rousey pointed out how Team Tate's constant pranks and references to Edmond's supposed monobrow could be construed as racist. This was a concern which crossed my mind, and has also been noted by some of the more switched on TUF viewers, but appears to have largely overlooked and glossed over by others.

"Is it just me or [is] them pointing out the eyebrow and the Armenian thing f***ing racist? . . . That's some racist a** s*** and if I'm the only one that notices this and they don't f***ing act back. This is some p***y a** passive aggressive bulls***. When we're in their face, they should tell us to f*** off, instead of quietly waiting for us to leave the room and leaving little pictures like a bunch of p***y a** five-year olds."

And for those who may disagree with that assessment or that Rousey is overreacting should remember that singling someone out because of a physical characteristic which could be attributed to their heritage, is something which falls under the classification of racism. I doubt this is how Miesha Tate intends the jokes about Tarverdyan but she should be careful nonetheless; other athletes and people in the public eye have gotten into trouble for things similar to this.

Wherever you stand on this issue, there is no doubt that it has added yet another dramatic and personal layer to the heated Rousey vs. Tate rivalry, as if it needed it.

It's also interesting to note that a few weeks ago, Rousey discussed how successful she was with the mind games and psychological warfare prior to her first bout with Tate. It made Miesha too emotional and angry, and Ronda capitalised in the fight. In this instance, it seems as though the roles have completely reversed; Tate's Mean Girls style faux-friendliness towards her counterpart and her frequent pranks are clearly pushing the brash Rousey to breaking point. Tate even alluded to it at the end of last week's episode. I still wouldn't put money on Miesha Tate winning their December rematch just yet, though.

The viewers who continue to use Ronda's brash behaviour against her and think she's "a b****" must just have completely ignored that part of this episode where she surprised the guys in the house who have families with gifts and personalised photos of their families.
Cody Bollinger seemed particularly touched by the gesture, considering he's on Team Tate. His remark, "What the f***, Miesha?" was telling. Don't let the editing team fool you too much people, all is not cosy over on Team Tate.

With a full twenty minutes left in the episode, we had already reached the show closing fight. This did not fill your reviewer with the same level of excitement as it did prior to last week's Pennington vs. Duke fight. After Dana White, Michael Wootten, Anthony Gutierrez and more had all made it abundantly clear that Hill was a fairly one dimensional wrestler ("This isn't the Ultimate Wrestling Championship, it's the Ultimate Fighting Championship!"), I feared we were about to see the weakest fight of the season; a lay-and-pray snoozefest.

However, after a fairly mediocre first round, in which Hill predictably dominated with his wrestling, Wootten came out all guns a blazing in the second round (as he needed to) and immediately dropped Hill with a solid knee to the chin. From there, the tide turned and the fight ended up being a lot more exciting. Naturally, it couldn't compete with the craziness of last week's contest but, then, what could?

After Hill won the first round and Wootten the second, the show closing fight went into a sudden victory round for a second consecutive week. In that final round, Josh Hill threw a spinning backfist so poor it would have made even Chael Sonnen wince. It turned out to be his downfall, as Wootten secured top position and rained down ground and pound for the remainder of the round to secure the upset victory.

I was critical of Rousey's decision not to shake Miesha's hand after last week's fight but this week her actions made more sense, considering what had transpired earlier in the episode.

"It's Team Fake Nice vs. Team Real Me. I'd rather be real."

Ronda Rousey is "real" alright. Too real for some.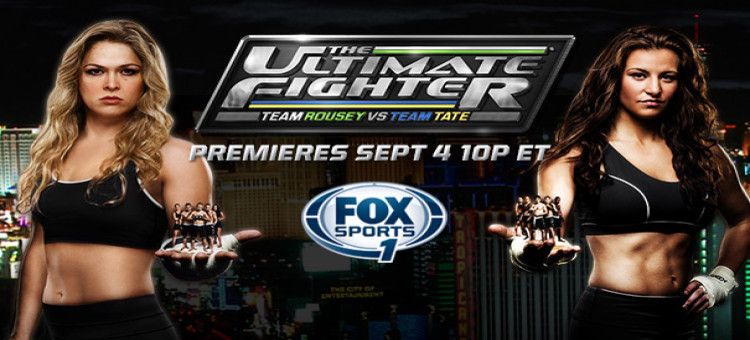 Elsewhere in TUF…
I assume that the "Edmond Rousey" photos were blurred out due to copyright concerns but if I had to guess which movie character they featured, it would be Fran Stalinovskovichdavidovitchsky from Dodgeball: A True Underdog Story.


By the way, a cross between Rousey and Tarverdyan would be utterly terrifying not because of how the hybrid looked but because of how it would act. Can you imagine how intense that thing would be?


"Ronda is like a judo wizard. Or wizardess" – Michael Wooten displays that famous scouse wit.


"Scrunchies" and ways to move on the mat; an important skill to learn but boy does it look silly to train. Especially when Team Rousey were flopping around en mass.


In what had to be an Ultimate Fighter first, there were no subtitles when Michael Wooten was speaking. For an English fighter, especially one with a Liverpudlian accent, that was unexpected.


"Ronda Rousey just saw my weight cut penis. That is not cool." Michael Wooten suddenly regrets his towel slip at the weigh-ins.


"Thank you for talking to me. Thank you for everything" – Jessamyn Duke to her coach Ronda Rousey. It seems that Rousey has the respect of the fighters, if not the viewers. I know which I'd prefer…


"Josh 'The Pretty Boy' Hill" – Louis Fisette. "Coming from the guy with the earings on" – Josh Hill.


Did You Know: Josh Hill's Great Uncle was professional wrestler "Gentleman" Jerry Valiant of the tag team the Valiant Brothers of old school WWWF and NWA fame. That's just cool.


"The modelling; I think I ruined it with the cauliflower ears anyway" – Josh Hill


"He's such a good kid. I just want nothing but good things for him. . . . He's Michael. I just want to squish his face every time I see him" – Ronda Rousey is fond of the Brit, it would appear.


"I can't stand when somebody comes in here and they're one dimensional" - Dana White on Josh Hill. Apparently the UFC President is unaware that he plays a big role in casting the contestants.


I have a feeling that Dana White likes Raquel Pennington. He took her aside for a one-on-one talk; "I'm not your coach and I'm not your trainer but if you let your hands go more – you've got f***ing good hands, a good chin, you took big shots to the body – you throw your f***ing hands more, you'll beat anybody here."


"I think Dana thought it was a great fight but he told me that he was rooting for me and that he wants me to win the whole show. I just hope that he's not saying that to her too 'cause then that would just crush me" – Julianna Peña. DW playing the girls off against one another. Sneaky.


So the competition is now tied up at 3-3, with Sarah Moras vs. Peggy Morgan and Anthony Gutierrez vs. Cody Bollinger completing the preliminary fights in the next episode. I favour both Team Tate fighters in those contests but we've seen enough upsets this season to know that neither fight is likely to play out entirely to script.


TEAM ROUSEY
Shayna Baszler
Jessamyn Duke
Peggy Morgan
Jessica Rakoczy
Chris Beal
David Grant
Anthony Gutierrez
Michael Wootten


TEAM TATE
Julianna Peña
Sarah Moras
Raquel Pennington
Roxanne Modaferri
Cody Bollinger
Chris Holdsworth
Josh Hill
Tim Gorman
Louis Fisette


And that's all for this week. There's no episode of The Ultimate Fighter next week so I'll be back in a fortnight to review episode 8, featuring the final two preliminary fights.

If you enjoy the column please do follow me on twitter at AlexWattMMA

Thanks for reading and if you have any comments or feedback please leave them below or message me on twitter. Cheers.
comments powered by