SPOTLIGHTS
The Juggernaut MMA News Report 10.24.13: The Lyoto Machida Show
Posted by Jonathan Solomon on 10.24.2013

Will Lyoto Machida's weight class shift to middleweight begin smoothly versus Mark Munoz this weekend? 411's Jonathan Solomon breaks down UFC Fight Night 30! Plus news on Diego Sanchez's plans for his next war and more!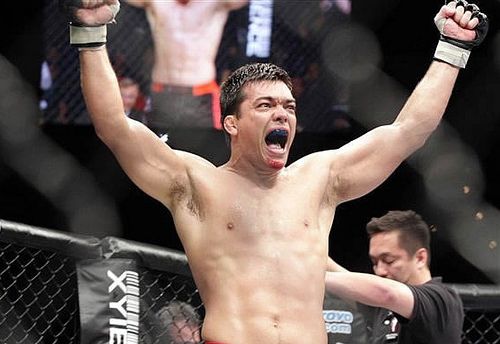 UFC Fight Night -- The Lyoto Machida Show



The UFC is back for a show in Manchester, England this Saturday and former light heavyweight champion Lyoto Machida begins his run as a middleweight when he fights pal, training partner, all-round good person Mark Munoz. The mushy saga ends there because the latter does not want to be used as a stepping stone while the former has grandiose ideas about his new home.

"The Dragon" has fought 24 times and this will be his first time doing so after making the 185-pound limit. Why is he doing this now? Well, he lost to Phil Davis in August and perhaps with some belief that with Anderson Silva no longer atop the division, there's room for a friend of the legend to vie for the championship in 2013 and beyond. As a light heavyweight, Machida has seen the grandest heights as he became champion in 2009 after knocking out Rashad Evans. Surprising Joe Rogan and some others, his title reign only lasted past one fight before he himself was knocked out by Shogun Rua. Since then, he has been 3-3 and despite that, was still considered among the five-or-so top fighters at that weight.

Nobody knows how he will handle the significant weight cut or how he'll look compared to a "native" 185-pounder. Is he going to look enormous or completely drained and sickly?

Munoz has trained with Machida in the past at Black House and they remain friends to this day who overcame any qualms about fighting one another (Rashad Evans and Jon Jones perhaps could have avoided more than a year of aggravation if they shared a similar mindset, though I guess the paycheck was worth it). "The Filipino Wrecking Machine" only returned from injuries over the summer with a dominant decision win over Tim Boetsch. It was the type of performance that let everyone forget that he was going on about a year without competing and had not won a fight since the fall of 2011.

He has always had significant potential to be a top five fighter but between injuries and his two losses over the past three years, he's failed to emerge in that light. His biggest win to date was a decision victory over Demian Maia in 2011 and sandwiching a four-fight win streak were losses to Yushin Okami (2010) and Chris Weidman (2012). Should he score the upset on Saturday, he's instantly a title contender in this division and could theoretically jump right into a title fight with the Chris Weidman/Anderson Silva winner in 2014.

That's a depressing thought for Machida fans. The man is only 35-years-old and a loss this weekend paints an awfully bleak picture moving forward. In that case, hopefully a loss does not transpire due to a physical issue but more along the lines of going down swinging.

Of course, if as most expect - Machida wins - does he then earn the right to jump immediately into a title fight in 2014 should Chris Weidman retain the gold in December? I don't see why not - the middleweight division can get its own taste of THE MACHIDA ERA~!


---




BELLATOR 105



Here's a quick rundown of the penultimate Bellator show before they have their debut pay-per-view event to kick off November.

Friday night from New Mexico is Bellator 105 with the lightweight semifinals featuring Alex Sarnavskiy vs. Ricardo Tirloni and Will Brooks vs. Saad Awad.

Sarnavskiy, the Russian "Tiger" is fresh off his rear naked choke win over Marcus Davis last month. It's his third consecutive submission win and now, he's matched against a Brazilian Jiu-Jitsu black belt. Tirloni has only been submitted once in his career and it came in 2008 when he fell victim to a Benson Henderson guillotine choke. In his first round fight, he beat Rich Clementi by decision.

Elsewhere, there's a low-key rematch that's eight months in the making. Back in February, there was the season eight semifinal when hot prospect Will Brooks was knocked out by heavy handed Saad Awad (see below, sorry for the poor quality). Now, we're in season nine and the Chicago native is looking to feed Awad a taste of his own medicine.

Since that upset, Awad lost to Dave Rickels in the finals before returning last month to choke out Martin Stapleton. Brooks returned post-loss in the summer to finish Cris Leyva and last month, he overcame John Alessio to advance to this fight. I don't know what order the fights will be in tomorrow night, but this is easily the main event.







---




- In a bit of great news, confirmed this week was a report the UFC signed Japanese stars Tatsuya Kawajiri and Katsunori Kikuno.

Kawajiri (35-years-old, 32-7-2 MMA) has fought practically exclusively in his native country for his entire professional career. He's competed in Shooto, Pride, Dream, K-1, Strikeforce and OneFC. That lone fight in America saw him lose to Gilbert Melendez in 2011. Shortly following that bout, he dropped down to featherweight and has been on a tear ever since. He's 4-0 at 145-pounds, following several years at lightweight.

He was considered the #2 155-pounder in Japan, behind only Shinya Aoki (Kawajiri lost by achilles lock to the submission master in 2010). On New Year's Eve in 2010, he earned a decision win over Josh Thomson.

Kikuno (32-years-old as of next week, 21-5-2 MMA) has never fought outside Japan and is best known for being the Deep lightweight champion in 2009. Although he went 5-4 in the following nine fights after winning the title, he is 5-0 over the past year, including four finishes. He has only been stopped once, back in 2009 when Eddie Alvarez locked him in an arm triangle choke.

- In wake of his entertaining fight against Gilbert Melendez from last weekend, Diego Sanchez has tweeted that he's thinking about a fight with Nate Diaz next. Diaz will fight Gray Maynard at the end of November, but that's alright because Sanchez needs plenty of time to heal up, anyway. Think of the action between the two unique personalities should they ever step inside the cage and you should understand why the UFC is likely to try to make this fight.

- While the UFC may be planning a featherweight title fight for February between champ Jose Aldo and Ricardo Lamas, the Brazilian has his eyes set on a move up to lightweight. It's unclear if he'll push the issue early next year or whether he's fine with waiting for this time next year to move up and challenge lightweight champion Anthony Pettis. Either way, it sounds like his mind is set and his days at 145-pounds are coming to a close.




TWITTER

http://www.twitter.com/411mania
http://www.twitter.com/411wrestling
http://www.twitter.com/411moviestv
http://www.twitter.com/411music
http://www.twitter.com/411games
http://www.twitter.com/411mma






comments powered by