SPOTLIGHTS
411's MMA Roundtable Preview - UFC Fight Night: Machida vs. Munoz
Posted by Dan Plunkett on 10.25.2013

Lyoto Machida debuts at middleweight against Mark Munoz in the main event of UFC Fight Night 30! Plus, Melvin Guillard faces Ross Pearson, Jimi Manuwa battles Ryan Jimmo and more! Check out the full roundtable for all the details and join 411 for LIVE coverage of the event Saturday night!




WELCOME:
Lyoto Machida makes his middleweight debut against Mark Munoz in the main event of UFC Fight Night 30! In the co-main event, lightweights Melvin Guillard and Ross Pearson square off. At light heavyweight, Jimi Manuwa looks to remain undefeated when he takes on Ryan Jimmo. Also in lightweight action, Norman Parke faces Jon Tuck. Plus, Alessio Sakara battles Nicholas Musoke, Phil Harris vs. John Lineker, and more!

THE STAFF:


He's 411's resident interviewer, Jon Butterfield!


From MMA's 3R's, Jeffrey Harris!


From Forgotten Fights, Paul Lapointe!


From the Locked in the Guillotine MMA News Report, Robert Winfree!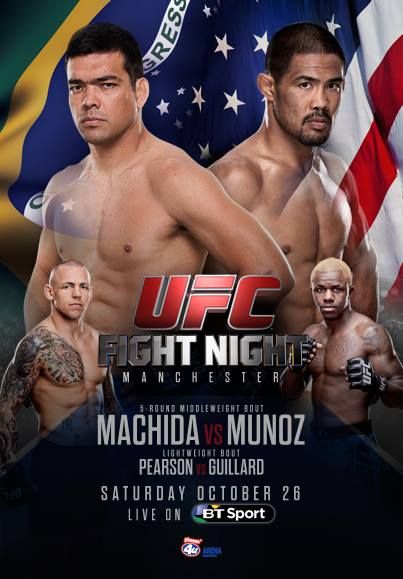 THE PRELIMINARY CARD:




Prelims on YouTube/Facebook.




Middleweight Bout: Brad Scott vs. Michael Kuiper



Jon Butterfield: Michael Kuiper, Decision
Jeffrey Harris: Michael Kuiper, Decision
Paul Lapointe: Kuiper, TKO, RD2
Robert Winfree: Michael Kuiper, Decision
The staff picks Michael Kuiper, 4-0.



Featherweight Bout: Jimy Hettes vs. Robert Whiteford



Jon Butterfield: Jimy Hettes, Decision
Jeffrey Harris: Jimy Hettes, Decision
Paul Lapointe: Hettes, Submission, RD3
Robert Winfree: Jimy Hettes, Submission Round 2
The staff picks Jimy Hettes, 4-0.



Featherweight Bout: Andy Ogle vs. Cole Miller



Jon Butterfield: Cole Miller, Submission, Round Two
Jeffrey Harris: Andy Ogle, Decision
Paul Lapointe: Miller, Submission, RD2
Robert Winfree: Cole Miller, Decision
The staff picks Cole Miller, 3-1.



Women's Bantamweight Bout: Rosi Sexton vs. Jessica Andrade



Jon Butterfield: Rosi Sexton, TKO, Round Three
Jeffrey Harris: Rosi Sexton, TKO, Round Two
Paul Lapointe: Sexton, Decision, RD3
Robert Winfree: Jessica Andrade, Decision
The staff picks Rosi Sexton, 3-1.



Middleweight Bout: Luke Barnatt vs. Andrew Craig



Jon Butterfield: Andrew Craig, Decision
Jeffrey Harris: Luke Barnatt, Decision
Paul Lapointe: BARNATT (trained with the guy can't vote against him), Decision, RD3
Robert Winfree: Andrew Craig, TKO Round 2
The staff calls it a draw, 2-2.



Lightweight Bout: Al Iaquinta vs. Piotr Hallmann



Jon Butterfield: Piotr Hallmann, Submission, Round One
Jeffrey Harris: Al Iaquinta, Decision
Paul Lapointe: Piotr , Submission, RD3
Robert Winfree: Piotr Hallmann, Submission Round 1
The staff picks Piotr Hallman, 3-1.

---




THE MAIN CARD:




Flyweight Bout: Phil Harris vs. John Lineker



Jon Butterfield: A well-pitched flyweight fight between two guys with 22 wins apiece. Harris rebounded from a UFC debut defeat to Darren Uyenoyama with a decision win over Ulysses Gomez, while Lineker is riding a three-fight win streak after also losing his first bout on the biggest stage of them all. A win over long-time top-ranked Yosuhiro Urushitani set the ball running, and back-to-back second round TKO's over Azamat Gashimov and Jose Maria Tome have him knocking on the doors of the division's elite fighters. While Harris is a useful and well-rounded fighter, ten career defeats is telling, particularly when he's been finished in nine of those losses. John Lineker has heavy hands, and I'd expect him to land them on Harris, whose defensive capabilities have to be questioned – and when he does, it's probably nap time. Just for posterity, I'll say Lineker makes it three second round TKO's in a row.

Winner: John Lineker, TKO, Round Two

Jeffrey Harris: Phil Harris won an underwhelming fight in his last performance against Ulysses Gomez. Lineker has actually been on a decent run in the flyweight division since a loss in his UFC debut to Louis Gaudinot, winning three straight. I'm predicting Lineker to dominate this fight and rack up another knockout win.

Winner: John Lineker, TKO, Round Two

Paul Lapointe: It's a battle for who is next to challenge for the UFC's Flyweight title...nah, I kid, I kid. Seriously though, this is much more a battle to see if John Lineker can make weight over anything else. Granted I believe his hype to be a little overstated in regards to his skill set but Lineker is fun to watch. This is a re-booking of a previously scheduled fight night bout that had Lineker get tagged but eventually rebound in the 2nd round due in large part to a freak foot injury to beat replacement fighter Jose "West Side Story" Marie not to long ago. Now nobody can actually think that Harris has a chance at the title with a victory but Lineker does have one IF he can make weight and win decisively. The win would put him at a 4 and 0 run in the shallow 125 lb. division and FOX cards need some fresh faces to promote anyhow in the future. So the night starts off with a Englishman loss and a Brazilian beatdown.

Winner: Lineker, TKO, RD2

Robert Winfree: This should be a fun fight, but the most interesting part will come the day before when we see if Lineker is able to actually make weight. He's missed twice before so we'll see if he can actually get to the proper weight limit this time. As for the fight itself, Lineker is a tough fighter, has good power, and is big for the division and I think he takes this one.

Winner: John Lineker, Decision

The staff picks John Lineker, 4-0.

---




Middleweight Bout: Alessio Sakara vs. Nicholas Musoke



Jon Butterfield: Swedish welterweight Nicholas Musoke steps up at late notice to replace compatriot Magnus Cedenblad on the main portion of this card, and he's got a tall order against 14-fight UFC veteran Alessio Sakara. Sakara may not belong in the top 15 of the division, and in spite of three consecutive defeats, he remains a difficult draw for any fighter, let alone a man making his promotional debut. While I can't claim to be an expert on Musoke's career, and while Sakara's looser, brawling style anything is possible, it remains difficult to expect him to pick up the win here. Experience is more likely to triumph here.

Winner: Alessio Sakara, Decision

Jeffrey Harris: A tough fight to call seeing as to how Nicholas Musoke makes his UFC debut here. Musoke comes in with a record of 10-2 with one no contest. His wins come against a lot of unknown fighters with some rather unimpressive records. Sakara has three straight losses, but they come against the current UFC middleweight champion, a prolific competitor in Brian Stann, and the last was a DQ loss to Patrick Cote when he got overzealous with strikes to the back of the head. Sakara is not an elite level fighter, he will still likely be a tough and dangerous opponent for Musoke. Sakara pulls this one out and likely saves his job.

Winner: Alessio Sakara, TKO, Round 1

Paul Lapointe: Insert token statement about who Musoke is? Better question is how relevant is Alessio Sakara nowadays? He is injury prone and flip floppy in the wins and losses front and been with the company for about 8 years. With the roster being purported to be ever growing and talking of a cleanse in order Sakara better use his head for his A game and not a punch bag. Of course if he uses his opponents head to beat like a drum as he did with Patrick Cote he will be out of a job. Most people go with what they know and most people know Alessio Sakara. What I know is that Alessio has great facial hair and terrible tattoos and has never been that good in retrospect and is prone to going nighty night. I see two kids getting riled up and winging bombs early and one of them landing, I'll take the upstart for the upset. Heck I have to pick one of the guys from where I train from and he is the only one on the whole dang card. (Who is Swedish but working with Luke the last few months was pretty cool)

Winner: Musoke, KO, RD1

Robert Winfree: Every now and then you see that there are fighters that the UFC just wants to keep around, and Alessio Sakara is one of them. He's not a great fighter, but the UFC likes having him around so whenever he's on the verge of getting cut they throw him a bone. In this case said bone comes in the form of Nicholas Musoke. Unless Musoke has seriously been flying under the radar until now this is kind of designed for Sakara to win so he can keep his job.

Winner: Alessio Sakara, Decision

The staff picks Alessio Sakara, 3-1.

---




Lightweight Bout: Norman Parke vs. Jon Tuck



Jon Butterfield: Norman Parke strikes me as the 'spoiler' type, defeating opponents by shutting them down without ever really dominating or doing too much damage. His workrate is always high, and he's a good athlete, and these factors don't bode well for a man without a fight in almost a year. John Tuck defeated Tiequan Zhang in his full UFC debut, but that's not an especially outstanding feat – not that you can hold that against him, you can only beat what's in front of you after all. Still, the safe money has to be on Parke, and I don't really see anything in Tuck's résumé to suggest he'll pull off the upset. If he's the better grappler, the issue will be engaging Parke on the ground, which is easier said than done.

Winner: Norman Parke, Decision

Jeffrey Harris: Parke has done well in the UFC thus far, winning the lightweight final for The Smashes season of The Ultimate Fighter and then beating Kazuki Tokudome. Tuck fights for the first time in almost a year after beating Tiequan Zhang in his UFC debut. Parke's experience and activity makes me think he will have the edge here. He will dominate Tuck and secure the decision win.

Winner: Norman Parke, Decision

Paul Lapointe: Parke is like a tank engine really with the way he fights. He chugs along in spurts and instances that are both abrupt but mega powerful. His last fight was not the most technical but was fun to see the heart on display for what it was worth. Tuck is finally getting his shot at some sort of exposure and the fear is that ring rust and jitters may be the order of the day. I see a near imperfect fight benefited from a raucous crowd that sees two guys spend all the brine, sweat and heart they have into the fight and each other. Nothing again all that technical but diverting enough and something that may lead to a better booking for our winner.

Winner: Parke, Decision, RD3

Robert Winfree: Norman Parke is a fun fighter for the lightweight division, and Jon Tuck hasn't had the same kind of experience. Tuck has good submission skills, but so did Colin Fletcher and that didn't work out too well for him against Parke. I think this one goes much the same way as Parke vs. Fletcher did.

Winner: Norman Parke, Decision

The staff picks Norman Parke, 4-0.

---




Light Heavyweight Bout: Jimi Manuwa vs. Ryan Jimmo



Jon Butterfield: For those that have never seen Jimi Manuwa fight, you're in for a treat here. Manuwa has dynamite in his hands, having notched up 12 TKO's in 13 fights, and finishing the other with a guillotine choke. Only two men have ever managed to get to the second round against Manuwa, and in his two UFC outings to date, both opponents have retired between rounds due to the sheer accumulation of damage. Jimmo, however, is highly capable at defending himself as a high level karateka, and doesn't strike me as particularly likely to succumb to Manuwa's heavy shots – but Manuwa has a frightening tendency to capitalize on a single landed punch, displaying single-minded relentlessness as he chases the finish. Jimmo will need to keep his distance and mix things up with clinches or takedowns, and the longer it goes, the worse things will get for Manuwa, who has unproven cardio and seemed to lag in the second round against Kyle Kingsbury. Manuwa needs to finish, and finish early – as always.

Winner: Jimi Manuwa, TKO, Round One

Jeffrey Harris: For this fight, I see this not so much as a big test for the British light heavyweight prospect in Jimi Manuwa so much as a likely resume and highlight reel builder. Manuwa is a scary knockout artist, and Jimmo tends to be incredibly hit and miss with his performances. Jimmo's last fight was an awful display against Igor Pokrajac. Provided Manuwa is ready to deal with Jimmo's tactics to slow things down and stall against the cage, he should be able to deal with him easily and get another notch in his knockout belt. Manuwa wins and hopefully will move on to some higher-ranked competition from here on out.

Winner: Jimi Manuwa, TKO, Round One

Paul Lapointe: I am Canadian and like Jimmo but he is the definition of the word "SAFE" when it comes to fighting. He curls up in defensive positions to save himself from damage and conserve energy at the first sign of insecurity during fights. On the other hand he himself is a heavy hitter and finisher if not for this fatal flaw, he had Te Huna dead to writes till he peeled back a bit and then swallowed his own foot in the decision. He could outwrestle Manuwa no problem but Jimi should keep distance until Jimmo charges in and catch him. I am pulling for the country boy but I see him being a little over confidant of his gameplan and he get's walloped.

Winner: Manuwa, TKO, RD2

Robert Winfree: My dislike for Ryan Jimmo is well documented, his fights with Sokodju and Igor Pokrajac are so horrible you could probably get confessions of out people by making them watch those fights on a loop. Jimi Manuwa is unbeaten thus far in his MMA career, granted his last win came because of injury but he was still doing well in that fight. Jimmo has way too much muscle and not enough conditioning. I think Manuwa takes this, he just needs to avoid a big shot in the opening 90 seconds or so.

Winner: Jimi Manuwa, TKO Round 1

The staff picks Jimi Manuwa, 4-0.

---




Lightweight Bout: Ross Pearson vs. Melvin Guillard



Jon Butterfield: In 2011, Guillard considered himself "undefeated" after supposedly reinventing himself and embarking on a five-fight tear through the 155 lb division. Fast forward to the present day, and Guillard has lost four of his last six bouts, three of those defeats coming inside the first round. Don't be fooled, however, Guillard is still one of the finest strikers in the UFC, and against Pearson on home soil, he's bound to get himself involved in a few stand up exchanges. Pearson is tough as nails and a talented fighter, but he's not as technically gifted or athletic as Guillard, nor does he hit as hard as the Louisiana native. Pearson certainly won't be scared of 'The Young Assassin', however, but should Guillard pull ahead in the striking stakes, Pearson would be best served getting up close and in tight – which won't be easy against someone as speedy as Melvin. With the right gameplan, Pearson can break Melvin and score a decision win, but I'm going to pick Guillard to win a competitive affair.

Winner: Melvin Guillard, Decision

Jeffrey Harris: This fight has a lot of potential to be a very fun affair indeed. Both guys have solid MMA boxing skills and are not afraid to bang. Both fighters have knockout power. In terms of how they match-up, Pearson being more of a British striker, looks to be a good match-up stylistically for Guillard. Pearson likely won't be as much of a threat to Guillard on the ground as well as going for takedowns or submissions, Guillard's greatest weakness. I see this fight going back and forth, but ultimately Guillard gets that one big knockout punch for the win.

Winner: Melvin Guillard, TKO, Round Two

Paul Lapointe: The experiment finally ends. Guillard has been given chance after to chance to meet his "potential" as a fighter and has proven time and again that he is incapable of overcoming his own mental diffencies in the octagon. That is not to say he not a good fighter- far from it but he tends to fight the other fighters fight after a few combo's do not land for him. This leads to him being trapped into situations where he leaves himself open and he gets jacked up standing and exposed on the ground. Unless his coaches now at wherever he trains at (as he is a bouncy ball when it comes to training) can reel him in, he is in some trouble. Pearson is a grunt like puglists if he had his way and he can use a pitter patter technique as well as in and outs to pepper Melvin into the later rounds. At home I think Pearson respects Melvin's power en route to fighting a full 15 and he takes home the W, Melvin's pride and his UFC contract.

Winner: Pearson, Decision, RD3

Robert Winfree: This is actually a close fight on paper, and likely in practice as well. Ross Pearson is a diligent fighter, but he doesn't have tons of knockout power as he tends to overwhelm his opponents rather than finish them with a well placed punch. Pearson is also a tad chinny, he was knocked out by Cub Swanson and rocked more than once by George Sotiropoulos. Melvin Guillard has some of the most impressive one shot power in the division and he backs that up with impressive athleticism. Unfortunately for Guillard he is also chinny, he's been rocked by Nate Diaz, Jamie Varner, Donald Cerrone, and Joe Lauzon. This could really go either way, but I'm more comfortable picking Pearson.

Winner: Ross Pearson, TKO Round 1

The staff calls it a draw, 2-2.

---




Middleweight Bout: Lyoto Machida vs. Mark Munoz



Jon Butterfield: Lyoto Machida returns after a shock defeat to Phil Davis (and it was partly a shock defeat because he shouldn't have actually lost), and that doesn't bode well for Mark Munoz. The last time Machida lost unjustly (against Rampage Jackson), Randy Couture ended up eating his foot for lunch courtesy of a vicious crane kick in a KO of the Year contender. In truth, Machida is highly adept at out-doing wrestlers even if his record doesn't reflect that, and the thought of Munoz taking him down, keeping him there AND landing his nasty ground and pound just doesn't seem feasible. On the feet, this one is a virtual no contest, though you have to wonder if the threat of Munoz's takedowns will have him standing off and staying out of range – which is part of the reason Machida keeps getting decisions going against him, with criticisms of his lack of aggression and unwillingness to engage. Assuming Machida doesn't do that for five full rounds, I'm not really sure how Munoz can be expected to win here, but if he can pull it off, it would be a hell of a feat. Expect Machida to turn Munoz's lights out in round two or three.

Winner: Lyoto Machida, TKO, Round Three

Jeffrey Harris: Machida finally makes the move down to middleweight, which he's teased and hinted at for years. Finally after a string of disappointing fights including a split decision win over Dan Henderson in an execrable fight and a split decision loss to Phil Davis in another bout that wasn't much better, Machida makes the move down to middleweight. Funny how a few years ago we thought Machida was going to dominate the light heavyweight division for years to come before moving up to heavyweight to challenge Brock Lesnar. How wrong the Kool-Aid drinkers were there. Machida and Munoz have trained together and likely have a more intimate knowledge of how they fight compared to the previous opponents they were originally scheduled to face: Tim Kennedy for Machida and Michael Bisping for Munoz. Munoz is a great wrestler with some nasty and powerful ground and pound strikes, but his stand-up and overall striking game has always left a lot to be desired. While Machida has an elusive style that makes him difficult to catch, in some of his recent squeakers it didn't appear that he was doing that much more effective damage himself. Still, I think Munoz will not be able to get ahold of Machida and eventually he goes down from an effectively placed punch or kick.

Winner: Lyoto Machida, TKO, Round Two

Paul Lapointe: A debut indeed. Never thought I would see Lyoto at 185 actually and I am excited to see what the cut will do for him, both as a fighter and performer. With Dicksping out with one eye up his arse we have a much more intriguing main event in my humble opinion. Will Munoz be able to utilize his wrestling? Will Machida still be that "Elusive" fighter he was at LHW? Will this bout go until the later rounds? This and many others are fascinating propositions before the bell and I see it like this. Munoz, like anybody with a brain will respect Machida's counter striking and look for signs of weakness en route to shoot attempts. Nothing first round and then into the 2nd round sees Machida throw in some offensive strikes and stances as way of baiting Mark in. All this leads to eventually looking at the writing on the wall that a Phil Davis will not happen on this night and that his wrestling is being stifled (his being Munoz) the fight picks up in the third. What happens when someone gets aggressive with Lyoto Machida? They get KTFO. End of story. Successful debute. Machida Vs Spider anyone? One can dream.

Winner: Machida, TKO, RD3

Robert Winfree: All things considered Mark Munoz has little to no chance here. Munoz has good wrestling and hits with incredible force, but wrestlers have a horrible track record against Lyoto Machida. Rashad Evans and Ryan Bader were both knocked out cold, and anyone with half a brain knows that Machida beat Phil Davis. Munoz also has a somewhat suspect chin. Unless the weight cut goes horribly wrong for Machida this is really his fight to lose.

Winner: Lyoto Machida, TKO Round 2

The staff picks Lyoto Machida, 4-0.

---
Remember to join 411's coverage of UFC Fight Night 30 on Saturday!
comments powered by