SPOTLIGHTS
The Greatest MMA News Column 10.29.13: Bellator PPV, Sonnen-Silva, More
Posted by Dan Plunkett on 10.29.2013

News and thoughts on Bellator's cancelled PPV, Tito Ortiz, Sonnen and Silva coaching TUF Brazil, UFC's recent PPV issues and what's to blame, Gustafsson vs. Nogueira, and more!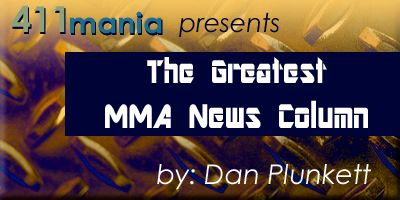 NEWS!





UFC



Chael Sonnen and Wanderlei Silva to coach TUF Brazil 3. After previously claiming Chael Sonnen would not coach against Wanderlei Silva on the third season of The Ultimate Fighter Brazil, UFC president Dana White changed his tune and announced Sonnen and Silva as coaches for the upcoming season. The rivals will square off at some point after the season.





Sonnen and Silva have feuded off and on for the past couple of years, with the issue escalating in recent months with Silva releasing a YouTube video calling out Sonnen and confronting him at a bodybuilding event. The bout promises to be one of the few non-title matches that can be a real draw for the UFC. Both are big enough stars and their feud is heated enough to fill a stadium in Brazil, but with the bout looking to take place around the time of the World Cup, also in Brazil, a stadium show may be difficult to put together. It should also be able to draw somewhat well on pay-per-view, which at this point for the UFC is at least somewhere on the 300,000s.

Ironically, to a good portion of the audience the upcoming Brazilian season of The Ultimate Fighter will have more interest than the upcoming United States season, coached by BJ Penn and Frankie Edgar. Wanderlei Silva suggested the season have a Brazil vs. US theme, which would make it far more intriguing than the Penn-Edgar season (and not just because I suggested the idea before either season was announced). The Silva-Sonnen season would draw better in the US than Penn-Edgar will and would be good exposure for their eventual pay-per-view bout. Plus, it would eliminate the cost of producing an extra season. Perhaps UFC looked at the idea and Globo (which airs TUF in Brazil) wasn't thrilled or there were logistical issues.

Sonnen's commitments to coach the show and eventually face Silva don't change his already booked match with Rashad Evans at UFC 167. There is some risk in keeping him in the match; he could get hurt or beaten badly and hurt interest in the Silva fight. Generally, as long as the drawing point doesn't change the fight will draw just as well as it would have at any other point. With Sonnen and Silva, the drawing point isn't wins and losses or that the winner could move on to a title match, it's a personal grudge. Certainly, the winner moving on to a title match would help the fight, but if Sonnen is pulled from the Rashad fight there's no reason a win over Silva would earn him a title shot, and Silva isn't in title contention.

UFC 166 likely disappointed on PPV. UFC's big run of year end pay-per-views seems to have stumbled out of the gate. Dave Meltzer reports in his Wrestling Observer Newsletter that UFC 166 was "hugely disappointing" on pay-per-view. Early indicators have put the show below Velasquez's May rematch with Antonio "Bigfoot" Silva, which drew an estimated 380,000 homes. That makes two consecutive disappoint shows for UFC, after Jon Jones' September title defense against Alexander Gustafsson was the lowest Jones-headlined show ever. That show had the excuse of coming one week after the Floyd Mayweather vs. Canelo Alvarez fight that did record business. UFC 166 has no such excuses.

One has to consider the role of Fox Sports 1 in UFC's recent struggles. UFC has failed to break one million viewers for any show since 1.78 million viewers saw the debut show on the new channel. The first pay-per-view after that, UFC 164 on August 31, drew an estimated 270,000 sales, which was slightly better than expected. However, that success isn't directly attributable to Fox Sports 1 and may have been a result of headliner Ben Henderson's increased name value after two consecutive Fox main events and ESPN coverage.

For Jones vs. Gustafsson, the Fight Night held closest prior to the show, which usually features a strong push for the next PPV, drew just 539,000 viewers. Demian Maia vs. Jake Shields, held one week prior to Velasquez vs. Dos Santos III, had 638,000 viewers. UFC ran a Primetime series building to UFC 166, but it failed to attract an audience, averaging just 123,000 viewers over three episodes. The Countdown show drew 157,000 viewers.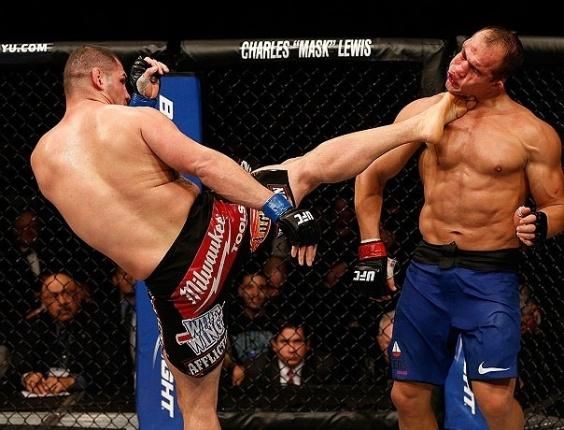 The Primetime specials, though not bad, were easily the most overlooked and least anticipated in series history and the ratings reflect that. Clearly, the series cannot succeed without either strong word of mouth or a good lead-in program. The Ultimate Fighter would be a good lead-in program, but Fox Sports Live already has the time slot and isn't going anywhere. After a few years of being effective, the promotional vehicle has been rendered meaningless by being done too often, getting stuck in poor time slots, and being relegated to low rated networks. That is very important when you consider UFC is producing Primetime specials for both UFC 167 and 168, which they hope to be two of the three biggest shows of the year.

If UFC 167 were to disappoint it would be alarming. The show should bring in no less than 700,000 purchases on pay-per-view. Headliner Georges St-Pierre has been the most consistent draw in the company since Brock Lesnar's heyday, he has an intriguing challenger, the co-main event is very strong, and it should benefit from serving as the promotion's 20th anniversary show. The upcoming documentary detailing UFC's twenty year history would add interest to the show in another place and time, but it's unlikely to attract a significant audience on Fox Sports 1.

UFC has publicly expressed expectations that UFC 168 will mark the biggest show in company history. Anderson Silva's title loss to Chris Weidman received huge levels of interest and media attention, and the hope is those levels carry over to the December rematch. One fighter certain to receive a great deal of media attention leading into the show is Ronda Rousey, whose UFC debut attracted attention at the level of the biggest UFC shows. However, for the show to reach the heights of UFC 100 strong television promotion is needed. The Ultimate Fighter with Rousey and opponent Miesha Tate is garnering good ratings when taken in the context of Fox Sports 1, but through a different lens it may end as the lowest-viewed season in series history.

Initial struggles for Fox Sports 1 were always expected, but there was hope the channel would be stronger at this point than it is. The long-term hope is for the channel to become a legitimate challenger to ESPN, which would be great for UFC, but they won't reach that point this year and probably not next year either. There is also the chance the network never reaches that level, which would hurt UFC's domestic business.

Quick news. UFC announced plans to run 35 shows in 2014. That breaks down to 13 PPVs, 14 Fox Sports 1 events, 4 Fox Sports 2 events, and 4 Fox specials. If all goes to plan, they'll break their record for most events in a calendar year by two, which will be set this year.





Lyoto Machida kicked Mark Munoz in the head and knocked him out in the first round of their main event bout on Saturday. There are no numbers available yet for the show, which took place on Fox Sports 2, but I can't imagine they were very good. Vitor Belfort, assuming he beats Dan Henderson, was talked about as a potential opponent for Machida. Ross Pearson and Melvin Guillard went to a no contest after Guillard landed an illegal knee and Pearson couldn't continue. Dana White said they would rematch. Jimi Manuwa remained undefeated when Ryan Jimmo suffered a freak leg injury and couldn't continue. John Lineker missed weight for the third time in his UFC run, but scored his third consecutive (T)KO win.

According to MMA Junkie, UFC signed Tatsuya Kawajiri, 35, to a deal. The longtime top lightweight and current featherweight hasn't lost since Gilbert Melendez routed him in 2011. It's a shame Kawajiri is coming over to UFC past his prime, but I guess we'll see what he has left in the tank. He hopes to debut at UFC's Singapore event in January.

Alexander Gustafsson will face Antonio Rogerio Nogueira on March 8 in London. Should Gustafsson win, he'll get a shot at the light heavyweight championship. Gustafsson and Nogueira were originally scheduled to fight in April of last year, but Nogueira withdrew due to injury. Nogueira, 37, hasn't fought since February, when he won a close decision over Rashad Evans.



Bellator



Ortiz injured; Bellator 106 moves to Spike TV. One of the many risks Bellator faced for its first pay-per-view event was the entire show being based on one novelty fight, and outside of that bout the company didn't have any stars that could headline a PPV with any degree of success. Although the novelty bout, Rampage Jackson vs. Tito Ortiz, was criticized from the moment it was revealed to the public, it was the best match Bellator could make a PPV headliner. The end result proved the criticism valid, as Tito Ortiz, who never should have attempted to come out of retirement for the bout, withdrew due to a broken neck.

The 38-year-old Ortiz has battled through a number of major injuries over the past ten years to his back, knees, and neck. Those injuries, as well as natural aging, contributed to him earning just one win in his past nine bouts. Ortiz was facing, with just a couple exceptions, some of the best of his division over that time, but back-to-back blowout losses to Rashad Evans and Antonio Rogerio Nogueira in 2011 made it abundantly clear he wasn't long for the sport. When Bellator announced Ortiz's return in July it came across as a company milking the last dollars out of a long past-his-prime fighter, an unfortunately popular tactic in combat sports used by every top company at one time or another. If Ortiz's latest neck injury isn't a sign to him, his doctors, or athletic commissions that he shouldn't be fighting anymore, Bellator should make the call to not book him.





With Ortiz off the card, Bellator made the choice to scrap their pay-per-view plans for November 2 and move the remainder of the show to free TV, a choice as commendable as it is obvious. Now, Bellator 106 is headlined by the rematch between Michael Chandler and Eddie Alvarez, whose first match two years ago was one of the best fights in MMA history. Two other title matches are also scheduled with Pat Curran defending the featherweight strap against Daniel Straus, and King Mo looking to get his win back from Emanuel Newton with the interim light heavyweight title up for grabs. Rounding out the main card is the Fight Master final of Joe Riggs vs. Mike Bronzoulis, and Mike Richman vs. Akop Stepanyan. The card is the best Bellator has ever put together, surpassing summer's Bellator 97.

---
Thanks for reading; I hope you enjoyed it. Feel free to leave any feedback in the comment box or at the e-mail address below.
comments powered by