SPOTLIGHTS
411 MMA Fact or Fiction 10.30.13: Lyoto Machida, Tito Ortiz, More
Posted by Wyatt Beougher on 10.30.2013

Is Lyoto Machida's move to middleweight the best move for everyone involved? Will Tito Ortiz's injury end up being the best thing that happened to Bellator 106? 411's Dino Zucconi and Wyatt Beougher debate these topics and more!

It's Wednesday, so that means it's time for another edition of 411's MMA Fact or Fiction, and I'm your host, Wyatt Beougher. Last week, the host and co-host of the 411 Ground and Pound Radio Show collided, as Robert Winfree took on Mark Radulich. It proved to be a close battle, and when the dust settled, Mark earned a one-vote victory. Excellent work from both guys last week, and this week should be at least 50% as good, as Dino Zucconi steps in from the Wrestling Zone to try to carry me to a watchable contest. It's always a pleasure to get guys from other zones involved, and Dino's enthusiasm certainly bodes well for his chances in this bout.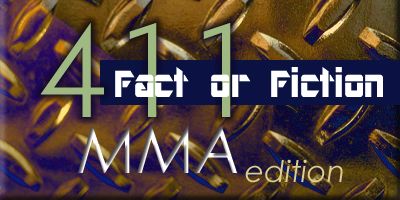 TALE OF THE TAPE

Red Corner
Dino Zucconi
'Awesome-O McSanchez'
Columnist, Smart Marks (Wrestling Zone)
0-0-0

VS

Blue Corner
Wyatt Beougher
'MMA's Merv Griffin'
Host, This Particular Column/Reviewer, Marvel's Agents of S.H.I.E.L.D.
3-0-2

---

Should Machida stay at middleweight?



1.) Because he didn't appear to have any issues with the weight cut, Lyoto Machida's move to the middleweight division both benefits him and the UFC.

Dino Zucconi: FACT While the benefit towards the UFC is much smaller than the benefit to his own career, I have to go FACT on this. At 205, the UFC really couldn't do much with Machida besides have him possibly snuff out other contenders. I'm in the group that never, ever, ever want to see Jon Jones and Lyoto Machida fight again. In a world where Vitor Belfort couldn't earn another shot at Anderson Silva, it seems ridiculous to let a guy that was dropped to the mat like a sack of potatoes get another chance because he managed to punch Jones a few times in the first round. At 185, however, everything is wide open (unless, of course, Silva beats Weidman and doesn't want to fight Machida, even though Machida's said he'd take the title shot against Silva). The Muñoz fight certainly didn't set records as far as entertainment goes, but that finish should more than serve as sufficient warning to everyone that Machida will kill you dead if you're not paying attention. I'm absolutely down for the proposed Vitor/Machida fight if they can put it together. Definitely a good move for everyone involved.

Wyatt Beougher: FACT Sure, the first few minutes of Machida's middleweight debut weren't the most impressive, but man, that ending sure made up for it, didn't it? With Machida saying he'd be willing to fight Anderson Silva should the Spider regain the middleweight title from Chris Weidman, you've got two potentially awesome new match-ups in a middleweight division that's not particularly deep at the moment. I'd prefer if Machida had to get past Jacare before getting a title shot, but anybody that prevents Vitor Belfort from getting another shot is okay with me. And until/unless Jon Jones is dethroned at light heavyweight, Belfort's probably not getting another title shot, essentially making him the Jon Fitch of the light heavyweight division. So if the move is beneficial to Machida's title hopes, beneficial to the middleweight division, and beneficial to the fans in the form of fresh, exciting match-ups, then this is an easy FACT.

---

Was it a bad stoppage, and if so, is a rematch warranted?



2.) The stoppage in the Guillard/Pearson fight was bogus, so the UFC already announcing a rematch for March is the only proper course of action available to them.

Wyatt Beougher: FACT Look, I'm not a conspiracy theorist or anything, and I don't think that Marc Goddard knowingly made a bad call in the fight, but on Guillard's first knee, both of Pearson's knees and both of his hands were off of the canvas, making it completely legal. From every replay that I could see of the second knee, Pearson's hand was off of the ground when Guillard began to throw the knee, which is the criteria for whether or not it was legal, and again, I'm under the impression that it was a legal strike. Because Guillard could file complaints until he's blue in the face and not get the result overturned, a rematch is well and truly the only course of action that Zuffa had available to them to ensure that both fighters receive a fair shake. Had the fight continued, I have no way of knowing that Guillard would've won the fight, but it's certainly not hard to believe that after that pair of knees brutalized Pearson, the end of the fight was not long in coming, so obviously, if Pearson comes out in the rematch and handles Guillard, it's still not quite fair to "The Young Assassin". But all in all, a second fight between the two is the most fair result out of what I believe was a bad stoppage.

Dino Zucconi: FICTION I have to go letter of the law on this one- it wasn't a bogus stoppage. The rules are there, and while it's an absolutely stupid rule that needs to be addressed, it's still the rule. Why any referee would allow the fighter to play the little hand tap game is beyond me, and it sucks that just because he got busted open, we had to have a stoppage. I'm glad that we're gonna get a redo on this, and I hated that the fight had to be stopped, but calling it 'bogus' just isn't fair. The rule sucks, but it's still the rule.

---

Did Steve Carl end Josh Burkman's UFC hopes?



3.) Steve Carl's submission of Josh Burkman at World Series of Fighting 6 to win the inaugural WSOF welterweight championship has more or less ensured that Burkman won't be receiving a UFC invitation any time soon.

Dino Zucconi: FACT As always, never say never and all that jazz, but yeah, I think that's probably going to put a significant dent in his chances of a return to the UFC. With his WSOF wins over UFC alums Gerald Harris, Aaron Simpson and then most notably Jon Fitch (the last two via first round stoppages), Burkman had managed to rise his profile in the MMA World, and it was basically a foregone conclusion that he'd win the WSOF Welterweight Title, probably rematch Fitch, and then one would think that should he win that rematch, that he may get that UFC invite. The performance against Carl, however, killed all of that. The ground game appeared to be in Carl's favor throughout the fight, though this was hardly a dominant performance by Carl, either. Burkman falling short most likely just adds validation to the UFC's belief that guys like Simpson and Fitch really don't have much more to offer, instead of Burkman finding a bit of a renaissance when few expected it. Maybe with a few more impressive performances he can get back to that spot, but for now, Burkman to UFC is most likely dead in the water.

Wyatt Beougher: FACT While I commend Burkman for honoring his contract with World Series of Fighting, especially if he was in close contact with Joe Silva and had a UFC offer on the table, I can't imagine he's not kicking himself right now in the wake of Carl submitting him this past weekend. Certainly, even if he wasn't contractually obligated to remain with WSOF, I can certainly see why he opted to stay with the promotion, as winning the WSOF welterweight title would've likely improved his standings in the UFC upon his return. And after handily beating Jon Fitch, it's pretty easy to believe that Burkman believed the title was as good as his. Unfortunately for "The People's Warrior", Steve Carl had other ideas, and after an upset that was no less shocking than Burkman's own dismantling of Fitch, now it's Burkman who finds himself both without the WSOF welterweight championship and also without any immediate interest from the UFC. With two fights now remaining on his WSOF contract, it's certainly conceivable that Burkman could win a title eliminator in a shallow division and then win the title in his second attempt, but even if that were to happen, I'm not so sure the UFC will be knocking down his door. If that's the case, and Burkman re-signs with WSOF, then he'd be in the same situation that he's in now. Even if Burkman does win out and the UFC comes knocking again, it's going to be six months at a minimum before he fulfills his current contract, so I don't see any way this statement isn't FACT.

---

Will Tito's broken neck actually benefit Bellator?



4.) Tito Ortiz' injury, which caused him to pull out of his scheduled bout with Rampage Jackson at Bellator 106, causing the event to move from PPV to SpikeTV, will actually be a blessing for Bellator.

Wyatt Beougher: FACT Let me get one thing straight right from the get-go here - Bellator isn't ready for PPV. There is no indication that Bellator is in any way ready for a single pay-per-view broadcast, much less a PPV business model like the UFC's with a whole slew of new expenses outside of the safe confines of SpikeTV. They don't have the following that the UFC has and there's been absolutely no proof that they can monetize their regular audience on SpikeTV. In spite of increased ratings this season and a card headlined by "name" ex-UFC champions and stacked with a bevy of anticipated fights, ticket sales for the originally-slated-for-PPV Bellator 106 were sluggish, to say the least. That all tells me that the move to SpikeTV was the right decision, even if Tito's neck injury hadn't happened. And I don't want to speak ill of the injured Ortiz, but in my opinion, this show actually improved by not having what will be a fight of the year candidate (Chandler/Alvarez II) overshadowed by two past-their-prime guys phoning it in for a paycheck. Hopefully Bellator 106 shatters their ratings record on SpikeTV and Bjorn Rebney and company realize that they don't need UFC castoffs to sell their shows with guys like Chandler and Alvarez on the roster.

Dino Zucconi: FACT It definitely sucks to lose out on whatever PPV revenue they were going to pull in, and it may hurt them with regards to Eddie Alvarez and Bellator not actually being able to deliver on "matching" the UFC deal, but at the end of the day, Bellator has a loaded card that they can now air on free tv in hopes of drawing in some more eyeballs. On top of that, they don't have to spend the whole card hyping two over the hill fighters in a main event. I'm a gigantic Rampage fan- like, stupidly so- but even I can admit that his best days are behind him. What would KO'ing old Tito have shown us? And I don't even want to think about what would have happened if Tito actually beat Rampage. Everyone wins with Tito not being able to fight (except for Tito, and I hope he recovers from his injury), and if they absolutely HAVE to do Rampage/Tito down the line, then so be it. In the meantime, let's enjoy Alvarez/Chandler II, Curran/Straus II, and the bogus Interim Light Heavyweight Title Fight Because We Need to Have King Mo Hold Gold fights, instead.

---

Should Eddie head back to court?



5.) Conversely, Bellator pulling the event from PPV will give Eddie Alvarez new ammunition should he decide he wants to get out of his Bellator contract.

Dino Zucconi: FACT I'm not a lawyer. I don't pretend to be one. However, my layperson logic would be that Bellator was able to screw Alvarez on going to the UFC by claiming they could match the UFC's deal, which included PPV money. With no PPV, that's gonna hurt things a bit. While there's been speculation/rumors about the conditions of Alvarez' current deal (a loss and he can leave immediately, a win and he has to defend against Chandler again, 2 wins and he's also a free man), all of this could be irrelevant if Alvarez can somehow force a breach of contract type situation and get out of his contract. It seems to me at this point in time that Bjorn Rebney should be a very worried man. I'm leaning towards Chandler winning again, but if Alvarez can take the belt, things could get very fun if you're a fan of MMA Contract Legislation. Or if you like seeing Bellator make dumb decisions and then they backfire.

Wyatt Beougher: FACT I know if I were Alvarez, I'd be on the phone with my lawyer as soon as Rebney announced that the PPV was instead going to air on SpikeTV. After all, Bellator claimed that they could match the UFC's offer of giving Alvarez a PPV fight and a percentage of said PPV's revenues, and I'm sure that was conditional to Alvarez dropping his initial lawsuit and re-signing with Bellator. I'm no legal expert, but to me, if Rebney promised Alvarez a PPV fight and the payday that goes with it, only to fail to follow through, I'd think it would constitute a breach of contract. As I mentioned in my response to statement number four, Bellator isn't ready for PPV, and rushing into a non-beneficial business model just to keep one of their bigger stars (when they let one champion go to the UFC, another retire, and seem completely willing to let a third defect as well) only ensures that Bellator is going to end up on Dana White's prop tombstone sooner rather than later. If Bjorn's smart enough to realize that, that's another factor working in Eddie's favor if he still wants to make the transition to the UFC.

---


Who do you think won this week? Did Dino debut successfully, or did yours truly win one for the MMA Zone? Voting will be open until midnight EST on Saturday, so make sure you vote and make your voice heard!




---

Does a Brie/Bryan vs Nikki/Cena feud need the Divas title?



Bonus) With the WWE apparently planning on adding the Bellas to an upcoming angle between John Cena and Daniel Bryan, there is no reason for the Divas title to be tied up in that storyline.

Wyatt Beougher: FACT If the WWE has any intentions of making the divas division mean something, then AJ Lee needs the belt more than a Bryan/Cena storyline need an additional prop. On top of that, for all of the improvement that Brie Bella has shown in the ring since (ostensibly) turning face after AJ's "pipe bomb" promo, Nikki is still flat-out AWFUL in the ring. Taking the belt off of AJ to put it on any of the Total Divas is exactly the kind of step backwards that I'd expect the WWE to make, but thus far, they haven't done so, which makes me cautiously optimistic that maybe they'll do the right thing for the divas division the same way they have the tag division since putting the belts onto the Shield (sure, it still needs a lot of work, but don't the belts feel like they mean something for a change?). Of course, Super Cena overcoming all the odds to beat Damien Sandow on Monday likely means that I'm wrong.

Dino Zucconi: FACT For the simple fact that I don't want Brie Bella (or Nikki) as the Divas Champ. AJ Lee is doing just fine, thank you, and we don't need either one of the Bellas taking away her fire so that we can have some weird angle involving the champs. I'm glad that AJ left Hell in a Cell with her belt, and I hope that we don't get any type of hotshottery on RAW.

---


And that's it for this week! As always, if there's anything you'd like to see featured in a future edition, leave your statement in the comments and I'll add it in. Let us know what you thought in the comments, on Twitter, or on Google+.


comments powered by