SPOTLIGHTS
Five Quick Rounds 11.05.13: Bellator 106 - The Little PPV That Couldn't
Posted by Evan Zivin on 11.05.2013

From Eddie Alvarez's thrilling victory over Michael Chandler and King Mo's loss to Emanuel Newtown to the rest of Bellator 106 and two title fights set for UFC 169, 411's Evan Zivin examines these stories and more in Five Quick Rounds!

Hey hey, fight fans, and welcome back to Five Quick Rounds! I am your host, Evan Zivin, and I am as excited as Uriah Hall throwing a punch at Mayhem Miller to be here once again.

Well, I guess he wasn't really all that excited but at the very least, with the poor performances he has had so far in the UFC, Hall has found a way to stay in Dana White's good graces. The California-based promotion Bamma USA held its awesomely titled Badbeat 11 event on Friday night and Hall chose to attend the fights. Also at the show was Jason "Mayhem" Miller, the former UFC and Strikeforce flameout who's known more nowadays for his fighting outside the cage than inside it. Whether it's breaking into churches and spraying everything with a fire extinguisher while naked to abusing his girlfriend to making Ariel Helwani upset, Mayhem is a piece of work and he was at it again on Friday. Mayhem is currently out on bail from his recent domestic abuse arrests and went to the fights with the ex-girlfriend that he was supposedly arrested for abusing. So he was being a dick to her again (no surprise) and Hall didn't care much for it and inserted himself into the situation. Mayhem responded to this how any sane, rational person would: by flipping Hall the bird and tossing the N-word at him. Before you know it, Hall threw a punch and things got a little crazy. Well, actually the situation pretty much died down after that but still, major props to Hall for being a man and not putting up with Mayhem's lunacy. The whole altercation probably guaranteed Hall another two or three fights on his contract since Dana hates Mayhem. Maybe Dana will hire him back just so they can match these two guys up. It might be a fight Uriah can win. Yes! He needs one of those!

All right, so with fighter introductions out of the way, I have five more rounds of MMA news and opinions to throw at you. This week, we look at the results of Bellator 106, the big announcement about two title fights for UFC 169, and the announcement and subsequent cancellation of Alexander Gustafsson's next fight. Let's to it do it.

FIGHTER YOU READY!!!!
FIGHTER YOU READY!!!!

FIGHT!!!!




Round One: Bellator 106 Main Event Quick Thoughts, Eddie Alvarez Defeats Michael Chandler, Bellator Now Owns Him For Life

***TOUCH OF GLOVES***

Live, from the Long Beach Arena in Long Beach, California, it was...Bellator 106 on Saturday night?

Sorry. I'm so used to doing that for UFC events that it kind of threw me for a loop. Saturday night was Bellator's time to shine as they held a special night of fights on Spike TV. The reason it was special was because it was supposed to be on Payperview but ended up getting moved to basic cable when the main event, an epic battle between two aging former champions who were battling to see who's body will fossilize first, Tito Ortiz and Quinton "Rampage" Jackson, fell apart because Tito went and got injured. This news didn't seem to bother most people (mainly because most people had no clue the show was even happening) since it meant we got to see a night of interesting title fights and rematches for free and that's not a bad thing. Well, I guess it could be if you relied on Payperview to keep your business afloat but I would hope that doesn't apply to Bellator since this would have been their first one. They just need to focus on TV ratings, which should have been a little higher than what they normally get due to the Saturday night slot and the main event being a rematch of the best fight in Bellator history. People have been wanting a second fight between Lightweight Champion Michael Chandler and former champion Eddie Alvarez for years. Eddie hasn't been seen in the cage in over a year due to contract issues with Bellator (brought on in part because they wouldn't do the immediate rematch with Chandler) and, when left in a position of either going to court for two years or providing for his family, Alvarez reluctantly chose to come back and attempt to avenge the hardest loss he's had to take in his MMA career. The question going into this fight then was what kind of shape would he be in and would he be able to get back the win?

I wouldn't say the rematch was as good as the first fight but man, these two men cannot have a bad fight with each other. It wasn't as crazy and brutal as the first fight, but it was still very close and very competitive. The main story of the fight was Eddie's speed vs. Michael's power and grappling. Alvarez moved very well throughout the entire fight, pumping his jab at Chandler's left eye, causing it to swell completely shut by the end of the fight. Chandler was forced to backpedal more than he needed to for a lot of the fight but always managed to come back with power shots, almost always finding a way to slow Alvarez down just a little bit. Sometimes it was slow enough for Chandler to grab hold of Alvarez and dump him on the ground to attempt a submission or two. The most dominant round of the fight was the fourth when Chandler, after getting backed into the cage and hitting Alvarez with a flying knee, pulled Alvarez down and bloodied him up with ground and pound. This slowed Alvarez down a bit but he kept fighting until the very end, staving off a rear naked choke attempt in the fifth to take Chandler's back and try for one of his own. Chandler would then reverse position one last time before the final bell sounded. It was a crazy, close fight that played out very differently from the first one but was very unique and told its own story. The judges felt it was a very close fight too and awarded the decision to the former champion by split decision. That's right. Eddie Alvarez avenged his loss and is now a two-time Bellator champion. This also means it will be that much harder for Eddie to finally get out of Bellator to head for the UFC, but supposedly he only has to fight one more time, in a trilogy fight with Chandler, and he'll be allowed to leave. If that's the case then this was probably the best outcome because it was a great fight, because a third fight between these two men will be equally amazing, because it gets Alvarez's name back out in the MMA world in a big way, and because it clearly pissed Bjorn Rebney off that Alvarez won, which is what he gets for all the crap he put Alvarez through over the last year. I just hope Bjorn didn't have his fingers crossed when he said Eddie could leave after his next fight. Everyone knows promises are voided when you cross your fingers.

***HORN SOUNDS***




Round Two: Bellator 106 Co-Main Event Quick Thoughts, Is Emanuel Newton Good or Does King Mo Just Suck?

***TOUCH OF GLOVES***

The co-main event of the Bellator Non-Payperview Unspectacularrrrr featured a man who was born as Muhammed Lawal but is known to fans the world over as that guy who got bitch slapped with a spinning backfist by that guy who likes to jump around a lot and, for some reason, makes me think of that black midget kid from that 1980s TV show who wasn't Gary Coleman. I don't know why. He just does. That's not to take anything away from Emanuel Newton, though. He's a pretty good fighter. He beat King Mo when they fought in February and then defeated Mikhail Zayats to win the Season 8 Light Heavyweight Tournament. In preparing for his title shot, Light Heavyweight champion Attila Vegh unfortunately came down with an "injury" and wouldn't be able to fight until next year, and when I say "injury" I mean "Bellator asked Vegh to step aside so they could do the Mo-Newton rematch on Payperview because it might get more people to watch maybe please SOMEBODY ORDER THE SHOW!!!!" Vegh was in attendance at the event and you could tell how happy he was to not be fighting. He looked as excited as Alexander Shlemenko's infant daughter. That is, to say, he probably spent the fight crapping himself. So the rematch was set, this time to crown an Interim Light Heavyweight Champion. Newton prepared for the fight by presumably slam dancing and telling everyone within earshot about God and how not weird it is for a black man to listen to hardcore music for like the 5 millionth time at least. Mo prepared by getting bothered by Frank Shamrock and all his questions. Everyone was ready to go. The Burger King crowns were on back order. Now was just the question of who. Who would prevail? Could Newton do the unthinakable and defeat Mo again or would Mo get his act together and win like he was supposed to the first time?

Well, the good news is that Mo didn't get knocked out in embarrassing fashion. He didn't get stopped at all. The bad news was that he looked very limited in his skill set and let himself fall behind against Newton over five rounds. Mo's best success in the fight was when he was able to take Newton down, which didn't happen too often in the fight. Newton's defense was really good throughout the fight and he dictated the pace for most of it, using aggression and speed to keep the pressure on Mo and move in and out with combinations. Newton was also very effective with his kicks, including a high kick to Mo's jaw in the second round. Mo looked fairly rudimentary with his strikes, throwing a lot of single power shots, some of which connected and many of which didn't. Mo did well when he could tie Newton up but when he wasn't able to Newton was able to whittle away at Mo and win rounds. The fight was a decent five round battle but in the end, all three judges awarded the decision to Mr. Webster. Newton then celebrated by jumping around and throwing some punches and kicks because HARDCORE. I'm glad that Newton won. This is partly because it's funny to see Mo lose but mainly because Newton was supposed to get a title shot against Vegh before it was taken away to book this fight so it's good to see that he'll still get his title shot. I can't say that he'll be successful in his bid for the actual gold, but his first fight against Vegh was a close one so he definitely has a shot at revenge. I've always heard that revenge is a dish best served while listening to hardcore music. Actually, I've never heard that. That would be silly. Anyway, I look forward to that fight as well as Mo's eventual match-up against Frank Shamrock because Frank cut into Mo's mat time and that was clearly the reason why Mo lost. Let's see how the King does against a Legend.

***HORN SOUNDS***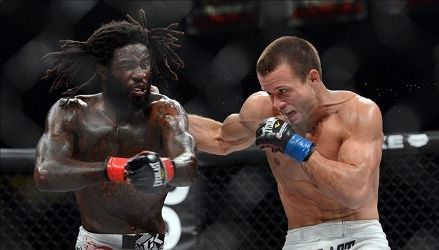 Round Three: Rest of Bellator 106 Quick Thoughts, Daniel Straus Ain't Got No Time to Get Kneed in the Face, Defeats Pat Curran

***TOUCH OF GLOVES***

It's kind of bizarre to think that all three title fights that took place on this card were all rematches. Bellator Featherweight Champion Pat Curran and Season 6 Tournament winner Daniel Straus previously fought in 2009, with Curran winning by TKO in the second round. My guess as to why Straus lost that fight was because he didn't have his sweet dreadlocks yet. Also, Straus is a much different fighter now than he was back then. His striking and his grappling have improved tremendously since then. It's what has made him so successful in Bellator. It may have taken him a while to get the title shot that he earned but he definitely made the most of the opportunity. Straus had a relatively easy time in tying Curran up, dragging him to the ground, and frustrating him over the course of the fight. Curran did a decent job counter-punching against Straus but, unfortunately, the most significant strike Curran threw in the entire fight was an illegal one. In the third round, Curran brushed off a hip toss by Straus and ended up kneeing Straus in the face when he clearly had a knee on the ground. Things looked bad. Straus was out of it and Curran knew he had messed up bad. Luckily, Straus was able to continue and, after a point was deducted from Curran, Straus went right back to work grappling Curran's will to fight away from him. It wasn't a fight where the point deduction would have made a difference because Straus dominated the majority of the rounds and took home a unanimous decision victory and the featherweight championship along with it. Congrats, Daniel. You've been through a lot in your life to get to this point but you've worked hard and dedicated yourself and it has paid off in spades. Congrats. His first defense will most likely be against Frodo Khasbulaev sometime next season. Hopefully he won't be wearing any rings.

Bellator 106 also saw the finals of the Fight Master: Bellator MMA reality show. I could make a joke about the show's low viewership but it'd be lost on most of you because, statistically speaking, you didn't even know the show existed.....echo? The finalists for the season was former Strikeforce competitor Mike Bronzoulis and long-time veteran Joe "Diesel" Riggs. You may remember Riggs from getting beat up by Matt Hughes in 2005 and then getting into a fight in a hospital with Nick Diaz. Or maybe not. He's had a bit of a career resurgence as of late, aided mostly by the reality show, and he's kept that momentum going all the way to the finals. As being a former top fighter and the only fighter on the show that most people may have heard of, there was a lot of pressure to perform well here, and perform he did. Riggs spent the fight using his grappling to dump Bronzoulis on his back and control him. Bronzoulis did some good damage with leg kicks and managed to bloody up Riggs but he just didn't have an answer for Riggs and his relentless takedowns. Besides, the bleeding wasn't serious because it wasn't any of that deep red blood, as I learned from Dr. Joe Warren, M.D.,Ph. D., M.P.H., B.S., L.O.L., W.T.F. Riggs ended up getting the win by unanimous decision and will now and forever be the first Fight Master. It wasn't a Griffin-Bonnar moment but it's still a nice accomplishment to add to the resume. I look forward to Riggs disappointing in the next welterweight tournament. The main card also saw Mike Richman get a TKO victory over Akop Stepanyan. It was a crazy 4 minute fight that saw Stepanyan attack early and rock Richman before Richman came back and dropped Stepanyan with a left hook. It was a quick and violent finish that definitely got everyone excited for the rest of the show. Overall I though it was a good event. The middle fights weren't the most action packed but they were interesting and, of course, the main event was outstanding. Congrats Bellator. I hope your next failed Payperview bid is, at the very least, not worse than this one.

And that was Bellator 106. Bellator 107 will feature Joe Warren espousing more medical advice and Cheick Kongo fighting that guy that kicked Eric Prindle in the throat. Bring an extra cup.

***HORN SOUNDS***




Round Four: Jose Aldo and Dominic Cruz to Stand On Each Other's Shoulders to Replace Jon Jones at UFC 169

***TOUCH OF GLOVES***

So, apparently Super Bowl Saturday wasn't super enough for UFC Light Heavyweight Champion Jon Jones to next defend his championship. Maybe it's because he won't have enough time to heal up and get a full fight camp in by then. Maybe it's because the Giants aren't doing so well this season. It's hard to say but it's all right because the UFC has found a title fight to replace it. Actually, the UFC has found two title fights to replace it. UFC 169 on February 1st will feature both a featherweight title fight and a bantamweight title fight. The new main event will see Jose Aldo, who was last seen kicking Chan Sung Jung's broken shoulder off the bone (that's finger-lickin' good!), return to defend his championship against top contender Ricardo Lamas. Lamas has been phenomenal in his UFC career, going 4-0 and scoring victories over Cub Swanson, Hatsu Hioki, and Erik Koch. He has been waiting for a title shot for a while now and was set for a #1 contender's bout against the Korean Zombie last July before the fight was cancelled after Mr. Zombie was called up to fight Aldo. With few options for other fights to take, Lamas decided to sit out and wait for his turn. He will now be awarded for his work avoidance by getting the next shot at the 145 crown. Lamas is a very well-rounded fighter and presents one of the toughest challenges Aldo has faced as a champion. It will be interesting to see how the fight goes down. Either way, I'm sure that Fernando and Lorenzo and the entire Lamas family are happy for Ricardo and can't wait for the fight. Man, I got nothing on this guy. Maybe if Ricardo was more interesting I could find something to make fun of other than than his last name. Oh well. No wonder it took him this long to get a title shot. Snap, son. Snap. I liked him on Renegade.

The other title fight, and the one that will surely create more interest among fans and media (you got your work cut out for you, Ricardo) is the return of Bantamweight Champion Dominick Cruz to unify his title with Interim Champion Renan Barao. Cruz was last seen in the Octagon in October, 2011 when he defeated current flyweight champion Demetrious Johnson (the UFC does do superfights, just not when you realize it) and has been out of action since May 2012 when he tore his ACL in preparing to fight Urijah Faber for a third time. Instead, Faber fought Renan Barao to crown an Interim Champion. Barao won that fight and went on to defend the title twice against Michael McDonald and Eddie Wineland. Cruz, meanwhile, had to undergo another ACL surgery when his body rejected the first zombie ligament. That's what he gets for having the surgery done by a doctor from The Walking Dead. So Barao has been champion without actually getting to be the champion and Cruz has gotten to whine about not being able to fight on every other UFC pre and post-fight show. This was a fight that needed to happen and it finally will in February. One has to wonder what condition Cruz will be in after having not fought in over two years. Barao is a very dangerous opponent to return to after such a long layoff and, as good as Cruz is, I don't know if he'll be able to beat Barao. At least not without a tune-up fight or two. Either way, I'm really excited that this fight is going to happen. We've been waiting for too long. Honestly, with all the story behind this match-up, it really should be the main event of its own card but I know that the lighter weight classes still have a ways to go to pull in decent numbers like the other weight classes do (sometimes) so they're getting lumped together. I do think, though, that Dana should go against his rule to make the heavier weight class the main event since I think more people are interested in this fight than they are in Aldo-Lamas. C'mon, Ricardo. Prove me wrong, buddy. That is, if you've got the stones. Or literally anything else.

***HORN SOUNDS***




Round Five: Alexander Gustafsson Set For Showdown with Rogerio Nogueira and Oh Wait, He's Already Injured

***TOUCH OF GLOVES***

Alexander Gustafsson is in an interesting spot right now. If you didn't know who the Swede was a few months ago, shame on you but you better know who he is now after giving Jon Jones the toughest fight of his championship run at UFC 165. It was the kind of fight that had no losers. It proved that Jones can prevail and find a way to win even when he's in very real danger and it proved that Gustafsson can rise to the occasion and deserves to be considered one of the best fighters in the world. Even though he lost, everyone has nothing but praise for Gustafsson and his gutsy performance and we all want to see him get another shot at Jones immediately. Well, everyone, that is, except for Jones, who has decided to give the next title shot to Glover Teixeira. Teixeira earned a shot at the title after beating it out of Ryan Bader in early September and Jones thinks it's only fair that he get the next shot, which I agree with. Even though the words "Dana White" and "integrity" haven't enjoyed each other's company in years, Glover should still be given the shot he was promised. Besides, it would only benefit Alex to get another win or two before challenging for the belt again. So the question is then who can the UFC match up the consensus #2 light heavyweight with for his next fight? How about Antonio Rogerio Nogueira? He's #5 in the UFC's rankings so it's technically not a mismatch. Plus, he's got a winning streak, including a victory over Rashad Evans. It's a little out of left field but I could go for this. Yes, this will do nicely...

...what's that? He's injured already? Seriously? The fight was only booked five days ago! This isn't some sort of Halloween trickery, is it? Are you sure? Well, that sucks. So, the fight, which was set for the UFC's next London show on March 8, is off as soon as it was on. Apparently Minotouro's back injury that forced him out of a fight with Mauricio "Shogun" Rua last June is still bothering him and he won't be ready to compete by then. So, was he aware that his back was still an issue last week? Did he forget that his back is still messed up when he agreed to this fight days ago? One would think if his back is still a problem that he would have recognized that and made it known to the UFC before agreeing to this fight but I guess that's not how things work where he's from. So, instead of training for a fight, Lil' Nog will be spending his winter recuperating and feeding vegetables to public transportation (like he always does). As for Alex, it's hard to say who he should fight next. The best option would be Daniel Cormier, who is preparing to drop down to light heavyweight and wants to make an immediate impact in the division. What better way to do that then against the "uncrowned champion" (seriously, he should go study with Chael Sonnen on how to build this rematch). The main issue with the fight happening is that Cormier doesn't want his first fight at 205 to happen overseas. He feels it might be too stressful for his body and bitch bitch drink a Slim Fast. Plus, it might be better to keep the two men separate for now to give UFC more options for title challengers after the Jones-Teixeira fight. UFC, though, doesn't necessarily have to hold that fight overseas so we'll see what happens there. The other option is Phil Davis. He's #4 in the UFC rankings and is the only man other than Jones to hold a victory over Gustafsson. I think it'd be cool to see Alex avenge one loss before looking to avenge the other. Obviously, those are both risky fights to book because, while they'd be great for the sport, the UFC doesn't want to lose their big money rematch, especially when Payperview business has been down lately. If needs be, they can just have him fight Uncle Chael. Chael will fight anybody. It doesn't matter if he already has his next two fights booked. It's either that or try to get Nick Diaz to come out of retirement. Does this interest you, Nick? No? Well, I'm out of ideas. Who do YOU think UFC should book for Gustafsson's next opponent? That's right. I'm talking to you. Hello? Are you still reading? Did you start reading and then stop when you saw the link about Kendall Jenner turning 18? It's hard to compete with barely legal celebrity whore ass. Anyway, get to typing!!!

***HORN SOUNDS***

That's it for Five Quick Rounds. If you have any questions, comments, or suggestions, and it is always appreciated when you do, leave them in the comments section. I will be back in seven for another Five Quick Rounds. There are two UFC events this week. On Wednesday Tim Kennedy fights not tennis champion Rafael Natal at Fight for the Troops 3 and on Saturday Vitor Belfort and Dan Henderson are going at it again. At least one of those fights might be good. So enjoy the fights and until next time, remember to fight clean, fight hard, fight fair, and never leave it in the hands of the judges...




LATER!!!!!!!!!!!!!!!!!!!!!!!!!!!!!!!!
comments powered by