SPOTLIGHTS
The Greatest MMA Column 11.12.13: The UFC 20 (Part 1)
Posted by Dan Plunkett on 11.12.2013

In the first of a four part series, 411's Dan Plunkett takes a look at the history of the UFC through the stories of the twenty greatest fighters to ever step into the cage...

Twenty years have passed since Bill "Superfoot" Wallace belched into the microphone and welcomed the world to the "Ultimate Fighting Challenge." Sure, he got the name wrong, but everyone knew what he meant. In the time since that debut show, more than 250 events and thousands of fights have taken place. The Ultimate Fighting Championship's sustainability can be attributed to owners willing to lose tens of millions of dollars before seeing success and key television deals that bolstered their major revenue stream of pay-per-view, but the backbone of the fight company has always been the fighters. From Royce Gracie and Ken Shamrock to Anderson Silva and Georges St-Pierre, the skills and personalities of the fighters are what made UFC a success.

This series of columns will not be a countdown of the twenty greatest fighters in UFC history, nor the typical list with a short description of their impact. Rather, the goal is to tell the UFC's story through the careers of the twenty greatest fighters to ever enter the cage. At times, fighters on the list will cross paths, but an effort has been made to eliminate redundancies or add a different layer to the story. Fighters are listed and grouped roughly in order by earliest UFC appearance, but exceptions have been made for the sake of the story. It should be noted that only UFC careers were considered. For instance, Dan Henderson's success outside the UFC was not taken into account when making this list. Without wasting anymore time, let's get to the list.



Royce Gracie




Gracie tangles with Ken Shamrock. Photo via en.susumug.com




"What we have learned here is that fighting is not what we thought it was." –Jim Brown, UFC 1 commentator.

Of course the experienced grappler will have his way with strikers and a sumo wrestler that could not tell an armbar from a crowbar. There was little chance Royce Gracie, no matter his meek physique, would walk away with anything but a giant check. Prior to November 12, 1993, there had been a number of striker vs. grappler matches generally won by the latter, perhaps most famously when Gene LeBell fought Milo Savage in 1963. However, without a consistent television product pitting style against style and virtually every martial art on the planet claiming superiority, the debate raged on until 176-pound Royce Gracie made an emphatic statement on that fall night. Later, it became readily apparent that a mixture of styles was needed to succeed at fighting at the highest level (certainly not a new idea, but the first time it was demonstrated so definitively to the masses).

Royce was chosen by his brother, UFC co-founder Rorion Gracie, to represent the family's Brazilian Jiu-Jitsu style (or Gracie Jiu-Jitsu as they prefer). The feeling was Royce's unassuming, everyman look would make him winning the tournament all the more impressive. His selection was also the result of an issue between Rorion and Rickson Gracie, who was regarded as the best fighter in the family.

In order to smash ill-conceived notions right off the bat, the Gracie's specifically matched Royce against a boxer in the opening round of the tournament. That boxer, Art Jimmerson, was not quite sure what he had gotten himself into, and he was not too prepared to find out. Once taken down and mounted by Royce, Jimmerson, hindered by inexplicably wearing a single boxing glove, tapped for no apparent reason. His corner had recognized the trouble he was in and threw in the towel immediately after the takedown, but it got rejected by the Octagon fence.

Next was the man who proved to be the second-toughest fighter in the tournament: Ken Shamrock. Billed as a top shoot fighter in Japan, Shamrock had only competed in a few matches in Pancrase at that point, and it was not clear at the time whether they were legitimate contests or pro-wrestling matches. The only other fighter in the tournament with significant grappling knowledge, Shamrock was unfamiliar with Gracie's brand of jiu-jitsu. He submitted to a rear naked choke less than one minute into the opening round. (Contrary to popular belief, UFC 1 had a round structure of five, five minute rounds. Since every fight was finished in under five minutes, rounds were eliminated from future events.)

In the finals Gracie was matched with Gerard Gordeau, a savateur known in Japan for a 1988 shoot-style pro-wrestling match against Akira Maeda. Gordaeu competed in the first match of the night, brutally stopping sumo wrestler Teila Tuli with a kick to the face. Tuli's teeth famously went flying due to the kick, and two pearly whites remained firmly embedded in Gordeau's foot when he stepped in the cage against Gracie. (Tuli's face also broke the hand of Gordeau, so the night was not a total loss for him.) Gordeau provided the toughest in-fight test for Gracie, lasting nearly twice as long as Shamrock and providing considerably more resistance than Jimmerson. He also managed to break one the three rules UFC had in place by biting Royce's ear. (The other two rules banned eye gouging and groin strikes. The latter were unbanned for later events when martial artists complained they were imperative to their style. Keith Hackney was apparently overjoyed at this change.)

About 90 seconds into the match, Royce locked in a rear naked choke and forced the tap. He held on longer than necessary in retaliation for the biting. After the show, Jim Brown delivered the line that best summed up the night, noting everything the masses thought about fighting was incorrect.

The revolution did not take place overnight though. While the first show was an unparalleled success drawing 86,592 buys on pay-per-view with no television support and nothing more than an idea to sell the show on, questions and criticism still loomed. Jimmerson was criticized, and people believe a true top level boxer could smash Gracie. Those practicing martial arts that failed at the Ultimate Fighting Championship contended their top representatives had not fought. There were also the cooks that maintained their art was the best, but they considered themselves too deadly to compete in such a contest.

At UFC 2, Gracie's competition doubled. Sixteen competitors were chosen out of 246 applicants. The event's promotion harked on the lack of rules and ran with the tagline, "Each match will run until there is a designated winner – by means of knock-out, surrender, doctor's intervention, or death." The last word of the promotional tool, written by SEG's (UFC's pay-per-view partner) President of Original Programming Campbell McLaren, would get the company into hot water down the line.

In the first round, Gracie battled the only fighter in the tournament smaller than him, Minoki Ichihara, and submitted him after five minutes. Although the match lasted longer than all of Gracie's matches at the first UFC combined, he was dominant and was not forced to expend too much energy. In the quarterfinals he met Jason DeLucia, who had a history with the Gracie's. DeLucia had moved to California with the intention of drawing out Steven Seagal for a fight, but when that never came to fruition (Seagal was presumably too busy perfecting his front kicks) he turned his attention to a family he had heard about – the Gracie's.

DeLucia took part in the famous Gracie Challenge against Royce prior to UFC's existence. Royce submitted DeLucia in about 2:45 and the match was featured on one of the Gracie in Action video tapes. Looking for revenge, DeLucia followed Royce to the UFC and competed as an alternate at UFC 1, where he won and earned a spot on UFC 2. Unfortunately for DeLucia, his prior experience failed to lead to a better result. He was submitted with an armbar in little more than a minute.

Jiu jitsu specialist Remco Pardoel was considered one of the tournament favorites due to his size and grappling experience. Even he lasted only 91 seconds against the reigning champion. In the finals, Royce was set to battle the much fresher Patrick Smith, who had lost to Ken Shamrock in the opening round of the first show. Smith had not spent close to three minutes in the cage that night and his performances included an all-time brutal knockout of Scott Morris. Still, he was no match for Royce. After being mounted, Smith tapped to strikes. Royce had run the table again, this time witnessed in 125,732 pay-per-view buying homes. The gospel of Gracie was spreading.

UFC 3 was hyped around a potential rematch between Gracie and Shamrock. Inexperienced toughman Kimo Leopoldo, who entered the cage carrying a full sized cross (really putting Diego Sanchez's entrance years later to shame), was up first for the two-time champion. In a match generally regarded as the best of the early UFC's, Royce struggled with the muscular Kimo for nearly five minutes. Unlike Gracie's first round bout at the last show, he was forced to expend his energy to subdue the much larger foe. He had resorted to pulling Kimo's ponytailed hair before finally submitting him with an armbar. Leopoldo, it seemed, had taken Gracie to his limit.


When Gracie came out for his second round bout against Harold Howard he was off-balance and looked out of it. In the cage, Gracie could not see. After speaking with his corner, the towel was thrown in before the match had begun. Kimo later came out to the cage to celebrate, showing the crowd that despite losing, Gracie was the worse for wear. Shamrock, already injured and only interested in a rematch against Gracie, withdrew from the tournament upon Royce's surrender. An alternate, Steven Jennum, who was made aware he was needed to fight as he was leaving in the area, won the tournament.

Not deterred by the tough outing, Gracie returned at UFC 4. After dispatching 51-year-old Ron van Clief (still the oldest fighter in UFC history), Royce defeated Keith Hackney, best known for beating the gigantic Emmanuel Yarborough at UFC 3 and driving his fist into the groin of Joe Son in the UFC 4 quarterfinals.

The finals brought a match-up that was, on paper, Gracie's toughest to date. Dan Severn represented the first high level wrestler to compete in the UFC and he dominated his first two opponents en route to the finals. Severn was hesitant to throw strikes throughout the night and mainly stuck to what he knew. It took Severn 45 seconds to take Gracie down, and the Brazilian remained on his back for the rest of the fight. Fifteen minutes in – making it the longest UFC bout to that point by a fair margin – Gracie moved to lock in a triangle choke. Commentator Jeff Blatnick, believing Gracie's intention with the move was to escape out the back door, stated Severn was in no trouble. When Severn began to move around in desperate attempt to escape, Blatnick, and everyone watching, realized he was in trouble. Severn tapped at 15:49.

The lasting impact of the bout is that it resulted in the institution (or reinstitutions considering UFC 1 had them) of time limits. The main event began with just 12 minutes of pay-per-view airtime remaining. Officials considered stopping the bout before that time ran out and awarding a decision, but obviously opted against it. Many cable systems went off the air at 10pm local time, resulting in a hefty amount in refunds. In order to properly time the show going forward, quarterfinal and semi-final matches had 20 minute time limits, and tournament final and super-fights had 30 minute time limits. Additionally, the promoted rented three hours of satellite time beginning with UFC 5.

The time limits discontented Rorion, who felt it robbed the purity of the competition. Just 12 days after UFC 5, he and co-founder Art Davie would sell their stake in the company to Bob Meyrowitz.

Gracie vs. Shamrock II failed to pan out at UFC 3, but it was still the match most desired by fans. Following his third tournament win, Royce was kept out of the tournament in favor a superfight. Leaving nothing to chance, UFC booked Gracie and Shamrock for the main event of UFC 5. The show set a new high mark of 286,256 buys – a record that would stand for ten years and nine days. In a dull bout, Gracie and Shamrock went to a draw. Shamrock was on top of Gracie on the ground for most of the fight, but too fearful of the black belt's submission ability to make any significant moves. Despite an announced time limit of 30 minutes, the bout went 31 minutes before the fighters were separated. The fighter had been alerted the Thursday prior to the show they would compete in a five minute overtime period if the initial period proved insufficient. There Shamrock landed a punch that created a mouse under the eye of Gracie. At the end of the overtime, the match was declared a draw due to a lack of judges.

Royce followed his brother Rorion out of the promotion and would not return to fighting for five years. There were various times in which he was talked to about returning, but it would be more than a decade before he returned to the Octagon he made famous. In 2003 at UFC 45, serving as UFC's tenth anniversary celebration, Gracie and Shamrock became the first fighters inducted into the UFC Hall of Fame.

Eleven years after departing from the UFC, Royce Gracie returned. UFC, now owned by Zuffa, set up a dream match between Gracie and dominant welterweight champion Matt Hughes. The bout was brilliantly sold as Gracie returning to the house he built to reclaim the Octagon. In reality, Gracie was well past his physical prime at 39-years-old and the MMA game had evolved well past him. His most recent bout had been a draw on New Year's Eve 2005 against Hideo Tokoro. Tokoro currently competes at bantamweight and would have won a decision if there were judges to determine a winner.

Predictably, Hughes steamrolled Gracie, who did not possess the fighting magic he had from 1993 to 1995. He did, however, possess an unmistakable aura that resulted in the show pulling in 620,000 buys – a new UFC record. On that night Royce certainly did not have the magic touch, but he did have the Midas touch.



Ken Shamrock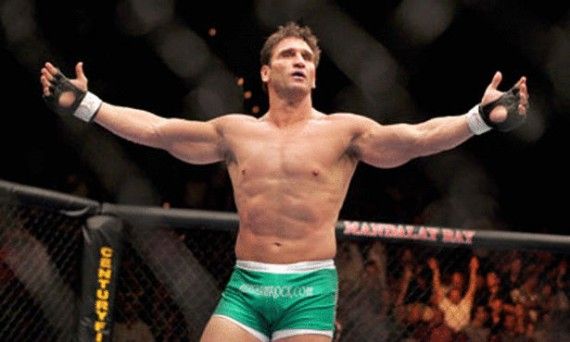 Photo via Sherdog.com




Although his skill set differed from that of the perceived best fighters of the day, Ken Shamrock looked every bit of the best fighter in the world. At a chiseled 216 pounds, Shamrock's application was immediately approved by matchmaker Art Davie to partake in UFC 1. However, not believing the show would go off as planned or he would be asked to throw a fight, Shamrock competed in Pancrase in Japan just four days before the inaugural UFC. Upon arriving in Denver for the show, Shamrock was seen warming up by competitor Art Jimmerson, who immediately pegged Shamrock as the man to win the tournament.

In the first round Shamrock was matched with Denver native and Tae Kwon Do fighter Patrick Smith, who slightly exaggerated his 17-2 record and claimed to be 250-0. Smith also claimed to be impervious to pain, and his entourage believed him enough to shout at Shamrock backstage about the beating he would sustain. Shamrock tapped Smith in 1:49 with a heel hook, a very painful maneuver.

Shamrock's semi-final match came against eventual tournament winner Royce Gracie. Royce submitted him with a rear naked choke. Ken would later claim had it not been for Gracie's gi, he would have ended the Brazilian's night with a leg lock. Gracie being allowed to wear a gi is funny in that at the fighter meetings the night before Zane Frazier argued with Rorion Gracie about the ban on wraps around the knuckles. Rorion responded that if someone on the street insulted Frazier's mother, would he go home and wrap his hands first? Apparently Royce always ran home for his gi when confrontation arose.

A hand injury forced Shamrock out of the UFC 2 tournament, but he was in attendance to watch the show.

UFC 3 bracketing was made up to lead to a Gracie vs. Shamrock rematch in the finals, but Gracie bowed out due to exhaustion after the opening round. Shamrock defeated his first two opponents, judoka Christophe Leininger and kickboxer Felix Mitchell, to earn a spot in the finals. With Gracie out of the competition and suffering from a knee injury, Shamrock withdrew from the final bout despite the promise of a $60,000 check with another win.

Shamrock would miss UFC 4 due to a two day, four round King of Pancrase tournament, which he ended up winning.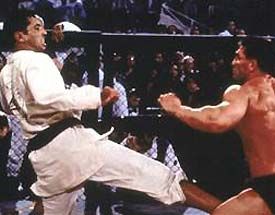 At UFC 5 Shamrock was back to finally rematch Gracie in UFC's first ever "superfight." The bout went 36 minutes and 6 seconds, making it still to this day the longest bout in UFC history, and was called a draw. Had there been judges, Shamrock likely would have won the bout due to maintaining top position and hurting Gracie with a punch in the overtime period. Coming out of the show, the top two fighters in the world seemed to be Shamrock and Dan Severn, who had torn through the show's tournament.

The UFC superfight title, after failing to find a home due to the UFC 5 draw, would be up for grabs once again at UFC 6 on July 14, 1995. Despite Severn's impressive run over the past two shows, Shamrock received the majority of attention heading into the bout, which caused Severn to abruptly leave a pre-fight press conference. That, along with a publication found in the fighters' hotel touting Severn's supremacy over Shamrock, made Shamrock eager to enter the cage.

After a slow start, Severn shot for a takedown and his head fell into Shamrock's waiting arms for a guillotine choke to end the fight. With Severn defeated and Gracie on the outs, Shamrock was now clearly UFC's poster boy considered by many to be the best "no holds barred" or "reality fighting" competitor in the world. (Shamrock lost a bout to Minoru Suzuki in Pancrase two months before facing Severn, but any Pancrase matches between Shamrock and the top Japanese pro-wrestlers have to be viewed with skepticism.)

The first defense of Shamrock's superfight title came against UFC 6 tournament champion Oleg Taktarov. Unfortunately, the bout was marred by tentativeness, as Shamrock and Taktarov were training partners and not chomping at the bit to face each other. Shamrock sat on top in Taktarov's guard for much of the 33 minute bout and they threw some strikes, but none with vicious intentions. The champion's game plan was to exploit a cut on Taktarov because he knew the Russian would not quit and he had no intention of seriously injuring his teammate. At the end of 33 minutes the bout was scored a draw (the overtime was cut by two minutes due to time constraints and the show went over anyway), but Shamrock came out of the bout looking like the better of the two.

On December 7, 1995, Arizona senator John McCain appeared alongside Nevada Athletic Commission head (and future UFC executive) Marc Ratner on Larry King Live to debate Shamrock and UFC owner Bob Meyrowitz on the sport. McCain and Ratner came across as uneducated, but King, a friend of McCain, saved them from looking too silly by jumping in at important parts of the debate to head to commercial and also by not being the least bit knowledgeable about the subject. At different points both McCain and Ratner, in defending boxing, insinuated UFC did not have referees (in fact, the referee, John McCarthy, was almost always the largest person in the cage and quite hard to miss).

In many ways, history has been too kind to McCain's crusade and Ratner's King appearance. The fight against "ultimate fighting" was not meant to force UFC and other organizations to enforce strong rules and regulations. The goal was to ban the sport. There is nothing wrong with wanting dangerous sports to be banned because there is logical reasoning behind that stance. However, attempting to ban one sport, one with a stronger safety record than multiple more popular and accepted sports, while defending those more popular and accepted sports, namely boxing, is little more than a disgusting and hypocritical manuever.

UFC 8 saw the return of Kimo Leopoldo. Kimo was never much of a fighter, but he had a strong reputation after exhausting Gracie and he had not lost since that bout. He challenged Shamrock for the superfight title in the main event. The show was almost put to a halt by the Puerto Rican government, who tried to ban the event. McCain and Ben Nighthorse Campbell, senator of Colorado, respectively, had ramped up their crusade against the UFC and the media coverage caused the government to make a move. A federal court ruled in UFC's favor the day before the event.

Two days prior to the event, Cablevision, which catered to 7 percent of the roughly 21 million homes with pay-per-view access, pulled UFC from its schedule. They had faced pressure from political and religious groups in the northeast in light of a negative story on UFC on ABC's 20/20. UFC shows in 1995 had averaged about 13,500 buys on Cablevision, or just under 7 percent of UFC's pay-per-view business. Cablevision was not imperative to UFC's financial success, but its cancellation of UFC cast a dreary outlook, as other pay-per-view providers would eventually follow suit.

Shamrock submitted Kimo in 4:24 with a kneebar. Kimo found himself on top for a bit after Ken made a mistake trying to take his back and ended up the bottom. From there he worked for a leg lock and found the kneebar.

Since his first meeting with Shamrock, Dan Severn had run the table at the "Ultimate Ultimate" – the most stacked tournament in UFC history to that point. At UFC 9 he would challenge Shamrock for the superfight title, in a bout with the tagline, "Who is the world's greatest fighter." The match represented a huge opportunity for Shamrock and the UFC. With a win, Shamrock would be featured on the cover of Sports Illustrated and in a televised piece for CNN Sports.

For the second consecutive event, local government's attempt to halt the UFC went down to the wire. At 4:30pm the day of the show, a judge ruled the show could go on as planned in Detroit as long as two standards were agreed to: no headbutts and no closed-fist strikes to the head. The former could be easily worked around. The latter, not so much. Meyrowitz agreed to the changes, but had no intent of strictly following those regulations.

Upon hearing the changes, Shamrock nearly pulled out of the fight. "I was nowhere near confident that I could beat Dan," he would later tell Cyde Gentry, author of No Holds Barred. "I didn't have the skills that night because my body and mind were messed up." Shamrock entered the bout with injuries to his nose, ribs, and knee, and felt taking away punches would leave him with insufficient weapons against "The Beast." However, his adoptive father Bob Shamrock convinced him to go on, noting the media opportunities and that those in Bob's home for troubled teens, where Ken had once lived, would be watching.

The superfight championship bout ended up as one of the worst bouts in MMA history. Shamrock and Severn circled and made little contact in the 30 minute bout. There was a point where Shamrock nearly took Severn's back, but failed and ended up on the bottom. By the end of the match, Shamrock was bloody, and though he had controlled more of the match than Severn had, looked more like the losing fighter of the two. Unlike Shamrock's previous long bouts, this one had judges, and two of the three gave it to Severn. Lost in the bout was Shamrock's status as the top fighter in the world, in addition to the Sports Illustrated cover and TV piece.

Eleven years later, mixed martial arts would finally grace the cover of Sports Illustrated, and it was considered a landmark moment for the sport.

Shamrock's next bout would take place as part of the most stacked tournament in UFC history. The tournament field also included Tank Abbott, who had made his debut at UFC 6 and immediately made waves with is barroom brawler persona and brutal knockouts. Shamrock vs. Abbott was something of a dream match, and the bout Shamrock requested for the opening round, but the promotion opted to put both in favorable first round matches to build to the bout in round two. Other competitors included Don Frye, winner of UFC 8, Kimo, Gary Goodridge, Paul Varelans, Cal Worsham, and Brian Johnston. Mark Coleman, winner of the previous two UFC tournaments, pulled out due to illness a few weeks before the show. Igor Vovchanchyn and Vitor Belfort were also scheduled for the show but later replaced.

Abbott's first round bout against Worsham went well enough. At one point he tried to throw Worsham over the cage, a move later outlawed as a direct result of the attempt. His opponent submitted to strikes in a few minutes. Shamrock was dominant against his first round opponent Brian Johnston, but suffered a broken hand in victory. The hand would force him out of the tournament, and the Shamrock vs. Abbott match would never come to fruition.

At 32, Shamrock was heading towards the end of his physical prime just as UFC was losing ground due to ever increasing political pressure. World Wrestling Federation superstar Bret Hart had pushed for the company to bring Shamrock so the two could work a feud. Chasing the bigger money, Shamrock left the UFC and returned to his roots of professional wrestling.

It would be nearly six years before Shamrock would see the inside of the Octagon. After leaving the WWF, Shamrock debuted in Pride Fighting Championships in mid-2000. Two years later, he was set to return to the Octagon. During Shamrock's WWF run, Tito Ortiz had developed a feud with the Lion's Den (Shamrock's camp). One of the most famous images of Shamrock is of him screaming at Ortiz at UFC 19. Ortiz had beaten Lion's Den fighter Guy Mezger and donned a shirt that read "Gay Mezger is my bitch." That infuriated Shamrock, who leaned over the top of the cage to yell at Ortiz. Referee John McCarthy had to pick Ortiz up and carry him away.

In the time since Shamrock's absence from the UFC, the company had been sold to Zuffa, who threw millions of dollars into the company with no financial successes to speak of. Ortiz had become light heavyweight champion and defended the title a record four times. Shamrock's Pride run saw him go 1-2. The first loss came when he suffered a medical event during the bout and could not continue. The second came against Don Frye in one of the most brutal bouts in mixed martial arts history. It was a back-and-forth fight that would take a lasting toll on both fighters.

UFC signed Shamrock to face Ortiz at UFC 40 on November 22, 2002, for the championship. The match received coverage on Fox Sports Net's Best Damn Sports Show Period, with both fighters appearing via satellite and getting into a shouting match. At a pre-fight press conference, Shamrock stated he planned to "beat (Ortiz) into a living death." He also became so enraged he kicked a chair, which was caught by UFC president Dana White.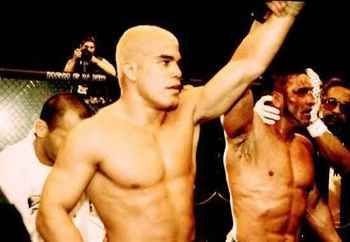 The bout broke MMA attendance records in the US, drawing 13,370 fans to the MGM Grand Arena and $1.54 million at the gate. On pay-per-view, the show drew an estimated 144,000 buys, about triple the total UFC shows had been doing at the time.

The bout ended up being a one-sided affair in favor of Ortiz. Shamrock, 38-years-old by this point and entering the bout with an ACL injury, did not answer the bell for round for. Aside from a punch that wobbled Ortiz and sent the arena into a frenzy, the champion dominated the bout both on the feet and the ground. Although Shamrock's drawing power was still there, it appeared his fighting career was on its last legs.

Due to injuries, it would be nineteen months before Shamrock returned to fighting. At UFC 48, he had a rematch against Kimo Leopoldo in the main event – higher billing than the heavyweight championship bout between Tim Sylvia and Frank Mir. Shamrock knocked Kimo out with a knee in about one minute. It would be his final UFC victory.

In April 2005, Shamrock headlined the finale of the first season of The Ultimate Fighter, losing by first round TKO to Rich Franklin. In November, it was announced he would coach season three of the show opposite Tito Ortiz.

The Shamrock-Ortiz season was a massive success. The premiere episode drew a 1.95 rating on 2.4 million viewers. Overall, the season averaged a 1.69 rating, at the time an all-time high (today it is second, behind the Kimbo-fueled season ten). Shamrock and Ortiz fought on pay-per-view at UFC 61. It was featured in the co-main event slot, but the match was far more anticipated than the heavyweight championship main event. As expected, Ortiz took the much smaller and older Shamrock down and smashed him with elbows. Referee Herb Dean halted the bout at 1:18 in the first round. However, Shamrock jumped up and complained about the stoppage. Seemingly all of the 11,167 fans in the arena booed the decision. Although the show drew a record 775,000 buys, it was considered one of the worst in UFC history.

Due to the controversy, a third bout was made for October 2006 for free on cable television. The bout attracted an average audience of 4.2 million viewers for a 3.1 rating – both record marks for the UFC. Ortiz decimated Shamrock again, this time without controversy. However, the real story was that UFC became a legitimate property in the television world due to the success of the show.



Mark Coleman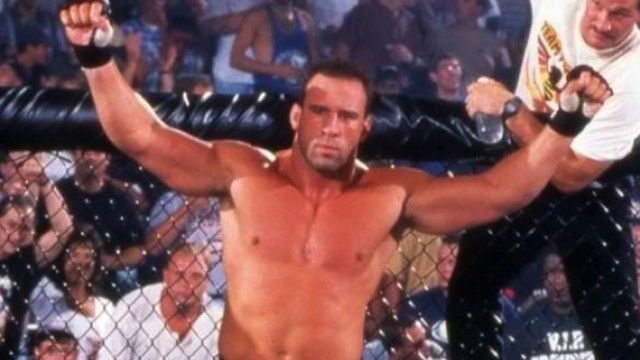 Photo via Bleacher Report




Imagine a fighter entering the cage today with no experience and taking the game to another level. In mid-1996, that is what Mark Coleman was. At a sculpted 245 pounds, Coleman was more physically imposing than Ken Shamrock. An Olympian that just missed out on medaling and a second-place finisher in the World Championships, he had a stronger wrestling background than Dan Severn. And on his first night in, he took out an undefeated challenger considered one of the finest fighters in the world.

Coleman entered the Octagon after a failed bid at the 1996 Olympic team. Just 30 days prior to UFC 10, featuring the return of the tournament format after the disastrous single-fight formatted UFC 9, the man who would become known as "The Hammer" was recruited to partake in the tournament. Immediately, he made waves.

The Ohio native took down first opponent Moti Horenstein and battered him with punches from the top. It took just two clean punches to the face for Horenstein to cover his face, causing the fight to be stopped. Next, Coleman faced Gary Goodridge, a one-time tournament finalist. This was the first time Coleman used the move that would become his trademark (aside from falling off the top rope) – headbutts. Seconds in, Coleman took Goodridge down with a double leg and stuck to him like glue for the remainder of the fight. Seven minutes into the bout Coleman secured back mount and Goodridge decided to cut his losses and tap out.

In the finals, Coleman faced Don Frye, a wrestler who had impressed everyone with his boxing skill. At UFC 8, it took Frye just 3:08 to run the table on the tournament. After a failed takedown attempt, Coleman hit a short drag to land on top of Frye. From there, Coleman put a beating on Frye nobody expected. Frye only got to his feet about six minutes into the fight in order for a cut to be checked (fighters were not restarted back on the ground at the time). After a failed slam attempt (Frye held onto the cage) and some heavy standing punches, Coleman once again got the fight to the ground. Some more punches and headbutts followed before referee John McCarthy stepped in to save Frye at 11:34. Coleman had not only beaten Frye, one of the toughest fighters in the world, he dominated him.

At UFC 11, Coleman was back at it. He tore through each of his first two opponents to advance to the finals. Alternate Scott Ferrozzo had won his way to the finals as well, but withdrew from the tournament due to exhaustion. Fellow alternate Roberto Travern, none too eager to face Coleman and injured in his opening round bout, declined a bout in the finals. Coleman had won his second tournament and his legend grew. In attempt to satisfy the crowd, Coleman and teammate Kevin Randleman staged a wrestling exhibition in lieu of the finals bout.

UFC 12 saw the introduction of the heavyweight championship. A testament to his reputation, Coleman was selected to face Dan Severn, the final superfight champion, to determine the first UFC heavyweight champion. Coleman dominated his fellow two-time UFC tournament champion and submitted him with a neck crank to become the first UFC heavyweight champion.

Coleman's first title defense five months later figured to be an easy bout. Kickboxer Maurice Smith was the heavyweight champion of Extreme Fighting, a competing organization. Given Coleman's dominance and the history of striker vs. grappler matches, Smith was not supposed to give Coleman any trouble. But he did.

Smith, who trained for the bout with Frank Shamrock, accepted it as an inevitability that he would find himself on his back with Coleman on top. His strategy was to tire Coleman out from the bottom, defending the more muscled fighter's strikes and tiring him out in the process. About five minutes in that strategy looked to be failing; Coleman was mounted and McCarthy yelled at Smith to fight back – usually a sign that a stoppage was imminent. But Smith weathered the storm. He gave up his back, rolled to get Coleman in side control, and soon after retained half guard. Nine minutes into the bout, Smith exploded to his feet and Coleman looked ragged, his hands on his knees. Smith landed on the bottom again after Coleman took advantage of an errant head kick. But even from the bottom, Smith was throwing more strikes than Coleman. He also trail-blazed the strategy of covering his opponents mouth to disrupt his breathing. At the end of the regulation period, Coleman could hardly stand. Over the course of both overtime periods, Smith battered Coleman with leg kicks and was able to remain on his feet. At the end of overtime, Smith was declared the winner and new champion – completing perhaps the biggest upsets in UFC history to that point and one of the best championship bouts ever.

Coleman's loss to Smith was a seminal moment in UFC history, as it showed strikers, after being dominated by grapplers for years, could compete.

For Coleman, it was the beginning of a long fall. His next fight, against Pete Williams, saw him tire badly again. Williams would knock out Coleman with the most famous head kick of UFC's early years. At UFC 18, Coleman lost a very narrow split decision to Pedro Rizzo. After the bout, judge Dave Meltzer, of The Wrestling Observer Newsletter, admitted to Coleman corner man Ken Shamrock that had the gassed Coleman scored a takedown at the end, the outcome would have been different. Coleman then left the UFC for Pride, where he rejuvenated his career, and would not return to the UFC for a decade.

At UFC 82 in 2008, Coleman was inducted into the UFC Hall of Fame in his home state of Ohio. Also announced was his return to the Octagon. Coleman, 43 at the time, was matched with Brock Lesnar for a fight five months down the line. After an injury forced him out of the bout, Coleman decided to drop down to the light heavyweight division for the first time in his career. In January 2009, a full ten years after his last UFC bout, Coleman fought the heavily favored Mauricio "Shogun" Rua. Though the bout tied for 'Fight of the Night' honors, it was a sloppy match that ended with a late knockout in Rua's favor.

Coleman returned for a do-or-die bout at UFC 100, the biggest pay-per-view event in company history, to face Stephan Bonnar. Despite the two being big names in the sport, the bout was buried on the untelevised preliminary card due to the stacked main card. In a bout Coleman remembers very fondly, he took home a unanimous decision win. "That Bonnar fight is still one of my favorite wins," he told MMA Fighting years later. The win put Coleman in place to headline a show in his next bout. His UFC 109 main event against Randy Couture, a fight initially scheduled for UFC 17, was the first match between UFC Hall of Famers. Couture dominated the match and Coleman was subsequently released from the UFC, never to fight again.



Frank Shamrock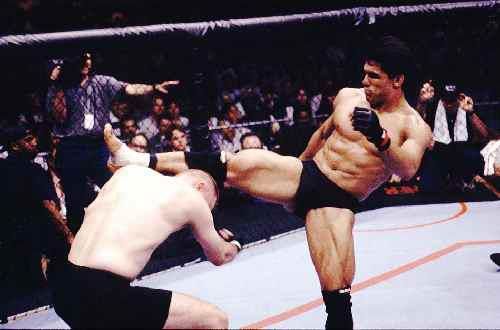 Shamrock kicks Jeremy Horn. Photo via Bleacher Report




A natural middleweight, and smaller than many of today's welterweights, Frank Shamrock made a career fighting, and usually beating, larger competitors. Shamrock began fighting at the insistence of his adoptive father, Bob Shamrock, after being released from prison. Training with his adopted brother Ken, Frank became one of the top fighters in the Pancrase organization, but it was not until he made it to the UFC he hit the apex of his career.

The UFC had twice attempted to lure Frank into the company to no avail. First, they attempted to match him against David "Tank" Abbott to build to a match down the line with Abbott and Ken Shamrock. Realizing what UFC was trying to do, Bob Shamrock made sure the deal did not happen. In mid-1997, UFC looked at brining Frank in for a one-night four-man tournament, but Frank felt the money offered was insufficient.

Finally, it was agreed that a bout between Shamrock and Enson Inoue in November of 1997 would determine who would fight for the UFC middleweight championship (now light heavyweight) against Kevin Jackson the next month. Shamrock knocked Inoue out in the second round to earn the shot (technically, he won by disqualification as Inoue's corner charged the ring before the knockout was ruled).

At 25-years-old, Shamrock was the youngest fighter to challenge for a UFC championship at the time. Jackson remains one of the most decorated wrestlers to ever compete in mixed martial arts and figured to give and was considered a very tough opponent. Not tough enough apparently, as Shamrock immediately locked Jackson in an armbar off a takedown and submitted him in 16 seconds. Frank Shamrock had become the very first UFC middleweight champion.

Next, Shamrock faced Igor Zinoviev, an undefeated Extreme Fighting champion with a strong reputation. This time, Shamrock's day at the office was a bit longer. Seconds into the bout, Frank lifted Igor up and slammed him down. The Russian was knocked out from the blow and suffered a broken collar bone. The bout lasted all of 22 seconds.

In Shamrock, a great fighter with a gift for building fights, UFC had a star on their hands. Unfortunately, they would not have much opportunity to cash in on it. By this point the UFC was treated like a leper by the cable companies and pay-per-views were relegated to satellite companies, which accounted for very few homes. At their weakest point financially and barely visible, this period would become known as "the dark ages."

Shamrock got the call for his next bout on relatively short notice. In a cost-cutting measure, it was decided Shamrock would defend his title at UFC 17, but the match would be taped and used on a packaged pay-per-view (early UFC packaged pay-per-view specials with highlights of past fights had done well, but without more cable clearances nothing would have done well as this point). Shamrock's opponent for the evening was Jeremy Horn, who had competed mainly in Monte Cox's Extreme Challenge and gone to a draw against Dan Severn. Unfamiliar with Horn, Shamrock expected an easy bout.

After a lengthy battle with Horn getting the better of the out-of-shape Shamrock, Frank got hold of a kneebar to finish the fight. Earlier in the night, Frank was on commentary duty for the finals of the middleweight tournament between Dan Henderson and Carlos Newton, which was intended to highlight his next challenger. Henderson won his second controversial decision of the night. Shamrock had already fought Henderson at a submission wrestling event in October 1997 and quickly submitted him. When asked post-fight by interviewer Joe Rogan if he'd considered another go at Shamrock, Henderson said he was focusing on his wrestling (Henderson entered the sport as a means to fund his wrestling career).

With Henderson gone from the UFC, Shamrock met old foe John Lober at UFC Brazil in October 1998. Lober entered the match with an unimposing 3-5-2 record, but in January 1997 he gave Shamrock all he could handle and took home a split decision. This time, Shamrock punished Lober. Though he had opportunities to finish by submission, he continued to punch away until Lober verbally submitted.

Next came the most famous match of Frank Shamrock's career, and his final UFC bout. UFC knew there was money in the Tito Ortiz-Ken Shamrock feud that had spilled over at UFC 19, but with Ken in the WWF they had no way to make that fight (though UFC and WWF had a good relationship at the time and UFC was frequently mentioned on WWF television). So Ortiz, coming off wins over two Lion's Den fighters, was to challenge Frank Shamrock for the middleweight title in a bout hyped as a grudge match. In reality, Frank had long ago left the Lion's Den and was not on good terms with Ken.

By the time Shamrock fought Ortiz, he was a year removed from his last title defense. That was no accident, with Shamrock coming at a high price and UFC operating in the red. After the Ortiz bout, Shamrock would announce his retirement at just 26-years-old. The way Shamrock tells it, he saw that MMA was headed down a dark path (in North America at least, as it would soon explode in Japan), and with such little money to be made he had no desire to risk his health. He planned on returning once MMA became healthy. Another prevalent reason is that the UFC could no longer afford to pay Shamrock, so both parties agreed that he would retire after the match.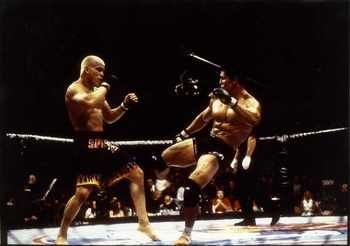 Whatever the reason for his retirement, Shamrock went into the Ortiz fight with a major challenge ahead of him. At around 190 pounds, Shamrock was quite small for a weight class with a 199 pound limit. In fact, Shamrock weighed in for the Ortiz bout fully clothed and holding a book. Ortiz on the other hand was one of the biggest middleweights around and looked two weight classes bigger during the fight.

Much like Maurice Smith, Shamrock's strategy was to tire out the bigger wrestler. Ortiz headed into the championship rounds (UFC had recently adopted the modern round and scoring structure) solidly ahead on the scorecards, but by round four "The Huntington Beach Bad Boy" was tiring.

With one minute remaining in the round Shamrock swept Ortiz and a scramble ensued. As soon as Ortiz got to his feet the champion wailed on him with a vicious combination. Ortiz responded with a takedown but fell into a guillotine attempt. Shamrock was able to sweep Ortiz with the guillotine and landed on top. Ortiz created separation and grabbed a leg, but Shamrock retained his balance while Ortiz remained on his knees. Shamrock rained down hammer punches when Ortiz submitted to strikes with just 12 seconds on the clock. In the greatest bout in pre-Zuffa UFC history, Shamrock defeated Ortiz and retired as champion.



Pat Miletich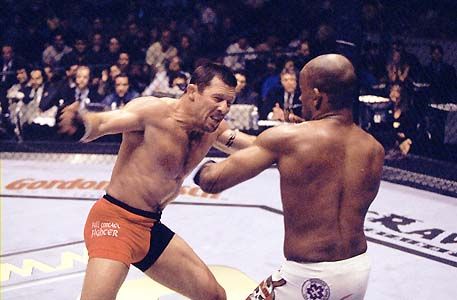 Miletich throws a punch at Shonie Carter. Photo via en.susumug.com




A champion throughout the "dark ages," Pat Miletich is a unique case in UFC history in that he consistently fought outside the Octagon while holding the title and lost three times. In the UFC's cage, Miletich was known as a dull fighter, but he was certainly tough to topple. His inclusion on this list was no guarantee, which says a lot about his competition considering he made four title defenses. The UFC was no longer a major destination for fighters during this time and it would take years for them to become a destination once again. However, Miletich faced more tough opponents than he did overmatched ones, and those four title defenses are tied for the seventh most in history.

Entering the UFC with vastly more experience than most lighter weight fighters at the time, entered the UFC in 1998 for the first ever lightweight (170-pounds) tournament. His fist opponent was Townsend Saunders, an Olympic silver medalist and one of the most talented wrestlers in UFC history. Despite spending much of the fight on his back, Miletich won a close, and somewhat controversial, split decision to advance to the finals. There he faced Chris Brennan, substituting for an injured Mikey Burnett. The two had previously met twice in Monte Cox's Extreme Challenge, with both bouts going the distance (the first a 20 minute draw, the second a 30 minute decision win for Miletich). This time the judges would not be of service, as Miletich drove his shoulder into the grappler's throat and drew the tap.

Seven months later at UFC Brazil, Miletich would finally meet Burnett, this time not with a tournament crown on the line, but a UFC championship. After 21 minutes of fighting, Miletich won a controversial decision over the Lion's Den fighter and took the UFC lightweight title (later welterweight) back to Iowa. Burnett campaigned for a rematch for some time – a rematch he probably deserved – but it never came to fruition.

At UFC 18, Miletich defeated the explosive Jorge Patino by decision in unexciting fashion. Returning at UFC 21, the first event with the modern rounds system, he battled Andre Pederneiras, now best known as a founder of Nova Uniao. A right hand from Miletich caused a cut over Pederneiras' left eye. The doctor stopped the fight due to the cut, giving Miletich his second successful title defense. His next two defenses would be against overmatched opponents. At UFC 26, he submitted a very young John Alessio in the second round. At UFC 29, he submitted Japanese pro wrestler Kenichi Yamamoto.

By UFC 31, one of the greatest shows in the promotion's history, a new era had begun. Zuffa, LLC, headed by Frank Fertitta, Lorenzo Fertitta, and Dana White, had purchased the company for $2 million. Miletich was matched with Carlos Newton, a grappler with a strong reputation stemming from a classic bout Kazushi Sakuraba as well as a very close loss to Dan Henderson. In the third round, Newton caught Miletich in a bulldog choke (think a schoolyard headlock), which was good enough to take the title.

Miletich made a quick turnaround and scored a head kick knockout over Shonie Carter at UFC 32. Despite the general rule of a former champion getting a rematch with a win in his next fight, Miletich was passed over as Newton's next opponent. UFC had already booked a rematch of Randy Couture vs. Pedro Rizzo (who they were heavily invested in), the same match that headlined UFC 31, and did not want UFC 34 to be seen as a repeat of that show. Surely Miletich's reputation as a boring fighter did nothing to help matters. Taking Miletich's shot was his teammate, Matt Hughes. When Hughes won the title, Miletich moved up to middleweight and fought Matt Lindland. However, he was too small for the weight class and easily defeated. It was his final fight for four years.

After the main portion of his fighting career, Miletich became best known as a trainer. His camp included no less than three UFC champions, four if you were to include quasi-member Rich Franklin. After the success of The Ultimate Fighter, Miletich was contacted by UFC president Dana White about coaching season three of the show. To sweeten the deal, he would be opposed by Carlos Newton, and they would finally rematch after the season. Believing it to be a done deal, Miletich had friends watch UFC 56 in November 2005 for the big announcement. White then announced Tito Ortiz and Ken Shamrock would coach the show, changing the deal without alerting Miletich. The lack of notice on the switch caused a rift between White and Miletich that still exists today. White has since expressed regret for his handling of the situation.

---


Thanks for reading (or skimming). Check out part two on Wednesday, and the second half of the list will run next Tuesday and Wednesday. A major thanks to Clyde Gentry for his excellent No Holds Barred history of MMA, Dave Meltzer's Wrestling Observer Newsletter, and Jack Encarnacao's Rewind Look Back for being invaluable resources of information and context. All are highly recommended.

Photo of Gracie pulling Kimo's hair via fightingmaster.com, Gracie kicking Shamrock via John Amis/AP Photo, Ken Shamrock and Ortiz via training.fitness.com, Frank Shamrock kicking Ortiz via flickr.com.

Check out the links below for the rest of the series!

Part 2
Part 3
Part 4
comments powered by