SPOTLIGHTS
The 411 MMA Top 5 11.29.12: The Top 5 MMA Things To Be Thankful For
Posted by Larry Csonka on 11.29.2013

From the addition of a women's division to the UFC and Dana White's post-fight rants to head kicks, great championship fights, Sergio Pettis and more, the 411 staff counts down their top 5 things in MMA to be thankful for!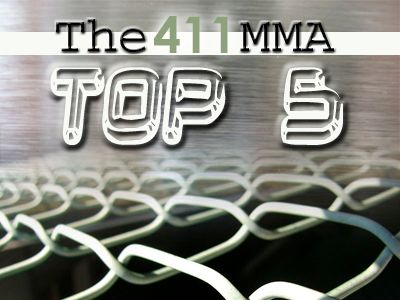 Welcome:
Welcome back to the MMA Top 5! What we are going to is take a topic each week and all the writers here on 411 MMA will have the ability to give us their Top 5 on said topic, plus up to three honorable mentions. It's highly non-official and final, like WAMMA.
The Top 5 MMA Things To Be Thankful For


What in the MMA world are you thankful for?




Robert Winfree
5. MMA Judging - This could be a specific judge, or the 10 point system, or any system really. Why am I thankful for such a horrible blight? It gives me something to write about on a weekly basis. I mean, we seem to need something to complain about, and judging is a frequent, and deserving, target. Yes it's terribly frustrating, but it provides us with a prompt also. Perspective is required here.

4. Events - We can talk about the fact that MMA may well be over saturated at this point, it very likely is, but at the same time having a reliable schedule and events on a regular basis is a good thing for a consumer.

3. Champions - We, as fans, are either blessed or cursed depending on your point of view with dominant champions. Some of the very best fighters ever are still active competitors, and while the sport will inevitably pass them by, or age simply catches up with them, fighters like GSP, Anderson Silva, Cain Velasquez, and Jon Jones are by and large a joy and privilege to watch compete.




2. Potential - This may be a bit of an odd thing to be grateful for, but hear me out. Every single MMA fight has the potential to be awesome. Even something with Jake Shields. MMA has instant drama, a fight could end at any minute. This is in start contrast to most sports where there is a minimum time limit, you know an American football game is going to go all four quarters. Incidentally that means you can watch just the fourth quarter and get all the relevant information. Instant drama, it's part of the intoxicating effect of MMA.

1. 411mania - I really can't overstate my appreciation for all the people here. From the boss Larry Csonka who decided my work warranted a spot here to the new guys who get to beat me up in Fact or Fiction on a regular basis, I couldn't imagine a better bunch of guys to tackle the wonderful and frequently frustrating as hell sport of MMA.

---



Jonathan Solomon
5. Appreciate the Greats in Their Prime - Something we've all noticed in recent years and perhaps just as much in 2013 has been the fall from grace for so many greats. Randy Couture, Chuck Liddell, Quinton Jackson, Miguel Torres, Tito Ortiz, Dan Henderson, B.J. Penn, Matt Hughes and now Anderson Silva (too early?). Some may even think that Georges St. Pierre has begun the process of decline based on his fight with Johny Hendricks this month and I'll say, let's wait for round two first. So, while we fear the likes of Silva and GSP are about to take a nosedive, we can appreciate the absolute dominance that Cain Velasquez, Jon Jones, Jose Aldo and even Renan Barao display time and again. Eventually, they'll run into father time, too, but in the meantime we can all enjoy their epic abilities.

4. Ronda Rousey is Back - In a few short weeks, one of the biggest two or three stars in the sport returns to action at UFC 168 and there's nothing quite like a Ronda Rousey fight.

3. Bellator Tournaments - I don't care if you're a Zuffa Zombie or a fight snob off the Underground, if you don't love tournaments in this sport, you're crazy. Are they anything like the early UFC days or Pride's glory days, hell no. So what? In the over-relegated landscape of modern American MMA, these tournaments give guys a clear path to gain more recognition than they ever would with out the format. Three fights in three months (typically), stay healthy and win them all and you get $100,000 extra and a guaranteed title fight. Instant drama whether there are stoic Russians involved, old vets looking to reclaim success one last time or rising young studs hoping to emerge out of the prospect-class, we've seen a lot in the four or five years they've been running. KEEP 'EM COMING!

2. NickTheFace and His Trailers - Via YouTube, Nick Hurley, an English MMA fan and video editor has dished out some of the most incredible fight trailers over the past three years. Much of the time, his work is easily more entertaining and successful (at amping you up for an upcoming bout) than anything done by the UFC's own production team. The man has skills and is a big part of the MMA community online. Click the link earlier in this paragraph and check out his video for Weidman vs. Silva 2 and set aside your money for the show right now.

1. Members of the Democratic Party in the New York State Assembly - The dominant party in my home state is the only reason that (as 2013 comes to an end) professional mixed martial arts is unregulated. But you know, what? I'm thankful for the assembly members in the majority party choosing to sit on the legalization bill (that already made its way through the State Senate) because they cannot pass it into law by themselves, without help from their peers on the other side of the aisle. It's not about MMA being too gruesome (change the channel, don't by a ticket, grow a backbone) or protecting the children (as if that was ever a legitimate reason) or taking some kind of moral stand (earlier this month, a constitutional amendment in NY was approved by voters by approximately 57% of voters to expand casino gambling…WOOO!). It's just a game and 2014 almost certainly will not bring any difference, unless third-party (non-government) sanctioning is brokered in court. But hey, there's always amateur MMA all over the place…good, because who wants to pay those crazy UFC ticket prices, anyway (and you can get MUCH better sight lines sitting feet away from a cage/ring/mat, too).


---



Evan Zivin
5. Pretending to Be an MMA Journalist - I never would have thought at the beginning of the year that I would get to say that I write MMA for a website, or anywhere for that matter. I used to write results of UFC events for a good friend of mine who understood the Internet as well as I understand love...*sigh*...but I didn't imagine that it would give me the confidence or ability to espouse my nonsense on a weekly basis for all you lovely, sexually virile readers. I know I'm an acquired taste but I think I do decent enough most of the time. I'm proud of myself. That's why I always make a habit to send a link of my articles to all my ex-girlfriends, high school gym teachers, and evil community rec center directors. LOOK AT ME NOW! WHO'S MOST LIKELY TO SPEND THE REST OF THEIR LIFE WORKING MINIMUM WAGE AT A MCDONALD'S NOW, HMMMM??? WHO--hang on a sec, I have to go flip the burgers.

4. Good Championship Fights - Despite all the controversy that has surrounded the most recent UFC championship fight, there's one thing we can all definitely agree on: that was a good fight. Regardless of the fact that Johny Hendricks may have beaten GSP and should be champion right now (I hope Chael still has his fake belt), those two men gave each other everything they had or 70% of what they had with hand wraps that weren't thick enough *WINK* and put on an amazing fight to highlight a year of great title fights. Whether a title changed hands (Silva vs. Weidman, Henderson vs. Pettis) or remained with the champion in a hard-fought, hotly contested battle (Aldo vs. Edgar, Henderson vs. Melendez, Jones vs. Gustafsson) we've really gotten to see what our champions are made of and what happens when a challenger comes along who can rise to the occasion and show us how important those 13 pound pieces of gold and leather really are.

3. Sergio Pettis - OH MY GOD!!! HE'S SO ADORABLE!!! JUST LOOK AT HIM!!! HE'S LIKE A SHAGGY LITTLE PUPPY THAT YOU KEEP IN YOUR BAG UNTIL YOU GO TO A PARTY AND PEOPLE ASK ABOUT HIM SO YOU TAKE HIM OUT AND THEY GO "AWWWWW" AND THEN HE STARTS SPINKICKING EVERYONE IN THE PELVIS!!! I JUST WANT TO WRAP MY ARMS AROUND HIS WAIST, BURY MY SHOULDER INTO HIS STOMACH, AND PRESS HIM AGAINST THE CAGE BUT HE'S DEFENDING THE TAKEDOWN WELL SO I LOWER MY BASE TO TRY AND DRAG HIM DOWN WHILE HE'S THROWING SHORT PUNCHES TO MY SIDE AND EVENTUALLY WE JUST END UP IN A CLINCH BECAUSE WHAT IS TRUE LOVE BUT A CLINCH THAT NO REFEREE CAN SEPARATE!!!

Note to self: if MMA journalist pipe dream doesn't work out, consider career in writing MMA erotic fiction. I need to call my therapist, a priest, and the local authorities.

2. Headkicks - It's like I always say: life needs more headkicks. I also always say never give in to peer pressure, you friendless loser narc virgin nerd, but mainly it's all about the headkicks. Thankfully, this year has been chock full of them. From the very first event of the year up until just a few weeks ago, we've seen fighter after fighter headhunting for knockouts with their feet. Josh Thomson vs. Nate Diaz, Junior dos Santos vs. Mark Hunt, Travis Browne vs. Alistair Overeem, Renan Barao vs. Eddie Wineland, Lyoto Machida vs. Mark Munoz, and many others. Vitor Belfort won three fights this year by head kick. We even got that killer knockout by Uriah Hall on The Ultimate Fighter, which means that it technically doesn't exist. Except we saw it. We all saw it. We need to see more of it. Get to work, ambitious strikers of tomorrow. You have your work cut out for you. Well, kicked out for you. I know. I'm clever.

1. The Womens - Aw, hells yeah. I was getting tired of the sausage fest that had been the UFC for so many years. There are so many hard-working, talented female mixed martial artists out there who have been struggling for years to get the attention and recognition they deserve and I am so thankful that they have finally been given the platform to show the world what they are capable of. It may have taken Ronda Rousey's destructive grappling and cool arrogance to get Dana White's attention (and checkbook) but it got the mission accomplished and now everyone is getting to see how good women fighters really are. It's been a bit of an uphill battle for the ladies to prove to the majority of MMA fans that they belong and that they can hang with the guys and they are making the most of the opportunity. Pretty much every female fight that has taken place in the UFC since Rousey-Carmouche in February has been highly entertaining, much moreso than many of the men's fights, and, with talks of the UFC adding a second women's division soon, I know that we have many more exciting clashes to look forward to between some of the fiercest, most aggressive competitors the sport has ever seen. See? I can write something about female fighters without mentioning their looks. Is that so hard to do, the Internet? Happy Thanksgiving, you turkeys.


---



Jeremy Lambert
5. Advice Giving Dana White - Before a fighter makes any career altering decision, they should probably check with Dana, because he gives great advice. Donald Cerrone is thinking about dropping to 145. Not a good idea according to Dana, who is clearly just worried about his health. Roy Nelson wants to stay fat and happy. Nope, he needs to get his ass in shape because he'll never be champion otherwise. Why is Matt Mitrione doing interviews after winning a fight? Don't do that, Matt. GSP can't take time off, he owes it to the fans to fight. Stay off twitter if you can't say anything smart, you morons. I'm thankful that Dana White gives advice in order to make MMA a better sport.

4. Twitter Dana White - Did you know that, besides Anderson Silva, Dana White is the most followed UFC personality on twitter? That's because he tweets important stuff and replies to people. He doesn't have handlers like GSP looking over his twitter and he doesn't ignore the haters. Instead he fires back, calls them names, and blocks them. I'm thankful that Dana White interacts with the fans on social media.

3. Match-Making Dana White - You guys want to see super-fights like Anderson Silva vs. Georges St. Pierre or Anderson Silva vs. Jon Jones or Jose Aldo vs. Anthony Pettis? Don't worry, we're going to deliver them. But first they need to clean out their division and stuff. Johny Hendricks has definitely earned a title shot, but Nick Diaz needs to have his shot first because GSP hates him. Who cares if Chael Sonnen hasn't won a fight at 205, he gets a title shot over Dan Henderson because injuries and stuff. I'm thankful that Dana White books the fights that the fans want to see.

2. Hype Dana White - On the fence about buying a PPV? Leave it to Dana to sell you on why you should buy it. Sure Cain Velasquez vs. Antonio Silva looks like a terrible heavyweight title fight, but Silva just KO'd Alistair Overeem, he's hungry for a title fight, and he's a different fighter from the guy who Velasquez destroyed a year ago. Sonnen vs. Jones? NO ONE WANTED TO FIGHT JON JONES! CHAEL SONNEN STEPPED UP! HOW CAN YOU GO AGAINST A GUY WILLING TO FIGHT A GUY WHO NO ONE ELSE WANTED TO FIGHT?!?!?! I'm thankful that Dana White does a better job hyping fights than 99% of the fighters do.

1. Post-Fight Dana White - Nothing in MMA is more exciting than Dana White's reactions after events. Whether it's criticizing fighters for not following the game plan, criticizing judges for getting a decision wrong, or criticizing referees for stopping a fight too early or too late; you can always count on Dana to overreact after the event and give people prime material to write about. Just look at UFC 167. Instead of talking about how great of a fight St. Pierre vs. Hendricks was, he was pissed at GSP for having the audacity to want to retire due to personal issues instead of giving Hendricks a rematch. Post-fight Dana is the absolute best and I'm sure the rest of the media would agree with me. I'm thankful that Dana White doesn't hold back immediately after events and reacts like a fan would.


---
YOUR TURN KNOW IT ALLS

List your Top Five for this week's topic in the comment section using the following format:

5. CHOICE: Explanation
4. CHOICE: Explanation
3. CHOICE: Explanation
2. CHOICE: Explanation
1. CHOICE: Explanation
Your heart is free. Have the courage to follow it…TO CSONKA'S TWITTER!

http://www.twitter.com/411wrestling
http://www.twitter.com/411moviestv
http://www.twitter.com/411music
http://www.twitter.com/411games
http://www.twitter.com/411mma

Have you checked out the Csonka Podcasting Network? If you haven't, you should We run anywhere from 15-20 shows a month, discussing pro wrestling, the world of MMA, the NBA, general sports, popular TV series of the past, bad movies, battle rap, interviews, MMA & Wrestling conference calls and more! Around 10 different personalities take part in the various shows, which all have a different feel; so you'll likely find something you like. All of the broadcasts are free, so go ahead and give a show a try and share the link with your friends on the Twitter Machine and other social media outlets! Running since May of 2011, there are currently over 400 shows in the archive for you to listen to.



Larry Csonka is a Pisces and enjoys rolling at jiu jitsu class with Hotty McBrownbelt, cooking, long walks on the beach, Slingo and the occasional trip to Jack in the Box. He is married to a soulless ginger and has two beautiful daughters who are thankfully not soulless gingers; and is legally allowed to marry people in 35 states. He has been a wrestling fan since 1982 and has been writing for 411 since May 24th, 2004; contributing over 3,000 columns, TV reports and video reviews to the site.
comments powered by