SPOTLIGHTS
Five Quick Rounds 12.03.13: TUF 18, Shane del Rosario is a Real Ultimate Fighter, More
Posted by Evan Zivin on 12.03.2013

From Nate Diaz's thrashing of Gray Maynard and the results of the TUF 18 Finale to Shane del Rosario's cardiac arrest and Rousimar Palhares signing with WSOF, 411's Evan Zivin examines these stories and more in Five Quick Rounds!

Hey hey, fight fans, and welcome back to Five Quick Rounds! I am your host, Evan Zivin, and I am as excitied as Ilir Latifi to be here once again!

You remember Latifi, right? He's the man who single-handedly saved the UFC's last event in Sweden. Last April, the UFC traveled to Stockholm with a main event of Alexander Gustafsson vs. Gegard Moussasi. It was going to be an awesome main event until Gustafsson went all Ken Shamrock on us and suffered a cut in training days before the fight. The cut was almost healed days before the fight but the Swedish MMA Federation said he couldn't fight and then something about meatballs and candy fish. Enter Latifi to fight Mousassi on short notice and save the show. He wasn't able to save us from not watching an exciting, competitive match-up but I give him props for agreeing to take on a former MMA champion like Mousassi. I had figured that the UFC would appreciate the gesture too and reward him with another fight. It had been months with no update on where "The Sledgehammer" stood with the world leader in watching men sweat on each other. That is until a few days ago when it was announced that he will be competing on the UFC's next card in London on March 8 against Cyrille Diabate. It's definitely a much better fight for Latifi. It's not a gimme by any means, as Diabate is a decent kickboxer, but it gives Latifi a more competitive challenge. Maybe he'll get lucky and Diabate's leg will spontaneously combust like it did in his last fight against Jimi Manuwa. It's MMA. Anything can happen.

All right, so with fighter introductions out of the way, I have five more rounds of MMA news and opinions to throw at you. This week we look at the results of the TUF 18 Finale, updates on Shane del Rosario's recovery after suffering a cardiac arrest, and Shinya Aoki not signing with the UFC as Rousimar Palhares signs with WSOF. Let's to it do it.

FIGHTER YOU READY!!!!
FIGHTER YOU READY!!!!

FIGHT!!!!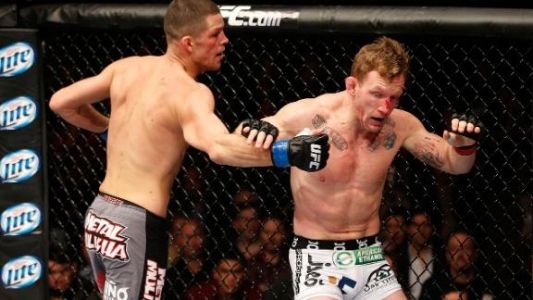 Round One: TUF 18 Finale Main Event Quick Thoughts, Nate Diaz Relieves His High School Years By Knocking Gray Maynard Back to 2003

***TOUCH OF GLOVES***

Another half-year, another exciting season of The Ultimate Fighter. And when I say "exciiting," I mean, "more or less the same thing they've been doing for the last 17 seasons." Honestly, I do enjoy watching the show whenever I can but I can also understand why there aren't nearly as many people watching it as there used to be. Part of that is due to the changing of networks, from Spike to FX to Fox Sports 1: The Uno, but it's also due in part to the fact that very little has changed since the show began in 2005 and, as the growth of the MMA fanbase has stalled in recent years, so too have people begun getting tired and burned out from watching the same show with the same format twice a year. I guess there isn't enough crossover between MMA fans and reality TV fans to keep ratings up despite the monotony. Well, I guess American Idol isn't doing as well as it used to, and isn't Survivor still on the air? How many seasons have they done now? 50? I'm not gonna look it up. If they've done more seasons than the number of events the UFC plans to put on next year, I'm gonna be sick. Well, at least TUF hasn't been completely useless. It's been a good vehicle for furthering rivalries between coaches, it's helped give exposure to some decent fighters, and it's even created some interesting match-ups. Plus, Junie Browning and the "Let Me Bang, Bro" guy. Good times.

One of those interesting match-ups was Nate Diaz vs. Gray Maynard. They fought for the first time on the fifth season of TUF, with Nate winning by guillotine choke en route to winning the entire show. They met again, for realsies, at a Fight Night in January 2010, with Gray getting a close split decision win. On Saturday, the two met for the third time, or maybe it was the second time because the first was considered an exhibition, in the main event of the TUF 18 Finale. The first two fights between these two, or the first one and the one that does not exist, were completely different from each other, and the third was entirely different as well. At first, it looked like Gray was going to be smart and remember he is a dominant wrestler and not a Golden Gloves boxer, grabbing Nate's leg and pulling him down to the mat. After a nice throw by Nate, both men got back up and Gray tried to take Nate down again. The Pride of Stockton's Brother then said "F that" and knocked Gray down with a left hand. Gray got back up but the assault was only beginning, as Nate battered Gray with one powerful, accurate punch after another. Nate landed close to 30 shots to Gray's dome before the fight was stopped, which Gray responded to by immediately falling on his face. That's the second time in a row he's been the loser of a violent thrashing. I don't know if he's got much left at this point. As for Nate, he continues to chug along with a very impressive TKO victory, his first in three and a half years. If Anthony Pettis remains lightweight champion, and actually manages to defend it someday, I wouldn't mind seeing Nate get a shot. It would be a fun match between two dudes looking to throw down and go for the knockout. Will Nate have learned to check leg kicks by then? I can pretend he will but he'll likely prepare by getting high instead....high on life, I mean. And dope.

***HORN SOUNDS***




Round Two: TUF 18 Finale Co-Main Events, Julianna Pena and Chris Holdsworth Prove That Miesha Tate Can Beat Ronda Rousey at Something

***TOUCH OF GLOVES***

Miesha Tate, former women's bantamweight champion and queen of the butt-chinned gorilla men over at Team Alpha Male, may not be able to beat current champion Ronda Rousey at much. Tate wasn't able to beat Rousey in a fight (and likely won't in the rematch) and couldn't beat her in the coach's challenge on TUF 18 but Tate did beat her in the voting for who gets on the cover of the new UFC video game, and now Tate can say that she beat Ronda as a coach on TUF 18 as both Ultimate Fighter contracts went to her fighters. The first contract on the line was for the men as Chris Holdsworth, a member of Team Alpha Male, took on Davey Grant, a grown man who allows people to call him Davey. Holdsworth is an undefeated fighter with all his wins by submission, plus two more on TUF, so it's no shocker that he looked to take Grant down throughout the first round of their fight. Grant did a good job of defending Holdsworth's shots and was good about throwing a punch or two every time they separated. It was a close first round. The second round was not, as Holdsworth finally secured a takedown less than a minute in and grabbed hold of Grant's back when the Brit tried to stand. From there it was elementary as Holdsworth cinched up a rear naked choke and got the tap about two minutes into the round. It was a similar performance to the ones Holdsworth had on the show but it shows he's consistent in his technique and now he's the second Alpha Male member to win a TUF tournament. Congrats guys. I just hope your celebration doesn't involve oil and speedos. Remember? Season 15 with Team Faber in Dominick Cruz's locker room? I've watched too much of this damn show.

After the only two men from the show deemed worthy enough to compete in the UFC got their shot, it was the ladies' turn. Julianna Pena, "The Venezuelan Vixen" or so Sherdog claims, came into the Finale with a lot of hype after destroying all her opponents on the show and becoming one of the central characters thanks to her dominance and the fact that no one liked her because of said dominance. Maybe they were just jealous because she wasn't willing to drink and party and miss weight like all the cool kids were doing. I dunno. Her opponent was Jessica Rokoczy, a former pro boxer who managed to get on the show despite having a 1-3 professional MMA record and a no contest due to failing a drug test. I did notice that Bruce Buffer announced her as 2-3 so that was considerate of him but still, how was she even given a shot to enter this competition to begin with? Either way, she made the most of it and got to the finals only to get ravaged by Pena. Julianna wasted no time in getting the fight to the ground and secured mount with two minutes left in the round. From there, it was just a matter of how long referee Mario Yamasaki was going to allow Pena to pound on Rakoczy with brutal punch after brutal punch. It looked like he was going to let Rakoczy survive the round but then he was like "nah" and stopped the fight with one second left in the first. Rakoczy definitely proved her toughness and durability but that alone wasn't going to win her the fight. It might have won her a trip to the hospital but that's about it, as Julianna Pena became the first woman to win a TUF tournament. It's actually significant because, much like the early men's winners, Pena is skilled enough to really make waves in the division and possibly fight for a title some day. So congrats, Julianna. Try not to spend that Harley-Davidson in one place. Harley-Davidson. Harley-Davidson. Harley-Davidson. There, I just made Dana happy.

***HORN SOUNDS***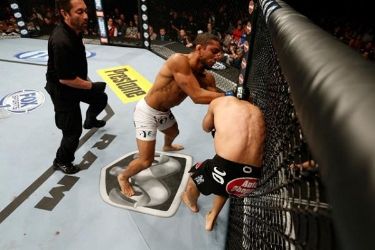 Round Three: Rest of TUF 18, The Finale That Lasted Longer Than the Show Itself

***TOUCH OF GLOVES***

Seriously. I know that the TUF Finale is always filled with crap, like clip montages from the show and the results of who won the bonuses for best submission and knockout and fight of the season (best knockout went to that sauna for taking out Cody Bollinger and Anthony Gutierrez) and then they air the video packages that show what the finalists did since the show finished filming, completely shattering the illusion for anyone who still thinks the show is happening live every week, and don't forget to feature an incredibly awkward interview between the show's two coaches, who can barely stand to be in the same room as each other, separated by a man with the musculature of an anemic 8 year-old girl. I know they need to do all that but is there a way they can streamline everything so it doesn't keep the show from dragging so much? The fights were doing that just fine on their own. Jessamyn Duke and Peggy Morgan had a sloppy but decent fight. Morgan tried to keep Duke at distance but Duke was able to punch through and mess up Morgan's face pretty good. The best chance Morgan had to win was in the third round when Duke went for a bulldog choke and pulled Morgan to the mat for some reason, allowing Morgan to take her back. It wasn't enough to give her the win but it was a decent fight and unanimous decision victory for Duke. MMA veteran Roxanne Modaferri tried her best against Raquel Pennington, staying busy with strikes and takedown attempts, but the judge's recognized Pennington landing the harder, more accurate punches and gave her the unanimous decision win. I guess the Leonard Garcia strategy doesn't work anymore.

The prelims weren't a lot to write home about either. The most notable fight was the featherweight tilt between former Sengoku standout Maximo Blanco and Akira Corassani, one of the elite few who has the honor of having played the douchebag on a season of TUF. The fight started out the way I hoped, with Blanco being aggressive early and taking the fight to Corassani. Unfortunately he took the fight to him a little too much, blasting Corassani with a knee when he was grounded. There is no doubt that Corassani was a grounded opponent as he had a knee and a hand touching the mat. It looked like a situation where Blanco got a little caught up in the moment and threw the knee out of instinct without realizing what he was doing but he still threw the knee so he ended up getting disqualified, as he should. Fox Sports 1 analyst Michael Bisping didn't think the move should have resulted in a DQ, but of course he would say that since he did the same thing to Jorge Rivera and got away with it. He also criticized Blanco for not spiting on Corassani's corner after the fight ended, I'm guessing. The other notable fight saw flyweight Josh Sampo put a beating on Ryan Benoit to win by rear naked choke in the second round. The battle won Fight of the Night but Sampo's $50,000 bonus went to Benoit because Sampo missed weight for the fight. So not only did Sampo lose part of his purse because he came in heavy, he also lost out on getting bonus money for his impressive performance. That's rough but at least it will make him work harder to be on weight next time. Other than that we saw a Finnish guy with too many I's in his name defeat Rani Yahya, Jared Rosholt huff-and-puff his way past Walk Harris, who looks like Phil Davis after stepping out of that machine they used to make Captain America, and Sean Spencer beating up a doberman or something. Yeah, it was a long show.

And that was the TUF 18 Finale. Next up is UFC Fight Night: Hunt vs. Bigfoot on Friday night (or Saturday morning if the UFC doesn't care about your country that much). Yay! Fatties are going boom!

***HORN SOUNDS***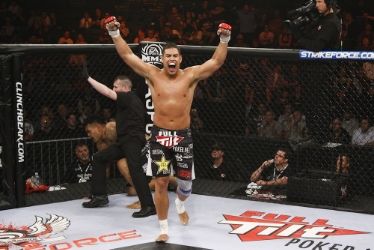 Round Four: Shane del Rosario Still Fighting After Suffering Cardiac Arrest

***TOUCH OF GLOVES***

There was a lot at stake for some of the fighters who competed over the weekend, but none of that comes even close to the battle that Shane del Rosario is fighting right now. Last Tuesday, a few days after a fight between del Rosario and Guto Inocente was postponed due to injury, del Rosario suffered a "catastrophic cardiovascular collapse" in his home. He was rushed to the hospital, where he was resuscitated, but he has remained in critical condition since then. Reports have said that del Rosario was showing little to no brain activity and a treatment to kickstart his brain and organs by lowering his body temperature hadn't shown signs of working. That was reported on Thursday. On Friday it was reported that del Rosario's family had made the decision to have him taken off of life support and by Saturday, it was being said that del Rosario was breathing on his own and registering brain activity. After a couple false reports claiming that del Rosario had passed away, it sounds as though he's showing signs of improvement, but it's hard to tell with so many unverified reports and posts on social media.

This is very shocking news because of how sudden it is. Del Rosario is only 30 years old and in very good shape for a heavyweight fighter. How does a healthy, relatively young man just go into cardiac arrest like that? Some doctors are saying it may be due to a rare genetic disorder known at Long QT Syndrome. Apparently it's a genetic mutation that can cause a rapid, chaotic heartbeat and other heart rhythm abnormalities that can result in fainting, seizures, and can even be lethal. The condition is treatable but treatment doesn't always happen ahead of time because it tends to affect healthy people who may have shown no previous symptoms or any other signs of heart problems whatsoever. That's pretty scary to think that, without warning, your heart can just go out of whack and, before you're even capable of knowing what happened, you're fighting for your life. As of the posting of this column, del Rosario is still in the Hoag Memorial Hospital Presbyterian in Newport Beach, California, clinging onto life, not giving up just like the fighter he is. He hadn't been having the best run of luck in his MMA career, starting off his UFC career with two straight losses, but he didn't deserve this. No one does. I don't know if he'll ever fight again but I do hope that he is able to recover from this and go back to living his life. I'm not much of a praying man, but I'll be sure to keep him in my thoughts.

***HORN SOUNDS***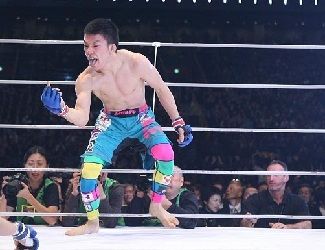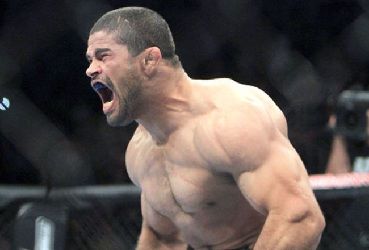 Round Five: Shinya Aoki Says いいえ to UFC, Rousimar Palhares to Hold Onto Submissions Too Long in WSOF

***TOUCH OF GLOVES***

Google Translate better not let me down. It never has before. Well, other than all those times it has. On Tuesday it was reported that a number of fighters from the Evolve MMA gym out of Singapore, home to many top Asian fighters, were offered UFC contracts. There were three in particular: One FC standout Eddie Ng, One FC bantamweight title challenger Leandro Issa, and One FC Lightweight Champion Shinya Aoki. Chatri Sityodtong, Evolve MMA founder, confirmed this and it has since been revealed that, while Issa has chosen to sign with the UFC, both Ng and Aoki have chosen to decline the offer and stay with One FC. Ng's reason for not signing is because he doesn't feel he's reached his potential as a fighter and doesn't want to go to the big show until he feels he is ready. That is a very admirable thing to say and I completely respect Ng for making his decision based on that. As for Aoki, it's harder to say why he said no. He's had concerns in the past about not wanting to have to fight in the U.S. away from his family. That was a reasonable complaint in the past but not so much now since the UFC is running more shows in East Asia. Maybe he still hasn't gotten over the nightmares that were his losses to Gilbert Melendez and Eddie Alvarez. Maybe he just wants to troll Dana, as he's been doing since 2007 and 2008, when he was considered one of the top lightweight fighters in the world. I dunno. I'd love to see him in the UFC. I wouldn't expect him to be a title threat (unless he's really working hard on his striking game) but he'd be a great addition to a stacked weight class. Either way, Issa should be a good fit in the bantamweight division. Maybe new Evolve MMA member Ben Askren can convince Aoki to join the UFC. He'll either do that or convince Aoki to never trust bald, white men. They'll only try to screw you over.

Let's end with some good news. Actually, this may or may not be good news depending on who you ask. Anyway, it's been revealed that Rousimar Palhares has signed a contract to fight for World Series of Fighting. Palhares signed a 4 fight, 18 month contract with Ray Sefo's promotion and should debut around next March. You may remember Palhares from his performance at UFC Fight Night: Maia vs. Shields in October when he defeated Mike Pierce by a heel hook but ended up getting fired and suspended for holding onto the submission for too long. It wasn't the first time he had done something like that so the decision was certainly justified. Then after that happened, there were reports that Bellator and WSOF weren't interested in signing the dangerous and controversial fighter. Well, I guess WSOF changed their minds, or were convinced by Dana after he got Sefo and matchmaker Ali Abdel-Aziz tickets for the TUF 18 Finale, and have chosen to offer the man-child a contract. I think it's a good decision. Despite how scatterbrained Palhares appears to be, he is a good fighter. Plus, WSOF could use a name like Palhares to help bolster their welterweight roster and even increase their TV ratings a little. C'mon, you know that there are casual fans out there who will tune in to see the closest thing MMA has to a Chupacabra attempt to claim another victim. I'll be watching. Just make sure there's a good referee handling the fight and all should be good. And make sure his opponent wears lots of padding, just in case. And helmets. Bring lots of helmets.

***HORN SOUNDS***

That's it for Five Quick Rounds. If you have any questions, comments, or suggestions, and it is always appreciated when you do, leave them in the comments section. In addition to the Fight Night, there's also a World Series of Fighting show and an Invicta show running this weekend. It's getting crazy up in here. So enjoy the fights and, until next time, remember to fight clean, fight hard, fight fair, and never leave it in the hands of the judges...




LATER!!!!!!!!!!!!!!!!!!!!!!!
comments powered by