SPOTLIGHTS
411 MMA Fact or Fiction 12.04.13: Nate Diaz, Gray Maynard, TUF, More
Posted by Wyatt Beougher on 12.04.2013

Is it a bad idea for Nate Diaz wait for an injury so he can get a title shot? Should Gray Maynard consider retirement after his latest knockout loss? 411's Jonathan Solomon and Todd Vote debate these topics and more!

Welcome back to another edition of 411's MMA Fact or Fiction, and I'm your host, Wyatt Beougher, and I'm mostly recovered from my Thanksgiving turkey binge, thankfully. Last week, Evan Zivin took on Robert Cooper, and that guy who replaced me on Five Quick Rounds held serve for the MMA zone, smacking the Metalhead back to the Music Zone by a final vote of 27-12. Thanks to both guys for doing an excellent job, and also to everyone who voted. This week, we've got Jonathan Solomon taking on Todd Vote, and this contest should be another great one.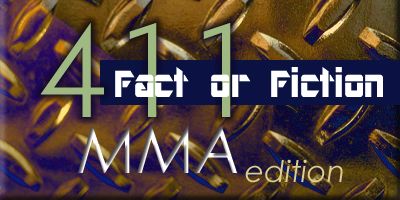 TALE OF THE TAPE

Red Corner
Jonathan Solomon
'The Juggernaut'
Columnist, The Juggernaut MMA News Report
2-6-2

VS

Blue Corner
Todd Vote
'The Man Without a Zone'
Contributor, pretty much everywhere
7-11-1

---

Should Gray change camps or retire?



1.) With Gray Maynard losing three of his last four fights by highlight-reel knockout, he either needs to change camps or retire.

Jonathan Solomon: FACT Maynard has been a part of three different camps since 2011, so I don't see how jumping again would solve his issue. At 34-years-old and with (now) 16 professional fights under his belt, it appears like his chin is gone. There's no scientific way to determine when it happens, but when it does, it goes fast and it's a matter of how much can a fighter endure. Among his three KO losses over the past two years, you can argue that only one of those fights came against someone you'd classify as possessing true knockout power (TJ Grant). Frankie Edgar was one of the, if not the, smallest lightweights in the division when he KO'd Gray. Aside from that fight in 2011, Edgar has not finished an opponent due to strikes since 2007 (Mark Bocek). While Nate Diaz finished Gray over the weekend, it's his first due to strikes since 2010 when he blasted Rory Markham. This evidence doesn't seem like a problem Gray Maynard can solve.

Todd Vote: FACT Personally, I don't see retirement as a bad option. KO's happen all the time, but when they start happening more frequently, you have to step back and look at the big picture. I know that nobody can make these guys retire, and it could just be that Gray was caught in all three fights.

So at the very least, maybe a switch in camps will help the guy remember that he is a wrestler first. Even if he happens to have some power in his punches. Go back to your roots, stop trying to stand with everybody. Work your takedowns, and protect that chin, man.

---

Will Pena's career outshine Holdsworth's?



2.) Julianna Pena will have a more successful post-TUF career than her fellow The Ultimate Fighter winner Chris Holdsworth.

Todd Vote: FACT Absolutely! Hell, if she gets a couple wins, she is already in contention in a women's division that is in need of contenders. You have a built-in story with her not liking Ronda already to take full advantage of. Plus, she is the FIRST female Ultimate Fighter, nothing will ever take that away.

Chris Holdsworth will find some success, and I am not trying to knock his abilities at all, but he is coming into a division that is in a bit of a logjam at the top, so he has a lot longer of a climb to make it to title contention. Facts are: Pena just has a better story for the UFC to tell coming off of the most recent season of TUF.

Jonathan Solomon: FACT Why not? A complete shot in the dark but both Pena and Holdsworth should at least have some staying power in the UFC. In their respective bantamweight divisions, it's not as though either will be thrown in with top 10 contenders anytime soon. Pena is 24-years-old and Holdsworth is 26, can either become a champion inside the octagon? Obviously, right now, you'd have to say no. Can you see a scenario where Julianna wins two or three more fights and ends up with a title shot against Ronda Rousey (the story writes itself), hell yes. I'd say that's about as successful as you can get, unless we're talking a Sam Stout/Joe Lauzon type of run for Holdsworth.

---

Is Nate actually hurting his chances?



3.) If Nate Diaz is serious about waiting for an injury to another fighter to slip into a title fight, he'll be waiting a long time, as that strategy, especially stated publicly, won't endear him to Dana White or Joe Silva.

Jonathan Solomon: FICTION At this rate, if that's his strategy, Diaz may be smarter than anyone gives him credit for. With the way injuries find a way into the equation, he could be fighting Josh Thomson for an interim championship by the end of winter. The injury to Anthony Pettis resulted in Benson Henderson getting the fight with Thomson on Fox and a previous injury resulted in Pettis stepping into the title fight with Bendo after TJ Grant had to drop out. I'll assume the UFC will wait for Grant to receive medical clearance (following his concussion earlier this year) and seek a Grant/Diaz fight. The injury to the champion, likely keeping Showtime out until the summer, puts a big damper on things because unless Gilbert Melendez is going to take another fight with a non-contender, where does he fit into all this?

Todd Vote: FACT. Are we taking this seriously at all? I mean the dude has also said him and Gilbert are the number one and number two lightweights in the world.. Okay, pretending he was serious about the above statement, it is probably the dumbest move he could make. If the situation arose that there was an injury, what makes him think that he would be the one Dana and co called on?The dude is 1-2 in his last 3 fights, one of those being a loss where he was completely dominated by the champ.

The top of the division has seen a bit of change recently, but I don't expect Diaz to fare any better against Pettis, or hell, in a second fight with Thompson or Henderson if it were to come to that.

---

If Twitter would just ban anyone related to MMA, no matter how tangentially, the sport would be better off.



4.) The way Shane del Rosario's team handled del Rosario's medical emergency situation on Twitter exemplifies one of the biggest problems with MMA and social media - a rush to get news out there without doing the proper fact checking.

Todd Vote: FACT. When I am going to the staff forums to find out what is really going on with this poor man, then yes. I would say dispersing of the news needed to be handled better. I couldn't find anything solid one way or the other about whether or not del Rosario was even still alive. With that out of the way, thoughts and prayers out to the del Rosario family.

Jonathan Solomon: FICTION - I wouldn't say what happened is one of the biggest problems with MMA. With social media, no doubt about it. But, the way the SDR story took twists and turns (when, apparently, nothing new transpired for hours) was very disconcerting. You had ESPN.com putting up a story, supposedly written by Josh Gross that actually was not, referring to del Rosario passing away. UFC president Dana White (and scores of other folks) under the impression he passed away tweeted out "RIP" messages. All the while, it took people actually close to SDR (such as Ian McCall) and some who actually sought out concrete info (like Josh Gross). On the whole, if you stick with the main MMA journalists who have sources with the fighters/promoters, you'll tend to get to the bottom of news. There will be times when it turns out one side is playing the writer for their own gain (or sometimes when the story is just plain wrong -- UFC.com reporting Bibiano Fernandes signed with them --, but I would not say this is a routine error we see.

---

TUF: Nations > TUF: Brasil?



5.) TUF Nations: Canada vs Australia will be received better in the United States than TUF: Brasil.

Jonathan Solomon: FICTION The only reason you can say otherwise is because the upcoming FS1 season in January will be in English. Regardless of if subtitles are needed or not, the masses do not care about The Ultimate Fighter, and they care even less about these TUF seasons geared towards the international community. In fact, I cannot recall an ounce of any interest in the TUF: Brazil seasons in the U.S. Those two seasons aired here over the internet with subtitles and then one day, there happened to be an event with the final fights on Fox Sports 1. Even the UK/Australian season didn't even air in the United States. With the January season actually airing on FS1, it's just a move by the network to get as much UFC programming as they can. While the network is still new and trying to build an audience, first-run UFC content is going to get them bigger numbers than anything else they can put on a Tuesday or Wednesday night in the winter. However, you will find that the base audience watching this season is going to drop each week (as this past TUF season did). So, no, no TUF season will be received better than any other. It's just here and most will not even notice besides the commercials during UFC pay-per-views.

Todd Vote: FACT The Canadian vs Australian season will at least feature mostly English speaking people, I am assuming. It seems narrow minded, but a lot of people don't like to have to read their TV. It distracts from watching what is unfolding on the screen.

Though I don't think there is any version of TUF left that would boost the ratings short of another TUF: The Comeback season. Maybe a complete retooling where they feature relevant fighters instead of up and comers that 99% of the world hasn't heard of?

---


Who do you think won this week? Was Solomon as unstoppable as his Marvel namesake, or did Todd do enough to earn your Vote? Voting will be open until midnight EST on Saturday, so make sure you vote and make your voice heard!








---

Would an all-female season even help?



Bonus) With Paul Walker's untimely death, Fast and Furious 7 should be the final installment of the franchise.

Todd Vote: Fiction I don't see why. They have written characters in and out of the franchise before. I don't see why giving Brian a solid send off would mean the franchise has to end. I would be okay if they decided to do this, and it would be a fitting tribute to Walker, but I don't think they necessarily have to.

Jonathan Solomon: FICTION I haven't seen a Fast and Furious flick in years, so I'm not the best person to answer this. It's an action series built around explosions, cars and women, so unless people stop buying tickets to the 7th edition, why stop? Certainly, seeing a Fast and Furious commercial recently was crazy eery seeing Paul Walker shown in a scene inside a fast car, but losing an actor doesn't necessarily mean the studio should can the franchise.

---


And that's it for this week! As always, if there's anything you'd like to see featured in a future edition, leave your statement in the comments and I'll add it in. Let us know what you thought in the comments, on Twitter, or on Google+.


comments powered by