SPOTLIGHTS
Thoughts From Across The Pond 12.06.13: TUF 18.13, TUF Finale & Season Reflection
Posted by Alex Watt on 12.06.2013

411's Alex Watt reviews the thirteenth and final episode of The Ultimate Fighter 18, gives his thoughts on the finale and analyses the season as a whole. Was the co-ed season a success? How did coaches Ronda Rousey and Miesha Tate fare? And did the season serve its purpose of promoting women's MMA?

My previous reviews of The Ultimate Fighter 18:

Episode 12 – One Punch Away

Episode 11 – Mean Girls

Episode 10 - HWPO

Episode 9 - Sacrifice

Episode 6 & 7 – Little Princesses & Zone In

Episode 5 - Redemption

Episode 4 – Use The Force

Episode 3 – Stick and Move

Episode 2 – Ladies First

Episode 1 – History In The Making

I was on the Grapple Talk podcast with Callum Leslie and Adam Martin last week to discuss TUF 18. Give it a listen!


The Ultimate Fighter – "Aiming For The Top" (S18 / E13)



"I was the last pick, the last girl, but look where I am now. And I'm aiming for the top here. I'm not just wanting to be an MMA fighter, I want to be a champion. And I always do what I say I'm gonna do."



Always leave them wanting more.

If the man who said that watched this week's final instalment of The Ultimate Fighter 18, I fear he would have been even more disappointed than I was.

This season, which started so brilliantly and so full of promise, has rapidly been losing momentum in the last couple of weeks. It didn't help matters, of course, that last week's episode didn't actually feature a fight due to Anthony Gutierrez infamously missing weight.

That is not to say that "Aiming For The Top" was completely without merit – there were some fun moments along the way – but after this season started so vividly, this felt like such a damp squib of an ending.

The biggest issue in causing this was that the anticipated fight between Jessica Rackozcy and Raquel Pennington ended up being a bit of a disappointment, primarily because both women were carrying significant injuries into the bout.

Pennington had seriously injured her hand, while Racozky was still suffering from the shoulder injury she suffered weeks ago, a problem exacerbated when Chris Beal accidentally clocked her with force in training.

Come fight time, as many people noted after the fact, Pennington just "didn't show up", while Rakozcy turned in a solid performance, landing crisp punches, displaying evasive head movement and some great takedown defence.

As UFC President Dana White noted afterwards, it "was not the fight I thought it was going to be. Not at all what I expected to see happen."

Rakozcy ultimately took a lopsided unanimous decision, of 30-27 scores across the board.

It was a flat ending to a season which had started with such fire and saw the female bantamweights consistently steal the show.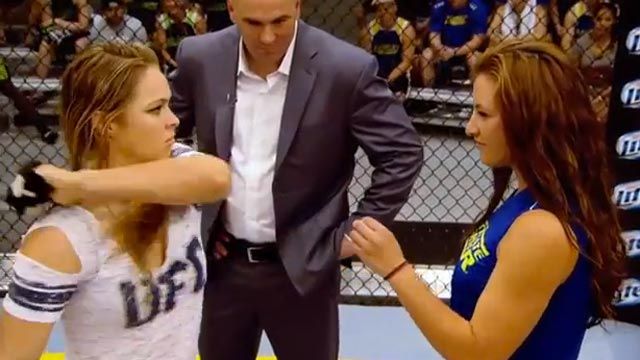 In sharp contrast, the final faceoff between coaches and rivals to hype their December 28th title tussle, was anything but a letdown.

"The thing about Ronda is," said Dana White, setting up the moment, "She hates Miesha Tate and Miesha Tate likes to push her buttons."

Cue Tate producing a pair of socks laden with images of middle fingers as payback for all the birds Rousey has flipped in her direction over the course of the season.

Now, that was funny.

Unsurprisingly, Ronda didn't think so. She slapped the socks out of Miesha's hands and got right in her face for the staredown, as Miesha blew her a kiss.

You've got to hand it to Miesha, whether you agree with the way she goes about her business or not, she's courageous. I don't know if any other fighter would be so quick to actively mock a fighter who had mutilated her arm in such gruesome fashion the last time they met in the cage.

"Get used to wiping you're a** with the other hand, motherf*****," said Rousey pointedly to her foe, before storming out of the gym and at least bringing TUF 18 to its conclusion on a much needed dramatic note.

Still, although the season lost momentum along the way, it achieved its potential of bringing new eyes to female fighters in the UFC. The higher ratings for the female focused episodes demonstrated that women's MMA is here to stay and its only going to keep growing from here.

I'll leave the final words to Raquel Pennington, who perfectly summed up the season, women's MMA and the experience of fighting in the UFC.

"It's not for everybody and some people do think that we have a few screws loose - and, who knows, maybe we do - but I know that I love it."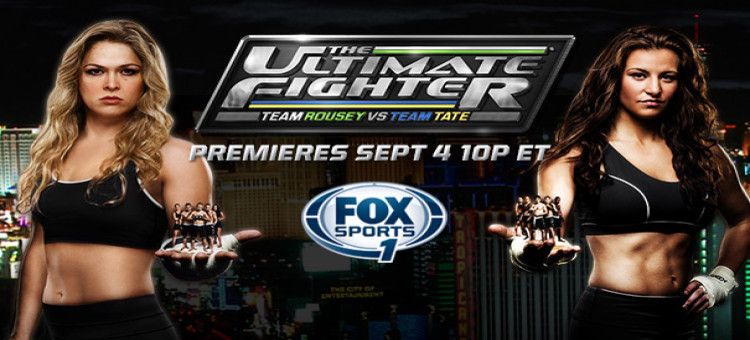 Elsewhere in TUF…
I feel Rousey would be missing a trick if she doesn't wear those middle finger socks to the UFC 168 weigh-ins.


Everyone seemed to be sporting a black eye by the final episode. Josh Hill, Peggy Morgan, Jessamyn Duke and Roxanne Modaferri all appeared on camera with a shiner at one point or another.


"I never thought of having syrup with bacon before!" David Grant gets some U.S. culture.


"I'm so relaxed, it's f***ing weird," says Pennington before her semi-final fight. It's never a good sign if something feels inconsistent prior to a fight.


"I had the weirdest dream ever," Raquel Pennington recounts to Roxanne Modaferri and the TUF approved hairdresser. "I was at a park. I got into a fight with somebody and fireworks were going off. It was just not good, it was weird. It stressed me out for some reason."


"Raquel just wasn't listening, she didn't really follow the gameplan," claims Miesha Tate. The editing team then cut to her shouting such helpful mid-fight advice as, "Get after it Rocky! Go! Let's get on it!" I'm not sure if that was some sort of inside joke at Tate's coaching technique or not.


An emotional Pennington was consoled by a similarly emotional Miesha Tate after the fight, which was nice to see considering the issues they had a few weeks ago.


I've said it before, but I feel the need to reiterate it, Edmond showed once again in this episode that when he isn't being ridiculously intense and getting angry with everyone, he is a knowledgeable and informative striking coach and cornerman.


"I think she liked it," chuckled Miesha Tate on her not-so-well-received present to Miss. Rousey. As last words go, they're not the most inspiring.


---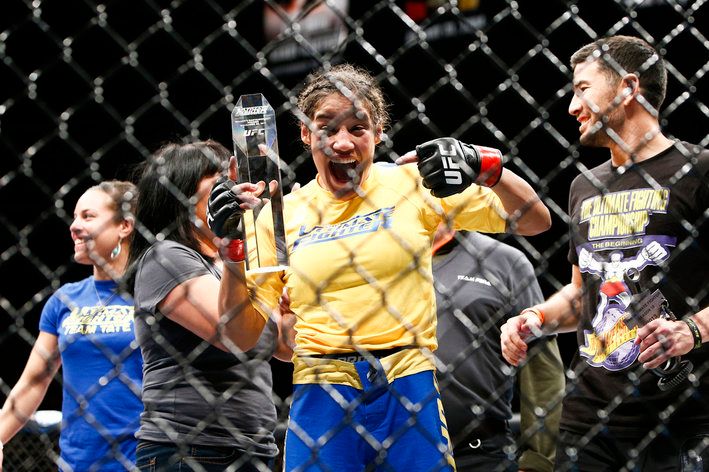 TUF 18 Finale Thoughts…
The Ultimate Fighter Finale was a weak card on paper, and a poorly promoted one to boot. In many ways it summed up how quickly such an entertaining season of the reality show lost its way.


The Ultimate Fighter 18 may have been something of a season of upsets but when it came to the finale fights everything went to script as the favourites, Julianna Peña and Chris Holdsworth, took home the trophies.


Tellingly, all eight women from the show were invited back by the UFC to compete on the Finale. Six did so, with Sarah Moras and Shayna Baszler's debuts delayed by injuries. Conversely none of the male competitors, besides the two finalists, were given a shot on the show. Make of that what you will.


In the women's final, Julianna Peña showed her fight intelligence as she wasted no time in taking former 33-3 boxer Jessica Rakoczy to the mat. Rakoczy fought valiantly from her back and was able to scramble to her feet early on but she was simply overwhelmed by the far superior grappler. Peña was relentless and secured mount for a good two minutes and ultimately TKO'd Rakozcy with punches and elbows as just one second remained in the round to take the win for herself and Team Tate. Peña has unquestionably been this season's breakout star, defeating tournament favourite Shayna Baszler in the first round, avenging a prior loss to Sarah Moras in the semi-finals and winning the final in impressive fashion. Dana White was a self confessed fan of "The Venezuelan Vixen" on the show and with her raw talent, great work ethic and good looks, the UFC will be hoping for big things from the first ever female TUF winner.


In the men's final, the first round was more evenly contested than that of their female counterparts. David Grant demonstrated some good takedown defence against grappler Chris Holdsworth and they exchanged some hard punches in a stanza contested almost exclusively on the feet. In the second round, however, Holdsworth showed the class which had marked him out as an early favourite to win this competition. Grant landed some solid striking at the start of the round but Holdsworth was able to take him down from the clinch. From there, the Team Alpha Male fighter showed his class on the ground, quickly taking the back, securing a body triangle and locking in a tight rear naked choke for the submission win. Holdsworth is talented enough that he could make a dent in the UFC's deep 135lbs division. The Brit David Grant may have more trouble making his mark but he is a talented fighter in his own right and it is nice to hear that he has been given a second shot inside the Octagon.


In the other fights between TUF 18 contestants, Jessamyn Duke defeated Peggy Morgan and Raquel Pennington bested Roxanne Modaferri. Both were exciting (if sloppy) back and forth contests which went the distance. Duke and Pennington's futures in the UFC seemed secure after their war in episode 6 but they made sure they secured contracts with victories on the big show. Hopefully Morgan and Modaferri will also be kept around in the still growing UFC women's bantamweight division.


Check out Roxanne Modaferri's typically charming blog about the experience of fighting in the UFC.


The coaches were interviewed on the Finale broadcast too, in what made for an extremely awkward but highly entertaining viewing experience. Ronda Rousey and Miesha Tate clearly wanted nothing less than to be standing side-by-side as Jon Anik quizzed them and the tension between the two was palpable. Neither woman looked at each other for the entire segment, which served to hype their UFC 168 title meeting in four weeks' time. Miesha claimed that "me and my coaches have put together a great gameplan" but Rousey's pointed, "I feel like I have so many advantages, it's hard to say which is the biggest" probably said it all.


In the main event between TUF 5 alumni, Nate Diaz defeated Gray Maynard in the opening round of their third meeting. The two had split the series (Diaz won their semi-final fight on TUF 5 by submission and Maynard won a decision in 2010). The fight was fairly evenly contested until Diaz rocked Gray with a wicked left straight. From there, Nate opened up on Maynard, who was backed up against the fence, with the trademark high volume Diaz boxing. A somehow still upright Maynard ate a lot of punches until referee Yves Lavigne waved off the fight and a dazed Maynard fell to the floor. Diaz looked great following his first ever TKO loss against Josh Thomson last time out, while Maynard's stock has fallen dramatically since his classic title tussles with Frankie Edgar in 2011. Injuries, a change of team and a fading chin have all contributed to "The Bully's" decline.


---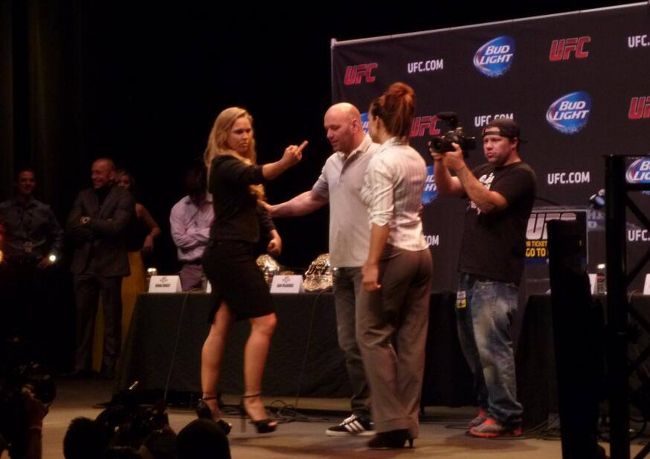 In Conclusion…

The Ultimate Fighter 18 was a season which started with a tonne of hype and excitement but, sadly, as so many recent season's of TUF have, it ended with a whimper.

At the beginning of its eighteenth incarnation, the franchise appeared to be back on track. The first episode, though rushed, was compelling, not least because the producers and contestants hammered home the importance of it being the first season of the reality show to feature female contestants.

Episodes 2 and 4 too, were the most gripping episodes of The Ultimate Fighter that I've had the pleasure of watching in years; the dramatic fallout from Pena vs. Baszler and the highly charged emotion of Modaferri vs. Rakoczy, were examples of what this show can achieve at its best. And, of course, everyone can point to that tremendous Pennington vs. Duke fight in episode 6 as a great centerpiece for the season.

The season lost momentum as it progressed, however. Part of this was the co-ed format. It simply didn't work. There was no real tension - dramatic, sexual or otherwise - between the male and female contestants and, for the most part, everyone got along just fine. That doesn't make for great television and besides a couple of minutes of flirting between Julianna Pena and Chris Holdsworth and an entertaining game of Truth or Dare, the co-ed idea never lived up to what the reality TV producers were hoping for.

The bigger issue was the male contestants themselves. They were consistently outshone by their female counterparts. This wasn't a major surprise, given the experience and talent of some of the women involved and the compelling backstories that many of them had, but it was still a shock to witness the extent to which they left their male counterparts in the dark.

Naturally, it didn't help that two of the male contestants missed weight, a first for the show. Even beyond that, there was little that was memorable on the male side of the draw. With the exception of Chris Holdsworth, who was talented enough that he probably would have been given a shot in the UFC soon enough without having to go via the TUF route, and possibly David Grant, none of the other male competitors really stood out or looked like a prospect one could imagine making a splash in the Octagon. There was a reason none of the other six guys were invited to compete on the Finale show and all the women were.

Those episodes focusing on the female bantamweights produced the better ratings and we can now only imagine how good this season could have been if all 16 females who fought in episode 1 had made it into the house, rather than the 8 men and 8 women. I personally feel as though it would have made for a better season. Hopefully the UFC learns from this mistake and puts together a complete female season of The Ultimate Fighter in 2014, perhaps focusing on the forthcoming 115lbs weight class.

That is, of course, if the UFC remains committed to its reality television franchise. It seems to many that The Ultimate Fighter has run its natural course and the ratings seem to back that opinion up. This season offered a new and exciting twist on the stale format but even that couldn't spike the poor ratings.

And what of the coaches?

The pairing of Ronda Rousey vs. Miesha Tate was clearly what the UFC and TUF producers had wanted all along. The history and simmering tension in the feud between the two was expected to make for dramatic and compelling television. That is why, once Cat Zingano suffered an injury, Tate was drafted in as replacement coach. This despite the fact that she was coming off a loss to Zingano and will now receive a crack at a UFC World Championship, despite not actually having won a fight in the UFC yet.

Perhaps, in hindsight, it would have been wiser for the UFC brass to replace Zingano with Sara McMann or Alexis Davis, both competitors who won their Octagon debuts, and who would have benefited more from the weekly exposure on The Ultimate Fighter.

It would have made for a very different season, that's for sure. Without the hatred between Rousey and her counterpart in those alternative scenarios, it could have been that we saw the more reserved and respectful side of the reigning UFC Women's Bantamweight champ. Perhaps the UFC regrets their decision now, as there is no doubt that coaching opposite Miesha Tate brought out the worst in Rousey.

Did the Rousey vs. Tate dynamic make for good television? Probably. There were enough arguments, emotion, ill-judged pranks and middle fingers flipped to make for some entertaining moments. However, Rousey's intensity in the situation turned many viewers against her and the UFC's poster girl was revealed to be not such a golden girl.

I've defended Rousey on many occasions this season, primarily because I find her a fascinating character and an inspiring sportswoman. She shared a great bond with her team (one look at how many of Team Rousey have been training with her since the show ended should tell you that) and, despite two Team Tate members winning the competition, she was probably the better all-round coach than her counterpart. And Miesha herself, despite coming across well in terms of being a more reserved character, did not cover herself in glory with her own behaviour at times and sometimes came across as somewhat fake and bitchy.

Even so, it was Rousey's brash personality which was the big talking point of the season and it turned a lot of people off the defending UFC champ.

Then again, maybe this is not such a bad thing. As long as Rousey is prompting some sort of reaction from fans then she is doing something right. She's brought new fans to the sport through the TUF process, and new and existing fans will either love her or hate her. That the divisive Rousey inspires a reaction - like Floyd Mayweather or Jon Jones - will likely pay dividends for the UFC as women's MMA continues to rise in the promotion.

And when Ronda Rousey enters the Mandalay Bay on December 28th to the strains of Bad Reputation by Joan Jett (surely one of the most perfectly judged walkout songs in UFC history), there will be a huge response to the reigning champ. Whether people are cheering her or booing her, Rousey and the UFC will likely not care as long as those fans are pouring their money into the company to watch whether a supremely talented fighter wins or loses.


---
To close, here's Ronda Rousey's tremendous appearance on Jimmy Kimmel Live on Monday evening, in which she charms the audience and the host and proves all her "haterz" very wrong indeed. Enjoy.





And that's all for this week. I hope you've enjoyed my weekly parade through the eighteenth season of The Ultimate Fighter. Thoughts From Across The Pond will return to random ramblings on whatever is newsworthy in the world of MMA next time around.

If you enjoy the column please do follow me on twitter at AlexWattMMA

Thanks for reading and if you have any comments or feedback please leave them below or message me on twitter. Cheers.
comments powered by