SPOTLIGHTS
411's MMA Roundtable Preview - UFC Fight Night: Hunt vs. Bigfoot
Posted by Dan Plunkett on 12.06.2013

Mark Hunt battles Antonio Silva in the main event of UFC Fight Night 33! Plus Shogun Rua fights James Te Huna, Ryan Bader faces Anthony Perosh and more! Check out the full roundtable for all the details and join 411 for LIVE coverage of the event on Friday night!




WELCOME:
Mark Hunt and Antonio "Bigfoot" Silva look to rebound from losses when they fight in the main event of UFC Fight Night from Brisbane, Australia! In the co-main event, Mauricio "Shogun" Rua seeks his first win in more than a year against James Te Huna. Also, Ryan Bader faces Anthony Perosh in light heavyweight action. At heavyweight, Pat Barry battles Soa Palelei. Plus, Dylan Andrews goes up against Clint Hester, Julie Kedzie vs. Bethe Correia, and more!

THE STAFF:


From MMA's 3R's, Jeffrey Harris!


From What's Next, Robert Practor!


From the Locked in the Guillotine MMA News Report, Robert Winfree!


From Five Quick Rounds, Evan Zivin!


From Forgotten Fights, Paul Lapointe!


From The 411 MMA Top 10, Alex Rella!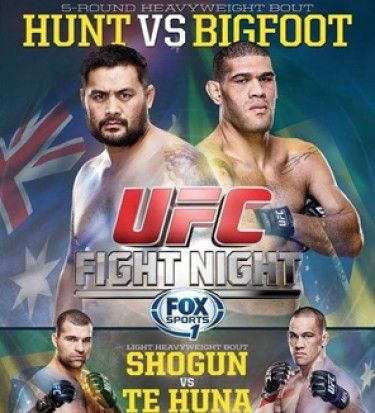 THE PRELIMINARY CARD:




First prelim online, rest on Fox Sports 2.




Welterweight Bout: Ben Wall vs. Alex Garcia



Jeffrey Harris: Alex Garcia, Decision
Robert Practor: Alex Garcia, TKO, Round 1
Robert Winfree: Alex Garcia, Decision
Evan Zivin: Alex Garcia, TKO, Round 2
Paul Lapointe: Garcia, TKO, RD3
Alex Rella: Garcia, Decision
The staff picks Alex Garcia, 6-0.



Middleweight Bout: Bruno Santos vs. Krzysztof Jotko



Jeffrey Harris: Bruno Santos, Decision
Robert Practor: Bruno Santos, Decision
Robert Winfree: Bruno Santos, Decision
Evan Zivin: Bruno Santos, Decision
Paul Lapointe: Santos, Decision, RD3
Alex Rella: Jotko, Decision
The staff picks Bruno Santos, 5-1.



Flyweight Bout: Richie Vaculik vs. Justin Scoggins



Jeffrey Harris: Richie Vaculik, Decision
Robert Practor: Justin Scoggins, KO, Round 1
Robert Winfree: Justin Scoggins, Decision
Evan Zivin: Richie Vaculik, Submission, Round 1
Paul Lapointe: Scoggins, KO, RD2
Alex Rella: Vaculik, Decision
The staff calls it a draw, 3-3.



Middleweight Bout: Nick Ring vs. Caio Magalhaes



Jeffrey Harris: Nick Ring, Decision
Robert Practor: Nick Ring, Decision
Robert Winfree: Nick Ring, Decision
Evan Zivin: Nick Ring, Decision
Paul Lapointe: Ring, Decision, RD3
Alex Rella: Ring, Decision
The staff picks Nick Ring, 6-0.



Bantamweight Bout: Takeya Mizugaki vs. Nam Phan



Jeffrey Harris: Takeya Mizugaki, Decision
Robert Practor: Takeya Mizugaki, Decision
Robert Winfree: Takeya Mizugaki, Decision
Evan Zivin: Takeya Mizugaki, Decision
Paul Lapointe: Mizugaki, Decision, RD3
Alex Rella: Mizugaki, Decision
The staff picks Takeya Mizugaki, 6-0.

---




THE MAIN CARD:




Bantamweight Bout: Julie Kedzie vs. Bethe Correia



Jeffrey Harris: This fight now makes the main card as Julie Kedzie faces the debuting, undefeated Bethe Correia. Kedzie is at a bit of a crossroads now. She's in the UFC now, but she lost her debut to Germaine de Randamie in a dull performance on her part. She might not be cut were she to lose because the women's division is still being built and is shorter on prolific experienced names. I think frequently the problem I have breaking down a fight like this is a lack of familiarity with the opponent Correia. She's a Brazilian fighter and has only finished a fight by knockout once in smaller promotions. Kedzie might not be mentally ready to win the UFC, but I think this is an opponent she can beat with her skill set if she puts it together.

Winner: Julie Kedzie, Submission, Round 2

Robert Practor: Bethe Correia has a perfect 6-0 record but it comes with the qualifications that the wins came in very minor league promotions against other unproven fighters. The fact that the UFC brought her in without any experience in a larger organization makes me wonder what they see in her. Julie Kedzie, on the otherhand, is a long-time veteran and we generally know what to expect from her. She has dropped three straight and I am going to go out on a limb and pick Correia here, leading to a possible release for Kedzie.

Winner: Bethe Correia, Decision

Robert Winfree: Julie Kedzie really needs a win here, she's lost three in a row and if she loses here we could just wind up hearing her broadcast Invicta cards. This seems like a designated win for Kedzie, though this is MMA and Bethe Correia might be waiting to make her big debut. I'm just a tad more comfortable picking Kedzie.

Winner: Julie Kedzie, Decision

Evan Zivin: Julie Kedzie is a veteran of women's MMA (competing since 2004) and is a very tough opponent, but she's barely won more fights than she's lost. She comes into this fight on a 3 fight losing streak after going winless in Strikeforce and dropping a decision in her UFC debut to Germaine de Randamie. This might be a fight made to give Kedzie a win but I feel like the 6-0 Brazilian who trains with the Pitbull Brothers is going to show up and surprise everyone with her ability to take the fight to Kedzie. I forsee a close fight and if Kedzie wins, which she should if she wants to continue fighting in the UFC, it will be just barely. It won't surprise me if Correia wins, though.

Winner: Julie Kedzie, Decision

Paul Lapointe: Hooray for ladies!!! With the Lee-Roy/Gagnon bout being put on the sidelines for the moment the ladies get the promotion here. Now most peeps are swaying towards the opinion that Takeya/Nam bout should have been upgraded but more exposure to the ladies I think is for the better considering Phan could be on the outs. That being said Beth is a little green around the edges and is a replacement fighter anyhow and has little experience on a grand stage, but Kedzie is the polar opposite. So the grizzled vet Vs the upstart is always a quandary when it comes to choosing sides. Could Beth surprise us or Julie just to be too tough for her own good? That being said I think Kedzie did enough to win her lost bout that went the other way and if she can apply the same aesthetic here she can be victorious. Guts, grit and fortitude or its the door. This could get ugly or go any which way, I am curious as to what will go down.

Winner: Kedzie, Decision, RD3

Alex Rella: This is a huge fight for both ladies and should be a good fight to start off the main card. Bethe Cerreia is undefeated and making her UFC debut against one of the true veterans of women's MMA. The UFC wants to keep Julie Kedzie as she is one of the more notable names in the division that has some great battles over the years, but she has to win this one. She's lost three in a row in Strikeforce and the UFC and a fourth would certainly put her job in jeopardy. I've looked up a few of Correira's fights and she's good, but I don't know if she'll be a top fighter against much better competition. I'll take the more experienced fighter in this one.

Winner: Kedzie, Decision

The staff picks Julie Kedzie, 5-1.

---




Middleweight Bout: Dylan Andrews vs. Clint Hester



Jeffrey Harris: Both fighters look to extend their UFC records to 2-0 with this bout. Both fighters were cast members of TUF 17 as well. Andrews made it to the semifinals before getting knocked out by Uriah Hall. He earlier did knock out and had a great fight with Luke Barnatt. Hester lost early in the season before getting a shot in the UFC where he knocked out Bristol Marunde. I see this likely being a fun, middleweight scrap. Ultimately, I am giving the striking and experience edge to Andrews who I think will edge it out.

Winner: Dylan Andrews, Decision

Robert Practor: This should be a fun fight. If Hester can avoid a few of Andrew's takedowns, he should have time to land a knockout blow.

Winner: Clint Hester, TKO, Round 2

Robert Winfree: I don't remember too much about these two guys off the top of my head, Dylan Andrews had a pretty sweet comeback victory against Papy Abedi in his last fight, and digging deep in the third round is a great sign of what a fighter is capable of. Hester knocked out Bristol Marunde in his last fight, another good indicator. Contrary to what I said on the 411 Ground and Pound Radio show, I'm actually going to go with Andrews here. I completely forgot that he knocked out Abedi after being dominated for two rounds, and that weighs heavily in my estimation.

Winner: Dylan Andrews, TKO Round 2

Evan Zivin: This fight is a battle between the first and the last pick for Team Jones on The Ultimate Fighter 17. Hester lost his first round fight whereas Andrews made it to the semi-finals, losing to runner-up Uriah Hall. Both men are undefeated since leaving the show. Hester is known primarily for his boxing and, even though he hasn't lost too many fights, he is susceptible to being taken down and submitted. This is an advantage that Andrews has over Hester that I expect him to use. His striking is good enough to keep Hester busy on the feet until Andrews can shoot in and take over on the ground before tapping him sometime during the middle of the fight. Andrews is also extremely durable which will serve him well in surviving Hester's offense long enough to get the fight where he needs it to be to end it.

Winner: Dylan Andrews, Submission, Round 2

Paul Lapointe: Battle of the Tuff-ites! originally scheduled to compete against each other before an injury gave to this re-booking Andrews/Hester is a go. This bout to me really is a litmus test for these guys as both cannot feasibly make headway in the middleweight division other then middle of the road gatekeeper in my eyes. The difference with that statement in regards to this fight is the loser will see the door sooner rather then later. I like Dylan here not just for the home-esque advantage but experience and attitude. I think Clint is a proficient striker but that is it though being tough is a plus for him. Dylan proved that he can withstand adversity when he was down 2 rounds to none against Papy Abedi last time out and came back with a come from behind KO. So if Dylan is smart here he should exploit a potential ground and pound advantage when it comes to striking as Clint's ground game unless otherwise worked on is pretty limited for his style/cardio.

Winner: Andrews, TKO, RD2

Alex Rella: The UFC loves to throw former TUF competitors up against each other and it makes sense as both guys look to move up the middleweight division rankings. Hester is a very strong striker, but that's about all I've seen from him so far. Andrews has looked great from what I've seen so far. He had some nice fights on the show and had an awesome come back against Papy Abedi. I'll take Andrews as I think he's better rounded as a fighter and he's more experienced.

Winner: Andrews, Submission, Round 3

The staff picks Dylan Andrews, 5-1.

---




Heavyweight Bout: Pat Barry vs. Soa Palelei



Jeffrey Harris: I can only think that Mark Radulich is pumped for this matchup and a main card with two heavyweight bouts. Pat Barry is one of the most exciting fighters to watch in the UFC, but he's never even been able to put two wins together. It seems whenever he takes two steps forward and shows improvement in some area, he takes two steps back in another. Palelei is a big guy that does hit hard, but his striking and overall game is very sloppy and his cardio leaves a lot to be desired. Here, I'm picking Barry to come out of this with the victory with a quick knockout stoppage.

Winner: Pat Barry, TKO, Round 1

Robert Practor: This is the perfect fight to see where Soa Palelei stands in the UFC. Palelei bored everyone to tears in his most recent fight. We'll see if the rib injury was truly to blame for that and if he can get a big win in front of his Australian fans. This fight will end in the first round regardless of who gets the W, and I see Barry's glass jaw leading to him staring up at the lights again.

Winner: Soa Palelei, KO, Round 1

Robert Winfree: Ah heavyweights, what would we do without you? We'd have to find another division to mock, and that just wouldn't be the same. Pat Barry is, objectively speaking, a better fighter than Soa Palelei. His striking is exceptional, and he has pretty good conditioning. That said, Barry is a touch chinny and is vulnerable to being blitzed, which is precisely what Shawn Jordan did to him. I think Palelei does the same thing, blitzes Barry before Barry can react properly and finishes him. If this goes beyond three minutes though it's going to be all Pat Barry.

Winner: Soa Palelei, TKO Round 1

Evan Zivin: I like Pat Barry. He's a good guy with an entertaining personality and extremely crisp kickboxing. It's just too bad he has never been able to find a way to wreck other fighters with his striking without getting wrecked himself. He's teetering closer and closer to having a .500 professional MMA record and I don't think this fight will help. Palelei doesn't have as much experience in the UFC as Barry does but he does have 15 (T)KO's on his record, including knockouts of Sean McCorkle and Bob Sapp. Yeah, that's not very impressive either, but the biggest name Barry has defeated is Shane del Rosario (get well soon) so I say it's fairly even in that respect. Either way, someone is getting stopped and Barry has been stopped twice as much as Palelei, so go get him, Hulk.

Winner: Soa Palelei, TKO, Round 1

Paul Lapointe: Glass Jaw/No Cardio which is best? Well Soa huffs and puffs and knocks himself down after 5 minutes and Barry should try to use that. Bowling shoe ugliness aside from the last time out for Soa I think he just gets too reckless here to make up for whatever may have been his issue last time in the octagon. Barry is exciting and is kept around for that reason and with his exp. in kickboxing it could be the x factor here. With Soa's power in the back of his mind he should try to keep distance and utilize a kicking advantage to hobble Soa en route to turning up the punching volume. If Barry lets this fight develop instead of grow over eager as he always seems to do in fights he could put Soa to sleep.

Winner: Barry, TKO, RD1

Alex Rella: I'm hoping this one is a fun heavyweight slugfest instead of Palelei's last fight. Palelei is on a very nice winning streak, but I see it ending here. He's a strong striker, but he's sloppy and runs out of gas after the first round. Barry has a hard time putting together consecutive wins, but he's still the better overall fighter. He's a stronger more accurate striker and with much better stamina. Barry will be competing with the guys in the main event for the KO of the Night bonus.

Winner: Barry, KO, Round 2

The staff calls it a draw, 3-3.

---




Light Heavyweight Bout: Ryan Bader vs. Anthony Perosh



Jeffrey Harris: This fight is kind of flying under the radar as it has all the makings of being a fun light heavyweight contest. If you look at both guys UFC records, there is a pretty good chance of either guy getting finished or crashing and burning in exciting fashion. Perosh, at the age of 41, has done OK for himself in his second UFC run at light heavyweight. He was a very last-minute replacement for Ben Rothwell against Mirko "Cro Cop" Filipovic at UFC 110. He moved down to light heavyweight and has gone 4-1 since then, finishing all of his opponents including Cyrille Diabate and Vinny Magalhaes. Ryan Bader might never be able to work to contender status, and his chin is a little questionable at this point after getting dropped and subsequently choked out by Tito Ortiz in 2011. He's shown some questionable strategies when fighting bigger higher-level opponents with a lot on the line against Jon Jones and Lyoto Machida. Still, I think Bader is skilled enough to avoid getting knocke dout by Perosh here. Bader is not a knockout artist, but he packs a decent amount of power in his punches as well. I see Bader catching Perosh at some point with an overhand right and ground and pounding him for the TKO stoppage.

Winner: Ryan Bader, TKO, Round 1

Robert Practor: Ryan Bader is much younger, bigger, and more athletic that Perosh. While Bader struggles against top-level competition, this should be an easy win for him here. This is a big test for Perosh and I see him falling to Bader's power early in the fight.

Winner: Ryan Bader, TKO, Round 1

Robert Winfree: I don't care much for Ryan Bader, it's nothing personal as I've never met the guy but I don't usually like his fights. The same is true in many ways of Anthony Perosh, so you can just imagine my level of excitement for this fight. Perosh is a good grappler, but very reliant on top position for his grappling and he doesn't have the takedown skills to put Bader on his back. Perosh is a tad chinny, and easy to hit, but the same is true of Bader. This will come down to who lands first, and much as I dislike Bader's fights I think he'll land first.

Winner: Ryan Bader, TKO Round 1

Evan Zivin: This is Bader's return fight after getting knocked out by Glover Teixeira back in September. This is Perosh's step-up after knocking out Vinny Magalhaes in 14 seconds. I don't know if that win says more about Anthony's skills or how seriously Vinny didn't take that fight but I don't see him knocking out Bader. I don't see him beating Bader. Bader is a fighter with heavy hands and strong, college-level wrestling that should allow him to take Perosh down quite easily if he needs to. Perosh is a much more dangerous ground fighter than striker, thanks to a 3rd degree black belt in BJJ, but Bader is good enough to avoid any dangerous situations that he might encounter on the ground with Perosh. That last point is irrelevant anyway because Bader will keep the fighting standing and throw overhands until Perosh goes down, which should happen fairly quick.

Winner: Ryan Bader, TKO, Round 1

Paul Lapointe: I do not see Perosh knocking anybody out in record time either for or against this time out. Bader is a grinder and his last loss to Glover may have finally been the wake up moment for him to reel back a little more and to utilize his strength...wrestling. So, as American wrestlers always do when in a bind they go back to the bread and the butter. Pushing and surging into his 40's Perosh is just biding his time till his contract expires and under a constant muffle of top control I see him playing defense just enough to not get dominated but not come close to winning.

Winner: Bader, TKO, RD2

Alex Rella: Everybody likes to rip on Ryan Bader, but he's actually a pretty good fighter. He's consistently in the top ten and with the exception of the loss to Tito Ortiz, he only losses to elite level fighters. I just don't see how Perosh can win this one. Bader is a better wrestler and striker. I expect an early finish for Bader in what should hopefully be a fin quick fight.

Winner: Bader, TKO, Round 1

The staff picks Ryan Bader, 6-0.

---




Light Heavyweight Bout: Mauricio Rua vs. James Te Huna



Jeffrey Harris: While I think Rua is likely at the tail end of his MMA career, this is a fight I think is still probably winnable for him, provided he's put in the effort in training. Though with some of Shogun's efforts as of late, a tough fighter like Te Huna getting the upset wouldn't surprise. Te Huna is not a world beater or an elite class light heavyweight, but he's 5-2 in the UFC with his only two losses coming from Alexander Gustafsson and Glover Teixeira, the two top contenders in the division right now. I see this as being a major crossroads for Shogun because if he loses here, there will not be much left for him except maybe a couple special attraction fights like a rematch with Dan Henderson. Standing, I generally give the edge to Shogun with his striking and kickboxing here.

Winner: Mauricio Rua, TKO, Round 3

Robert Practor: Shogun Rua has gone 5-6 in his time in the UFC and has just never been the same since his injuries have begun to pile up. Since losing the Light Heavyweight title to Jon Jones, the only wins he has picked up were against a clearly not-there Forrest Griffin and against Brandon Vera, a fight in which he had a lot more difficulty than he should have. Shogun is coming off of two dominant losses against Alexander Gustaffson and Chael Sonnen. He's clearly near the end of his career, but I am just not as sold on James Te Huna as others seem to be, and I see Shogun holding on just a bit longer.

Winner: Mauricio Rua, Decision

Robert Winfree: The fact that I have been going back and forth over the winner of this fight is a very sad thing in a lot of ways. Shogun just isn't the same fighter he used to be, I mean it might be insulting to his shadow from his successful days to call this version "a shadow of his former self". James Te Huna has been doing well for himself, he's got good striking but his grappling is on the weak side. If Shogun is smart he'll strike into a clinch, use a trip takedown to get top position and work ground and pound. I'm still really hesitant to pick Rua, Te Huna has sharp boxing and a never say die attitude. I'm going with Shogun, but I freely admit it's more of a nostalgia pick than anything else.

Winner: Mauricio "Shogun" Rua, TKO Round 2

Evan Zivin: This is a fight that will end up much closer than it should because Mauricio Rua used to destroy guys like Te-Huna. That was a long time ago now. Both men are looking to rebound after first round submission losses, Shogun to Chael Sonnen back at Fight Night 26 and Te-Huna to Glover Teixeira back at UFC 160. Both fighters tend to use their striking to win fights and both are extremely durable. That means if the fight ends in a finish it likely won't happen until later in the fight. I give the edge to the former UFC Light Heavyweight Champion because, for as consistent as Te-Huna has been in his Octagon appearances, he has floundered every time he's faced anyone close to being Top 10 in the weight class. He may be better at dancing to the Men in Black theme music than Rua, but Shogun has a more diverse striking game and knows how to win wars of attrition. I feel like this fight will be similar to Shogun's battle with Brandon Vera, where both guys will hurt each other but Shogun will land the more devastating strikes and likely finish Te-Huna sometime late in the fight.

Winner: Mauricio Rua, TKO, Round 3

Paul Lapointe: Could the real Shogun please stand up? I am hoping so and that is all the prognostication I am to give really. If he can dial into what he says is his re-focused passion for the sport he will and should use a distinct striking advantage. Plus Te Huna has shown that he turtles quickly if his jaw is jacked, can Shogun take advantage of that.

Winner: Shogun, Submission, RD 2

Alex Rella: This is the only fight I'm really torn on. Yea Shogun is on the decline, but he still has only lost to upper level fighters. Te Huna on the other hand has only lost to Teixeira and Gustafsson since 2008. Both are good brawlers with great chins so I expect this to be a close fight that goes to the judges. I'm picking Te Huna as he is younger and has looked better of late, but I'm hoping I'm wrong and Shogun can extend his career a little longer.

Winner: Te Huna, Decision

The staff picks Mauricio Rua, 5-1.

---




Heavyweight Bout: Mark Hunt vs. Antonio Silva



Jeffrey Harris: The fight has all the makings to be an exciting heavyweight battle on paper. The last time we saw Bigfoot Silva, he was crushed by Cain Velasquez for a second time, that time around with the belt on the line. Hunt's last fight saw him get head kicked and knocked out by Junior dos Santos. Both fighters are striking specialists who pack a lot of power. Bigfoot though when gets hit right goes down and crumples quickly. While Hunt has had his share of mistakes and losses in the past, based on their recent UFC tenure, I am going with Mark Hunt for a (Mark Radulich TM) signature "Mark Hunt Decides" victory.

Winner: Mark Hunt, TKO, Round 2

Robert Practor: I'm very excited for this fight. It should be a lot of fun while it lasts. As I discussed in the latest edition of WHAT'S NEXT, I would love to see Roy Nelson face the loser of this fight next. Bigfoot has been destroyed by current champion Cain Velasquez twice and I don't see Cain dropping the belt for a long while, so I don't know if Bigfoot will ever make it to a title shot again. Mark Hunt had an impressive streak before being halted by Junior dos Santos earlier in the year and I could see him getting a shot at the title with two big wins. I don't see Bigfoot being able to finish Hunt here but Bigfoot's chin has shown to be a bit suspect in the past, so I'm going to go with Hunt for the TKO win.

Winner: Mark Hunt, TKO, Round 3

Robert Winfree: Now this is a main event. There's at least three cards next year who's main event fails to live up to this one just in terms of name value and excitement potential. Tarec Saffeidine, Luke Rockhold, and Jimi Manuwa will all be part of different main events next year. I'd trade any of those for this fight before it even happens. As for the fight itself, Mark Hunt had a good winning streak going until JDS kicked him in the head while Silva got murdered by Cain Velasquez for the second time in his last fight. Silva is a little chinny, and Mark Hunt hits hard. Unless Silva's plan is to immediately rush over and take Hunt down I think Hunt finds his chin with a leaping left hook that puts Bigfoot on his backside. Heaven help us if this winds up going all five though, I don't want to think about how ugly that would look.

Winner: Mark Hunt, KO Round 1

Evan Zivin: There are two ways this fight will most likely play out. The first is Bigfoot, a man with heavy hands and decent wrestling to go with it, will use his strength to muscle Hunt to the ground and pound on him the same as he did to Fedor. This will result in either a stoppage or a lop-sided decision for the big man. A decision seems doubtful in a five round fight between these two but if Bigfoot is smart, he'll get this fight to the ground and either submit Hunt or pound on him until the ref stops it. That's if Bigfoot can get the fight to the ground. The second way this fight plays out is Hunt stuffs Bigfoot's takedown attemtps and lands punch after punch on Bigfoot's giant chin until he connects with a kill shot and knocks the big man out. It didn't take Daniel Cormier too long to knock Bigfoot out and Cain Velasquez destroyed him twice so Hunt shouldn't have a problem doing that. Despite those losses, though, Bigfoot is a dangerous fighter and could easily win this fight. I think too many people are ruling Bigfoot out of this but I do want to see Hunt knock somebody out. I feel that Hunt has improved enough of his game to keep this fight standing and get the knockout and prevent us from having to watch these two lumber around the Octagon for longer than 3 or 4 minutes. Can you imagine these two going for 25? Please don't. It won't be pretty. Save us, Super Samoan.

Winner: Mark Hunt, TKO, Round 1

Paul Lapointe: Though some are excited for this bout I am on the fence, though granted I love the come at me attitude Mark Hunt has shown in his UFC resurgence. Can and will this go 5 rounds...hopefully not more then 3, haha. In all honesty though this is going to be a spectacle and I just kind of what a sumo like samoan guy sloppily exchange with a frankenstein like brazilian. Weird as that sounds I can see this ending on the ground somehow. Left field pick here.

Winner: Big Foot, Submission, RD2

Alex Rella: This makes for a pretty good main event and it's one I've been looking forward to since it was announced. Both were recently knocked out of title contention so this is a big fight as the winner will stay somewhat relevant in the heavyweight division. I'm picking Mark Hunt as I'm picking his chin over Silva's chin.

Winner: Hunt, TKO, Round 2

The staff picks Mark Hunt, 5-1.

---
Remember to join 411's coverage of UFC Fight Night 33 on Saturday!
comments powered by