SPOTLIGHTS
Five Quick Rounds 12.10.13: Fight Night 33, WSOF 7, Other Fights You Don't Care About, More
Posted by Evan Zivin on 12.10.2013

From the incredible battle between Mark Hunt and Antonio Silva and the results of Fight Night 33 to the UFC launching a new subscription service and WSOF airing on NBC in 2014, 411's Evan Zivin examines these stories and more in Five Quick Rounds!

Hey hey, fight fans, and welcome back to Five Quick Rounds! I am your host, Evan Zivin, and I am as excited as Glover Teixeira to be here once again!

Not only did the man get to hang out with Antonio "Bigfoot" Silva and Mark Hunt after their amazing battle in Australia last week (more on that below) but it looks like his shot at UFC Light Heavyweight Champion Jon Jones finally has a set date. Originally it was rumored that the fight would happen on the Superbowl weekend card. Those rumors were quickly dashed after it was determined that Jones would not be ready by then. Later, it was announced by the UFC that the two would tussle at UFC 170 on February 22. That announcement had to be rescinded one day later because, again, Jones was not ready. Man, what a buzzkill this champion is, amirite? Well, it looks like UFC finally has a date that Jones hasn't backed out of yet, that being UFC 171 on March 15 in Dallas, Texas. That sounds good to me, especially considering that the name "Teixeira" actually means Texas in Portuguese, assuming you were too lazy to either learn Portuguese or spend five minutes with Google Translate to learn that fact is entirely untrue. It must be fate. Or possibly bad gas. Either way, get the popcorn ready because it's gonna be a war. Good thing that stuff has a long shelf life because the fight isn't going to be for a while.

R.I.P. Shane del Rosario

All right, so with fighter introductions out of the way, I have five more rounds of MMA news and opinions to throw at you. This week, we look at the results of UFC Fight Night 33, the results of WSOF 7, the UFC launching it's new subscription service, and WSOF airing on NBC in 2014. Let's to it do it.

FIGHTER YOU READY!!!!
FIGHTER YOU READY!!!!

FIGHT!!!!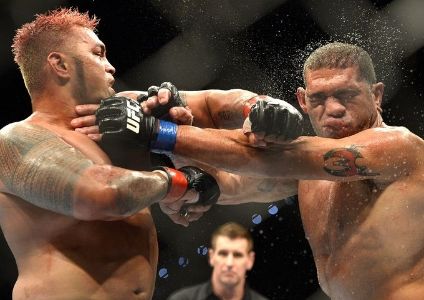 Round One: Fight Night 33 Main Event Quick Thoughts, Great Heavyweight Fight or The Greatest Heavyweight Fight?

***TOUCH OF GLOVES***

Live, from the Brisbane Entertainment Centre in Brisbane, Queensland, Australia, it was UFC Fight Night 33 ON SATURDAY...morning? Friday...night?

Seriously, what day is it? I guess technically it happened on Saturday, but I watched it live on Friday, but it wasn't Friday in Australia even though it wasn't Saturday here. Wait, what day is it? It's supposed to be Tuesday but you may be reading this on Monday night or even Wednesday. STOP MESSING WITH MY HEAD, TIME!!!! So UFC decided that they needed to invest more in the lucrative koala and dingo demographics and held their fifth event in Australia. They have a new international season of The Ultimate Fighter featuring Aussie fighters that premieres in January so it's just good promotion. Why advertise with print when you can advertise with the blood of hulking, 260+ pound men trying their hardest to render one another unconscious and failing miserably to the delight of thousands of screaming fans? And that was what UFC attempted to do, bringing a heavyweight main event of behemoth proportions. In one corner you had Antonio "Bigfoot" Silva, 1-time Fedor slayer and 2-time Cain Velasquez's blood sacrifice. In the other you had Mark Hunt, former K-1 kickboxing champion, resident Super Samoan, and all-around badass. Seriously, who doesn't love Mark Hunt? Not only does he represent the Pride era that we all look back on so fondly, he is a modern day gladiator who cares about nothing other than violently knocking out his opponents. And when he does knock out his opponents it is indeed quite violent. He is the physical embodiment of everything that made us fans of mixed martial arts in the first place and keep us coming back for more despite the increase in shows featuring subpar fighters having boring performances and winning thanks to bad judges' decisions. We need something to get us fired up about this sport to and Mark Hunt is one of those somethings. I like Bigfoot too, mainly because he knocked Alastair Overeem out. So putting these two giants among men in a cage together meant that things were going to get ugly. Well, uglier. It was scheduled for five rounds but you just knew it was not going to last all 25 minutes....right?

Yeah, here's the thing. The fight did not end in the first minute. It did not end in the first round. The fight went all 5 rounds. These two monsters were in the cage for 25 minutes....and it was incredible. What we were hoping would be a quick knockout ended up being one of the best fights of the year and one of the greatest fights of all time. The first two rounds were dictated by Bigfoot, who used leg kicks and foot movement to avoid many of Hunt's power shots while landing some of his own. Things changed in the third round when not only did Hunt take down Bigfoot twice, he blasted Bigfoot with a straight right through Bigfoot's guard and dropped him. The big man survived that ordeal and the round to make it to the fourth, where Hunt found some more success off another takedown. Bigfoot got a takedown of his own later in the round and nearly finished the fight by pounding on Hunt in full mount. Hunt survived that and amazingly came out for the final round, where he rocked Bigfoot with punch after punch. After a brief stop to check a cut on Bigfoot's head, making referee Steve Perceval Public Enemy #1 (for the week anyway), Bigfoot re-surged from his near demise and came dangerously close to finishing Hunt with punches against the cage. How both men survived that final round is astounding but they did as the fans were treated to another MMA classic. It really was a tremendous effort by both men. It was one of those fights that really didn't have a loser, and for once, the judges agreed with that as two scored the fight 47-47, declaring the fight a majority draw. Personally, I had the fight for Bigfoot but that was scoring all the rounds 10-9. The two judges that scored it a draw both gave the final round to Hunt 10-8. I agree he won the round but it's hard to say he should get it 10-8 because even though he came close to finishing Bigfoot, Bigfoot also came close to finishing him. The last round also disappointed me a little because of how many more opportunities Hunt had to end the fight that he didn't take because he was too exhausted to put constant pressure on Bigfoot. Oh well. That's a minor gripe. It was an awesome fight and, with only a few weeks left in 2013, it looks like we've got another Fight of the Year contender on our hands. Thanks for making my decision on which fight to pick that much harder, you jerks.

***HORN SOUNDS***




Round Two: Rest of Fight Night 33, You Call That a Knockout? THIS is a Knockout! Also, Shogun is Apparently Back or Something

***TOUCH OF GLOVES***

Did anyone else notice that, during the show, the ring card girl walked around the cage clockwise, whereas in America they walk counter-clockwise? What's that? That isn't true at all and I'm just a xenophobic asshole who bases his worldviews on bad 80's comedies and episodes of The Simpsons? Fair enough. Hey, did you hear? Mauricio "Shogun" Rua is back! And all he had to do was knock out an unranked opponent who has choked against every decent fighter he's faced. I guess that means Shogun is getting the next Light Heavyweight Title shot. Sorry. Alexander Gustafnobody. Seriously, I know that hyperbole is an important part of every sports broadcaster's balanced breakfast, but no. Shogun knocking out James Te-Huna in a minute does not mean that he is "back," whatever that even means at this point. Was it an impressive performance? Absolutely. Shogun did look like the man who became UFC champion 3-and-a-half years ago, showing great speed, impeccable takedown defense, and lots of leg kicks. His punching power and accuracy was there too, tagging Te-Huna a few times in the first minute before blasting him with a left that put Te-Huna to sleep before he hit the mat. It was a thunderous shot that impressed everyone except Alex Garcia, who was too busy kissing his Knockout of the Night bonus goodbye to care. Now, does this fight mean that Shogun is "back" in any sense of the word? No. It just means he had a good fight and was able to get everyone to shut up about his retirement for a few minutes. Where he goes from here will give a better indication of if he's back or not, whether that means UFC gives him another ranked opponent (Phil Davis is available, plus they could attempt the Lil' Nog rematch again or do another fight with Dan Henderson) or Shogun can give middleweight a try like he's been contemplating. Either way, Shogun's career is safe for at least one more fight and I'll be interested, as I always have been, to see where he goes from here. Hopefully not to another title shot. He's taken enough beatings in his career.

There was some other good action on the card from down under. Ryan Bader bounced back from his loss to Glover Teixeira in a big way by staging a public execution against Aussie Anthony Perosh. You knew it wasn't going to be pretty when Bader dropped Perosh in the first 15 seconds of the fight, and it wasn't. The fight was 15 minutes of Bader bludgeoning Perosh with punches and elbows from everywhere: on the feet, in the clinch, and most significantly on the ground. Perosh was a bloody mess at the end of the fight and it's a testament to his toughness that he was able to withstand that kind of punishment for 3 rounds. It was also a testament to how little judges know about scoring fights that only one of them scored a 10-8, but either way, Bader took a very lop-sided unanimous decision. Pat Barry was unsuccessful in his quest to win two UFC fights in a row by getting his head bounced off the mat by Soa Palelei. Soa looked good in taking Barry down, securing mount, and finishing the fight quickly. He then proceeded to share his love of infamous heavy metal singer Ozzy Osbourne with his fellow Australians. Or maybe it had something to do with rugby. Vegemite. I wonder if Sforcina is reading this. Dylan Andrews, Jon Jones's last pick on season 17 of The Ultimate Fighter was really taking the fight to Jones's top pick, Clint Hester, when an injury prevented him from coming out after the second round. Pretty much he threw a winging overhand and popped his shoulder out of place. It's an unfortunate development for Andrews, who suffered his first UFC loss due to the injury, but it shouldn't keep him out for long and he'll be back. Someone who won't be back is Julie Kedzie, who had a very close striking battle with Brazilian newcomer Bethe "Lady Cabbage" Correia. The judges awarded the fight to Correia by split decision. Kedzie, who has lost her last four and gone winless in two straight major MMA promotions, made the decision to retire following the loss. I know it's never an easy decision to make but it may be what's best for Kedzie at this point in her life and I wish her all the best in whatever she does from here. She'll probably do more work for Invicta. She's a good on-air talent. The show also featured a great fight between Takeya Mizugaki and Nam Phan (Mizugaki won by unanimous decision), Justin Scoggins putting the flyweight division on notice with a TKO of Richie Vaculik, which was also the fight that turned the crowd against Steve Perceval, and Alex Garcia knocked out Ben Wall and his amazing, technicolor hair. Well, it really wasn't that amazing. Just stupid looking.

And that was Fight Night 33. The UFC returns to FOX this Saturday with a fight card featuring the Flyweight Championship rematch between Demetrious Johnson and Joseph Benavidez. Plus, at least one other fight that doesn't fall apart this week due to injury. Hopefully.

***HORN SOUNDS***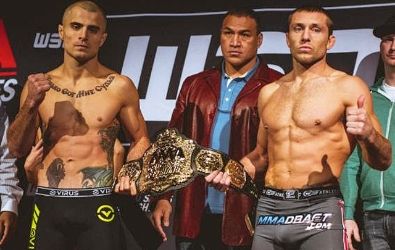 Round Three: WSOF 7 Results, The Guy Who Trained with The Winner From The Ultimate Fighter Lost

***TOUCH OF GLOVES***

World Series of Fighting held their seventh major show on Saturday, emanating from the PNE Agrodome in Vancouver, British Columbia, Canada. I like that name for an arena because it makes me think the fights happened on the set of a Nickelodeon game show. They sure know how to get me to watch. They just need to figure out how to get everyone else. The main event featured a fight to determine the inaugural WSOF Featherweight Champion between Georgi Karakhanyan, a man who won his WSOF debut so they figured "Screw it, give him a title shot provided we don't have to find a way to fit his name on the belt," and Lance Palmer, an undefeated wrestler from Team Alpha Male who trained with Chris Holdsworth, winner of The Ultimate Fighter. I don't know why but it felt kind of weird hearing Bas Rutten mention that on commentary. I know that WSOF and UFC have a good relationship with each other but it just seems a little amateurish to be mentioning a major competitor during your broadcast. Maybe that's just me being conditioned to feel that way since UFC will not mention a competitor unless they own them, so it just came off as odd. Then again, Bas does what Bas wants. The fight was pretty good. It almost ended in the first round when Palmer dug his finger into Karakhanyan's eye. It didn't look good but Karakhanyan would not let things end like that and chose to continue. Palmer clearly took the second round by taking Karakhanyan down and dominating him from the top (despite some serious submission attempts from the man with too many a's in his name). It looked like the third would go the same way before Karakhanyan was able to reverse position and lock in a guillotine choke for the submission win. It was a good win for Georgi Porgi and congrats on becoming the first WSOF Featherweight Champion. Now all the company needs is a featherweight division.

The other major news to come out of this show was Nick Newell posting his second straight WSOF victory and improving his record to a cool 11-0. You may have heard of Newell for the fact that he's been wrecking dudes in regional shows despite only having one hand. Seriously. The man does not have a left hand. Go Google it if you don't believe me. Just don't Google too hard. You might start to like it. This fight went even quicker than his last as he pretty much charged straight at Sabah Fadai and kept dumping him on his ass until he got hold of Fadai's neck and finished with a guillotine choke less than a minute-and-a-half in. There's no question that the kid is talented and WSOF needs to find better competition. I need to know what will happen when Newell faces some decent competition and what kind of shitstorm will be created by the general media when he finally tastes defeat because a man beat up a cripple and ignorance is a hot commodity in this society. Should be fun. Also, notice how I resisted the urge to say "Let's give him a hand." That's right. The card also saw Jesse Taylor successfully not punch out a limo window in front of Lorenzo Fertitta's casino once again by defeating Elvis Mutapcic. The fight, the second of a mini-tournament that will eventually crown a WSOF Middleweight Champion, was close but mainly one-sided in Taylor's favor. Mutapcic came close on a few submission attempts but the majority of his time was spent on his back as Taylor was smothering him with short punches and knees. JT Money would win by unanimous decision. People don't actually call him that, do they? The main card also saw Kalib Starnes---Hey! Where are you going? Stop running away from me! Damn. I should have tried the Rock Hammer. That always works. Oh well.

And that was WSOF 7. WSOF 8 will be January 18 from the Hard Rock Live in Hollywood, Florida. The show will see the crowning of a WSOF Lightweight Champion between Justin Gaethje and whoever the company can find that won't get injured between now and January 18. Good luck, Lewis Gonzalez.

***HORN SOUNDS***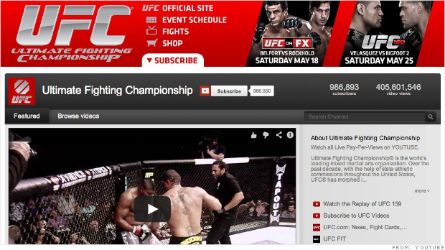 Round Four: UFC Launching Internet Subscription Service, Will Make You Pay For Fights You Don't Care About

***TOUCH OF GLOVES***

The men running the UFC are geniuses. So there's been a lot of complaints lately regarding the number of events the UFC holds every year. The number of shows has been steadily climbing year after year and the trend is going to continue for next year. There won't be 54 events next year but there may be close to 40, as Dana White has said. That's a lot of freaking shows. They also plan to air a couple of seasons of The Ultimate Fighter as well as continue and add to the other programming that they already air. That all equates to a lot of goddamn content. Of course, most of us don't care about the shows that don't involve Joe Rogan yelling at us, but even just accounting for those means that there is going to be a lot of UFC content next year. I'm the type of person who tries to watch all the UFC events but this is really getting to be too much, especially since many of these new events are going to be overseas events in Europe and Asia that are going to have weird start times here because the UFC is going to be nice and not make an event start at 2 a.m. local time just so that it can air in primetime here. What a guy. It gets confusing enough as it is if I want to watch the prelims because some of them air on the Internet and some of them air on Fox Sports 2 which is a channel I don't get and I thought everything was supposed to air on Fox Sports 1 but that isn't the case and now everything is getting preempted by college football so what the hell, UFC? How can I possibly enjoy the fights when Oregon State doesn't know when to get off my TV? There's got to be a way to fix this.

Well, the UFC have heard our complaints and have answered our cries for help. Starting in January the UFC will be introducing...an Internet subscription service! That's exactly what we wanted, right? Echo? The service will be a home for airing all UFC events live, including preliminary fights. So this service will solve the problem of having to go to a million different places to watch the prelims by removing the prelims entirely and putting them somewhere where we have to pay money to see them. The service will allow the UFC to air all their international events and air them at appropriate local times. This will start with the January 4 show in Singapore, which will start at 6:30 a.m. EST. I wasn't aware UFC had a problem with that previously, since FUEL TV/Fox Sports 2 was usually pretty cool about airing international events live, but I guess this is necessary since Americans need to pay for such great main events like Tarec Saffiedine vs. Hyun Gyu Lim (no, Stun Gun is someone else). The channel will also air upcoming international seasons of TUF, which usually just popped up on Youtube, as well as other shows that the UFC will develop that will clearly be worth the price of admission, I'm sure. There's no specific information about the service's name or what the cost will be to subscribe (a press release is expected to come out shortly) but it's good to know that the UFC's solution to having too much content is to take away a whole bunch of it that we already get for free and make us pay for it instead. Is that good to know? It's not? It's terrible? I mean, I know a lot of the fights that will only be view-able on this service are ones that most fans wouldn't be interested in whether they are free or not but still, I'm not gonna pay to get the pleasure of watching a bunch of fighters that 5 years ago would never have been considered good enough to get a UFC fight in the first place. Maybe this is what we get for not making UFC as big as the NFL by now like Dana wanted it to be. The on demand part of the service will be cool, though, allowing us to watch fights from UFC, Strikeforce, Pride, WEC, WFA, and any other library that the UFC gobbles up in the future, so that alone may be worth the price. I guess I'll wait until more information becomes available before I still say I'm too poor to subscribe. Remember, I write for the Internet.

***HORN SOUNDS***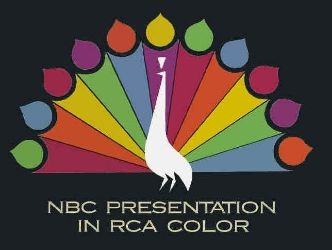 Round Five: WSOF To Air on NBC in 2014, Makes Sure Not To Hire Mayhem Miller or Anyone Named Diaz

***TOUCH OF GLOVES***

Things are definitely looking up for World Series of Fighting. They had a successful event last Saturday (at least from a performance standpoint, the ratings are a different situation) where they crowned their second champion. Their next event is already set for next month and will feature at least one more champion being crowned, plus Anthony Johnson may actually fight Mike Kyle finally. They have also announced some pretty big signings within the last few months, including such top fighters as Yushin Okami and the violently lovable creature known as Rousimar Palhares. It's a good thing that WSOF President Ray Sefo has no qualms about signing decent former UFC fighters instead of aging former champions that no one would pay to see fight for free let alone want to see headline a Payperview, unlike *some* MMA promotions. Now word has come out about WSOF's plans for next year. The news has been revealed by Sefo and matchmaker Ali Abdel-Aziz that the promotion will hold 8-10 events next year, two of which will air on NBC. Not just the NBC Sports Network or even MSNBC or CNBC (at least it would give them something to air other than shows about prison). We're talking big NBC. That's right. The promotion has only been around a year and it's already going to get on network television. Aw yeah. It's really gonna spice up those golf replays or whatever the hell NBC airs on Saturday. I don't know. I barely watch the channel.

This will make WSOF the fourth MMA promotion to air on a major network. The first was EliteXC, which aired three events on CBS in 2008. The company featured world class talents like Robbie Lawler, Nick Diaz, and, of course, Kimbo Slice. Kimbo appeared on the first CBS card, winning a fight against James Thompson by making his cauliflower ear explode, and the last CBS card, when he took a last second fight against Seth Petruzelli and got embarrassed in 14 seconds, thus setting into motion the downfall of humanity, or at least EliteXC. Strikeforce got a shot on network TV next, swooping in to take EliteXC's deal with Showtime and CBS. They aired one event in 2010 that was highlighted by three boring title fights and ended in a brawl in the middle of the cage between Jason "Mayhem" Miller and Cesar Gracie's Skrap Pack. I remember watching that and hearing Gus Johnson's immortal words, "These things happen in MMA," and I knew it was gonna be a while before another promotion would get that kind of opportunity. Thankfully, we didn't have to wait too long to see MMA on network television again, as the UFC signed its deal with FOX the following year. The UFC's deal got off to a shaky start as, while the first two FOX shows in November 2011 and January 2012 did good ratings, they also disappointed quality-wise as the first show featured one fight that lasted a minute and the second featured three fights that weren't all that exciting. The UFC has been trying hard to get back to the ratings of those first two shows and, after a few good fight cards, they are slowly working their way back. MMA isn't as popular as it was a few years ago but at least the major networks are still interested in featuring it so I'm glad that NBC will be getting in on the act starting next summer. I imagine WSOF will work hard over the next few months to craft the best possible fight card they can so that they leave a good impression and don't end up crashing and burning like all the companies that have come before them. In other words, Ray, please resist the urge to book yourself in the main event.

***HORN SOUNDS***

That's it for Five Quick Rounds. If you have any questions, comments, or suggestions, and it is always appreciated when you do, leave them in the comments section. The flyweight title fight and Urijah Faber vs. Michael McDonald should make for a nice Saturday night. So enjoy the fights and, until next time, remember to fight clean, fight hard, fight fair, and never leave it in the hands of the judges...




LATER!!!!!!!!!!!!!!!!!!!!!!!!!!!!!!!!!!!!!
comments powered by