SPOTLIGHTS
411 MMA Fact or Fiction 12.11.13: Bigfoot/Hunt, Tecia Torres, More
Posted by Wyatt Beougher on 12.11.2013

Was Antonio Silva vs. Mark Hunt the best UFC heavyweight fight of all time? Is Tecia Torres the next breakout star of women's MMA? 411's Paul Lapointe and Mark Radulich debate these topics and more in this week's Fact or Fiction: MMA!

Welcome back to another edition of 411's MMA Fact or Fiction, and I'm your host, Wyatt Beougher. I normally try to work a joke or two into this intro, but this week, I'd like to take a moment to offer my condolences to the family and friends of Shane del Rosario. Having lost a good friend myself this past weekend, I can certainly understand what they're going through, but a loss like that is always more difficult when it's someone so young and in the prime of their life. Here's to hoping that there's an excellent support system in place for them in this time of grief.

In last week's contest, Jonathan Solomon took on Todd Vote, and Todd pulled out a pretty decisive win, 17-8, to move back into the win column. Great work by both men, and I think Todd's assertion that the language barrier being the deciding difference between the US popularity of TUF: Brasil and TUF: Nations proved to be the deciding factor in the contest. This week, Paul Lapointe returns to action, putting his undefeated record on the line against Mark Radulich, who has consistently been tough to beat in my tenure as Fact or Fiction host. This week's contest should be an interesting one, so let's get down to it, shall we?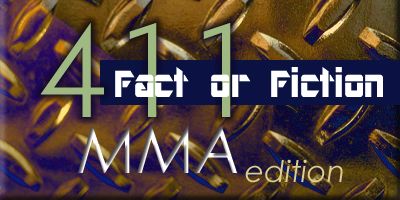 TALE OF THE TAPE

Red Corner
Paul Lapointe
'The Pointer Brother'
Fact or Fiction Participant
3-0-1

VS

Blue Corner
Mark Radulich
'Headshrinker'
Host, 411 Ground and Pound Radio Show (and about fifty other podcasts)/Live Coverage Guru
12-5-1

---

Best heavyweight fight of all time?



1.) Mark Hunt vs Antonio Silva was the best UFC Heavyweight fight of all time.

Paul Lapointe: FACT I weighed heavy on this question (haha, weighed heavy...) but I have to say yes considering what a lot of people were expecting from this bout. Mark Hunt has been a laser beam of unexpected awesomeness since losing to Sean McCorkle back after Pride went the way of the dodo. Also Big Foot has now derailed Alistair Overhype and managed to make a 5 round Big Man fight exciting from start to finish which is hard enough to do over three rounds. Now the end of the year is nigh and I can see this slugfest hitting many lists over JDS/Cain III and unless people think, maybe Brock Lesnar Vs Shane Carwin or Randy Couture Vs Tim Sylvia is better I nominate the Hunt Vs Silva bout for pure entertainment value when it comes to the big guys. Significance and historically others matter more but I do not think at this moment they were as fun over 25 minutes.

Mark Radulich: FACT When you consider the entertainment value of that fight combined with the effort put in by the combatants, it's hard to imagine another heavyweight that fans would celebrate as much if not more. As I said on the 411 Ground and Pound Show, most heavyweight fights don't even make it to the third round, and those that do are not particularly memorable. The last heavyweight fight to go five rounds was a drumming in favor of Cain Velasquez. While some might argue that there was more skill in that fight, I don't think many viewers were as a entertained as they were watching Mark Hunt and Bigfoot Silva club each other into oblivion. It was no thing of beauty but it was a great monster movie.

---

Should Shogun consider a weight cut?



2.) In spite of an impressive win over an up-and-coming light heavyweight talent, Mauricio Rua would be better served working with Mike Dolce or another trainer to make the cut to middleweight.

Mark Radulich: FICTION He's fine at light heavyweight. It's only going to get harder as he gets older to make weight so there's no point in dropping down any further. Also, can we table this talk that, "The Real Shogun is Back~!" for now? He beat James The Tuna, who was picking up steam but wasn't exactly a top 5 LHW. He also had a degree of difficulty with Brandon Vera (who as we all remember, is terrible). He just lost to Chael Sonnen in August and before that Alexander Gustafsson about a year ago. Let's see him in there with Rashad Evans or Ryan Bader before go about the business of talking career resurgence. Getting back to the original point, fighters drop weight classes when they realize they can't get anywhere in their current division. I don't seriously believe Shogun would have anymore success at middleweight than he would at LHW and I certainly don't see him defeating either Weidman or Silva for the title. However, I fight with Vitor Belfort might be fun but he doesn't have to drop to middleweight for that.

Paul Lapointe: FICTION Shogun has always been questioned as to whether or not he can ever be the Shogun of old since he entered the UFC, even with his victory for the LHW title years back when the division was a heck of a lot weaker. But with every victory he is able to pile on impressively he consequently loses another just as convincingly and the talk comes back around. Now Rua may also be a little paunchy at times and is not as shredded as some other fighters but would a cut in weight really be all that beneficial at this stage in what is arguably a much more competitive division? At this stage in his career trying to reinvent yourself could be a last ditch effort and though I think Shogun thinks it over he eventually decides to work on his craft and mindset for the sport over his perceived issue of weight.

---

Should the commissions look into cutting down eye pokes?



3.) With WSOF's most recent main event becoming the latest fight to be marred by multiple eye pokes, it's time that athletic commissions look into eliminating the issue.

Paul Lapointe: FACT This past WSOF event is just another prime example of many issues in the ever evolving world of MMA in the dawn of its legitimizing it as a bona fide sport to be reckoned with. Joe Rogan has time and again on commentary preached and chided the need for updated rulings on certain regulations currently in place when it comes to the sport we follow and love. These problems range from the Jon Jones haunting 12 to 6 elbow rule to the knee to a grounded fighter exception but the equipment issue I believe is something that can be ratified sooner rather then later. Does that mean it will be done in the next year or so? Doubtful, the combat sport regulators are stingy enough when it comes to controversy and tend to move at slower paces than congress at times, so I see it happening when the first major overhaul goes down, whenever that may be...hopefully soon, but do not hold your breath on that one folks.

Mark Radulich: FICTION This is really simple and it doesn't need government intervention. Fighters shouldn't jamming an outstretched hand at their opponents face. Pawing punches is one thing, jamming your fingers in the guys face is something else entirely. Frankly, if the commission wants to do something, have refs start deducting points for that sort of thing and the fighters will begin to police themselves. However, we rarely see fighters pointed for holding the fence so I wouldn't count on it. Either way, this comes down to fighter behavior and I doubt athletic commissions will have any luck in eliminating the problem.

---

Is the "Tiny Tornado" the next WMMA star?



4.) Tecia Torres will be the next breakout star of women's MMA.

Mark Radulich: FACT She's certainly a good looking girl and she defeated and pretty well-known hottie fighter this past weekend at Invicta 7 so I guess she's got as good a chance as any to breakout. Also, when you consider that the UFC wants to bring in Strawweights, once can safely assume the UFC will be looking to market her as a rising star.

Paul Lapointe: FACT I am currently riding high in a Kansas Farm House for the Tiny Tornado and think she has a super bright future in the sport by all accounts and practices. Now being a fan does not necessarily mean she should or will go far in the sport but with what she has accomplished in such a short period of time in the national spotlight outside the UFC with Invicta sure is promising. When you compare her fights and time in the limelight in contrast to what was offered up this past season on TUF 18 most of the stars in my view pale in comparison in both personality and skill set. I mean outside of the potential editing issues that may have shined an improper light on some of the fighters to bring upon more drama than necessary, is anybody truly excited about Juliana Pena's UFC fighting future? Most people I know, myself included do not think so, but also considering the other TUF finalist had a sub .500 record I would look to Invicta for the next wave of talent over the current roster in the UFC and Tecia is a shining star in that other pond for sure.

---

Will Nick Newell get a title shot?



5.) Nick Newell's continued success means that he should be the next challenger for the WSOF lightweight title after Justin Gaethje and Lewis Gonzalez fight for it at WSOF 8.

Paul Lapointe: FACT This question is pretty straight forward when it comes to an answer mainly because it has already been answered if you were to read any press before the last WSOF event this past Saturday night. After JZ was announced as injured and the events main attraction was put into question in the first place it was posited that Nick Newell if impressive, victorious and unscathed upon the conclusion of WSOF 7 that he could be placed in the headlining bout in place if it were needed. But playing it safe and respecting both his scheduled opponent and the discretion of possible injury Ray Sefo and company decided to announce another title fight in its stead for the sake of setting a potential future title fight later next year. Now is the young prospect Lewis Gonzalez a more exciting choice for the title fight instead of Newell...heck no but with the expectation that Justin Gaethje walks away champ and Nick Newell getting more polish the WSOF can garner a lot more attention with the slow build up.

Mark Radulich: FACT Newell has been on the warpath for a long time now and he's one of WSOF's most marketable stars in terms of being a public interest story. Also he's choking guys out left and right. As long as he keeps winning the WSOF would do well to give him as much TV time as possible.

---


Who do you think won this week? Did Paul keep his undefeated record intact, or did Mark put a stop to his winning streak? Voting will be open until midnight EST on Saturday, so make sure you vote and make your voice heard!




---

Is DC overloading the Man of Steel sequel?



Bonus) Between the casting of Ben Affleck as Batman and Gal Gadot as Wonder Woman, and the rumors that both Lex Luthor and Metallo will feature as villains, DC and Warner Brothers seem to be going in the wrong direction (read: Spider-Man 3) with the sequel to Man of Steel.

Mark Radulich: FACT While I'm sure Argo and Hollywoodland were wonderful movies, I'm still not sold on Ben Affleck as Batman. I've been complaining about this for a while now. I'm convinced that instead of creating a solid story and backing it up with actors that look convincingly like the characters they have been cast to play, Warner Brothers seem to be just stuffing this movie full of "stars" and characters, taking a page from the George Lucas playbook: fill up the screen with shit and people love it even if the story is crap. I'll probably be seeing opening night like the rest of the comic nerds but I have little hope it will be any good.

Paul Lapointe: FACT Now I want the Superman/Batman movie to rock more than anybody considering my love for the Caped Crusader, plus I found the new Superman film to also be pretty darn good but too much too soon could be on the menu. Considering DC is trying to create a cinematic universe that is on par with Marvel's at this stage in the game they have to play serious catch up and the films can suffer for it. I do cater to the agenda that DC is winning the TV war but dollars to donuts that is not going to line the pockets like major motion pictures and adding Lex Luthor, Metallo, Wonder Women, Batman and even a rumoured Nightwing cameo in this sequel can just boil over the entire storytelling aspect and make this movie a giant lump of CRAP! I am hoping for more positivity as the plot points and casting unveils itself into the new year so I am tentatively optimistic but still a mighty bit reserved on the subject.

---


And that's it for this week! As always, if there's anything you'd like to see featured in a future edition, leave your statement in the comments and I'll add it in. Let us know what you thought in the comments, on Twitter, or on Google+.


comments powered by