SPOTLIGHTS
411's MMA Roundtable Preview - UFC on Fox: Johnson vs. Benavidez 2
Posted by Dan Plunkett on 12.13.2013

Joseph Benavidez gets his rematch against Demetrious Johnson for the flyweight title in the main event of UFC on FOX 9! Plus Urijah Faber battles Michael McDonald and more! Check out the full roundtable for all the details and join 411 for LIVE coverage of the event Saturday night!




WELCOME:
Demetrious Johnson and Joseph Benavidez rematch for the flyweight title in the main event of UFC's ninth special on Fox! In the co-main event, top bantamweight contenders Urijah Faber and Michael McDonald square off. At featherweight, Chad Mendes looks for his fifth consecutive knockout against Nik Lentz. Plus, Joe Lauzon battles Mac Danzig, and more!

THE STAFF:


From the Locked in the Guillotine MMA News Report, Robert Winfree!


From What's Next, Robert Practor!


From Forgotten Fights, Paul Lapointe!


From MMA's 3R's, Jeffrey Harris!


From Five Quick Rounds, Evan Zivin!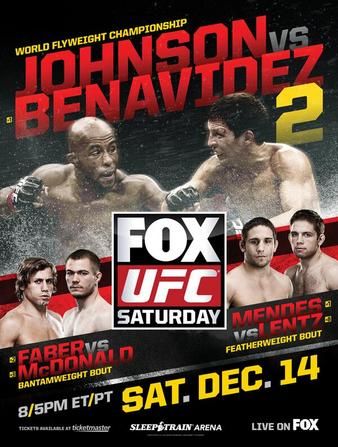 THE PRELIMINARY CARD:




First prelim online, rest air on Fox Sports 1.




Flyweight Bout: Darren Uyenoyama vs. Alptekin Ozkilic



Robert Winfree: Darren Uyenoyama, Decision
Robert Practor: Darren Uyenoyama, Decision
Paul Lapointe: Uyenoyama, Submission, RD2
Jeffrey Harris: Darren Uyenoyama, Submission, Round 1
Evan Zivin: Darren Uyenoyama, Submission, Round 3
The staff picks Darren Uyenoyama, 5-0.



Lightweight Bout: Sam Stout vs. Cody McKenzie



Robert Winfree: Sam Stout, TKO Round 1
Robert Practor: Sam Stout, TKO, Round 2
Paul Lapointe: Stout, KO, RD2
Jeffrey Harris: Sam Stout, DEC
Evan Zivin: Sam Stout, Decision
The staff picks Sam Stout, 5-0.



Lightweight Bout: Abel Trujillo vs. Roger Bowling



Robert Winfree: Abel Trujillo, Decision
Robert Practor: Abel Trujillo, Decision
Paul Lapointe: Bowling, Split Decision, RD3
Jeffrey Harris: Abel Trujillo, TKO, Round 1
Evan Zivin: Abel Trujillo, TKO, Round 2
The staff picks Abel Trujillo, 4-1.



Flyweight Bout: Scott Jorgensen vs. Zach Makovsky



Robert Winfree: Scott Jorgensen, Decision
Robert Practor: Scott Jorgensen, Decision
Paul Lapointe: Jorgensen, Decision, RD3
Jeffrey Harris: Jorgensen, Decision
Evan Zivin: Zach Makovsky, Decision
The staff picks Scott Jorgensen, 4-1.



Lightweight Bout: Bobby Green vs. Pat Healy



Robert Winfree: Pat Healy, Decision
Robert Practor: Pat Healy, Decision
Paul Lapointe: Nutsack McGee (B. Green),Split Decision, RD3
Jeffrey Harris: Pat Healy, Submission, Round 2
Evan Zivin: Pat Healy, Submission, Round 3
The staff picks Pat Healy, 4-1.



Lightweight Bout: Edson Barboza vs. Danny Castillo



Robert Winfree: Edson Barboza, TKO Round 3
Robert Practor: Edson Barboza, TKO, Round 3
Paul Lapointe: Barboza, TKO, RD3
Jeffrey Harris: Barboza, TKO, RD2
Evan Zivin: Edson Barboza, TKO, Round 1
The staff picks Edson Barboza, 5-0.



Welterweight Bout: Court McGee vs. Ryan LaFlare



Robert Winfree: Court McGee, TKO Round 2
Robert Practor: Ryan LaFlare, Decision
Paul Lapointe: McGee, Decision, RD3
Jeffrey Harris: McGee, Decision
Evan Zivin: Ryan LaFlare, Decision
The staff picks Court McGee, 3-2.

---




MAIN CARD:




Lightweight Bout: Joe Lauzon vs. Mac Danzig



Robert Winfree: Well, this is what we get on the main card after Matt Brown got injured and his fight with Condit had to be scrapped. Joe Lauzon looked like crap in his last fight, and the way that Michael Johnson was able to batter him around is sticking in my mind when breaking down this fight. Danzig has always been kind of flaky in terms of his performances inside the cage, but at least he's been consistently flaky. I just can't look past how badly Lauzon was beaten in his last fight.

Winner: Mac Danzig, Decision

Robert Practor: Joe Lauzon, one of the UFC's consistently entertaining fighters, has been on a downturn as of late and he needs a big performance here. Lauzon and Danzig are both coming off of two straight losses and while Lauzon's history should provide him at least one more fight if he falls here, Danzig could very well see his UFC career come to an end with a loss here. Despite Lauzon appearing to begin slipping, I still see him defeating Danzig here.

Winner: Joe Lauzon, Decision, Round 2

Paul Lapointe: Raise your hands if you are happy that THIS bout is the one promoted to the main card over any other? Especially given the hype and anticipation most people and fans and media alike had for the Brown/Condit fight. Though to be fair I did not see that fight being the whiplash spectacle most people thought was coming, but alas that bout and its end result will have to wait just little bit longer anyhow. So now we have the man who beget Jens Pulver down that road of irrelevancy all the time ago in Joe Lauzon, winner of so many post event bonuses in one corner. His opponent the I do not like him and I do not know why but I really do not care all that much as to why that is anyhow TUF champ, Mac Danzig. Maybe its the name as it does sound like a comic book bully type character or a sidekick to the a jock in a HS kinda guy you see in 80's movies but I digress. Now surprising enough I thought Mac would get his walking papers following his shellacking at the hands of Melvin Guillard but I guess the UFC just really want Joe to win another fight after whatever the hell happened to him for his fight with Michael Johnson to have gone the way it did and Mac fits the bill. But really though Mac has shown a lack of commitment when it comes to getting past anything he showed us on TUF all them years ago and Joe to be fair does show spurts of brilliance when he uses his jiu jitsu. Especially over any of his exploits winging and dinging all over the octagon trying to make folk art with his scar tissue and this bout if he concentrates he should be able to avoid that issue altogether. If he buckles down and get's out of his own way I see him taking home Mac's arm home with him along with his dignity and form of employment.

Winner: J-Lau, Submission, RD2

Jeffrey Harris: This is as good a fight as any to be promoted to the main card, noting Joe Lauzon's track record with Fight of the Night performances. His previous UFC on Fox bout with Jamie Varner was put on the main card, and that was an oustanding fight which awarded Lauzon double-bonuses. Danzig's been a career underachiever throughout his UFC run since winning The Ultimate Fighter, but he's still had some standout good performances. Lauzon, despite still being a young man of 29, is actually quite old in the sport. One suspects if perhaps the sport is starting to pass him by and if the wear and tear is starting to set in. Lauzon's experienced some amazing career highs in the UFC, but he's had it tough maintaining a consistent streak or beating the higher-ranked fighters. This is really a gimme matchup to let Lauzon get another win to keep his job against a guy who has had a lot of opportunities and generally failed more often than not. Lauzon did not look good against Johnson in his last fight. Lauzon is a gutsy and talented fighter. He can take a beating, but he also tends to be outworked. One of his more significant fights was against George Sotiropoulos. He had a strong showing in the first round, but then it looks like he gassed in the second and got caught in a sub. I think Danzig will be easy pickings for Lauzon to deal with though. Lauzon wins by sub.

Winner: Joe Lauzon, Submission, Round 2

Evan Zivin: Matt Brown vs. Carlos Condit got pulled from the show so that means I have to talk about this fight. It's an interesting situation that Lauzon enters this fight in, being on the first two fight skid in his entire career. His loss to Jim Miller was a good battle against a better opponent, but he appeared very sluggish in his loss to Michael Johnson. Will Joe be able to turn things around against Mac Danzig? Probably. Danzig also comes into this fight on a two fight losing streak, but that's been par for the course for the former Ultimate Fighter winner throughout his UFC career. Mac's job is likely in jeopardy with this fight, whereas Joe will probably get another fight since he's usually quite exciting to watch and he's a strong finisher. Both men are good grapplers with decent striking. Joe is stronger than he looks so he shouldn't have any problems taking Mac down and throwing submission after submission at him. There's also a brief chance he can knock Mac out. Mac also has the ability to finish Joe but I don't see that happening. J-Lau needs to get back to his winning ways and he should do that on Saturday.

Winner: Joe Lauzon, Submission, Round 2

The staff picks Joe Lauzon, 4-1.

---




Featherweight Bout: Chad Mendes vs. Nik Lentz



Robert Winfree: This card is being held in Sacramento, the home of Team Alpha Male so we're getting plenty of them on this card. Mendes has been on a tear lately, and I personally view him as the second best featherweight in the world behind Jose Aldo. Nik Lentz hasn't lost at featherweight yet, but I don't like his chances as he tends to fall into the category of guys who can't win if they can't take you down and I don't think he can take Mendes down.

Winner: Chad Mendes, Decision

Robert Practor: I'm very high on Chad Mendes and currently have him in my top 15 pound-for-pound fighters in the UFC. Mendes has only suffered one loss in his career, that being to one of the top P4P fighters in the world, Jose Aldo. Since that loss, Mendes has gone on an absolute tear, earning four straight knockouts, three of which were in the first round while the other was the first ever time Clay Guida was finished by strikes. I was hoping for a bigger fight for Mendes here, but Nik Lentz is who he was given, and I see Mendes earning another finish. Mendes has been the #1 ranked Featherweight contender in the UFC's official rankings for a long while now and it will be interesting to see what else Mendes needs to do to get another shot at the title.

If and when Jose Aldo gets past Ricardo Lamas in February, the only other option for his next title contender is Cub Swanson, another man whom Aldo has defeated in the past. That makes me feel that Chad Mendes could very likely earn a title shot with a victory on Saturday. Also, if Aldo decides to leave the Featherweight division and move up to Lightweight, Mendes-Swanson could be a fight we see to determine the new champion. I recently discussed the Featherweight division at length in my weekly column WHAT'S NEXT, so please feel free to check it out. It will be interesting to see how the Featherweight division sorts itself out in the next couple months.

Winner: Chad Mendes, TKO, Round 1

Paul Lapointe: I am a major advocate for the skills and reputation of The Carny Nik Lentz thru and thru. Truly I am and that is saying a lot as I believe especially early in his UFC career when the play by play, Dana White and most bloggers were shitting all over his grinder like attributes and "Gift" decisions. Now his style has not really changed much since that time but I would say has grown more refined and Nik has become less complacent on dominant position control and is willing to cede top position and try and finish the fight. In other words he has developed a bit more of a killer instinct in the cage and some people say its because of his cut to 145 which I see as part of it indeed. Now all that praise aside, Chad Mendes has also dramatically changed up his repertoire as just a juggernaut wrestler that is their to just bum rush you and bleed you into a pulp like he did early in his WEC/UFC career. Since then he has began to really concetrate on his striking since post Aldo loss and he has just wrecked everybody since. Not just on a general level either, but rather convincingly and most in the first round. Now if one person can get a guy like Clay Guida rocked, a man with a block of bedrock as a cranium he has to have had his striking refined just a little bit indeed. After careful consideration I would have to surmise that though Nicky Boy is masterful on the ground his striking is suspect on the feet and with Bang Ludwig teaching you where to put your fist for people to go Sandman I have to go with Chad Mendes.

Winner: Mendes, TKO, RD1

Jeffrey Harris: This is a great fight between two top UFC featherweights. Say what you want about Lentz, but he's 8-2-1 with 1NC in 12 UFC bouts. And he's undefeated since moving down to featherweight. While Lentz has some solid wrestling and top control, this is something Mendes is even better than that. not only that, few fighters have done what Mendes has coming off a loss for a UFC title fight. He has four consecutive knockouts. Three of those opponents were fighters who had never lost by knockout from strikes before either. Mendes has grown exceptionally as a fighter and has become even more well rounded. Lentz does not pose as much of a threat standing up as Mendes does. Mendes also has a strong wrestling background of his own to deal with Lentz. Clay Guida, a fighter with a good amount of wins at lightweight who likes to grind and neutralize guys from the top was unable to do anything at lightweight. While I think Lentz is a solid fighter, when he's put on his back, he looks like a fish out of water. I think the first round or so will be tough, but Mendes eventually connects and puts Lentz away.

Winner: Mendes, TKO, Round 2

Evan Zivin: What can I say about Chad Mendes? The guy is a beast. He's an accomplished wrestler who has turned into a vicious striker, winning his last four fights by (T)KO. The dude stopped Clay Guida with punches in his last fight. Who does that? You know who does that? Chad Mendes. Lentz has won 8 times in the UFC and has gone undefeated since dropping down to the featherweight division, defeating Eiji Mitsuoka, Diego Nunes, and Hacran Dias. He's a good fighter but the only man who has been good enough to beat Mendes was Jose Aldo. Is Lentz as good as Aldo? No. No he is not. Mendes is going to show Lentz what he learned from the Bang Muay Thai System since his last fight and I don't expect it to take him long to do it. This will definitely be a fight that gets people talking about Mendes getting another title shot even if Lentz shouldn't be a good enough win to warrant one. With the way Mendes has been knocking guys out, it's only a matter of time before he gets to meet Mr. Aldo again.

Winner: Chad Mendes, TKO, Round 1

The staff picks Chad Mendes, 5-0.

---




Bantamweight Bout: Urijah Faber vs. Michael McDonald



Robert Winfree: I'm actually really looking forward to this fight. Urijah Faber doesn't lose unless a belt is on the line, and it doesn't look like this will be turned into some kind of interim fight before bell time. That said, Michael McDonald has looked really good in all of his fights so far, even his loss to interim champion Renan Barao saw him have a couple of good rounds. McDonald has serious punching power, he's got good takedown defense and is active off of his back if you do get him there. Faber's chin has generally held up, but he also doesn't get tagged flush by guys with the power of McDonald very often. I'm going against the grain here, I'm picking McDonald to have a breakout moment in this fight and finish Faber.

Winner: Michael McDonald, TKO Round 1

Robert Practor: These are the top Bantamweights in the UFC behind the champions, Renan Barao and Dominick Cruz. If Urijah Faber wins, he is sure to meet the winner of Cruz-Barao. If McDonald wins, he will need one more win if Barao is still the champ, but would likely receive the next shot if Cruz is victorious. This fight has big implications and should be very exciting. McDonald has ridiculous power and could spell trouble for Faber, but I think Faber's wrestling and experience advantage will lead him to a decision win.

Winner: Urijah Faber, Decision

Paul Lapointe: Mr. Butt Chin Vs Mr. I do not have Sex in almost 4 years. So if McDonald has no idea what intercourse looks like does that count you know...the other kind of love making? The one when your in HS and your GF says it does not count really if you want to stay pure for your future husband later in life? If it does then in the past 3 and half years he should know what a butt looks like and he should be able narrow it down into the canvas with his fists no problem. I kid, I kid, and bad jokes aside, Renan Barao showed that Mayday can be crippled and controlled on the ground over time and if you can whether the storm there is a chance you can negate his explosiveness until he wilts. Now can the famed Butt Chin do this? Maybe he has shown tenacity, he is doubly sticky, is a great scrambler, has really annoying hair but really he seems to unable to truly finish guys until later into fights. His monkey antics against Ivan Menjivar notwithstanding. I think Mayday wants to open some eyes and if he can create distance and force Faber to try and shoot he can surely knock his block off.

Winner: MMM, TKO, RD2

Jeffrey Harris: An interesting fight that for Faber really means clinching another title shot. Despite coming up short in his interim title bid against Renan Barao, McDonald has looked incredible during his UFC bantamweight run. He's put together an impressive record. He's shown he has knockout power standing up, and he's also dangerous off his back. Faber, despite his advancing age and tough losses, has proven he's still a top level fighter. He's also been caught standing up before and started slow in some significant fights. This fight is a tough call. I would say McDonald has more than a puncher's chance to win. And this does have an old guard vs. new guard feel. Still, I think Faber will have an edge grappling and his experience will ultimately win this fight out for him. Faber gets this to the ground and dominates McDonald there or catches him in a submission.

Winner: Urijah Faber, Decision

Evan Zivin: This is one of those fights that will help in giving us a clear idea as to what the pecking order is in the bantamweight division. Both have fought interim bantamweight champion Renan Barao, with Faber losing by decision and McDonald by submission. The winner of this fight could very well get the next title shot so both guys have reason to perform well. It should be a good fight either way because both combatants know how to finish fights. Since losing to Barao, Faber has won three straight fights, including submissions of Ivan Menjivar and Scott Jorgensen. McDonald comes into this fight having submitted Brad Pickett in a great fight back in August. Faber is a strong grappler with deceivingly good striking, whereas McDonald is a strong striker with deceivingly good grappling. Faber has a strong chin (that butt dimple can absorb a lot of shots) so he should have no problem standing with McDonald long enough to get the fight to a clinch or straight to the ground, where he can use his strength and smooth transitions to control the fight. There is a chance that McDonald hurts Faber on the feet and possibly knocks him out but I think Faber will be smart and aggressive enough to get the fight where he needs it to quickly to secure the victory. The California kid knows how to win fights so I think he'll find a way to win this one. There's not a title on the line so he should be fine.

Winner: Urijah Faber, Decision

The staff picks Urijah Faber, 3-2.

---
---




UFC Flyweight Championship Bout: Demetrious Johnson vs. Joseph Benavidez



Robert Winfree: Demetrious Johnson is looking to become the first flyweight champion to successfully defend his title three times. Of course he's the only ever flyweight champion so everything he does is kind of a record by default. Joseph Benavidez was the guy everyone thought would be the first flyweight champion, and he's been looking good in his last few fights, but Demetrious Johnson is just head and shoulders above everyone in the division right now. Johnson gets stronger as the fight goes on, if anything he's a slow starter and Benavidez would be wise to apply pressure early while Johnson is trying to find his rhythm. I just don't think Johnson is going to lose this fight, he's got cardio for days, he understands angles in terms of both striking and wrestling, and he's only been getting better as his performance against John Moraga demonstrated. I don't think anyone with the UFC right now will beat Johnson for the belt.

Winner: Demetrious Johnson, Decision

Robert Practor: I have been eagerly anticipating this rematch, as Joseph Benavidez has looked so great since his first fight against Johnson, and I feel he has the best chance to knock 'Mighty Mouse' off of the Flyweight throne. Benavidez is just a monster, as he tore through Ian McCall, Darren Uyenoyama, and Jussier Formiga en route to receiving another shot at the belt. Duane Ludwig's Team Alpha Male are full of amazing fighters and are on an incredible run, and Benavidez could be the first member to capture UFC gold this Saturday. Working with 'Bang' Ludwig should help Benavidez have more success with his striking here, as Johnson was superior on the feet during their first battle. The key in this fight is going to be Johnson's takedowns. If he continues to have success here, we are likely to see a decision victory in his favor. If Benavidez has a plan to neutralize the takedowns, I think we may see a finish. I'm excited to see how this plays out.

Winner: Joseph Benavidez, TKO, Round 3

Paul Lapointe: Slowly but surely the flyweight division has widened out and though Mighty Mouse had to fight maybe one challenger in a weakened division that may not have been ready for that kind of chance in John Moraga, we should know that is not the case with the no. 2 Flyweight in the World in Joe Benavidez. Now alot of people especially over the last few years seem to be very vocal about how sick they are of seeing championship rematches at such a recurring rate that it just seems like too many people are just too good or there division are just that bad. Now granted the UFC's Flyweights were like the red headed step child when it came to how thin the talent pool was in order to promote true contenders when it first started up but I would argue that is far from the case now and with every passing card its being proven, just ask Josh Sampo and Ryan Benoit. Plus the UFC's Women's division is by far the most anemic. Back to the point at hand as Joe B. has shown not just dramatic increase in his ability to end fights but to end fights with precision which was his problem the first go round all that time ago against Mighty Mouse when the title was first decided. Now D. Johnson is quite (note is) the fastest and most accurate striker in ANY UFC division but he lacks true power, something the Joe with the help of Bang Ludwig has shown dramatic improvement in. I mention this obviously as I did with Mendes/Lentz that both guys have ridiculously good takedown offense and defense and if Joe can take a few (read many) peppering shots to the face throughtout a very well paced bout I believe he can hit a few power blows to stumble the consistancy of Mighty Mouse and ground and pound the little bugger. Sacramento is Alpha Male country and on this night I see the boys taking home a big shiny prize.

Winner: Joe B, TKO, RD5

Jeffrey Harris: In the first fight, I picked Benavidez to win. Now, I'm leaning toward Johnson, but when that happens the universe jinxes me and the other fighter wins. Jomo has rebounded from his UFC title loss to Johnson very well. Now the story seems to be that Team Alpha Male never had a real coach before Duane Ludwig came along, and that's honestly a little annoying. Duane Ludwig has clearly done a good job working with the Team Alpha Male stable of fighters and helping them actually advance from looking like green wrestlers to well-rounded fighters. Case in point, Chad Mendes. But it also sounds sort of absurd hearing Team Alpha Male fighters talk about never having a real coach beforehand. How did that even work? Why was that even the case? Either way, all the hyperbole and extolled virtues of pot-fueled game planning won't mean much if it comes down to Team Alpha Male losing another UFC title bout. The team is currently 0-4 in UFC title bouts. While it says a lot about these fighters that they've made it to the UFC title contender status, it also says something that they've fallen short several times. If Team Alpha Male is not victorious here, no one is going to care about hearing how awesome of a coach Duane Ludwig is. They will be hearing about Team Alpha Male being 0-5 in UFC title fights, surpassing Team Cesar Gracie. Unfortunately, I do not think the fifth time will be the charm here. Benavidez is a great fighter and athlete. He's a dangerous striker with knockout power. He's good on the ground. However, Demetrious Johnson tends to make up for his lack of punching power with great speed, a strong chin, and great MMA wrestling. Ultimately, I think it will be another tough battle, but Johnson will win out again.

Winner: Demetrious Johnson, Decision

Evan Zivin: Has it only been 15 months since these two fought to crown the inaugural UFC Flyweight Champion? Feels like it's been longer. That fight was highlighted by Johnson's ability to shoot power doubles with incredible speed and precision. Benavidez had no answer for stopping Johnson's takedowns and it cost him the belt. Has he learned how to solve that puzzle since then? It's hard to say as he's been too busy knocking out lesser fighters, such as Darren Uyenoyama and Jussier Formiga. Johnson has defended his championship twice, once in a very close yet clear decision over John Dodson and once in a dominant submission victory over John Moraga. Can Mighty Mouse defend his championship against someone not named John? That's a good question. What isn't in question is that Joe will be better prepared to handle Johnson's grappling this time around, having experienced it firsthand previously. Something else of significance that Joe has coming into this rematch is the improved striking game he's been developing with Mr. Ludwig. There's a very good chance that Joe can catch Johnson coming in before he can even get the fight to the ground. I see the fight playing out in one of two ways: either Johnson gets his shots going and the fight ends up very similar to the first one, or Joe hurts Mighty Mouse early in the fight and stays on him, picking him apart until he either gets a stop late in the fight or we get a lop-sided decision. I like Joe and think he comes into this as the more dynamic fighter so I'll give him the benefit of the doubt. The only true martial art is Joe-Jitsu and hopefully he proves that to the world on Saturday. Let's get Duane some gold!

Winner: Joseph Benavidez, TKO, Round 4

The staff picks Joseph Benavidez, 3-2.

---
Remember to join 411's coverage of UFC on Fox 9 on Saturday night!
comments powered by