SPOTLIGHTS
Five Quick Rounds 12.17.13: UFC on FOX 9, The King is Leaving His Kingdom, More
Posted by Evan Zivin on 12.17.2013

From Georges St-Pierre stepping away from MMA and the announcement of Hendricks vs. Lawler to crown a new welterweight champion to the results of UFC on FOX 9 and the strawweights coming to TUF 20, 411's Evan Zivin examines these stories and more in Five Quick Rounds!

Hey hey, fight fans, and welcome back to Five Quick Rounds! I am your host, Evan Zivin, and I am more excited than the ad space of Mac Danzig's ass to be here once again!

"Not for sale." That's what it said on the back of Mac Danzig's shorts when he fought Joe Lauzon at UFC on FOX 9 on Saturday (my breathtakingly witty commentary of the event is below). Mac decided to use his main card fight to make a statement about sponsors that just want to put a logo on fighters and don't have any interest in the fighters themselves. I guess not all athletes are able to develop a loving relationship with their sponsors the way that Nascar drivers are, or something. I do agree that most sponsors probably don't care much about the fighters and are just looking for brand exposure, but is that really that big a deal? As long as they show some support and you get paid and they don't automatically drop you when you lose, all should be good, right? Maybe Mac is just sore that sponsors don't want to put their logos on a guy who hasn't had a winning streak in five years. I think the bigger issue is that a lot of lesser known fighters aren't able to get sponsor money but apparently the UFC is working on a solution to that. My guess is it involves gangland-style shakedowns. C'mon, sponsors. You don't want to end up like Condom Depot and The Gun Store, do you?

All right, so with fighter introductions out of the way, I have five more rounds of MMA news and opinions to throw at you. This week, we look at Georges St-Pierre stepping away from MMA, the announcement of Hendricks vs. Lawler to crown the new welterweight champion, the results of UFC on FOX 9, and the strawweights coming to TUF 20. Let's to it do it.

FIGHTER YOU READY!!!!
FIGHTER YOU READY!!!!

FIGHT!!!!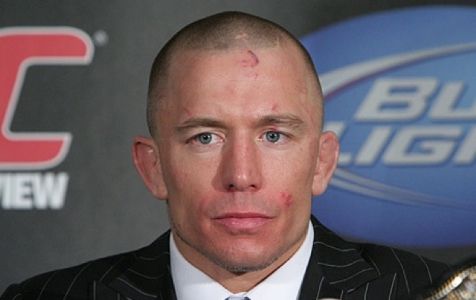 Round One: Georges St-Pierre Steps Away from MMA, Vows to Return Once He Vanquishes Captain America

***TOUCH OF GLOVES***

Well this was unexpected. Actually, that's not entirely true. It was obvious that something was going on with UFC Welterweight Champion and top fighter on the planet Georges St-Pierre after his fight with Johny Hendricks back at UFC 167 last month. After being awarded a controversial decision in a fight that very few people, including GSP himself, felt he had won, he made a statement inside the cage that he needed to take time away from the sport. He wouldn't elaborate on why he needed to step away other than a vague reference to issues in his life, but he made it very clear to Joe Rogan, that bastion of post-fight journalistic truth when he's not busy making people consume camel testicles, as well as at the post-fight press conference that he was mentally and emotionally drained from being champion and that he could not put himself through another fight camp. This, of course, sent Dana White into a seething rage that spawned a litany of articles from all sorts of of MMA "media" decrying White's remarks and supporting GSP is what must be a very difficult time for him. As cool as it would be to see St-Pierre give Hendricks a rematch to see what would happen a second time, if Georges can't fight then he can't fight and nobody can or should force him to do otherwise. This was, of course, assuming that Georges didn't want to fight again and was absolutely sincere in his post fight remarks, which can't always be taken seriously given how emotionally charged someone can get after having been punched in the face for 25 minutes straight. If you can honestly tell me that you'd be able to keep a clear, rational perspective of yourself after getting attacked for half an hour by a man with an angry beehive on his face, then tell me how you learned to lie so well. Seriously, I have some traffic tickets I need to get out of.

So on Friday, Georges held a press conference to clear the air and announce his future plans to the world. It was originally just set to be a fairly small affair until Dana announced there would be a conference call and he would be a part of it. That alone made it obvious that some big news was going to get dropped on us, like a sheet of ice falling off a tall building. Seriously, be careful out there, people. It's dangerous weather. The announcement was then made that Georges would be stepping away from MMA. Again, Georges made no mention of what specifically was going on in his life to warrant such a drastic announcement but it's probably a combination of being burned out from training to compete at such a high level for so many years along with the fact that being so dedicated to training and fighting has forced him to put aside a lot of other things he'd like to accomplish in his life, like starting a family or creating a vigilante team of masked crusaders that roam the streets of Montreal at night to protect it from criminals that want to take down its maple syrup industry or sell pirated copies of Watch Dogs. Y'know, things that all normal people want to experience in their lives. Georges said he doesn't know when he'll come back or if he even will. He recognized that it isn't fair to make the UFC wait for him so he also announced that he was vacating his welterweight championship, the belt that he has won twice since 2006 and defended nine consecutive times. I cannot even begin to imagine what Georges' life has been like all these years but I've seen enough videos of his training to know that I could only handle that for so long before needing a break, but maybe that's why I'm not one of the best fighters in the world. Either way I completely understand his decision to step away and I have absolute respect for him being willing to give up his championship so as not to force the welterweight division to wait for him. Besides, he's already done that once. So enjoy this next chapter of your life, Georges. I hope you're able to get everything out of it that you are needing to and, even though I may never get to see you fight again, you'll still go down in history as one of the best fighters the world of MMA has ever seen. It's been a pleasure to watch you compete. Thank you and I'll see you in theaters on April 4th!

***HORN SOUNDS***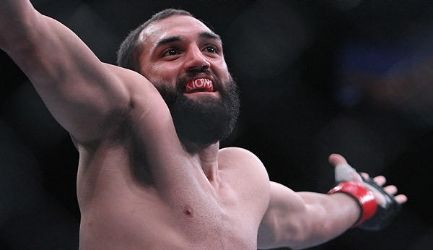 Round Two: Johny Hendricks vs. Robbie Lawler Booked to Crown New Welterweight Champion, Is This Real Life?

***TOUCH OF GLOVES***

Now that Georges St-Pierre has vanished from our sport to go find out what the hell a winter soldier is supposed to be, it leaves quite a void in the UFC. Not only did the UFC lose it's biggest draw, the only man who could be consistently relied upon to garner more than half a million buys every time they compete (GSP could do 800,000 without breaking a sweat), they also lost their welterweight champion. The king has abdicated his throne and if you're either well studied on your royal monastic history or have watched too much Game of Thrones, you know that things are going to get bad from here. A power struggle could ensue. Arguments will be had, fights will break out, blood will be shed, lives will be lost. The midgets! So many midgets! Well, most of that was going to happen anyway. I mean, it is the fight business after all. Seriously though, it is quite interesting to ponder who could reign over the division now that GSP is gone. There are quite a few championship possibilities at 170. You have the man who should be champion but had the title taken away from him by the judges, you have the man who was the interim champion before being defeated by the former champ, you have the man who was pegged to be the heir to the division before a setback knocked him down the ladder, you have the man who could have been champion 10 years ago and has exploded back on the scene to make one last claim for gold and glory, and you have Matt freakin' Brown. You gotta admit, GSP leaving sure made the division a lot more exciting now than it was a few days ago. So, there can only be one. Who is it gonna be? Also, am I gonna get sued for using that?

The reason that Dana White appeared at GSP's conference call was to give us an answer to that first question (the answer to the second is probably). White announced that the new welterweight champion will be decided at UFC 171 (March 15, Dallas, Texas). Vying for the vacant title will be Johny Hendricks, the man who defeated St-Pierre at UFC 167 before two of the judges woke up and awarded the fight to GSP on instinct, and Robbie Lawler, the former star who made a comeback in 2013 and called Rory MacDonald's counterstriking bluff to assert his position as a top contender. Both these men have incredible stories that have brought them to this moment. Hendricks has blossomed as an elite fighter in front of our eyes. People first took notice of the furry Oklahoman after his knockout of Jon Fitch in December 2011. From there he has slowly worked his way up the ranks towards contender status and he's spent the last year proving that he is worthy of being champion and that may very well happen for him next year. Lawler could have been champion years ago when his teammate Matt Hughes ruled the schoolyard and, after many years swimming around in different weight classes and organizations, he is back to make a claim for what could have been his so long ago. Add Nick Nolte crying in a hotel room to this and you might have yourself the next big MMA movie. Someone start writing. Seriously, I am pumped for this fight. I am so excited that I am going to ignore the fact that this means Jon Jones vs. Glover Teixeira is getting pushed back again again again. At least that's what I think Dana was hoping for. Either way the welterweight division is popping now and I can't wait for March. It's all right, Nick Diaz. GSP is gone. You can stop being retired now.

***HORN SOUNDS***




Round Three: UFC on FOX 9 Quick Thoughts, Demetrious Johnson Retains, Joe Benavidez Gets No Buck for His Bang

***TOUCH OF GLOVES***

You see what I did there? I know. I'm clever. So clever it hurts. Seriously, I've got this sharp pain in my shoulder. I should probably get it looked at. Anyway, amid all the craziness regarding GSP's decision to take his talents to South Beach or whatever he said, there was a UFC event that took place, and it wasn't just one of those dinky little Fox Sports 1 events that feature fights that no one could possibly care about. This was one of those major events on big FOX that feature fights no one could possibly care about. Honestly there's not a ton of difference between the shows other than sporadic appearances from that guy who gets to spend his Sundays getting yelled at by Terry Bradshaw and gets paid to pander to MMA fans. The featured attraction of this showdown in Sactown (don't giggle) was a rematch for the UFC Flyweight Championship between Demetrious Johnson and Joseph Benavidez. The two originally fought back at UFC 152 with Johnson winning the fight by unanimous decision. Johnson went on to defend his title twice since then while Benavidez knocked out some suckas with the help of Duane Ludwig. The question regarding rematches is always what did both men take from the first fight, who was able to find holes in their own game and their opponent's game, and who was able to make the biggest adjustments to ensure that the outcome was either the same or different than the first time? Okay so that's three questions but they need to be answered people! Are you gonna answer them? I'm not going to. I've got laundry.

That's okay because, much like many two fight rivalries that saw a long, drawn out first battle end quickly the second time around (Henderson-Cerrone, Machida-Shogun, Pettis-Henderson), this fight also ended rather quick. It only took Johnson two minutes to end the fight and he ended it in a manner that hadn't been seen by Mighty Mouse since before he entered the WEC: by knocking the crap out of Joe Benz. There wasn't a ton of action through the first half of the first round, although Johnson did land a few jabs and long punches. Joe B-Wan stayed even with Johnson and pushed him around looking for power shots but he was losing the center of the Octagon to Johnson's speed and movement. Then, with Benavidez's back close to the cage, Johnson exploded forward with a right hook that landed on Benavidez's jaw and dropped him. He was likely out from that punch but Johnson had to land a few more before "Big" John McCarthy ran in to tell the kids that play time was over. That was the most brutal knockout the division has seen, not to mention the fastest to date. Johnson has been getting better with every fight and his speed, power, and accuracy were all on display in this fight and in the finish. It's a good sign for the future as, while it seems likely that Johnson will be sitting atop the flyweight mountain for years to come, he at least might become consistently better at finishing opponents and move away from being the decision machine that he was up until the John Moraga fight. It would definitely help to promote the division better to have a champion who can finish opponents as impressively as he can flip around the cage afterwards. So congrats, Mighty Mouse. Now, can you help me with my Xbox One? I'm having trouble getting some of the updates to install and the optical drive is making a clicking sound and I don't know what's going on. Get back to me.

***HORN SOUNDS***




Round Four: Rest of UFC on FOX 9, Urijah Faber Proves Once Again to be THE Alpha Male

***TOUCH OF GLOVES***

There is no question that, even with Duane Ludwig as the head coach for Team Alpha Male, Urijah Faber is still the captain. He's proved that by consistently winning his fights and winning them in dominant fashion and he did that again in the co-main event against Michael McDonald. Faber spent the first half of the first round using his bread and butter to get McDonald on the ground and control him with posture and short strikes. Eventually the fight was stood up and, despite McDonald landing a couple punches and kicks, Faber was able to stand toe-to-toe with the young striker and perform quite well. Faber was trying to dictate the pace and land quicker, crisper combinations in the second round. McDonald was able to keep Faber at bay with hooks and kicks until Faber caught McDonald coming in with a right hand that sent McDonald reeling. Faber chased him down, threw him to the ground, and immediately latched on to McDonald's neck. It's the California Kid's instinct to go for the guillotine and when he has it, all you can do is tap and hope he doesn't rip your head off. So Faber got the submission victory halfway through the second round and firmly planted himself as the best bantamweight in the world that doesn't have a belt. it would be hard to make a case for anybody else getting the first shot at the unified champion once Dominick Cruz and Renan Barao figure that out. I don't know if Faber will be able to defeat either guy after having lost to both already but who knows. He's got the entire state of California behind him, that's for sure. Sorry Dominick. You should have grabbed that nickname first.

As one Alpha Male fighter asserted his place as the top bantamweight contender, another asserted his spot as top featherweight contender in Chad Mendes. Mendes had relatively little trouble in dispatching of Nik Lentz over three rounds. Mendes came close to finishing Lentz with strikes early in the first round but Lentz survived and even started to come back in the second half of the fight. Mendes' offense did slow in the second and third rounds, which is supposedly due to a cold or flu, but he still got the job done with a unanimous decision and has proven to be quite a tough challenge for anyone to beat at 145. The card was filled with decisions but, surprisingly, most of them were decent fights. We saw Joe Lauzon match Mac Danzig's jiu-jitsu and do enough damage to secure a unanimous decision. We saw Ryan LaFlare, the love child of Gray Maynard and Martin Kampmann, stay ahead of Court Mcgee in a very close fight to take a unanimous decision. We saw Edson Barboza come back from the brink of a first round destruction by Danny Castillo to leg kick his way to a majority decision. We saw Bobby Green prove you don't need to keep your hands up to dispatch of Pat Healy by unanimous decision. We saw Zach Makovsky prove that his Bellator championship was no joke by defeating Scott Jorgensen by unanimous decision. We saw Sam Stout punch the price tag off of Cody McKenzie's basketball shorts, which he may or may not have bought at that thrift shop down the road, to take a unanimous decision. We saw Alp Ozkillic add another awesome name to the UFC record books with a split decision over Darren Uyenoyama. We did get to see one finish on the prelims, a TKO of Roger Bowling by Abel Trujillo. It was a rematch from their no contest from back in August so it's good to see that Abel knows how to throw legal knees now. Just imagine what else he can do. The possibilities are endless.

And that was UFC on FOX 9. UFC 168 is a week from Saturday. It's going to be awesome because Josh Barnett is fighting on it. Oh and there are also some title fight rematches or something. YEAH! THE WARMASTER!

***HORN SOUNDS***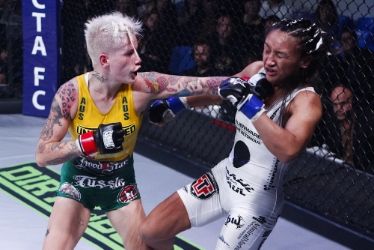 Round Five: TUF 20 to Feature Strawweights, Will Prove That Pay Inequality Can Go Both Ways

***TOUCH OF GLOVES***

So you like women, right? Of course you do. You like tough women who punch each other in the face for a living even more, right? Of course you do. If 2013 has proven more than anything else in the world of MMA, it's that there are some good fighters among the fairer sex. Fighters like Ronda Rousey, Miesha Tate, Cat Zingano, Sarah McMann, and others have been tearing it up inside the Octagon while The Ultimate Fighter 18 showed that there is plenty of other female talent just waiting to get the chance to prove their skills on the grandest stage of them all. We have seen a lot of great women's fights this year and it's got a lot of people talking, so much so that Dana White has talked about introducing more female weight classes to the UFC. Dana has said before that, if the UFC were to introduce a second weight class for women, it would be the 115 pound strawweight division, one that has become home to a number of talented fighters. While Dana had been hush about when we might see these girls kicking ass and taking reasonably sized names in the Octagon, it's because he was waiting for the right moment to reveal that they are coming and they are coming soon. How soon? Try next year. Is that soon enough for you? Is it, you impatient Internet connoisseur, you?

That's right. This week, Dana announced that the strawweight division would be arriving in the UFC next year and they are being introduced in a very interesting way: through TUF. While the UFC usually doesn't reveal any information about upcoming seasons of the show too far in advance, they felt it was worth dropping a bombshell like this now. What has happened is the UFC has acquired the contracts of 11 115 pound fighters from Invicta FC who, along with 5 more fighters to be determined through open tryouts, will compete on the 20th season of TUF, with the winner becoming the inaugural UFC Strawweight Champion. Season 4 only got title shots. Season 20 is getting a damn title. That's huge. Competing on the show will be almost every top strawweight on the scene right now, including Invicta champion Carla Esparza, Felice Herrig, Tecia Torres, Joane Calderwood, Bec Hyatt, and Thug Rose Namajunas (a.k.a. the half of Pat Barry who knows how to win two fights in a row), among others. You may not know a lot of these names now but you will. UFC raided some good talent right here. I applaud Invicta president Shannon Knapp for being so generous in allowing so many of her fighters to vacate for greener pastures, and I do mean "greener" as each fighter gets $32,000 just for being part of the show. Plus, this won't be one of those seasons where you have to fight to get into the house. All these girls are guaranteed to get TV time and they are getting paid. Damn. I can just imagine how many flyweight and bantamweight fighters are giving serious thoughts to having sex changes so they could be making that much money coming in to the UFC. Either way, this must be a huge honor for these women and it is a huge opportunity they are being given. I hope they all give us their best and I can't wait to watch what happens next fall. Oh, and sorry, TUF 19. It's not like anyone cared about you anyway.

***HORN SOUNDS***

That's it for Five Quick Rounds. If you have any questions, comments, or suggestions, and it is always appreciated when you do, leave them in the comments section. I will be back in 7 for another Five Quick Rounds. Until then, remember to fight clean, fight hard, fight fair, and never leave it in the hands of the judges...




LATER!!!!!!!!!!!!!!!!!!!!!!!!!!!!!!!
comments powered by