SPOTLIGHTS
The Rear Naked Column 12.18.13: Going Out on Top
Posted by Samer Kadi on 12.18.2013

Georges St-Pierre's decision to leave MMA for the time being makes him one of the few fighters to go out on top! 411's Samer Kadi takes a look at St-Pierre's decision and his legacy!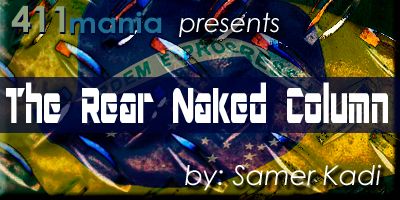 Going out on top…

At some point, you would be forgiven to wonder where the term first originated from, as very few ever seem to do it. Even those who do tend to negate it shortly thereafter with some ill-advised returns that generally range from needless to flat out legacy-tarnishing. Notable exceptions do stand out across different sports, but when it comes to prizefighting, "going out on top" is a near alien concept.

At heart, fighters are just that: fighters. By very definition, any form of "quitting" is instantly counter-intuitive. Most would admit to "not knowing how to do anything else," figuratively speaking. Walking away from the grind, the daily practices, the battles, and that one extra paycheck has historically proven to be far less straightforward than the idea of no longer receiving trauma-inducing blows to the head would suggest.

Witnessing once larger-than-life, seemingly invincible heroes suffering from an ironic reverse of fortunes has become an all too familiar sight in combat sports. The same men who once terrorized opposition and provided fans with unforgettable moments of violence turn into depleted, broken down versions of their former selves. Be it Ali and Tyson in boxing, or Liddell and Couture in MMA, fighters that exerted unparalleled levels of disturbing brutality, or ingenious tactical superiority, were reduced to mere stepping stones.

Unlike boxing, MMA does not have the benefit of a rich history quite yet. Therefore, we don't have the same data and examples to draw from. With the UFC having only recently celebrated its 20th anniversary, MMA is a relatively young sport still. And yet, in the modern era alone, enough fighters have lingered too long for that to be considered the norm. The likes Antonio Rodrigo Nogueira, Wanderlei Silva, Liddell, and Mirko "Cro Cop" have all endured a fierce fall from grace that completely tore apart their aura of invincibility.




Fedor Emelianenko, whose status once reached demigod levels of unflappability, showed a measure of level-headedness by essentially bowing out after three consecutive defeats (though not before saving face with some gimme fights). Nevertheless, it only took "The Last Emperor" one fight too many for him to immediately lose his once untouchable status of undisputed "Greatest of All Time." One injudicious decision to dive into a grappling wizard's guard saw his undefeated streak come to an end, and with it, his claim to being the best ever. In fairness, the universal readiness to remove Emelianenko's crown had as much to do with an alarming amount of wasted fights against laughable competition.

While the Russian had the humility to recognize when it was time to hang up his gloves, his case highlights one damming aspect that prevents many from "going out on top," even if they wished it: You don't truly know that you're losing it until reality literally hits you hard in the face. Unlike many of his peers, Emelianenko put his ego aside and called it a career once that happened. However, the damage he avoided was purely physical (which to be fair, is the most important kind). His legacy on the other hand, had already taken a bit of a beating.

Since Emelianenko's upset at the hands of Werdum, Anderson Silva had left little doubt as to who the greatest fighter this sport has ever seen was. Making highlight reels out of elite fighters while taking preposterous risks for fun, Silva was MMA's superman. And yet, just over a week from now, he might be staring retirement in the face. After shockingly being separated from consciousness at the hands of Chris Weidman last July, "The Spider" sounded like a man ready to walk out, having flirted with retirement for years. As that moment inevitably draws near, it remains unclear whether Silva's loss was a freak occurrence resulting from carelessness on his part, or a definite sign of decline. A second loss to Weidman would more than likely sway opinion towards the latter. While the former middleweight champion is unlikely to stick around long enough to mirror Chuck Liddell's fate, potential back-to-back losses mean "going out on top" is a fantasy.

This only makes Georges St-Pierre's recent retirement all the more notable, for all the right reasons. Like Silva, GSP reigned supreme over his division in equally dominant fashion, against better competition, albeit less spectacularly. However, unlike Silva, or any mixed martial artist before him for that matter, not only is St-Pierre going out on his terms, but he's retiring on top, as the reigning welterweight champion, having defended his title a whopping 9 times. Yes, the Hendricks decision was highly controversial to say the least, but it doesn't alter the bigger picture: One of the most successful MMA fighters of all time is willingly walking out of the sport at a mere 32 years of age, having accomplished more than perhaps even he would have ever dreamed.

Beyond St-Pierre's monumental in-cage achievements, he was one of the very few who helped transcend the sport. A French-Canadian, the Quebecois is almost single-handedly responsible for putting the Ultimate Fighting Championship on the map north of the border, and turn Canada into one of the UFC's most lucrative markets. His popularity of course, was not limited to his home country, as St-Pierre was a crowd favorite everywhere he fought, despite wide criticism for his risk-free style in the later stages of his career.




Combining skill, looks, charisma and as close to model behavior as possible for a cage fighter, Georges St-Pierre became the sport's ultimate ambassador. For years, he was one of the company's driving forces on PPV, and became their biggest – and perhaps only – draw following Brock Lesnar's departure. At a time where over-the-top pro wrestling-esque shticks and "exciting" performances are hastily associated with drawing power, St-Pierre was present to clear out the misconceptions.

In fact, St-Pierre's pragmatic, down to earth attitude has defined his career. While his now clichéd statements regarding every opponent being the toughest of his career grew tired rather fast, he is far more engaging when going to specifics regarding his mental state, game-plans, diet, fears and insecurities. In a sport of macho alpha males, St-Pierre never felt the need to display his dominance through words, or mask his weaknesses through manufactured confidence. That very approach is what allowed St-Pierre to objectively assess where he currently stands mentally and physically, and determine that it was time to pull the breaks.

Since a serious knee injury that kept him on the sidelines for 18 months, St-Pierre hasn't quite been his normal self. The explosion is no longer the same, and the seamlessness in transitions is lacking. He looks a touch slower and does not offer the same level of physicality. That of course, did not stop him from soundly defeating Carlos Condit and Nick Diaz, but according to the man himself, he had retirement on his mind throughout.

St-Pierre never fought like your typical MMA fighter. Even back in his "exciting" days, there was always a refined element of technical prowess that set him apart. Later on, he evolved into a more cerebral and calculating style. While the performances themselves weren't always the most adrenaline pumping, everything he did looked aesthetically picture-perfect.

Mentally, St-Pierre needed things had to go exactly according to the plan to feel at ease, which explains the level of meticulousness in his preparation. As such, it is hardly surprising that the now former champion had been planning for life beyond fighting. "Rush" always prided himself on being a "martial artist" rather than a "fighter," and approached his career in a refreshingly philosophical, yet realistic way.

This article could have been an extensive retrospective on the career of one of the greatest fighters to ever live, but frankly, words would not do St-Pierre's tenure in the sport justice. His accomplishments stand in a tier of their own. However, beyond the PPV buys, the millions of dollars made, the high profile endorsements, the two world titles, and the nine title defenses, exiting the sport at 32 years of age as the reigning world champion is perhaps St-Pierre's most impressive achievement, and one that will be even more difficult to match than the baffling amount of consecutive rounds he's won inside the Octagon. Here's hoping his competitive drive does not lead to an underwhelming return.

That will do it for another week of "The Rear Naked Column". You can send in your comments, e-mails, or you can follow me on twitter right here for all things MMA, video games, sports, and other nonsense.
comments powered by