SPOTLIGHTS
411 MMA Fact or Fiction 12.18.13: Hendricks/Lawler, UFC Women's Strawweight Division, More
Posted by Wyatt Beougher on 12.18.2013

Would Carlos Condit make more sense for Johny Hendricks to face than Robbie Lawler? Did the UFC make the right decision in starting a women's strawweight division? 411's Dino Zucconi and Alex Rella debate these topics and more!

Welcome back to another edition of 411's MMA Fact or Fiction, and I'm your host, Wyatt Beougher. Just wanted to let everyone know how the next two weeks of MMA Fact or Fiction are going to work, in light of the upcoming holidays. Both columns will run on Wednesday as normal, but next week's column will be a look back at the year 2013 in MMA and the following week's will be a look ahead to 2014, in honor of the new year. Of course, if any major story breaks (like GSP stepping away from MMA, there's the possibility that that'll be discussed, but more than likely, what I've laid out is what's in store for the next two weeks.

Last week, Paul Lapointe put his unbeaten streak on the line against Mark Radulich, and when the dust settled, Paul's win streak was still intact. Considering going into the fight, Mark had three times more wins than Paul had ForF appearances, I'm calling that one an upset. This week, we've got a returning guest, as Dino Zucconi is once again kind enough to take time out of his Wrestling Zone schedule to talk about some MMA. And since he made such a sterling debut against yours truly, I wanted to make sure that he had some better competition this time around, so I matched him up against Alex Rella. Rella's been in a bit of a rut lately, but winning this year's ForF tournament shows that he can rise to the occasion, so this week's bout should be a classic.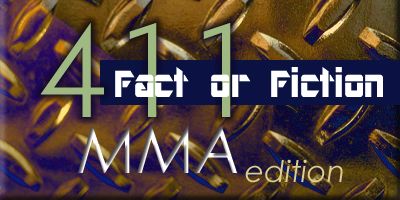 TALE OF THE TAPE

Red Corner
Dino Zucconi
'Awesome-O'
Columnist, Smart Marks (Wrestling Zone)
1-0-0

VS

Blue Corner
Alex Rella
'Cinder'
Columnist, The MMA Top 10
6-8-3

---

Should Benavidez be kept out of the title scene?



1.) With both a decision loss and a highlight reel knockout to champion Demetrious Johnson, Joseph Benavidez should not compete for the flyweight title again for at least a year.

Dino Zucconi: FACT Even with the division as shallow as it is, I don't think Benavidez should get quite the fast track to a third fight, even if he crushes everyone else in the division as we'd expect him to. I personally picked Benavidez to win both fights, and while the first was close, the second fight was such a decisive victory for Demetrious, that I feel he's earned the right to be free of Benavidez for the time being. This is the same company that wouldn't give Vitor a rematch with Anderson because of a crazy front kick KO that hadn't been seen before in the UFC, so why would they rush to give Benavidez a third opportunity when he's already lost twice? He can definitely earn another shot at Johnson, but it should definitely take longer than a year for him to get there.

Alex Rella: FACT Benavidez has now been defeated twice by Demetrious Johnson for the flyweight title and this quick knockout has pretty much eliminated all chances for a rematch between the two ever. Now if Johnson somehow loses the title within the next year, there are others higher up on the rankings than Benavidez. Ali Bagauntinov has been dominant since joining the UFC and John Lineker would already have a title shot if he could make weight. John Dodson came closer to defeating Mighty Mouse, so I would think he would get a title shot before Benavidez. Also I'm excited to see Brad Pickett drop down to flyweight. If he has an impressive debut, it wont take much for him to get a title shot as Dana White loves him and he is one of the most exciting fighters around today. Pickett has also defeated Johnson at bantamweight, so there's some intrigue since he's already defeated the dominant champion. All things considered, I don't see Benavidez getting another title shot for at least a year.

---

Should Faber be the next title challenger?



2.) Similarly, in spite of being ranked second in the UFC's rankings and beating the third-ranked fighter, with a loss to both the sitting bantamweight champion and interim bantamweight champion, Urijah Faber should not get the first title opportunity against the winner of the upcoming Dominick Cruz/Renan Barao title unification fight.

Alex Rella: FICTION Urijah Faber went 4-0 this year picking up wins over two top fifteen bantamweights in Ivan Menjivar and Yuri Alcantara and two former number one contenders in Scott Jorgensen and Michael McDonald. These were all impressive and dominant performances as he finished off three out of the four fights. Yea the easy complaint about Faber is that he's lost his past five title fights, but he's looked as good as ever in 2013. Also there really isn't anybody else. The only other good bantamweights on winning streaks are Raphael Assuncao and Takeya Mizugaki, but they're both about a win or two away from a title shot. Maybe the two of them battle for the next shot at the title, but Faber has the better claim at the moment. So Faber should absolutely get the first title opportunity against the winner of Cruz/Barao.

Dino Zucconi: FICTION Faber is 1-1 against Cruz, and went the distance in a somewhat underwhelming fight against Barao. At no point did he lose 2 in a row to either, nor was he beaten soundly via KO in either instance. Faber has been a beast with fantastic outings against Menjivar, Jorgensen, Alcantara, and then he topped it off by tapping out Michael McDonald. He's left no doubt as to who the "top contender" is once Cruz and Barao combine the belts, and I would think it criminally unfair if he was to be kept either from a rematch with Barao, or from the third fight with Cruz that he already earned. Faber getting first crack at the Cruz/Barao winner is 100% the right move.

---

Is Bigg Rigg the next UFC welterweight champion?



3.) Johny Hendricks will be the next UFC welterweight champion.

Dino Zucconi: FACT In my douchebag fan brain, he already is the UFC Welterweight Champion, on account of him beating GSP in their fight last month. Maybe it was close in a points competition, but in the actual fight aspect of the sport, GSP was beaten. I'm also happy that Lawler got the shot over Condit, but we'll get more into that in a second. While Lawler has been shockingly good in his UFC run, I don't think he's got the tools to beat Hendricks. I could be 100% wrong, and I'd be okay with that, too, but I think Hendricks will use his superior wrestling to keep things standing, and then it just becomes a firefight between two guys packing heat. I lean Hendricks over Lawler, but I also am greatly looking forward to the fight.

Alex Rella: FICTION Johny Hendricks is a great fighter and I thought he beat GSP, but I'm picking Robbie Lawler in this one. Yes, Hendricks is the better wrestler but I think Lawler is the much superior striker. Hendricks has eight knockouts with his big left hand, but Lawler has eighteen knockouts from punches, head kicks, and some knees. Hendricks will take Lawler down, but he won't be able to finish him there. Lawler has shown a weakness to submissions in the past, but that isn't Hendricks' game. Lawler has only been knocked out once and that was close to ten years ago now, plus he was going up against much larger and stronger opponents in Strikeforce. Each round will start out with both men standing up so Lawler will have five chances to knock out Hendricks and even if he doesn't, I still think his striking will outweigh Hendricks' wrestling.

---

Who doesn't want to see a rematch of this fight?



4.) With Matt Brown pulling out of their upcoming fight, Carlos Condit would've been a better opponent for Hendricks in the upcoming welterweight title fight.

Alex Rella: FICTION Carlos Condit and Johny Hendricks had a great fight earlier this year, but Hendricks decisively beat him and Condit has only won once since then. The rematch will happen eventually, just not right away. Lawler is much more deserving of a title shot right now. He's looked nothing short of awesome since returning to the UFC and the welterweight division. Lawler has gone 3-0 in 2013, which includes knocking out former number one contender Josh Koscheck and a recent win over the supposed heir to GSP's throne in Rory MacDonald. Condit isn't ready for another title shot just yet.

Dino Zucconi: FICTION I already watched Hendricks beat Condit, I don't need to see it again so close. Condit getting a shot off the strength of beating Martin Kampmann to halt a two fight losing skid over Lawler's 3 fight win streak that includes a KO over Josh Koscheck and his upset over Rory MacDonald would have been ridiculous, and I'm glad that they didn't try to get Condit right back in there. Nothing against Condit, I find him to be a fantastic fighter and definitely deserving of a title shot again - provided he beats more people than Martin Kampmann. If you want to make Condit the #1 contender to the winner of Hendricks/Lawler, I'm okay with that - just give him a fight beforehand to cement that status.

---

Any guesses as to who the next female UFC fighter to grace ESPN's "The Body Issue" will be?



5.) By taking over the contracts of 11 Invicta fighters and putting them on the next season of The Ultimate Fighter to crown the first UFC women's strawweight champion, the UFC has found the perfect way to introduce new divisions.

Dino Zucconi: FACT This could easily change, but I'm willing to wait and see how this is handled. Surely this is better than just signing a bunch of new fighters and throwing them on the prelims, right? This will give viewers the opportunity to learn who everyone is, pick their favorites, and gives everyone in the house an even start on winning the belt. This isn't a paltry 4-person tournament, this is a long marathon to a new champion. It may not be "perfect", exactly, but this sounds like one of the better ways to introduce a new division. Let's see how the season plays out of course, but I'll go FACT on this one.

Alex Rella: FACT The women's bantamweight division has been a great success so far, but they were lucky as they were able to pull most of the fighters from Strikeforce. Now since most of the strawweights are coming from Invicta, most fans know even less about them than they did the bantamweights. The UFC's plan for the all women's season of TUF is a great idea as it accomplishes a few things. First it breathes some life into the show which has become stale over the years. Then it gives the ladies the full spotlight over the course of the season and it should help them get the support of the fans. Finally, it gives us a true champion using TUF's multiple round tournament format. Overall a great idea and i cant wait to see who they announce as the coaches.

---


Who do you think won this week? Did Dino take down the champ, or did Rella rebound into the win column? Voting will be open until midnight EST on Saturday, so make sure you vote and make your voice heard!










---

Yippee-ki-yay, motherf***ers!



Bonus) Die Hard is the best non-traditional Christmas movie (it picked up the highest average ranking on the 411 Movies Zone countdown of the same name).

Alex Rella: FACT Die Hard is the best Christmas movie in my opinion. Just one of the best action movies of all time. Bruce Willis was at his best, Hans Gruber was an amazing villain, and Carl Winslow was an awesome sidekick.

Dino Zucconi: FICTION Sorry, sorry. This probably will cost me a few votes. I love Die Hard. It's great. However, it's not Rocky 4, one of the 6 greatest movies of all time. Rocky 4 is centered around Christmas time, with Rocky getting his awesome Robot as a Christmas gift. The fight itself against Drago occurs in Russia on Christmas Night. Rocky gets all of Russia to change after Drago realizes that Rocky is made of iron, and Rocky realizes that if he can change, and they can change... EVERYBODY CAN CHANGE!!! I'll take Rocky 4 over Die Hard any day of the week.

(And Dino was kind enough to include a video argument as well:

)

---


And that's it for this week! As always, if there's anything you'd like to see featured in a future edition, leave your statement in the comments and I'll add it in. Let us know what you thought in the comments, on Twitter, or on Google+.
comments powered by