SPOTLIGHTS
Five Quick Rounds 12.24.13: All I Want For Christmas is Bigfoot's Private Island, More
Posted by Evan Zivin on 12.24.2013

From Bigfoot Silva's failed drug test and Chael Sonnen having surgery before the Rashad Evans' fight to Ronda Rousey wanting to fight Holly Holm and a man vs. woman fight in Brazil, 411's Evan Zivin examines these stories and more in Five Quick Rounds!

Hey hey, fight fans, and welcome back to Five Quick Rounds! I am your host, Evan Zivin, and I am more excited than Invicta FC's former matchmaker to be here today!

Does anybody know who was making the matches for Invicta Fighting Championships through their first 7 events? Did they have an official matchmaker or was it just a combination of President Shannon Knapp and other executives putting the fights together? I have no idea and I get the impression that no one else does either since none of the articles about Julie Kedzie being named the new matchmaker for Invicta mention who she is pushing out of the job. Anyway, Kedize has had a roller coaster of a month, going from losing a controversial split decision to Bethe Correia at UFC Fight Night 33 to retiring from the sport to being named the matchmaker for Invicta. I figured that Kedzie would continue to work with Invicta, as she has worked as a commentator for most of their events. Being the matchmaker for Invicta is a very important job right now as she will, more or less, be responsible for shaping women's MMA over the coming years. It's a very cool opportunity that she is being given and I wish her all the best in her new job. She'll need to start by rebuilding the women's strawweight division and do it without the luxury of a weekly TV show. Thanks, Uncle Dana!

All right, so with fighter introductions out of the way, I have five more rounds of MMA news and opinions to throw at you. This week, we look at Bigfoot Silva's failed drug test, Tyron Woodley getting Carlos Condit at UFC 171, the man vs. woman fight at Shooto Brazil, Chael Sonnen having surgery before the Rashad Evan's fight, and Holly Holm. Let's to it do it.

FIGHTER YOU READY!!!!
FIGHTER YOU READY!!!!

FIGHT!!!!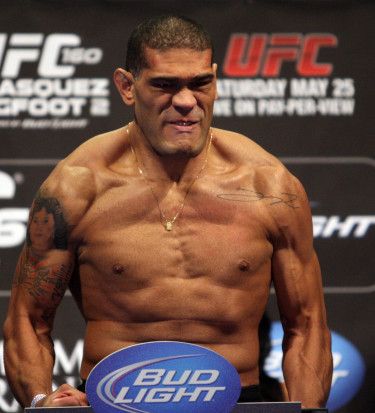 Round One: Bigfoot Fails Drug Test, Gets Suspended, Greatly Disappoints the Hendersons

***TOUCH OF GLOVES***

And no, I'm not talking about Dan and Benson. That joke may be over the heads of some of the younger readers who didn't grow up with bad Nick at Night reruns. Consider yourself either lucky or unlucky depending on whether you think the idea of a Sasquatch as part of your primetime TV lineup is a good one or not. We also had shows that featured giant dinosaur puppets. What a time to be alive. The same can be said for those of us who were alive on December 7 for UFC Fight Night 33, where one of the best fights of the year/century/since the dawn of man took place between Mark Hunt and Antonio "Bigfoot" Silva. It was a great back-and-forth battle that saw both men throw everything they had at each other. Both came dangerously close to being finished before roaring back, doing everything they could to end the fight while trying to remember how to breathe since neither had been in a 25 minute fight before. It was an amazing display of toughness, determination, and a "never say die" attitude that you see less in less in a sport where the number of professional athletes grow while the number of true martial artists shrink every year. Through all the boring strategy and execution of some fights we've seen this year (I'm looking at you, Rory MacDonald) it was great to see two men who were willing to just go out and throw down and do everything they could to entertain the fans while trying to hurt their opponent. Seeing such a great fight end in a draw was a big moment in MMA history and there is nothing that can diminish the achievement those two men accomplished in that cage.

Or maybe there is. Word came out this week that Silva had failed a post-fight drug test. The test caught Bigfoot with elevated levels of testosterone and, as a result, he is being suspended for 9 months by the UFC and has had his $50,000 Fight of the Night bonus taken away. The story is interesting because Bigfoot was using Testosterone Replacement Therapy (TRT), a treatment I know many of you are BIG fans of, for this fight. UFC officials said that, prior to the fight, Bigfoot had been staying within the proper levels and there were no issues with the treatment. In fact, some of the tests the UFC administered right before the fight said that Bigfoot's levels were too low. Because of that, it was recommended (allegedly) by Dr. Marcio Tannure, medical director for the Brazilian Athletic Commission, that Bigfoot take another dose of testosterone right before the fight, which caused Bigfoot's levels to spike and caused him to fail the test. Bigfoot says that he was just following doctor's orders and he's planning to sue Dr. Tannure over this. Dr. Tannure's defense so far is that he was, more or less, communicating a recommendation to Bigfoot from his regular physician. Assuming there aren't any other details here that we haven't received yet, it's possible that Bigfoot may have a case here but it's too soon to speculate on things like that. What I will say is that all this talk of the fight being tarnished over what happened is a little extreme. Aside from the fact that Bigfoot may genuinely need to take testosterone as a result of the effects of his acromegaly, enough fighters on TRT have lost UFC fights to convince me that the Bigfoot/Hunt fight probably would not have been much different had Bigfoot used TRT or not. Besides, do you really think people 20 years from now are going to care that Bigfoot failed a post-fight drug test? Do most people care that Chael Sonnen failed a post-fight drug test after the first Anderson Silva fight? Not really, and that was only 3 years ago. None of this will change the fact that their fight was awesome. That asterisk can go screw itself. Now, what's going to happen to that private island Dana White promised Bigfoot? Can I have it, Dana? It would be perfect for my African Serval farm, where I will breed and raise African Servals to sell to UFC Light Heavyweight Champions for a tidy profit. I can't lose!

***HORN SOUNDS***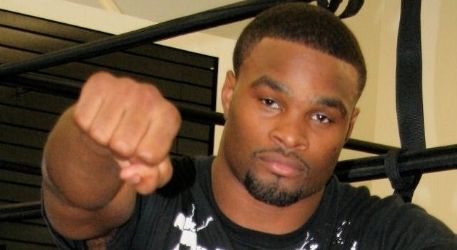 Round Two: Dana White Says Tyron Woodley Isn't Good Enough for Carlos Condit, Gives Tyron Woodley Carlos Condit

***TOUCH OF GLOVES***

This story is a good example of how being proactive in one's career can help you succeed really quick. Tyron Woodley is a UFC fighter currently in the welterweight division. He is an NCAA All-American wrestler who began competing in MMA in 2009. He won his first two fights before getting signed to compete in Strikeforce. In the San Jose based promotion, he won 8 straight fights, earning a chance to become Strikeforce Welterweight Champion. He lost the title fight to Nate Marquardt. Months later, Strikeforce closed up shop and Woodley came over to the UFC, where he is currently 2-1 with knockouts of Jay Hieron and Josh Koscheck. He also has a loss to Jake Shields. He has good power in his hands and has proven to be a tough fighter with a lot of potential to do well in the UFC. The being said, he still hasn't proven himself to be a contender in the welterweight division, at least not yet. That's just not me saying that, though. Dana White shared that sentiment after UFC on FOX 9 when he was asked about potential opponents for Carlos Condit, who was originally supposed to fight Matt Brown on the FOX card before The Immortal proved he can still get injured, and Woodley was mentioned due to the fact that he's a good fighter and also because he'd been asking for the fight on Twitter. Dana said that Woodley had been sending tons of texts and Tweets and Candygrams and carrier pigeons asking for the Condit fight. Despite all that incessant badgering, Dana said Woodley wouldn't get the fight because he isn't high enough in the UFC Rankings to warrant it. He's not even in the Top 10! You can't take a man who isn't ranked in the UFC Rankings, the most important, completely unbiased list of men and women whom haven't pissed Dana off this week that is always trusted and always used when making big match-ups --ALWAYS!!!!-- and give him a fight against Carlos Condit! That'd be crazy!

Well it sounds like Dana has found an opponent for Carlos Condit, and that man is.....Tyron Woodley. Yep, Dana is crazy. That statement probably doesn't surprise you. The booking itself likely came out of necessity more than anything else. Dana wanted Condit to fight soon, namely at UFC 171. Why? Because the main event of that show will be Johny Hendricks vs. Robbie Lawler to crown the new welterweight champion after Georges St-Pierre was all like "Va te faire foutre les gars. Je vais à la maison" and left (no, he did not actually say that as far as I know). Dana needs to start thinking about contenders for after that fight and Condit is clearly the top choice. Many people feel that he should be in the title fight but Dana was willing to set him up to get the first shot at the new champion provided he could find Condit a decent fight. The problem is most of the UFC's top ten are either injured (Ellenberger, Brown), already booked (MacDonald, Maia, Shields, Saffiedine), or just lost to Condit (Kampmann). Dana tried to get Nick Diaz to come back from his glorious retirement to fight Condit but Nick would rather sit at home and just fight the winner of the title match. That's all well and good (not really) but who is Condit going to fight? So the opportunity was there and, being backed into a corner, Dana gave Woodley the fight. So now Woodley is getting a co-main event under the welterweight title fight and he may even get the next shot if he's able to defeat Condit. That's definitely a tall order, but who knows. Maybe Woodley can rise to the occasion and get the win. Or maybe Condit will eat him alive. Either way, this proves that, while Dana has no problem with fighters who will take on whoever the UFC gives them, he loves fighters who call guys out and try to play matchmaker, especially because it may end up working, bringing you that much closer to reaching your goals then you would be if you hadn't sent 2 million texts to the boss. So congrats, Tyron! Make the most of the opportunity and I look forward to seeing Johny Hendricks vs. Nick Diaz sometime in early summer. It's gonna kick ass!

***HORN SOUNDS***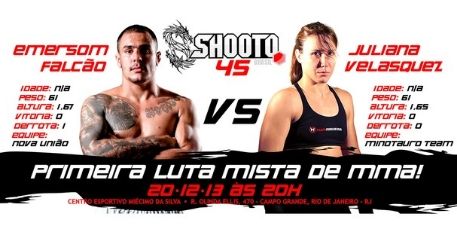 Round Three: Brazil Proves There is no Better Way to Get People Riled Up Than by Teasing a Man vs. Woman Fight

***TOUCH OF GLOVES***

Andres Pederneiras is a man who is fairly well known to most of the hardcore MMA fanbase. He is a Brazilian Jiu-Jitsu master, with a 6th degree black belt, who has awarded belts to many top fighters, including BJ Penn, Jose Aldo, Renan Barao, Thales Leites, and many others. He is not known too well for his MMA career, which lasted only 4 fights (culminating in a 1-1-2 record) but he did compete for the UFC Welterweight Championship back at UFC 21, losing by TKO to Pat Miletich. He is mostly known for being the founder and head trainer of Nova União, where he has trained many notable fighters (including the ones previously mentioned) and has helped bring many championships to his team. Now, one thing that you may not be aware of is, in addition to being a fighter and a trainer, Pederneiras is also a fight promoter. He is the president of Shooto Brazil, the South American extension of the longtime Japanese MMA promotion. Shooto Brazil holds a number of events throughout the year and has been a breeding ground for many of Brazil's top young fighters. The promotion has also proven to be a breeding ground for controversy as, this past week, It was announced that at Shooto Brazil 45, which took place this past weekend, that there would be a fight between Nova União's Emerson Falcao and Team Nogueira's Juliana Velasquez. After reading that, your line of thinking right now is probably something like this: Juliana Velasquez? I wonder if she is related to Cain Velasquez. I like Cain. He beat up dos Santos pretty good in that last fight. Dos Santos was all like "Hey man, stop hitting me" and Cain went "No" and it was sweet. I want some nachos. Am I racist because I said I wanted nachos after thinking about Cain Velasquez? Am I racist because I thought that to begin with? Probably. Wait a sec...did I say "she"?

Or maybe that's what went through my head. Anyway, yeah, it was announced that, as part of the card last Friday, there was going to be a man vs. woman fight. It was also going to be the woman's first professional fight. Yeah, you can imagine that some people weren't too happy with that news. From the lowly Internet commenter to the slightly less lowly Internet MMA journalist, the outrage was so tense you could cut it with a knife and then yell at it because IT'S A MAN AND A WOMAN AND THEY ARE FIGHTING???? I haven't seen that kind of anger since Fallon Fox and she only used to be a man. She also got her ass kicked by a woman in her last fight but that's beside the point, I guess. I'm not saying I approved of the fight (because if I do then I have to be a sexist pig because there is no rational middle ground here) but I wasn't as bothered by it as some people were. I cheered freak show fights in Japan between men with 300 pound weight differences. How could I be angered over a man and a woman of equal size and experience fighting after watching the circus that promotions like Pride and Dream put on? Does that count as a valid argument? Probably not. There's no way to express anything other than intense rage over this fight, is there? Hey, maybe I'll actually get comments this week now. Anyway, the fight was likely to be stopped by the Brazilian Mixed Martial Arts Confederation before it took place but it wasn't necessary because the fight was never going to happen. It turned out to be a hoax perpetuated by Pederneiras to bring attention to domestic violence. I guess he figured the best way to get people all hot and bothered about men beating their wives and families was by threatening to have a man compete in a sanctioned, regulated bout against a woman fully capable of defending herself, with medical professionals on scene. I think the message will get lost because A MAN WAS GOING TO FIGHT A WOMAN OMG!!! but I give credit to Pederneiras for finding a unique way to bring the issue to light. I hear that next, at Shooto 46, Andre will send a message about adult illiteracy by throwing copies of the entire Harry Potter series at a group of homeless people. Be sure to duck. Those books are thick.

***HORN SOUNDS***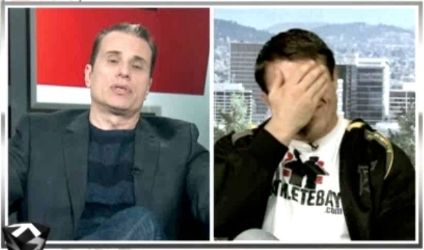 Round Four: No Excuses Made for Chael Sonnen's Loss, Except for Having Half His Digestive Tract Removed the Day Before

***TOUCH OF GLOVES***

Hey, were you aware that Chael Sonnen, fight analyst, host of UFC Tonight, and babysitter to Jay Glazer, used to fight? Google it if you don't believe me. Crazy, right? What's even crazier is that he still fights. He actually fought last month at UFC 167. He competed in Las Vegas against co-worker Rashad Evans and it was not pretty. Sonnen wasn't able to take Rashad down while Rashad was able to do it relatively easily. Rashad was then able to slip into mount and rain down punches and elbows on the helpless gangster until the ref stopped the fight four minutes into the first round. It was an embarrassing defeat but at least Chael was willing to own up to it. Where so many other fighters will lay the blame for such a thrashing on an injury or a bad weight cut or their house burning down or they were too busy complaining about the story mode of Call of Duty: Ghosts on Internet message boards to train properly or some other excuse, Chael wasn't going to do that. Chael wasn't going to make any excuses. Well, except that he's too small for light heavyweight and got beat by a better opponent. That doesn't count as an excuse, does it? I mean, it is true that he had a size and strength disadvantage that was partly responsible for his loss. It was also true that Rashad Evans is a much better fighter than Chael and just whipped his ass like he should have. I won't blame Chael for making a logical (and obvious) observation like that and am just happy that he didn't feel the need to make some ridiculous claim to explain away the loss.

Chael didn't need to do that because someone else did it for him. That someone else being Michael Landsberg. Landsberg is the host of the long running Canadian sports talk show Off The Record. Landsberg has been a strong supporter of MMA and has had many fighters as guests on his show over the years. Chael has appeared on his show many times, with the most notable appearance ending in Chael walking off the set after Landsberg kept calling Chael out on his claims that he didn't lose to Anderson Silva the first time. I know. The nerve of that guy. So the two have had some fun interactions in the past and their most recent one was no different. On the show, Landsberg asked Chael about a rumor he heard that Chael had surgery on his bowel the day before his fight with Rashad. Landsberg doesn't say where he heard the rumor and when he asked Chael about it, Mr. Sonnen chose to give a non-answer. Landsberg took that as meaning Chael was admitting it was true because if it wasn't true, Chael would have just denied it instead of messing with Landsberg like he has done multiple times before. I seriously want to know who Landsberg heard that rumor from. Doesn't it sound like something a random fan who hates Chael would say as a joke? "I heard that Chael had half his ass surgically removed to keep Rashad from kicking it" or something like that. I'm not good with jokes but you already knew that. Either way it's not true. Nevada State Athletic Commission Executive Director Keith Kizer confirmed with the UFC that Chael had no surgery the day before the fight. I don't even know why Chael would do something like that. Who would choose to have major surgery the day before a fight and then hide it from the athletic commission? Aside from the massive amount of hot water you'd be in with the commission, what kind of physical condition would you be in after that kind of surgery? Would you be able to stand, let alone fight, one day after that? If you wanted to fight that bad, wouldn't it make more sense to have the surgery after the fight than immediately before it? I don't know. I'm not an expert on outlandish rumors but I think this one can be put to rest. I guess some people just don't know what to do during weeks when there isn't a UFC event. Poor guys.

***HORN SOUNDS***




Round Five: Ronda Rousey Thinks Holly Holm Has Pretty Arms....Very Pretty Arms.....

***TOUCH OF GLOVES***

I don't want to look past UFC Women's Bantamweight Champion Ronda Rousey's upcoming fight with Miesha Tate. That's mainly because I like looking at Miesha Tate but it's also because it will probably end up going down very similarly to the first meeting between the women back in March of 2012. The fight will probably go down the same way every single one of Ronda's fights have gone so far in her young MMA career. Ronda will take her opponent down. Ronda will armbar her opponent. Ronda will finish her opponent inside the first round. Rinse and repeat. Ronda will use this strategy on Saturday night against Miesha and she will use it against every other opponent she will face until someone is able to stop it. Will that happen before she retires? It's certainly possible but it's hard to imagine that happening anytime soon. That's not to say that there aren't some interesting match-ups waiting for Ronda after her upcoming fight, though. The UFC's women's 135 weight class continues to grow everyday and features top talent like Cat Zingano, Sara McMann, and Alexis Davis. You also have Ultimate Fighter winner Juliana Pena, who might get fast tracked to a title shot if she continues to perform well. There are definitely some good female fighters competing in the weight class right now but are they good enough to beat Ronda? What happens if Ronda runs through all of those challengers and does it as easily as she has her first seven opponents? What will happen then? Will the UFC be able to find anyone who can stop her in an actual fight and not just on a movie set with Vin Diesel staring and making everyone slightly uncomfortable like he always does?

It's possible. It's possible that the answer to Ronda Rousey exists and is fighting right now and her name is Holly Holm. Seriously, looking at Holm's stats and accomplishments, it's almost like she is the stand-up version of Ronda Rousey. While Ronda was training her judo and winning bronze at the Olympics, Holm was competing as one of the greatest, most decorated women boxers the sport has seen. In an 11 year boxing career, Holm has won the WBF Female World Welterweight Championship, WBF Female World Light Welterweight Championship, WBC World Female World Welterweight Championship, WBAN World Welterweight Championship, WIBA World Welterweight Championship, and a whole lot of other titles and awards. She is one of the greatest female boxers to ever compete between 140 and 154 pounds. After so many years as a boxer, Holm was looking for new challenges in her fighting career, much like Ronda after the Olympics, and decided to give MMA a try. Holm began her MMA career in 2011, the same year that Ronda began competing professionally, and Holm currently holds a 6-0 professional record, one win less than Ronda. Holm hasn't finished all of her opponents in the first round but she has won 5 of her 6 fights by (T)KO and she's improving with each fight. She currently fights for Legacy Fighting Championships, where she is 2-0 and is set to compete for the company's inaugural women's bantamweight championship next year. If Holm can get past Juliana Werner, she will have claimed her first MMA championship, and if that happens you know people will be screaming for the UFC to sign her and it'd be hard to argue against it. Ronda has even said she wants to fight Holm, and whatever Ronda wants, Ronda gets and then proceeds to rip its arm off. Dana likes to keep his champions happy so it seems like Holm will likely be coming over to the UFC, probably right after she wins gold in Legacy FC. She will make a great addition to a strong female roster and she will likely be treated as a big deal immediately in the hopes of setting up a big money fight between the boxer and the judoka. It's hard to say at this point if Holm really is good enough to beat the reining champion but I know I would love to see her try. It will end up being either one of the greatest women's fights of all time or it will end up looking similar to Royce Gracie vs. Art Jimmerson. Well, it should be a little better than that. I think Holly knows not wear a boxing glove in the cage. If she doesn't, somebody should probably tell her. Can't wait to see you in the Octagon, Holly.

***HORN SOUNDS***

That's it for Five Quick Rounds. If you have any questions, comments, or suggestions, and it is always appreciated when you do, leave them in the comments section. I will be back in 7 for another Five Quick Rounds. UFC 168 is this Saturday. Get ready for two big title rematches, a heavyweight title eliminator, and...that's about it. Yeah. So enjoy the fights and, until next time, remember to fight clean, fight hard, fight fair, and never leave it in the hands of the judges...




MERRY CHRISTMAS, MOVIE HOUSE!!!!!!!!!!!!!!!!!!!!!!!!
comments powered by