SPOTLIGHTS
The Greatest MMA News Column 12.24.13: UFC 168 Preview
Posted by Dan Plunkett on 12.24.2013

News and thoughts on UFC 168, how it will do on PPV, Weidman vs. Silva, Carlos Condit vs. Tyron Woodley, Bigfoot's failed test, UFC releases, and more!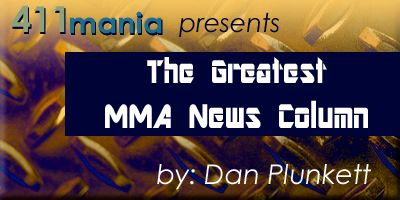 NEWS!



UFC 168 is Saturday. From the moment the rematch between Chris Weidman and Anderson Silva was booked, UFC president Dana White has touted it as the biggest fight in MMA history. There was some degree of logic behind that. The bout is backed by Ronda Rousey vs. Miesha Tate, which alone likely would have done solid business, and features Rousey – UFC's biggest media darling. Furthermore, in the aftermath of Silva's knockout loss, UFC received interest in the United States that it hadn't received since the sport's peak in the country 3-4 years ago. There were more than 2 million searches related to the event, when a large UFC show usually receives about 500,000. Purchases for the replay of the pay-per-view were a level not seen since the heyday of Brock Lesnar. The mainstream media push is key in pushing PPV events over the top to become major sporting events, and ESPN sensed enough interest in the rematch to allow White to announce the date live on their flagship program, SportsCenter. At the time of the announcement, I wrote if the fight drew anything less than the second-biggest UFC PPV of all-time, it would be a disappointment.

Five months later, and just days away from the rematch, disappointment seems probable. Fox Sports 1 hasn't performed well in its four months of existence, and as a result UFC has seen three consecutive shows, all featuring major title fights with major stars, fall short of expectations on pay-per-view. Most recently, Georges St-Pierre, UFC's biggest draw, drew somewhere between 600,000-650,000 buys for his match with Johny Hendricks. That was with the show serving as UFC's 20th anniversary celebration and a strong co-main event in Rashad Evans vs. Chael Sonnen. Strong television has always been key to drawing well on PPV (with the notable exception of the early UFC's), and Fox Sports 1 isn't a strong network. A Primetime series featuring Silva and Weidman was cancelled after specials for St-Pierre vs. Hendricks and Cain Velasquez vs. Junior dos Santos failed to garner much of an audience. A few short years ago, Primetime meant guaranteed success for PPV.

However, the nature of the PPV business is that the overwhelming majority of purchasing decisions are made in the final day or so prior to the event, so a strong late push, whether by the UFC, media, or virtue of something happening at the press conference or weigh-ins, could make a major difference. Furthermore, for whatever reason, UFC usually does very well the weekend after Christmas. In five shows since 2006 on that weekend, UFC has totaled 3.9 million buys. One of those shows (UFC 92) performed far above expectations, while one (UFC 141), disappointed, but that was also the only show on a Friday. Even though UFC has had a string of disappointing (business-wise) events, if there's one show that could overcome that, it would be UFC 168, because Weidman vs. Silva and Rousey are strong media attractions.





As for the fights, I have little idea what to expect out of the main event, mainly because I have no idea how Silva is going to the approach the match. If he can remain on his feet, and he showed at least some ability to so in July by defending a Weidman takedown, I would expect him to taunt because it gets his opponents to attack him and that's usually where he finds openings. Or, maybe he'll take the last fight as a lesson that such tactics aren't effective against Weidman. Despite the result of the first fight, the best bet for Weidman is to look for the takedown. He can certainly beat Anderson from the top position, and may have done so in July had he not went for a leg lock. I have no confidence in picking either fighter.

Ronda Rousey should beat Tate, and probably in the first round, although Rousey should visit her corner at some point in her career. I can see Tate having some moments of success because Rousey tends to leave openings in the grappling department, but she always recovers. As interesting as it would be to see Rousey taken out of her comfort zone and now allowed to get inside to grapple, I don't think that happens here.

Third from the top is Josh Barnett vs. Travis Browne, the winner of which will likely face Fabricio Werdum next. Barnett won't be outmatched on the feet, but Browne has power and on the ground there is a skill discrepancy. Taking the fight to the ground consistently may be a difficult task though. Barnett should be favored, but it's not a walk in the park.

---
---


Condit vs. Woodley set for UFC 171 co-main event. Tyron Woodley asked, hounded, and he received. The welterweight contender incessantly texted Dana White asking for the Carlos Condit fight, and despite White initially shooting down the possibility, the match was made. The UFC hoped to make Condit vs. the still retired Nick Diaz, but Diaz turned down the fight (though he did note he may return in May). Woodley has traded wins and losses in his past four bouts. He had a back-and-forth fight with Nate Marquardt last year and was knocked out in the fourth round. He blitzed Jay Hieron in 36 seconds in his UFC debut, but the momentum stalled in a dull fight against Jake Shields. Last month, Woodley's power proved too much for Josh Koscheck. The winner of Condit vs. Woodley may be in line for a title shot. As far as star power in a PPV co-main event, it's fairly weak, but UFC is lacking stars at that level.

Sotiropoulos, Sakara, and Sexton released. None of these should come as a surprise. George Sotiropoulos' demise is quite remarkable. He had seven UFC victories in a row at the end of 2010 and there was talk of him challenging for the lightweight title at a stadium show in Australia, which may have happened had cage fighting been unbanned in Western Australia. Then he was soundly beaten by Dennis Siver and knocked out by Rafael dos Anjos. Despite the losses he got a coaching gig on TUF: The Smashes, and during filming was reportedly knocked out by Ross Pearson's boxing coach. He didn't fare much better at the season finale, getting knocked out by Pearson himself. A loss to KJ Noons sealed his UFC fate. Alessio Sakara had his ups and downs in the UFC but never got past mid-level. His most notable win would be what many would call a bad decision win over Thales Leites. He has notable losses to Chris Weidman, Brian Stann, and Chris Leben. Rosi Sexton dropped both of her UFC bouts to Alexis Davis and Jessica Andrade.

Antonio Silva fails drug test. Following his slugfest with Mark Hunt, Antonio "Bigfoot" Silva was revealed to have elevated levels of testosterone in a post-fight test. Silva, 34, had been granted a therapeutic use exemption for testosterone by the UFC, who oversaw the event. That in itself is strange because Silva popped positive for the anabolic steroid Boldenone in 2008. Silva's manager claimed he used the supplement Novadex to boost his testosterone, which had been low since Silva had a tumor removed from his pituitary gland. Silva ignored the suspension and fought in Japan before it was up. This time, Silva's testosterone level was low prior to the bout and his doctor recommended increasing the treatments. Silva said he planned to sue the doctor to clear his name, but he also promised to go to the full extent of the law to prove his innocence last time and didn't follow through. If Silva can clear himself of any wrongdoing and prove it was the surgery to cure his acromegaly that resulted in his low testosterone, I wouldn't be as against him using TRT as I am with others, but that is a tall task.

Quick News: The UFC digital network will be called UFC Fight Pass and subscriptions will cost $9.99 per month. For a complete library of fights and the live events, that's not bad… Shane del Rosario's death certificate listed encephalopathy, ventricular fibrillation, and Long QT Syndrome as causes of death. Cocaine, opiates, and THC were also found in his system… Doug Marshall failed his post-fight drug test at Bellator 109 and is suspended until February 7. Unfortunately, the Pennsylvania State Athletic Commission has no transparency when it comes to disclosing what fighter's fail tests for. If you remember, Forrest Griffin failed a test for Xanax after fighting in Philadelphia in 2009 and nobody knew about it until he brought it up years later… UFC has opened up closed-circuit locations for UFC 168 due to the sellout. Depending on how those locations do, the show may or may not surpass UFC 148's gate… Vitor Belfort will very likely face the winner of Anderson Silva vs. Chris Weidman. The location, and Belfort's TRT status, will be a story to follow when that happens.

---


As always, thanks for reading. Unfortunately it was a slow news week. Feel free to leave any feedback in the comment box or at the e-mail address below.

comments powered by