SPOTLIGHTS
411 MMA Fact or Fiction 12.25.13: Year-End Review!
Posted by Wyatt Beougher on 12.25.2013

Was Georges St. Pierre's "retirement" the biggest story of 2013? Is Ronda Rousey/Miesha Tate the biggest rivalry in the UFC today? Are Bellator's awesome fights overshadowed by their inability to make their PPV debut? 411's Robert Winfree, Robert Practor, and Robert Cooper debate these topics and more!

Welcome back to another edition of 411's MMA Fact or Fiction, and I'm your host, Wyatt Beougher. Regardless of your location, or your religious/ethnic background, I'd like to wish you the best for whatever holiday plans you have over the next week or so.

Last week, Dino Zucconi returned from the Wrestling Zone to take on Alex Rella, and it was quite the contest, with the lead changing hands several times before voting closed. Personally, I thought it could've gone either way, but when the polls closed, Dino tickled more readers' fancies, earning a 34-24 win. This week, in our special year-end review, I've got a special treat for you, as we've got all three Roberts in action, as the MMA Zone's Robert Winfree and Robert Practor will be facing off not just against one another, but also against the Music Zone's Robert Cooper!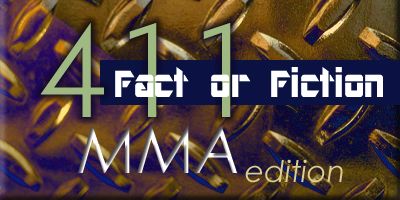 TALE OF THE TAPE

Red Corner
Robert Winfree
'The Last Rider'
Columnist, Locked in the Guillotine MMA News Report
4-10-0

VS

Blue Corner
Robert Practor
'Osvaldo Menace'
Columnist, What's Next
2-0-0

VS

Green Corner
Robert Cooper
'Metalhead'
Columnist, The Hammer of Doom News Report (Music Zone)
3-6-1

---

Is this image of GSP the last we'll see of him?



1.) Georges St. Pierre taking time away from the sport will go down as the biggest story of 2013.

Robert Winfree: FACT Whenever a truly great fighter falls from grace, or retires, it's a big deal. When Fedor Emelianenko dropped three fights in a row it was a big deal, that year his fall from grace was overshadowed by Zuffa purchasing Strikeforce but it was a big deal. This year there hasn't been a whole lot in the world of MMA stories, expansion into China, a new digital network for the UFC, there's not exactly an overabundance of ground breaking stories in the realm of MMA. One of the greatest fighters of all time steps away, he also happens to be the biggest draw that the UFC has ever seen, the champion of one of the premier divisions in the UFC, all of that would likely earn it a biggest story of 2013. When you also fold in all of the ranting that came about immediately following UFC 167 and it's a relatively easy choice. Now, if Anderson Silva loses and retires then we'd have to revisit the question, but right now GSP's hiatus is likely the biggest story for the year.

Robert Practor: FACT Georges St. Pierre has been one of the top pound-for-pound fighters in the world for over six years, defeated every single fighter that he has faced in his career, broken records in the UFC, and will go down in history as the greatest Welterweight of all-time. The fact that he walked away from the UFC would almost always be a top story in the world of MMA. When you add in that he took an indefinite leave while reigning champion and that it occurred after an epic, controversial five-round title fight, it is almost guaranteed to be the biggest story of 2013. Other options for this spot would be Anderson Silva's shocking end to his reign of dominance, Ronda Rousey leading the charge for women's entrance into the UFC, and the UFC's growing pains from the move to Fox and their upstart Fox Sports 1 & 2 channels. All of those are big stories and the latter two may even end up having longer-term repercussions in the future, but for now, the GSP story has to be given the nod as the biggest story of 2013.

Robert Cooper: FACT This answer is really a no-brainer for me. GSP has been the biggest draw in the UFC since Brock Lesnar left, and has arguably been one of the faces for the UFC before then. Him leaving the sport for the time being is earth shattering to one of the most stacked and competitive divisions in the UFC. With him gone the spot up top is anyone's to take and I feel like the already stellar Welterweight division is about to get even more exciting with fresh match-ups at the top and guys who probably never thought they'd have shot at the title due to the dominance of GSP now will be even hungrier for a shot at the title. All of that being said, I really do hope Georges comes back sometime in the future because he is one of the greatest, if not THE greatest of all time and I'd like to see if he has one last run left before he gets too old for it. But that'll depend on his life, and until then the sport will just have to learn to live without him for the time being.

---





This is certainly the best UFC promotional video in a while.



2.) Ronda Rousey/Miesha Tate is the best rivalry in the UFC today.

Robert Practor: FICTION It is true that Rousey-Tate has been the most personal, heated rivalry in the UFC during a year that lacked many others that fit that bill, but I would not name it the best rivalry because of that. Johny Hendricks getting the title shot that he waited a long time to receive, his confidence and trash-talk leading into the fight and then taking it to GSP like none other, with all the controversy that followed is a better rivalry than Rousey-Tate in my eyes. The hype for Weidman-Silva was top notch. The challenger said all the right things, appearing unfazed by the legend of 'The Spider', then earning a jaw-dropping (both literally and figuratively) knockout over the seemingly unbeatable champion, and then the rematch being announced with the entire MMA world eagerly awaiting it; I consider that a better rivalry than Rousey-Tate. Don't get me wrong, I'm excited to see their rematch, but Rousey flipping Tate off a hundred times, Miesha playing pranks on Ronda, and things of that sort just doesn't make it to the top of my list of best rivalries in the sport when we've seen such epic, historic battles, moments, and stories such as GSP-Hendricks and Weidman-Silva.

Robert Cooper: FACT First thing is first, Rousey/Tate is pretty much one of the only rivalries in the UFC at the moment, so I kind of have to give them the nod due to lack of competition. They hate each other, which makes for great television, as well as it makes for an interest in the fight that wasn't there before. The UFC is not like the WWE, it's not a bunch of personalities fighting one another and hating each other all the time, it seems to me that the UFC is mostly populated by guys and gals who seem mostly likable and normal, and don't really hold much ill will towards one another. The only other rivalries that I can think of in the UFC that are at the championship level are Cain/JDS, which is really just due to the fact that the two of them are light years ahead of everyone else in the division and they're going to be fighting a thousand times over the next year or so. There also was Jones/Sonnen, but that one wasn't all that interesting because they just kind of disliked one another and it just fizzled out over the time leading up to the fight. Otherwise, I can't think of any other rivalries in the UFC that are that prominent, so yeah, Rousey/Tate automatically wins.

Robert Winfree: FICTION For me there are a couple of factors keeping this from being the best rivalry in the UFC right now. The first reason is relative talent level, I don't consider one sided fights to be the stuff of great rivalry, and Ronda Rousey is a much better fighter than Miesha Tate. Tate hasn't won a fight in the UFC, didn't offer any legitimate offense in the first fight between herself and Rousey, and I have no reason to believe their rematch won't play out in almost identical fashion to their first fight. In terms of skill level, the competitive rivalries between Benson Henderson and Anthony Pettis or Cain Velasquez and Junior dos Santos are much more compelling fights.

The second reason, and I will freely admit this one is more of a personal stance, is personality. If I can't get behind a fighter I have a hard time emotionally investing, and if I can't emotionally invest in either fighter that comprise a rivalry then I don't care. Ronda Rousey may have the star power, but from everything I've heard she came across with something of a trailer park personality following this season of TUF, and Miesha Tate, while having less of that particular vibe, comes across as entitled and a little self absorbed. When you don't care who wins, or actively wish losses on both participants, it makes investing in the fight more difficult.

---

Will the issue of transgender fighters come up again?



3.) Even though the Fallon Fox controversy has died down, the issue of transgender fighters is one that will have to be further addressed in the future.

Robert Cooper: FACT Of course it will, it's not like it was addressed with much finality when it came to Fallon Fox. Fox got to fight and that was that, but there was still a lot of bitching by other fighters, and I think that is a sign that the next transgendered fighter to rise up will probably face the same backlash and vitriol that Fallon Fox did. It really seems like this was the small rain storm before the monsoon hits, because this is a very complicated issue and one that many fighters take personal opinions into, and I honestly don't see this being a controversy that is finished, not in the slightest.

Robert Winfree: FACT Issues relating to transgender individuals in sports remain a difficult issue to handle. Fallon Fox lost her first fight and instantly no one seemed to care anymore, but the reality is that eventually a talented transgender fighter will come along and this issue will be brought up again. I have no idea how the situation will be resolved, but this is certainly not an issue that will go away, it will have to be dealt with.

Robert Practor: FACT It simply has to. With the introduction of women fighters into the UFC, the issue of transgender fighters in addition to circumstances like Garrett Holeve, a fighter with down syndrome, and Nick Newell, a fighter with only one arm, will need to be addressed. They are all touchy subjects with no clear right or wrong and yes or no sides to them and I'm sure these issues will begin to see more focus in the coming year.

---

Couldn't pass up the opportunity to post this.



4.) Between Kelvin Gastelum, Leonardo Santos, Chris Holdsworth, and Julianna Pena, 2013 was actually a good year for The Ultimate Fighter in terms of the talent that it brought into the UFC.

Robert Winfree: FICTION The Ultimate Fighter hasn't brought a decent amount of good talent to the promotion since season five. Kelvin Gastelum is a relatively one dimensional fighter, being wrestling based, and fighting in a division with better wrestlers. Gastelum's first fight at welterweight will be against Rick Story, Story is currently unranked at welterweight but from everything I've seen he should beat Gastelum, and losing your first fight post TUF is never a good way to start a career. Santos was only promoted to the finals after the guy who beat him in the house broke his hand, and Santos is a very jiujitsu oriented fighter in the welterweight division, where he will struggle in the division as it's full of wrestlers. Chris Holdsworth has a couple of benefits, one being that he won a at bantamweight, which is still relatively undefined, but his takedown game didn't look great in the finale and on the feet he look horrible. Pena has the best chance to make an impact as the female bantamweight division is fairly wide open right now, but I have no idea how she'll fare against someone like Cat Zingano who has proven herself to be near the top of the division. If you compare this year to the last couple of years in terms of just TUF talent I suppose the argument could be made it was better than those, but that doesn't make it objectively good.

Robert Practor: FACT This is a soft fact for me. Gastelum has potential but a torn PCL took him out of an intriguing bout at UFC on Fox 9 so we are left to wonder how well he will perform as a contracted UFC fighter. Santos and Holdsworth both looked good, considering the talent they were matched up against. Julianna Pena was a beast on the show and I feel she has the most promise out of the bunch. Her skills combined with the fact that her division is still developing leads me to think she will be the first TUF winner in a long time to get to a title shot. Like I said, this is a soft fact for me, though, because it takes time to see what TUF competitors are made of and we have all-too-often thought so-and-so would go on to big things only to falter under the bright lights in the big time. So while it will take time to see what these fighters can do in the UFC, I will go with fact for now because I didn't see as much promise in many of the previous years winners at the conclusion of their seasons.

Robert Cooper: FACT I guess so, I'm not the best guy to ask because my interest in the Ultimate Fighter faded a long time ago. But judging the four winners that you mentioned on what I have seen of them, I would give it a slight yes. Kelvin Gastelum was impressive in his win against the favorite (at least that's what podcasts and commercials tell me) Uriah Hall. He then dropped down to Welterweight and defeated Brian Meloncon, who was on a 1 fight win streak after knocking out Seth Backzinski. I would say that his future looks bright because his professional and Ultimate Fighter win/loss record is a solid 4-0 against people with wikipedia pages, which is I feel is a better measuring stick than record alone. Leonardo Santos is also pretty solid with his record and looked pretty good in his Finale win over William Macario. Santos holds a 2-2 record against wikipedia fighters, but one of those losses is a debut loss to Takanori Gomi, so I don't think we can hold that against him, can we?

Chris Holdsworth does seem promising, he has won all of his fights by submission, and is a member of Robert Winfree's nemeses Team Alpha Male, so I'm hopeful that he will turn up to be of some quality. Julianna Pena, I did not see much of, but I hear she is insane and a pretty good fighter. Her win against Jessica Rakozky was pretty dominant and her fights in the house included a huge upset against Shayna Baszler and an avenging to her loss the year before to Sarah Moras. She is an impressive 2-0 against people with pages and the Women's TUF bracket was pretty impressive as it featured a lot of fighters who have been around the world and fought for a while, so winning that tournament is pretty impressive. I think that the winners we've gotten this year should be pretty solid, now as for the other house fighters, we'll have to see!

---

Is excellent action like this overshadowed by Bellator's well-publicized inability to make it to PPV?



5.) Bellator's failure to debut on PPV in November will overshadow the handful of excellent fights that took place inside their cage in 2013.

Robert Practor: FACT Technically this is a fact, but the failure to debut on PPV is just part of the picture that will overshadow any fights that took place this year. I am not a fan of the way Bjorn Rebney does business. From the way they scumbagged Eddie Alvarez and simply letting their unbeaten Welterweight champion Ben Askren go without much of a fight, to bringing in washed-up fighters like Tito Ortiz and Rampage Jackson and promoting them above everyone else in their company, there is just so much wrong with Bellator right now. They tried marketing themselves as the "toughest tournament in sports" where sport and earning your spot takes precedence over all, but then went and made 4-man tournaments on a whim to get guys like King Mo where they want him to be (still hasn't worked, by the way.) Bellator has come off so poorly in so many ways; from the way they dealt with their fighters, the past their prime UFC castoffs they brought in, and just a general lack of identity and all this lumps into one big black mark that has overshadowed any good fights they had during the year..

Robert Cooper: FACT I went with fact based on the fact that though the fights are something I remember more, the mainstream fan is going to remember that Bellator shit the bed on their PPV and decided to put it on free tv. That tv event was something else, too. The Alvarez/Chandler fight was great, but the other ones were a wee bit long. I think that the failed PPV launch hurts them as a company because that just kind of proves that they are what they are, which is a the B league, and I think that they should be fine in that spot, but I know their management thinks differently. I think that buying into guys like Tito, Rampage, and King Mo will hurt them in the long run because they are not the most reliable, nor will they bring the popularity to your brand that their price tag says they will. Mo in particular has been fed the easiest roads that he could get and still couldn't get the brass ring. I feel like stuff like that in combination with the failed PPV (as well as the fact that the PPV had sold peanuts) will long overshadow the great fights in the company over the past year.

Robert Winfree: FICTION I don't think Bellator scrapping their PPV debut was that big a deal. Bellator tried to run an event headlined by Quinton "Rampage" Jackson and Tito Ortiz, with three title fights serving as the body of the event. When Ortiz dropped out with an injury, scrapping the main event, the writing was on the wall and the PPV idea went away for a while. Ironically, since every one of the three title fights, had the event been on PPV it likely would have run far too long and been cut off before or during Ortiz and Jackson. Removing the event from PPV wound up being kind of a non-issue, personally speaking I'm much more interested in discussing some of the good fights from Bellator than their failed PPV bid, I think everyone kind of expected the PPV thing to be a one off, or just a legal tactic during their legal battle with Eddie Alvarez. If it happens in the future, then we'll start focusing on it, for now it wasn't that big of a deal.

---


Who do you think won this week? Which Robert most accurately reflected on the past year of MMA? Voting will be open until midnight EST on Saturday, so make sure you vote and make your voice heard!










---

Who betta than Mighty Mouse?



Bonus) Demetrious Johnson was the best fighter of 2013.

Robert Cooper: FACT I feel like that is a warranted title for Mighty Mouse. To compare him to the other champions in the company (I'm only looking at champions, because that is proof that you are the best), as well as in Bellator, he is the only champion to successfully defend his title three times, Michael Chandler defended his three times, but lost the third fight to Eddie Alvarez. All of the other champs fought twice, or even less, and not all of them fought the best in their division. Just look at Jon Jones, he fought an obviously overmatched Chael Sonnen, so I feel like that fight lessens his 2013 as a whole, though the Gustafsson fight almost makes up for it. Other fighters like Cain Velazquez, and Renan Barao fought twice and won convincingly, but they were still a win behind Mighty Mouse. Though I think Cain might be towards the Top 3, because while Bigfoot was out of his league and got murdered again, he managed to dismantle JDS, which is a feat in and of itself. Overall, I feel like Johnson put in the best performances against the best his division could offer and did so on a national TV stage, which is incredibly impressive, and I can't wait to see what 2014 hold for him!

Robert Winfree: FACT Realistically the only competition Johnson has is Chris Weidman, and that is contingent on Weidman beating Anderson Silva a second time. Vitor Belfort was the other name being tossed around, and while he's had a great year, Johnson has been more impressive. Belfort beat at least two cans, or somewhat untested fighters, in the form of Michael Bisping, who has never been truly elite, and Luke Rockhold who was untested against UFC caliber opponents. Stopping Dan Henderson with strikes for the first time ever is a big deal, but consider what Johnson has accomplished. He has successfully defended his title three times in one year, he beat three high level opponents and did so decisively. He had a slow start against Jon Dodson, but came on strong in the latter stages and dominated the challenger. He never let John Moraga get going, even scoring the latest finish in UFC history with a final minute armbar submission win. Then he knocked Joseph Benavidez out cold. All things considered, Johnson should get Fighter of the Year because he hasn't faltered at all. Again, if Chris Weidman is able to decisively defeat Anderson Silva for a second time we'll have to reconsider, but right now, Johnson gets my vote rather handily.

Robert Practor: FICTION In my eyes, Urijah Faber was the best fighter of 2013. "The California Kid" earned four wins this year, something that we don't see very often. Faber looked incredible and better than ever as he dispatched Ivan Menjivar, Scott Jorgensen, Yuri Alcantara, and most recently, Michael McDonald. The former WEC Featherweight Champion has been on a tear, erasing all doubt in anyone's mind that he is deserving of a shot at the Bantamweight Title in his next fight in 2014. Demetrious Johnson has looked great as well and he would surely be among the top choices for best fighter of 2013, but Urijah Faber's four-fight tear gives him edge here.

---


And that's it for this week! As always, if there's anything you'd like to see featured in a future edition, leave your statement in the comments and I'll add it in. Let us know what you thought in the comments, on Twitter, or on Google+.


comments powered by