SPOTLIGHTS
The Juggernaut MMA News Report 12.26.13: UFC 168 Preview
Posted by Jonathan Solomon on 12.26.2013

Can Chris Weidman make history again and beat Anderson Silva for a second time at UFC 168? Will Miesha Tate beat Ronda Rousey or be silenced a second time? 411's Jonathan Solomon previews this weekend's card!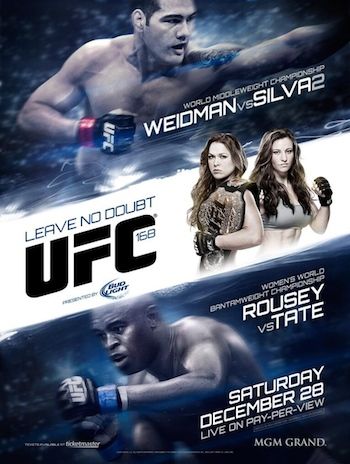 UFC 168 is HERE!



It has been quite some time since the UFC took out all the stops with their final show of the year. You have to go back to 2008 with the triple main event (Rashad Evans vs. Forrest Griffin, Quinton Jackson vs. Wanderlei Silva, Minotauro Nogueira vs. Frank Mir) as the last time they did. Before that, 2007 (GSP vs. Matt Hughes, Chuck Liddell vs. Wanderlei Silva) and 2006 (Chuck Liddell vs. Tito Ortiz) ended the UFC calendar in those respective years with a bang.

2013 is a whole different story and the big show is just 48 hours away.

UFC 168, from Las Vegas, with a championship double main event featuring rematches between Chris Weidman and Anderson Silva, and Ronda Rousey and Miesha Tate has the sport buzzing.

UFC Middleweight Championship
Chris Weidman © vs. Anderson Silva

The biggest rematch since, well, since the last Anderson Silva rematch. However, don't let that squash the significance of this weekend's main event, because one of two truths will emerge by Sunday morning.

People appear to fall into one of two camps as far as this fight is concerned: 1) Anderson didn't take the first fight all that seriously, let his guard down and got nailed with a "lucky" punch, or 2) The greatest MMA fighter of all-time is done and Chris Weidman is about to be anointed.

Personally, I'm more inclined to believe the latter, that Anderson Silva's chin is more likely to fail him and that Chris Weidman has the abilities to force the legendary fighter into making more mistakes. Perhaps that seems a bit silly because if Silva doesn't act like a total fool in the second round (dropping his hands, feigning damage, shaking his legs), does he end up knocking Weidman out? Remember, for whatever reason, Chris' lone takedown attempt in that round was stuffed and he showed no signs that he was going to pursue additional takedowns. Some even believe he was gassed or at the least, somewhat winded in large part by being smack in the middle of the biggest fight of his sporting life.

But, this is what rematches are for - to settle any debate about what went down before.

Ironically, after losing in July, Anderson Silva spoke about not wanting to challenge for the title again. He talked about the pressures, the grind of being the champ for so long and although he shot down any talk of retirement, it appeared he was looking for a change. We have since seen fellow legendary champ Georges St. Pierre walk away, citing similar issues, but instead of doing that, Anderson is back in the mix. He's not necessarily a guy who's fighting because he needs the money (though, it's obviously a big part of coming back for a HUGE payday), but for the first time since he was disqualified for illegally kicking Yushin Okami in 2006, he's bouncing back from a loss.

Silva is 38-years-old and will try to bring back down to Earth the 29-year-old Long Island, New York native who knocked him out cold over July 4th weekend.

Weidman has been hyped by those around him, most publicly by former champion Matt Serra, for years. Similarly to how the aura around current UFC heavyweight champion Cain Velasquez emerged long before he was ever contending in this company. Weidman, a Division-I All-American wrestler out of Hofstra University quickly took to Brazilian Jiu-Jitsu and has displayed knockout power throughout his professional career. In round one of their first fight, he took Anderson down and landed effective ground and pound, taking the first round without question. Was he thrown by Silva's patented antics? You would have to say yes, the guy was playing into his strength but he ultimately took advantage by landing the cross that ended the most historic title reign in UFC history.





I don't believe Silva went into that fight thinking Weidman was beneath him. But, that doesn't mean Anderson's usual style was going to change. We saw it time and again in fights against Forrest Griffin, Demian Maia, Patrick Cote, Stephan Bonnar and Yushin Okami. He draws opponents in so he can catch them with counterstrikes. He knocked Okami down with a jab. He dropped Bonnar with a knee to the body. Griffin was dropped with a single punch. Cote suffered a freak injury during that wacky fight and the Maia match developed into a farce in Abu Dhabi. Nobody could have been surprised when Anderson began pulling his shtick again Weidman and while it would be incredible to see him not change a single thing when he steps inside the cage Saturday, toning it down would not be the worst idea.

The game in the rematch will be whether Silva can keep the fight standing. If Weidman sticks more with a wrestling strategy and is able to secure takedowns, there's no reason he will not retain the championship. However, if his shots are stuffed more than they succeed, it's a wide open fight. Certainly, you may be concerned by the status of Silva's chin and whether we're seeing it crumble before our very eyes - it happens to some of the best fighters in the world.

Assuming both men are relatively healthy coming out of their training camps, one variable to remember is we are just five months removed from their last fight. Back in July, Weidman was coming off a year in between fights due to a shoulder injury and the aftermath of Hurricane Sandy (his home was damaged).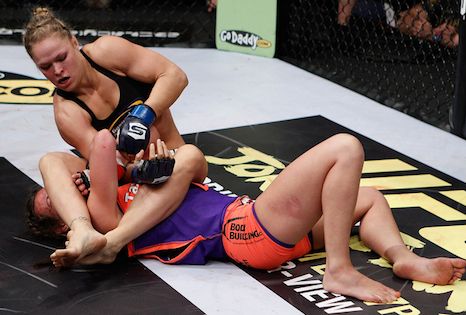 UFC Women's Bantamweight Championship
Ronda Rousey © vs. Miesha Tate

Every Rousey fight is a bit awkward to predict beyond the fact that everyone assumes she will win via armbar. Each of her opponents understands the game, avoid the armbar at all costs, and none have been successful at that. Back in March 2012, Tate became the first woman to actually get out of an armbar when they fought in Strikeforce, although she later fell to the hold with 33-seconds remaining in the first round.

Since then, Sarah Kaufman lost in under a minute and in their UFC debut, Liz Carmouche was forced to submit with 11-seconds left in the first round earlier this year.

So, how the hell can Miesha Tate avoid the same fate in her second opportunity?

Since she dropped the Strikeforce championship (the precursor to the UFC title), she returned last summer to submit Julie Kedzie (ironically) by armbar in the best fight of the year. Then, this past spring, she was finished by TKO against Cat Zingano and everyone figured her hopes to challenge Ronda again were dashed. Unfortunately, Zingano blew out her knee right before filming for The Ultimate Fighter was set to begin and with no time to spare, UFC officials tabbed Tate as her replacement.

Now, look at both women and their strengths as fighters. Neither Miesha or Ronda are strong strikers. You could make a valid argument that neither is even average with their hands. Tate is a wrestler, first and foremost and Rousey, naturally, utilizes her judo to perfection inside the cage. Recall that this fight is scheduled for five, five-minute rounds and it seems like a futile idea for Tate to try and lay and pray her way to winning. Going to the ground with the champion is as dangerous an idea as any other in modern MMA (akin to trading kicks with Edson Barboza, for one example).

The ideal way for Tate to win is to use the jab to keep her distance from the champion. Rousey's game is all about closing that distance, clinching with her opponent and flipping them to the ground (where she can then quickly work towards securing the armbar), so the longer she's unable to do that, the better off the opponent is. We can only assume Miesha, her boyfriend/trainer/training partner Bryan Caraway and other coaches are intelligent enough that their game plan entering this fight is to put her in the best possible situations she can excel in. Anything on the ground is the complete opposite to such plans, so if she shoots for takedowns or proactively looks to go to the ground, like many of you I presume, I will throw my hands in the air in disbelief and accept the fact she doesn't have much love for her arms.

Think Carlos Condit in the Nick Diaz fight or Georges St. Pierre in his rematch with Josh Koscheck. Stick and move, stick and move, rinse and repeat. It takes discipline and a trust in the game plan to pull off, but it's the only way Miesha Tate can hand Ronda Rousey her first professional loss.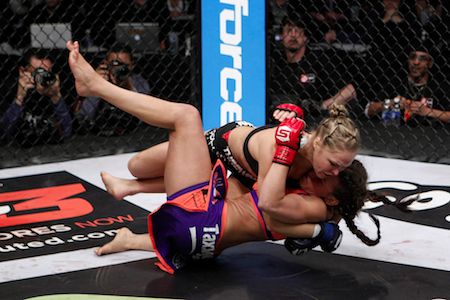 Josh Barnett vs. Travis Browne

With heavyweight champion Cain Velasquez out of action until as late as next fall following shoulder surgery, this bout Saturday night takes on even more importance in the big picture. That's because Fabricio Werdum may end up fighting the winner between Josh Barnett and Travis Browne to decide who ultimately gets the next title fight.

Aside from Velasquez, Junior dos Santos and Werdum, these two men are undoubtedly the next two best heavyweights in the world (thanks to Daniel Cormier dropping to light heavyweight).

36-year-old Barnett is one of the few former Pride heavyweight stars who remains a top contender heading into 2014. After more than a decade away from the UFC, he returned this past summer and finished Frank Mir in under two minutes with an onslaught of strikes. Now, he's taking on a striking specialist in the form of Hawaii's Browne, the 6'7 31-year-old.

When Browne had his first professional MMA fight, Barnett already had a 27-5 record. However, over the ensuing four-plus years since then, Browne has become one of the significant sluggers in the UFC. His only loss came last year against Bigfoot Silva and could be blamed more on a freak hamstring injury than him being pummeled or submitted. He would have lost a 2010 fight with Cheick Kongo if the Frenchman had not lost a point due to constant grabbing of the cage, though.

Either way, Browne will win this fight if he can hurt Josh Barnett standing, and that's not an easy thing to see happening. Why? Look at the man's extensive career and you will see the fact that he has lost by knockout or TKO (from strikes) on just TWO occasions, in 2001 to Pedro Rizzo and 2006 to Mirko Cro Cop. Over the past six years, he has lost just once, and it was a five-round beating he took from Daniel Cormier, the Olympic wrestler. The point being, unless you can successfully keep the catch-as-catch-can wrestler off the ground, Barnett is a threat to any opponent.

In the UFC, the majority of Travis Browne's fights have only gone one round with two (decisions with Kongo and Rob Broughton) of eight going the distance. If he ends up on the bottom with 250+ pound Barnett riding him, will he have the stamina to fight back to his feet and make it a war?






- The UFC's digital network is expected to be officially unveiled this weekend but new details were released over the weekend. "UFC Fight Pass" will cost $9.99 per month and the streaming service will provide a range of content to users. The big sell is the fact that live shows not airing in the United States will be available (for example, January 4th from Asia, the March card with Gustafsson/Manuwa). In addition, the Zuffa library will be available in some capacity (past UFC shows along with Pride, WEC, Strikeforce and other organizations they have purchased), current prelims that have aired on YouTube/Facebook will move to the service, too. Past episodes of The Ultimate Fighter and modern seasons that air overseas will be available. Plus, the UFC plans to shoot exclusive content to add into the mix.

In addition to all the UFC content readily available across the Fox family of networks (Fox, Fox Sports 1, Fox Sports 2) and monthly pay-per-view, is $10/month a price point you're willing to sink your teeth into?


- A Russian outlet is reporting Gilbert Melendez will meet Khabib Nurmagomedov at UFC 170 on February 22nd. Khabib is 21-0 while Melendez, the former Strikeforce champion, bounced back from his loss to Benson Henderson in the spring by beating Diego Sanchez in October. While UFC champ Anthony Pettis is out of action through the summer, and next month's match-up between Josh Thomson and Benson Henderson figures to set up the next contender, it's possible the Melendez/Nurmagomedov winner may be in the mix for a title eliminator fight in the spring.

- While UFC president Dana White insisted the price increase to $60 for UFC 168 would be a one-time deal because it's such a big show, it's possible the PPV increase is sticking around. According to UFC.com, UFC 169 and UFC 170 are each listed as costing $60, so unless this is an error, somebody tried to pull a fast one.

- New OneFC welterweight Ben Askren confirmed he has signed a six-fight deal that will last through 2016. He expects to make his debut with the Singapore promotion around March. The 29-year-old undefeated former Bellator champion has not fought more than twice in a single year since 2010 when he won that promotion's season two tournament and defeated Lyman Good to become champ.





TWITTER

http://www.twitter.com/411mania
http://www.twitter.com/411wrestling
http://www.twitter.com/411moviestv
http://www.twitter.com/411music
http://www.twitter.com/411games
http://www.twitter.com/411mma






comments powered by