SPOTLIGHTS
Locked in the Guillotine MMA News Report 12.27.13 The Rematch edition
Posted by Robert Winfree on 12.27.2013

Can Ronda Rousey defend her title against Miesha Tate a second time? Will Anderson Silva regain the middleweight title? 411's Robert Winfree breaks down the UFC's final event of the year in UFC 168!

Merry Christmas everyone, or whatever holiday you celebrate this time of year, to everyone and welcome back to Locked in the Guillotine. It's good to see everyone again, and boy do we have a card to preview this week. UFC 168, the biggest rematch in the history of the UFC, if you believe Dana White. I don't subscribe to that level of hype, but it is a good show, good enough that I will be providing live coverage for you all here on 411mania for everyone who wont be watching live. Plus there's news, as always, mostly matchmaking this week, but fun. While reading this, or just killing time, please feel free to check out the Radulich in Broadcasing network and all the associated awesomeness.



Find Additional Pop Culture Podcasts with

Mark Radulich

on BlogTalkRadio



Alright, let's get too the MMA action.




Melendez meets Nurmagomedov: A top lightweight contenders fight has been made, Gilbert Melendez will look to get his second win in a row following his failed title bid when he takes on unbeaten Khabib Nurmagomedov at UFC 170. The two are slated as the co-main event while the main event should be Daniel Cormier's debut at light heavyweight taking on former champion Rashad Evans. This is a solid co-main event and the winner could easily get a title shot if Anthony Pettis is able to stay healthy. I don't know who to favor early, but it should be a fun fight when it rolls around.

The cuts start: The UFC released three fighters this week, George Sotiropoulos, Alessio Sakara, and Rosi Sexton. None of these should be especially surprising. Sotiropoulos was on a substantial losing streak, Sakara has never been a great fighter and is starting to show his age, and Sexton lost both her UFC fights without showing a whole lot of promise. Cuts are likely to keep coming, so we'll be keeping an eye on them.

Price increase: I mentioned this last week but a couple of new details have come out this week. UFC 168 will cost you $60, $5 more than shows for the last several years. UFC President Dana White has said that this will be a one time increase because the card is so stacked, but if you look at the schedule on the UFC's website UFC 169 and 170 are also listed at $60. Now this could be a simple clerical error, or this is another instance of Dana White being full of it, only time will tell.




That's right folks, UFC 168 comes to us live tomorrow. Speaking of live, I'll have live coverage here on 411mania for everyone who wants to read along. Let's get to the predictions then.

Dustin Poirier vs. Diego Brandao: This should be a fairly exciting featherweight scrap to kick off the main card. I had relatively high hopes for Poirier at one point, and while he certainly has the ability, his lack of striking defense after such a long time remains troubling. That becomes even more worrisome when you factor in Brandao, who is one of the more relentlessly aggressive fighters in the division. The big knock on Brandao has been his cardio and defensive issues. I think Poirier is able to handle the big first round from Bandao, then in the second he gets the tired Brazilian on the mat and chokes him out.

Jim Miller vs. Fabricio Camoes: Perpetual top ten lightweight Jim Miller returns to action for the first time since he was choked out by Pat Healy. Miller is the favorite here, and rightly so as this has all the feelings of a "get well" fight for Miller. Camoes is a solid fighter, but Miller has been fighting with some of the very best in the sport, and winning more often than not. I don't think Miller will be able to finish Camoes, but I do think he'll control and dominate every aspect of this fight.

Travis Browne vs. Josh Barnett: This is a big test for Travis Browne, I would say more so than his previous fight with Alistair Overeem because Barnett doesn't have the same glaring weaknesses that Overeem has shown in the past. If Browne is going to win this he needs to keep this fight standing, and he needs to keep it at distance. Browne is very athletic for a man of his size and he'll need to find a way to use that to his advantage if he's going to win. Barnett has been a top heavyweight for a really long time, but he also fights to his advantages. In this case his top game will prove too much if he's able to get this fight to the ground. Barnett is working towards a title shot, he'll likely need to fight Fabricio Werdum with Cain Velasquez's recent shoulder surgery, but he's proven himself time and again to be above the average heavyweight. While Browne is better than your average heavyweight, I don't think he can beat someone of Barnett's caliber. Josh Barnett should take this one.

UFC female bantamweight champion Ronda Rousey vs. Miesha Tate: One of our two title fights on the night, and one that's had an entire season of The Ultimate Fighter to help build it up. Ronda Rousey has never tasted defeat as a professional, or amateur for that matter, fighter. She's never come close to losing really, apparently Liz Carmouche wasn't that close to finishing the choke she had Ronda in, and Miesha Tate doesn't have the offensive weapons to deal with her. Tate's bread and butter is her wrestling and grappling from top position, unfortunately she's out of her depth pretty much everywhere else. Her striking is rudimentary at best, her bottom game is pretty weak, and the clinch seems to be her enemy. Cat Zingano had success against Miesha when she was able to take her down and work striking from the clinch. If this fight winds up clinched Ronda Rousey, an Olympic bronze medalist in judo, will throw Tate on her back relatively quickly and look for another fight ending armbar. For Tate to be successful she'll have to keep the fight standing, stick and move, and avoid the mat at all costs. I don't think she will, Miesha's fight IQ is startlingly low, I think she'll try to clinch and wrestle with Rousey, Rousey will throw her and get another armbar finish in the first round.

UFC middleweight champion Chris Weidman vs. Anderson Silva: If you listen to the hype from the UFC this is the biggest rematch they have ever done. That is a significant stretch, but they're in the promotional business so such exaggerations are to be expected. Chris Weidman shocked the world earlier this year when he knocked out the greatest fighter in the history of MMA in the second round with a left hook on the feet. There were people picking Weidman to win that fight, but I don't think anyone thought he'd KO Anderson Silva on the feet with virtually one punch. So far no one has been able to figure out how to beat Chris Weidman, and at the moment that includes Anderson Silva. Rewatching their first right helps very little when it comes to breaking down this one because of Silva's antics, and what appeared to be nerves from Weidman as Weidman looked tired in the second round from what I assume was an adrenaline dump. It's understandable, but I also don't think that will happen again. I full expect Silva to drop his hands at some point in this fight, it's simply how he fights, but I don't anticipate we'll see him encourage Weidman to shoot for a single and I seriously doubt we'll see Silva pretend to be hurt when he isn't. Anderson Silva is still an incredible fighter, his use of timing and distance remains some of the best in the sport. If Silva is to win, he'll need to avoid clowning around, focus on landing quick kicks and punches and find an opening to hurt Weidman on the feet. This is entirely possible. It's equally possible age has finally caught up with Silva and Weidman just has his number. Chris Weidman is a rare blend of skills in MMA, he has great wrestling but has married that with a solid submission game and good ground and pound. On the feet Weidman will be at a disadvantage, but he's proven to have power in his punches and if Silva gets sloppy he could wind up unconscious again. Weidman's best path to victory remains wrestling, Silva is active off of his back but Weidman actually has power in his ground and pound unlike someone like Chael Sonnen, and he could hurt Silva while Silva is looking to set up an escape or a submission. So who do I favor? I still feel like picking against Anderson Silva is a mistake. He lost last time, and could lose again, but I just don't feel comfortable picking against Silva. Unless Silva really didn't want to fight Weidman again and doesn't show up wanting to fight, which is another possibility. That said, I'm going with Silva in the second with strikes.

Alright, that wraps up another Guillotine that you've managed to escape. I hope everyone had a great Christmas and avoided Wandy Claus. Oh, you don't know about Wandy Claus?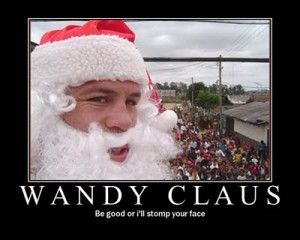 Hopefully that clears that up. I'll be covering UFC 168 tomorrow night, so feel free to stop by and say hello. The 411 Ground and Pound radio show will be back Sunday at 9pm eastern time and we'll be reviewing UFC 168, and possibly talking about our personal year end thoughts. So please listen in for that and be sure to come back next week and get Locked in the Guillotine again.
comments powered by