SPOTLIGHTS
411's MMA Roundtable Preview - UFC 168: Weidman vs. Silva 2
Posted by Dan Plunkett on 12.27.2013

Anderson Silva faces Chris Weidman for the middleweight title at UFC 168! Plus Ronda Rousey defends the women's bantamweight title against Miesha Tate and more! Check out the full roundtable for all the details and join 411 for LIVE coverage of the event Saturday night!




WELCOME:
The rematch is finally here! Anderson Silva looks to avenge his July loss to Chris Weidman in the main event of UFC 168! In the co-main event, rivals collide when Ronda Rousey fights Miesha Tate for the women's bantamweight title. At heavyweight, Josh Barnett and Travis Browne do battle in a bout with title implications. Plus, Jim Miller takes on Fabricio Camoes, Dustin Poirier vs. Diego Brandao, and more!

THE STAFF:


From Forgotten Fights, Paul Lapointe!


From MMA's 3R's, Jeffrey Harris!


From Five Quick Rounds, Evan Zivin!


From The 411 MMA Top 10, Alex Rella!


From the Locked in the Guillotine MMA News Report, Robert Winfree!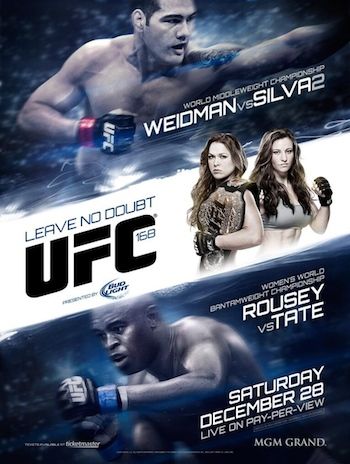 THE PRELIMINARY CARD:




First two prelims to air online, rest on Fox Sports 1.




Featherweight Bout: Robbie Peralta vs. Estevan Payan



Paul Lapointe: Peralta, Submission, RD2
Jeffrey Harris: Robbie Peralta, Decision
Evan Zivin: Robbie Peralta, Decision
Alex Rella: Peralta, Decision
Robert Winfree: Robbie Peralta, Decision
The staff picks Robbie Peralta, 5-0.



Welterweight Bout: William Macario vs. Bobby Voelker



Paul Lapointe: Voelker, KO, RD2
Jeffrey Harris: Bobby Voelker, TKO, Round 1
Evan Zivin: William Pantolino, Decision
Alex Rella: Voelker, Decision
Robert Winfree: Bobby Voelker, Decision
The staff picks Bobby Voelker, 4-1.



Welterweight Bout: John Howard vs. Siyar Bahadurzada



Paul Lapointe: Siyar, TKO, RD1
Jeffrey Harris: Siyar Bahadurzada, TKO, Round 2
Evan Zivin: Siyar Bahadurzada, TKO, Round 2
Alex Rella: Howard, Decision
Robert Winfree: Siyar Bahadurzada, TKO Round 2
The staff picks Siyar Bahadurzada, 4-1.



Featherweight Bout: Dennis Siver vs. Manvel Gamburyan



Paul Lapointe: Siver, Decision, RD3
Jeffrey Harris: Dennis Siver, Decision
Evan Zivin: Denis Siver, Decision
Alex Rella: Gamburyan, Decision
Robert Winfree: Dennis Siver, TKO Round 3
The staff picks Dennis Siver, 4-1.



Lightweight Bout: Gleison Tibau vs. Michael Johnson



Paul Lapointe: Tibau, Decision, RD3
Jeffrey Harris: Gleison Tibau, Submission, Round 1
Evan Zivin: Gleison Tibau, Decision
Alex Rella: Tibau, Decision
Robert Winfree: Gleison Tibau, Decision
The staff picks Gleison Tibau, 5-0.



Middleweight Bout: Chris Leben vs. Uriah Hall



Paul Lapointe: Leben, TKO, RD3
Paul Lapointe: Leben, TKO, RD3
Evan Zivin: Uriah Hall, Decision
Alex Rella: Leben, Decision
Robert Winfree: Chris Leben, Decision
The staff picks Chris Leben, 4-1.

---




THE MAIN CARD:




Featherweight Bout: Dustin Poirier vs. Diego Brandao



Paul Lapointe: As much as people have been bitching and moaning about how weak a card this is for there to be a price hike of 5 dollars I do boo hoo too you. Seriously, this card is as well balanced as any that could end the year and for any PPV that has two title fights on it I would say a 5 dollar increase is not so bad. Also I tend to watch the UFC at the bar so I never pay more then 5 bucks cover anyhow. Back on point though the opening bout of Poirier Vs Brandao is pretty much a litmus test for who will be able to elevate themselves in the new year when it comes to making an impact in the 145 lb division. Now both these kids be young and have a TON of Raw talent make no bones about that but who has the chops to utilize a proper gameplan to further there career. The smart choice and the smart fighter is my humble opinion Dustin by a long margin and I say this because Diego when flustered seems to let his hot headedness get the best of him and that is something Dustin can D'Arce choke the hell out of it. 2ndly his fight against Erik Koch showed that he is patient and willing to stick to what works and that his cardio is good enough to go all 15 minutes something Diego huffs and puffs his way too when the time comes for it. Diego has grown on me as a fighter but he still needs to get the wet off from behind his ears against more polished fighters and I see this as a learning experience for him.

Winner: The Diamond, Submission, RD3

Jeffrey Harris: This is an exciting an exciting featherweight bout between the No. 6 ranked featherweight in Dustin Poirier and TUF winner Diego Brandao. Since a loss to Darren Elkins, Brandao has won three straight. A win here solidly puts him in the top 10 and fights against bigger names and contenders. Poirier has sort of hovered in and around the top 5 featherweights for a while. A win here doesn't really move him ahead in the rankings, but it keeps his momentum going following a strong win over Erik Koch and keeps him in the mix with the stronger contenders. Diego Brandao is very tough and aggressive, but we've seen him gas and get worn out after starting strong against the likes of Darren Elkins. Also for Brandao, this is a huge step up in competition for him. Poirier's weaker in his standup compared to Brandao, but his grappling skills will make up for that. Poirier will dominate Brandao and get him to the mat before securing a submission win.

Winner: Dustin Poirier, Submission, Round 2

Evan Zivin: We start the show off with two featherwieght prospects trying to get the wins they need to become contenders. Poirier has been at contender status before but he has been set back many times due to losses to Chan Sung Jung and Cub Swanson. Brandao, the first featherweight winner of The Ultimate Fighter hit a bump with a loss to Darren Elkins but he has been slowly working his way back with wins against Pablo Garza and Daniel Pineda. Brandao is getting a tougher opponent this time around. Will he be up for it? I don't think so. Brandao can be dangerous on the feet and on the ground but Poirier has a good chin and is smart enough to not get in any dangerous exchanges. Poirier will look to be aggressive and take the fight to Brandao, which will tire out the fighter known for having a small gas tank. Poirier should have no problem proving that winning TUF really don't mean much.

Winner: Dustin Poirier, Decision

Alex Rella: This is a great fight to start the show. Poirier is consistently a top five featherweight in the UFC and while this win wont move him up anymore in the rankings, a loss would throw him off track for awhile. Brandao on the other hand is making a large jump up in competition as he is trying to crack into that top ten to fifteen range. Poirier is overall the better fighter, but he can't get lazy as Brandao is well rounded and is pretty good off of his back too. I'll take Poirier as he has the better track record and better conditioning.

Winner: Poirier, Decision

Robert Winfree: This should be a decent opener for the PPV, as despite technical issues that exist within both fighters games they usually bring the action. Brandao is a good offensive fighter, unfortunately he's proven thus far to be kind of a one round wonder. Poirier has a good ground game, but his defensive striking especially needs some dedicated work. It's entirely possible for Brandao to catch Poirier standing in the first and finish him, but I don't think that's the outcome we'll see. I think Poirier baits Brandao into a fast paced and tiring first round, then finishes him in the second.

Winner: Dustin Poirier, Submission Round 2

The staff picks Dustin Poirier, 5-0.

---




Lightweight Bout: Jim Miller vs. Fabricio Camoes



Paul Lapointe: Always a man worth my time and attention in the cage is the always dependable Jim Miller. I love his inclusion in the PPV broadcast and though his opponent leaves alot to be desired when it comes to name recognition or rankings its nice to see the UFC have faith enough in him to get him the spotlight he deserves on a PPV. Camoes is no slouch but he also is very one dimensional is getting a little torn up with injuries and I believe will break under the pressure that is Jim Miller. Two men enter and leaves without a job and that man is Brazilian, long be it the time of Miller may his bounty to high and bountiful in the New Year.

Winner: Jim Miller, Decision, RD3

Jeffrey Harris: An interesting fight here between Jim Miller and Fabricio Camoes. Miller is a perennial top 10 lightweight, but he's always fallen short of being the No. 1 guy or contender. Or in the words of Mark Radulich, "Always the bridesmaid, never the bride." For Miller, this is more or less a get well fight after a disappointing year that saw him get submitted by Pat Healy (the loss was later overturned to a No Content because Healy tested positive for marijuana). He's spend the last eight months on the shelf, so hopefully he's had time to recuperate. Camoes hasn't fought since a July 2012 loss to Melvin Guillard at UFC 148. On paper, Camoes doesn't appear to pose any threats to Miller that he hasn't seen before. Provided he's healthy and in shape, this should be a winnable battle

Winner: Jim Miller, Submission, Round 2

Evan Zivin: Man, it feels like forever since we've seen Jim Miller. After his Fight of the Year performance against Joe Lauzon a year ago, he's only fought once so far in 2013, a submission loss to Pat Healy. Well, technically it's a no contest now but Jim still got choked out in that fight. It wasn't Jim's best performance, which means he needs a good win here if he wants any chance of ever coming close enough to sniff a lightweight title shot again. That is exactly what this fight should guarantee for Jim, as Fabricio Camoes is decent but nowhere close to being a top lightweight. Camoes is coming off a decision loss to Melvin Guillard, a man Jim Miller submitted in two minutes. This really isn't a fair match-up and I'm surprised there aren't more people complaining about the danger UFC is putting Camoes in by giving him Jim Miller but hopefully Jim will be quick in taking Camoes down and submitting him so that we can all breathe again. Please be merciful, Jim. It's not Fabricio's fault that someone ran over Joe Silva's dog that day or whatever possessed him to make this fight.

Winner: Jim Miller, Submission, Round 1

Alex Rella: I will be shocked if Jim Miller loses this one. Jim Miller usually only loses to the best lightweights in the world and that is not Fabricio Camoes. I honestly couldn't even remember the last time Camoes fought off the top of my head. Camoes supposedly had an awesome bare knuckle fight with Anderson Silva when he was a teenager, but other than that he's an average fighter. Miller should win in the first or second round.

Winner: Miller, Submission, Round 2

Robert Winfree: I like Jim Miller, so I'm glad to see him fighting on this event. Camoes is a solid, but rather unspectacular fighter while Miller has been fighting the best in the division for a long time. I don't know if Miller will be able to finish his opponent, but I don't see Camoes having an advantage anywhere in this fight.

Winner: Jim Miller, Decision

The staff picks Jim Miller, 5-0.

---




Heavyweight Bout: Josh Barnett vs. Travis Browne



Paul Lapointe: Travis Browne is a beast and does have a huge future as a contender in the HW division but can he hang around with a HW that knows his way around on the ground? I ask this because Browne is a long way away from being the guy that went to a draw with king of the HW low blows and short grabs, you the know the No. 1 contender in Bellator, the ever present and disconcerting Cheick Kongo. Conversely he is better then the man who lost to the TRT sideshow that is Big Foot, I mean c'mon it was a freak foot sprang mid round I cannot blame him for folding up like an accordion but can he make a run? This really is an important match in the division as it either solidifies Browne as the next up and comer officially or circles the HW division back to its primitive years like when Randy Couture wound back the clock and sets up a redemption story. Either way I can see Browne keeping distance ready and willing to blast cap Barnet all willy nilly and whatnot but I can't see him tapping Barnett like he dead Jiu Jitsu Ace (HA!) Chad Griggs. Barnett is smart and if he can get inside he is dangerous and Browne is no Daniel Cormier, I sense a bump and grind coming.

Winner: Warmaster, Decision, RD3

Jeffrey Harris: With Bigfoot Silva out of the picture for the next year or so, this is basically a fight between the No. 4 and 5 heavyweights in the division, and the winner will likely be competing for the UFC heavyweight belt at some point. Not to mention Junior dos Santos just lost a second time to the champion, so that could put him out of contention until such time where Cain Velasquez loses the title. Also with the way injuries constantly pile up, either guy could easily get called up to fight in a main event spot or even a title bout if it gets to that point. Barnett looked strong in his long-awaited UFC return against Frank Mir. Browne rebounded nicely with two solid knockout wins over Gabriel Gonzaga and Alistair Overeem. Browne also appears he's been focusing on trimming excess body fat and focusing on his stamina for this fight. Barnett's basic game is to impose his will on his opponents and dominate them on the ground. Browne has shown a lot of improvement since he debuted in the UFC and has shown a well rounded skillset. He's finished five of his six UFC wins. I think though while Browne is probably a better striker and has better knockout power standing up, Barnett's style and pace will simply be too much for him and overwhelm him. Unless Browne is able to strike first and set the pace, Barnett will get Browne to the mat and work his game before securing a submission win.

Winner: Josh Barnett, Submission, Round 2

Evan Zivin: I love a good heavyweight match-up and this is as good as they come right now. Whoever wins this will likely face Fabricio Werdum next year with a heavyweight title shot hanging in the balance, so both men better be on their game Saturday night. Both men viciously thrashed top heavyweights in their last appearances, with Barnett kneeing Frank Mir to death at UFC 164 and Travis Browne front kicking Alastair Overeem in the face at Fight Night 26. It's hard to compare these two off strength of their wins just because there are so few elite heavyweights that it's hard to say if these guys are just that good or if everyone else is just that bad. Barnett hasn't lost in a year and a half, whereas Browne has only lost once and it came due to an injury. Barnett has been in the top 5 of the heavyweight division almost his entire career, but Browne has risen to the occasion in every fight he's had and has succeeded well beyond what a lot of people originally expected from him. This is definitely a fight Barnett can if he gets the fight to the ground or in a clinch (and I would love to see the Warmaster get a UFC title shot) but I'm leaning toward Browne. I think he'll come in with a smart gameplan, looking to strike from the outside and move in and out with quick combinations to keep Barnett guessing, and he will upset all of us old-school Pride fans by halting Barnett's momentum in a similar way to Daniel Cormier last year.

Winner: Travis Browne, Decision

Alex Rella: So this is the fight to determine who fights Fabricio Werdum for the next title shot. Travis Browne is a very good heavyweight, but I just don't see him winning this one. I just see Barnett taking it to the ground at some point and finishing it off either by TKO or submission. It wont be easy though.

Winner: Barnett, Submission, Round 3

Robert Winfree: Travis Browne faces the biggest challenge of his career here in the form of Josh Barnett. Barnett has long been a top ranked heavyweight, his only loss in the last several years was to Daniel Cormier. He's proven himself consistent and well rounded. If Browne is able to win here it will be a hell of an achievement. For Browne to win he'll have to keep the fight standing and at distance where his athleticism and long limbs will be to his advantage. Barnett will be looking to close the distance and either fight in the clinch or get Browne down and work his top game. I think Barnett is just a better fighter than Browne is right now.

Winner: Josh Barnett, Submission Round 2

The staff picks Josh Barnett, 4-1.

---
---




UFC Women's Bantamweight Championship Bout: Ronda Rousey vs. Miesha Tate



Paul Lapointe: One of the worst seasons of TUF ever? You betcha! And a compromised coaching battle to settle the score. I loath Rondy Rousey as a personality and find Tate a little bit trite when it comes to her own assertions but she is hella good looking. So until the world spouts super volcanoes or Tate opens her arms to TRT I cannot for the life of me see Tate dragging this past the first into the 2nd or even 3rd even with Ronda's non existant striking game. Until the merry go round stops playing the same tune, the prediction remains the same just like the previous episode. Ground, Grapple, Armbar, Go Home.

Winner: Rowdy, Submission, RD1

Jeffrey Harris: And the long-awaited women's rematch is finally here. While Tate is exceptionally tough and a great athlete and fighter herself, ultimately I see once again Tate's size, power, and length being too much for her. Provided Rousey hasn't been distracted and doesn't get too emotional here, I see her being able to get this to the mat and getting the armbar win. It wouldn't surprise me if Tate was a little more slow and cautious in the first round to actually see Rousey go to the second round for the first time in her career. But how amusing would it be first after seeing Mark Hunt and Antonio Silva go the distance in a fight that was supposed to have a "guaranteed knockout" and Demetrious Johnson knockout Joseph Benavidez to see this fight go the distance?

Winner: Ronda Rousey, Submission Round 2

Evan Zivin: Hmmmm, how do I want to approach this? These two obviously don't like each other. That was made quite clear when Miesha said Ronda wasn't deserving of a shot at her Strikeforce Women's Bantamweight Championship back in March 2012. Ronda responded to that criticism by submitting Miesha with an armbar inside the first round, just like she had done with all her other opponents before then and since then. Ronda made her UFC debut in February by submitting Liz Carmouche to defend her UFC Championship for the first time. Miesha debuted two months later, losing by a late TKO against Cat Zingano in a fight she had been winning up to that point. Miesha shouldn't even be in this fight but an injury gave her the opportunity to coach on The Ultimate Fighter and reignite the rivalry. It was inevitable that these two would fight again and I'm sure Miesha has been training for this day since she lost her Strikeforce belt. The only question is has Miesha found a way to solve the puzzle of Ronda's judo. Will Miesha be the one who can stop Ronda's takedown and prevent her form unleashing another armbar? Can she do it? I doubt it. I like Miesha and I'm tempted to say she could be the first woman to get Ronda out of the first round but I don't think she'll be able to do it. I do hope she can prove me wrong, though. People already don't like Ronda's personality. If she can't find an opponent who can offer her a challenge and make her fights more interesting, her star power is only going to continue to drop. Oh well. Should still be a good scrap while it lasts.

Winner: Ronda Rousey, Submission, Round 1

Alex Rella: Ronda Rousey is going to win this one and it will be by armbar. Maybe Tate is able to escape the first round, but it's gonna happen eventually.

Winner: Rousey, Submission, Round 1

Robert Winfree: I know why people are excited for this fight, these two hate each other. That brings with it a degree of excitement, but I really don't expect this fight to go any differently than their first one did. Miesha Tate excels if she can take you down, and struggles if she can't. She struggles in the clinch, where Cat Zingano mauled her, and off of her back. While she will likely hold a striking advantage over Rousey, her stand up skills are hardly exceptional. I fully anticipate Rousey blitzing across the cage, clinching, throwing, and then armbarring another opponent in the first round.

Winner: Ronda Rousey, Submission (armbar) Round 1

The staff picks Ronda Rousey, 5-0.







---
---




UFC Middleweight Championship Bout: Chris Weidman vs. Anderson Silva



Paul Lapointe: I do not think Weidman got lucky at all in his fight against A. Silva last time out, I just think Anderson got complacent just like anybody could when your the GOAT facing some Long Island blue chipper. I would not say Chris pulled anything off that was Rocky like or anything of that nature but he did the unthinkable and unseated a champion heralded as Jesus in an Octagon and walked on his water and then all over him. Can Weidman beat Silva? Yes he has proven that, but can Weidman but Silva on his best when he is on his soapbox and throne and horse looking down on you and not just smiling? Legitimacy that is what this rematch is all about and if The Spider sees the money on the wall like I think he does he wants and should want to wreck this kid for pride and dollar bills.

Winner: Spider, TKO, RD2

Jeffrey Harris: The betting odds still list Anderson Silva as the favorite in this fight. The prevailing belief appears to be that nine times out of 10, Silva wins this fight and the first fight was a fluke because Anderson Silva was clowning around and showboating too much. Though it's something Silva has been prone to do repeatedly in his fights, only for his opponents to literally freeze and not know what to do. In their first fight, despite starting strong, it looked like Weidman was starting to slow down before he nailed Silva and got the knockout. At this point, it's hard to see where Silva's head is at. In less than four months, he turns 39. It's been amazing to see how he's performed at such a high level at his age, when by this point a lot of fighters are slowing down. It's hard to believe Silva will actually fight another seven or eight fights after this. Plus, he's still talking about a fight with Roy Jones Jr., his dream matchup. This is a fight where I've gone either way on. But because Weidman was the guy to beat the guy, and he knocked him out, I'm going with Weidman somehow toughing it out and solidifying his title run with another win over Silva.

Winner: Chris Weidman, TKO, Round 1

Evan Zivin: This is a very intriguing fight for the fact that no one knows what kind of fight we are going to get from these two. Their first fight back in July saw Weidman find success on the ground against Anderson before Anderson got back up and started messing with Weidman. The clowning worked in that it angered Weidman, forcing him into stand-up exchanges with one of the most dangerous strikers the sport has ever seen, but it also allowed Weidman to land the knockout punch that removed Anderson from his consciousness and his championship in one fell swoop. Will we get that kind of fight again? Will Anderson approach this fight more seriously this time around? Will Weidman keep his emotions better in check and stick to a wrestling-based strategy? To me, the key to understanding what will happen is knowing if Anderson even wants to be in this fight. He said after the Weidman loss that he was done fighting for the title and didn't want a rematch. Of course, fighters get emotional after losses and may say things they don't mean, but there may have been more truth to that then the UFC is willing to admit. Georges St-Pierre just showed how being the best fighter in the world for 7 years can wear you out and make you lose interest in competing. I'd imagine Anderson must be feeling the same way. He's tired of all the camps and the media and the drama that comes with being champion and he wants to move on to other things in his life that being the champion has prevented him from doing. Maybe he really wants that Roy Jones, Jr. fight and being champion won't allow him to take it. I don't know. Anderson has always made a habit of toying with the media and never revealing his true feelings so it's impossible to say where his head is at heading into Saturday. Maybe Anderson will become The Spider of old for one more night and destroy Weidman to reclaim his title. Or maybe Anderson will fight very tepidly and, while not dancing around and giving Weidman every opportunity to plant him on his ass like he did the last time, he won't show any killer instinct or desire to be aggressive and win the fight. On their best night, I feel Anderson takes this fight but I don't think his head or his heart will be in it on Saturday. I may be very wrong but I think Anderson recognizes that it's time for a change and he's not going to fight that.

Winner: Chris Weidman, Decision

Alex Rella: I'm not sure how to pick on this one. Does Anderson Silva show up looking to wreck Weidman so he can get his belt back? Or is Weidman just the better fighter at this point? Or does Silva subtly cheat like he did in his rematch against Sonnen grabbing shorts to defend takedowns and to keep Weidman from evading strikes? I re-watched their original fight like everyone else this week and I didn't realize when it was live how much Weidman dominated Silva. Silva did almost nothing right in that one. Weidman was looking a little tired so I could see Silva winning it in the later rounds as well either by submission or KO. I'll pick Weidman, but I wouldn't be surprised if Silva regained his belt.

Winner: Weidman, Decision

Robert Winfree: I still find myself accidentally typing out UFC middleweight champion Anderson Silva despite knowing full well that Weidman is the champion. I'm looking forward to this fight, but I have almost no idea how it will go down. If Anderson Silva wants the belt back, doesn't screw around, and is able to avoid the clutches of old age he can win. Silva's power, accuracy, and understanding of distance and timing are without equal in MMA. Of course Chris Weidman is no slouch, he did knock Silva out in their last fight, and it's entirely possible that Weidman just has Silva's number. Weidman brings a great skill set into MMA, his wrestling is great, his submission game is good, his ground and pound is accurate and powerful, and his stand up game isn't bad. This could play out in very similar fashion to their first fight, though I don't think Silva will pretend to be hurt if he isn't but I do think at some point he'll drop his hands and try to goad Weidman into making a mistake standing. That's simply what he does, and he's very good at it. At the end of the day I just don't like picking against Silva, though I am freely acknowledging that Silva might not really want this fight and shows up to troll everyone instead of actually try to win. I'm hoping he shows up mentally and physically ready to win, because if not Weidman has proven he'll not only beat Silva, he'll do so violently.

Winner: Anderson Silva, TKO Round 2

The staff picks Chris Weidman, 3-2.







---
Remember to join 411's coverage of UFC 168 on Saturday night!
comments powered by