SPOTLIGHTS
Five Quick Rounds 12.31.13: UFC 168, In With a Bang, Out with a Leg Break, More
Posted by Evan Zivin on 12.31.2013

From Anderson Silva's gruesome injury at UFC 168 and Chris Weidman's successful title defense to rumors about Brock Lesnar returning to the UFC and Roy Jones Jr. wanting to Fight Nick Diaz, 411's Evan Zivin examines these stories and more in Five Quick Rounds!

Hey hey, fight fans, and welcome back to Five Quick Rounds! I am your host, Evan Zivin, and I am as excited as someone who has only seen 499 Pride fights to be here once again!

Did you see the reveal for the UFC Fight Pass? That's the new digital subscription service that was hinted at a few weeks ago. The full details finally came to light before UFC 168 and it sounds decent enough. The service will be home to a number of live events that have opened up more money in those markets because the UFC can run events in local primetime instead of always appeasing us Americans like they're supposed to. There will be a large fight library that includes 500 Pride fights, 600 WEC fights, and 500 Strikeforce fights. Man, that's, like, a million fights right there. There will be international seasons of The Ultimate Fighter and other original content and Dana Vlog's and maybe a show where Kenny Florian brushes his hair for two hours. There's going to be a lot of content on the network and it will all be at your fingertips for $10 a month. You'd be crazy not to go for that. Or maybe you would be crazy to go for that. I don't know. I haven't checked it out yet but maybe I should, as they are offering a two month free trial to everyone. Well, everyone who currently has the service available to them. Sorry, everyone else. No Hyun Gyu Lim for you. The pain will subside in time.

All right, so with fighter introductions out of the way, I have five more rounds of MMA news and opinions to throw at you. This week we look at the results of UFC 168, the rumors surrounding Brock Lesnar making a UFC return, and Roy Jones Jr. wanting to fight Nick Diaz. Let's to it do it.

FIGHTER YOU READY!!!!
FIGHTER YOU READY!!!!

FIGHT!!!!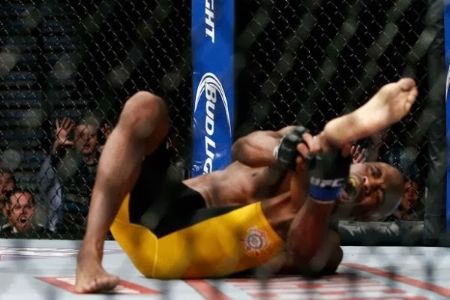 Round One: Chris Weidman Proves He's the Best By Standing There And Watching Anderson Silva Break His Leg

***TOUCH OF GLOVES***

Live, from the MGM Grand in Las Vegas, Nevada, it was UFC 168 ON SATURDAY NIGHT!!!!

Well, if UFC needed a reason to justify raising the price for their big end of the year event, they got it as UFC 168 proved to be a highly entertaining show. Any main card that sees the judges sit on their hands for the entire night is a good show. Also, three first round finishes, one champion being pushed harder than she's ever been in her MMA career, and another champion defending his throne in a dominant, albeit controversial and gruesome, fashion doesn't hurt either. Well, I guess it did hurt at least one person. Let's get started by talking about that. The main event was one of the most hotly anticipated rematches in recent memory. Yes, I was excited when Chael Sonnen got another shot at Anderson Silva but for as dominant as he looked in those fights, he was never able to defeat the man they call The Spider. Chris Weidman did back at UFC 162. That's why Anderson is the former champion and was forced to enter the cage first on Saturday night and wear the dreaded blue wrist tape for the first time since he won the middleweight championship 7 years ago. A unique atmosphere had been created in the lead-up to the fight, especially because nobody knew for sure how the fight would play out. Weidman did look dominant in July and was winning the fight, but Anderson was clowning around and ended up making the fight more about what he did wrong than what Chris did right. Weidman fell into The Spider's web and, in beating Silva in spite of the clowning, it robbed Weidman of some of the glory that he deserved for decisively beating one of the best fighters of all time. After a fight like that, Weidman really needed a dominant performance in the rematch to prove to critics that the first fight wasn't a fluke created by Anderson not respecting him in any way. So, did Weidman get the win he needed?

The answer to that question is....sort of. I mean, Weidman got the dominant performance he needed but it's going to get overshadowed again by what Anderson didn't do, or, in this case, did do. Weidman started the fight by taking Anderson down in a way that Chael could only dream of. Anderson didn't stay down for long but shortly after he got up, Weidman popped Silva with a right hand to the ear, dropping the former champion. Weidman looked ready to finish the fight early but he wasn't able to do so. He did maintain top position for the rest of the round, though, throwing elbows and going for a can opener, the scourge of any fighter who has never heard of jiu-jitsu before. To Silva's credit, he recovered very well from almost being finished and he made the few punches he landed from the bottom count, busting up Weidman's nose before the first round ended. There wasn't a lot that happened in the second round before the fight ended. Silva responded to a hard body kick from Weidman with a leg kick. Now, Joe Rogan had mentioned earlier how the main criticism that John Danaher, BJJ master and Weidman's grappling coach, had about the first fight was Weidman's failure to check leg kicks. Well he managed to check this leg kick. In fact, he checked it so well that Anderson broke his leg on Weidman's shin bone. If you've ever seen Corey Hill's leg break from Fight Night 16 (and you shouldn't because it's disgusting and you should be ashamed for even wanting to see it), the exact same thing happened here. The right amount of stress was placed at the exact right spot on Anderson's leg to cause it to snap in half. It was a horrible way for the fight to end but it shouldn't take away from the fact that Weidman was dominating that fight. Too bad it will, as all the media outlets will talk about Anderson and not Weidman, just like they did last time. Oh well. At least Weidman vs. Vitor Belfort will be a good fight. Plus, no one is going to be talking about whether Anderson is retiring from fighting. It's mainly because everyone wants to know if he's going to walk again. Thankfully, he's already on the mend after having surgery right after the fight so he should be healed up in about six months. THEN we can talk about if Anderson is ever going to fight again. It's not an impossible injury to come back from but, at 38, it's not gonna get any easier for him, especially with a new middleweight sheriff in town. Congrats, champ. I heard your next title defense is going to be against Renato Laranja. Be afraid.

***HORN SOUNDS***




Round Two: Miesha Tate Refuses to Get Armbarred in the First Round By Ronda Rousey, Waits Until Later For That

***TOUCH OF GLOVES***

In the world of MMA, 2013 will be known as a year that saw some of the best title fights we have ever witnessed. Almost every champion, from Jose Aldo to Benson Henderson to Anderson Silva, Jon Jones, and Georges St-Pierre, saw the largest threats to their championships arrive and push them to their limits. Some of the champions succeeded in the face of such adversity and some didn't. It was made all the more surprising because some of the challengers weren't expected to perform as well against the champions as they did. Miesha Tate can be included on that list after her title match against Ronda Rousey on Saturday. There was definitely no love lost between these two, as they have hated each other going back to Strikeforce when Tate was the champion claiming that Rousey didn't deserve a shot at her championship. It's a year and a half later and a lot has changed except for one thing: they still hate each other. This was seen during their coaching stint on The Ultimate Fighter, a season highlighted by Ronda flipping Miesha off on a fake mountain and Miesha making a bobble-head doll of Ronda's monobrowed coach. Fun stuff. The question heading into this fight was, of course, would it go any differently than their first fight? Would it go any differently than all of Ronda's previous fights? Aside from a brief moment in her fight with Liz Carmouche, Ronda has gone mostly untested in her short MMA career. As much as Miesha may have trained to defend the armbar, was there any hope that she'd actually be able to stop Ronda from applying another one, that sadistic one-trick pony?

We do have to give Miesha credit for one thing: she got Ronda out of the first round. SHE GOT RONDA OUT OF THE FIRST ROUND!!!! Break out the milkshakes and Hooter's girls! I'm sure that Ronda's coaches have been dying to give her advice during a fight and they finally got to do so on Saturday, so congratulations everyone. That should count as a victory for Miesha but the record books don't care about how long you last against an opponent. Well, maybe the Guiness record book does. She should call them. Just don't mention that you still got mostly dominated by Ronda's grappling. Every time Miesha managed to get back up from the ground, Ronda would find another judo throw to ragdoll Miesha with. Even when Miesha swept and got on top, Ronda threatened with armbars and triangles from the bottom. Ronda came close to ending the fight in the second round, transitioning from mount to a nice armbar to a reverse triangle that Miesha barely survived. It was impressive that Miesha lasted into the third round but it didn't last much longer as Ronda almost immediately got Miesha down and wrapped up, what else, an armbar to end the fight a minute into the third. Ronda then turned the crowd further against her by refusing to shake Miesha's hand after the fight. Ronda, nobody is going to care that Miesha insulted your family. You don't not shake the hand of America's sweetheart, Oh well. Being a villain can get you PPV buys too. All the credit in the world should be given to Miesha for showing that being prepared will at least allow you to last more than five minutes with the champion. It's still hard to imagine any woman in the current MMA scene being able to beat Rousey but we can all hope. Sara McMann will get the next chance to try at UFC 170 in February and then hopefully Cat Zingano will get the title shot she earned sometime later in 2014. So Ronda still has a couple good challengers left before she completely turns her back on MMA to become a full-time movie star. It's all right, Ronda. With the way you've been portrayed on TV and in the media this year, I'm sure there are plenty of people willing to help pack your bags for Hollywood right now. See you in theaters next April!

***HORN SOUNDS***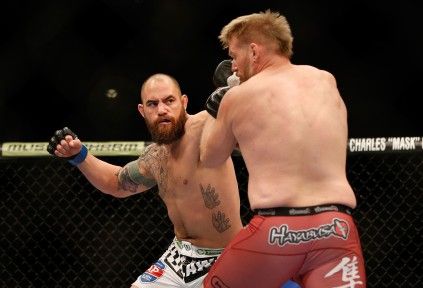 Round Three: Rich White People Hate Seeing Hawaiians Elbow Chubby Metalheads in the Cranium

***TOUCH OF GLOVES***

Or at least that's what I got out of Travis Browne's post fight speech. That and he takes too much stock in Internet commenters saying he's nothing but a striker. Is Travis Browne a good grappler? I don't know. He hasn't had to show off his ground skills too much in his UFC career but that doesn't mean he can't grapple. He was good enough to stay upright during one of Josh Barnett's aggressive takedown attempts. That has to count for something I think. Then again, Barnett's shot didn't have a lot of power behind it due to getting kneed in the face right before it. Then again AGAIN, who needs to grapple when you can just elbow your opponent's head off whenever they shoot on you, which is what Browne did to Barnett. Josh would have been wise to give up the takedown after that first elbow but they came so fast and Josh may have already been out after that knee. It all happened so fast but when the dust settled, the big man with the enormous 2 inch reach advantage --OMG!!!-- was victorious. I guess you could say that Browne mastered the Warmaster's....um....war. Shut up! Next up for Browne will be a showdown against Fabricio Werdum to determine who gets to fight champion Cain Velasquez whenever Cain feels like not being injured anymore. Browne has really stepped up his game, destroying another top contender and another former Pride fighter. So, on behalf of all die-hard MMA fans, let me say congratulations on the win, Travis, and I hate you. I HATE YOU!!! PRIDE NEVA DIE!!!!!

In other UFC 168 action, Jim Miller returned from an eight month absence to get an impressive submission win over Fabricio Camoes. I don't think most people were expecting anything out of Camoes in this fight but he did fight Anderson Silva back in 1997 so he gets points for being old-school. He's also a third degree black belt in BJJ which made it even more impressive that Miller, after getting taken down, was able to use Camoes' posture to wrap up an armbar from the bottom. Welcome back, Mario. Dustin Poirier and Diego Brandao spent most of the first round of their fight throwing long punches at distance. Brandao wasn't throwing any combinations but he was throwing hard, looking for a knockout early. Brandao also landed a few takedowns before Poirier was able to pop up and land a flurry of punches that led to the stoppage right before the end of the first round. Poirier came into the fight pissed that Brandao missed weight and something about wanting to stab him in the neck (Brazilians, amirite?) but he did what he needed to and keeps his momentum going in the featherweight division. Uriah Hall finally got a win in the UFC. After dropping Chris Leben with a knee about five seconds after the fight started, he spent the rest of the first round walking backwards, countering Leben's brawling perfectly with brutal jabs and hooks. It was a good strategy, even though that type of fighting will get you shot in Stockton, and enough damage had been done to the point that Leben gave up on the stool before the second round started. This marks Leben's fourth loss in a row. Is retirement in his future? Possibly, unless he's cool with getting cut by the UFC. Also, Michael Johnson showed his improved striking game by knocking out Gleison Tibau in the second round, Dennis Siver upset the Armenian audience with a unanimous decision over Manny Gamburyan, John Howard showed no fear against the legend that is Siyar Bahadurzada and took a unanimous decision, William "Patolino" Maccario battered and bloodied Bobby Voelker in route to a unanimous decision, and Robbie Peralta survived the grappling of Estevan Payan to explode with punches and finish by TKO in the third round. I guess you could say that Peralta gave Payan...Problems. Do people still make those CSI jokes? I am so behind the curve, aren't I? It doesn't even work unless you know Peralta's nickname is Problems. Did you know that? What a mess this turned into.

And that was UFC 168. Next up is UFC Fight Night 34 on Saturday. It will be the first live event on the new digital network. You won't have to pay the ten bucks yet but you will have to get up hella early to watch the show. Somebody better be making coffee.

***HORN SOUNDS***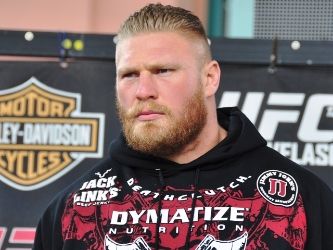 Round Four: So...Anyone Want to Talk About Brock Lesnar Returning to the UFC?

***TOUCH OF GLOVES***

Last week was a little short on major news items. It's the problem with holiday weeks and it being so cold and snowy outside and I have this rash that I should probably get checked out but I'm lazy. I don't think major news is allowed to happen on Christmas. It's one of those times of year that no news of any sort can possibly occur on because everyone is supposed to be with their families and pretending to be happy instead of hateful and dead inside like they are the rest of the year. Hey, I don't judge. I personally like seeing my family for the holidays. Well, some of them. The rest can go to hell for all I care. Plus, I wouldn't mind seeing them when they weren't expecting me to buy them stuff. Can we celebrate holidays that don't breed shallowness and materialistic values? No? Well, that's America for you. At least it makes things easy for local news stations that can just piss away December rolling stories about obnoxious, energy-wasting Christmas light displays and sending eyewitness reporters out to badger people about why they waited until the last minute to complete their Christmas shopping. Is it really necessary to ask them that? The answer is always the same every single year. Always.

So yeah, there were rumors about Brock Lesnar returning to the UFC. Isn't that crazy? It started with a rumor that Lesnar was going to appear at UFC 168. Does anyone know who started that rumor? The articles started appearing on Thursday and they all just said "rumors are circulating." Was it a reputable source or did some Redditor pull it out his ass? I don't know. Either way, the articles started saying that Brock would appear at the show, which led to articles saying that he was going to have a meeting with Dana at the show, which of course led to articles wondering if Brock was planning on making a return to the UFC, and then a couple people started speculating on who Brock would face in his UFC return and if he has another title run in him. It's even been said that the contract Brock has with WWE, the wrestling company that Brock sporadically makes appearances for whenever Vince McMahon throws enough money at him, would allow Brock to take one UFC fight. That news was revealed by Dave Meltzer's Wrestling Observer, which means it's either made up or was told to him by someone backstage at WWE who must enjoy messing with the man (unless they really hate WWE that much to consistently give him backstage news all the time). Either way, this story has gotten the attention of the MMA world and even Shane Carwin, the former UFC Interim Champion who lost to Lesnar at UFC 116, said that he might come out of retirement if he could get a rematch with The Beast. When asked about all this, Dana White said he had no clue one way or another, which doesn't necessarily mean anything coming from him. So is any part of this rumor true? Considering that no one has mentioned yet if Brock did appear at UFC 168, I'd say not. Oh well. Maybe he'll return some day. Or maybe he'll choose to be smart instead.

***HORN SOUNDS***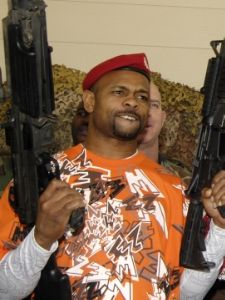 Round Five: It's the End of the Year and All That's Left is Roy Jones, Jr. Wanting to Box Nick Diaz

***TOUCH OF GLOVES***

This may be the last news story you read for the entire year. The entire year. A full 365 days have come and gone and are leading up to this moment. This could be the final memory you have of MMA in 2013 before you drown it out with glass after glass of champagne and other classy-sounding alcohol you only touch at certain times of the year. That's a big responsibility I have. It's a huge burden but it's a burden I must bear and a burden that I am proud to bear. I will do it. I will do it because MMA fans are some of the best fans in the world and you deserve the best. You deserve the truth. You deserve....the news. I can't let you down at this time of year. I need to bring you the best end of the year news I can and I will do whatever it takes to do it. I will scour the entire globe, search high and low, to find you the best MMA news that still exists in this world, wandering aimlessly, just yearning to be revealed in all it's glory. I will climb the highest peaks, swim the deepest oceans, run through the darkest jungles and--- wait a sec. I can't do all that. I only have a couple hours until 2013 is over and that is a lot of work. Seriously, I barely passed gym class in high school. How the hell am I going to do all that running and swimming? Plus, that one about the jungles is kind of racist. What is wrong with you people? How can you be so demanding and/or racially insensitive? I'm just one man. One man with an award-winning column minus the awards. Well, even if you don't like me, I still like you so I'll do what I can.

So....um....how about that Roy Jones, Jr.? You remember him? He's the former top boxer in the world who is well past his prime and has been showing up at UFC events because he has nothing better to do. Well, he's also been showing up because he's a fan of Anderson Silva and has been interested in fighting him. It was an idea that was laughable at the beginning of the year, when Anderson was still middleweight champion, that became still laughable but slightly less so after Anderson lost his title. Whether the fight was ever a possibility or not, it's now off the table due to Anderson's leg injury. So what is Roy Jones to do? Stop calling out MMA fighters? Yeah, no. Jones is now reportedly turning his sights towards a fight with "retired" fighter Nick Diaz. Nick, as well as his brother Nate, has always enjoyed using his boxing to win MMA fights and has mentioned in the past that he would like to give boxing a try. I don't know who would organize such a fight and how it would be promoted but I'll admit: I'd probably watch it. I'd much rather see Nick come back and take an MMA fight but anything that gets him off his butt and gets him fighting again is a good thing. If Jones really wants that fight, it shouldn't be too hard to put together. All he has to do is trash Nick to every media outlet willing to put a microphone in his face. I said this before when Michael Bisping said he wanted to fight Nick, if there's one thing Nick hates, it's spinning shit. If there's another thing he hates, it's drug tests. If there's a third thing he hates, it's being disrespected. Nick Diaz is all about loyalty and respect and will throw his fists up at the slightest provocation. Insult him and he'll be ready to go. It's that simple. Get on it, Boxerman.

***HORN SOUNDS***

That's it for Five Quick Rounds. If you have any questions, comments, or suggestions, and it is always appreciated when you do, leave them in the comments section. I will be back in 7 for another Five Quick Rounds. Enjoy the fights on Saturday morning, if you want, and, until next time, remember to fight clean, fight hard, fight fair, and never leave it in the hands of the judges...




HAPPY LAST DAY OF KWANZAA!!!!!!!!!!
comments powered by