SPOTLIGHTS
The Greatest MMA News Column 12.31.13: Weidman-Silva 2 Thoughts
Posted by Dan Plunkett on 12.31.2013

News and thoughts on UFC 168, Anderson Silva's leg injury, Ronda Rousey's heel turn, possible end of Chris Leben's career, Rousey vs. McMann, predictions for 2014, and more!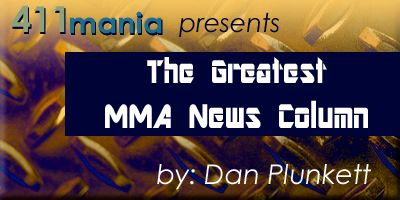 UFC 168: Weidman vs. Silva 2 Thoughts
With one exception, everything about UFC 168 was great leading into the main event. With a main card that had at that point featured four finishes, three of which came in the first round, it was shaping up to be perhaps the best card of the year. Then, during what was supposed to be a grand finale, came a turn of events that made UFC 168 the runaway winner of most depressing show of the year.

By all indications, the show did outstanding business. The sold out show generated a gate of $6.2 million, falling short of UFC's Las Vegas record set for last year's Anderson Silva vs. Chael Sonnen fight by $700,000. The difference was tickets were scaled slightly down for this show and the configuration of the arena was a bit different. Had UFC opted for a higher pricing structure, they would have been able to break the record. On pay-per-view, they did opt for a higher pricing structure, raising the purchase price by $5. They should break their record for high definition purchases on the show, as the percentage of HD buys has been higher this year than ever before and was especially high for Ronda Rousey's February debut.

As far as the amount of overall buys on PPV, there is no real indicator available. Google searches for "Anderson Silva" and related UFC terms were at more than 5 million in the United States, which is higher than they have ever done before. However, that number was going to skew high given the fight's mainstream coverage, Rousey fighting on the card, and most especially intrigue regarding Silva's injury. My feeling prior to the fight was that it wasn't going to break one million buys, and reportedly those in UFC were felt the same way given their recent disappointing performances on PPV. Bars were said to be packed, with many having turn away crowds, but UFC doesn't get paid per person watching in bars, but by how many bars order the bout (bars pay based on how many people are legally allowed in their establishment and costs are usually in the thousands). November's UFC 167 received a record number of bar orders, but I'm not sure how Saturday's show did.






The leg break that ended the main event was extremely unfortunate for a number of reasons. First and foremost, because it was terrible to see someone, especially Anderson Silva, suffer an injury like that. If he chooses to come back it would take at least a year, by which point he'd be closing in on his 40th birthday. At that point, there's virtually no chance if him returning and being the same fighter he was before the injury. The second major reason is because the injury overshadowed an incredible performance by Chris Weidman. The champion didn't just have an answer for everything Silva presented, he forced Silva to come up with some answers as well. Weidman may have legitimately knocked Silva out in the first round, only for Silva to quickly regain consciousness on the ground. In the second round he was striking well with Silva, his kick check that broke Silva's leg was perfectly executed. What happened certainly wasn't an accident – Weidman wasn't checking kicks not to hurt Silva – but it was a freak occurrence given the rarity of similar instances (Corey Hill and Pele Landi-Jons are the only fighters I recall suffering similar injuries). Lastly, who knows what would have happened had Silva's leg landed an inch higher or lower and not broken? Weidman was certainly winning the fight by that point and showing few holes, but Anderson Silva is Anderson Silva. Or, perhaps Weidman's earlier knockdown was a sign of things to come.


Before getting into the fight, I want to note the contrasting entrances between Miesha Tate and Ronda Rousey were really incredible. Tate entered singing along to Katy Perry's "Roar," and miraculously the crowd was still mostly in favor of her. Rousey was the face of intensity coming out to her usual "Bad Reputation." The fight was certainly the most exciting on the show and the crowd was super into it, but both showed some notable flaws. Rousey's striking has dramatically improved, but her defense wasn't strong. Either Tate's game plan was poor or her execution of it was. She continually initiated clinches with Rousey and was continually thrown to the mat. Tate had some success landing punches from a distance, but always seemed to be using them as a tool to get in closer, where she was at a disadvantage. Impressively, Rousey still had a good amount of gas in the tank in the third round, even though the fight had a fairly rapid pace. Most of the time when you see a fighter with a lot of quick finishes go into deep waters for the first time they noticeably tire, but Rousey handled it well. Rousey tapped Tate with an armbar early in the third round to retain the title.





After the fight, Rousey, far from the fan favorite she was in February but still treated as a major star, was heavily booed for walking away from Tate's handshake attempt. Boos then drowned out her post-fight interview. It will be interesting to see how being looked at as a heel will impact how mainstream media covers Rousey going forward, because she had been getting tons of media with overwhelmingly positive pieces. The booing of the handshake was really dumb considering Rousey's reasoning behind it and the idea that people with a grudge have to be friendly after a fight. (Spoiler: in almost every instance that's happened, one or both of the fighters was faking the grudge.)


In a surprising result, Travis Browne knocked out Josh Barnett with a series of brutal elbows while defending a takedown against the fence. These were the same elbows that Browne knocked Gabriel Gonzaga out with, except unquestionably legal here. This was a really impressive performance from Browne. I wonder if people realize that Barnett (and every fighter on the card that received substantial head trauma) may have suffered a more serious injury than Silva's leg. Pending Werdum's agreement, Browne now moves on to face him in a match that would determine the next challenger for Cain Velasquez's heavyweight title.


Jim Miller submitted Fabricio Camoes with an armbar in what probably should have gotten the best submission bonus that went to Ronda Rousey. It was Miller's first win since his bloodbath with Joe Lauzon last December. In the main card opener, Dustin Poirier did excellent clinch work and stopped Diego Brandao in the first round. Once he had Brandao, who tired quickly after badly missing weight, against the fence, he unloaded with a good mixture of body and head strikes. Poirier asked for a rematch with Cub Swanson, which I don't think he'll get, but it would probably be a great fight if both got full camps in.






Prior to Silva's injury, the most depressing moment of the night came in the final preliminary card bout. Chris Leben, 33, entered the bout against Uriah Hall after two very poor performances that made it clear he couldn't fight the way he used to. If a lesser name fighter had similar performances he or she would have been released. Instead, Leben was given the spot against Hall, who had underperformed in his past two bouts but still represented a faster, more technically skilled, and more athletic striker. Hall immediately caught Leben by surprise and knocked him down with a flying knee. At the end of the round, Hall knocked Leben down with a right hand. The horn sounded before Hall had much of a chance to finish the fight. During the round break, Leben, much to his credit, told his corner he was done. It was a sad end to a meaningful career.

Leben entered the UFC by way of the inaugural season of The Ultimate Fighter. A member of Team Quest in Oregon, Leben had defeated UFC veteran Benji Radach prior to landing on the show. He immediately stuck out on television, infamously "spritzing" pee on Jason Thacker's pillow. Then he found himself in what was to that point the most widely viewed feud in UFC history. Previously seen as something of a bad boy, Leben gained sympathy when he was antagonized in the house by Bobby Southworth and Josh Koscheck. A near in-house brawl ensued, with Leben punching the glass front door of the house and tearing down a door (the first of TUF's many door casualties). The incident led to him being thrust into a match with Koscheck, based on the idea they couldn't co-exist together in the house.

The Leben-Koscheck feud culminated on a February 21, 2005 episode, which drew a 2.0 rating and 2.2 million viewers – both records for US MMA. Koscheck wrestled Leben to a dull decision win. The season finale on April 9, featuring the classic Forrest Griffin vs. Stephan Bonnar bout, drew a 1.9 rating (although it did draw more viewers on average, and Leben vs. Koscheck had a strong lead-in as the final Monday Night Raw segment drew a 5.0 rating).

Two weeks later, Leben, easily the breakout star of the show to that point, was back in the house to replace the injured Nate Quarry. Leben faced Kenny Florian for the right to go to the finals, losing on a cut stoppage. The episode drew a strong 1.7 rating. At the finale, Leben faced Thacker in a preliminary bout and easily defeated him.

Leben had a rolling coaster UFC career. There were a couple of points where he was on the cusp of a title opportunity. The first was in 2006, when he faced a debuting Anderson Silva in the main event of the fifth UFC Fight Night. That fight didn't go his way, to say the least. In 2010, he rattled off three straight wins, including two in a two week span. He was favored in an early 2011 match against Brian Stann, who wasn't on nearly the run Leben was, but an ill Leben was stopped in the first round of that bout. Following a quick knockout of Wanderlei Silva at UFC 132 Leben found himself close to title contention again. He faced Mark Munoz in the main event of UFC 138, a televised card, which was the first non-title UFC bout scheduled for five rounds. Leben couldn't answer the bell for the third round of that bout when he informed his corner he could not see.





There were also stretches of disappointment. Consecutive losses to Jason MacDonald and Kalib Starnes took away whatever momentum Leben had left over from the Silva loss. Following a wide decision loss to Michael Bisping, he underperformed against Jake Rosholt in his home city of Portland, Oregon. Finally, there was the final stretch of his career – three consecutive fights where Leben simply wasn't the same fighter anymore.

Unfortunately, Chris also went through struggles outside the cage, though he was always very forward about publicly addressing the issues. He blamed the aforementioned incident with Thacker on excessive drinking. He missed out on a summer 2008 bout against Michael Bisping due to being held on DUI charges. When he eventually faced Bisping in October of that year, he failed the post-fight test for Stanozolol. Leben admitted to using the drug months earlier. Stanozolol can sometimes be detected on a drug test long after use. Two October's later, he was arrested again for suspicion of DUI. Following his bout against Munoz, he failed a drug test for oxycodone and oxymorphone. Never one to stay down, Leben sought treatment, and proclaimed he was in his best state of mind in refreshingly honest interviews prior to returning to action in December 2012.

What Leben will be remembered for is a couple of classic come-from-behind wins. Tired, rocked, and barely standing, Leben still managed to knock out Terry Martin in September 2007. In July 2010, on one of the biggest cards in UFC history, Leben and Yoshihiro Akiyama turned in one of the best fights in the history of the company. Returning just two weeks after his most recent bout, Leben found himself in a slugfest with the Japanese fighter. Akiyama entered the third round ahead on the scorecards and both combatants were exhausted. With time slipping away, Leben found himself underneath the highly touted judoka. As the clock ticked away with just seconds remaining, Leben locked on a triangle choke and submitted Akiyama. Perhaps it won't go down as his greatest win – a 27 second knockout over Wanderlei Silva may take the cake – but it was certainly his most thrilling bout.

---




NEWS!



Rousey vs. McMann headlines UFC 170. UFC looked to be entering 2014 with a string of weak marquee pay-per-views, but that changed when it was announced Ronda Rousey had agreed to headline UFC 170 on February 22. It will be very interesting to see where Rousey is as a draw on her own as this stage, especially after her recent heel turn. McMann isn't well known, but there is a strong selling point in that both are Olympic medalists, with McMann winning silver in freestyle wrestling in 2004. The fight itself will be very interesting. McMann may be content to strike with Rousey, and the champion could have a very tough time taking it to the floor. While McMann dominated her last fight against Sheila Gaff, prior to that she found herself in a couple of rough spots on the ground against Shayna Baszler. With Rousey, those rough spots could turn into very dangerous ones.

UFC on Fox 9 ratings. This should have been in last week's column but I forgot about it. The December 14 UFC on Fox show headlined by Demetrious Johnson vs. Joseph Benavidez drew poorly for an in-football season show. The show drew a 1.8 rating and 2.8 million viewers. There doesn't appear to be any numbers available on the key demos or peak ratings. Below is an ordered list of all the major network shows in MMA history by household rating.



Top Primetime Network TV MMA Events



1. 11/12/11 - UFC on Fox: Velasquez vs. Dos Santos (Cain Velasquez vs. Junior dos Santos) - 3.1 rating - 5.7 million viewers (6.2 million with Spanish feed) - 8.802 million viewer peak (9.566 with Spanish feed, plus 800,000 DVR views within 7 days) - 4.3 rating in Males 18-34

2. 5/31/08 - EliteXC: Primetime (Kimbo Slice vs. James Thompson) - 3.0 rating - 4.85 million viewers - 6.51 million viewer peak - 2.6 rating in Males 18-34

3. 10/4/08 - EliteXC: Heat (Kimbo Slice vs. Seth Petruzelli) - 2.7 rating - 4.56 million viewers - 5.53 million viewer peak - 2.7 rating in Males 18-34

4. 1/28/12 - UFC on Fox: Evans vs. Davis (Rashad Evans vs. Phil Davis) - 2.6 rating - 4.7 million viewers (5.2 million with Spanish feed) - 6.6 million viewer peak - 3.2 rating in Males 18-34

5. 12/8/12 – UFC on Fox: Henderson vs. Diaz (Ben Henderson vs. Nate Diaz) – 2.5 rating – 4.39 million viewers – 5.7 million viewer peak – 3.5 rating in Males 18-34

6. 11/7/09 - Strikeforce: Fedor vs. Rogers (Fedor Emelianenko vs. Brett Rogers) - 2.45 rating - 4.04 million viewers - 5.46 million viewer peak - 2.3 rating in Males 18-34

7. 1/26/13 – UFC on Fox: Johnson vs. Dodson (Demetrious Johnson vs. John Dodson) – 2.43 rating – 4.219 million viewers – 5.2 million viewer peak – 3.02 rating in Males 18-34

8. 4/20/13 – UFC on Fox: Henderson vs. Melendez (Ben Henderson vs. Gilbert Melendez) – 2.2 rating – 3.74 million viewers – 4.977 million viewer peak – 2.2 rating in Males 18-34

9. 12/14/13 – UFC on Fox: Johnson vs. Benavidez 2 (Demetrious Johnson vs. Joseph Benavidez) – 1.8 rating – 2.8 million viewers

10. 4/17/10 - Strikeforce: Nashville (Jake Shields vs. Dan Henderson) - 1.76 rating - 2.86 million viewers - 1.26 rating in Males 18-34

11. 7/26/08 - EliteXC: Unfinished Business (Robbie Lawler vs. Scott Smith) - 1.75 rating - 2.6 million viewers - 1.0 rating in Males 18-34

12. 7/27/13 – UFC on Fox: Johnson vs. Moraga (Demetrious Johnson vs. John Moraga) – 1.5 rating – 1.38 million viewers – 1.5 rating in Males 18-34

13. 5/5/12 - UFC on Fox: Diaz vs. Miller (Nate Diaz vs. Jim Miller) - 1.45 rating - 2.418 million viewers - 2.9 million viewer peak - 1.6 rating in Males 18-34

14. 8/4/12 – UFC on Fox: Shogun vs. Vera (Shogun Rua vs. Brandon Vera) – 1.44 rating – 2.44 million viewers – 3.3 million viewer peak – 1.9 rating in Males 18-34

---




Prediction Time



Every year I make predictions about what will happen over the next 12 months and every year they suck. This year (2013) may have been my worst on record. With prediction one still pending, I went 4/13. But, apparently Bellator is far more predictable than the UFC. Of my 4 Bellator predictions, 3 were correct. If Tito Ortiz hadn't gotten injured, I would have had one less correct. The pending prediction is regarding the top selling pay-per-view of the year. St-Pierre vs. Diaz, at an estimated 950,000 buys, is currently at the top of the list of UFC's biggest PPV shows. Saturday's UFC 168 could surpass that total.

UFC will strip Dominick Cruz of the bantamweight title.
Georges St-Pierre vs. Nick Diaz will be the biggest PPV of the year.
There will only be one UFC heavyweight title fight.
Renan Barao, Jose Aldo, Georges St-Pierre, Anderson Silva, and Jon Jones will all keep their titles.
Ronda Rousey will fight Cyborg Santos.
Rousey will defend her title three times.
The UFC women's division will be considered a success.
Michael Bisping will get a title shot.
Daniel Cormier will end the year as the #1 contender at heavyweight.
Bellator will begin talk of running a PPV event, but won't actually do it.
Eddie Alvarez will re-sign with Bellator.
Alvarez will rematch Michael Chandler for the lightweight title.
Ben Askren and Pat Curran will be the only champions to keep their titles.
World Series of Fighting will debut on Showtime.

Now for 2014:
No single UFC show will break 650,000 PPV buys for the first time since 2005.
UFC on Fox specials throughout the year will be the lowest rated, on average, since their inception.
With no other major matches on the horizon, UFC will book Ronda Rousey vs. Cris Cyborg.
UFC Champs on 1/1/15: Velasquez, Jones, Belfort, Hendricks, Aldo, Mendes, Barao, Johnson, Rousey, Gadelha.
Anderson Silva will be looking to return in 2015. Georges St-Pierre will not.
Brock Lesnar will not return to the UFC.
Bellator will run their first PPV event.
Tito Ortiz will not fight.
King Mo Lawal will win another tournament.
Michael Chandler will be beat Eddie Alvarez.
Rampage Jackson will compete in a kickboxing match for Glory.
Ben Askren will go undefeated in One FC.
Invicta FC will not have a major television deal.
Nick Newell will win the WSOF lightweight title.
Jon Fitch will win the WSOF welterweight title.

---




The Year in Television



Format: Viewers (Household Rating) - Event (Main Event) - Date - Network
1. 4,219,000 viewers (2.43) – UFC on Fox: Johnson vs. Dodson – 1/26 – Fox
2. 3,740,000 viewers (2.2) – UFC on Fox: Henderson vs. Melendez – 4/20 – Fox
3. 2,800,000 viewers (1.8) – UFC on Fox: Johnson vs. Benavidez 2 – 12/14 – Fox
4. 2,380,000 viewers (1.5) – UFC on Fox: Johnson vs. Moraga – 7/27 – Fox
5. 1,897,000 viewers – UFC 156: Aldo vs. Edgar Prelims (Dunham vs. Tibau) – 2/2 – FX
6. 1,860,000 viewers (1.27) – UFC on FX: Belfort vs. Bisping – 1/19 – FX
7. 1,780,000 viewers (1.38) – UFC Fight Night: Shogun vs. Sonnen – 8/17 – FS 1
8. 1,710,000 viewers (1.2) – The Ultimate Fighter: Team Jones vs. Team Sonnen Finale (Faber vs. Jorgensen) – 4/13 – FX
9. 1,579,000 viewers (1.03) – UFC 158: St-Pierre vs. Diaz Prelims (Cote vs. Voelker) – 3/16 – FX
10. 1,554,000 viewers – UFC 168: Weidman vs. Silva 2 Prelims (Leben vs. Hall) – 12/28 – FS 1

11. 1,382,000 viewers (0.94) – UFC 159: Jones vs. Sonnen Prelims (Khabilov vs. Medeiros) – 4/27 – FX
12. 1,360,000 viewers (0.96) – UFC 162: Silva vs. Weidman Prelims (Craig vs. Leben) – 7/6 – FX
13. 1,330,000 viewers (1.0) – UFC on FX: Belfort vs. Rockhold – 5/18 – FX
14. 1,300,000 viewers – UFC 160: Velasquez vs. Bigfoot 2 Prelims (Pyle vs. Story) – 5/25 – FX
15. 1,267,000 viewers – UFC 157: Rousey vs. Carmouche Prelims (Schaub vs. Johnson) – 2/23 – FX
16. 1,208,000 viewers (0.9) – UFC on Fox: Johnson vs. Dodson Prelims (Grant vs. Wiman) – 1/26 – FX
17. 1,130,000 viewers (0.86) – The Ultimate Fighter: Team Rousey vs. Team Tate Finale (Diaz vs. Maynard) – 11/30 – FS 1
18. 1,100,000 viewers – Bellator 106 (Chandler vs. Alvarez) – 11/2 – Spike TV
19. 1,060,000 viewers (0.85) – UFC on Fox: Henderson vs. Melendez Prelims (Mendes vs. Elkins) – 4/20 – FX
20. 1,000,000 viewers – UFC 163: Aldo vs. Korean Zombie Prelims (Magalhaes vs. Perosh) – 8/3 – FX

21. 988,000 viewers – UFC 167: St-Pierre vs. Hendricks Prelims (Cerrone vs. Dunham) – 11/16 – FS 1
22. 968,000 viewers (0.69) – UFC 161: Evans vs. Henderson Prelims (Shields vs. Woodley) – 6/15 – FX
23. 938,000 viewers (0.7) – Bellator 85 (Chandler vs. Hawn) – 1/17 – Spike TV
23. 938,000 viewers (0.64) – The Ultimate Fighter: Team Rousey vs. Team Tate Finale Prelims (Corassani vs. Blanco) – 11/30 – FS 1
25. 904,000 viewers (0.73) – UFC on Fox: Johnson vs. Moraga Prelims (Masvidal vs. Chiesa) – 7/27 – FX
26. 901,000 viewers (0.74) – Bellator 91 (M'Pumbu vs. Vegh) – 2/28 – Spike TV
26. 901,000 viewers (0.7) – Bellator 95 (Curran vs. Shamhalaev) – 4/4 – Spike TV
28. 881,000 viewers (0.72) – UFC Fight Night: Shogun vs. Sonnen Prelims (McDonald vs. Pickett) – 8/17 – FS 1
29. 824,000 viewers (0.69) – UFC Fight Night: Condit vs. Kampmann 2 – 8/28 – FS 1
30. 812,000 viewers (0.67) – Bellator 86 (Askren vs. Amoussou) – 1/24 – Spike TV

31. 809,000 viewers – UFC 164: Henderson vs. Pettis Prelims (Tibau vs. Varner) – 8/31 – FS 1
32. 807,000 viewers (0.64) – Bellator 88 (Shlemenko vs. Falcao) – 2/7 – Spike TV
33. 793,000 viewers – Bellator 108 (Jackson vs. Beltran) – 11/15 – Spike TV
34. 755,000 viewers (0.64) – UFC Fight Night: Hunt vs. Bigfoot – 12/7 – FS 1
35. 748,000 viewers (0.6) – Bellator 93 (Jansen vs. Held) – 3/21 – Spike TV
36. 741,000 viewers (0.6) – Bellator 92 (Khasbulaev vs. Sandro) – 3/7 – Spike TV
37. 737,000 viewers (0.6) – Bellator 90 (Shamhalaev vs. Martinez) – 2/21 – Spike TV
38. 722,000 viewers – UFC 165: Jones vs. Gustafsson Prelims (Jury vs. Ricci) – 9/21 – FS 1
38. 722,000 viewers – UFC Fight Night: Belfort vs. Henderson – 11/9 – FS 1
40. 719,000 viewers (0.65) – Bellator 89 (Dantas vs. Galvao) – 2/14 – Spike TV

41. 713,000 viewers (0.6) – Bellator 94 (Newton vs. Zayats) – 3/28 – Spike TV
42. 705,000 viewers (0.6) – Bellator 87 (Rickels vs. Woodard) – 1/31 – Spike TV
43. 700,000 viewers – Bellator 100 (Lima vs. Saunders) – 9/20 – Spike TV
44. 691,000 viewers – Bellator 109 (Shlemenko vs. Marshall) – 11/22 – Spike TV
45. 687,000 viewers (0.5) – Bellator 97 (Chandler vs. Rickels) – 7/31 – Spike TV
46. 683,000 viewers – Bellator 107 (Kongo vs. Graham) – 11/8 – Spike TV
47. 675,000 viewers – Bellator 102 (Kongo vs. Godbeer) – 10/4 – Spike TV
48. 660,000 viewers – Bellator 99 (Freire vs. Nunes) – 9/13 – Spike TV
49. 649,000 viewers – Bellator 101 (Warren vs. Kirk) – 9/27 – Spike TV
50. 641,000 viewers – UFC: Fight for the Troops 3 (Kennedy vs. Natal) – 11/6 – FS 1

51. 638,000 viewers – UFC Fight Night: Maia vs. Shields – 10/9 – FS 1
52. 628,000 viewers (0.49) – UFC 166: Velasquez vs. Dos Santos 3 Prelims (Boetsch vs. Dollaway) – 10/19 – FS 1
53. 615,000 viewers – Bellator 104 (Hawn vs. Weedman) – 10/18 – Spike TV
54. 613,000 viewers – UFC on Fox: Johnson vs. Benavidez 2 Prelims (McGee vs. LaFlare) – 12/14 – FS 1
55. 539,000 viewers – UFC Fight Night: Teixeira vs. Bader – 9/4 – FS 1
55. 539,000 viewers – Bellator 103 (Freire vs. Guerreiro) – 10/11 – Spike TV
57. 520,000 viewers – Bellator 105 (Brooks vs. Awad) – 10/25 – Spike TV
58. 485,000 viewers (0.78) – UFC on Fuel TV: Silva vs. Stann – 3/3 – Fuel TV
59. 480,000 viewers (0.4) – Bellator 96 (Lawal vs. Petruzelli) – 6/19 – Spike TV
60. 437,000 viewers – Bellator 98 (Shlemenko vs. Cooper) – 9/7 – Spike TV

61. 313,000 viewers (0.64) – UFC on Fuel TV: Nogueira vs. Werdum – 6/8 – Fuel TV
62. 310,000 viewers (0.82) – Strikeforce: Marquardt vs. Saffiedine – 1/12 - Showtime
63. 269,000 viewers – The Ultimate Fighter: Team Jones vs. Team Sonnen Finale Prelims (Samman vs. Casey) – 4/13 – Fuel TV
64. 264,000 viewers (0.23) – WSOF 4: Spong vs. DeAnda – 8/10 – NBC Sports Network
65. 255,000 viewers (0.47) – UFC on FX: Belfort vs. Bisping Prelims (Castro vs. Vieira) – 1/19 – Fuel TV
66. 236,000 viewers (0.5) – UFC on Fuel TV: Mousasi vs. Latifi – 4/6 – Fuel TV
67. 227,000 viewers – WSOF 5: Arlovski vs. Kyle – 9/14 – NBC Sports Network
68. 220,000 viewers – UFC Fight Night: Teixeira vs. Bader Prelims (Souza vs. Arantes) – 9/4 – FS 1
68. 220,000 viewers – UFC Fight Night: Maia vs. Shields Prelims (Alcantara vs. Araujo) – 10/9 – FS 1
70. 210,000 viewers (0.19) – WSOF 2: Arlovski vs. Johnson – 3/23 – NBC Sports Network

71. 201,000 viewers – WSOF 3: Fitch vs. Burkman 2 – 6/14 – NBS Sports Network
72. 195,000 viewers – UFC on Fuel TV: Barao vs. McDonald – 2/16 – Fuel TV
73. 180,000 viewers* – UFC: Fight for the Troops 3 Prelims (Green vs. Krause) – 11/6 – FS 1
74. 161,000 viewers – WSOF 6: Burkman vs. Carl – 10/26 – NBC Sports Network
75. 156,000 viewers (0.35) – UFC on FX: Belfort vs. Rockhold Prelims (Lentz vs. Dias) – 5/18 – Fuel TV
76. 132,000 viewers – UFC Fight Night: Hunt vs. Bigfoot Prelims (Mizugaki vs. Phan) – 12/7 – FS 2
77. 122,000 viewers – UFC Fight Night: Machida vs. Munoz – 10/26 – FS 2
78. 109,000 viewers** (0.25) – UFC Fight Night: Condit vs. Kampmann 2 Prelims (Andrews vs. Abedi) – 8/28 – FS 2
79. 94,000 viewers – WSOF 7: Karakhanyan vs. Palm – 12/7 – NBC Sports Network

*No ratings or viewership information could be found for UFC Fight for the Troops 3 Prelims on Fox Sports 1, but a FS 1 press release indicated it drew around 180,000 viewers.
**Second hour simulcast on Fox Sports 1 drew 114,000 viewers.
Viewership numbers and ratings are for the United States only.

---


As always, thanks for reading. Thanks to Dave Meltzer's Wrestling Observer Newsletter for most of the ratings information in the final section. Feel free to leave any feedback in the comment box or email me at plunkettdan@yahoo.com.

comments powered by