SPOTLIGHTS
411 MMA Fact or Fiction 01.01.14: 2014 Look Ahead
Posted by Wyatt Beougher on 01.01.2014

Was Anderson Silva's injury at UFC 168 the worst possible outcome for all involved? Will 2014 be a bad year for UFC on PPV? 411's Paul Lapointe and Jarrod Atkinson debate these topics and more in this week's Fact or Fiction: MMA!

Welcome back to another edition of 411's MMA Fact or Fiction, and I'm your host, Wyatt Beougher. I'd not only like to welcome you into the new year, but I'd also like to thank you for another year of readership. This site wouldn't be around without you, and I know I speak for everyone who participated in MMA Fact or Fiction in 2013 when I offer you my sincerest thanks for a great year.

Last week was my "Three Wise Men" edition of Fact or Fiction, featuring Robert Winfree, Robert Practor, and Robert Cooper discussing the year that was in MMA. It was an extremely close contest right down to the finish, and when the polls closed, it was Robert Cooper who snuck away with the win, picking up 9 votes to Robert Practor's 8 and Robert Winfree's 5. Excellent work done by all three men, and I want to thank them for making the year-end edition a fun one. And now, as I've done for the past couple years, we move from looking backwards at 2013 to looking forward to 2014 (well, with the exception of one statement about the UFC's big year-end show and the kick check seen round the world). This week, we've got Paul Lapointe taking on a newcomer to the Wrestling Zone, Jarrod Atkinson.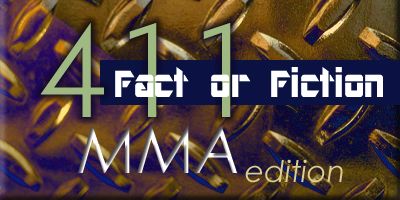 TALE OF THE TAPE

Red Corner
Paul Lapointe
'Let's Get To'
Professional Fact or Fiction Participant
4-0-1

VS

Blue Corner
Jarrod Atkinson
'The Southern Dandy'
Columnist, Sports Entertainment 720 News Report (Wrestling Zone)
0-0-0

---

I almost went with the Peter Griffin "Family Guy" clip.



1.) The ending of UFC 168's main event was the worst possible outcome for both Anderson Silva and Chris Weidman.

Paul Lapointe: FACT On so many levels was the ending to UFC's 168 event everything it needed to be and everything it didn't at the same time. Its frustrating as it allowed the UFC so many options moving forward but in all the wrong kind of ways. First off Chris Weidman once again was able to "BEAT" the unbeatable G.O.A.T in Anderson Silva. But at the same time Anderson Silva was once again able to BEAT the G.O.A.T in himself, its a freaky little scenario indeed.

With the Corey Hill-like events that ended the main event on Saturday, it gives a legitimate reason for Silva to walk away from the UFC spotlight as the Kingpin of the Middleweight division but does not bode well for any kind of return. Also at 38, it may well spell the end of Silva even wanting to compete again in MMA after what could potentially be an extensive rehab period. And unlike maybe two contentious decision losses and the like to end The Spider's reign it will end with a foolish exercise in delusional showmanship and cosmic karma in a tree limb like snapping of one's leg. Both these losses will still go on the ledger but make whoever has to cede Silvas place at the top of the mountain (Weidman) a lot of work to still be taken seriously and not just lucky.

Oh, Chris Weidman, you're a champion in name only, but you're still champion. Still undefeated after besting A. Silva on two occasions now who could think that he still would have to prove himself to the media, I mean seriously. Also now with the focus being off The Spider at the moment the spotlight now will get shined on Vitor Belfort instead and for my sake if Weidman loses to that TRT jacked monkey then all the media will be negative times infinity. Not only will Weidman look like even more of a lucky bastard, but a cheater will be champ, a cheater who got highlighted by the previous champ and Weidman's work will be largely ignored to boot. Weidman needs to get his work boots on as he faces a lot work to shut up a lot of people going forward.

Finally with everything that has happened the UFC needs for a lot of things to go down, damage control wise. Most of all someone to replace Spider as a money maker which they do not have in Weidman. Weidman himself to beat Vitor to be anywhere near marketable to get to a position of being a money draw and Vitor to get off the juice for his potential victory to not be scrutinized. Rock meet hard place and welcome to the UFC's marketing nightmare future. Dang that is alot of meandering musings.

Jarrod Atkinson: FACT Anderson Silva went from the one we equate with the greatest of all time to that person that the non MMA community knows as that guy that broke his leg in a horrific fashion. Silva has clearly hit the downside of his career and I for one think he should maybe call it a career. Unless he hits the senior citizen circuit aka 205, I don't want to see Silva fighting the new breed that have taken the UFC world by storm this year. As for Weidman, he needed a decisive victory to shut up the critics that said his win was a fluke. The freak ending of UFC 168 still casts a shadow of doubt over Weidman's ability to hang with the big boys. I think if he can stop Vitor, that will be enough to convince everyone he is legit. But you couldn't have written a worse ending to UFC 168.

---

No one on this poster is going to sell UFC PPVs in 2014.



2.) With Georges St. Pierre taking time away from the sport and Anderson Silva now likely on the decline, 2014 will be a down year for UFC PPV sales.

Jarrod Atkinson: FACT The absolute king of PPV just gave up his belt and walked away from the sport. The greatest of all time snapped his leg like a twig in a championship fight. GSP has more of an impact on PPV sales than Silva, but without both of them sales are going to be down. The burden will now be placed on Jon Jones and Cain Velasquez's backs, with the potential for the winner of the Welterweight title to join them. Dana also once mentioned that Chael Sonnen and Rashad Evans were big draws, so they may depend on them as well, but this is a rebuilding year for the UFC. But you know what fight I would pay good money to see? Ronda Rousey vs Gina Carano. Just a thought.

Paul Lapointe: FACT The UFC's plan for world domination coming into 2014 already was set to face many obstacles to being truly profitable anyhow, but GSP stepping aside and now Anderson's forced exit, it stands to be an uphill struggle indeed. Very ambitious is a light way of saying what the UFC's plans for 2014 truly are with its global expansion, increased number of roster spaces for both women and men, a new digital network launch and losing arguably its two best fighters in Silva and GSP in both respect level and PPV buys it's a mighty big hole to fill. When it comes to profits, the UFC does grab cash in other ways from marketing, sponsors, TV deals, gates and the like but the icing on the cake is PPV exposure and with so much saturation taking place in the coming months the UFC can create new stars to sell to us but will take some time for it to really sink in. So will Jon Jones and Cain Velasquez be able to fill the gap? Only time will tell.

---

Will Bec Hyatt and company outshine Mighty Mouse and his compatriots?



3.) The UFC women's strawweight division will be more popular than the men's flyweight division in 2014.

Paul Lapointe: FICTION Unless the 115 lb. division for the ladies can muster up somebody as marketable as The Rowdy One in the next 12 months, I see the little guys getting the share of the profits here. That is of course saying that the expansion of the ladies is able to put on more than one real important fight outside of the TUF 20 Finale to bring it enough credibility in the mainstream. Plus with the way Mighty Mouse has been conducting himself lately, especially with his brutal KO of JB the other day and the expansion of the flyweights over the last year, up is the only place I see the little guys going when it comes to popularity and acceptance. I truly am just hoping though that both these classes of athletes will get a chance to shine this year but baby steps.

Jarrod Atkinson: FACT The women's strawweight division wins this because they not only have attractive and talented women to bring in the male fans, but it also has the benefit of a season of The Ultimate Fighter to introduce the division to the world. Plus, there's more names in the strawweight division, whereas the Flyweight division has been Demetrious Johnson, John Dodson, Joseph Benavidez, and Ian McCall, over and over and over and will be for some time. So to recap, a season of TUF vs a 4 man tournament for an introduction. The ladies win easily.

---

Is this the UFC's Chinese face?



4.) Tuerxun Jumabieke will be the UFC's breakout star of 2014.

Jarrod Atkinson: FICTION I had to Google this guy's name to figure out who the hell he was. Undefeated or not, Jumabieke may appeal to the Asian audience that the UFC wants to connect with, but he doesn't have the hype train behind him the way Connor McGregor does.

Paul Lapointe: FICTION If one has learned anything while watching the UFC, it's that most notable Asian imports tend to falter out of the gates inside the octagon. The Wild Wolf could be the exception to the rule in 2014 but better err to the side of caution here and say I would like to be surprised rather then disappointed. Also the 135 lb. division is one that I think is underlooked already when it comes to potential talent pool stars in and out of the UFC. And lastly guys like Alex Garcia at Welterweight, hopefully the Tiny Tornado Tecia Torres for the ladies or maybe even some of the Russian imports coming in could have a chance at taking the hype train first when it comes to breaking out.

---

Are good fights enough to take Bellator to the next level, or will they remain solely on Spike?



5.) Bellator will make its PPV debut sometime in 2014 but that show will do poorly, causing them to return exclusively to Spike.

Paul Lapointe: FICTION After the fiasco that was the last PPV attempt by Bellator, I say they tread very lightly in the PPV domain and try to establish themselves a good group of stars to market first before trying again. They do have Viacom in their back pocket but spending money to make money only works if Bellator is already worth the risk and suffice to say, I think they need to make more money first before that risk is worth it. Plus the band aids that are UFC cast offs and debacles taking real effect in the new year they need a secure talent pool to bank on themselves before the consumers want to bank with them. Daniel Straus, Patricio Pitbull and Michael Chandler does not a PPV model make...not yet.

Jarrod Atkinson: FACT Bellator shit the bed right out of the gate with the Tito vs Rampage show being removed from PPV, and I don't see them having the star power to make a PPV profitable. They will try and they will fail miserably. Similar to Spike's other property TNA Wrestling, Bellator will realize that the PPV business is for the big dogs and they just don't have what it takes to make that happen. What do they have to offer? Tito vs Rampage? A Shamrock brothers fight? Bellator needs to build their stars up before they try and go back to PPV because has-been fights won't pay the bills.

---


Who do you think won this week? Did Paul remain unbeaten or did Jarrod win one for the Wrestling Zone? Voting will be open until midnight EST on Saturday, so make sure you vote and make your voice heard!










---

Who betta than Mighty Mouse?



Bonus) 2014 will finally be the year that Dana White says or does something so inexcusable that the Fertittas have to remove him as the public face of the company.

Jarrod Atkinson: FICTION Dana knows when to mouth off about things and when to back off. His suspensions of Nate Diaz and Matt Mitrione, no matter how ineffective they were, show that Dana knows what the public will accept. He can question the mental capacity of every athletic commission in the company and still keep his job. More than half the time the things Dana says are what we are all thinking and his no bullshit personality is what people expect from him. So unless he gets jacked up on pain pills and insults jiu jitsu, the gay community, the city of Las Vegas, Forrest Griffin, Chael Sonnen, and Fox all in the same rant, he should be okay.


Paul Lapointe: FICTION If anything has been proven during the evolution of MMA as a widely accepted sport around the globe, it's that Dana White can say ANYTHING and get away with it. The UFC and the Fertittas are super loyal with what brought them to the dance and lined their pockets full of cash and Dana White is a big part of that equation. And though with the ever increasing press junkets and scrums that are sure to come in the future unless Dana's soundbite is super racist or the like the face and voice of the UFC is a spot as secure as anything.

---


And that's it for this week! As always, if there's anything you'd like to see featured in a future edition, leave your statement in the comments and I'll add it in. Let us know what you thought in the comments, on Twitter, or on Google+.


comments powered by