SPOTLIGHTS
The Juggernaut MMA News Report 01.02.14: UFC Fight Night in Singapore Preview
Posted by Jonathan Solomon on 01.02.2014

Tarec Saffiedine takes on Hyun Gyu Lim in the main event of UFC Fight Night 34 this weekend! 411's Jonathan Solomon previews the show. Plus thoughts on the aftermath of UFC 168 and more!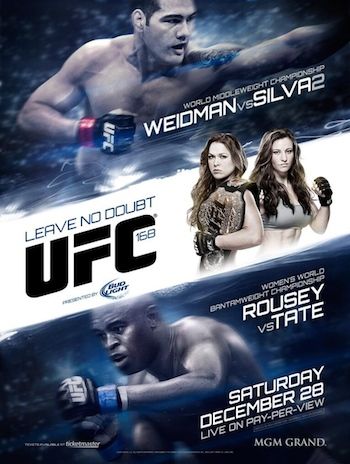 Aftermath of UFC 168



It's a new year and we're still buzzing about the final show of 2013 which saw its fair share of crazy knockouts, submissions and the end of an era in the UFC 168 main event. Now, with some time to breath (and drink), let's try to piece together where the major players stand. Title fights, misery, retirement, glory, we run the whole nine yards with this puzzle.

Chris Weidman

The worst possible match-up for Anderson Silva has come and gone and now Chris Weidman can look towards a fresh opponent this year. Long Island's best fighter will meet Vitor Belfort at some undetermined time, unless the UFC or sport gets serious about limiting testosterone replacement therapy beforehand. In any event, the early odds in the U.S. ironically have Weidman the favorite while bettors in Brazil consider Belfort the top dog.

If you're Weidman or his agent, you must ensure this fight takes place in America and preferably in a commission state that isn't a total joke (those may be tougher to find each year that passes). Push for a local show, which with New York's political nuttiness still acting as a roadblock means New Jersey will have to suffice, and forget having to travel to South America and fighting in the middle of the night.

Pending the health of the principles involved, I would suspect this fight will take place late in the spring, perhaps even held off until July 5th, the UFC's big summer showcase.




Anderson Silva

We know And1 is recuperating from surgery to repair his fractured leg. Based on comments from the surgeon who performed the surgery, UFC orthopedic specialist, Dr. Steven Sanders said the bone will regain its total strength in due time. The question that cannot be answered for some time is how the soft tissue heals. Unless an infection pops up along the way, the timetable for his return to the extent he can train is between six and nine months (Silva reportedly asked Dr. Sanders how soon he could train before undergoing surgery last weekend).

Certainly, Anderson does not need to fight ever again from a financial perspective or a reputation standpoint. He has nothing to prove to anyone. Expectations are he will return and being that he's nearly 40-years-old, it's tough to see him returning at the early point of any of these projections. For that reason, I'm guessing 2014 is a total wash for the best middleweight of all-time.

In 2015, he'll return in the co-main event of a PPV underneath a title fight and we can all judge whether he'll ever be as dangerous as he was.

Ronda Rousey

While Anderson Silva's unfortunate leg break stole all the talk in the hours (and day) after Saturday, the star of UFC 168 was clearly Ronda. In her longest professional fight to date, she was inarguably the better fighter and her opponent, Miesha Tate, had nothing for her (more on that later). While she may have upset some with her post-fight antics, not shaking Tate's hand, all that is meaningless in the big picture.

Why? When you're great, as long as you're not cheating or breaking the law, why get worked up over such things?

We know she's returning as soon as about eight weeks from now to defend the UFC championship against Olympic silver medalist and undefeated MMA fighter Sara McMann.




While the UFC hopes Cat Zingano is ready in the fall to fight the winner (let's face it, that's Rousey), with the absence of Silva and Georges St. Pierre in 2014, does that push UFC brass to try and make a deal work with Cris Cyborg? The reigning Invicta FC featherweight champ has always been hesitant to drop down to bantamweight but even if a catchweight idea is all that could work, shouldn't the main goal of the promotion be to book the biggest fights possible? Right now, there's no bigger fight possible among active fighters in the world (scary though).

Miesha Tate

She was a sad panda at the press conference after the loss and for good reason. She was overly confident she was going to solve the Ronda Rousey problem, buck the devastating armbar and win UFC gold. Ultimately, she failed on that quest and is now staring at a 1-3 record in her past four fights. On the bright side, she picked up a ton of fans for her valiant effort on Saturday.

The problem with her strategy in the fight, what the hell was she thinking? After the fight, she commented that she did not want to "run" and instead, chose to close the distance with Ronda and that meant going for takedowns and fighting in the clinch. Of course, such decisions meant she was routinely thrown about the cage because Rousey is so strong and her judo is ridiculously effective.

If Tate instead fights from a distance, fighting at all costs to avoid the clinch and ground, does she win the fight? Perhaps not, but you have to assume it would have given her a bigger chance to win than letting Ronda throw her around for 15 minutes.

One fight for Miesha I wouldn't mind seeing this year is a rematch with Sarah Kaufman. The two fought back in 2009 with Kaufman taking the unanimous decision (at a time when women were fighting in three, THREE-MINUTE rounds on Showtime) and the two have never been able to get back in the cage since then. Plus, Kaufman has run into a bit of a rut for herself, as she is just 1-2 in her past three fights (she dropped her UFC debut in October to Jessica Eye).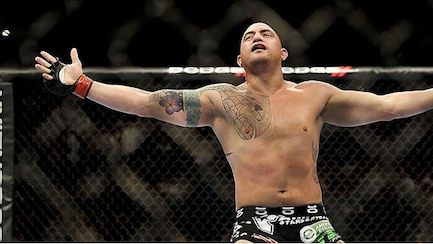 Travis Browne

Next to Rousey, Browne was the most impressive fighter coming out of UFC 168. He stopped Josh Barnett's takedown attempts and knocked him out with brutal elbows. With the best heavyweight in the world being Cain Velasquez, a strong wrestler, this makes Browne's skills all the more intriguing.

Travis is almost definitely going to fight Fabricio Werdum by the summer, though apparently Werdum has not officially agreed to such a fight yet (his first preference may be to wait for Velasquez to return after shoulder surgery). The winner of the proposed Browne/Werdum fight would then get the next crack at the champion in the second half of the year.

Josh Barnett

It is not something you see very often, the sight of Josh Barnett out cold in a cage. The 36-year-old was only knocked out one time previously, by Pedro Rizzo in 2001. Be that as it may, the man remains one of the best heavyweights in the world.

The obvious option for his next bout screams JUNIOR DOS SANTOS as now, they comprise the position of being the top heavyweights coming off losses. Antonio "Bigfoot" Silva is under suspension for a majority of this year while Alistair Overeem will fight Frank Mir next month. Stipe Miocic is fighting Gabe Gonzaga in three weeks and there's MARK HUNT.

Barnett submitted Hunt in Pride in 2006, so in an effort to see a fresh match-up, here's to JDS vs. Barnett by the summer.

Jim Miller

The New Jersey native scored the most impressive submission of the night as he forced Fabricio Camoes to submit to an armbar. It sucks the UFC could not name him an official bonus winner because he earned official bonuses in three of his previous four fights.

Now, he's 23-4 and if he's to be back in a few months, here are options for an opponent: the Rafael dos Anjos/Rustam Khabilov winner next month; T.J. Grant; Bobby Green (more on him later).

Dustin Poirier

Poirier looked tremendous in his beat down of Diego Brandao. Plus, he already knows who he'd like to fight next and that's Cub Swanson.

The Louisiana native turns 25-years-old in just over two weeks and he was not satisfied with his performance last February when he flew to England and lost a decision to Swanson. Since then, he's been overly impressive with wins over Erik Koch and now Brandao, while Swanson himself has emerged as one of the featherweight division's best. Cub is on a five-fight win streak where all but his fight with Poirier were finished by KO or TKO.


---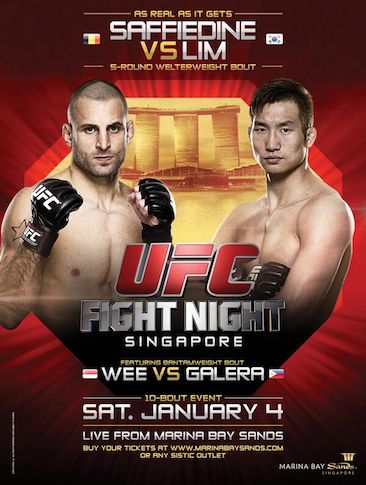 UFC in Singapore Preview



The first show of the year takes us to Singapore where the UFC holds their debut show in the country at the Marina Bay Sands Resort. This will also be the first card to exclusively air in the United States via the new UFC Fight Pass (more on that later) at UFC.tv. Unfortunately for folks in Europe, that means no luck as the service is not yet available in your neck of the woods.

Put all that together and you get a show that's likely to be forgotten by most unless you're a die hard fan who must see everything or if you long for Asian MMA to be front and center…and it will be.

Tarec Saffiedine vs. Hyun Gyu Lim

This main event welterweight scrap introduces the UFC to the final Strikeforce champion, 27-year-old Belgian, Tarec Saffiedine. The Team Quest fighter was last seen nearly one year ago when he upset Nate Marquardt on the final Strikeforce show on January 12, 2013. The reason he failed to see the octagon last year was injury-related as he was forced to withdraw from a proposed fight with Robbie Lawler in July.

Hyun Gyu Lim is a 28-year-old South Korean who has been perfect since permanently dropping down to 170-pounds in 2011. A 6-0 record since the move, that includes a pair of knockout victories in the UFC last year over Marcelo Guimaraes and Pascal Krauss.

Lim is a tricky match-up considering he is about four-inches taller and boasts a nine-inch reach advantage over Saffiedine. Plus, he has shown dynamic power throughout his career, something Tarec is not known for at all. In fact, the last time the Belgian has been able to finish a fight, it was in 2010 when he knocked out Nate Moore. Prior to that, he was more apt to submit opponents around Europe and after he debuted in North America.

Since he moved to Strikeforce, Saffiedine compiled a 6-1 record, with the lone defeat coming in a boring fight with Tyron Woodley when both were prospects three years ago. In that contest, Woodley continuously scored with takedowns, failing to do much of anything else (Tarec had no answer).

Hyun Gyu has been to the third round of a fight just once, it was his second professional fight back in 2006. Since then, with the exception of a two-round decision loss on a 2009 M-1 show, the longest fight he's participated in was his UFC debut against Guimaraes (he won with a minute to go in round two).

For Saffiedine, it appears the key will be to mix in takedowns because it's unlikely he'll be able to rely exclusively on his kickboxing to punish his opponent this time. You also have to worry about the variable of rust becoming a factor for him and Lim's very real power being capable of finishing the fight at any given moment.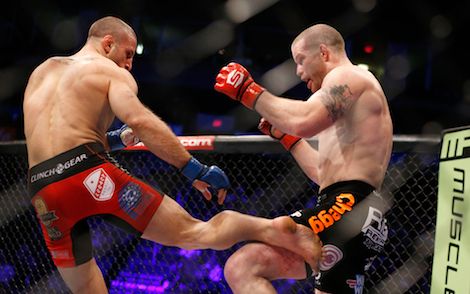 Tatsuya Kawajiri vs. Sean Soriano

Finally! While some may be a bit sour on seeing another star out of Japan come over and apply their trade in the UFC due to failures in the past, seeing Crusher Kawajiri in the octagon is long overdue. He's 35-years-old now but the former lightweight stud is now the best Japanese featherweight. He dropped a weight class in 2011 and has been impressive in all but his last fight - when he won a decision over Michihiro Omigawa in Dream.




Before New Year's Eve last year when he won that bout, he won three consecutive courtesy of submissions over Joachim Hansen, Kazuyuki Miyata and Donald Sanchez.

Unless you followed MMA out of Asia over the past two years, you likely only recall Tatsuya from his lone fight in America when he challenge then-Strikeforce champ Gilbert Melendez in the spring of 2011. He was battered with elbows, losing in three minutes, good for a second career defeat at the hands of Melendez who earned a two-round decision victory in Pride over him.

As a featherweight, Crusher has shown consistent power enough to control opponents and a physically demanding style that wears them out. That's the game plan here, setting up his groundwork with his aggressive boxing.

Now, as for Sean Soriano, his situation is eerily similar to that of another American prospect from last year. In December 2012, Chicago-based undefeated prospect Will Brooks signed to fight Japanese stud Satoru Kitaoka on a little less than a month's notice. Few gave Brooks much of a chance if only based on not knowing much about the then-26-year-old. But, then came the fight on New Year's Eve when Brooks ended up finishing Kitaoka in the second round with strikes and he was able to bounce that win into a Bellator contract. He finished 2013 with a 5-1 record last year including taking a tournament championship and guaranteed future title fight.

Now, back to Soriano.

He's 24-years-old and from Miami, he's part of the Blackzilians camp and has amassed a perfect 8-0 record in the local scene. He was last in action in the spring earning his second consecutive five-round decision. About a month ago, he accepted this fight with Kawajiri after Hacran Dias fell to injury.

Yes, Kawajiri has 41 professional MMA fights under his belt since 2000. Soriano only made his pro debut in 2009, but there's something to be said for fighting with little pressure. Unless you're Soriano or a member of his family or camp, how can you have any significant expectations for him going into this fight?






Kiichi Kunimoto vs. Luiz Dutra

Dutra is akin his UFC debut following an appearance on the second season of TUF Brazil. He injured his hand after winning in the first round and had to be removed from the series. He's 31-years-old and boasts an 11-2-1 record, though he has only one official fight since 2010, a win in 2012 in Brazil. More than half of his wins have come by knockout and submission and both of his losses technically came from injuries (knee and shoulder).

Also making his UFC debut, is welterweight Kiichi Kunimoto. The 32-year-old Japanese submission artist has fought predominantly in Pancrase over the years though he is now the reigning Heat welterweight champion.


Kyung-Ho Kang vs. Shinichi Shimizu

First up for the main card will be a bout between 28-year-old Japanese grappling ace Shunichi Shimizu and 26-year-old South Korean grappling ace Hyung Ho Kang, otherwise known as Mr. Perfect.

Shimizu is 28-8-10 (1-1-6 was his record after his first eight fights) and is making his octagon debut on a five-fight win streak where four of those wins came by submission.

Kang is 11-7 with 1 No Contest (thanks to Alex Cacares failing a drug test), and lost a unanimous decision to Chico Camus at UFC 164. Prior to debuting in the UFC last year, he was on a three-fight win streak courtesy of three submission wins in Road FC in Korea.

The last time either of these men won due to strikes was back in 2011 when Shimizu knocked out Yoshitaka Abe with a head kick. Odds are, whomever wins, it won't be via KO, but look for Kang to be the aggressor on the ground from top position.




- If you have not done so already, head over to UFC.tv and sign up for the free trial of UFC Fight Pass. All you need is a credit card (you won't be charged until March 1st, and you can cancel anytime) to get your start right away. In my playing around with the service so far, it's pretty sweet. The quality of the stream is steady and there's already a ton of content on demand. Make no mistake, the company rushed to get this up in time for the Asia show this weekend, so it should improve (in terms of additional content) in the coming weeks and months.

- At next months UFC 169, Bobby Green has had to withdraw from the show and instead, Jamie Varner will step up to fight Abel Trujillo.

- In addition to the Ronda Rousey vs. Sara McMann main event for UFC 170 on February 22nd, confirmed is a bantamweight bout pitting Jessica Eye against Alexis Davis - the latter of whom is considered a top 4 fighter in the division (though even with a win, she'll take a backseat to Cat Zingano, in terms of title fights, pending Cat's recovery from last year's knee injury).

- Speaking of Zingano, she took to Twitter to say she's willing to fight next month, despite the fact that her recovery from last year's ACL tear is not complete. Assuming she sticks to the plan provided, she would be able to return to training around March for the first time since she blew her knee out (just when she was to coach on TUF). The UFC is not about to put a fighter in a position like this knowing full well that they're not healthy.

- Tim Kennedy wants to fight Michael Bisping, so he wrote his own bout agreement and tweeted it to Dana White. For what it's worth, Bisping has tweeted in the past that's more than willing to meet Kennedy inside the octagon. He plans to return to action around March after his eye heals from last year's detached retina.




TWITTER

http://www.twitter.com/411mania
http://www.twitter.com/411wrestling
http://www.twitter.com/411moviestv
http://www.twitter.com/411music
http://www.twitter.com/411games
http://www.twitter.com/411mma

comments powered by