SPOTLIGHTS
The 411 MMA Year-End Awards 1.06.14: Part One – The Biggest Stories of 2013
Posted by Larry Csonka on 01.06.2014

From Georges St. Pierre walking away from MMA and the women making an impact on the UFC product to the fall of Anderson Silva and more, the 411 staff begins their 2013 MMA Awards by looking at the top 5 biggest stories of 2013!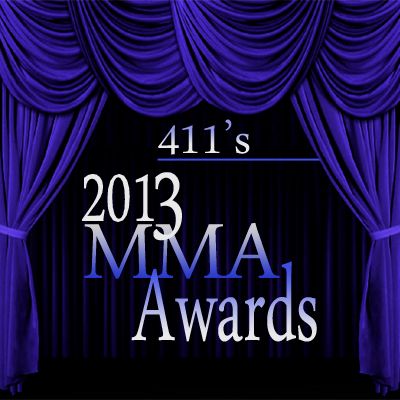 Welcome:
Welcome back to the MMA Top 5, year-end awards edition! What we are going to is take a topic and all the writers here on 411 MMA will have the ability to give us their Top 5 on said topic, and the end, based on where all of these topics rank on people's list, we will create an overall Top 5 list. It looks a little like this…

1st - 5
2nd - 4
3rd - 3
4th - 2
5th - 1

At the end we tally the scores and get our overall top 5! It's highly non-official and final, like WAMMA.. From best and worst fight to best fighter and KO of the year, the staff will come together to share out best. Thanks for joining us, and lets get down to work.




And now…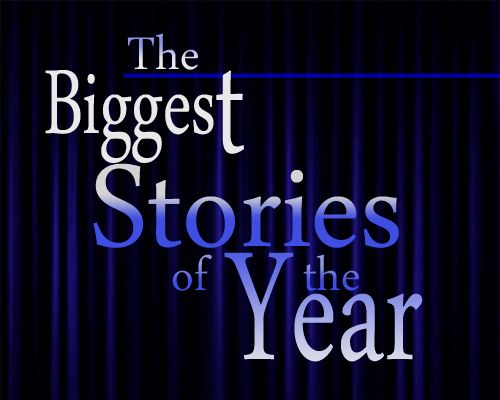 THE BIGGEST MMA STORIES OF 2013!






Jonathan Solomon




5. The Death of Shane Del Rosario
4. Bellator's PPV Debut Backfires
3. Women Finally Make it to the UFC
2. Georges St. Pierre Says Adios



1. The Fall of Anderson Silva - Some call him the greatest of all-time and while that's more of a debatable point than UFC broadcasts would have you believe, his reign of dominance in the middleweight division is unquestionable. Since he burst onto the UFC scene by clobbering Chris Leben, he instilled fear in the hearts of some and wonder in the eyes of most others. In July, all that came to a screeching halt when Chris Weidman knocked him out cold. Leading up until last weekend, everyone debated whether he could emerge back on top of the sport or whether the slide would begin. Little could anyone have predicted that his year would end in such excruciating pain courtesy of a leg kick. His leg shattered and now, we're left to wonder whether he will ever compete professionally again. Financially, he probably doesn't need to fight, and he has nothing to prove to anyone as far as his legacy is concerned. Unless he's going to be driven to test himself and fight again because he can, Anderson Silva very well may have competed in the UFC for the final time.

---





Robert Winfree




5. Fox Sports 1 launches
4. The Ultimate Fighter: China
3. UFC gets its own subscription service
2. Women make it to the UFC



1. Changing of the guard - For more than five years there have been two constants in the world of MMA, Georges St-Pierre and Anderson Silva. They were the top two pound for pound fighters, undisputed kinds of their divisions. GSP was hands down the biggest draw the UFC had ever seen, following UFC 167 he was responsible, partly or wholly, for somewhere in the neighborhood of ten million PPV buys. Anderson Silva, while not a draw on the same level, became a big star in his native Brazil after he knocked out Vitor Belfort and UFC events featuring him have done big ratings in Brazil ever since. Well 2013 comes to a close and they're both gone. Georges St-Pierre has vacated the welterweight title and has taken an indefinite hiatus after a somewhat controversial split decision win over Johny Hendricks. Anderson Silva was knocked out in July, and in his rematch with new champion Chris Weidman shattered his left shin, likely ending his fighting career. Two of the best fighters in the, admittedly brief, history of the sport are gone. The best draw in company history, and the best fighter in the sports history are both unlikely to make a return. How the UFC's business side of this will respond is going to be a big deal moving forward, and as a fan losing two fighters who I had been watching for almost six years, it's a big deal.

---





Dan Plunkett




5. MMA's continued PED policy woes
4. Competition catches up to Silva, St-Pierre
3. UFC heads to Fox Sports 1, struggles ensue
2. Women make their mark in the UFC



1. UFC plants feet to ramp up international expansion -
This is a no-brainer to me. UFC will hold about 13 more events in 2014 than they did last year, and those extra events will be streamed on UFC Fight Pass. From a business perspective, it's the most ambitious move UFC has made since purchasing television time to air The Ultimate Fighter on Spike TV. The idea is to air live fights in prime time in local markets, giving them a stronger television presence and the potential for stronger international television deals. Fight Pass is key because, among other reasons, it's the first real seed UFC has planted to perhaps one day move away from traditional pay-per-view in North America and Australia, which has always been a goal of theirs due to the large cut of revenue taken by cable and satellite companies. Beyond that, as UFC gets more and better television deals internationally, they become less and less of the "PPV company" they have been since debuting in 1993.

From a sporting standpoint, UFC's expansion is a game-changer because by necessity they will become their own developmental league. UFC chief content officer Marshall Zelaznik once exemplified Conor McGregor, asking what if UFC's international expansion had taken place sooner and McGregor had entered the UFC a few years earlier. Will being in the UFC aid or hinder the development of local level fighters? Some will surely be hurt by being matched against opponents they have no business fighting. Others may benefit from the early exposure. It will take years to even consider a real answer as to what UFC serving as its own developmental league means for fighter development.

---





Jeffrey Harris




5. Fox Sports 1 launches
4. UFC Fight Pass
3. Georges St-Pierre takes leave of absence
2. Women's MMA arrives in the UFC



1. The end of the Anderson Silva Era - To me, the end of the Anderson Silva Era is even more monumental than Georges St-Pierre's quasi-retirement move. For Silva has had arguably the most dominant and incredible championship run in the history of the sport. Silva had essentially become the sport's closest thing to a Michael Jordan. Say what you want about Fedor Emelianenko, but Anderson Silva held his title from October 2007 to July 2013. Think about that. He was champion for a few months short under SEVEN years. He defended his title 10 times. He went up a weight class several times and won three fights there as well. While he made bizarre and disappointing choices in his fights at times, like against Thales Leites and Demian Maia, Silva in general looked unrivaled and unequaled whenever he stepped into the Octagon. Even despite his advancing age, it didn't look like he was losing a step at all. In 2013, that all came to a crashing halt. Nothing lasts forever, and even a fighter like Anderson Silva can lose. Many called the first loss between Weidman and Silva a fluke because Silva was so cocky and was showboating so much. It was something he did in many fights before, and his opponents would freeze or not know how to react as a result. Chris Weidman is a fighter who finally made him pay for that for once. And then the year closed with one of the most gruesome highlights ever, Silva breaking his leg off of a check by Weidman. It was an ugly visual, but it establishes that the era of Anderson Silva's dominance is effectively over. Maybe Silva can come back and still fight, but it is still hard to believe he will ever be the same again.

---





Paul Lapointe




5. (TIE)WSOF declaring expansion in Canada and Japan & Bellator's PPV debacle
4. UFC's plans for World Domination
3. Lions and Tigers and Bears Oh My...(they ain't nothing compared to Vitors and Big Foots and Rothwells on TRT oh my)
2. UFC: Welcoming in the Ladies



1. End of Era's: GSP and A. Silva Exit Spotlight in controversy and Malaise - As my fellow columnist have already touched upon and I recently prattled on about in MMA FoF recently (Plug) the sport and the UFC is in for a changing of the guard. Given how much impact GSP has had as both a money earner and kingpin in the welterweight division he is to be missed not just for the greenbacks he generated but also as a peak other welterweights would have loved to conquer for themselves. I mean the sour taste produced by a lot of pundits that after all the kaffuffle that through no fault of his own (the judges deemed him the winner) that he would leave the sport after knowing he lost his last fight (at least for a while) like he owed us something after all this time. As for Anderson Silva though I would argue GSP did more to personally impress me then Silva during his tenure the Spider was champion for 7 years and only looked weak against Chael Sonnen the first time out and the rest was child's play. Michael Bisping of all people said something that made me not want to slap him upside the head for once when he was quoted during a press event that not being able to have tested himself against the likes of Silva would be something he would always regret as a modern fighter and now it would seem that this feat is now unreachable for both himself and every other fighter as could be the case in regards to GSP as well. So one leaves when he loses and the other leaves after beating himself twice. With the UFC expanding and the faces changing both in fans and fighters let us see if Chris Weidman or Jonny Hendricks can be the new "FACE" of their respective divisions, time will tell on that front or for all I know, maybe it will be someone else, but I am anxious to find out.

---





Evan Z




5. The Eddie Alvarez Lawsuit
4. The Bellator PPV Fiasco
3. Anderson Silva Falls From His Throne
2. Georges St-Pierre Abdicates His Throne



1. The Women Kick Ass and Take Names - As far as the year goes and where things are headed moving forward, I feel the women's arrival in the UFC is much more significant than a changing of the guard that was going to happen sooner than later anyway. For years it seemed like fantasy to even consider the idea of the UFC letting women compete. Even with fighters like Gina Carano and Cris Cyborg captivating the MMA world, Dana White would not budge on integrating his company with female fighters. That all changed when a feisty, aggressive blond named Ronda Rousey arrived on the scene and wrapped up everyone in her looks, her charm, and her devastating grappling. Ronda, along with other fighters like Miesha Tate, Sarah Kaufman, and Marloes Coenen, proved beyond a doubt that women fighters can be just as entertaining and exciting as their male counterparts. She was what was needed to get women into the UFC and once they finally debuted at UFC 157, there's been no looking back. Since then we have seen many outstanding women's fights, two excellent fights for the women's bantamweight championship, the first woman crowned as The Ultimate Fighter, and the announcement of a second women's division coming in 2014. This year has been significant in proving that there is a lot of talent for fighting among the fairer sex and a lot of skeptical heads have been turned and negative viewpoints have been changed in the process. The train is off and running now but 2013 will always be remembered as the year it got itself on the tracks and started rolling into another arm bar finish.

---





Scott Kuczkowski




5. Eddie Alvarez tries to jump to the UFC…and almost makes it.
4. Women consistently steal the show on most UFC cards.
3. Tito Ortiz thwarts Bellator MMA's attempted PPV debut.
2. Anderson Silva loses to Chris Weidman twice; fighting career in jeopardy.



1. George St. Pierre relinquishes title; takes a hiatus from fighting - This makes the top of the list for me because I don't think many people expected it. Sure, after his post-fight interview following his win over Johny Hendricks, most people saw it coming, but I think before that it was a surprise to the majority of the MMA community. While a number of people openly spoke that GSP had seemingly slowed down following his return from a knee injury, I don't think many people understood (or yet do) the personal problems he was dealing with. On top of that, while he is probably past his fighting peak, GSP has still been a very dominant champion against the stiffest of competition. Frankly, prior to Johny Hendricks, most opponents didn't even appear in the same league as St. Pierre. At only 32 years of age, and one of the UFC's biggest PPV draws, GSP appears to be walking away while he is on top of the world; but maybe that's exactly how he wanted to leave.

---





Alex Rella




5. The WSOF expanded nicely
4. Fox Sports 1 debuted
3. The debut of women in the UFC
2. Anderson Silva loses his title and the rematch



1. GSP walks away - The two greats lost their spots on top of the sport this year, but this is the bigger story for me. Anderson Silva lost his title and later his rematch, but this was expected sooner or later. Unfortunately every legend declines at some point, it's only natural. But GSP is walking away on his own. The second best fighter of all time, maybe the best, is leaving his title for personal reasons. The years of fighting have worn him down and it seems like it has done some serious lasting damage to his well being. Not only is it sad to see a legend walk away while he's still in his prime, but this may be the start of other fighters with serious medical issues from competing in the UFC for a long time. I would love to see GSP return to fighting at some point, but most importantly I hope he gets healthy enough that he can enjoy his retirement.

---





Robert Practor




5. George St. Pierre Walks Away
4. UFC's Worldwide Expansion / Fight Pass
3. Women Fighters Make Their Presence Known
2. Anderson Silva's Injury / Fall From Grace



1. UFC's Business Declines - The UFC made a splash with a major move to network television in 2011, signing a long-term deal with media conglomerate Fox. The UFC put on some major events on Fox, including Heavyweight, Lightweight, and Flyweight Title fights. During 2013, though, the UFC had to go through another transition as Fox launched their own sports channels Fox Sports 1 and Fox Sports 2, hoping to utilize the UFC as one of the cornerstones for the channels. The UFC did good numbers for the heavily-pushed debut on FS1, featuring big-name fighters like Chael Sonnen and Urijah Faber. The UFC had an uphill battle to fight, though, as cards were haphazardly featured on varying nights, times, and splitting between the two Fox Sports channels, not to mention the quarterly events on big Fox. The UFC has not had overwhelming success on PPV throughout the year. Long-reigning Welterweight Champion, company poster-boy, and PPV kingpin Georges St. Pierre's most recent title defense against Johny Hendricks is rumored to only have drawn between 600-650k buys, which is only half of what GSP's title defense against Nick Diaz in March drew, and is also the lowest number of buys a GSP headlined PPV has drawn in over five years. Jon Jones and Cain Velasquez have not drawn big numbers (although not poor either, to be fair) and they are seemingly, along with Anderson Silva and the aforementioned Ronda Rousey, the only hopes for big PPV buyrates at this time. The UFC had a steady and well-known spot in the marketplace when they were the center of Spike TV, and the move to Fox, with the splitting of programming between Fox, FX, and Fuel TV, then to Fox Sports 1 & 2, adding in the varying days and times, has arguably affected the company in a negative way. The UFC can only hope to become more consistent with their programming and event schedules and more and more fans will find them and their new channels, and hopefully have that snowball into a growth in ratings and PPV buys in the new year.

---





Samer Kadi




5. Shane Del Rosario Passes Away
4. Bellator Debuts on PPV...Tito Ortiz messes it up
3. TRT Continues to Spark Controversy as Vitor Belfort Buries Shins in Heads
2. Women Will Never Fight in the UFC Because Dana White Said So...Never mind



1. GSP Goes Out on His Terms, Anderson Silva Doesn't - In truth, each story is big enough to warrant its own place on the list. However, in Silva and St-Pierre, we have the two greatest mixed martial artists this sport has ever seen, whose respective careers were often associated with one another due to their unmatched dominance coinciding. For years, Silva and St-Pierre reigned supreme over their respective divisions in different but equally resounding fashion. The ease in which they dispatched elite contenders fight in and fight out verged on the superhuman, and a fight between the two was every MMA fan's dream. After St-Pierre disposed of Carlos Condit in late 2012, the UFC promised a super fight between the legendary pair in 2013. Things however, could not have turned out any differently. Georges St-Pierre shocked the MMA world -- and the UFC -- by announcing his intention to take some time away from the sport, in what sounded eerily close to a retirement. The Canadian would relinquish the belt and become one of the very few prizefighters to go out on top.

Meanwhile, retirement was already on Silva's mind following his shocking defeat to Chris Weidman last July. And yet, while many predicted their December rematch would be the last bout of Silva's stellar career, no one could have foreseen what went on to unfold. In one of the most gruesome sights ever witnessed inside the cage, a checked leg kick snapped Silva's leg in half, leaving him moaning in agony. A most depressing end (if it does indeed prove to be the end) to the most brilliant career the sport has ever seen. And now, the MMA world has to somehow accept a world in which the two greatest fighters to ever compete are no longer around.

---
AND 411's Biggest Stories of 2013 Are…
5. The UFC's International Expansion – 9pts.
4. Bellator's Debut PPV Disaster – 10pts.
3. The Women Make An Impact In The UFC – 36pts.
2. Georges St. Pierre Walks Away – 39pts.


1. The Fall of Anderson Silva – 42pts.






THE 2013 AWARDS


* The Biggest Story Of 2013: The Fall of Anderson Silva – 42pts
* The Most Disappointing Fighter Of 2013: TO BE ANNOUNCED JANUARY 7th
* The Breakout Fighter Of 2013: TO BE ANNOUNCED JANUARY 8th
* The Worst Fight Of 2013: TO BE ANNOUNCED JANUARY 9th
* The Best KO Of 2013: TO BE ANNOUNCED JANUARY 10th
* The Best Submission Of 2013: TO BE ANNOUNCED JANUARY 13th
* The Best Fight Of 2013: TO BE ANNOUNCED JANUARY 14th
* The 2012 Fighter of the Year: TO BE ANNOUNCED JANUARY 17th




TWITTER

Your heart is free. Have the courage to follow it…TO CSONKA'S TWITTER!

http://www.twitter.com/411wrestling
http://www.twitter.com/411moviestv
http://www.twitter.com/411music
http://www.twitter.com/411games
http://www.twitter.com/411mma




comments powered by