SPOTLIGHTS
The 411 MMA Year-End Awards 1.07.14: Part Two - The Most Disappointing Fighters of 2013
Posted by Larry Csonka on 01.07.2014

From Alistair Overeem and Dan Henderson to King Mo, Gray Maynard and more, the 411 staff continues their year-end awards by breaking down the top 5 most disappointing fighters of 2013!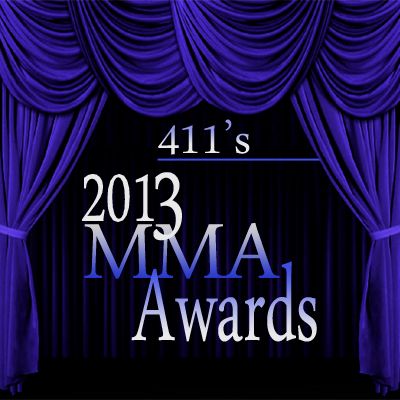 Welcome:
Welcome back to the MMA Top 5, year-end awards edition! What we are going to is take a topic and all the writers here on 411 MMA will have the ability to give us their Top 5 on said topic, and the end, based on where all of these topics rank on people's list, we will create an overall Top 5 list. It looks a little like this…

1st - 5
2nd - 4
3rd - 3
4th - 2
5th - 1

At the end we tally the scores and get our overall top 5! It's highly non-official and final, like WAMMA. From best and worst fight to best fighter and KO of the year, the staff will come together to share out best. Thanks for joining us, and lets get down to work.




And now…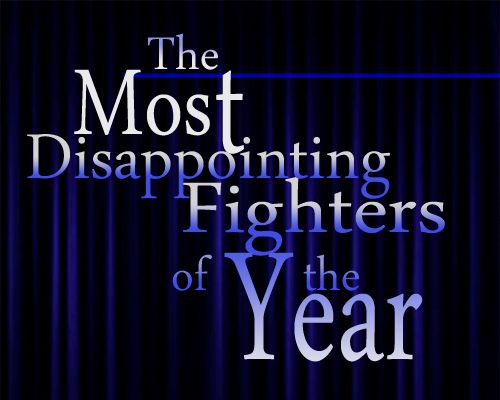 The Most Disappointing Fighters of 2013!






Jonathan Solomon




5. Nick Diaz
4. Antonio "Bigfoot" Silva
3. "King Mo" Muhammed Lawal
2. Tarec Saffiedine



1. Uriah Hall - Coming off his impressive showing during the TUF 17 season that aired over the first quarter of 2013, it seemed like Uriah was poised to be a breakout star. His highlight reel knockouts and dominance provided him with an aura of violence we rarely saw on that series. But, all that was shattered when he lost in the finals of the tournament to Kelvin Gastelum. Worse, on short notice in August, he dropped another split decision to John Howard. Whether it was mostly psychological or just not being as well rounded a fighter, he appeared lackluster instead of explosive. On the bright side, he ended his 2013 with a win as he perhaps handed Chris Leben the final loss of his UFC career. In 2014, Hall will turn 30-years-old and all of the tools remain at the Queens, New York native's disposal to develop into a top contending middleweight, but that's a big 'IF' as we look at it today.

---





Robert Winfree


5. Antonio "Bigfoot" Silva


4. Uriah Hall
3. Muhammed Lawal
2. Miesha Tate



1. Gray Maynard - Gray Maynard entered 2013 having fought just once the previous year, a split decision win over Clay Guida in one of the oddest fights of that year, and having two classic battles with Frankie Edgar the year before that. Maynard was still a very highly thought of fighter coming into the year and he was publicly talking about getting another title shot, this time against Benson Henderson. His first fight this year was against TJ Grant, a former welterweight who, while undefeated at lightweight, was primarily a submission fighter while Maynard was a strong wrestler. Grant flipped the script and knocked Maynard out in the first round, earning a title shot that, due to injuries, he's still waiting for. Maynard changed camps again and accepted a fight against Nate Diaz to close out his year. This was the third fight between the two, Diaz choked Maynard out on the fifth season of TUF while Maynard won a split decision in their first official fight. Diaz wouldn't be held down by Maynard, literally or figuratively, and knocked him out in the first round with a barrage of blows against the fence. Maynard entered the year in a title eliminator fight, he ends it 0-2 with two knockout losses and a very uncertain future.

---





Jeffrey Harris




5. Nick Diaz
4. Gray Maynard
3. Antonio "Bigfoot" Silva
2. Uriah Hall



1. "King Mo" Muhammed Lawal - Muhammed Lawal might've fought five times and gone 3-2 in 2013, but that makes his year no less disappointing. His three wins: Przemyslaw Mysiala, Set Petruzelli, and Jacob Noe; were all against tomato cans who were either unknown tomato cans or were nowhere close to being serious contenders. Bellator brought him in to be their star attraction. He signed a contract with TNA to be a wrestler, only to not do anything with TNA at all. Being a part-time wrestler and full-time MMA fighter at the same time are not really doable. We've not seen him utter a word in TNA after a ton of hype for his signing. Bellator desperately tried to give him an easy path to the title. They made tons of hype videos and even his own dedicated special explaining why he was such an amazing fighter and the "perfect athlete" who could do it all, only for him to get knocked out by Emanuel Newton in the second round of the Bellator light heavyweight tournament. So Mo's TNA debut was put off even more. So what happened? Bellator then altered their whole tournament format from three rounds to two, and they gave King Mo the easiest bracket possible in Seth Petruzelli and Jacob Noe. And with that, Mo was now a tournament winner despite having only won two fights instead of the standard three. Newton had already won a tournament by beating three people, including a knockout of Mo. Bellator claimed the champion Attila Vegh was injured, even though Vegh said he wasn't, and set up an interim title bout with King Mo and Newton instead for their PPV. The PPV didn't go off and instead it was on Spike TV. Now Newton essentially had to win five fights to become champion. The first fight was obviously a fluke, so the perfect athlete King Mo would obviously come out on top again, right? Wrong. In a five round fight, Mo got out-worked and out-struck by Newton. So in one year, Mo had gone from being Bellator's double-superstar to going 0-2 against Emanuel Newton and not being the champion they wanted. He's not wrestling in TNA, and basically not fulfilling any of the potential that was promised out of Mo. Mo has basically become one of the most overrated and over hyped MMA prospects of all time. Even more ridiculous is that other site rankings kept him in the top 10 above Newton after the knockout loss.

---





Dan Plunkett




5. Jon Fitch
4. Dan Henderson
3. Gray Maynard
2. King Mo



1. Alistair Overeem - The big heavyweight bout of 2013 was not supposed to be a rubber match between Cain Velasquez and Junior dos Santos. Nor was it supposed to be a rematch of a one-sided mauling between Velasquez and Antonio Silva. It was supposed to be a Memorial Day Weekend clash between Velasquez and Alistair Overeem. Since gaining some 30 pounds of muscle in 2008, Overeem had been perhaps the scariest heavyweight fighter on the planet. He manhandled big, powerful heavyweights in Brett Rogers and Todd Duffee. He sent Kazuyuki Fujita into a mini-coma with a devastating knee strike. He kicked Brock Lesnar right in the diverticulitis. In 2010, he proved himself as one of the planet's top kickboxers by winning the K-1 World Grand Prix. When he was set for a UFC heavyweight title match in 2012, he failed a drug test due to a high T/E ratio. In 2013, he just had to win one fight to get back to his prior top contender status. He was a sizable favorite over Antonio Silva in their February match. Most expected him to make quick work of the Brazilian. It didn't quite work that way. Overeem won the first two rounds, but Silva came out strong in the third and rocked him. One brutal combination against the fence later, and Overeem collapsed to the mat. Still, Overeem had a chance to get back on the winning side against Travis Browne in August. He was dominant and destructive early on, but gassed badly. Browne, who had somehow survived a vicious onslaught earlier, landed a front kick that put Overeem down. Prior to 2013, there were some who felt Overeem was the uncrowned king of the heavyweight division. Today, he has no claim to the throne and will be fighting for his job in February 2014.

---





Scott Kuczkowski




5. Josh Koscheck
4. Scott Jorgensen
3. Mohammed "King Mo" Lawal
2. Gray Maynard



1. Alistair Overeem - After sitting on the shelf for a year following a failed drug test (which also cost him a title shot), Overeem was scheduled to face Antonio "Bigfoot" Silva. This was to begin his march back into title contention. After manhandling Silva for the first two rounds, Overeem appeared confident his opponent offered him no challenge. Overeem was so confident he didn't seem at all concerned that he was running out of steam himself. In a flurry of activity, Silva came back to life and rendered the K1 star unconscious. In his next bout, Overeem face young upstart, Travis Browne. After maneuvering Browne against the cage, Overeem unloaded a barrage of strikes in a failed effort to finish his opponent. Thoroughly gassed from the flurry, Overeem fell victim to a front kick to the face that ended his night. While Overeem has enjoyed an impressive K1 career, he now finds himself in nearly a gatekeeper position for the Heavyweight Division, which doesn't bode well for a man with questionable cardio and an even more questionable chin.

---





Paul Lapointe




5. Bjorn Rebney (As a fight promoter, a cheat I know)
4. Anderson Silva
3. Nick Diaz
2. Alistair "Overhyped" Overreem



1. The fall of TUF 1 Fighters (Chris Leben, Josh Koscheck, Kenny Florian) - As with the passage of time is inevitable the changing of the guard in sports from the originators to the next generation is as well. With that thought in mind its hard to argue that though TUF will soon be turning 20 in 2014 the original core of guys have either gone the way of the dodo bird or just have finally been caught up to by the new breed of TUF fighter and the fight game in general and that in its own right is really disappointing. I mean new can be good but it is disappointing as a fan to see guys you grew up with as well as the sport fall down so hard as the sport has risen everywhere else. Josh Koscheck is on a 3 fight skid, 2 in 2013 albeit to a resurgent Robbie Lawler and Muscle Beach T-Wood Tyron Woodley but he is not even at gatekeeper level anymore really. The less said really about Kenny Florian and Jon Anik on commentary really the better. Where the heck is Mike Swick? And finally Mr. Leben. Though eventually he became very likable after all the cage time he has logged Chris Leben is as he said in his own corner at UFC 168 "I'm Done Man". And who is to argue since getting one sidedly handled by Derek Brunson at the end of last year, looking pretty one dimensional against Andrew Craig (really...who) and then giving up on the stool to another TUF bust in Uriah Hall he has fallen rather quickly. The once mighty and unkillable Chris Leben has seemingly died off and like Stephan Bonnar and Forrest Griffin it may be time to hang up them gloves and though that is probably for the best, to me at least it is disappointing. Long live TUF (seriously).

---





Robert Practor




5. Urijah Hall
4. Roy Nelson
3. Muhammed 'King Mo' Lawal
2. Dan Henderson



1. Alistair Overeem - Overeem entered the UFC at the end of 2011 with a huge contract and a boatload of hype, which only grew after a starching of Brock Lesnar at UFC 141. Overeem then went and got popped for the steroids that everyone knew he'd been taking and didn't fight at all in 2012. The Reem returned in February of 2013, looking suspiciously different from how he had looked prior to his failed drug test, and had his nearly six-year unbeaten streak ended after a vicious KO from Bigfoot Silva. Overeem then got TKFO by Travis Browne a few months later and now awaits a fight with Frank Mir in 2014 in which the loser will be out of the UFC. Overeem's lackadaisical attitude in his fight with Bigfoot, his failed steroid test, and lack of following through with all the hype he had behind him make him my pick for most disappointing fighter of the year.

---





Evan Zivin




5. Dan Henderson
4. Uriah Hall
3. King Mo
2. Alistair Overeem



1. Rory MacDonald - Rory came into 2013 as the heir to the welterweight crown. The young man had beaten up everyone that had been placed in front of him and was riding high off the biggest win of his career, a unanimous decision over BJ Penn. 2013 was supposed to be the year he would become the undeniable number 1 contender to his training partner and mentor, Georges St-Pierre's, championship. Then we'd all get to revel in the possibilities of if the two would fight or if GSP would ever step aside to allow Rory to ascend to the throne and become the most dominant 170 pound fighter in the world like he was destined to be. That didn't exactly happen. First, he pulled out of a big rematch against Carlos Condit in March. Then, when he did fight, at UFC on Fox 8 in July against Jake Ellenberger, it was one of the worst fights of the year. Finally, when he got one more chance to claim his spot at the top of the ladder, he put in another uninspired performance against Robbie Lawler and lost a decision. Rory should be fighting for the welterweight championship right now. Instead, he's stuck on the outside looking in. 2014 may very well be the year he gets his title shot but, in 2013, it was his for the taking and, whether due to lack of motivation or his opponent's finding the holes in his game or something else, he didn't take it. All he proved in 2013 is that he's creepy as hell. Here's to a better 2014, Rory. Don't screw it up.

---





Alex Rella




5. Jon Fitch
4. Alistair Overeem
3. Josh Koscheck
2. Gray Maynard



1. Dan Henderson - This is an easy pick for me. Henderson sat out the first half of 2012 waiting for his title shot, but then he got injured and ended up missing the entire year. He was still considered an elite light heavyweight coming into 2013 and he just needed to start the year off with a win to get his title shot, but instead he went 0-3. Hendo lost to Lyoto Machida, Rashad Evans, and Vitor Belfort. All top fighters, but Henderson looked slow, old, and his amazing chin finally left him in his last fight as he was knocked out for the first time in his career. He's now lost three in a row, is no longer even close to being a top fighter anymore, and I doubt his career will go past 2014.

---





Samer Kadi




5. Jon Fitch
4. Anderson Silva NOTE: Strictly for his performance in the first Weidman fight. This has in no way anything to do with the rematch.
3. King Mo
2. Rory MacDonald



1. Alistair Overeem - After sitting out 2012 through the most unsurprising suspension of all time, Alistair Overeem made his return to the cage in early 2013 to take on Antonio Silva, a fighter who stylistically, was thought to be a pretty favorable match-up for the Dutchman. Overeem would spend the first two rounds winning in the most pedestrian fashion imaginable, and seemed to be on his way to an uninspiring victory. Silva however, had other plans, as the Brazilian waited for Overeem to tire (quite predictably) before leaving him motionless on the canvas. Overeem's second trip inside the cage was equally brutal, as he was once again separated from consciousness, this time by Travis Browne, who buried a front kick in his opponent's face to turn his 2013 record to a dismal 0-2.

---





Jon Butterfield




5. Uriah Hall
4. Brian Stann
3. Pat Healy
2. Gray Maynard



1. Alistair Overeem - In order to be nominated the "most disappointing fighter of 2013", you'd have to have had an ENORMOUS amount of hype, a killer winning streak, and a certain extra something that we'll call the X-factor. Well Overeem, fresh off an 11-fight unbeaten streak in promotions such as DREAM and Strikeforce (as well as becoming K-1 Heavyweight Kickboxing Champion) had that hype heading into 2011, whereupon he easily defeated the deflated former UFC Heavyweight Champion Brock Lesnar. It was impressive, and it did NOT bode well for future opponents in the UFC. However, Overeem picks up the all-important X-factor for being extra, extra-disappointing by entering 2013 fresh off a 12-month suspension for having massively-elevated testosterone levels to the tune of 14:1 testosterone:epitestosterone – but whatever, that was all in the past. What wasn't in the past were accusations that Overeem simply wouldn't be the same force without the aid of such extreme levels of testosterone. Well, put short, he wasn't. Overeem appeared to be the superior fighter when faced with long-time top ten heavyweight Antonio 'Bigfoot' Silva, but lacked the killer instinct that had once appeared so natural (and now appeared so unnatural). Over-confident, somewhat lethargic, and undeniably complacent were all criticisms of Overeem's performance as Bigfoot retaliated with an astonishing third round blitz that left Overeem cold on the canvas for the first time in almost 6 years. Then, Overeem disappointingly pulled out of a dream bout against striking great Junior dos Santos, before crashing to a second successive KO defeat against upstart Travis Browne. We all then figured Overeem might bounce back against Frank Mir at UFC 167 in November, but the misery was compounded when the fight was moved to February of 2014. Put this way: if it could have gone wrong for Overeem in 2013, then it probably did – and there's really not a whole lot for long-term Overeem fans to hold onto going into the new year...

---
AND 411's Most Disappointing Fighters of 2013 Are…
5. Dan Henderson – 12pts.
4. Uriah Hall – 15pts.
3. Gray Maynard – 22pts.
2. King Mo – 27pts.


1. Alistair Overeem – 34pts.






THE 2013 AWARDS


* The Biggest Story Of 2013: The Fall of Anderson Silva – 42pts
* The Most Disappointing Fighter Of 2013: Alistair Overeem – 34pts
* The Breakout Fighter Of 2013: TO BE ANNOUNCED JANUARY 8th
* The Worst Fight Of 2013: TO BE ANNOUNCED JANUARY 9th
* The Best KO Of 2013: TO BE ANNOUNCED JANUARY 10th
* The Best Submission Of 2013: TO BE ANNOUNCED JANUARY 13th
* The Best Fight Of 2013: TO BE ANNOUNCED JANUARY 14th
* The 2012 Fighter of the Year: TO BE ANNOUNCED JANUARY 17th


TWITTER

Your heart is free. Have the courage to follow it…TO CSONKA'S TWITTER!

http://www.twitter.com/411wrestling
http://www.twitter.com/411moviestv
http://www.twitter.com/411music
http://www.twitter.com/411games
http://www.twitter.com/411mma


comments powered by