SPOTLIGHTS
Five Quick Rounds 01.07.14: Fight Night 34, Don't Drink and Be Tito Ortiz, More
Posted by Evan Zivin on 01.07.2014

From Georges St-Pierre's stolen title belt and Chris Weidman vs. Vitor Belfort likely happening in Las Vegas to the results of Fight Night 34 and Tito Ortiz's DUI, 411's Evan Zivin examines these stories and more in Five Quick Rounds!

Hey hey, fight fans, and welcome back to Five Quick Rounds! I am your host, Evan Zivin, and I am more excited than the employee that took Georges St-Pierre's title belt to be here today!

Has it been confirmed that this actually happened? I don't know. Georges St-Pierre said it did, although maybe it was a bad translation or something. I dunno. The story is that, right after GSP's UFC 167 victory over Johny Hendricks, a fight that has become infamous for GSP's post-fight speech that was a preview of his announcement to step away from the sport after winning a grueling fight that most felt he had lost, he had his championship belt taken away from him by the UFC. Georges said that, after the split decision win, he took a shower and got into a suit and that, at some point during this, someone took the belt. They didn't even have the decency to tell GSP they were taking it. They just upped and grabbed it. There is a lot of conflicting information regarding whether the UFC gives out new belts for successful UFC title defenses and, in some cases, champions have been awarded their own belts so I don't know if GSP was guaranteed to get to keep the belt if he won the Hendricks fight. I would think GSP is a fighter who would be given a belt for every title defense because he's GSP but there's no set rule for this and the UFC does what they want. Dana White has yet to confirm or deny this story, like he did the story about GSP being told to not go to the press conference, so go badger him on Twitter about it and we'll see what he has to say.

All right, so with fighter introductions out of the way, I have five more rounds of MMA news and opinions to throw at you. This week, we look at the results of Fight Night 34, the next middleweight title fight likely happening in Las Vegas, the first fights announced for the TUF China Finale, and Tito Ortiz's suspected DUI. Let's to it do it.

FIGHTER YOU READY!!!!
FIGHTER YOU READY!!!!

FIGHT!!!!




Round One: Fight Night 34 Main Event, Saffiedine Defeats Lim, Korean Fighters Are Hard to Chop Down

***TOUCH OF GLOVES***

So what were you doing on Saturday morning? You better not have been doing something silly like sleeping. Why would you sleep on a Saturday morning when you could have been watching a fight card from halfway around the world featuring a roster of fighters the majority of which you've never heard of? To sweeten the deal, the card was featured exclusively through a subscription service that is reportedly rife with technical issues and was even charging people to watch fights even though the service is supposed to be free until March (and that doesn't even apply to all parts of the world). Sleep? Please. What you should have done was wake up at 4 a.m., drive to your local Dunkin' Starbucks or your Jittery Caribou, get a nice, tall coffee (you order it black, the same way you like the sky to look when a fight promoter forces you out of your bed), fire up the ol' computing machine, grab a nice chair (or steal one from next to the dumpster behind the Office Max), get comfy, and enjoy a few fights before falling asleep on your keyboard because it's too damn early to watch fights. Add some more swearing to that and you pretty much had my morning. Overall the show was okay. You shouldn't rule a show out just because the quality of fighter isn't that good but there were some good fights. There were also some not so good fights. the cosmic balance was maintained. That should be good for our ch'i.

The main event of the Singapore card was a battle of welterweight prospects in Tarec Saffiedine and Hyun Gyu Lim. Saffiedine, the former Strikeforce champion (back when saying that didn't mean much) came into the fight having not competed in a year due to injuries, whereas Lim came in as a replacement for Jake Ellenberger and was taking a step up in competition. Still, Lim has proven to be a very tough opponent and even managed to win Fight of the Night in a fight that didn't last four minutes. That has to count for something. Maybe it helped Lim survive five rounds with Saffiedine despite coming to the very brink of being finished in the middle of the fight. Lim looked good early in the fight, as Saffiedine came in with a calculated approach to wear Lim out over a few rounds. Staying on the outside and being cautious cost Saffiedine the first round but it paid off as the leg kicks he threw piled up and, by the third, Lim was badly limping. The fight almost ended in the third round when Saffiedine crumpled Lim with kicks but the referee let the fight continue. C'mon, Leon Roberts! Didn't you see Saffiedine throw his arms up in victory? He thought he won so that must mean the fight is over. It worked for Rousimar Palhares. Wait, no it didn't. Despite the shredded hamburger that Lim's thigh became, he hung tough and even started coming back near the end of the fight as Saffiedine became too tired to finish. I don't know if it was due to ring rust or due to those infamous "Octagon jitters" but Saffiedine could have probably finished the fight if he had been willing to press harder in the fourth and fifth rounds and not continue to stay cautious even though he was clearly winning the fight. Oh well. He still got the unanimous decision in a good fight and Lim proved that no win against him is an easy one. It doesn't matter if he loses one of his legs. He's got another one. Also, bitchin' sunglasses.

***HORN SOUNDS***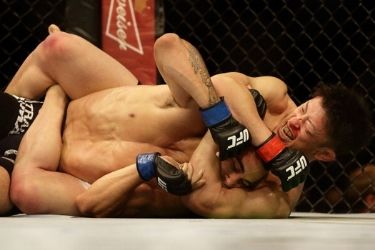 Round Two: Rest of Fight Night 34, Kawajiri Chokes Out Soriano, Referee Eventually Notices

***TOUCH OF GLOVES***

The co-main event may have been a little more intriguing for hardcore fans as it featured the UFC debut of Japanese veteran Tatsuya "Crusher" Kawajiri. The man is a legend in the Japanese MMA scene, having competed in Shooto, Pride, Dream, and One FC. The only appearance he'd had in a U.S. promotion was getting elbowed in the face by Gilbert Melendez back in Strikeforce in 2011. He hasn't lost since then so the UFC signed him up as a good addition to the roster as part of their expansion into the East Asian market (the next big phase of their "Global F*cking Domination"). Kawajiri didn't disappoint in his UFC debut but it wasn't exactly a walk in the park. Soriano, one of the token white guys from the Blackzilians, was finding a home for his hooks and knees early as Kawajiri rushed to score a takedown. Eventually, Kawajiri was able to get the fight to the ground and came close to finishing the fight with punches from back mount. No matter. Kawajiri was able to get that position back quickly in the second round and cinched up a rear naked choke. The ending was controversial as Soriano tapped but referee Steve Perceval didn't notice it. He didn't stop the fight until Soriano had gone to sleep a few seconds later. Steve, you're already on shaky ground after the last Australia card. This isn't helping, especially when YOU WERE STANDING RIGHT THERE!! How did you not see the tap? Were you too busy thinking about ordering some Satay or Siomay after the fight? If you were, I don't blame you but do your job. It was why you were in Singapore in the first place. At least I thought it was.

Another debut on the main card that you would have to be really hardcore (or Brazilian) to get excited for was Luiz "Besouro" Dutra. He competed on the second season of The Ultimate Fighter Brazil and could have gone far in the competition but had to drop out due to a hand injury. Well, you can't say that Dutra didn't have a memorable debut against Kiichi Kunimoto, but it could have gone better. It would have been a great performance if elbows to the back of the head were legal but they aren't so Dutra got disqualified. You live and you learn. You also don't elbow people in the back of the head. Kyung Ho Kang and Shunichi Shimizu delivered a good grappling battle. It was a fight that Kang was in control of for the most part, battering Shimizu whenever he tried to shoot for a takedown and threatening with multiple submission attempts. Kang was even willing to give up top position to try and finish the fight with a triangle. Maybe he was that confident he'd get the position back. Or maybe he was nuts. He did dig himself into a hole early when he had 2 points deducted due to illegal 12-to-6 elbows to Shimizu's head. Is the ref able to take away 2 points like that? They really need more concrete rules regarding fouls. Either way, it didn't make a difference as Kang ended up choking Shimizu out late in the third with an arm triangle. The card also saw Max Holloway get back in the win column by stopping Will Chope with strikes, Katsunori Kikuno and Royston WEEEEEEE!!!!! make successful Octagon debuts, Dustin Kimura submit Jon Delos Reyes by.....armbar, and Leandro Issa falter by getting dropped and choked out by Russell Doane. Hmmm...maybe Shinya Aoki knew what he was doing when he decided not to join his teammate in the UFC. Maybe there's more to this story......Quick! To the tinfoil hats!

And that was Fight Night 34. Next up is Fight Night 35 on January 15th. Yep, it's one of those Wednesday night cards you love so much. Enjoy missing half the card due to traffic. I know I will.

***HORN SOUNDS***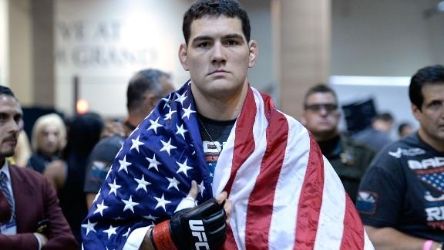 Round Three: Middleweight Title Fight Likely to Happen in Las Vegas, Where It Should Be

***TOUCH OF GLOVES***

Yeah! America! Land of the free! Home of the capitalism and crowded prisons! A place many of us call home. A place the UFC still kinda cares about even if they say the international fight cards aren't for the U.S. audience. It's all right, guys. I see how it is. I know you still care. You wouldn't have gone to the trouble of having an interpreter in the cage for every fighter who didn't speak English if you didn't love us. Or maybe everyone in Singapore speaks English. That's possible. A lot of their business comes from suckering people like us into buying cheap souvenirs and whatnot. Indonesia actually has a very large economy. Maybe they'll surpass us one of these days as an economic superpower. Maybe I should start learning Indonesian. Maybe I should find out if a UFC ring girl can teach me Indonesian. Hmmm....Well, one thing that Indonesia won't have, at least not next year, is the upcoming middleweight championship fight between Chris Weidman and Vitor Belfort. UFC CEO Lorenzo Fertitta has said that the fight may be likely for May or July. It's dependent on Weidman, who said he may have a meniscus tear that he trained and fought with at UFC 168. It hasn't been confirmed if he'll need surgery yet but if he does, it will push back the date of the fight slightly. Either way, sorry June. Maybe if you had a bigger holiday than Flag Day, the UFC would care about you.

The other news of note from Mr. CEO Man is that they are looking to have the title fight take place in Las Vegas. This could make things interesting because Vitor Belfort has not fought in the United States in over two years. Aside from the last second light heavyweight championship fight he lost against Jon Jones at UFC 152, every other fight Vitor has had since August 2011 has taken place in Brazil. That includes his last three fights, which were all knockouts where Vitor looked to be in phenomenal physical shape. Vitor has looked to be in the best shape of his life these last few fights. It may be because he's motivated and dedicated to working out and training so he can be the best Vitor he can be before he's too old to compete, or maybe, as most Internet commenters conclude, it's all due to the use of testosterone replacement therapy. Actually, Vitor may agree with that too as he's been using it since at least when he fought Anderson Silva in February 2011. That fight took place in Las Vegas but since then, the city's outlook on TRT has changed a bit, with executive director of the Nevada State Athletic Commission Keith Kizer saying that it will be much harder for past steroid users to get exemptions for TRT. Vitor is a past steroid user, having failed a drug test in Vegas after his first fight with Dan Henderson in 2006. Vitor said he would stop TRT for a title shot but he's trying to make us feel bad about it by saying doing so would put him at a disadvantage. Vitor, you put yourself at a disadvantage by trying to tell Mother Nature to stick it so I don't think anyone is going to feel too bad for you. I don't want to make this a big discussion about TRT (unless you want to in the comments dot dot dot) but hopefully the UFC makes the fairest decision regarding where and when this fight happens so we can see these two warriors go at it. I think Weidman should come into the fight with a mohawk like the one Vitor had in his last fight. I think that would look pretty sweet on him. Yeah, no I don't.

***HORN SOUNDS***




Round Four: TUF China Finale to Be Headlined by Stun Gun Kim Versus......His Teammate????

***TOUCH OF GLOVES***

...because when they announced the main event as being Dong Hyun Kim vs. John Hathaway at the show on Saturday and the camera was put on them, there was a teammate of Kim's sitting between them and Hathaway got pushed out of the shot so it was just Kim and his teammate and Jon Anik was still talking about the China show. Oh the Lolz. That was an unnecessarily long explanation for a joke based off an observation that none of you saw because it was too frickin' early for a UFC event. Anyway, that's the main event for the UFC's return to China, which will take place at the CotaiArena in Cotai, Macau on March 1. It's an interesting choice for a main event but not a completely terrible one. Kim is a decent fighter. He's had trouble getting into title contention but he's currently ranked at #12 in the UFC's rankings, which might mean something to someone. Btw, when did they start ranking the top 15? That just randomly happened a few days ago. I guess they didn't want Carlos Condit to fight an unranked fighter in March so, you're welcome, Tyron Woodley. Anyway, Kim will be fighting Hathaway, who hasn't fought since September 2012. He was sidelined for most of 2013 dealing with ulcerative colitis. It's a bowel disease that affects the colon. Don't do a Google Image search of it. Hathaway became a bit of a big deal back in 2010 when he defeated Diego Sanchez but setbacks have kept him from doing much with that victory. Let's see if he can get momentum going after a long layoff against a top 15 opponent. At least he gets a trip to China out of it.

There were a couple other fights announced for the show. Everyone's favorite Meathead, Matt Mitrione, will make his return to the Octagon at the event against Shawn Jordan in a fight that will have absolutely no impact on the heavyweight division whatsoever. It should still be a good fight, though, as both men are strong finishers with good knockout power. They are both entering the fight trying to bounce back from first round finishes (Mitrione was submitted by Brendan Schaub at UFC 165 and Jordan was knocked out by Gabriel Gonzaga at UFC 166), so they should both be anxious to get back into the win column. Also on the card will be a featherweight bout between Japanese favorite Hatsu Hioki and Ivan Menjivar. This is another fight that will have no impact on its weight class, as Hioki isn't ranked and Menjivar is #15 at bantamweight, which isn't the weight class this fight is taking place at. Menjivar has fought at 135 his entire Zuffa career but he spent a lot of his career before that at featherweight and lightweight and has even fought at welterweight a few times, such as when he fought Georges St-Pierre back in 2002. That's right. With Menjivar on a two fight losing streak and Hioki on a three fight skid, this fight might be a "win or go home" type of affair. I hope the loser knows how to swim. So, it's not the most relevant fight card but the fights could be decent. These fights will join the finals of TUF China, which should be good if for no other reason than the fact the team names translate to The Sky Dragons and The Flying Lions. Aw yeah. You keep doing your thing, China.

***HORN SOUNDS***




Round Five: Tito Ortiz Follows His Idol Kurt Angle By Getting Arrested For DUI

***TOUCH OF GLOVES***

This is one of those developing stories. That means it started breaking as I was finishing up putting this column together. Stories like this can be a little frustrating because I always try to paint the fullest picture as to what is going on with any given story I write about. I try to give you every detail about what happened and why and who was involved so that I am doing my job in informing my readers. I figure that you spend a portion of your day reading this so I owe it to you to deliver something that, at the very least, is informative. You may click away from this column thinking "man, why does he force so many jokes?" or "can they hire people who know how to write?" but you will at least have learned something about the world of mixed martial arts. Even if all you learned is that I suck, you still learned something, so I succeeded. Yes! So if there are any new developments that happen after this gets posted or any corrections that need to be made based on new information, then don't get mad at me. I was only able to go off the information I had at the time. Right now I only have the initial news reports that may or may not be completely accurate. I can't say. If I was able to do my own investigative journalism and get to the bottom of stories like this, I would. Does anyone want to pay me to do that? No? Damn. It was worth a try.

So the word that is breaking right now is that Tito Ortiz, former UFC Light Heavyweight Champion and killer of Bellator Payperviews, has been arrested for DUI. The reports originally said it was just "suspicion of DUI" but we now know he had a blood alcohol concentration of .12. That counts as drunk where I'm from. Well, I have some friends that may dispute that. I try to stay away from them. The reason he was arrested is because he got into a "single-car collision" on Interstate 405 very early Monday morning. He was driving on the Northbound side of the freeway near Santa Monica Boulevard when he lost control and crashed. He hit the median and damaged the right side of his car, a 2012 Porsche Panamera. There were two passengers and, thankfully, no one was injured. That's impressive considering that Tito gets injured just by staring straight in front of himself for too long at a time. I know, I know. This isn't one of the stories that I should be making fun of. Driving drunk is no laughing matter. Hundreds of people die every year as a result of drunk driving and it's just something people shouldn't do. If Tito was driving drunk, then he is an idiot for putting himself and his passengers in danger like that and, if he has a drinking problem, then I hope he gets the help he needs so he doesn't decide to do this again. I also hope he learns to make better car purchasing decisions. Have you seen a Porsche Panamera? It's like they ran out of sports car trunks and just took one from a crappy sedan and cobbled it on. Maybe the fact Tito was driving one is proof he was drunk because I wouldn't be caught driving one of those if I was sober. DON'T DRINK AND DRIVE!!!!

***HORN SOUNDS***

That's it for Five Quick Rounds. If you have any questions, comments, or suggestions, and it is always appreciated when you do, leave them in the comments section. I will be back in 7 for another Five Quick Rounds. Until then, remember to fight clean, fight hard, fight fair, and never leave it in the hands of the judges...




LATER!!!!!!!!!!!!!!!!!!!!!!!!
comments powered by