SPOTLIGHTS
411 MMA Fact or Fiction 01.08.14: UFC's Global Expansion, Rousey vs Zingano, and More!
Posted by Wyatt Beougher on 01.08.2014

Will Cat Zingano have to win another fight before she gets a title shot against Ronda Rousey? Was Fight Night 34 a good start to UFC's re-expansion into Asia? 411's Todd Vote and Alex Rella debate these topics and more!

Welcome back to another edition of 411's MMA Fact or Fiction, and I'm your host, Wyatt Beougher. Thanks for joining us this week, as I've got some pretty exciting news before we get started. Based on the success of last year's tournament, MMA Zone editor Larry Csonka has given me permission to basically take over the MMA Zone for the month of March and do the whole thing again. I haven't worked out all of the dates yet, but I'll have more information for you next week.

Last week, Paul Lapointe rang in the new year with new Wrestling Zone writer Jarrod Atkinson, and in what I think has to be considered an upset, Jarrod became the first man to beat Paul in MMA Fact or Fiction, picking up 33 votes to Paul's 24. Congratulations on the successful debut, Jarrod, and a big thanks to both men for taking time out of their busy holiday schedules to get their responses back to me. This week, we've got the most profilic MMA Fact or Fiction participant during my time as host, Todd Vote, making his first appearance of 2014, and he'll be taking on the winner of last year's Fact or Fiction tournament, Alex Rella! These guys are actually pretty close in record since the end of the last tournament, so a win here could actually mean that whoever wins will go into the tournament at the seed directly above the loser. I'm actually excited to see how the next couple of months play out here, because there are a lot of guys who could drastically increase their seeds with good showings.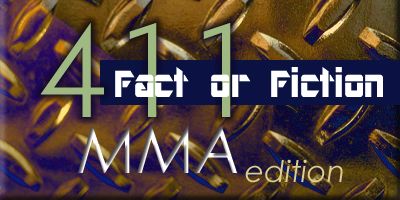 TALE OF THE TAPE

Red Corner
Todd Vote
'The Man Without a Zone'
Contributor, pretty much everywhere
8-11-1

VS

Blue Corner
Alex Rella
'Cinder'
Columnist, The 411 MMA Top 10 (Wrestling Zone)
6-9-3

---

Can the UFC become an actual global force?



1.) UFC Fight Night 34 was an excellent start to a packed year for the UFC, and if their Asian shows continue to outperform their (admittedly low) expectations, the UFC's ambitious plans for global expansion will actually start to make sense.

Todd Vote: FACT I mean I suppose so. I haven't really been following their plans for global expansion all too closely. But it makes perfect sense to want to expand beyond the US and Canada. Especially when you have something like MMA, that has as wide, if not wider appeal outside of North America. Their expansion back into Brazil has worked out for them, so it only makes sense to continue testing new markets.

Alex Rella: FACT UFC Fight Night 34 was a nice way to start the year off. The show itself was pretty good. The show had one of the best Asian fighters in the world today with Tatsuya Kawajiri making his UFC debut and a former Strikeforce welterweight champion with Tareic Saffiedine. And it had some other pretty good fighters in Dustin Kimura and Max Holloway who've had a bunch of UFC fights already. The UFC got to advertise their new subscription service and this is a good way to utilize it going forward into new markets. These shows aren't going to appeal to the average fan here in the U.S., but they will mean more shows which is always fun and they are going to have a few pretty good fighters on each show. It also gives the lesser known guys a chance to shine where they might not get on the main shows. It'll be like a better version of the Strikeforce: Challenger Series which produced some solid fighters. Most importantly it's going help as the UFC move into new parts of the world. They'll expand their fan base as they put on shows with mostly local talent and it gives them a chance to try and find new stars on different parts of the globe.

---

This isn't the type of choke we've come to expect from popular Japanese fighters making their UFC debut.



2.) At 35, Tatsuya Kawajiri has little hope of resurrecting his career in the UFC.

Alex Rella: FICTION Kawajiri is already in the process of resurrecting his career with just one win in the UFC. He took some time off and now he has a chance to take his career to a whole new level in the UFC. He's 5-0 at 145 lbs right now and in the past he's had victories over top fighters like Josh Thomson and Joachim Hansen. Yea he's older than most fighters, but he still has the potential to become a top fighter in the UFC's featherweight division. I don't know if he'll be able to get a title shot, but the UFC will certainly hope he can pull it off as it would be a huge boost for them as they try to expand into Asia. Even if Kawajiri doesn't reach the top of the rankings, the UFC is the best place for him to end his career. He gets to prove to the doubters how good he can be against top competition and it'll mean bigger pay checks that will help him once his career is over. Some may think UFC title or bust, but there's more to resurrecting a career than just a belt.

Todd Vote: FICTION I don't like the way the statement is worded. In order for a resurrection to happen, his career would have had to have fallen at some point. He is on a six fight win streak, just got his first victory in the UFC, a submission win in the second round. He holds a victory over current UFC Lightweight #1 contender Josh Thomson.

It looks like his losses have come at the hands of the elite 155'ers out there. Gilbert Melendez, Shinya Aoki, Eddie Alvarez. I don't see exactly why he would need a career resurrection. Is it because he is fighting at 145 now?

[Editor's Note: To clarify, it's because he hadn't fought in over two years and his only fight in the US/for a US-based promotion (which, let's face it, would be his only exposure for a sizable section of US fans) was the loss to Gilbert Melendez that Todd mentioned. -W]

---

Sportsmanship isn't exactly his strong suit (though he's hardly the first fighter with that problem)



3.) After firing off a series of illegal elbows that led to his disqualification and then essentially accusing his opponent of faking, Luiz Dutra will have very little leeway in his UFC career going forward.

Todd Vote: FACT That is if he makes it past the next round of cuts. Dutra hit 4 or 5 12-6 elbows on the back of an opponent's head. An opponent who then had to be stretchered out of the arena. Granted, that was a safety precaution, but a necessary one. To act as if your opponent is faking after you get DQ'd is just a huge sign of disrespect to the rules, the opponent, and the sport as a whole.

Alex Rella: FACT The UFC tends to give fighters second chances after they screw up for the most part, but he will have little leeway going forward. Those were horribly illegal elbows and ones that might keep Kunimoto out of action for awhile. Plus Dutra had no remorse for them and even accused his visibly hurt opponent of faking. It just doesn't pay for the UFC to keep around dirty fighter longer than they have to, especially when he isn't that good. Dutra is probably going to have to win two in a row to keep his job. He'll likely get cut if he loses his next fight or even if he goes 1-1. He may have a little more leeway if he was a top prospect, but Dutra is 31 and he's barely fought over the past couple years. No fan will cry if he gets cut.

---

Will we have to see this again before Zingano gets her shot?



4.) With Sara McMann already announced as Ronda Rousey's next challenger, Cat Zingano will have to win another fight before she gets the title opportunity that she earned with a win over Miesha Tate.

Alex Rella: FICTION Cat Zingano has said she'll be good in the spring around April and the winner of Rousey/McMann will likely be back in action by the summer. The timing is pretty good if she's being honest with the recovery schedule. Dana White has also adamantly stated that she will get her title shot when she returns and right now the division is still shallow enough that it isn't a bad decision. Zingano is 8-0 and she beat the former champ Miesha Tate pretty good in her last fight. But this will all go out the window if she has another setback. I see the winner of Alexis Davis vs Jessica Eye getting the next title shot if Zingano isn't ready to fight by the summer.

Todd Vote: FICTION Man, tough question... On the one hand, you still have a fairly new division with the Women's Bantamweights, that isn't exactly loaded with challengers. So do you really want to risk having your list of potential contenders diminished if Cat isn't able to win her first bout back? On the other hand, with her timetable to return, she will have been out of the cage for over a year. The division has changed a bit, and perhaps she would be better served to take a fight before challenging for the title.

Ultimately, I went with fiction as my answer. She is expected to start training in March, in hopes of returning to the Octagon in May. With Rousey and McMann fighting in February, that would put her return just about in line with a matchup with the winner of Rousey vs. McMann, so it would make sense for Dana to just give her the shot.

---

Is the champ right to speak out against Belfort?



5.) Chris Weidman is well within his rights to speak out about the NSAC doing their "due diligence" with regards to PED testing of Vitor Belfort in advance of their middleweight title fight, and also for preferring the fight take place in the United States, rather than Belfort's native Brazil.

Todd Vote: FACT Absolutely, and kudos to him for doing so. The sad part is that he shouldn't have to remind the NSAC to do "due dilligence". It should be commonplace. The fact that a fighter has to remind the commission to do this speaks volumes to the fact that something needs to be done with the testing process. Right now, all you really have to do is be smart enough to know when to cycle off of your PEDs. If more and more fighters start speaking out about the testing process, it may finally cause a change.

Preferring the fight take place in the US instead of Brazil where the testing process may, or may not be even worse than what we have here in the States just further brings attention to the issue. I don't see a problem with Weidman speaking his mind.

Alex Rella: FACT Chris Weidman has said nothing wrong in regards to Vitor Belfort. Weidman hasn't denied him a title shot or argued with his number one contender status, he's questioned his use of TRT and asked the NSAC to do their job in properly testing him. TRT is still disputed by the MMA community and this includes who should be able to use it. Should a fighter like Belfort who has been caught abusing steroids in the past now be allowed to use TRT? I dont know, but Weidman is well within his rights as a fighter to talk about it and question it's fairness. There's nothing wrong with him requesting the fight be in the U.S. either. Regardless of the TRT situation, fighters always prefer to fight in their own native country. I also see nothing wrong with wanting to fight somewhere that has a more rigorous drug testing system in order to assure a fair fight. So he's done nothing wrong.

---


Who do you think won this week? Did Todd return to the win column or is Alex already finding his tournament form? Voting will be open until midnight EST on Saturday, so make sure you vote and make your voice heard!










---

In spite of a tepid debut, was this the right move?



Bonus) Daniel Bryan joining the Wyatt Family is the best possible storyline for all involved right now.

Alex Rella: FACT This could be a great storyline if done right. He's with them for a couple months and rebels around Wrestlemania. It's clear the WWE is never going to make Daniel Bryan their top guy, but I'm happy as long he's on tv every week with somewhat decent storylines.

Todd Vote: FACT I wasn't sold on the idea at first, as I watched it unfold on the New Years Raw. But after reading some of the comments 'Right here at 411mania', I have softened to the idea a bit. I can't remember who it was in the comments section, possibly Ron Mexico, but he outlined a way for the story to make sense, in that DB is going to use the Wyatt's to his advantage, using them to win the Rumble before tossing all three of them out. That could work.

Alternately, the Wyatt's ultimately being in the WWE to take down The Authority would be an interesting turn for them. If that was what they were after with Bryan from the get go, just someone to help the fight the machine, that could lead to some interesting TV.

---


And that's it for this week! As always, if there's anything you'd like to see featured in a future edition, leave your statement in the comments and I'll add it in. Let us know what you thought in the comments, on Twitter, or on Google+.


comments powered by