SPOTLIGHTS
The 411 MMA Year-End Awards 1.14.14: Part Seven - The Best Fights of 2013
Posted by Larry Csonka on 01.14.2014

From Wanderlei Silva vs. Brian Stann at UFC on Fuel 8 and Eddie Alvarez vs. Michael Chandler 2 from Bellator 106 to Mark Hunt vs. Antonio Silva at UFC Fight Night 33 and more, the 411 staff continues their year-end awards by breaking down the top 5 fights of the year!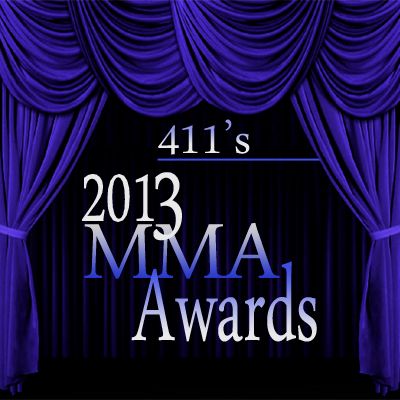 Welcome:
Welcome back to the MMA Top 5, year-end awards edition! What we are going to is take a topic and all the writers here on 411 MMA will have the ability to give us their Top 5 on said topic, and the end, based on where all of these topics rank on people's list, we will create an overall Top 5 list. It looks a little like this…

1st - 5
2nd - 4
3rd - 3
4th - 2
5th - 1

At the end we tally the scores and get our overall top 5! It's highly non-official and final, like WAMMA. What we are going to do over the next few weeks is run the column twice a week to crown our best of 2012. From best and worst fight to best fighter and KO of the year, the staff will come together to share out best. Thanks for joining us, and lets get down to work.




And now…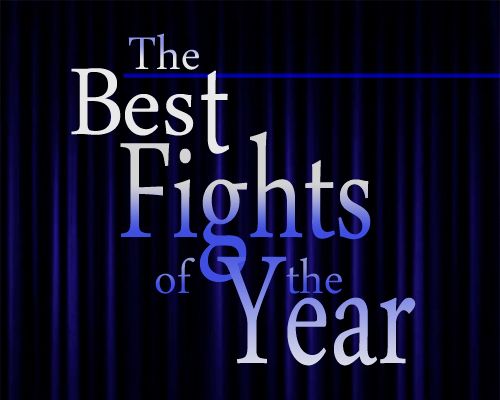 THE BEST FIGHTS of 2013!






Jonathan Solomon




5. Jon Jones vs. Alexander Gustafsson - UFC 165 - September
4. Dennis Bermudez vs. Matt Grice - UFC 157 - February
3. Eddie Alvarez vs. Michael Chandler 2 - Bellator 106 - November
2. Johny Hendricks vs. Carlos Condit - UFC 158 - March



1. Wanderlei Silva vs. Brian Stann - UFC on Fuel - March - The Axe Murderer returned to Japan for the first time in 2013 since his loss to Cro Cop in 2006. A lot has happened since then, both good and bad, horrifying or glorious. At least for one more night, last March, Wanderlei Silva and Brian Stann took us back and Pride Fighting Championship seemed alive again. The first round was the definition of a war in MMA as both men ate major shots, seemingly on the cusp of being knocked out. Then, in round two, Stann was peppering the legend with shots (including an unfortunate kick to the groin) when ultimately, Wand put him down with a left cross. Some vicious ground and pound later (it was just the second time in Brian's 18-fight pro career he had lost due to strikes), Silva stood tall in Japan like he had done so many times before. Four months later, Stann chose to retire from competition to focus on his broadcast career while Wanderlei is still clobbering away in training.

---





Jeffrey Harris




5. Gilbert Melendez vs. Diego Sanchez - UFC 166
4. Chris Weidman vs. Anderson Silva - UFC 162
3. Brian Stann vs. Wanderlei Silva - UFC on Fuel TV 8
2. Mark Hunt vs. Antonio Silva - UFC Fight Night 33



1. Jon Jones vs. Alexander Gustafsson - UFC 165 - For this fight, all the expert analysis assumed that Jones would easily steamroll and walk through Gustafsson. Many on the 411 Ground & Pound Radio Show panel believed that Lyoto Machida should be getting this shot and said that Gustafsson hadn't beaten anybody, despite earning six straight wins and a 7-1 record overall in the Octagon. Instead, Gustafsson turned out to be Jones' toughest fight and test to date in his career. At 6'5", Gustafsson had a size that could rival Jones, and Jones had a tough time finding his range, keeping a distance, and bullying around Gustafsson like he had some of his other opponents. Gustafsson started incredibly strong in this fight. He cut Jones and even took him down first, shockingly. It was a fight that saw many scoring the fight in Gustafsson's favor, even though it was legitimately close. Expectations were not as high for this fight because people didn't see Gustafsson as a worthy contender or fight for Jones, and this fight proved otherwise. Jones put in a gutsy performance, coming back from some tough rounds. It was his performance through the championship rounds and another trademark dynamic spinning elbow strike, one of the coolest strikes ever thrown in a championship fight, that most likely secured him the fight and let him defend this title. Despite all the doubters and naysayers, this was a fight I was actively anticipating last year, and it did not disappoint.

---





Wyatt Beougher




5. Cat Zingano vs. Miesha Tate - TUF 17 Finale
4. Michael Chandler vs. Eddie Alvarez - Bellator 106
3. Georges St. Pierre vs. Johny Hendricks - UFC 167
2. Ryan Benoit vs. Anthony Birchak - MFC 37



1. Jon Jones vs. Alexander Gustafsson - UFC 165 - Going into this fight, Jon Jones was the dominant light heavyweight champion who'd lost one round in his entire UFC career and had never really been in danger. Alexander Gustafsson was the talented Swede prospect who'd put together a nice string of wins against guys who weren't exactly top five fighters when he fought them. It was another easy win for Jones, surely - but that's why fights happen, isn't it? For all of the grousing regarding Gus' worthiness of the title shot, he certainly proved that he belonged in the cage with the champion, giving Jones everything that he could handle for five rounds. Jones picked up the win, but it was a close enough fight that if Gustafsson was the one wearing that title belt right now, there wouldn't be a whole lot of outrage. Assuming Jones beats Glover Teixeira and Gustafsson defeats Jimi Manuwa, their rematch later this year will be one of the most highly anticipated fights of 2014, and with good reason.

---





Robert Practor




5. Mark Hunt vs. Antonio Silva - Fight Night 33
4. Georges St. Pierre vs. Johny Hendricks - UFC 167
3. Michael Chandler vs. Eddie Alvarez - Bellator 106
2. Wanderlei Silva vs. Brian Stann - UFC on Fuel TV 8



1. Jon Jones vs. Alexander Gustafsson - UFC 165 - There were so many great fights this year and it was difficult to narrow it down to only five. The battle between Jones and Gustafsson tops the list for me. Jones entered UFC 165 against Alexander Gustafsson, an opponent whom most thought Jones would walk through with relative ease, as he had done in most of his other bouts. Gustafsson, though, came through with an epic performance as the two battled it out in a manner similar to the movie Rocky, with Jones as the unbeaten, invincible champion ala Apollo Creed and Gustafsson as the massive underdog, ala Rocky, who took it to the champ like no one else as the fight went the distance. Jones was awarded the decision (not without controversy) and, like the movie, both fighters were immediately transported to the same hospital. The back and forth action, the technique and skill, the implications and big-fight feel the fight had all lead to this being my pick for 2013 fight of the year.

---





Samer Kadi




5. Eddie Alvarez vs. Michael Chandler II
4. Antonio Silva vs. Mark Hunt
3. Wanderlei Silva vs. Brian Stann
2. Georges St-Pierre vs. Johny Hendricks



1. Jon Jones vs. Alexander Gustafsson - Up until 3-4 years ago, five-round epics were somewhat of a rarity in the UFC. For the longest time, Randy Couture's classic with Pedro Rizzo was the ultimate gold standard for five-rounders -- a fight that took place 2001. However, Lyoto Machida's tactical battle with Mauricio Rua in late 2009 kick-started what has now become a welcomed norm. Frankie Edgar's classics with Gray Maynard and Ben Henderson are but few of the mouthwatering five-round title fights we've seen in recent memory, and 2013 continued the tradition. Fights like GSP-Hendricks and Alvarez-Chandler provided us with the 25-minutes of calculated violence that we crave, but no fight in 2013 was more memorable than Jon Jones' surprising hard fought win over a valiant Alexander Gustafsson. The champion was expected to steamroll yet another challenger, but the Swede had other ideas as he gave Jones the fight of his life, and left the Octagon with his head held high, even in defeat.

---





Alex Watt




5. Wanderlei Silva vs. Brian Stann (UFC on FUEL TV 8)
4. Michael Chandler vs. Eddie Alvarez II (Bellator 106)
3. Gilbert Melendez vs. Diego Sanchez (UFC 166)
2. Mark Hunt vs. Antonio "Bigfoot" Silva (UFC Fight Night 33)



1. Jon Jones vs. Alexander Gustafsson (UFC 165) - 2013 was a year jam packed with classic encounters. So much so, that reducing the best fights of last year to a mere top five was a genuine struggle. Mention should also be given to the likes of Bermudez vs. Grice, Zingano vs. Tate, Aldo vs. Edgar, Hendricks vs. Condit, St. Pierre vs. Hendricks and Johnson vs. Dodson, all of which just barely missed the cut.

As for the top 5 itself, all are worthy candidates for the best fight of 2013. Silva vs. Stann was a wild brawl which harked back to "The Axe Murderer's" heyday. Chandler vs. Alvarez was a sequel which lived up to the hype and actually came close to matching their revered first meeting. Sanchez vs. Melendez featured perhaps the craziest exchanges of the year, with the underdog almost grabbing victory from the jaws of defeat. Hunt vs. Bigfoot was the greatest heavyweight fight in the UFC's history, featuring three rounds of genuine skill, followed by two of pure unbridled insanity, heart and determination.

For me though, Jon Jones and Alexander Gustafsson's September meeting for "Bones'" UFC Light Heavyweight Championship was the best of the best. The dominant champion was once again expected to steamroll another challenger en-route to a record breaking sixth defense of his title. Instead, "The Mauler" gave Jones the toughest test of his career and over 25 minutes the two men threw everything they had at each other in a closely fought, back and forth encounter featuring plenty of skill, drama, damage and controversy. The almost inevitable rematch in 2014 should do big business for the UFC.

---





Evan Zivin




5. Dennis Bermudez vs. Matt Grice – UFC 157
4. Georges St-Pierre vs. Johny Hendricks – UFC 167
3. Wanderlei Silva vs. Brian Stann – UFC on FUEL 8
2. Mark Hunt vs. Antonio Silva – UFC Fight Night 33



1. Jon Jones vs. Alexander Gustafsson – UFC 165 - I may have given this to the heavyweights shocking me with their ability to be entertaining for 25 minutes, but it loses points because Bigfoot failed a drug test. So let's go with the fight that is topping every other site's list of best fights in 2013. That isn't to say the fight doesn't deserve the honor. It most certainly does. Who would have thought that the Alexander Gustafsson would be the one to get a close, competitive fight out of the dominant light heavyweight champion? The best the UFC could muster up to make the fight seem compelling was talk about how Gustafsson is slightly taller and then make Bruce Buffer's head explode. Yeah. real exciting. Then, with nothing to lose, Gus goes out there and punches through Jones's reach, hurts Jones, and even takes him down. Seeing Jones on his back for the first time in his career was one of the craziest moments in recent memory. Jones was even losing the fight before coming back in the later rounds with some well-timed elbow strikes. The fight was so close that many felt Gus did enough to unseat the champion. The judges didn't agree but it's only a matter of time before these two lock horns again. It will be hard to top their first performance but they don't need to because the first fight accomplished what it needed to: It proved Jones is human. It proved Jones can be hurt. It proved Jones can be beaten. Can Gus be the one to do it? I guess we'll find out. Until then he'll just have to settle with having the best fight of the year. I hope he can be okay with that.

---





Jon Butterfield




5. Jose Aldo vs. Frankie Edgar
4. Johny Hendricks vs. Carlos Condit
3. Gilbert Melendez vs. Diego Sanchez
2. Wanderlei Silva vs. Brian Stann



1. Jon Jones vs. Alexander Gustafsson - For some time, Jon Jones had run roughshod over the UFC Light Heavyweight division with seemingly no one able to match him. There were glimmers of hope for the rest of the 205ers - Lyoto Machida was able to tag Jones on the feet, and to some degree Jones' reluctance to commit to a dogged reliance on his outstanding wrestling pedigree meant that many fighters were always just a punch away from victory - but nobody REALLY looked like beating Jones even so.

However, Jones found his equal (or as close an equal as we had previously imagined) in the 6'5 Swede Alexander Gustafsson. Gustafsson, a talented boxer with outstanding takedown defense, was rated quite highly by many, but few can honestly say they fancied him against 'Bones' - and as such, many were stunned by the success Gustafsson achieved in their first (because there will be more!) fight. Gustafsson out-boxed Jones at times, used his footwork to tremendous effect, and even TOOK JONES DOWN in an unprecedented turn-around that speaks tremendously about his training with Phil Davis, the only other person to hold a win over the plucky challenger. While Jones did rally to retain the Light Heavyweight title, there really wasn't much between them in this scintillating back-and-forth tilt, and so resonant was the call for a rematch that the UFC simply will not be able to resist a second bout in the future.

Having said ALL THAT, it isn't just that Jones finally found a competent rival that made this fight such a thrill to watch - it was the fight itself. Multi-leveled, multi-faceted, and absolutely absorbing, this one earned the right to be known as 411mania Fight of the Year 2013 in spite of some fierce competition. Once again, the Light Heavyweight division lives!

---





Paul Lapointe
Tate Vs Zingano just missed the mark as well as Stann Vs Wandy.





5. Chandler Vs Alvarez II
4. Dennis Bermudez Vs Matt Grice
3. Brett Cooper Vs Alexander Schlemenko Bellator 99
2. Big Foot Vs Mark Hunt



1. Jon Jones Vs Alexander Gustaffson - Though I may have missed the mark in hindsight when voting my 5ive fight lists I am proud of. These fights are left a lasting impression on me to where when I sat down to compose this lists I thought off the top of my head the top 8 or so fights and considering this was it I guess they spoke to me the most. Some of these bouts have been touched upon already and I actually figured Bones and The Mauler would run away with it I will generate a few quips for the hell of it.

-Bellator's upcoming $$$ Trilogy bout is coming this year and though this 2nd encounter could not match the first it came damn close, as was the decision.
-Even after all the press given to Matt Grice after his auto accident I am glad people still recognize this crazy ass slugfest. Grice has a never say die attitude and though he lost the decision he proved just in the octagon but in real life guts and perseverance does pay off

-The forgotten gem that kicked off season 9 of Bellator was and I believe still is under looked. It was technical, gritty, came out of left field and is sometimes forgotten in MMA: Anything can happen in the cage!

-The PED fail notwithstanding this is the definition of coming out of leftfield. WAR MARK HUNT

-I live in Sweden and staying up in the wee hours of the morning (the event ended after 5 am here) with my team, tired, drunk and a bit biased I will never forget this fight. Everything else was touched on a bit so I think I will take the foot of the keyboard and just say 2014, bring it on!

---





Robert Winfree




5. Eddie Alvarez vs. Michael Chandler 2
4. Mark Hunt vs. Antonio "Bigfoot" Silva
3. Georges St-Pierre vs. Johny Hendricks
2. Wanderlei Silva vs. Brian Stann



1. Jon Jones vs. Alexander Gustafsson - I debated a fair amount about the top spot this year, but at the end I could only cast my vote for Jones and Gustafsson. Not only did this fight feature action of nearly every minute of every round, a major title was on the line, and it surprised everyone. Almost no one gave Gustafsson a chance of winning, and only a few people more than that thought this would be a competitive fight. It was that, and much more. This was a great display of tactics, technique, heart, and diverse skills. Basically everything I love about MMA, coupled with the drama of the UFC light heavyweight title being up for grabs, I just couldn't put anything else in the top spot.

---





Dan Plunkett




5. Gilbert Melendez vs. Diego Sanchez
4. Georges St-Pierre vs. Johny Hendricks
3. Michael Chandler vs. Eddie Alvarez
2. Wanderlei Silva vs. Brian Stann



1. Jon Jones vs. Alexander Gustafsson - This match had everything you look for when determining the top spot in this category. The unbeatable champion facing a challenger most expected to offer little resistance. The challenger making a statement and immediately making it clear the bout would be anything but a day spent in the park chasing down muggers. It revealed incredible courage and determination within both fighters without the caveat of one being visibly outclassed. Neither fighter ignored all skill or caution in attempt to put on a crowd-pleasing bout, but it organically featured the exciting momentum swings such bouts often force. Its result, while fairly decisive, was also close, and only left the viewer wanting more. Jones vs. Gustafsson was a championship match in every sense of the word.

---
AND 411's Best Fights of 2013 Are…
5. Georges St. Pierre vs. Johny Hendricks: UFC 167 – 14pts.
4. Eddie Alvarez vs. Michael Chandler 2: Bellator 106 – 15pts.
3. Mark Hunt vs. Antonio Silva: UFC Fight Night 33 – 21pts.
2. Wanderlei Silva vs. Brian Stann: UFC on Fuel 8 – 31pts.
1. Jon Jones vs. Alexander Gustafsson: UFC 165 – 51pts.
THE 2013 AWARDS
The Biggest Story Of 2013: The Fall of Anderson Silva – 42pts

The Most Disappointing Fighter Of 2013: Alistair Overeem – 34pts

The Breakout Fighter Of 2013: Travis Browne – 37pts

The Worst Fight Of 2013: Rashad Evans vs. Antonio Rogerio Nogueira: UFC 156 – 25pts

The Best Submission Of 2013: Anthony Pettis Armbars Benson Henderson – 33pts

The Best KO Of 2013: Chris Weidman KOs Anderson Silva: UFC 162 – 45pts

The Best Fight Of 2013: Jon Jones vs. Alexander Gustafsson: UFC 165 - 51pts

The 2013 Fighter of the Year: TO BE ANNOUNCED JANUARY 17th


TWITTER

Your heart is free. Have the courage to follow it…TO CSONKA'S TWITTER!

http://www.twitter.com/411wrestling
http://www.twitter.com/411moviestv
http://www.twitter.com/411music
http://www.twitter.com/411games
http://www.twitter.com/411mma

comments powered by