SPOTLIGHTS
Five Quick Rounds 01.15.14: Cruz Pulls Groin, Matt Brown Should Wear a Top, More
Posted by Evan Zivin on 01.15.2014

From Dominick Cruz vacating his title and Urijah Faber facing Renan Barao at UFC 169 to Matt Brown's comments about female fighters, 411's Evan Zivin examines these stories and more in Five Quick Rounds!

Hey hey, fight fans, and welcome back to Five Quick Rounds! I am your host, Evan Zivin, and I am more excited than 50 Cent to be here once again!

Did you know that 50 Cent was still a thing? I had no clue. The rapper is known for getting shot a bunch of times and having a fondness for birthdays and, while he may not be Weezy or Breezy or Jeezy or Febreezy or whatever the hell stupid names rappers give themselves nowadays, he's found a nice place for himself in the music world and has been rather successful because of it. Or in spite of it. One of the two. Anyway, he has a new album coming out this year and, possibly in preparation for it, he has been beefing up his security detail. So much so that, last week at the Consumer Electronics Show in Las Vegas, Fiddy was seen with not just a dangerous man but The World's Most Dangerous Man. That's right. UFC Hall of Famer Ken Shamrock is working as a bodyguard for 50 Cent. That's fun. I'm surprised Ken agreed to take the job since I would have thought the name 50 Cent would scare him away. Now if there was a rapper by the name of Two Hundred Dollars An Hour Plus Paid Vacations and Another Fight with Tito Ortiz...Anyway, congrats on the new career, Ken. Just don't pull some of your money and injury shenanigans on these guys like you did to MMA promoters. It probably won't go over too well.

All right, so with fighter introductions out of the way, I have five more rounds of MMA news and opinions to throw at you. This week we look at Dominick Cruz vacating his championship, Renan Barao fighting Urijah Faber at UFC 169, Keith Kizer resigning from the NSAC, Matt Brown's comments about female fighters, and Khabib Nurmagomedov's next fight or lack thereof. Let's to it do it.


FIGHTER YOU READY!!!!
FIGHTER YOU READY!!!!

FIGHT!!!!




Round One: Dominick Cruz Injured Again, Vacates Championship Because All the Cool Kids Are Doing It

***TOUCH OF GLOVES***

There sure has been a lot of change happening in the UFC this past year. The company itself has seen a lot of international growth with the addition of more fight cards and more seasons of The Ultimate Fighter and the launch of the UFC Fight Pass, which something something WWE Network (I think I'm obligated to mention it since every other MMA website did). There was also a lot of change that happened with many of the weight classes in the UFC as well. In one instance, a new weight class, women's bantamweight, was added, with the introduction of a second women's weight class coming this year. There has also been some shakeup in many of the men's weight classes as a number of dominant champions lost or gave up their championships. We saw Anderson Silva end his legendary 7 year title run by vicious knockout and then fail in his bid to regain the title. We saw Georges St-Pierre "win" the toughest fight he's had in his entire career only to vacate the championship shortly after due to burnout and other personal reasons. We saw Benson Henderson, who held the lightweight championship for over 2 years and won some very close fights, lose his championship by first round submission. We even saw Jon Jones challenged for the first time in his career against the might of Chael Sonnen Alexander Gustafsson. 2013 was one of the best years the UFC, and MMA, have had in terms of fight quality and, even with the change over to a new channel for their free TV fight cards, the UFC has started to bounce back a little from the downturn in business the company has seen over the last few years. Obviously, it's a trend that may not continue in 2014 but at least it shows that all is not lost despite the massive amount of changes Uncle Dana has put us through over the last year. At least all the champions are healthy. Well, at least all the champions who aren't injured are healthy.

Hey, speaking of that, remember Dominick Cruz? Yes, the analyst for Fox Sports, who provides insight for many of the UFC pre- and post-fight shows, but here's something you may not know about him: he used to be a fighter. Yeah, I know. He was actually the UFC Bantamweight Champion. He won the championship in the WEC in March 2010, became the UFC champion in December 2010, and defended the belt twice before an ACL injury and surgery sidelined him. Then a second ACL surgery sidelined him even longer. Then a THIRD ACL surgery...nah, that didn't happen. That would be cruel. He did, however, just tear his groin. I told him not to hang his championship there. He was supposed to unify his belt with the interim championship held by Renan Barao at UFC 169 but instead Cruz is vacating his championship due to not having been able to defend it in over two damn years. That's a shame, especially because the fight could still happen. Remember when GSP tore his groin in his fight against Thiago Alves at UFC 100? He kept going. Mainly it was because Greg Jackson wouldn't allow him to quit but still. C'mon, Cruz! First you copy GSP by ripping your nuts and now you're gonna copy his vacating the championship too? So then, if GSP were to jump off a cliff....nah, I shouldn't go there. If I do, there's a chance someone happens upon this and then makes a note on the Twitterface that turns into everyone thinking GSP tried to commit suicide and then I'll get in trouble for creating mass hysteria even though anyone who reads my writing should know that I'm just messing around most of the time. Wait, no one reads my writing. Crap. Anyway, it's unfortunate this had to happen but it's for the best. Barao finally gets to proclaim himself as The Man of the weight class he's already been ruling for the last year and a half and Cruz can rest up without the pressure of having to come back and defend a championship. Hopefully he doesn't get an immediate title shot when he comes back either. I'm sure Dana will make it happen but the man hasn't fought since October 2011. It might help him to give him a tune-up fight so we can see where he is and if he still has his championship form. He has to work his way back up those UFC Rankings presented by RAM.

***HORN SOUNDS***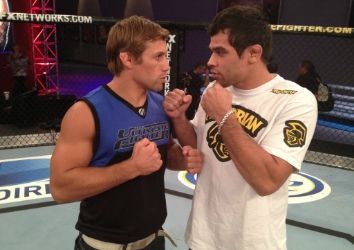 Round Two: Renan Barao's Teeth vs. Urijah Faber's Chin Set For UFC 169 Title Rematch

***TOUCH OF GLOVES***

Man, talk about your easy title unifications. Renan didn't even have to do anything. All he needed to do was wait for Cruz to get injured again and BAM! Promotion to full champion. Of course, that surely wasn't the way that Barao wanted to become the unified champion but I also don't think he's upset that he's no longer an interim champion. His trainer, Andre Pederneiras, complained a while back about how hard it was to get sponsors when you have the "interim" label attached to your belt. Man, those sponsors can be so shallow. Well, it's all gravy now. Mmmmm...does KFC still make those bowls were they stuff half the menu in there and cover it in gravy? Just wondering. Now Barao finally gets the recognition he deserves as being the best 135 pound fighter in the world, a distinction he's held since he defeated Urijah Faber at UFC 149 to become the interim champion. He then defended the belt twice, submitting Michael McDonald and knocking out Eddie Wineland with a spinning back kick. It's a nice change of pace compared to the decision wins Cruz was racking up. Personally, I think that once Barao defended the championship the first time he should have been promoted to full champion, but I know that Dana doesn't like stripping fighters of the championships they worked hard to win, especially fighters he likes. Still, it's not fair to the other fighters to make them fight for a phony championship either. In most cases, interim belts aren't even needed. Just do a title eliminator and, if it's gonna take longer than expected for the champion to return, then either wait or strip him. Keep it simple, I say, but that's just me and you all know how I can be...

So what's next for our globetrotting, trendsetting, Renaissance man of a bantamweight champion? Um...you guys just want to have him fight Urijah Faber again? Sure, let's do that. Faber has graciously chosen to step up on less than a month's notice to rematch Barao at UFC 169 on February 1. Barao vs. Faber II: This Time, It's For the Actual Championship. Aw yeah. UFC should give me a job writing copy for their events. I'd tear that up, by which I mean I'd write something offensive that gets UFC in hot water and then I'd get fired and challenged to a five round boxing match by Dana that gets televised on Fox Sports 1. Yes, I'm gonna be on TV! Despite the fact that Faber already has a loss to Barao, he was the clear choice to get this title fight, as he went 4-0 in 2013 and is coming off an impressive submission victory over Michael McDonald. Faber, the former WEC Featherweight Champion, is still one of the best lighter-weight fighters in the world, having won 30 fights and he has never lost a non-title fight. That doesn't bode well here because this is a title fight and it's against a man who is on a 21 fight win streak who hasn't lost since his first professional bout in 2005. He hasn't lost a fight in almost nine years. That's a Fedor level statistic right there. Now, the big difference between this fight and their first fight in July 2012 is that Faber has been spending the last year tightening up his striking with Duane Ludwig. Will it make any sort of difference in the rematch? It very well might, as it will give Urijah more confidence to get inside and force exchanges with Barao that will open up the takedown in a way he couldn't in the first fight, but that's a question we will answer on Super Bowl Saturday.

***HORN SOUNDS***




Round Three: Keith Kizer Resigns as NSAC Executive Director, Scores Were 116-112, 117-111, 114-114

***TOUCH OF GLOVES***

Here's some news that may cause changes for combat sports in the new year. On Friday, it was announced that Keith Kizer, the Executive Director of the Nevada State Athletic Commission (NSAC) would be stepping down from his position as the face of the largest and, arguably, most important sporting commission in the country. Kizer took over the position in 2006 from Marc Ratner, who stepped down from the position to become the Executive Vice President of Regulatory Affairs for the UFC. Kizer has operated a commission that has made great strides in the way boxers and mixed martial artists are drug tested before, during, and after competing in the state of Nevada, instituting measures that have been followed and adopted by other commissions. Kizer has also come under fire during his tenure for a number of scoring issues in boxing and MMA and for licensing and selecting judges and referees that have proven incompetent at their job on multiple occasions. Kizer isn't leaving the NSAC to get a nice, cushy office job with the UFC. Instead, he is stepping down to return to the office of the state attorney general, where he worked prior to joining the NSAC. The most that the media could get out of Kizer regarding why he is leaving was that "IT'S....TIME!!!!!! to go back to being an attorney [emphasis mine]." Seriously, Keith, you owe Bruce Buffer money. Or at least the name of your hair stylist. What a sexy beast that man is. I'll leave you to decide which man I'm talking about.

Trick question: I was referring to me. So what will this mean for the UFC in 2014? It all depends on who the state selects as the new Executive Director. I would assume that whoever takes over the position will most likely continue the commission's efforts to drug test fighters and keep the sports of MMA and boxing as clean as they can. The NSAC has had issues in the past with the thoroughness of their testing due to budgetary and other constraints but, as the sport continues to grow, more money and more effort will likely be put forth to curb drug use and keep it from plaguing the sport the way it has in the past. I wonder what this will mean for testosterone replacement therapy (TRT) and the ability to get exemptions for it. There are a number of UFC fighters on TRT but Kizer had publicly stated that exemptions would not be granted to fighters who need TRT as a result of past steroid use. That would be a problem for some fighters, namely Vitor Belfort, who will be fighting UFC Middleweight Champion Chris Weidman later this year. The UFC has been looking to book that fight for Las Vegas and if that does indeed happen, then Vitor might not be able to use TRT for the fight, but now that Kizer is leaving, will that change things? Will Kizer's replacement allow Vitor to use TRT for the upcoming title fight? I guess we'll find out. We'll also find out if Kizer's replacement will assign the same questionable referees and judges to important fights and risk causing more problems between the sport and its fans. I'm pretty sure the new Executive Director would become Dana's best friend if he just vows to never let Steve Mazzagatti referee a fight ever again. He'll even let you drive his sports cars down the Strip. Sounds totally worth it.

***HORN SOUNDS***




Round Four: Matt Brown Makes Derogatory Comment About Women Fighters, Gets Submitted by the Code of Conduct

***TOUCH OF GLOVES***

And Matt thought being injured was the only issue he'd have to deal with to start off the new year. Brown, who has been out of action since right before his scheduled fight with Carlos Condit at UFC on Fox 9 was scrapped, came up with a great idea for how to spend his time off while rehabbing an injury: a podcast! That's right. You know you want to hear Brown get together with his friends and talk about fighting and other random stuff that they can see outside the window of the room they record in...don't you? I have no clue. I've never been that big into podcasts. I can barely sit through a three minute song on the radio. I can't last an hour, especially just to listen to a bunch of random dudes make bad jokes and set the MMA community back 15 years. Please. I can do that in a fraction of the time. So I didn't listen to the first episode of the cleverly named "Legit Man Shit" but a bunch of other people did and many of them noted some of the things Brown and company said. The most newsworthy of the comments Brown made include saying how he understands why the UFC employs women fighters after watching a group of women flock to the TV when Ronda Rousey and Miesha Tate fought at UFC 168. Really? Women are interested in watching women fight? That's an amazing revelation, Mr. Immortal. Don't act so shocked, unless you want to be like all the men out there that are so set in old gender stereotypes that they can't bare to allow women the same equal rights to punch each other in the face that we give our fellow man. To be fair to Matt, he did say he has no problem watching women fight, but he feels that they should be topless if he has to pay $60 for it. Matt, you know you can find that kind of entertainment for a lot less than $60, right?

Also, what the hell is wrong with you? Do I need to explain why that was a stupid thing to say? The bigger issue that is stemming out of this controversy is whether it is just to criticize Brown over what was probably a joke and whether people are just getting too sensitive over this. Was Brown likely joking? Probably. Can people get overly sensitive towards these kinds of sexist comments? Absolutely. Should Brown have made the comment? No, especially not in the way he did. Brown has every right to believe something as racially and sexually backward as demanding female fighters be topless, but don't say it on a podcast that everyone is able to hear. He didn't just make that comment as Matt Brown. He made that comment as Matt Brown, representative of the UFC and the MMA community. A lot of progress has been made by the UFC in changing the public's perception of the sport. We've not only shown that the sport is quite safe, but that MMA fans are quite intelligent and welcoming towards anyone who wants to enjoy the sport we love. Well, except for guys in Tapout shirts who say "Bro!" every other word. Those guys can go to hell. So the point of this is there are stereotypes that the UFC has been working to eradicate from the public consciousness to get the sport mainstream acceptance and Brown's comments on his podcast aren't helping at all. All his comments did was give more fuel to the detractors. Did he even say he was joking afterwards? I don't know because no one quoted that and I couldn't get through more than five seconds of the podcast because Matt's friends have annoying voices. Anyway, Matt has since apologized for the comments and has hopefully learned not to run foul of the UFC's Code of Conduct. Seriously, he's getting off easy. There are fighters who have been fined, suspended, and even fired for the unethical things they've said, intentional or not. I assume if there's an issue again, Brown will have to answer to UFC's Vice President of Athlete Development and Government Relations, Matt Hughes. Hey, I've got a great idea for Matt's next fight! And Matt, please wear a top. Your hairy chest is disgusting and I ain't paying $60 to watch that.

***HORN SOUNDS***




Round Five: So....Anybody Wanna Fight Khabib Nurmagomedov?

***TOUCH OF GLOVES***

That big wool hat is called a papakha. Also called an astrakhan hat, they are generally made out of sheepskin and are primarily worn by men in the region of Europe and Asia between the Black and Caspian Seas known as the Caucasus. There. Use that gem on your friends and they'll be all like "cool, but I actually didn't care that much about the hat." That will afford you a good 5-7 seconds of awkwardness and then the moment will pass and all will be copacetic. Don't get too calm, though, as the man under that hat is a killer. The man is Khabib Nurmagomedov and, in addition to his Ortizian-style fashion choices, he also boasts a 21-0 record. The man had his first professional fight in 2008 and he has yet to taste defeat. The man made his UFC debut about 2 years ago and has gone 5-0 since then with a submission win over Kamal Shalorus. This has been followed by victories over Gleison Tibau, Thiago Tavares (a knockout in under two minutes), Abel Trujillo, and a dominant decision over Pat Healy last September at UFC 165. Admittedly, it isn't a murderer's row of contenders or anything but Khabib hasn't looked weak in any of those fights and the UFC has done a good job of slowly building Khabib from an unknown into a possible title threat. Plus, the guy's English may not be all there, but he knows how to pick a fight and it has helped put him in a position to make some serious waves in his next fight.

Speaking of which, who is this guy fighting next? The man from Dagestan is currently #7 on the UFC Rankings --PRESENTED BY RAM, MF'ERS!!!!-- so he needs a top ranked opponent to really prove himself to the weight class and the MMA community that he's the real deal. Well, it looked like we had our answer in former Strikeforce Champion and #2 ranked Gilbert Melendez. The two hard-headed scrappers were all set to collide at UFC 170, except for the fact that they weren't. The fight was listed on posters for the event and the UFC even confirmed it on Twitter only for Dana White to say that the fight wasn't happening. Damn it, UFC! Another fight getting cancelled after it was announced? You guys gotta stop jumping the gun so much. I know it's hard to resist Ariel Helwani's charm whenever he asks about upcoming fights, but you have to. YOU HAVE TO!!! Khabib's manager didn't know why that fight wasn't happening but he did mention another opponent that would be of interest: Gil's training partner Nate Diaz. So, he went to the Twitters to get that fight and it appears that the UFC did offer Nate the fight but he turned it down. Nate then added to the fun by claiming he didn't turn down the fight. This was then followed by Nate's manager saying they were the ones that turned the fight down due to some conditions they asked for that weren't granted. Then Michael Johnson said he'd fight Khabib but nobody cared. Man, what a mess this is becoming. C'mon, Gil. C'mon, Nate. Don't be scared. Well, he can always fight someone below him on the rankings, like Donald Cerrone or Edson Barboza. Those would still be interesting fights. Or the UFC can bite the bullet and just sign Ben Askren so the man in the Dagestani hat can fight the man who is growing a Dagestani hat on his head. Let's go, UFC! Get it figured out!

***HORN SOUNDS***

That's it for Five Quick Rounds. Thanks for reading. If you have any questions, comments, or suggestions, and it is always appreciated when you do, leave them in the comments section. I will be back in 7 for another Five Quick Rounds. There is a UFC Fight Night card on Fox Sports 1 tomorrow night and a World Series of Fighting card on NBC Sports this Saturday. So enjoy the fights and, until next time, remember to fight clean, fight hard, fight fair, and never leave it in the hands of the judges...




LATER!!!!!!!!!!!!!!!
comments powered by