SPOTLIGHTS
411's Fighter of the Month 1.17.14: December 2013 & The 2013 Fighter of the Year
Posted by Larry Csonka on 01.17.2014

Chris Weidman defeated Anderson Silva again, Ronda Rousey took home Miesha Tate's arm and Demetrious Johnson knocked out Joseph Benazidez! But who won December's Fighter of the Month and was named 411 Fighter of the Year for 2013? Check out the full article to find out!




How It Works
Each staff member picks five fighters and ranks them. I'll assign a point value to those rankings. Points are determined as:

1st - 5
2nd - 4
3rd - 3
4th - 2
5th - 1

The fighter with the most points is our Fighter of the Month and then new points are assigned that will go towards Fighter of the Year. Those points are:

1st - 15
2nd - 12
3rd - 9
4th - 6
5th - 3
6th – 1


The Voting
Larry Csonka
1) Demetrious Johnson:
Demetrious Johnson knocked out Joseph Benavidez at UFC on FOX 9 to retain his UFC Flyweight Title. This was huge for Johnson on a few levels. First of all, many thought Benavidez was a better fighter, and that he won their 2012 bout, which ended with a Johnson split decision victory. Secondly, the flyweights get a ton of shit for not finishing fights. Finally, this was his third title defense of the year, and all of them were in main events on Fox. This was a great victory for Johnson and may lead to him winning fighter of the year.

2) Chris Weidman: Chris Weidman did it again. Unfortunately to many some still feel he hasn't "defeated" Anderson Silva, which I am sorry to say is complete shit. The fact is that Weidman defeated Anderson Silva, again, and is the middleweight champion. There honestly isn't much more to say about that accomplishment.
3) Ronda Rousey: Miesha Tate was once again just another victim. Sure she got to the third round, and I guess that made her and Caraway feel better about themselves. She was never and will never be a threat to Rousey and got taken to school here. Rousey finishes the year 2-0, and will be back in the cage at the end of February.
4) Lauren Murphy: At the INVICTA 7 even, Lauren Murphy defeated Miriam Nakamoto to win the first ever Invicta Bantamweight Title.
5) Georgi Karakhanyan: Defeated Lance Palmer at World Series of Fighting 7 to win the inaugural WSOF featherweight title.


Robert Practor
1) Ronda Rousey:
Ronda Rousey looked absolutely fantastic as she successfully defended the UFC Women's Bantamweight Championship against Miesha Tate at UFC 168. The fight ended in pure 'Rowdy' fashion, as the champ secured her patented arm-bar in the third round, causing the tap out. Immediately after the fight, Miesha Tate offered a handshake to Rousey to which she brushed her off and walked away, drawing an eruption of boos from the sold-out crowd in Las Vegas. That act, along with the rivalry with Tate and how she came across throughout her time as coach on The Ultimate Fighter 18, has placed Rousey in the role of villain. Rousey is clearly okay with that and it may be just what the UFC needs. In just a month's time the UFC has now lost their two biggest stars and top pay-per-view draws in Anderson Silva and Georges St. Pierre and are in dire need of new, marketable stars, of which Rousey fits perfectly. Rousey's UFC debut drew an estimated 500,000 PPV buys. UFC 168, co-headlined with the huge Weidman-Silva rematch, likely drew around a million buys. Ronda Rousey has a lot of momentum and when you combine that with the newfound "heel" role she has been placed in, as well as the fact that she will soon be on the big screen in many big movies including The Expendables 3 and Fast & Furious 7 and she is likely to be the UFC's next biggest star. Rousey is the clear choice for my Fighter of the Month.

2) Chris Weidman: Putting aside the unfortunate nature in which his rematch with Anderson Silva ended, the fact is that Chris Weidman earned his second straight victory over Silva in one of the biggest fights in UFC history, earning him a spot on this list.
3) Demetrious Johnson: Johnson surprised the majority of the MMA world by KO'ing Joseph Benavidez in the first round at UFC on Fox 9. Johnson is sure to be in the top three of most Fighter of the Year lists as he has had a great year, boosting the credibility of the Flyweight division.
4) Urijah Faber: Urijah Faber looked incredible in his victory over Michael McDonald at UFC on Fox 9. The win marked Faber's fourth in 2013 and earned him a shot at the Bantamweight Title.
5) Travis Browne: Travis Browne destroyed Josh Barnett at UFC 168 and is now within striking distance of a shot at the Heavyweight Title.


Robert Winfree
1) Demetrious "Mighty Mouse" Johnson:
There were plenty of deserving names this month, and I fully anticipate some level of healthy disagreement, but for me what stands out the most is Demetrious Johnson. I picked Johnson to beat Joseph Benavidez, but I don't think anyone anticipated the exact results we got. Plenty of people were picking Benavidez in the rematch, believing that Duane Ludwig's coaching would carry him to victory and make up the difference from their previous encounter. Well that didn't happen. Johnson knocked Benavidez out cold with a beautiful right hook in the first round. For a great performance, for showing new dynamics to his game, and for successfully defending his UFC flyweight championship, I can't give the top spot to anyone else.

2) Chris Weidman: I seriously debated giving Weidman the top spot, and his performance was very good, especially against someone the caliber of Anderson Silva. Honestly, had Weidman beaten Silva by means other than injury he'd get the top spot from me. I respect the ability to adapt to what Silva was doing, and his checked leg kick was a solid defensive/offensive technique, but the ending just left such a bad taste in my mouth, as do most injury related finishes, that in a month when Demetrious Johnson looked incredible I can't go with Weidman as my number 1.
3) Ronda Rousey: Defending a major title is a big deal, proving that you can go more than five minutes, submitting your rival, and remaining unbeaten. The only reason Rousey is at 3 is because everyone expected her to win.
4) Travis Browne: Travis Browne became the first man in over a decade to finish Josh Barnett by KO, and is now likely one fight, or injury, away from a title shot.
5) Mauricio "Shogun" Rua: Shogun was on a serious skid coming to the end of 2013, fortunately he rectified that by knocking out James Te Huna in the first round and saved himself from almost total irrelevance in the process.


Wyatt Beougher
1) Demetrious Johnson:
First off, what a month December was! Three different title fights in the UFC, two in Invicta, one in WSOF, and arguably the best UFC heavyweight fight of all time. So what made Mighty Mouse worthy of the top spot? He silenced any doubters (and a whole lot of his critics), easily and impressively finishing Joseph Benavidez, a man who many thought would be able to beat Johnson in their rematch.

2) Chris Weidman: I went back and forth between Weidman and Rousey, but Weidman again beat the GOAT while Rousey beat...Miesha Tate, who's basically been exposed as a has-been in the division. If Weidman's win had been less fluky, he probably would've taken the top slot; however, he did still beat Anderson Silva for the second time in five months, so he's definitely deserving of second place.
3) Ronda Rousey: Sure, she picked up another impressive finish, again collecting Miesha Tate's arm, but was that a surprise to anyone? Still though, Rousey thrived in her first time out of the first round and showed massive improvement in her striking, which is going to make her all that much more difficult to defeat.
4) Travis Browne: You can't argue with his results, as Browne had arguably the biggest year of any heavyweight, picking up wins over Gabriel Gonzaga, Alistair Overeem, and Josh Barnett.
5) Mark Hunt: It's too bad Hunt can't get that draw changed to a win after Bigfoot tested positive for PEDs; however, he was still one-half of the greatest UFC heavyweight fight ever, so that's good enough for fifth place for me.


Jeffrey Harris
1) Demetrious "Mighty Mouse" Johnson:
I was back and forth on who my choice is on No. 1 was, but ultimately I had to go with Demetrious Johnson, without a doubt one of MMA's greatest success stories. Mighty Mouse is one of the nicest guys possible, so it's great to see how he's gotten to the top of his weight class. He's come a long way from being the guy who got dominated by Brad Pickett in his ZUFFA debut at WEC 48. Johnson is the only UFC champion who defended his belt three times in 2013. But more than that, Johnson finished guys who had never been finished before. John Moraga had only one loss in his MMA career before his title fight with Johnson, and that was by decision. No one had ever been able to stop Joseph Benavidez before Demetrious Johnson knocked him out at UFC on Fox 9. Johnson went up against Benavidez on his home turf in Sacramento, California, the home of Team Alpha Male. Benavidez's only losses previously were a split decision in a title bout to Dominick Cruz, and a split decision loss to Johnson in 2012. Johnson silenced many of his critics by knocking out Benavidez minutes into the first round. It was an outcome no one could've predicted. If anyone was going to end the fight by knockout, it was going to be Benavidez. Johnson continues to get better and grow more confident with each fight. I think the other reason the Benavidez win deserves acknowledgement because Benavidez was a top five fighter in two weight classes. When he was still at bantamweight, Benavidez was still top of the weight class and a contender before he moved down. Johnson gets my vote as Fighter of the Month and Fighter of the Year.

2) Chris Weidman: It might not have been the most desired outcome, but it was hardly the worst for Chris Weidman at UFC 168. Weidman took to the underdog role yet again for his rematch with Anderson Silva. And still, Weidman dominated him. The fight ended in shocking fashion when a check on a leg kick literally broke Silva's leg in ugly fashion. Regardless, Weidman remains the champion and effectively ended the Anderson Silva era.
3) Ronda Rousey: Rousey for months had to endure tons of criticism due to the events of The Ultimate Fighter. And it seems like it worked because fans forgot just how good and dominant she was. Rousey was essentially playing the bad guy against Miesha Tate. It wasn't quite the same as the first fight, but Rousey was dominant all the same. The fight did get out of the first round for the first time in Rousey's career, but it didn't really seem like a bad thing for her at all. She showed off some more aspects of her game including some strong attacks and submission attempts from her back. This fight had some viewers and fans in attendance even more excited than the main event, and it just speaks of Rousey's ability and her aura in how she captures the public conscious unlike over half of the male UFC roster. Rowdy Ronda Rousey is without a doubt a superstar for the ages.
4) Travis Browne: Travis Browne was far from the clear favorite against Josh Barnett at UFC 168. I certainly expected Barnett would use his wrestling skills to get Browne to the ground to give him hell there. Instead Browne's striking was on point. He defended Barnett's takedown with a beautifully placed knee strike followed up by some vicious elbows (legal ones as well) that put Barnett out. It was a shocking finish and fully establishes Browne as a top contender at heavyweight now.
5) Urijah Faber: Say what you will about Urijah Faber. He's been unsuccessful in two UFC title bids so far, but he beats everyone else who is not the champion. Faber went 4-0 in 2013, and he finished three of those opponents. And with those performances, he effectively clinched his spot as the top contender to get another shot at Renan Barao, this time for the undisputed bantamweight title, at UFC 169. Faber looked fantastic against Michael McDonald at UFC on Fox 9. McDonald looked like one of Faber's more dangerous opponents in recent memory. It looked like the fight potentially could've been the Old Guard vs. the New Guard. Instead, Faber had no problem dominating the standup game before hurting McDonald and slapping on a guillotine choke for the submission.


Jonathan Solomon
1) Demetrious Johnson:
DJ is one of the few fighters you can say looks increasingly better every time we see him in the cage. For the first time in Joseph Benavidez's career, he was knocked out cold thanks to "Mighty Mouse" at just the 2:08 point of the first round. Johnson is already well known for his effective MMA wrestling base and not only has he dominated his past two defenses, he's finished both. 2013 was an outstanding year for the UFC's 125-pound champion as he went 3-0 (defending his gold each time) and earned 'Fight of the Night,' 'Submission of the Night,' and 'Knockout of the Night' bonuses.

2) Travis Browne: In all the hype for Browne's UFC 168 fight with Josh Barnett, not once did I realistically consider the possibility that Travis would knock him out within 60 seconds. But, that's JUST what happened. Those violent elbows are 1000x more effective than the ones Kenny Florian made famous (of course, Browne's working with nearly 100-more pounds on him). Plus, in a division where the top dogs are grappling specialists, these elbows may be his ticket to the top.
3) Chris Weidman: Weidman turned the page on the Anderson Silva chapter, breaking the legend's leg via a checked leg kick. One of the most gruesome turn of events in UFC history, the fact remains that through two fights, Chris has Anderson's number. Now, he turns his sights to the other famed Brazilian striker, Vitor Belfort.
4) Urijah Faber: Faber may get a lot of flack for repeatedly getting title fights and not winning one in several years. But, you cannot argue with him receiving those opportunities because he goes out there and knocks off other top contenders. He did this on FOX when he choked out Michael McDonald.
5) Ronda Rousey: Ronda outclassed Miesha Tate again. Although Tate did take her into the third round, her game plan during the fight was beyond ludicrous. Rousey tossed her head over heels a million times and naturally, closed out the night with her patented arm bar.


Jack McGee
1) Chris Weidman:
n my opinion there was only one choice to take this top spot, and that was Chris Weidman. Why? He defeated Anderson Silva TWO times. Silva was the most dominant UFC Champion ever, and is regarded by most to be the greatest fighter of all time. Silva went from January of 2006 to July of 2013 without losing a fight. 17 fights, 17 victories, and 15 finishes; Anderson Silva was the man, and then Chris Weidman stepped up to the plate. Five months after the first fight they would rematch at UFC 168, and Chris Weidman won again. When the first fight was over, Weidman's camp was not happy that he took so many leg kicks from Silva, and it was a focus of their camp. Now, I am not insane like some people that comment on the old Internet, but those claiming that, "Weidman's strategy was to check leg kicks and break Silva's leg" are idiots. Stop talking about the, "best leg kick check in the history of MMA," it was a perfect storm. Weidman learned a technique to make people think twice about throwing leg kicks, Silva threw a very hard kick, he is older, and the leg snapped in what may be one of the most disappointing ways to see a career end. But with the win and title retention, still comes disrespect. Now I am a huge Anderson Silva fan, and I will fully admit that when I saw him break his leg at UFC 168, I was disappointed and sad. It is likely the end of an era. We saw the end of the greatest fighter in the history of MMA, we saw him get old before our eyes, because it was always going to happen. Chris Weidman was the perfect storm, the kryptonite to the Superman that was Anderson Silva. Chris Weidman is the undisputed UFC Middleweight Champion and he did that by knocking out Anderson Silva and was on his way to winning the second fight through conventional means when Silva broke his leg. Chris Weidman won, and they never ask you HOW you won, just HOW MANY you won; and he won two against the greatest of all time. Does it suck how the second fight went down? Certainly, it is a tragedy. Is it part of the sport? Obviously. Give the man some respect.

2) Demetrious Johnson: Demetrious Johnson defeated Joseph Benavidez to retain flyweight title knockout at UFC on FOX 9. Johnson has answered many critics who said he could finish fights (he finished his last two by KO and submission) and also main evented his third UFC on FOX event (6, 8 and 9). Another great performance in a tremendous year for Johnson. In all honesty, he is another guy that deserves a bit more respect (from fans who say he cannot main event or finish fights) for the great year he had.
3) Ronda Rousey: Ronda Rousey, arm bar, done. Sure Miesha gave her more of a fight than most thought, but the bottom line is that Rousey won again and is the dominant figure in the division.
4) Lauren Murphy: Defeated Miriam Nakamoto at INVICTA 7 to win the promotion's inaugural Bantamweight Title.
5) Barb Honchak: Defeated Leslie Smith at INVICTA 7 to retain the Flyweight Title.


Paul Lapointe
1) Mighty Mouse Demetrious Johnson:
I am a huge advocate for flyweights when it comes to the UFC trying to get us to care about them, I mean these tiny dudes are some freak athletes. No one fits this bill more then D. Johnson as with every outing he just gets better and better and better it's getting to be ridiculous. Also this past December he rematched the arguably no. 2 guy in the world a guy he had so many technical issues with that people including myself speculated that he would drop the belt. Man was I wrong. Not only did he crack JB into LaLa land he put the 125ers on notice and in the spotlight. So for so valiantly destroying the world's most dangerous spoiler at 125 D. Johnson has earned my vote for FOTM and can now ascend his throne.


2) Georgi Karakhyan: In December not only did Georgi maybe finally get to open some peoples eyes but also bring in some new eyes on him. Always a prospect under the radar he has always been "That Good" to be in the UFC but has just never gotten the chance. With that in mind though he is young, spry and has a stubborn attitude in the cage to just keep going frustration levels high or not. Now that due diligence has paid off in spades as he can now call himself a champion in what could now be soon the No. 2 org. in North America. Plus beating a formerly unbeaten guy in Lance Palmer for the strap was also mighty impressive. I am hoping for a big year from him.
3) Barb Honchak: A big month for WMMA and though some will reward Ronda with votes this month for his systematic dismantling of Miesha Tate I am given another gal the nod. Barb went to war with a game Leslie Smith at the latest Invicta event and after 5 solid rounds had her hand raised as champion. I never had any doubt that Rowdy would blip by Miesha but this fight was more of a test for both ladies. Well done.
4) Mark Hunt: WAR HUNT! Who saw that coming? Nobody that's who and that is why its good to give the big guys some love. Mark Hunt is a big ball of awesome.
5) Chris Weidman's Leg: Snap! Crackle! Pop! Weidman's turn to topple Vitor!


Evan Zivin
1) Chris Weidman:
It's a tough choice but for the top spot this month, I'm going to give it to Weidman. He just defeated one of the best MMA fighters to ever compete in this sport for the second time this year. Yes, it didn't end in a very satisfying way. Yes, Anderson Silva broke his leg, but it was Weidman's technique and improved ability to check leg kicks that caused it to happen. Besides, he dominated that first round, almost knocking Anderson out faster than he did the first time. It's another fight that has more people clamoring about what Anderson did versus what Chris did, but Chris Weidman did win that fight. He retained his championship against the former champion and the former top Pound-For-Pound fighter on the planet and that trumps defeating a man for the second time who is known for choking in title fights any day of the week.

2) Demetrious Johnson: That being said, what Mighty Mouse did was quite impressive. Not only did he defeat Joseph Benavidez for the second time, he knocked the man out in two minutes. Johnson has shown tremendous improvement in his overall game with each of his title defenses in 2013 and has gone from being one of the most boring fighters to one of the most exciting. I can't wait to see what 2014 has in store for the Flyweight Champion.
3) Travis Browne: Browne impressed with his come-from-behind, front kick to the face knockout of Alistair Overeem in September, but he really staked his claim as a threat in the heavyweight division with his destruction of Josh Barnett at UFC 168. The man rises to the occasion with every fight and, coming off the second elbow knockout of his UFC career, is now a fight away from a title shot. Whether he wins or loses against Fabricio Werdum later this year, there's no question Browne will get a shot at the belt sooner or later.
4) Urijah Faber: The California Kid came through again with another finish against a top contender, this time it was a guillotine choke against Michael McDonald. I thought the fight would be a lot closer than it ended up being. It allowed Faber to end 2013 4-0 and set him up with a bantamweight title shot, which we now know he will get next month at UFC 169. I don't know if he'll win that fight but I do know that there was no one coming out of 2013 more deserving of the shot than Faber.
5) Mark Hunt: Mark Hunt gets some love because he's Mark Hunt. Also because he was one half of one of the best heavyweight fights of all time. Hunt and Bigfoot Silva refused to back down and threw everything they had at each other for 25 minutes. The fight got quite brutal at points but it was hard to turn away. I haven't had that much fun watching a fight in some time. It brought back some of the exuberance I used to have when I'd watch Pride fights and I thank these men for bringing that back.


Alex Rella
1) Chris Weidman :
I went back and forth on who should get the top spot this month and ultimately I decided to go with Chris Weidman. Weidman defended his title for the first time as he defeated Anderson Silva again. Beating the greatest fighter of all time gets you the number one ranking for me, regardless of how the fight ended.

2) Demetrious Johnson: This was an awesome and dominant year for Mighty Mouse. I was not a fan of the flyweights at the end of 2012, but Johnson and the other great fighters at 125 lbs won me over. He defended his title three times and really got better after each fight. The only UFC champ to defend his title three times in 2013 and one of the best pound for pound fighters in the world today.
3) Ronda Rousey: We all knew Ronda Rousey was going to win and she did, but Miesha Tate pushed her harder than ever before. Rousey went to the third round for the first time in her career as she defended her title for the third time (2x UFC). A really great fight as Rousey submitted her arch nemesis.
4) Urijah Faber: Urijah Faber was one of the busiest fighters in 2013 and he capped the year off by just owning Michael McDonald to go 4-0. McDonald is an elite bantamweight and he was no match for Faber. Faber now takes on Barao for the title in a few weeks. A lot of people make fun of him, but you can't deny that he earned his next shot.
5) Travis Browne: I admit I was completely shocked by this one when it happened. I didn't give Travis Browne any credit and I thought Barnett would beat him pretty easily. Browne knocked him out with vicious elbows similar to how he beat Gabriel Gonzaga. The biggest win of his career put him in a number one contender fight against Fabricio Werdum sometime in 2014. That fight is gonna be a tough one to pick.

---



THE RESULTS
Honorable Mention: Georgi Karakhanyan - (5 points)

5th Place - Urijah Faber - (9 points)

4th Place - Travis Browne - (15 points)

3rd Place - Ronda Rousey - (24 points)

Defeated Miesha Tate to retain the women's UFC Bantamweight Title!

2nd Place - Chris Weidman - (39 points)

Defeated Anderson Silva to retain the UFC Middleweight Title!

411's Fighter of the Month for DECEMBER is…

















Demetrious Johnson - (45 points)

Demetrious Johnson knocked out Joseph Benavidez on FOX to retain the UFC Flyweight Title!
---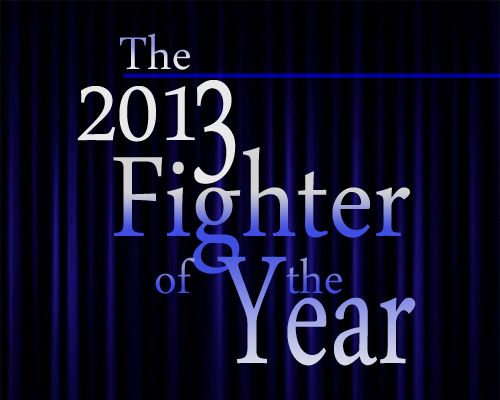 AND THE 2013 FIGHTER OF THE YEAR IS…
Demetrious Johnson - 42 pts
Chris Weidman – 27 pts
Cain Velasquez – 27 pts
Jon Jones – 27 pts
Anthony Pettis - 27pts
Ronda Rousey -24 pts
Georges St-Pierre -24 pts
Renan Barao - 24pts
Johny Hendricks - 19pts (Loses 5pts for his loss to Georges St-Pierre )


Eddie Alvarez - 15pts
Glover Teixeira – 15 pts
Jose Aldo- 15 pts
TJ Grant -15 pts
Vitor Belfort - 12pts
Jacare Souza- 12pts
Fabricio Werdum – 12 pts
Benson Henderson -10 pts (Loses 5pts for his loss to Anthony Pettis)

Josh Burkman – 10pts (Loses 5pts for his loss to Steve Carl)


Travis Browne - 9pts
Ben Askren - 9pts
Stipe Miocic - 9pts
Tarec Saffiedine - 9pts
Emanuel Newton - 9pts
Steve Carl – 9pts
Lyoto Machida – 7pts (Loses 5pts for his loss to Phil Davis)


Cat Zingano - 6pts
Daniel Straus - 6pts
Michael Chandler - 5pts (Loses 5pts for his loss to Eddie Alvarez)


Marlon Moraes – 4pts
Junior Dos Santos - 4pts (Loses 5pts for his loss to Cain Velasquez)

Mark Hunt - 4pts (Loses 5pts for his loss to Junior Dos Santos)

Carlos Condit - 4pts (Loses 5pts for his loss to Johny Hendricks)

Pat Curran - 4pts > (Loses 5pts for his loss to Daniel Straus)


Urijah Faber - 3pts
Cub Swanson - 3pts
Wanderlei Silva - 3pts
Chad Mendes - 2pts
Chael Sonnen – 2pts (Loses 5pts for his loss to Jon Jones, Loses 5pts for his loss to Rashad Evans)


Georgi Karakhanyan– 1pt
Khabib Nurmagomedov - 1pt
Robbie Lawler - 1pt
Cristiane "Cyborg" Justino – 1pt
Bobby Lashley – 1pt
Alexander Shlemenko - 1pt
Michelle Waterson - 1pt
Bibiano Fernandes - 1pt
Alexander Gustafsson - 1pt (Loses 5pts for his loss to Jon Jones)

Gilbert Melendez - 1pt (Loses 5pts for his loss to Benson Henderson)

Rashad Evans – 1pt (Loses 5pts for his loss to Antonio Rogerio Nogueira)


John Dodson – (-4pts.) (Loses 5pts for his loss to Demetrious Johnson)

Josh Barnett - (-4pts.) (Loses 5pts for his loss to Travis Browne)


King Mo Lawal – (-7pts.) (Loses 5pts for his loss to Emmanuel Newton, Loses 5pts for his OTHER loss to Emmanuel Newton )


As per the rules, Pat Healy was stripped of his points, due to his failed drug test for marijuana at UFC 159.
As per the rules, Antonio Silva was stripped of his points, due to failed drug test for elevated testosterone levels ay UFC Fight Night 33.
RULE REMINDER: If a fighter ranked on the yearend list LOSES a fight they will lose 5 points. Also, after much discussion, if a fighter is suspended by an athletic commission or the UFC (drug related), they lose any points accumulated thus far.
Year-End Rankings Key:


UFC Contracted Fighters are represented in BLUE.
Bellator Contracted Fighters are represented in RED.
Other Fighters are represented in MAROON.



**PREVIOUS WINNERS**

Year One (2009) Winner: Lyoto Machida


Year Two (2010) Winner: Cain Velasquez


Year Three (2011) Winner: Jon Jones


Year Four (2012) Winner: Benson Henderson


Year Five (2013) Winner: Demetrious Johnson
THE 2013 AWARDS
The Biggest Story Of 2013: The Fall of Anderson Silva – 42pts

The Most Disappointing Fighter Of 2013: Alistair Overeem – 34pts

The Breakout Fighter Of 2013: Travis Browne – 37pts

The Worst Fight Of 2013: Rashad Evans vs. Antonio Rogerio Nogueira: UFC 156 – 25pts

The Best Submission Of 2013: Anthony Pettis Armbars Benson Henderson – 33pts

The Best KO Of 2013: Chris Weidman KOs Anderson Silva: UFC 162 – 45pts

The Best Fight Of 2013: Jon Jones vs. Alexander Gustafsson: UFC 165 - 51pts

The 2013 Fighter of the Year: Demetrious Johnson - 42pts


TWITTER

Your heart is free. Have the courage to follow it…TO CSONKA'S TWITTER!

http://www.twitter.com/411wrestling
http://www.twitter.com/411moviestv
http://www.twitter.com/411music
http://www.twitter.com/411games
http://www.twitter.com/411mma

comments powered by