SPOTLIGHTS
411 MMA Fact or Fiction 1.15.14: Dominick Cruz, Matt Brown, More
Posted by Wyatt Beougher on 01.15.2014

Should Nate Diaz be considered for a lightweight shot after turning down Khabib Nurmagomedov? Should Dominick Cruz take another fight before fighting for the title? 411's Robert Winfree and Robert Cooper debate these topics and more!

Welcome back to another edition of 411's MMA Fact or Fiction, and I'm your host, Wyatt Beougher. Thanks for joining us this week, and I've got the promised update on the 2014 MMA Fact or Fiction tournament. The opening round will begin during the week ending March 2nd and will run through the week ending March 16th. Quarterfinals will start the week ending March 23rd and run through the week ending March 30th. The semifinals will take place during the week ending April 6th, and the tournament final will take place on April 9th. Last year's tournament wouldn't have been nearly as successful without everyone who voted, so I wanted to thank each and every one of you for taking the time to read the columns and place your votes. I hope to see the same amazing turnout for this year's tournament!

Last week, Todd Vote made his first appearance in 2014, taking on Alex Rella in a very, very close competition. It was so close, in fact, that when the polls closed, it resulted in a draw. Hopefully the next time these two guys meet, we'll have a more definitive ending, but still, a big thanks to both guys for doing such a great job last week. This week, we've got a partial rematch of the "Three Wise Men" edition from a couple of weeks back, as Robert Winfree will step into the cage to do battle with Robert Cooper! If you remember, Winfree and Cooper took on one another, as well as Robert Practor, with Cooper coming out the victor. Winfree is looking for revenge this week - will he get it?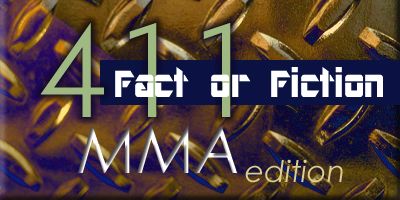 TALE OF THE TAPE

Red Corner
Robert Winfree
'The Last Rider'
Columnist, The Locked in the Guillotine MMA News Report
4-11-0

VS

Blue Corner
Robert Cooper
'The Metalhead'
Columnist, The Hammer of Doom News Report (Wrestling Zone)
4-6-1

---

Should Cruz fight a tune-up fight first?



1.) After sustaining yet another injury that will leave him out of action for even longer, the best course of action for Dominick Cruz on his return will be to NOT fight for the bantamweight title.

Robert Winfree: FACT There was a pretty serious line of thought that said Cruz shouldn't have been fighting Renan Barao after a two year lay off. Renan Barao has been fighting, and destroying, the best the division has to offer while Cruz has been forced to accumulate a great deal of ring rust. We discussed this at length on the 411 Ground and Pound show, and it was brought up that after a layoff of that length, Cruz returning to fight Barao was a questionable decision from the standpoint of his manager. With now another injury, and no longer being champion, it could actually be a benefit to Cruz not to fight Barao right away. The primary reason Cruz was going to fight Barao was to unify the titles, he doesn't need to do that now, and a tune up fight against someone like Brad Pickett, Eddie Wineland, or possibly someone like TJ Dillashaw is actually the best thing for him. It will allow Cruz to get some cage time, to see just how much he's lost over the course of his epic layoff, and he wouldn't immediately be in a fight against a guy who's been dominating the very best of the division.

Robert Cooper: FACT I almost went the opposite way when I thought about how well GSP did when he came back after his ACL tear, but then I remembered a few things. First of all, GSP was only out 13 months total from injury to fight, with it being about 20 months in between fights for him. Cruz, on the other hand has been out with an injury for well over a year and a half (approximately 18 months) and is still recovering. Not to mention, GSP only had one surgery, where Cruz has had two ACL surgeries, and has a hurt groin, with there being about 27 months between his last fight and today. If he were to step into the cage after all of that time for a title fight, I don't feel like his chances would be as good due to cage rust, and it being so long since he's last fought. That's why I feel like he should fight that tune-up fight to shake the rust, as well as put some momentum behind himself for the title fight that he would get if he won.

I also think a factor in the decision from the business side is to see if he can last a fight camp, as well as a fight, without getting injured again before you put the faith in him to give him a high profile title fight, because if he gets injured and they have to reschedule a title fight for a third time, it would probably hurt him quite a bit.

---

Was Kizer good for the sport, or did he leave a bigger mess than he started with?



2.) While Keith Kizer's tenure as Executive Director of the NSAC should be considered a positive step for MMA, his successor will still inherit a plethora of issues once he takes over the position.

Robert Cooper: FACT I kind of assumed that this was a given fact. It's not like a leader of a country magically has all of the problems of the land disappear once the old guy is gone. There will still be lots of loaded issues in the sport of MMA around when this new person takes over. There will still be fighters trying to get TRT exemptions, transgendered fighters will still be looking for licences, not to mention, there will still be shitty judges for them to appoint. So it's safe to say that whomever is taking over for Kizer will still have problems.

Robert Winfree: FICTION I'm not sure if plethora is the right word here. I've had my issues with Kizer's actions, attitudes, and positions on certain issues, but on the whole I feel he did a pretty good job. I don't think his successor, whoever that happens to be, will inherit any more issues than any other athletic commission has. Yes there are issues, but I don't think the NSAC is in shambles, or riddled with corruption, or completely incompetent which would qualify as a plethora. As it stands, yeah there are issues, but I don't think there will be a lack of applicants due to the volume and severity of the issues.

---

Are TUF fighters given more leeway?



3.) After making sexist comments on a podcast about how WMMA fighters should fight topless, Matt Brown's complete lack of punishment from the UFC continues the trend of former The Ultimate Fighter cast members being able to basically say what they want with no repercussions.

Robert Winfree: FACT Though I don't think this policy is limited to guys from various seasons of TUF. Fighters under the banner of the UFC have been saying stupid things for a long time, and almost universally they suffer no repercussions. Matt Mitrione said deplorable things, demeaning the entire transgender community, and was pointlessly "suspended". His suspension happened during a down time, and in fact from the fight before those comments to the fight after was the quickest turnaround in his career. I will say this, what Matt Brown said was sexist and stupid, but if you listen to the entire sound bite, or the whole podcast, Brown was trying to comment on the high price of PPV, not insult female fighters. Yes, he did insult female fighters and he absolutely should be punished for it, but if you include intent when determining punishment, other MMA fighters have said much worse things for much dumber reasons.

Robert Cooper: FICTION Well, I totally forgot about Matt Brown being on the Ultimate Fighter, thanks for reminding me of that! If the wording were different here, this would be a pretty solid fact, because it seems that beyond drug suspensions, TUF alums don't seem to get punishment for things they say, or at least much. One TUF alum who said something stupid and got reprimanded for it was Matt Mitrione last year when he said many disgusting things towards Fallon Fox, and he got suspended. While that suspension lasted for two weeks, it is still SOMETHING, which is more than the question is asking for, the question asks if there is none, so that's why I have my answer.

---

Is Nate shooting himself in the foot?



4.) After claiming that he would wait to see if he could get a lightweight title fight due to another fighter getting injured, and then apparently turning down a fight with Khabib Nurmagomedov, Nate Diaz shouldn't even be in the discussion if an upcoming lightweight title challenger does get injured.

Robert Cooper: FACT While waiting for a spot to open up is a smart move in a division that seems to have a bit of a line for the title, not taking a fight is a pretty damn risky move. I can see why he's doing it, because he wants that spot, but I think that turning down a fight would make it to where it'd be harder for him to get that title shot. Hell, if anyone would get that spot, I think it should be Khabib Nurmagomedov. It's because he agreed to the fight with Nate Diaz and Diaz said no, so Khabib showed that he was willing to fight and I think that deserves a title shot over a guy who thinks that waiting in the wings for one is a better idea. This is the fight business after all, not the wait business.

Robert Winfree: FICTION First of all, trying to choose who has more credibility, Dana White or Nate Diaz, is a horrible choice. Both men are clearly only out to further their own interests, not that there's anything wrong with that mind you, but in a case like this it makes it difficult to determine which of them is more full of crap. I actually think Diaz was onto something when he said he was going to wait and see who got injured then replace them, and it wouldn't kill the UFC to maybe unofficially talk to some high ranked guys and see if anyone is willing to be the guy on injury/reserve for an upcoming title fight. If injury strikes, as it has been known to do, you have to go with other fighters and other options, and Nate Diaz is a viable option to step in on relatively short notice for a title fight. He wouldn't be at the top of my list, but he's earned consideration in that respect. As for turning down a fight with Khabib Nurmagomedov, the only guys who will fight him right now are guys like Michael Johnson who have very little to lose and a lot to gain, and that assumes Diaz actually said "I wont fight that Russian guy", mostly because I'm not sure he could pronounce Nurmagomedov, and I'm not totally convinced that's what happened here.

---

Will the Beast return to the UFC in 2014?



5.) In spite of Dana White claiming to have been in negotiations with Brock Lesnar, Lesnar will not make a UFC return in 2014.

Robert Winfree: FACT if by UFC return you mean he will fight again. I know, I'm kind of splitting hairs here, but if the question means that Brock Lesnar will not be seen live on UFC programming I'm inclined to go FICTION. As I believe the question pertains to Lesnar fighting inside the cage, I don't think that's going to happen. Lesnar has an extremely lucrative deal right now with WWE, jeopardizing that by returning to fight in the UFC would just be stupid. Lesnar's fighting days are done, diverticulitis and a short attention span have seen to that. I wouldn't be shocked to see him return to the UFC as maybe a talking head at the analyst desk, or do a little promotional work for them if the price is right, but we wont see Lesnar fight in the Octagon again.

Robert Cooper: FICTION This is going by only a slight bit of hope. Lesnar won't be fighting in the UFC ever again, I can be almost 99% sure of that statement. But the negotiations with Lesnar might not even be for fighting, for all we know, it could be Dana trying to negotiate a deal for him to make appearances and promote the UFC (which I doubt because Brock hates press work), or maybe it's the UFC trying to get him to sign his likeness over for the UFC video game. He might even make an appearance at a UFC show or two, that's not exactly anything special, but it is still technically a return of sorts.

---


Who do you think won this week? Which Robert was the more impressive one? Voting will be open until midnight EST on Saturday, so make sure you vote and make your voice heard!










---

Does gainful employment outside of MMA mean we finally won't have to see Shamrock embarrass himself inside the cage again?



Bonus) Ken Shamrock's new position as a bodyguard (his first assignment - protecting 50 Cent at last week's CES) will finally, mercifully, mean the end of his fighting career.

Robert Cooper: FACT I sure hope so. The guy has been pretty mediocre since he's come back from the WWE, he won a superfight in Pride against Alexander Otsuka and beat Kimo Leopoldo, but beyond those two fights, it's been either losing to solid competition, or trading wins and losses with cans. I think it's been time for him to leave the sport for years, and hopefully with this pretty good opportunity, hopefully he can officially retire and live the rest of his years in peace....a very crazy peace.

Robert Winfree: FICTION I really hope I'm wrong here, because I'm a fan of Shamrock and don't want to see him fighting anymore, but the reality is that Ken Shamrock is still a name that draws a bit of interest and if the guy needs money there will always be a promoter willing to pay him to show up. Like I said, I hope I'm wrong and Shamrock is able to make a comfortable living doing bodyguard work or things like that, but if I had to bet I'd say we'll see him in at least one more fight due to monetary incentives.

---


And that's it for this week! As always, if there's anything you'd like to see featured in a future edition, leave your statement in the comments and I'll add it in. Let us know what you thought in the comments, on Twitter, or on Google+.


comments powered by