SPOTLIGHTS
Five Quick Rounds 01.21.14: GSP Is Not Impressed with UFC's Drug Performance, More
Posted by Evan Zivin on 01.21.2014

From Georges St-Pierre's issues with the UFC over drug testing to the results of Fight Night 35 and World Series of Fighting 8, 411's Evan Zivin examines these stories and more in Five Quick Rounds!

Hey hey, fight fans, and welcome back to Five Quick Rounds! I am your host, Evan Zivin, and I am excited to be here once again!

I want to use this space to send my condolences to the Zingano family. News came out after my column was posted last week (it even went up a day later than usual because Larry likes to mess with me) that Mauricio Zingano, jiu-jitsu instructor, MMA coach, and husband to UFC fighter Cat Zingano, passed away. The cause of death was suicide by hanging. There is very little information right now regarding his death and what might have caused him to commit suicide. We do know that Mauricio and Cat, whom have a six-year-old son together, had been separated in recent months but whether that was a factor at all is anyone's guess. Mauricio fought three times as an MMA fighter in the late '90s/early '00s but was a very accomplished jiu-jitsu practitioner and coach. He ran a few Black House affiliate gyms in his home state of Colorado, training many fighters, including his wife, and was even named Colorado Coach of the Year in 2010. He was the man who helped lead Cat to a perfect 8-0 record and a UFC title shot before an ACL injury sidelined her indefinitely. Hopefully she'll be fully recovered and ready to get her title shot later this year but one has to wonder how the loss of her trainer, her husband, and the father of her child will affect her as she prepares for her return to fighting. Will she even want to return? I can't imagine the pain she must be dealing with right now but I'm sure she knows the MMA community is behind her. Cat, take all the time you need and whatever decision you make regarding your future will be okay with us. Do what's right for yourself and your family. R.I.P. Mauricio.

All right, so with fighter introductions out of the way, I have five more rounds of MMA news and opinions to throw at you. This week, we look at GSP's feud with the UFC over drug testing, the results of Fight Night 35 and World Series of Fighting 8, and the first main event announcements for Bellator's upcoming Season 10. Let's to it do it.

FIGHTER YOU READY!!!!
FIGHTER YOU READY!!!!

FIGHT!!!!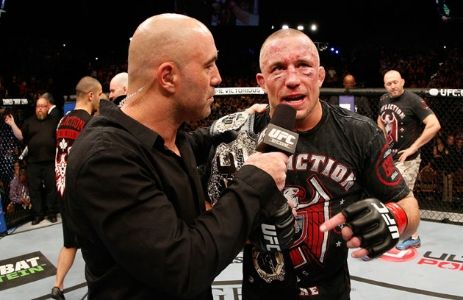 Round One: Georges St-Pierre Accuses UFC of Not Supporting His Drug Testing, Is Not a Fan of the Game Monopoly

***TOUCH OF GLOVES***

Let's start off the week with some good ol' "He said, She said." Everybody loves that, especially when it happens in our favorite sport and involves our favorite fight personalities. Well, I may be partially right depending on your view of UFC President Dana White. Overall he does a good job as the leader of the world's top MMA promotion but man oh man does he say a lot of stupid things. Look no further than the post-fight press conference of UFC 167 to find evidence of that. After another successful, albeit controversial, title defense against Johny Hendricks, welterweight champion Georges St-Pierre hinted that he was going to need to take some time off from the sport. Dana, upset that GSP made those comments without informing him about them, went on the warpath and absolutely tore the champion apart, saying that he owed it to the fans to give Hendricks a rematch. Good job, Dana. Way to support your athletes. It doesn't help a company's image any when what the general public sees most of the time is a mad tyrant tearing apart his top stars, like when Dana criticized Cain Velasquez's first fight against Junior dos Santos on the Fox broadcast in front of millions of viewers. I like that he speaks his mind but he has to realize that no good is going to come from attacking your fighters. All his UFC 167 rant did was make him look unfit to run the UFC. Having rumors swirl about the UFC telling GSP not to go to the 167 post-fight press conference and taking his championship belt while he was showering don't help either. Sure, Dana denied that any of those things happened, but of course he would. Even he knows not to admit to being THAT evil, even though when he wears a suit he shares a striking resemblance to Blofeld. Or at the very least, Dr. Evil. Just saying.

So what happened now? Not much, just that GSP is saying one of the main reasons he left the UFC was because of their unwillingness to support his efforts for increased drug testing for the Hendricks fight. That's all. If you remember, GSP wanted to have additional testing conducted by the Voluntary Anti-Doping Association (VADA) to prove that he was clean of any performance enhancing drugs (and possibly to subtly hint that Hendricks was on something, as half the UG and every other MMA message board seem to believe). Hendricks was on board for additional testing but when GSP asked the UFC to support his efforts, they pretty much said it was a waste of time. Dana said the testing was, more or less, unnecessary because the athletic commission would handle the testing. That would be all well and good if the commission's testing was truly random and they didn't only test fighters around fights and press conferences, when fighters can easily cycle off whatever drugs they are using. Plus, there are stories like the one about boxer Lamont Peterson, who VADA caught taking synthetic testosterone despite the fact his levels were within the legal limit. They caught him using methods that the athletic commissions don't use. Overall the athletic commissions do a good job of catching most offenders but it's not a perfect system and I think it's terrible that Dana would just call GSP's complaints "ridiculous" and throw him under the bus like this. I do think GSP was getting a little melodramatic with his comments but his concerns are completely valid. The UFC could be doing a lot more to wipe out drugs from the sport and Dana should be supporting his fighters, especially his champions, in any way he can. I wonder if Dana and GSP will end up forgiving each other or if this will cause a permanent rift between the two. Maybe GSP will become the next Frank Shamrock or Randy Couture, lambasting the UFC's practices and standing up for the individual fighters who don't get any say due to the UFC's dominance over the MMA landscape while Dana calls him an idiot who wasn't really that good of a fighter. Or maybe Dana will come crawling back and apologize in a few months when buyrates continue to plummet because all his top draws are gone and his marketing department has done a poor job of introducing their new champions to the rest of the world. Make the most of your time away, Georges. You've got the leverage to get away with it.

***HORN SOUNDS***




Round Two: Fight Night 35 Main Event Quick Thoughts, Luke Rockhold is No Hannibal Lecter

***TOUCH OF GLOVES***

So hey. We had some fights last week. That was a nice change of pace. I mean, UFC never holds any fight cards anymore other than almost every single week, y'know? The UFC did a special Wednesday Fight Night card as a lead-in for the Fox Sports 1 premiere of The Ultimate Fighter: Nations. That's right. TUF is back on the air, only this time it features fighters from Canada and Australia, which means most of you have already lost interest. I watched the first episode. It felt like any other episode, only with more accents than I'm used to (the American version of the show always made sure to have one token foreigner in the house). I do like the coaches, although I doubt Patrick Cote and Kyle Noke are going to make for very entertaining television. Then again, it's supposed to be about the fights, right? Not about drunken shenanigans in the house or the coaches playing practical jokes on each other or anything else that makes the remaining 45 minutes of every show even remotely bearable to watch. I'm not saying I approve of the kinds of behavior exhibited by past cast members like Junie Browning and...um...that one guy with the mohawk that cried in front of everybody --you know the one-- but at least it gave us something to talk about. It may not present our sport in the best light but it's reality television. That genre ruins every profession it documents. Anyone who takes that nonsense seriously probably shouldn't be watching MMA anyway. I'm just looking out for their mental well-being.

So anyway, how were the fights on Wednesday? Many of them weren't the most exciting but there were some bright spots. One of those was the main event between Luke Rockhold and Costa Philippou. Rockhold, the former Strikeforce Middleweight Champion, needed a good win here after getting knocked out by Vitor Belfort in his debut last May. I'd say he got what he needed. The fight started out a bit slow, with Philippou circling around Rockhold on the outside trying to gauge distance. Rockhold did catch Philippou with a right hand that knocked him down, but Philippou immediately popped back up. The technique that won Rockhold the night was one he used a lot in this short fight: the left body kick. Rockhold caught Philippou in the head with it, busting Philippou up, but Rockhold was mostly aiming it right for Philippou's liver. Every good little MMA girl and boy knows that a liver shot is very painful and debilitating during a fight and all it took was a couple strong kicks to the midsection to cause Philippou to double over in pain. The fight was stopped and Rockhold had his first UFC win. The performance reminded me a little of when Travis Browne spammed the front kick against Alastair Overeem before knocking him out with it. Rockhold wasn't abusing the kick that severely but he used enough of them that Philippou's corner had to have been screaming at him to find a counter to it before something bad happened. Well, he wasn't able to and now Rockhold is back in the title talks. If Rockhold can put in another performance like that, he might be getting a title shot sooner rather than later. It all depends on who he fights next, whether he gets the loser of the Weidman-Belfort fight or the winner of the Machida-Mousasi fight or he waits for Michael Bisping to squash his beef with Tim Kennedy. Luke has a lot of options to get to a title fight and he'll get there so long as he doesn't quote Silence of the Lambs on Twitter again. Yes. We get it. Liver. Fava beans. Hilarity. Now knock it off and get back to training.

***HORN SOUNDS***




Round Three: Rest of Fight Night 35, Tavares and Dillashaw Do What They Do, Yoel Romero Literally Dumps on Their Performances

***TOUCH OF GLOVES***

The co-main event saw the Strikeforce standout Lorenz Larkin, fresh off his first win in the Octagon, facing Brad Tavares. It was a tough fight for Larkin, as Tavares is extremely good at controlling fights and keeping the action where it can play to his strengths. He was able to do that for the most part but Larkin didn't make it easy. Larkin threw a lot of kicks to Tavares's lead leg and hurt him with hooks and elbows whenever he got within distance but Tavares was able to keep Larkin out of range for a lot of the fight and move in and out with quicker strikes. Tavares won the grappling battle, taking Larkin down in the first two rounds, but it almost caused his downfall when Larkin started dropping elbows on Tavares's head late in the third. Tavares survived and lost the round but he did enough in the first two to take a unanimous decision. It was a close fight and Larkin performed well in defeat. The same can't be said for Mike Easton, who didn't really do much in his fight with T.J. Dillashaw. The Alpha Male fighter has a penchant for staying active and outpacing his opponent, and Dillashaw was miles ahead of Easton in their three round fight, outstriking him 117-46. Dillashaw threw a lot of uppercuts and his combinations were decent. The most significant round of the fight was the second, when Dillashaw dropped Easton with a head kick, allowing Dillashaw to grind on him before Easton was able to pop back up. Dillashaw had relatively little trouble landing on Easton and he was able to stuff every takedown attempt Easton went for. In the end, Dillashaw defeated The Hulk by unanimous decision. I know, T.J. I thought he'd be bigger in person too.

The Fight of the Night honors went to the mammoth clash between Yoel Romero and Derek Brunson. All three rounds were close with a lot of slugging from both men. Brunson worked from the outside for a lot of the fight, using jabs and kicks to set up his combinations and takedown attempts. It were takedowns in the first two rounds that turned the fight in Brunson's favor heading into the third. Romero had been chasing Bunson through most of the fight and didn't give up during the final stanza. His urgency paid off when he dropped Brunson with a left hook. Romero then went to town with uppercuts before crumpling Brunson for good. The referee allowed the fight to continue until Romero threw a couple vicious 12-to-6 elbows to Brunson's ribs that finally ended the fight. It was a great comeback TKO win for Romero, especially since he appeared to crap his pants in the midst of it. I mean, maybe it was sweat bleeding through Romero's form-fitting shorts, like he claims it was, but all I know is I saw a man in the cage with a brown stain on his ass so.....John Moraga made his return to the cage after his loss to Demetrious Johnson and had a rough time against Dustin Ortiz. Ortiz must have studied the Johnson fight as he spent a lot of his three round fight with Moraga glued to him, and it was working. Moraga had some success on the feet, especially in the second round, but it looked like Ortiz was going to upset Moraga. Then the judges woke up and gave the fight to Moraga by split decision. Can we just blame Keith Kizer for that? I don't care if he's on the way out and the fight took place in Georgia. I'm just so used to doing it over these last few years. Also, Cole Miller showed improved striking and choked out Sam Sicilia, Beneil Dariush crushed Charlie Brenneman with a left and choked him out in under two minutes, and decisions were won by Ramsey Nijem, Elias Silverio, Trevor Smith, Louis Smolka, and Vinc Pichel. I must admit that Pichel looks pretty good when he isn't busy getting ragdolled by Rustam Khabilov.

And that was Fight Night 35. UFC gets the big Fox treatment this Saturday, with a main event of Benson Henderson vs. Josh Thomson. Will the general populace tune into a non-title main event when they were barely showing up for championship fights on the network (many of which featured Henderson)? We shall find out.

***HORN SOUNDS***




Round Four: WSOF 8 Results, Justin Gaethje Defeats [INSERT FIGHTER HERE] to Win Lightweight Championship

***TOUCH OF GLOVES***

But that's not all, Johnny! For just the low, low price of staying in on Saturday night instead of managing your youth hockey league or whatever it is that people do on Saturday nights when there isn't a fight, you could have watched World Series of Fighting 8, live from the Seminole Hard Rock Hotel and Casino IN FABULOUS HOLLYWOOD..... Florida. The show, which featured two championship fights and resulted in three first round finishes, was pretty good. The main event featured the crowning of the company's first lightweight champion. In one corner you had Justin Gaethje, one of the WSOF regulars whom the company has been trying to build itself around, along with Marlon Moraes and Josh Burkman. Burkman lost his title fight and Moraes hasn't gotten his yet. Would the undefeated Grudge Training Center standout be successful in claiming gold? To do so he needed to get through Rich Patishnook, who wasn't even supposed to be here today. Gaethje was originally supposed to rematch JZ Cavalcante before an injury ended that. Then Gaethje was matched up with undefeated prospect Lewis Gonzales, who then also got injured. Then we were left with Patishnook, the Lil' Gracie Hunter who could make a good stunt double for Sam Stout. So the fight lost a bit of its luster with all the shakeups, going from "Ooh, that sounds exciting" to "Well, I guess it could still be a good fight" to "Is that one kid still fighting for the belt? Whatever," but the fight itself was pretty crazy. And fast. Gaethje rocked Patishnook within the first 20 seconds and threw uppercuts and elbows at Patishnook's stupid hair until the referee said enough was enough. Gaethje won the fight in a minute and became the first WSOF Lightweight Champion. Good for him. Now we'll have to see if they can find any decent opponents for him (they can still do the rematch with JZ) and how long it will take for them to just pull the trigger and give Nick Newell a title shot.

It was a good night for wrecking your opponent. Anthony "Rumble" Johnson would agree with that, as he finally faced Mike Kyle. Seriously, it was the third time they tried to book the fight. At least it finally happened and it was as quick and brutal as I hoped it would be. Kyle showed some promise, as he grabbed one of Rumble's kicks and was able to tie him up for about half a minute. Once they separated, though, Rumble went into beast mode. Rumble completely disrespected Kyle's striking by throwing with reckless abandon, but Kyle was the kind of fighter he could do that with and it didn't take long before Johnson, in the midst of another wild exchange, caught Kyle with an overhand right and knocked him out cold. It was a huge win for Rumble, especially with it being the last fight on his contract. We'll have to wait and see if UFC bites now or if Rumble will just have to settle for fighting for the WSOF Light Heavyweight Championship. Someone who did fight for a championship was Jessica Aguilar. She defeated Alida Gray to become the inaugural WSOF Women's Strawweight Champion. Aguilar didn't want to deal with the heavy hands of Gray and took the fight to the ground very quickly. Eventually she locked in an arm triangle and got the tap in under three minutes. Congrats to Aguilar for winning the first WSOF women's fight EVER and getting some gold in the process. Now we'll just have to see how many times she'll have to defend the belt before UFC realizes they're missing a name from the Top 10 strawweight fighters list. Who knows, there are still a few open spots in the TUF 20 house...Also on the main card, Cody Bollinger made weight *GASP* and took a unanimous decision against Tyson Nam in a fight that started out interesting and got more boring as it went on. Seriously, they didn't do anything in that third round. WSOF will probably sick Moraes on Bollinger in his next fight. We also saw Luis Palomino batter Jorge Patino with punches (when he wasn't being taken down) to win by KO in the second round. That means Palomino will get a shot at Pat Miletich's UFC Lightweight Championship in his next fight. Don't miss it.

And that was WSOF 8. WSOF 9 is planned for March 29 in Las Vegas. It should have fights on it. That is what I am led to believe.

***HORN SOUNDS***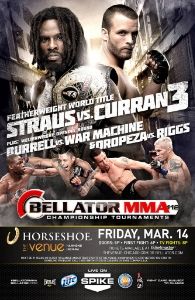 Round Five: Bellator Gives Pat Curran Rematch with Daniel Straus, Frodo Sulks Back to the Shire

***TOUCH OF GLOVES***

Looks like we're getting love from all the big MMA promotions this week, as Bellator awoke from its winter hibernation to announce fights for their upcoming Season 10. After having Season 8 start in January last year, in part to hype their debut on Spike in conjunction with selling their soul to Viacom, Season 10 won't begin until March. When it does, though, there will be some good fights. We start with Bellator 111 on March 7, featuring a bantamweight title fight between champion Eduardo Dantas and Rafael Silva. Next is Bellator 112, which will be main evented with the third fight between new featherweight champion Daniel Straus and former champion Pat Curran. We then move to Bellator 113, which will have a light heavyweight title unification match between formerly "injured" champion *WINK WINK* Attila Vegh and Interim Champion Emanuel "King Webster" Newton. I assume he calls himself king now since Muhammed Lawal ain't king of nothing anymore. Snap. Bellator 114 will have a middleweight title fight between dominant champion/parent Alexander Shlemenko and Brennan Ward and Bellator 115 will see a massive clash over the heavyweight championship between new champion Vitaly Minakov and former UFC nut pummeler Cheick Kongo. These events will also feature opening round tournaments in the heavyweight, welterweight, lightweight, and featherweight divisions. Plus, the possibility of seeing War Machine fight Joe Riggs. Aw yeah. Things look pretty good so far. There isn't anything about what's been announced so far that I have a problem with.

Actually, that's a lie. I have two problems with this. First, where is Bellator 110? Did Bellator forget that Season 9 ended with Bellator 109 and started booking 111 without realizing they needed a 110? Are they going to announce an event for February 28 or will they be forced to pull out the Sharpie to update all of their event posters with the proper event number? Could 110 be the payperview featuring Eddie Alvarez vs. Michael Chandler that all the news sites are convinced is happening because Eddie said it would? Will 110 just not be used and remain a specter over all of Bellator's future shows? Wait, is there a conspiracy to keep 110 from taking place? Is Viacom behind this? I'm going to need more tin foil. Until I get up to go grocery shopping, let me mention the other problem: why is Curran getting a rematch against Straus? I thought immediate title rematches were only set up in cases where the fight was either really close or so exciting that everyone is dying to see it again. Their fight wasn't either of those things. It was quite boring and it entailed Straus controlling Curran in the clinch and rocking him with punches for 25 minutes. Does that deserve a rematch? Absolutely not, especially when there are TWO tournament winners, Magomedrasul "Frodo" Khasbulaev and Patricio "Pitbull" Freire, waiting in the wings to get the title shots that they earned in the tournament. Pitbull had no problem complaining about the situation on Twitter and even Straus questioned the booking, wondering if the fight was made because Curran is popular and Bellator/Viacom really want him to be champion again. They even set up the fight to take place in Hammond, Indiana, an hour and a half from Curran's home in Crystal Lake, Illinois. It's such a weird fight to make, especially when Pitbull's title fight with Curran was a lot closer than Curran's was with Straus. Plus, Pitbull has defeated Straus in Bellator before. In fact, he's the only man to have defeated Straus in Bellator. So you could have booked Straus in an intriguing rematch against a man who has already defeated him or against a man whose nickname is Frodo. Seriously, you can't go wrong either way. I don't know if Bellator did intentionally snub those two men to show favoritism towards Curran, but with the way they've handled some of their fighters this past year (Alvarez, Vegh) it wouldn't surprise me. That's right, kids. Title shots aren't earned anymore. You just have to be popular enough to impress a management that is desperate to create stars and be a threat to the UFC. It's not going to happen but that won't keep Bellator from trying. Either way, I wish Bellator all the luck in the world during Season 10. Now, please, tell me what you did with 110. WHERE IS SHE YOU MONSTERS??!!!! 110!!!! 110!!! NOOOOO!!!!!! I'LL NEVER FORGET YOU!!!!! ADDITIONAL CLICHE!!!!!!!!!

Oh wait. There it is. Rampage AND King Mo? Well played, Bellator. Well played.

***HORN SOUNDS***

That's it for Five Quick Rounds. Thanks for reading. If you have any questions, comments, or suggestions, and it is always appreciated when you do, leave them in the comments section. I will be back in 7 for another Five Quick Rounds. Go watch the fights on Saturday and, until next time, remember to fight clean, fight hard, fight fair, and never leave it in the hands of the judges...




LATER!!!!!!!!!!!!!!!!!!!!!!!!!!!!!!!
comments powered by