SPOTLIGHTS
411 MMA Fact or Fiction 1.22.14: GSP vs UFC, Ronda Rousey, More
Posted by Wyatt Beougher on 01.22.2014

Is George St-Pierre's criticism of the UFC's drug testing policy off base? Will Ronda Rousey be the UFC's biggest PPV draw in 2014? 411's Dan Plunkett and Evan Zivin debate these topics and more in this week's Fact or Fiction: MMA!

Welcome yet again to another edition of 411's MMA Fact or Fiction, and, as you've probably come to expect, I'm your host, Wyatt Beougher. With much of the United States' midwest and east coast now again dealing with a winter storm, here's hoping any readers in the affected areas have gotten their grocery shopping done. I live in western Pennsylvania and we get quite a bit of snow, so it's not that bad here, but having been in New York City for Hurricane Sandy's aftermath and the winter storm that followed almost immediately, I know that bread, milk, water, and other staple items do tend to disappear if people get spooked.

In last week's contest, Robert Winfree rematched Robert Cooper after Coop was able to pick up a win in the three-way Christmas edition of Fact or Fiction, but when the dust settled this time, it was Winfree who picked up the win, taking a massive 71% of the vote. Winfree is one of the guys who I'm consistently surprised doesn't do that well in Fact or Fiction competition, but if this is any indication of what his 2014 is going to be like, he should go deep into this year's tournament! On tap for this week, we've got two of my personal favorites in action, as the always-analytical Dan Plunkett will square off against the more light-hearted Evan Zivin. This seemed like the perfect pairing when I was slotting in participants, so let's see how it goes!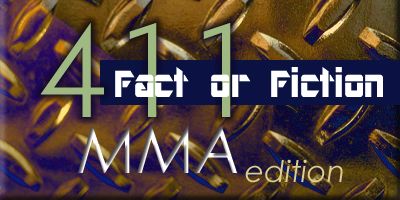 TALE OF THE TAPE

Red Corner
Dan Plunkett
'Dapper'
Columnist, The Greatest MMA News Column/MMA Roundtable Coordinator
2-2-0

VS

Blue Corner
Evan Zivin
'It Almost Rhymes'
Columnist, Five Quick Rounds
3-2-1

---

Should Rockhold get a rematch in the States?



1.) If Vitor Belfort loses to Chris Weidman, Luke Rockhold should get his rematch with Belfort in the United States.

Dan Plunkett: FICTION While I wouldn't be against a rematch, I don't necessarily think it "should" happen. There are very few instances of a rematch taking place so soon after such a decisive finish, and those instances are usually title situations. It just doesn't make sense from a booking perspective. Sure, Rockhold could go in, defeat Belfort, and prove that he can beat a guy Chris Weidman would have already beaten. Or, he could lose again and fall even further away from title contention. For the UFC, that would mean Belfort, a failed title challenger, would push a fresh title challenger to the side. Furthermore, when Rockhold called out Belfort and asked for a rematch in the United States, I believe a good part of that was fueled by the false believe Belfort won't be allowed to use TRT there. In reality, even if Belfort isn't given an exemption in Nevada, there are commissions that I have no doubt would give him an exemption, namely Texas.

Evan Zivin: FICTION I'm only saying Fiction because if that matchup happens, which I am completely on board with, I really don't care where it takes place. I know everyone in the MMA community is all "Vitor is only winning the way he is because of steroids" and "The reason UFC has been having Vitor fight in Brazil is so he can use TRT" and yadda yadda. I'm not looking to make accusations here but I will say that 1) using TRT does not guarantee a win, especially against a highly skilled, well-trained opponent like Rockhold would be (remember, Dan Henderson used TRT in all his fights in 2013 and looked slow and sluggish against Lyoto Machida, Rashad Evans, and Belfort), and 2) there is no guarantee that Vitor wouldn't be able to use TRT in the U.S. Yes, Keith Kizer did say that the NSAC would make it much harder for past steroid offenders to get exemptions but that doesn't mean that Dana and Lorenzo couldn't sweet talk the commission into seeing things their way. Plus, Kizer is on the way out so who knows if the new Executive Director of the NSAC will have the same stance regarding TRT. We all know that Dana, regardless of how much he hates TRT, will do whatever is necessary to book a big money main event, so who knows where the new head of the Nevada commission's priorities will lie. Plus, Vitor may not take the fight if he can't use the treatment. Vitor only agreed to be put "at a disadvantage" if it was for a title fight. Dana will probably chose to have the fight in the U.S. just so people won't attack his Twitter over Rockhold having to fight Vitor in Brazil again but I don't think he'd necessarily cut Vitor off from using TRT if he isn't being forced to. He can but he'd risk pissing off and losing one of his most popular fighters and one of his biggest moneymakers in the Brazilian market. I know I risk losing this week by not automatically saying "VITOR IS A CHEATER!!! HANG HIM BY HIS TESTOSTERONE DEPLETED BALLS!!!" but the UFC is a business. Dana will try to consider the fans' opinions and what makes the most ethical sense regarding the fight and its location but he will ultimately do whatever makes the most financial sense to himself, his company, and his fighters. Ideally, Dana and the commission would just say "No TRT" and stop everyone from trying to use it, since that's the simplest solution that would do away with a lot of these drug-related problems, but that isn't the reality we live in. At least not right now it isn't.

---

Is MFC asking for trouble by trying to expand into the UFC's turf?



2.) Maximum Fighting Championships attempts to expand into Las Vegas will draw the ire of the UFC (namely Dana White) and lead to negative repercussions for the promotion.

Evan Zivin: FICTION It may annoy Dana that another fight promotion wants to enter his territory and run shows at The Joint in the Hard Rock Hotel and Casino, a venue that has been home to many UFC events as well as the WEC after it was bought by Zuffa, but I doubt anything will come from it. MFC CEO Mark Pavelich said he has no intention of trying to compete with the UFC and it's not like he could if he wanted to. I don't want to look like I'm attacking MFC but they just had an event that was main evented by Darrill Schoonover in a championship fight. If the best you can offer is a fight card headlined by "Titties" then you aren't ready to compete with the UFC. That's not to say there aren't decent fighters in MFC. There are. They just aren't of the same caliber as what Zuffa can offer and Pavelich knows that. Dana knows MFC offers no threat to him so he's not going to waste his time worrying about them. Besides, it's not like the UFC is the only promotion that runs shows in Las Vegas. I mean, it is The Fight Capital of the World after all, or at least that's what Dana claims, and he wouldn't lie to me, right? ....right?

Dan Plunkett: FICTION Are we sure Dana White has heard of MFC? I don't think they're even on the UFC's radar as far as competitors. The state of the MMA landscape is this: nobody is threatening the UFC, especially in the United States, and most especially in Las Vegas. MFC doesn't have a meaningful television deal, which is why UFC considers Bellator competition and considered Strikeforce competition. MFC isn't competing for talent with the UFC, like Bellator is to a degree today and Affliction and Pride did in the past. A number of small promotions have run shows in Las Vegas without drawing UFC's ire; MFC would just be one more on that list.

---

Which subscription service will be more successful?



3.) UFC's Fight Pass will not be as successful as the WWE Network, in terms of initial subscribers or subscriber retention over their respective first years.

Dan Plunkett: FACT If the WWE Network doesn't beat UFC Fight Pass' subscription numbers it would be a massive failure. The bottom line is WWE's network means much more to the company, at least at this point, than UFC's. WWE reportedly needs about 800,000-1,000,000 subscribers just to break even. UFC is targeting 100,000 initial subscribers. The WWE Network will have much more promotion, and there's more incentive for WWE fans to buy it due to the major events (they aren't really pay-per-views anymore if you're not paying per view) being featured. As far as retention, that's much tougher to call because WWE's service comes with a 6 month commitment, while UFC's is month to month. It's tough to guess what Fight Pass' subscriber retention will be when so much of that depends on what live fights are featured on the service. I'll go with WWE because, again, they're providing stronger content relative to their overall product.

Evan Zivin: FACT I haven't really messed around with the UFC Fight Pass all that much but the reactions I have seen from the MMA world and the pro wrestling world towards the WWE Network makes me think WWE will have more success with their service. Just the fact that all Pay-per-views will be available live and on demand as part of the $9.99/month price makes the service better than Fight Pass. The only exclusive fights Fight Pass offer as part of the monthly cost are international cards that feature relatively unknown talent and take place at off hours of the day and prelims that we used to get to watch for free. They don't really compare. You do have to sign up for a 6-month commitment with the WWE Network but that essentially means you pay full price for Wrestlemania and get five more Pay-per-views for free. That sounds like a good deal. Plus, there is a ton more archival footage that WWE is able to offer than the UFC. That's because WWE has been around longer and has a much larger library but it's still a significant advantage, especially when both services will cost the same. I've seen a lot more excitement from pro wrestling fans over the WWE Network than MMA fans for Fight Pass and, while trends will change, it seems right now that WWE will do a better job of gaining subscribers and keeping them. They have to. They have a lot more riding on the success of their network than UFC does in Fight Pass.

---

Was GSP upset enough by what Dana White said at the UFC 167 post-fight press conference that it made him criticize the UFC's PED policy?



4.) Georges St. Pierre's recent comments about the leniency of the UFC's drug testing seem odd, considering that outgoing NSAC director Keith Kizer said that GSP's team were the reason that both St. Pierre and Hendricks didn't undergo WADA testing leading up to UFC 167.

Evan Zivin: FICTION First off, don't get anyone confused over what WADA does. They don't test. They just create standards and certified programs to be followed by athletic commissions and third-party drug testing organizations. Second, it wasn't just GSP's team that caused the drug testing to fall apart. Hendricks's team share blame in that. They were the ones who felt VADA would show bias towards GSP in their testing, a statement that is completely unfounded, and demanded the enhanced testing be through a WADA-certified program conducted by the NSAC. Third, I don't think it's odd. The NSAC's testing isn't perfect either. Even with a certified program, the NSAC usually only has the resources to test after press conferences or right before fights, events fighters are aware of ahead of time that make it really easy to cycle off whatever substances they are using. Maybe a WADA program would better handle issues like that but I can understand why GSP may have been leery of just using the athletic commission, especially since there are documented cases of the NSAC failing to find fighters trying to cheat the system that VADA did find (example: boxer Lamont Peterson). GSP thought VADA was the way to go and he's hurt that Dana and the UFC were unwilling to support his efforts in employing an outside agency for additional drug testing. The issue here isn't about the UFC being lenient towards drug testing. It's about Dana calling Georges ridiculous for going out of his way to seek additional testing when the NSAC should be good enough. It's about Dana attacking one of his most successful, most loyal employees over a legitimate concern that's been plaguing the sport since its inception. The NSAC testing is good enough to catch most offenders but it doesn't catch all of them and Dana should be more supportive of any additional efforts to eradicate drug use from the sport. That is, assuming he cares about maintaining the sport's integrity.

Dan Plunkett: FICTION There is no such thing as WADA testing. The World Anti-Doping Association doesn't do actual testing, rather they set forth protocols and accredit testing facilities. The deal with the St-Pierre vs. Hendricks testing is that St-Pierre wanted additional testing. VADA, the Voluntary Anti-Doping Association, which adheres to WADA's guidelines, quoted St-Pierre a price and agreed to cover 25% of the price (the discount was later dropped since St-Pierre didn't sign on to the program at that point).


UFC then arranged a conference call with the Nevada Athletic Commission, St-Pierre's camp, and Hendricks' camp to discuss the NAC overlooking the testing. Like VADA, the NAC would use WADA guidelines, but unlike VADA, things like a fighter skipping out on a drug test would have real ramifications with the NAC (since VADA has no regulatory power). The NAC testing went out the window when St-Pierre's camp wanted to know exactly what substances would be tested for, which the commission wouldn't reveal. That may seem strange, but it was really just because St-Pierre was insistent on being tested for Human Growth Hormone, which is not something the commission usually tests for. That is where those discussions fell apart. Hendricks then refused to take part in VADA's program because he believed St-Pierre had a special relationship with the independent company. According to Hendricks, it was the UFC who advised him against VADA testing. That is where St-Pierre's issue with the UFC comes from. (St-Pierre underwent the VADA testing alone, and passed.)

---

Does Curran deserve a rematch?



5.) Daniel Straus has a point - Bellator giving Pat Curran an immediate rematch against Straus after Straus decisively won four rounds of their last encounter flies in the face of the tournament concept that the promotion was founded on.

Dan Plunkett: FACT When Bjorn Rebney first started talking about an immediate rematch between Straus and Curran, I thought it was incredibly stupid. When Bellator officially announced a third fight between the two, I thought it was even more stupid. Not only was Straus the clear winner of the last bout, it wasn't even a good fight. Bellator's "real sports" format has been a joke for a while now, and this is just another example. When the championship rematch clause was enacted, it was made to give the promotion an easy way to break the tournament format to give fans title fights they wanted to see (namely, Chandler vs. Alvarez II). In this case, it isn't even a fight fans want to see. Straus' criticism is on point; what does it say about title shots in Bellator when Curran is getting an immediate rematch? Sure, he was a good champion, but he's in no way deserving of a title shot.

Evan Zivin: FACT Giving any former champion an immediate championship rematch flies in the face of the tournament concept. If Bellator wanted to keep the concept pure and true, they would have stuck to only giving tournament winners a title shot. They managed to stick to that for a while but now, not only can former champions get a rematch, but a committee can name a challenger when the current tournament winner is unable to fight due to injury. Do these clauses devalue the tournament? Absolutely. Am I bothered that they have these clauses in place now? Yes and no. I'm fine with a former champion getting a rematch when the situation calls for it. Regardless of the lawsuit, it was a good move to give Eddie Alvarez a rematch with Michael Chandler because their first fight was outstanding, not to mention really close. Alvarez could have won that fight just as easily as Chandler did and Alvarez proved that by winning the rematch. What I'm not fine with is a former champion getting a rematch when said former champion got dominated for five rounds to lose their championship. That's what happened to Pat Curran when he fought Daniel Straus. He got dominated. There is no question that Straus won that fight. There is also no question that the fight was quite boring. There is nothing about that fight that I want to see again, especially when there are two tournament winners waiting to get the title shot they earned. I could begrudgingly accept this rematch if there weren't other deserving fighters waiting for their shot. That isn't the case here. Curran-Straus 2 wasn't close, it wasn't exciting, and I want to see Patricio Pitbull and Frodo get their title shots. Seriously, his nickname is Frodo. I love that.

---


Who do you think won this week? Was Dan able to sway your vote, or did Evan outwork the veteran? Voting will be open until midnight EST on Saturday, so make sure you vote and make your voice heard!










---

Will Ronda go from being the face of WMMA to being the face of the UFC?



Bonus) Ronda Rousey will be the UFC's biggest PPV draw in 2014.

Evan Zivin: FICTION The UFC's biggest draw in 2014 will be Brock Lesnar after Dana White begs him to return due to the perceived hit the company will be taking from their top draw (GSP) not fighting this year and their second-biggest draw (Anderson Silva) fighting once or not at all depending on his mental and physical state once he's healed from his leg injury. Brock will mull things over and agree to come back since he can't stand being in the WWE for more than two years at a time. He will then get crushed in a fight with Junior dos Santos in October and leave again, selling a million Pay-per-views and making a ton of money in the process. God bless that man.

Seriously, though, I don't know. It's possible but it's hard to say if Ronda is going to become a legitimate draw or not. You can't just base it off her two Pay-per-view appearances because the first one had a curiosity factor attached to it due to it being the first women's fight in UFC history (plus Henderson vs. Machida as the co-main event) and the second one was the co-main event of the New Year's show under one of the most anticipated title rematches in UFC history. In between those shows, Ronda did quite a bit of damage to her image with how she portrayed herself on The Ultimate Fighter. Will that impact her drawing power? We'll have a better answer to that question after UFC 170, but she very well may become the top draw. It's either going to be her or Jon Jones. The Glover Teixeira fight might sell all right depending on how hard it gets promoted (just have Joe Rogan yell "HE'S A MONSTER" a bunch of times interspersed with video of Glover training with Chuck Liddell), and if the rematch with Alexander Gustafsson happens this year, it should sell very well. I mean, their first fight was only Fight of the Year, right? I'd say Chris Weidman might be top draw but I don't think two awkward wins over Anderson will translate to buys. I'd be tempted to say Cain Velasquez or Anthony Pettis but, besides the fact both men headlined cards last year that heavily under-performed, they're both injured and may only fight once this year. The lighter weight champions are still fighting bias from many casual fans due to their size so that will work against them in 2014. I'm just gonna say that the UFC's top draw in 2014 will be Johny Hendricks. Once he defeats Robbie Lawler for the vacant belt at UFC 171 and defends it in Fight of the Year contenders against Carlos Condit and Nick Diaz (Nick will want a piece of that beard), he will become the most popular fighter in the company and sell out venues the world over and bring the UFC to heights it never would have dreamed of reaching. Or not. How the hell should I know? I don't get paid enough to pretend to have these answers.


Dan Plunkett: FICTION The man or woman that will prove to be UFC's biggest PPV draw in 2014 is fighting in February, but his or her name isn't Ronda Rousey. Rarely in MMA history can you pinpoint when a fighter became a draw, much less an international sensation. For Kazushi Sakuraba, that moment came on May 1, 2000, when he defeated Royce Gracie after 90 minutes and went another 15 minutes with Igor Vovchanchyn. For Anderson Silva in Brazil, it was Super Bowl weekend in 2011, when he front kicked Vitor Belfort. This Super Bowl weekend will see another Brazilian explode in popularity, only this time to a level that had previously only been dreamed about in MMA. Renan Barao has it all: a 32 fight unbeaten streak, excellent face-kicking, charisma, charm, superb dancing, incredible looks, and now the undisputed bantamweight championship. Barao, hereafter referred to as Modern Fedor, will become double the PPV freight train Brock Lesnar was when he finishes Urijah Faber and become Dana White's new top pound-for-pound fighter. By year's end, Barao will have broken Oscar de la Hoya and Floyd Mayweather's PPV record at least twice. How will Modern Fedor go from headlining a PPV in February that will do maybe 250,000 buys to doing ten times that just a few months later? Tweeting. A plethora of highlight videos all backed by different nu metal songs. Guest spots on Fox Sports Live. And the key that brings it all together: standing and banging. BaraoMania is coming.

---


And that's it for this week! As always, if there's anything you'd like to see featured in a future edition, leave your statement in the comments and I'll add it in. Let us know what you thought in the comments, on Twitter, or on Google+.


comments powered by