SPOTLIGHTS
Five Quick Rounds 01.29.14: UFC on Fox 10, The Judges Like It When You're Smooth, More
Posted by Evan Zivin on 01.29.2014

From the announcement of Dan Henderson vs. Shogun Rua II and Benson Henderson's split decision victory over Josh Thomson to Rousimar Palhares' WSOF debut, 411's Evan Zivin examines these stories and more in Five Quick Rounds!

Hey hey, fight fans, and welcome back to Five Quick Rounds! I am your host, Evan Zivin, and I am more excited than the UFC on a Sunday to be here once again!

ARE YOU READY FOR SOME FOOTBALL??? Well, good. Maybe you'll also be interested in some MMA. The Superbowl is this Sunday at Metlife Stadium and, the night before the Seattle Nirvanas do battle with the Denver Altitude Sickness to win a piece of glass shaped like a football, UFC 169 will go down about 10 miles away at the Prudential Center in Newark, New Jersey. There are going to be two title fights and it should be a great event. The only thing that could put a damper on things would be if...I don't know...the Superbowl got moved to Saturday due to bad weather, but that's not going to happen. I mean, it's the Superbowl. They play through everything. Rain, snow, Janet Jackson's boob. They aren't going to move the show, right? ...What's that? You're saying that, if the weather is deemed bad enough, the NFL will move Superbowl XLVIII to Saturday? Well, that would suck. That was Dana White's response when asked his thoughts on the Superbowl taking place on Saturday. Dana has since said that, in the event that does end up happening, UFC 169 will be moved to Sunday so it doesn't have to compete with what will likely be the most watched television program of the year. Sounds like a good idea to me. Besides, they're already planning to do a Sunday show in March so it couldn't hurt to give it a try now. I mean, it could hurt buyrates since most people who order Payperviews on Sundays expect to see elbow drops and guys getting their attitudes adjusted (is that what the kids are calling it?) but it might work. Who knows. Maybe Brock Lesnar will show up. Come back, Brock! We need you................r drawing power!

All right, so with fighter introductions out of the way, I have five more rounds of MMA news and opinions to throw at you. This week we look at the results of UFC on Fox 10, including Sergio Pettis' first loss, the booking of Shogun Rua vs. Dan Henderson II, and two title fights being set for WSOF 9. Let's to it do it.

FIGHTER YOU READY!!!!
FIGHTER YOU READY!!!!

FIGHT!!!!




Round One: UFC on Fox 10 Main Event, The Punk Wasn't Smooth Enough to Win the Judges

***TOUCH OF GLOVES***

Live, from the United Center in Chicago, Illinois, it was UFC on Fox 10 ON SATURDAY NIGHT!!!!!

It's bitterly cold outside and I can see a couple of inches of snow on the ground. That must means it's January which also means it's that time of year when the UFC decides give back and say thanks to the loyal MMA fans in Chicago by making them risk severe frostbite in traveling to the UC to watch a relatively inconsequential fight card. Well, I guess it wasn't so bad. Being near Milwaukee meant there were a few Roufusport guys competing on the card. They're fun because they spend all day kicking things. Also, the main event was an interesting match-up. It wasn't a title fight but it did feature a former champion fighting the #1 contender for the chance to destroy everything the man has spent his entire career working to achieve. That's worth watching, right? The fight was Benson Henderson's first since losing the UFC Lightweight Championship to Anthony Pettis at UFC 164 last August and, considering that was his second loss to Mr. Showtime, he was going to need to start stringing together a serious list of victories before the UFC would be willing to give him another crack at the belt. His opponent was Josh Thomson, the former Strikeforce Lightweight Champion who earned a shot at Pettis after kicking Nate Diaz in the face. The fight was supposed to go down in December but it was cancelled because Pettis' knee was being a jerk. So Thomson was faced with the dilemma of either waiting another half year to get his title shot or take a fight to stay active but risk losing his title shot. Thomson, being the warrior he is, agreed to take a fight, and it wasn't just any fight. It was a fight against the former champion, a man who is known for winning "close" fights ("close" meaning "fights he lost") on the judges scorecards. So, was Thomson able to stop Henderson from taking his title shot away or did we end up with another "close" fight?

The fight didn't start out too close. The first two rounds saw Thomson grab hold of Henderson and force him to the ground. Thomson then secured a bodylock on the former champion and went to work from the back, isolating an arm to expose the neck area for a rear naked choke or an armbar attempt. Henderson is, of course, one of the hardest fighters to finish by submission and, both times, he got out of those bad positions by standing up, forcing Thomson to carry his own weight until he he gave up the bodylock. Henderson got the better of the striking exchanges in those early rounds but I felt Thomson still took those first two rounds. Henderson took over in the third round by stopping Thomson's shot and controlling the AKA fighter against the cage and on the ground. The fourth was a close round, as Thomson started the round with another takedown but Henderson was able to tie Thomson up and do damage from the bottom. The two men were even on takedowns for the remainder of the round as well as on crowd antics, as Henderson, with Thomson on his back, casually moved the hair out of his face which was followed by Thomson throwing his hands up to get the crowd to make noise as the round ended. Many people online made that out to be a pro wrestling moment because apparently MMA fighters aren't allowed to have personalities or fight without hair in their face. That round was a toss-up although I was leaning Thomson. The fifth round was also close, as both men went at each other with hooks and kicks. I think Thomson came out with the edge after throwing Henderson to the ground off a caught body kick and another takedown attempt (even though Henderson was the one who got Thomson on the ground). The last rounds were very close but I felt Thomson had done enough to win. The majority of fighters and media seemed to feel the same way. Well, two judges didn't as the fight was given to Henderson by split decision. I can see where a judge gave 3 rounds to Henderson. I don't think it's right but I can see it. That judge that gave 4 rounds to Henderson, though, can just screw right off. Thomson put in the performance of his career against one of the toughest fighters in the company and beat him. And he did it with a broken thumb. That's crazy. I hope this isn't the end of the road for him. The result of the fight was depressing but it was a good fight. I imagine Dana will give Thomson a favorable match-up in his next fight to guarantee he can get another title shot because he deserves one. Either way, congrats to Ben for another tough win and congrats to Gilbert Melendez because he's probably getting the next title shot now. I hope Pettis and his snazzy suit are ready.

***HORN SOUNDS***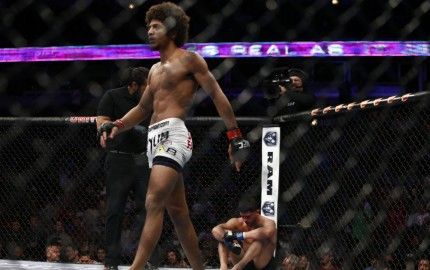 Round Two: Wait...Sergio Pettis....Lost???

***TOUCH OF GLOVES***

I should mention that I live in the...uh...relative geographic region that the UFC show on Saturday emanated from. I haven't been at this 411 gig for a year yet but I figured I'd try getting a press pass for the show. I mean, they credential Jeffrey Harris so their standards can't be that high, right? I filled out the application and sent in all the necessary information only to get an email a week later saying that there were so many people requesting passes and there was such a limited number that I wasn't getting one. Oh UFC, I bet you say that to all the handsome MMA keyboard warriors. C'mon, UFC. You don't have to be so cold and bureaucratic like that. You can be honest with me. You didn't give me a pass because I'm not "big time" enough for you, right? I know it wasn't because of something bad I said about Dana because if I did that there would have been a 10 minute Youtube video consisting of him throwing F-bombs and middle fingers at me. It couldn't be because of the even itself. It was a show headlined by a non-title fight in a 20,000 seat arena. They weren't going to sell that place out. Bloody Elbow even showed there were cageside seats available on Friday. You could have found a seat for me, UFC. You know that. Maybe it's because I don't kiss up to the UFC enough like all the other major MMA "journalists." Maybe it's because I try to be honest and say what I think without worrying what people will say since they're going to say I suck regardless. Trust me, if I had gotten a pass to the show, I would have said so many nice things about Dana and the UFC and they wouldn't have even had to pay me to say it. I can be a corporate whore too, UFC. JUST GIVE ME A CHANCE!!!!

Maybe if I had been given a pass to the show I could have been there to support Sergio Pettis, the cutest, littlest, undefeatedest fighter ever, and maybe he wouldn't have lost to Alex Caceres. It was a great fight. I don't think many people were giving Bruce Leroy much of a chance against the smaller Pettis but Caceres is a scrappy guy who has managed to find ways to win in previous UFC outings. Caceres didn't look too bad in the first round, varying his striking offense to match the kicks and punches being thrown by Pettis, but Pettis was landing more strikes and he hurt Caceres near the end of the round with a nice head kick. That afro must provide a lot of cushion as Caceres ate that kick and he came out swinging in the second. Caceres started shifting momentum his way after rocking Pettis with a left and jumping on Sergio's back. Pettis was able to get up and recover but Caceres was able to keep pace with spinning kicks. Craziness. Pettis went for a takedown early in the third round but Caceres nullified it with a kimura attempt. It didn't seem like Pettis should have been wasting his time going to the ground again but that's what he did, attempting another takedown. It failed and, in a scramble, Caceres took The Phenom's back and secured a rear naked choke with about 20 seconds left in the fight. Pettis was forced to tap and watch his undefeated record crumble before him. It was a good performance by Caceres. For as goofy as he is, the dude is tough, he's durable, and he gives everything he's got from the opening minute to the final horn. He's got my respect. It's a tough break for Pettis but it's not the end of the world. A loss is good for him at this stage of his career. Aside from losing the pressure of being undefeated, he now has a chance to really evaluate his weaknesses and assess what he needs to do to improve his overall game and prevent a loss like that from happening again. He's got a lot of work to do if he wants to be a contender at bantamweight. I'm sure he'll eventually drop down to flyweight, where I see him being much more successful, but it will be interesting to see what adjustments he can make against the larger opponents at 135. Hopefully he shores up the holes in his game so that his eventual sponsorship with Mattel doesn't fall through. Seriously, the fact that there aren't little girls walking around with Sergio Pettis dolls, brushing his hair and taping his wrists and threatening to spinkick other little girls in the face, is really a missed opportunity. HE'S THE UFC CHAMPION OF MY HEART!!!! Get on it, UFC.

***HORN SOUNDS***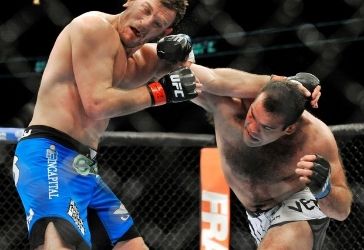 Round Three: Rest of UFC on Fox 10, Miocic Beats Gonzaga, Will Face Georgetown in Next Round

***TOUCH OF GLOVES***

I could have used the second round to talk about the co-main event between Stipe Miocic and Gabriel Gonzaga but there's really not a whole lot to say about the fight. I mean, it went pretty much the way everyone expected it to. For the most part, at least. Gonzaga got off to a good start, countering Miocic's kicks with overhand punches and knocking him to the ground after grabbing one of his leg kicks. The Brazilian even took the Cleveland State wrestler down. Gonzaga set a fast pace during the first five minutes and, unfortunately, he was not able to keep it up in the second and third rounds. This allowed Miocic to find his rhythm and start pumping his jab. Miocic definitely had the better boxing technique, throwing lots of combinations whereas Gonzaga was mainly relying on his power to go for the knockout blow that never came. Miocic was never close to knocking out Gonzaga either but he did have a chance to in the third round when he got on top of Gonzaga off a failed takedown attempt and started pounding on him with hammerfists for most of the round. I was hoping for a late come-from-behind finish by Gonzaga (because I thought it'd be funny) but he just couldn't keep up and Miocic got another tactically impressive unanimous decision victory over another ranked fighter. I don't know if Miocic will be able to handle the strength and power of the guys ranked above him at heavyweight but he's a very smart fighter and it wouldn't surprise me to see him end up in line for a title shot within a year or two. Also, I think this counts as Croatia's revenge for Gonzaga kicking Mirko Cro Cop's head off back in 2007. Couture vs. Cro Cop....never forget what could have been.

For a guy that only thinks of MMA as a hobby and not something he really cares all that much about, Donald Cerrone sure is pretty good at it. He's faltered when dealing with the top of the division but he wrecks everyone else. Add Adriano Martins to his list of victims. Martins was given a huge opportunity to knock off The Cowboy and he didn't look too bad to start. Cerrone was pummeling him with leg kicks but Martins managed to connect with some hard punches. The fight could have been a good 15 minute brawl but Cerrone had no time for that so he kicked Martins head off 20 seconds before the end of the first round. It was a great win that, regardless of the credentials of his opponent, will probably get Cerrone back in title discussions. One man who might end up in title contention soon is Jeremy Stephens. Lil' Heathen has looked great as a featherweight and his run of success continued with a strong unanimous decision victory over Darren Elkins. Stephens' takedown defense was perfect in keeping the wrestler on his feet where Stephens punished him with uppercuts and straight punches. It was one of the best performances of Stephens' career and it looks like the drop to 145 may have been the best decision he's ever made. Also on the show, Eddie Wineland proved he can take care of business on the ground by pounding out a TKO over Yves Jabouin, Chico Camus dominated Yaotzin Meza from the mount to win by unanimous decision, Hugo Viana did damage from the outside to beat Junior Hernandez by unanimous decision, Daron Cruickshank wheel kicked Mike Rio in the face to finish him by TKO, George Sullivan brawled with Mike Rhodes to take a close unanimous decision, and Nikita Krylov got the headkick train rolling by knocking Walt Harris out with one in 25 seconds. I guess it made no difference that he weighed in for a heavyweight fight at 218. Has the guy tried light heavyweight? He should be able to make that weight easily. He can get tips from Daniel Cormier. Did you guys see DC on the Fox broadcast? He looks great. He looks like he's all set to make 205. Good for him.

And that was UFC on Fox 10. UFC 169 is up next on Saturday. Or maybe it will be on Sunday. MAKE UP YOUR MIND, SUPERBOWL!!!!!

***HORN SOUNDS***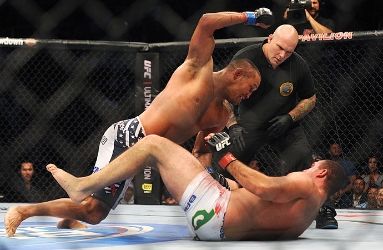 Round Four: From Payperview to Some Random Brazil Show, Shogun vs. Henderson II is On

***TOUCH OF GLOVES***

So what else happened this week? Not a ton, so let's go ahead and talk about one of the greatest MMA fights of all time. Is that all right with you? I just want to be sure it's cool before I move forward here. I don't want to come across as rude or insensitive to how you feel because that's the kind of guy I am for the next 15 minutes. So let me turn back the clock to a simpler time: 2011. Google+ had just launched, setting itself up to be the failure that we all knew it would be; LMFAO proved that you didn't need to be able to sing or have a good look or possess any...y'know....talent to succeed on the Billboard charts; and two aging fight legends reminded us all why we still love this sport after all this time. I didn't initially know what to make of the news that Dan Henderson and Mauricio "Shogun" Rua were going to fight in a five round main event at UFC 139. I think I was a little surprised at first because with all the success these two men had in the wondrous Japanese promotion known as Pride, Henderson being a two division champion and Rua winning the 2005 Middleweight Grand Prix, how the hell had they not fought before? It's one of those match-ups that you had to think about for a second before realizing that it would be the first time these two men would do battle and it was going to be in a UFC main event. How awesome is that? I mean, the main event was originally Cain Velasquez vs. Junior dos Santos and then that got moved up a week so it could be on Fox but screw that. Pride, bitches!

To be honest, I wasn't expecting much out of this fight. I knew what both men had accomplished in their careers --and not just in Pride, as Shogun was a former UFC champion and Henderson was a former Strikeforce champion and Fedor Slayer-- but they were both on the downside of their careers as far as being top contenders went. Still, the right two guys, regardless of mileage in the fight game, can put on an amazing performance, and we got one that November night. I always say that the best fights are the ones that create a story through its action. The story of this fight saw Henderson use his power striking and wrestling to hurt and control Shogun through the first three rounds only to fade in the last two, with Shogun dominating on the ground in the final five minutes of the fight. Many felt the fight should have been scored a draw but all of the judges scored the fifth round 10-9, giving a 48-47 victory to Henderson. It was a fight that kept you engaged for the entire twenty-five minutes and, while it was definitely one of those moments you needed to witness live, I think it still holds up today. So, now the word is the two men have agreed to a rematch on a Fight Night event in Brazil on March 23. I think it's unfortunate that the rematch of one of the greatest fights of all time is taking place on Fox Sports 1 instead of Payperview but, with both men being in a worse place in their careers than they were prior to the first fight, I can be okay with it. Plus, I don't have to pay extra to watch the rematch. Score! The big question heading into this fight will be can it possibly live up to the first one? I'm not expecting this fight to come anywhere close to their first encounter (and I really hope nobody else goes into the fight with that expectation) but I think it will be another good, memorable clash between two of the most dangerous men to ever compete in this sport. I'll bring the popcorn or whatever they eat in Brazil.

***HORN SOUNDS***




Round Five: Look Under Your Chair, There's a WSOF Title Shot! You Get a Title Shot! And You Get a Title Shot! And...

***TOUCH OF GLOVES***

...Don't hurt me, Oprah. So is anybody else scared to open a closet door now, fearing that World Series of Fighting President Ray Sefo is just gonna jump out and offer you a championship match at an upcoming event? No? I'm the only one? Do any of you even pay attention to World Series of Fighting? You should. They're pretty decent. Remember when their matchmaker challenged Bellator to a supercard between all their top fighters with bragging rights on the line? I respect that. It would have made for a rather unimportant spectacle that Dana White would have laughed his ass off at but I would have watched the crap out of that show. So anyway, WSOF has been moving fast these last few months to get champions established in all of their weight classes. The championship train started rolling back in October at WSOF 6 when Josh Burkman, resident welterweight badass and owner of one of the best no-tap submission victories ever, lost by submission in a hard-fought fight against Steve Carl, who...uh...has nice hair, I guess. Then at WSOF 7, a featherweight champion was crowned when Georgi Karakhanyan came back from near defeat to choke out Lance Palmer in another great fight. I hope they don't have to put name plates on the belt because good luck with that one. Then, at their most recent event a week and a half ago, two more champions were crowned when Jessica Aguilar got to tell the UFC to stick it by submitting Alida Gray and becoming the WSOF Women's Strawweight Champion in the company's very first women's fight. Also, Justin Gaethje became the Lightweight Champion when he knocked out some guy they found hanging out by the dumpsters behind the venue. Yep, things are happening for World Series of Fighting.

This championship trend will continue at WSOF 9 (March 29, Las Vegas) when, in addition to another new champion be crowned, we will also see a championship be defended for the first time. The main event will see WSOF Welterweight Champion Steve Carl, the man who choked out our hopes and dreams in the fourth round, will defend his championship for the first time against....The Chupacabra. *cue lightning* That's right. He's putting his gold up against the debuting Rousimar Palhares. Rousimar is a man known for his leglocks and known even more for refusing to let go of said leglocks. His poor behavior resulted in his firing from the UFC last October but, after saying they wouldn't offer him a contract, WSOF signed him in November. Now the most dangerously unpredictable man in MMA is getting a title shot in his first WSOF fight and it's a fight that he is very capable of winning. Carl better work his defensive wrestling lest he want to end up on the ground with this beast. Also on the March card, we will see Marlon Moraes get his long-awaited bantamweight title shot when he fights Josh Rettinghouse for the inaugural championship. Moraes is one of the few legitimately good fighters WSOF has under contract that they have promoted as one of the faces of the company. He has been successful in all four of his WSOF appearances, which have included victories over Miguel Torres, Tyson Nam, and Carson Beebe, and all he has to do is win one more fight and he'll get to add "Champion" to his already impressive resume. As for his opponent, who cares? This is a gimme fight because WSOF wants that belt on Moraes. Hopefully it works out and doesn't backfire in hilarious fashion the way Burkman-Carl did. Well, that wasn't that hilarious. Just disappointing. I'm going to go ahead and get my hopes up just in case.

***HORN SOUNDS***

That's it for Five Quick Rounds. Thanks for reading. If you have any questions, comments, or suggestions, and it is always appreciated when you do, leave them in the comments section. I will be back in 7 for another Five Quick Rounds. Enjoy UFC 169, whichever day it happens, and, until next time, remember to fight clean, fight hard, fight fair, and never leave it in the hands of the judges...




LATER!!!!!!!!!!!!!!!!!!!!!!!!!!!!
comments powered by