SPOTLIGHTS
The Greatest MMA News Column 01.28.14: UFC 169 By The Numbers
Posted by Dan Plunkett on 01.28.2014

News and thoughts on Saturday's UFC 169, GSP's drug testing criticisms, UFC on Fox 10, Rampage and King Mo in Bellator's light heavyweight tournament, Henderson vs. Shogun II, and more!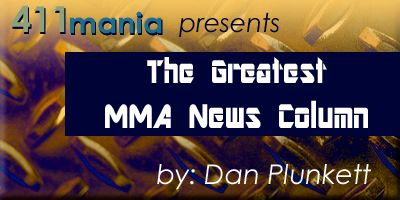 UFC 169: By The Numbers



18 - The number of months since Renan Barao and Urijah Faber first met in the main event of UFC 149. Faber entered the match as a slight underdog, and Barao proved those odds too short with a decisive decision win. In all but one round, Faber was out-struck, and each of his takedown attempts failed. At the bout's conclusion, it seemed doubtful the then-33-year-old Faber would ever be able to beat Barao. Eighteen months later, that sentiment seems to have lightened. In December 2012, Faber's camp, Team Alpha Male, hired veteran Duane "Bang" Ludwig as their head coach and the camp's fighters have seen remarkable improvement. Faber's 2013 campaign was perhaps the best calendar year of his entire career. He submitted Ivan Menjivar, Scott Jorgensen, and Michael McDonald, and won a clear decision over Iuri Alcantara. Meanwhile, Barao had finishes over McDonald and Eddie Wineland.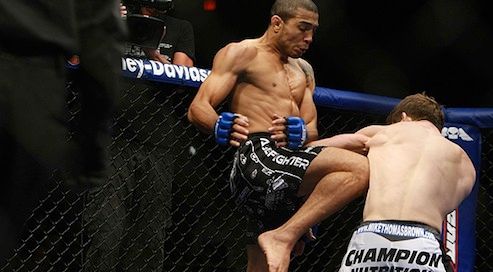 7 - The number of consecutive featherweight title defenses for Jose Aldo, dating back to the WEC. Jose Aldo has been one of the most successful champions in MMA history but doesn't seem to get the credit for it. His seven consecutive title defenses are more than any other fighter in major MMA history not named Anderson Silva or Georges St-Pierre. The 27-year-old doesn't always have flashy finishes or even at times look head and shoulders above his competition, but nobody has come close to beating him since he came to the United States six years ago. Aldo's 2013 win against former lightweight champion Frankie Edgar last year was more decisive than Ben Henderson could manage. One thing that seems to hurt Aldo every time out is the draining cut to featherweight. It's scary to think he could be even more effective at lightweight than his current weight class.

5 - The number of consecutive losses combined for Alistair Overeem and Frank Mir, who meet in what may prove to be a loser leaves town match on Saturday night. Big things were expected for Overeem when he signed with the UFC in 2011, none of which really came to fruition. His debut match against Brock Lesnar was expected to be one of the biggest pay-per-views of the year, but drew a disappointing 535,000 buys due to an unusual Friday night time slot, Lesnar losing momentum from his loss to Cain Velasquez, and the public's lack of awareness around Overeem. Still, he won the bout and was earmarked for a heavyweight title match with Junior dos Santos. One random drug test screwed that up. Overeem then insisted on not waiting for a title shot upon his return and fought Antonio Silva. Two particular bad traits bit Overeem after sliding by for the first two rounds. His less-than-iron (wooden?) chin and propensity for gassing out led to Silva knocking him out in the third round. The same issues contributed to his next loss, an August knockout to Travis Browne.

It's been four years since Frank Mir, 34, has looked roundly impressive in the cage. An early 2011 loss to Shane Carwin proved added bulk wouldn't help him ascend back to the top of the division. He did dominate Roy Nelson at UFC 130. His December 2011 bout against Antonio Rodrigo Nogueira provided one of the best highlight reel finishes of Mir's career, but prior to submitting the Brazilian legend Mir was anything but impressive. After that, he suffered three consecutive defeats to Junior dos Santos, Daniel Cormier, and Josh Barnett. Of Mir's eight defeats, seven have come via some form of knockout. If Overeem wins on Saturday, it will likely be by way of some form of knockout. That's an awful lot of punishment for someone to take over the course of a career.

9 - The number of combined pounds by which John Lineker has missed weight in three of his five UFC bouts. The 24-year-old's streak of three knockouts should place him in serious title contention, but two consecutive bouts where he missed weight place him in a strange middle ground between a title shot and losing his job. Lineker briefly worked with Mike Dolce in this camp, but the distance and language barriers proved too significant. For Lineker, the weigh-ins may prove as significant as the bout itself. Even with a win on Saturday, missing weight on Friday could mean a premature end to his UFC career.

---
NEWS!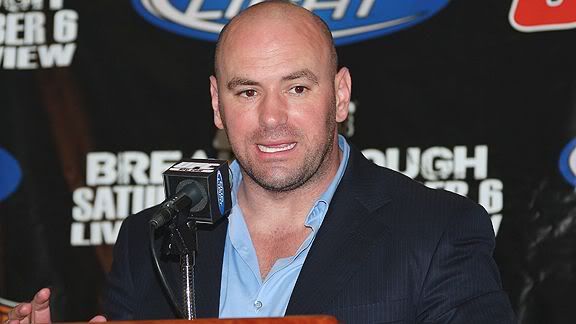 St-Pierre, UFC at odds over drug testing issue. We've been through this song and dance before, but this time it's UFC's top star criticizing the company's drug policy. Former UFC welterweight champion Georges St-Pierre told reporters in Montreal that UFC's lack of support for his increased drug testing regimen for his November bout against Johny Hendricks was one of the reasons he decided to step away from fighting.

"I tried to change things and unfortunately – maybe for money reasons, maybe for image – they were not ready to do that," St-Pierre said according to ESPN.com. "I tried in a very diplomatic way and it didn't work, so it's unfortunate, but I believe it will happen sooner or later."

The response of the UFC brass regarding drug testing was typical. "If you are using performance enhancing drugs in the UFC, these guys get caught," said Dana White, alleviating the concerns of everyone concerned with fighters' health. "…You show up at one of these international shows, people don't realize we're testing the entire card. You're gonna get caught if you're using it." What White never addresses is the ineffectiveness of testing when a person knows exactly the date of their test months in advance, nor the lack of CIR testing for synthetic testosterone on results that aren't flagged by a high T/E ratio.

The deal is this: the drug testing conducted by the athletic commissions and the UFC is extremely inadequate. Effective drug testing is random, which is a rarity in MMA. Effective drug testing monitors T/E ratios over multiple tests to flag abnormal results even under a 4:1 or 6:1 ratio (which is what caused Lance Armstrong to stop doping). Effective drug testing is also expensive, both in and of itself and in residual costs (like a main event fighter failing a test). The UFC either fails to recognize those facts for what they are or for whatever reason ignores them completely.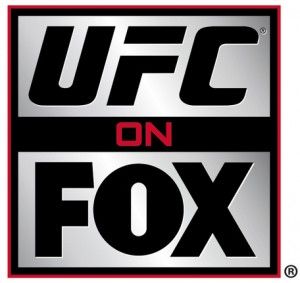 UFC on Fox: Henderson vs. Thomson thoughts. UFC's tenth Fox special wasn't very memorable. Overnights had the show drawing 2.55 million viewers, which will grow once final numbers come out because they don't account for west coast viewership. The number isn't good, especially considering it was promoted last week during a football game that drew 56 million viewers. That being said, the number wasn't unexpected considering the card. Josh Thomson beat should have beaten Ben Henderson in the main event but the judges went the other way. The fight was close and judges always seem to favor Henderson in close fights. In the co-main event, Stipe Miocic won a decision over Gabriel Gonzaga. It was a solid win over a good fighter, but nothing star-making. Speaking of star-making, it's tough to make stars on Fox when fighters aren't given the opportunity to talk after fights. Donald Cerrone had a brutal looking neck kick knockout against Adriano Martins. He later said he wanted to fight six times this year. At this level, that's really hard to do and still fight at your best. Josh Koscheck was on an "I want to fight all the time" kick in 2008 and 2009 and it may have cost him losses against Thiago Alves and Paulo Thiago (although he may have just been afraid of people named "Thiago"). In the main card opener, Jeremy Stephens won a decision over Darren Elkins. Elkins didn't perform well at all. The prelims were quite good. Alex Caceres upset Sergio Pettis with a third round submission. Pettis is only 20 and should only grow from the experience. Eddie Wineland stopped Yves Jabouin in the second round. Daron Cruickshank had a highlight reel finish with a wheel kick against Mike Rio.

Bellator announces season debut with Rampage and King Mo. Bellator positioned itself for a strong start to its tenth season by announcing Rampage Jackson and King Mo Lawal for the opener on February 28. Jackson and Lawal represent half of a four-man light heavyweight tournament, along with Christian M'Pumbu and Mikhail Zayats. Jackson is matched with M'Pumbu in the semi-finals, while Lawal will dance with Zayats. It is the only four fighter tournament currently announced for season ten, with the rest featuring eight fighters. Bellator first introduced four fighter tournaments last summer, and last season's bantamweight and heavyweight tournaments had four fighters each. I don't think the reasoning behind this particular tournament is all that difficult to deduce. It puts little in the way of a Rampage vs. Mo final, which, if logic prevails, would be featured under Eddie Alvarez vs. Michael Chandler III on Bellator's re-planned pay-per-view debut.

Easily the biggest star on Bellator's roster, Rampage Jackson, 35, rebounded from the three fight skid that closed out his UFC career with a first round stoppage of Joey Beltran in November. A brawler, Beltran is tough to finish with strikes so in that sense it was impressive, but Jackson's performance in the tournament should give a better indication as to where he's at in his career. Christian M'Pumbu, 36, captured Bellator's light heavyweight title in May 2011 and hasn't won a fight since. Following a non-title loss to Travis Wiuff that October, M'Pumbu sat on the sidelines for more than a year before returning in February of last year against Attila Vegh, who took his light heavyweight title away. A hand injury forced him out of a September match against Vladimir Matyushenko. Lawal, 33, made his Bellator debut last year to much fanfare, but two losses to Emanuel Newton put a damper on his year. However, just the fact that Lawal returned to competition in itself is remarkable considering he suffered from complications from knee surgery and nearly lost his leg. Mikhail Zayats, 32, fell to Emanuel Newton in season eight's light heavyweight finals.




Henderson vs. Shogun II scheduled for March 23 in Brazil. The rematch of one of the greatest fights in MMA history is on tap for March 23. Dan Henderson, 43, has agreed to a new deal with the UFC and will face Shogun Rua in a rematch of their epic 2011 bout. The back-and-forth 2011 affair was won by Henderson, but really should have been a draw with Rua doing more than enough for a 10-8 fifth round. With that win, Henderson earned a light heavyweight title shot, but it never came to fruition as an injury sidelined him and he returned in 2013 to lose three consecutive fights. Rua has an even 2-2 record since that November night two years ago, beating Brandon Vera and James Te-Huna while losing to Alexander Gustafsson and Chael Sonnen. It's unfair to expect anything close to the first match, but one can hope.

Sonnen and Silva apparently fight on TUF Brazil 3 set. According to Dana White, Chael Sonnen and Wanderlei Silva got into a fight on the set of The Ultimate Fighter Brazil yesterday. The only account of the skirmish is from FrontRowBrian, who is close to Sonnen. Certainly, various accounts of the incident will vary, perhaps widely, from person to person until the footage is shown (assuming it was caught on camera). According to Brian, Silva threw a punch which Chael ducked. Sonnen took Silva down and threw strikes. At that point Andre Dida, who fought in Dream, came from behind and punched Sonnen in the back of the head. The fight was then broken up.

Also announced yesterday was that TUF Brazil 3 will be shown exclusively in North America on UFC Fight Pass. The idea is that it will be a season people want to see due to the heat between Sonnen and Silva, and once the pay wall goes up UFC will need new programming people want to see. Being on Fight Pass will hurt the build to the eventual fight compared to the season being on Fox Sports 1, but if UFC is really committed to building Fight Pass, there's nothing wrong with the decision.

Quick news: The Association for Ringside Physicians released a statement in favor of the general elimination of therapeutic use exemptions for testosterone. Dana White, to his credit, agreed with them and went on to say he hoped Vitor Belfort won't be granted a TUE for his match against Chris Weidman… If the Super Bowl is moved to Saturday due to weather, UFC will move UFC 169 to Sunday. This would be big news if there was a real chance of it happening. For the PPV, I think the best option would be to keep it on Saturday but push the start time back. People will already be congregated for the Super Bowl, and I think they'd be more inclined to stay and watch UFC than to get back together the next day for a lower level UFC PPV… Joe Warren's bantamweight title shot is scheduled for Bellator 118 on May 2. Obviously, the winner of Eduardo Dantas vs. Rafael Silva would have to come out healthy… Chris Leben announced his retirement. Good for him... Why are Dana White's thoughts on Justin Bieber a story?

---


As always, thanks for reading. Feel free to leave any feedback in the comment box or email me at plunkettdan@yahoo.com.

comments powered by