SPOTLIGHTS
411 MMA Fact or Fiction 1.29.14: Benson Henderson, UFC 169, More
Posted by Wyatt Beougher on 01.29.2014

Did Benson Henderson make a case for a rematch against Anthony Pettis at UFC on FOX 10? Would the Super Bowl moving to Saturday night be a death blow for UFC 169? 411's Mark Radulich and Jonathan Butterfield debate these topics and more!

Welcome everyone to 411's MMA Fact or Fiction, and I'm your host, Wyatt Beougher. I've had an interesting week, starting with a funeral on Wednesday, a blizzard that lasted most of the rest of the week, and culminating with the Royal Rumble on Sunday. The latter part of the week really balanced out the former, and I hope that if you're in the regions affected by this blizzard, you're taking care to keep yourself and your loved ones both safe and warm.

Last week, Evan Zivin and Dan Plunkett threw down, and it was, in my opinion, a very even contest. It didn't help that both guys agreed on every single statement, which in the past has often resulted in a draw. That wasn't the case this time; however, as Evan was able to pick up the 16-11 victory (unsurprisingly based on past results, 14 of you voted for a draw). Great effort from both guys, and a thank you to them and to everyone who voted. This week will see Mark Radulich taking on a returning Jonathan Butterfield, who has been out of action for nearly half a year!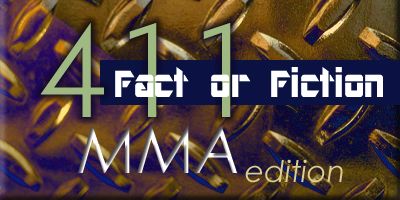 TALE OF THE TAPE

Red Corner
Mark Radulich
'Headshrinker'
Host/Co-Host, a whole slew of podcasts across various zones/MMA Event Coverage Specialist
12-6-1

VS

Blue Corner
Jonathan Butterfield
'Butters'
Fighter Profiler/UK Live Coverage
4-6-1

---

Has Bendo impressed you?



1.) Benson Henderson did little to earn a third fight with Anthony Pettis at UFC on FOX 10, as a split decision win over Josh Thomson wasn't enough to make the outcome of a rematch with Pettis seem any different.

Mark Radulich: FACT Not only did he not do enough to earn a title shot, he managed to do precious little to interest anyone in watching his next fight. Bendo hasn't been in a fight worth watching since his battle with Clay Guida at the first UFC on FOX event. He appears to be fighting not to lose instead of fighting to win and that doesn't make for interesting television. There are several fighters at lightweight that will at least try to make a fight out of it and those folks should be considered for a title shot before Henderson. At this point, I'd have Henderson fight either Khabib Nurmagomedov or Diego Sanchez. In the former he'd best a test for possible contender and in the latter, he wouldn't be allowed to rest on his laurels.

Jon Butterfield: FACT To be honest, I never saw the Henderson-Thomson fight as an opportunity for Henderson to get a rematch against Pettis so soon. Henderson is 2 down against Pettis, and was finished inside the first round last time out – a single win, even against a top contender, just isn't enough in this particular division. The fact that the win Henderson received has been widely derided is neither here nor there, but certainly doesn't help his case. Benson is one of the top contenders at 155 lbs, that's for sure, but he really had to serve up a convincing win to be elevated above, say, Gilbert Melendez, who represents a fresh challenge for Pettis.

Now some will say Melendez has no more right to be top contender given that he (like Thomson) suffered a controversial defeat to Henderson already, and like Benson, has only posted a single, close-fought victory since – and that's fine, there is some logic there, but in order to avoid that argument, there's also TJ Grant waiting in the wings (he beat Gray Maynard more convincingly than anyone else ever has) AND a potential superfight against Jose Aldo, a fight that was supposed to go down in the past. There's also Khabib Nurmagomedov who looks to be one win away from serious top contender status, and if Pettis should remain on the shelf for too long, he may just be there by the time he actually next fights. When you really break it down, the chances of a rematch were never really that good for Henderson to start with – the nature of his victory over Thomson will only hinder, not help, his cause.

---

Is Sergio Pettis too small for the bantamweight division?



2.) Sergio Pettis would be better served moving to the UFC's flyweight division.

Jon Butterfield: FICTION Sergio Pettis is a talented young fighter who just lost his first fight to an improving bantamweight unbeaten in 5 UFC outings. Alex Caceres was seen as a viable opponent for Pettis, and one Pettis was expected to beat. I don't believe Pettis was overhyped simply due to his last name or for the fact he was previously undefeated, since for me, Pettis was on his way to winning the fight with Caceres on points if he could have survived for an extra 21 seconds. Pettis' striking was on point, he landed WAY more than Caceres despite Caceres landing the most significant blow of the fight, and he looked ready, willing and able to ride out the biggest win of his career. Caceres, however, is no joke, and when he saw his opportunity to put Pettis away, he did so. Pettis made a few mistakes in the fight, and was in trouble on more than one occasion, but he was generally picking his shots and landing combos where Caceres was finding air the majority of the time.

With all that said, I see no reason to rush Pettis into making a decision about which weight class he wants to operate in. In fact, I see no reason to rush Pettis full stop. Sergio is just 20 years old, and though he's fought 11 times now, he's very much a rookie still making rookie mistakes. All Sergio needs is experience and time to mature – not necessarily advice on who he should and shouldn't be competing against. I hope the UFC continues to grant Sergio lower-level fights that offer a variety of challenges for him to overcome, because if he were anybody else, most people would probably agree that he's in the UFC a little too early. Besides, on the weight class score, how come we were allowed to discuss a guy like Stefan Struve growing and filling out his frame at 22, 23 and 24, and yet we're all ignoring the fact that Pettis is probably growing in much the same way. Maybe getting ready for an inevitable move up in weight class NOW will be much more helpful to his career further down the line.

Mark Radulich: FACT When you get out muscled and bullied by Alex "Bruce Leroy" Caceres then you know it is time for a change. Pettis kicked Caceres several times in the head and every time Caceres shook it off and kept coming. Even at bantamweight you've got a cadre of relative giants and Pettis is a short dude. He's got a lot of talent and it will be much better utilized at flyweight, which is also in desperate need of top rank talent anyway.

---

Would a snowy scene like this cause massive damage to UFC 169's buy rate?



3.) If the UFC is forced to move UFC 169 due to the NFL moving the Super Bowl, it will be a huge blow to the event's buy rate.

Mark Radulich: FACT The hardcore fans that follow MMA online will know where and when to tune in but the much larger and much more important casual viewers will have no idea what's going on. They will ultimately miss the show thinking that it got cancelled or whatever. Moving a live show on 24hrs notice is never a good thing and there's always a loss of viewers. With the concurrent loss of Dominick Cruz to the main event, the buy rate wasn't going to be good to begin with and if the event moves, I can't see it even cracking 200K if it even gets that high.

Jon Butterfield: FICTION The UFC really would be in a no-win situation if the Super Bowl moved to the Saturday of UFC 169's original slating, but in terms of damage limitation, moving to Sunday is much more sensible than not – and it doesn't disrupt the fighters or their camps in any major way either. Besides, in MMA terms, the lineup for UFC 169 is so strong when compared to other events (TWO title fights AND Overeem-Mir) that MMA fans will pay for it no matter what. It's not ideal, but I can't see it being a 'huge blow' – though there will almost certainly be an element who won't commit to buying a PPV on Super Bowl weekend or who won't be able to make a Sunday night viewing. It's just that, in my opinion, and I may be wrong, I don't expect that to be a 'huge' part of the shows target audience.

---

Is the Cowboy going to overdo it in 2014 and lose all of his momentum?



4.) Donald Cerrone's desire to fight six times in 2014 will backfire, just as it did when he fought five times in 2011.

Jon Butterfield: FACT First of all, I admire Cerrone for wanting to stay active and fight, fight, fight. However, this is the UFC, and the reason nobody has ever fought 6 times a year before is because it's just not feasible. Injuries, wear and tear, niggles, these things happen pretty frequently, and the chances of Cerrone fighting six times in twelve months without sustaining a single sizeable injury are pretty low, at least in my eyes – and besides, look at it from a booking perspective. When Cerrone was able to fight five times a year (2011), it was largely by filling in for injured fighters as a last minute replacement – he started the year fighting Paul Kelly in February because Sam Stout withdrew – he was then booked to fight in JUNE (four months later), which is more or less a quick turnaround in UFC terms – he then fought in August against Charles Oliveira after replacing John Makdessi (he was actually supposed to fight Paul Taylor, but Taylor got injured as well) – in October, he then replaced Sam Stout AGAIN, this time against Dennis Siver – before finally finishing with Nate Diaz in December, by which point Cerrone looked completely burned out and lost badly. So there's two points there - one, Cerrone filled in in the majority of his fights in 2011, and two, it did indeed backfire right at the end before Cerrone was forced to take six months out to recuperate prior to his next outing. Now perhaps Cerrone can once again stay injury free AND find an adequate number of fights to jump in on, but I doubt it – but like the question says, it's not likely the best idea to begin with. Even a cowboy can only ride so long – if Cerrone DOES insist on enduring that kind of schedule against top competition, and the UFC allows him to do it, I suspect he'll win no more than four of those bouts. Still, if he proves me wrong, then it'll be a fantastic feat – and there's nothing wrong with having a goal to make you stand out from the crowd.

Mark Radulich: FACT The body and mind need rest. This is a cold, hard fact of life. We'll never know if he could have beaten Nate Diaz had he had substantial rest prior to that fight. If Cerrone is granted his wish of fighting 6 times in one year he will absolutely end up being beaten again if he doesn't critically injure himself altogether.

---

Was Fight Master a bigger dud than was widely speculated?



5.) The fact that Bellator has no plans for a second season of Fight Master pretty much tells the tale for the success of the show.

Mark Radulich: FACT Last year I watched almost every Bellator event and even I didn't bother with Fight Master. The Ultimate Fighter doesn't get the viewership it used to unless there are some novel contenders on the show (such as women). There's no reason to believe a show just like it with the same level of talent will fare any better. Bellator does OK on Spike but it is not exactly a ratings juggernaut and it does not have the brand power to launch shows like the UFC does.

Jon Butterfield: FACT What the hell is "Fight Master"?

On a more serious note, Bellator pretty much jumped on the TUF bandwagon WAY too late – and besides, Bellator's tournaments tend to be full of hyper-talented no names and 'moneyballed' athletes in the first place, making them the equivalent of a TUF + tournament – so really, what's the point?

---


Who do you think won this week? Did Mark make it back to the win column after an upset the last time out, or did Butterfield shake off the cage rust and pick up the win? Voting will be open until midnight EST on Saturday, so make sure you vote and make your voice heard!










---

Is it better for the WWE that the Hulkster won't be cleared to physically compete at Wrestlemania?



Bonus) If the rumors are true, and Hulk Hogan is unable to get clearance to do anything physical during the build-up to, or at, Wrestlemania 30, that will actually be the most beneficial scenario for the WWE.

Jon Butterfield: FACT The very idea of Hulk Hogan doing anything 'physical' in a WWE ring is ludicrous. When did the suspension of disbelief become entirely irrelevant in wrestling? When did they STOP trying to make it look like a genuine athletic contest? Hulk Hogan is a 60 year old man who could barely move anything up to 15 years ago, and was never that phenomenal an athlete to begin with – so why the hell would he be getting anything OTHER than five second beat downs from mediocre wrestlers to 'put them over'? That's literally all any 60 year old is good for in terms of 'athletic competition', and that's that.

Mark Radulich: FACT While it might have been fun to see Hogan and Piper in a nostalgia-type match, this is probably for the best. Given how things are going in the WWE lately (Daniel Bryan) the company would be best served not giving the crowd another reason to revolt during the event itself.

---


And that's it for this week! As always, if there's anything you'd like to see featured in a future edition, leave your statement in the comments and I'll add it in. Let us know what you thought in the comments, on Twitter, or on Google+.


comments powered by