SPOTLIGHTS
411's MMA Roundtable Preview - UFC 169: Barao vs. Faber II
Posted by Dan Plunkett on 01.31.2014

Renan Barao defends the bantamweight title against Urijah Faber at UFC 169! Plus Ricardo Lamas fights Jose Aldo for the featherweight title, Frank Mir takes on Alistair Overeem and more! Check out the full roundtable for all the details and join 411 for LIVE coverage of the event Saturday night!




WELCOME:
UFC 169 comes to New Jersey with a double main event! Newly undisputed bantamweight champion Renan Barao defends his title against Urijah Faber in the main event, and Jose Aldo looks for his sixth featherweight title defense against Ricardo Lamas! Also, in what may be a fight for their jobs, Frank Mir takes on Alistair Overeem. Plus, flyweight contenders John Lineker and Ali Bagautinov square off, Jamie Varner vs. Abel Trujillo, and more!

THE STAFF:


He's 411's resident interviewer, Jon Butterfield!


From MMA's 3R's, Jeffrey Harris!


From Five Quick Rounds, Evan Zivin!


He's your host for 411 MMA Fact or Fiction, Wyatt Beougher!


From The 411 MMA Top 10, Alex Rella!


From What's Next, Robert Practor!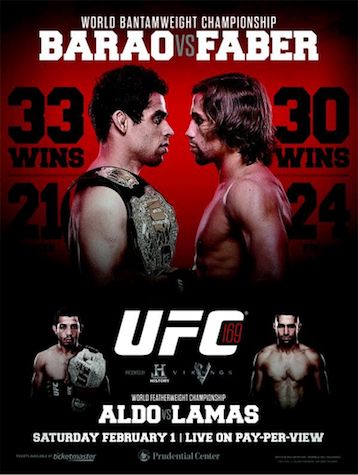 THE PRELIMINARY CARD:




First three prelims to air online, rest on Fox Sports 1.




Welterweight Bout: Neil Magny vs. Gasan Umalatov



Jon Butterfield: Gasan Umalatov, Submission, Round One
Jeffrey Harris: Neil Magny, Decision
Evan Zivin: Neil Magny, Decision
Wyatt Beougher: Neil Magny, TKO, Round 2
Alex Rella: Neil Magny, Decision
Robert Practor: Gasan Umalatov, Submission, Round 3
The staff picks Neil Magny, 4-2.



Lightweight Bout: Tony Martin vs. Rashid Magomedov



Jon Butterfield: Rashid Magomedov, Decision
Jeffrey Harris: Rashid Magomedov, Decision
Evan Zivin: Rashid Magomedov, Decision
Wyatt Beougher: Rashid Magomedov, Decision
Alex Rella: Rashid Magomedov, Decision
Robert Practor: Rashid Magomedov, Decision
The staff picks Rashid Magomedov, 6-0.



Middleweight Bout: Clint Hester vs. Andy Enz



Jon Butterfield: Clint Hester, TKO, Round One
Jeffrey Harris: Clint Hester, TKO, Round Two
Evan Zivin: Clint Hester, TKO, Round 2
Wyatt Beougher: Clint Hester, TKO, Round 1
Alex Rella: Clint Hester, TKO, Round Two
Robert Practor: Clint Hester, TKO, Round 1
The staff picks Clint Hester, 6-0.



Lightweight Bout: Al Iaquinta vs. Kevin Lee



Jon Butterfield: Kevin Lee, Submission, Round Three
Jeffrey Harris: Al Iaquinta, Decision
Evan Zivin: Kevin Lee, Submission, Round 2
Wyatt Beougher: Al Iaquinta, Decision
Alex Rella: Al Iaquinta, Decision
Robert Practor: Al Iaquinta, TKO, Round 2
The staff picks Al Iaquinta, 4-2.



Middleweight Bout: Nick Catone vs. Tom Watson



Jon Butterfield: Nick Catone, Decision
Jeffrey Harris: Tom Watson, TKO, Round Two
Evan Zivin: Nick Catone, Decision
Wyatt Beougher: Tom Watson, Decision
Alex Rella: Tom Watson, TKO, Round Two
Robert Practor: Nick Catone, Decision
The staff calls it down the middle, 3-3.



Flyweight Bout: Chris Cariaso vs. Danny Martinez



Jon Butterfield: Chris Cariaso, Decision
Jeffrey Harris: Chris Cariaso, Decision
Evan Zivin: Chris Cariaso, Decision
Wyatt Beougher: Danny Martinez, TKO, Round 2
Alex Rella: Chris Cariaso, Decision
Robert Practor: Chris Cariaso, Decision
The staff picks Chris Cariaso, 5-1.



Lightweight Bout: John Makdessi vs. Alan Patrick



Jon Butterfield: John Makdessi, Decision
Jeffrey Harris: John Makdessi, TKO, Round Two
Evan Zivin: Alan Patrick, Decision
Wyatt Beougher: John Makdessi, TKO, Round 1
Alex Rella: John Makdessi, Decision
Robert Practor: John Makdessi, TKO, Round 1
The staff picks John Makdessi, 5-1.

---




THE MAIN CARD:




Lightweight Bout: Jamie Varner vs. Abel Trujillo



Jon Butterfield: It seems that every time Abel Trujillo beats a mediocre opponent (Marcus Levesseur, Roger Bowling) he has to follow it up with a fight against a highly-experienced, dangerous contender (Khabib Nurmagomedov, Jamie Varner). While that gives Trujillo every chance of picking up a highly creditable UFC victory, his outing against Nurmagomedov proved to be something of a mismatch, and while Varner is less likely to ragdoll Trujillo, he still appears to be outside the heavy-hitting 'Killa's' reach. Varner and Trujillo appear to match up reasonably well, both like to throw down and keep things standing, but Varner has the superior wrestling chops to fall back on should he need to. Having said that, Varner is unlikely to have to resort to takedowns other than to punctuate rounds if and when they appear to be drawing to a conclusion, as Varner is a good striker who holds wins over the likes of Edson Barboza and Melvin Guillard and who likes to drive forward and put people on the back foot. The second Trujillo is forced to backpedal is the second Varner takes over. Trujillo needs to pressure Varner rather than be pressured, but that's easier said than done.

Winner: Jamie Varner, TKO, Round Three

Jeffrey Harris: While Abel Trujillo has gotten some impressive wins in the UFC against some lesser competition, I think ultimately Jamie Varner will prove too much for him. Varner will use his wrestling and superior boxing to outpoint and dominate Trujillo. Varner's been a little up and down since he came back into the UFC, but he's still a much more dangerous opponent for Trujillo than the like of Roger Bowling. I see him getting a decision.

Winner: Jamie Varner, Decision

Evan Zivin: This is a big step up for Abel Trujillo. He finally defeated Roger Bowling (legally) in his last fight to bring his UFC record to 2-1, 1 no contest. He was supposed to fight Bobby Green but Green dropped out with an injury and Varner chose to jump in. Varner is 2-2 since returning to the UFC but his wins, against Edson Barboza and Melvin Guillard, have been impressive and even his losses have been close. Varner knows how to prepare for a fight and he knows that Trujillo is a significant threat on the feet. I think Varner has the skills to stay out of danger if he stands with the Blackzilian and knows that his quickest way to victory is to take the man down and tap him out. I think that's what Varner will do.

Winner: Jamie Varner, Submission, Round 2

Wyatt Beougher: Since rejoining the UFC, Varner has alternated wins and losses, with his last fight a loss to Gleison Tibau. Trujillo, on the other hand, has looked good against lesser competition, but looked severely outmatched against Khabib Nurmagomedov. Is Varner as good as Nurmagomedov? I don't think so, but he's certainly good enough to beat Trujillo. Varner possesses very good boxing ability, and that, combined with a couple of inches of reach advantage and good enough wrestling to keep the fight standing, should be enough to win this fight for him.

Winner: Jamie Varner, Decision

Alex Rella: This should be a fun lightweight fight to start off the pay per view portion of the night. Abel Trujillo just wrecked Roger Bowling and beating the former WEC champ would be huge for his career at this point. Jaime Varner has looked pretty good since his return to the UFC going 2-2 and I thought he won his last fight against Gleison Tibau. He'll need a win here to stay somewhat relevant in the stacked division. I'm picking Varner as I do think he is the better wrestler and the better boxer.

Winner: Varner, Decision

Robert Practor: I see Jamie Varner being a little more technical on the feet, avoiding Trujillo's sick power shots, and mixing in some takedowns leading to securing the decision.

Winner: Jamie Varner, Decision

The staff picks Jamie Varner, 6-0.

---




Flyweight Bout: John Lineker vs. Ali Bagautinov



Jon Butterfield: John Lineker calls himself "Hands of Stone". Ali Bagautinov calls himself "Puncher" or "Puncher King". No prizes for guessing what kind of strategy these guys will look to employ, further evidenced by the fact that neither fighter has ever attempted more than three takedowns in a single UFC fight. Lineker has now won four straight in the UFC, including creditable victories over Yasuhiro Urushitani and Phil Harris, while Bagautinov has bested Marcus Vinicius and Tim Elliott thus far. Both fighters have posted fairly even statistics in terms of strikes landed and striking defence, but Lineker is the more experienced fighter and has posted victories against superior opposition. This is really just a showcase for how exciting a flyweight striking battle can be, so let's hope it lives up to the hype no matter who wins. Based on the numbers, I'm picking Lineker to make it five in a row.

Winner: John Lineker, Decision

Jeffrey Harris: This is an interesting fight and the winner could be very close to a title shot soon in the flyweight division. Bagautinov has looked really impressive since he came into the UFC, beating Marcos Vinicius and Tim Elliott. Bagautinov has proven to have a very good chin and he has some impressive throws and takedowns in his arsenal. John Lineker does have some knockout power, but Bagautinov will ultimately prove too much for him. Lineker will also at least hopefully come in on weight. He's missed weight for his last two fights at flyweight. He's on a four fight winning streak, but the UFC brass might still be hesitant to grant him a title shot off a win considering he's missed weight in the UFC three times already.

Winner: Ali Bagautinov, TKO, Round 2

Evan Zivin: This fight has some title implications to it, as the winner might likely be getting the next shot at Demetrious Johnson's flyweight championship. That said, I wonder if we should be picking who wins the fight or if we should just stick to figuring out if Lineker will even make weight (if you read this after the weigh-ins, then pretend to laugh or cry depending on what happened). He has won 4 out of 5 UFC fights but he has missed weight for 3 of them. One would think that if he misses weight again, win or lose, he's going to be in a lot of trouble with the UFC. It's all right, though, because I think Ali will take him out either way. The Russian fighter has been dominant in two UFC victories thus far and has more tools to win this fight. His boxing is good enough to keep pace with Lineker on the feet and he has the wrestling and sambo credentials to get this fight down if he needs to. I see Ali using takedowns to tire Lineker out, allowing him to pick Lineker apart on the feet in the later rounds and take a decision to propel him towards a dance with Mighty Mouse.

Winner: Ali Bagautinov, Decision

Wyatt Beougher: After missing weight in both of his last two fights (and three times in his last five), I think Lineker is smart enough to realize that there's a lot of pressure on him to not only come in on weight, but also to win this fight in an impressive fashion. Will he be able to do that? I'm not so sure, as both of Bagautinov's losses have come via decision, and he's a very well-rounded mixed martial artist. The last time Lineker fought in the US, it was a Fight of the Night submission loss to Louis Gaudinot, and I'm actually calling for a similar result here. I think Lineker actually makes weight, but the cut effects him enough that Bagautinov is able to take over the fight early, put Lineker on the ground with something solid, and lock in a choke.

Winner: Ali Bagautinov, Submission, Round 1

Alex Rella: This is a big fight in the flyweight division and it could determine the next number one contender to challenge Mighty Mouse. John Lineker would probably already be the number one contender if he could consistently make weight, but he's still on a dominant four fight winning streak. He could end up getting released if he misses weight again, even if he does win the fight. Ali Bagautinov is on a ten fight winning streak and has looked great in his two UFC fights. Both have shown nice striking so far, but I'm going with Bagautinov as I think he is the better grappler.

Winner: Bagautinov, Decision

Robert Practor: First things first, let's hope John Lineker can finally make weight. I discussed potential Flyweight title challengers back in December after UFC on Fox 9 and stated Lineker could receive the next shot at Demetrious Johnson, despite the weight-cutting problems because of a lack of contenders. I figured the UFC would have been in a hurry to get 'Mighty Mouse' back in the cage seeing as they have a lot of big fighters injured and thus a lack of headliners available, but they have held off on Johnson's next fight while having Lineker fight again. Both Lineker and Bagautinov are on impressive win streaks and the winner is almost a lock to receive the next shot at the Flyweight strap. This should be a fun fight and I see Bagautinov consistently getting the better of their exchanges and pick up a clear decision.

Winner: Ali Bagautinov, Decision

The staff picks Ali Bagautinov, 5-1.

---




Heavyweight Bout: Frank Mir vs. Alistair Overeem



Jon Butterfield: Alistair Overeem has been something of a flop in the UFC, despite debuting with an impressive liver kick victory over Brock Lesnar. Antonio 'Bigfoot' Silva scored a scorching come-from-behind win over a tiring, overconfident Overeem prior to Travis Browne's first round demolition of the K-1 World Champion, and now Overeem is staring at a third straight defeat and a possible UFC release. Fortunately for Overeem, submission ace Frank Mir is also on a serious slide, having dropped back-to-back defeats to Junior dos Santos, Daniel Cormier and Josh Barnett. While Mir has a history of beating mediocre strikers like Roy Nelson, Cheick Kongo, Antoni Hardonk and an aging Mirko 'CroCop' Filipovic, he also has a history of dropping bouts to hulking behemoths with serious KO power. Overeem may not have the wrestling chops of Lesnar, Carwin or Cormier, but he certainly has strong takedown defence and a ton of weapons to make Mir's eyes water (or close, if he lands clean). I can't help but feel this is a nightmarish match up for Mir, all things considered, though of course Frank has a HUGE advantage on the ground, and should fairly easily submit Overeem if given the chance. It's getting that chance that is the problem. Hopefully this is a decent fight, rather than a re-run of Overeem-Werdum, and hopefully Overeem is aware of how important it is to put Mir away and not just chase him around the cage in some idle, strolling snoozefest.

Winner: Alistair Overeem, KO, Round One

Jeffrey Harris: There's a lot on the line here. This is potentially a loser leaves town fight. The loser could very well retire from MMA altogether, especially in Frank Mir's case. Mir has lost three in a row. Now granted, he's lost to some tough competition, but Overeem is also on a losing streak right now. Not only that, Overeem has not fulfilled the high expectations many had for him when he came into the UFC. What was really tiresome though was all the business about Mir finally taking training seriously by going into the Greg Jackson camp, and it doesn't look like it's really improved his overall game at all. Mir's taken a lot of damage throughout his career, and he's already using TRT. So despite his rather young age, he's old in the sport, and he might need to consider retirement soon. Overeem's flaws are his suspect chin and his mediocre stamina, proving that his record was quite padded with tomato cans after moving to heavyweight. Ultimately though, I think his power and kickboxing game will work in his favor. Mir is not very good at standing and exchanging, so if Overeem catches him with a good shot, that will be it.

Winner: Alistair Overeem, TKO, Round One

Evan Zivin: This fight has become less of "who do I want to see win?" then "who do I least want to see lose?" If this fight happened a couple years ago it would have been a big main event. Now you just kind of wonder how both of these guys are still here. Mir has lost his last three fights and Overeem has lost his last two. Neither man has tasted victory in over two years. Both guys may be out of a job if they lose so they better step up their game for this one. As for how the fight goes, it's hard to say. Both guys have been thrust into high stakes situations before in their UFC careers and have failed spectacularly. Mir did show improved striking when he fought Roy Nelson and enough durability to take out Big Nog in their second fight. If Overeem wants to win this he'll need to bully Mir against the cage and blast him with punches the way Shane Carwin and Josh Barnett did. Can he do that? Ideally, yes, but I have my doubts. He should have been aggressive like that against Antonio Silva and Travis Browne and both ended with his dumb ass getting knocked out. It shouldn't be that hard for Overeem to employ that strategy and get the win but until he can prove that he's not just going to screw up again I cannot, in good faith, pick him to win a fight. I do think that if Mir can get the fight to the ground he should have little trouble controlling Overeem so let's just say that happens. Don't disappoint us again, gentlemen. It may be your last chance to do so.

Winner: Frank Mir, Submission, Round 2

Wyatt Beougher: Just to put this card in perspective, when was the last time that a "loser leaves town" fight was also a headlining fight on a UFC show? I'm hopeful that this will be one of those cards that looks subpar on paper but delivers in the cage, and as long as this fight ends in a memorable fashion, either with Overeem obliterating Mir or with Mir submitting the Dutchman, I'll call this fight a success. Fun fact - these two guys' last wins came 20 days apart, all the way back in December 2011, against one guy who's retired (Brock) and one guy who should be (Big Nog). Awesome. Anyway, I think Mir can win this fight, but he won't. He still thinks he's better on the feet than he actually is, and against an accomplished kickboxer like Overeem, that's going to lead to a short night for Mir. I don't think Overeem's going to be as hesitant against Mir as he was against Werdum, and while that could ultimately cost him, I think he blitzes Mir early, and if he doesn't knock him out cleanly, it'll be enough to grab a clinch and knee him into oblivion. Best case scenario - Mir retires, Overeem tests positive for PEDs and gets released, and we can all pretend this fight never happened.

Winner: Alistair Overeem, KO, Round 1

Alex Rella: The loser leaves town match of the night as the two former champions have fallen from the top of the heavyweight division. Both are losing streaks to some of the best heavyweights in the world today, but they cost too much to keep both around. Overeem has the clear striking advantage with his kickboxing, but Mir is one of the best grapplers of all time. Mir doesn't have the best chin, but I just can't look past how Overeem gets tired and has been dropping his hands in recent fights which lead to these highlight reel knockouts. Mir won't be able to knockout him out, but he could get in a good shot that sets up a submission. That's if Mir can survive an early onslaught of brutal striking. I'm taking Mir to pull out a submission and keep his career going, but it won't be easy for him.

Winner: Mir, Submission, Round 1

Robert Practor: Frank Mir simply doesn't fare well against powerful strikers and despite Alistair Overeem's two straight KO losses, he is still an elite striker with sick power. In his last fight, Overeem was destroying Travis Browne before gassing out (I'm not an Overeem fan but that fight definitely should have been stopped) and getting front-kicked to oblivion, but I don't see him needing that long before Mir is knocked silly. It will be interesting to see what the future holds for whomever loses this fight.

Winner: Alistair Overeem, TKO, Round 1

The staff picks Alistair Overeem, 4-2.







---




UFC Featherweight Championship Bout: Jose Aldo vs. Ricardo Lamas



Jon Butterfield: Ricardo Lamas has earned this opportunity with a series of stellar wins at 145 lbs, including victories over Cub Swanson, Hatsu Hioki and Erik Koch. Lamas has lost just twice in his career, both times by (T)KO, and that doesn't bode particularly well for him against Aldo, no matter how good his current run of form. Lamas does hit hard, but his striking isn't on the same level as Aldo's, and so his wrestling could become more offensive than defensive in this particular bout. Lamas' best chance comes by striking whilst simultaneously threatening to level change, but should Aldo do as Aldo normally does, Lamas' takedown attempts aren't likely to be much of an issue. Aldo is a master of maintaining distance and staying out of reach of his opponents, and holds a particularly impressive first round KO of Chad Mendes after Mendes (you guessed it) ate a knee while trying to take Aldo down.

What it all boils down to is this: Aldo is just a nightmare to try and pin down, and unless Lamas is able to connect with a solid punch or two early on and really rock Aldo to the point that he can press him to the cage or take him down and work him over, he's likely toast as Aldo appears to be a cut above at this point in their respective careers. Aldo should pick Lamas apart without too much trouble.

Winner: Jose Aldo, TKO, Round Two

Jeffrey Harris: Let's be clear, Ricardo Lamas is no cab driver. He earned his shot at Aldo. He moved down to featherweight upon debuting in the UFC and won four straight against Matt Grice, Cub Swanson, Hatsu Hioki, and Erik Koch. Cub Swanson is himself on a hot streak after that loss and is in the Top 5, and Lamas finished him. Hioki was undefeated in the UFC before he lost to Lamas, and many were calling him one of the top featherweights in the world. In addition, Lamas was a successful lightweight in the WEC under the ZUFFA banner, going 4-2 in that organization. So in total, Lamas' ZUFFA record is 8-2. For Lamas, this will be his first time in a five round fight, but he's not appeared to have any issues with his cardio or weight cut at featherweight at all. Aldo has had issues in fights that go longer in fading toward the end. I think Lamas is an underrated opponent, and anything can happen in a fight. That said, I'm not likely to bet on that happening here. While Aldo has not had some of the outrageous flash knockouts he enjoyed in the WEC, he's proven to be the top well-rounded fighter at featherweight in the Octagon. His takedown defense against strong wrestlers is impeccable. His striking is quick, accurate, and very dangerous. Even Frankie Edgar wasn't able to figure out a good counter or a way around Aldo's nasty leg kicks. I think that will make the difference here. Lamas might have a good round or two, but Aldo will ultimately put him away.

Winner: Jose Aldo, TKO, Round Three

Evan Zivin: Yes, it's Ricardo Lamas, not Lorenzo Lamas. Get all your jokes out before we continue. I do kind of wish it was Lorenzo Lamas, though. Ricardo is a good fighter but he was putting me to sleep when he talked at the Fox show. UFC also aired a promo that had other guys talk about Lamas and how they applauded him for earning a title shot based on his skills and record and not on his mouth or being interesting in any way whatsoever. Is that really the best way to sell this guy to a public who may be completely unaware of him up to this point? I don't know. Ricardo is a good fighter, with stoppage victories of Cub Swanson and Erik Koch. Is he good enough to take out Jose Aldo? I doubt it. Aldo has faced tougher competition and come out on the winning end. I think this fight will be slow to start, as Aldo tends to spend the first round feeling out the range of his more dangerous opponents. Then, once he has a good feel for what Lamas is bringing, he'll turn it up and likely finish in the second or third round and defend his title once again.

Winner: Jose Aldo, TKO, Round 2

Wyatt Beougher: I'm not sure there's another fighter in any division who's looked more impressive after changing weight classes than Lamas. And while he has absolutely earned this fight with Aldo by virtue of four impressive wins over top featherweight competition, I just don't think there's any way he beats Scarface. Jose Aldo is just that much better than everyone else in the featherweight division, and his defensive wrestling and striking should absolutely be enough to add another win to his already impressive record. I actually feel bad for Aldo, as there are still a couple of guys in the featherweight division who have put together impressive enough records to challenge for his title, but I honestly don't think there's anyone at featherweight who can actually beat him. Maybe Lamas will prove me wrong, but I very much doubt it.

Winner: Jose Aldo, TKO, Round 2

Alex Rella: I've wanted to see Ricardo Lamas get a title shot since he wrecked Erik Koch's face over a year ago and now he takes on possibly the best fighter in the world today. Lamas has shown great wrestling and ground and pound since dropping down to featherweight in 2011. Lamas is 4-0 at 145 lbs, but I think the only way he gets a win is if Aldo has a rough weight cut and looks lethargic like he has shown occasionally in the past. Aldo has defeated much better wrestlers and strikers than Lamas in the past and a healthy Aldo should dominate. Maybe we get a nice upset, but I wouldn't bet on it.

Winner: Aldo, Decision

Robert Practor: Jose Aldo is likely the number two pound-for-pound fighter in the world at this time. He is just that good. Ricardo Lamas, while being on a nice run, simply doesn't have much to offer Aldo in my book. The question I have is whether Aldo will finish him or earn a clear, decisive decision victory.

Winner: Jose Aldo, TKO, Round 1

The staff picks Jose Aldo, 6-0.







---




UFC Bantamweight Championship Bout: Renan Barao vs. Urijah Faber



Jon Butterfield: Renan Barao defeated Urijah Faber in at least four of the five rounds in their last encounter, as Faber continued his trend of winning every fight he's involved in EXCEPT FOR TITLE FIGHTS. Faber, once the dominant WEC Champion just hasn't cut it at the top, top level since his schooling at the hands of Mike Brown. Between them, Brown, Aldo, Cruz and Barao have conspired to illustrate that, while Faber is brilliant, there is yet another, higher echelon inhabited by the best of the best.

Of course, Faber's get-out in his last fight was that Barao hurt him early, and Faber was unable to effectively impose any kind of multi-levelled strategy that would undoubtedly have closed the gap in terms of striking. Faber has a lot of tools on the feet, but not quite as many as Barao, so his fans would be looking for him to win three of five rounds by scoring takedowns and utilizing clinchwork and such to wear Barao down – sadly for Faber, however, Barao has Aldo-esque takedown defence and tends to make opponents pay for getting in too close. Barao also has phenomenal grappling, and while this is an area where Faber may have a legitimate case for being able to out-point Barao, there's also no guarantees here either. For me, Barao is the better fighter in too many areas, and though Faber has a persistently positive outlook, I don't see him adapting his gameplan well enough to dethrone another brilliant Brazilian.

Winner: Renan Barao, Decision

Jeffrey Harris: No matter what anyone says, Faber has earned the right to fight for the undisputed bantamweight title. He had really one of the best runs in his career, going 4-0 in the UFC in 2013. Three of those fights were finishes. In some ways, he looks better than ever. But with all that said, Barao looks like he's been getting even better as well. He also had a good year, submitting Michael McDonald and then knocking out Eddie Wineland, something Faber wasn't able to do. Barao looks like he's gotten even more confident and dangerous as the champion. As much as I like Faber, we've seen him get numerous title opportunities. It looked like for whatever reason, he just couldn't get to that extra little level to put him above his opponents. The last time these two fought, maybe Faber had a rib injury but anything can happen in a fight. Faber got caught quickly in his first title fight with Mike Brown when he threw an elbow. In their rematch, he basically both broke of his hands. Barao once again will simply be too much for Faber to handle. His takedown defense, especially against wrestlers, is excellent. He's got great striking and MMA boxing skills. And no one has been able to beat him in years. Barao will dominate Faber yet again, and Team Alpha Male will go 0-6 in UFC title fights.

Winner: Renan Barao, Decision

Evan Zivin: What was once a title unification bout against Dominick Cruz turned into something much less intriguing but with a more popular fighter on one of the best runs of his career. I'm expecting another twenty-five minute war out of these two. There's also a good chance the fight will be closer and more competitive than their first meeting at UFC 149, which Barao won quite convincingly. The main factor that could make this fight different from the first one back in 2012 is the "Bang" factor. After Faber lost the Interim Bantamweight Championship fight, his camp brought on Duane Ludwig as their head coach. Ludwig has since improved the striking and overall effectiveness of Team Alpha Male and it has contributed to Faber's best year in the UFC, winning four fights, including a submission over Michael McDonald in much less time than it took Barao to do the same thing. Do I think Faber's newfound skills will allow him to win the fight? I think it will allow him to be more successful on the feet and a land a little more on Barao than he did the first time but I don't think it will help him win. Barao will do what he did before. He will stuff Faber's takedowns. He will land lots of leg kicks. He may not throw with the same frequency as Faber but he will land the more accurate and more significant strikes and successfully defend his undisputed championship for the first time.

Winner: Renan Barao, Decision

Wyatt Beougher: The last time these two fought, just over eighteen months ago, was for the interim bantamweight title, and Barao starched Faber with leg kicks early and often, taking away his rhythm, preventing his takedowns, and easily winning the fight. Since then, Faber's gone on a tear, winning three of his four fights by submission (the most recent of which was Submission of the Night) and easily picking up a decision win in the other one. Barao has a highlight reel knockout and a Submission of the Night of his own under his belt. And while I have an intense dislike for Faber's personality, there's no denying his ability inside the cage; however, I don't think he's going to win this fight. Faber's biggest strength is his wrestling and clinch game, and Barao showed in the first fight that's he able to fight long and keep Faber at a distance, which neutralizes the only two advantages that he has. Even with Faber coming into this fight healthy, I think Barao is just a more talented fighter, and I look for him to pick up the victory.

Winner: Renan Barao, TKO, Round 4

Alex Rella: I know Barao is on a pretty much historic winning streak at this point and he dominated Faber in their first fight, but I'm going with Faber in this one. Yeah he's lost his last five title fights, but he looked better than ever in 2013 as he went 4-0 against some of the best bantamweights in the world. None of these guys are on Barao's level, but Faber's showed some great striking and amazing grappling since then. He'll probably get picked apart with leg kicks for most of the fight, but I think he'll get an opening at some point and Faber will lock in a submission.

Winner: Faber, Submission, Round 4

Robert Practor: I'm really looking forward to this fight. I'm a big Urijah Faber fan and I'm uneasy that he took a title fight against Renan Barao on only three weeks notice. Plus, he fought four times in 2013 and was talking about taking a well-deserved break. It would be a shame for him to step up and help the UFC taking this fight only to lose and make it that much more unlikely for him to get another title shot in his career. This could be a hell of a battle, with Faber looking better than ever throughout 2013 while Barao has proven himself as one of the top pound-for-pound fighters in the world. It will be interesting to see how much of a factor that broken rib of Faber's played in their first fight, as Barao clearly out-worked him throughout. The longer this fight goes the more I believe it favors Barao. Faber will have to come out strong and push the pace. If he looks the way he did throughout 2013, I can truly see Faber submitting Barao and finally regaining gold.

Winner: Urijah Faber, Submission, Round 2

The staff picks Renan Barao, 4-2.







---
Remember to join 411's coverage of UFC 169 on Saturday night!
comments powered by